Labuan Bajo is one of the 5 super priority destinations promoted by the Indonesian Government. It was only a small fishing site but is home to dozens of natural wonders the world's adventurers seek after. Komodo International Airport Labuan Bajo is available to accommodate tourists.
Despite being small in size, Komodo International Airport is a modern gateway for quite busy tourism activities in the East Nusa Tenggara region. Labuan Bajo offers natural beauty everywhere from up at the hill to down underwater. And, from its unique culture to the famous Komodo dragons.
Komodo International Airport's name comes from Labuan Bajo's status as a departure point for tours to the nearby Komodo National Park. As the gateway, Komodo International Airport presents stunning architecture adorned with Manggaraian ornament.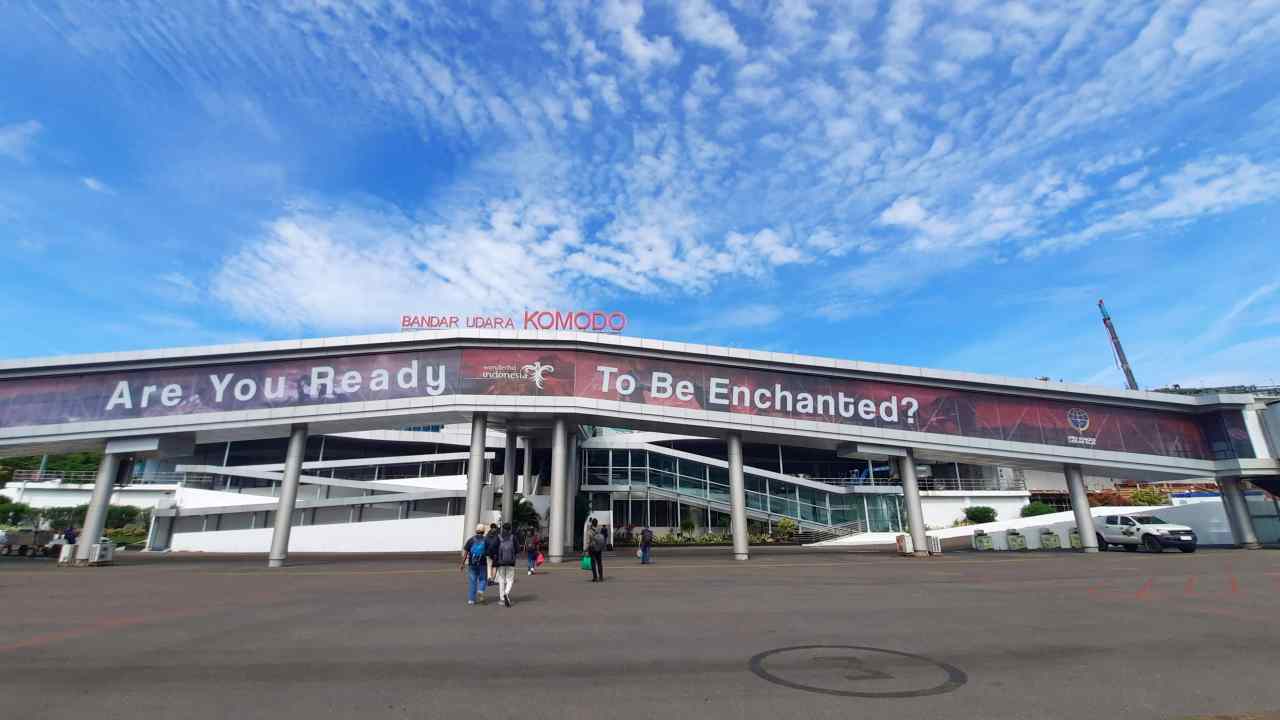 The surrounding nature also provides an outstanding view of Flores Island. Scenic views of the spectacular sky embellish the background of the runway.
Komodo International Airport Access
The airport is easy to reach from anywhere in Labuan Bajo. It is only 2 km from the center of Labuan Bajo, on the westernmost tip of Flores Island. And, it only takes 11 minutes from Labuan Bajo Port (or 3.5 km) to the west.
After accomplishing the expansion project at the beginning of 2022, the airport will serve international direct flights. The government has widened and extended the roads to accommodate tourist activities.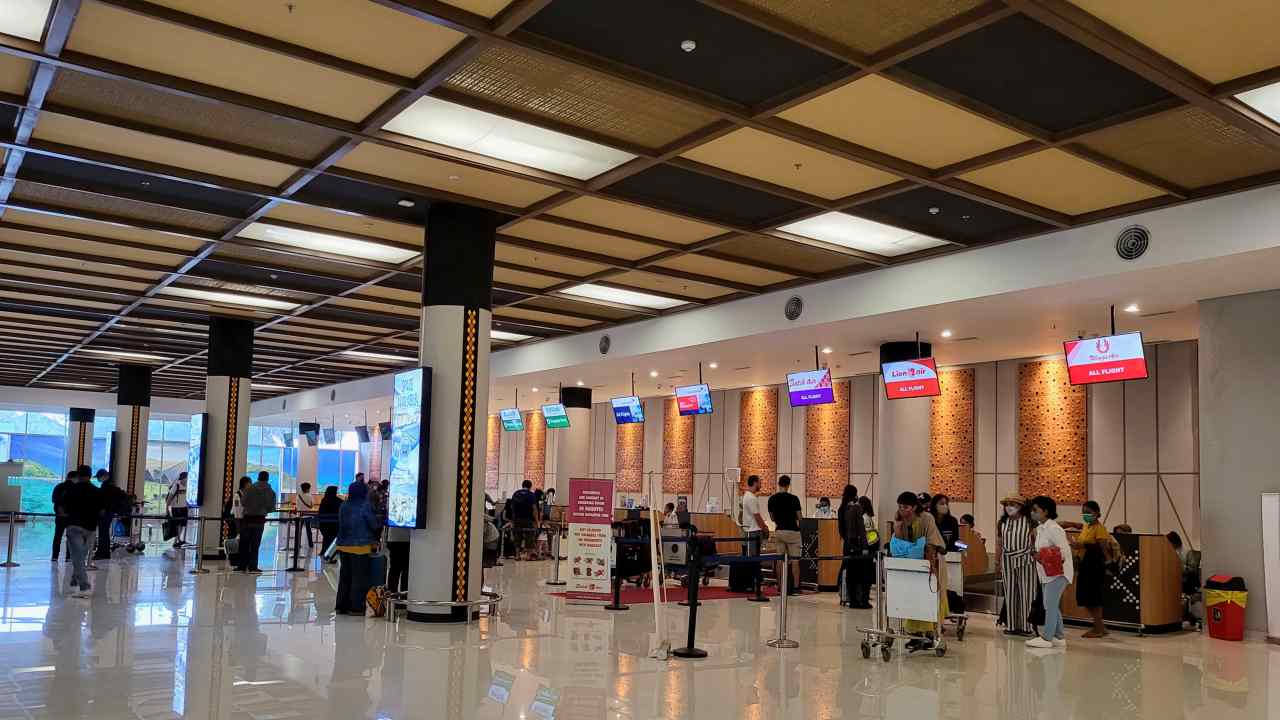 In addition, a new multipurpose terminal is also being developed in Wae Kelambu. It is about 10-12 km from the old port at the center of Labuan Bajo. The old port is dedicated especially to serving tourist ships.
Serving Airlines and Flight Destinations
Local airlines serving the Komodo International Airport include Aviastar, Garuda Indonesia, NAM Air, Susi Air, TransNusa, and Wings Air. The destinations served by those airlines are Jakarta-Soekarno-Hatta, Kupang, Bima, Waingapu, Ruteng, and Maumere.
There are 7 direct flights connecting Labuan Bajo to Denpasar and 2 to Jakarta. Tourists can book flights from the airlines' websites such as Garuda Indonesia, Lion Air, Nam Air, and Batik Air.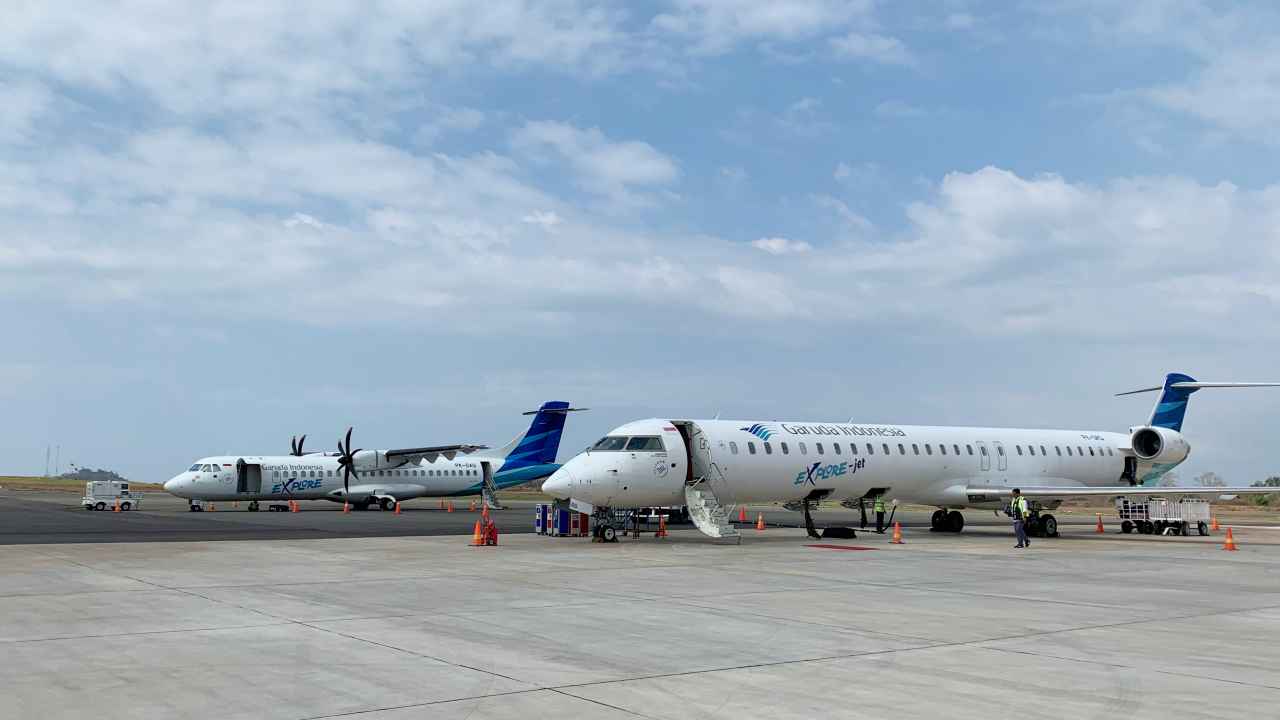 Lounge & Waiting Area 
Have a delayed flight or just need to chill down for a while? Komodo International Airport provides a lounge for tourists to take some rest. The business class lounge situates in the check-in hall. The lounge provides many seats. With Rp110.000, tourists may get Wi-fi and an Indonesian food buffet. Power outlets are available to charge handphones or laptops.
Komodo International Airport 
Departure & Arrival Terminal
The Indonesian Government has developed the airport to accommodate wide-body aircraft,  ready to serve international flights. However, there is none for the time being. The departure Terminal mainly serves tourists mostly from Jakarta and Denpasar airports.
Komodo International Airport is a small airport. Therefore, domestic departure and arrival are only within walking distance. And, at the arrival terminal, tourists can collect the checked baggage from two small carousels.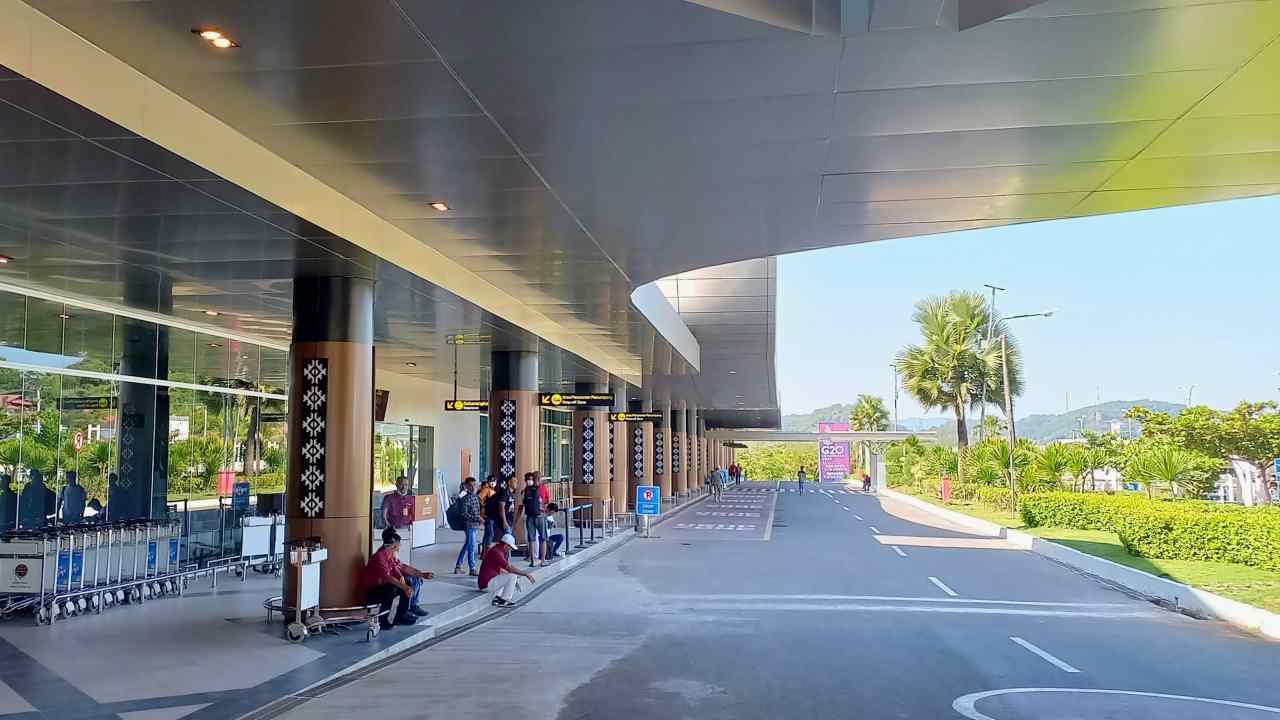 There will be people waiting at the exit who will ask for the luggage tags. The officers will make sure tourists have the correct bags.
Restaurants & Souvenir Shop 
If tourists need snacking or drinking, there are cafes and mini stalls that sell snacks and bottled drinks. Convenience stores are also available. Tourists may get a beer at Rp38.000 – Rp50.000 per can.
The stalls are at both domestic and international terminals. The airport also provides Wi-fi to accommodate tourists' communications. Some souvenir stalls, cake shops, and cafes also stand near the departure waiting room.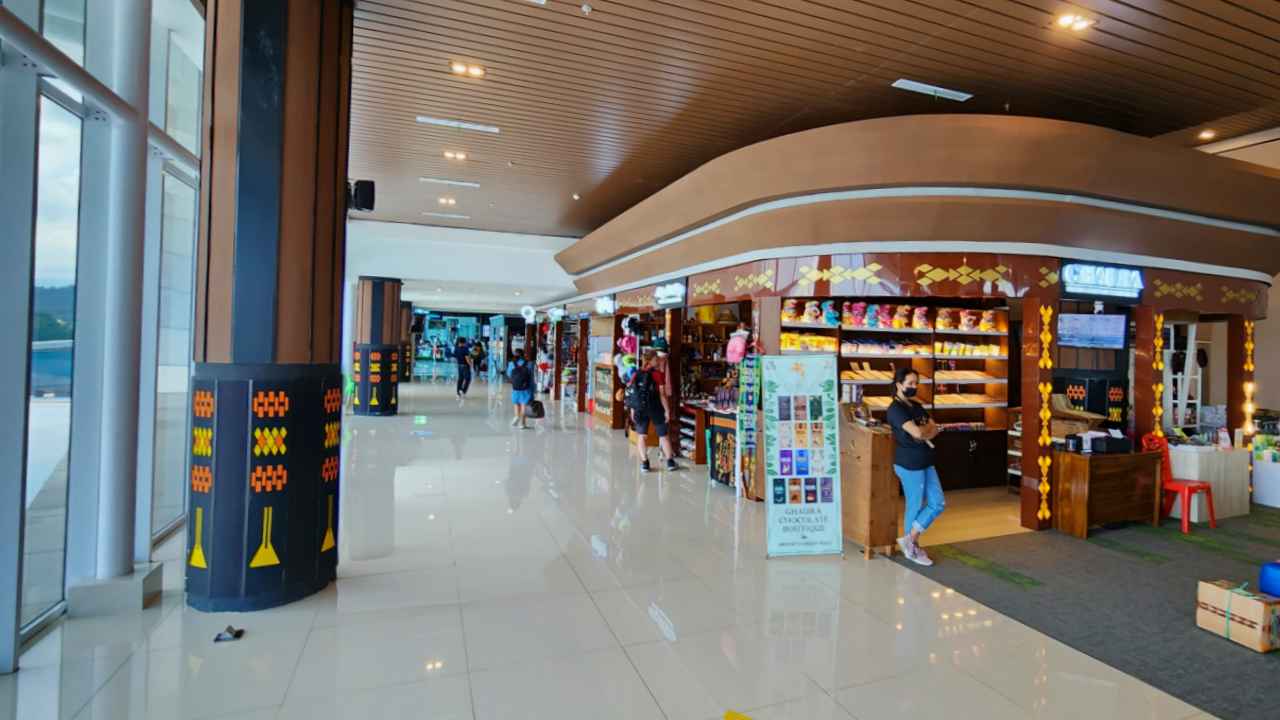 And, just across from the airport building, there is a big souvenir shop that sells a lot of variety of Labuan Bajo souvenirs. From snacks to different types of T-shirts. The cafe can also be found here on its third floor. 
See: Guide To Explore Wae Rebo Village & Entrance Ticket.
ATM & Money Changers
Currency is not a big deal here. There are 2 money changers at the airport. One is run by BRI Bank and the other is run by a private company at the arrival. The booth opens from 8 AM to 6 PM. ATM machines are also available on the premises.
VAT Refund
The VAT Refund service is available at 5 international airports in Indonesia. The airports are Soekarno Hatta Jakarta, YIA Yogyakarta, Ngurah Rai Bali, Juanda Surabaya, and Kualanamu Medan. There is currently no VAT refund service available at Komodo International Airport Labuan Bajo.
See: Rinca Island Guide & Top Things To Do.
Luggage Wrapping & Porter Service
Sometimes, luggage can be troublesome if tourists could not handle it well. Don't worry. To safeguard tourists' luggage, there is a luggage wrapping service at the Departure terminal.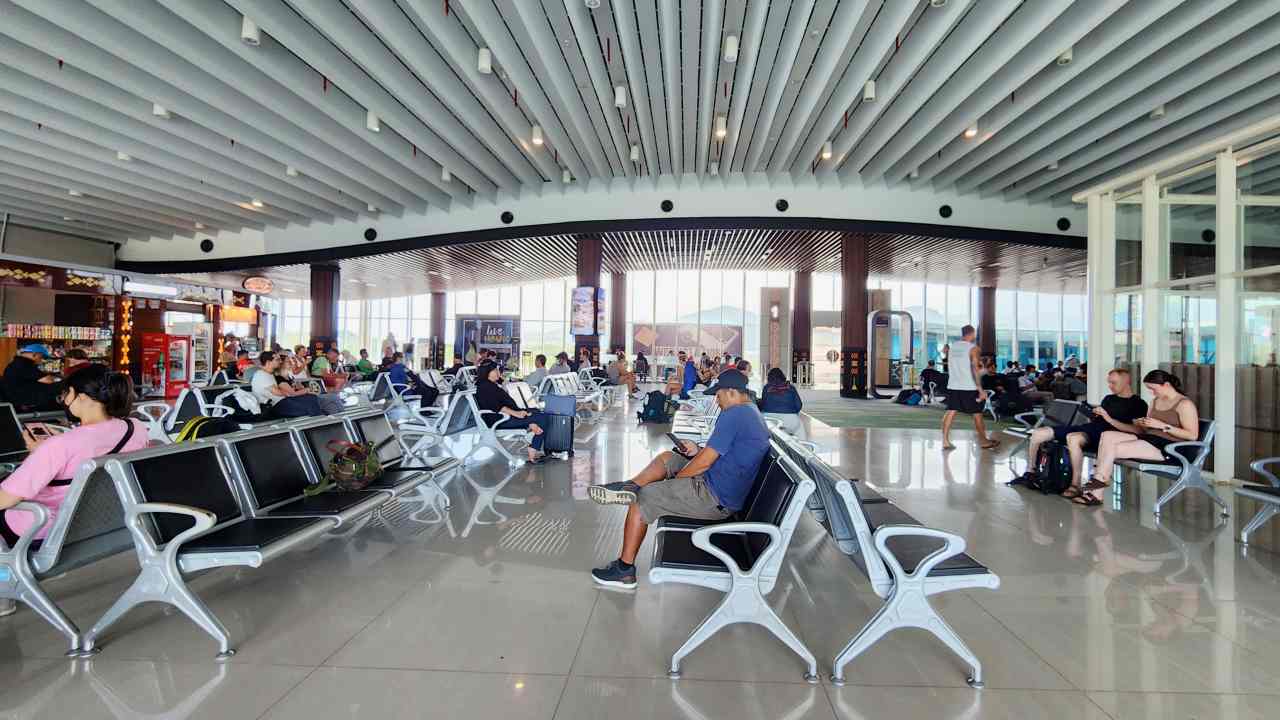 At the arrival, porters are always ready to give a hand, sometimes without being asked first. There is no official fare for the porter's service. Make sure to agree on the fee first to use the Porter service. 
See: Padar Island Guide & Top Activities.
Komodo International Airport Facilities
Airport facility is one of the determinant factors in tourists' experiences. Komodo International Airport has quite complete facilities. The toilets are clean, the parking lot is spacious, and waiting rooms are available with many seats. The airport also provides prayer rooms, a smoking area, and even a nursery room.
For tourists coming with children, a small play area with photo spots is also available near the waiting room. It is surely useful to keep the kids busy while waiting. However, the facility is crowded on Friday-Sunday.
See: Guide To Explore Komodo National Park & Tickets.
Komodo International Airport To Downtown
If tourists have booked lodging, many hotels or hostels offer free pick-up from the airport. The service will welcome tourists at the arrival exit. Or, DAMRI provides the most affordable and comfortable mode when it comes to transportation at only Rp10.000 fare. The buses serve daily from 7 AM to 5 PM.
Komodo International Airport To Downtown
DAMRI
Rp10,000
See: Guide To Explore Cunca Wulang Waterfall.
A total of 4 units of buses with 16 trips serve from the airport to Puncak Waringin, Bukit Sylvia, Kampung Ujung, Hotel Marina Labuan Bajo, Hotel Puri Sari, and several other hotels. The ticket is available at the departure counter at Komodo Airport. In the future, tickets will be available on DAMRI Apps.
Local people also offer private cars and taxis to get tourists everywhere on the island. The cars and taxis are available outside the arrival hall. The cost to use the service is negotiable. The fee usually starts from Rp50,000 to get anywhere on the island.