Cunca Wulang Waterfall
Entrance Fee: Rp100.000
Opening Hours: 06:00 -17:00
Telp. Number: -
Address: wersawe, Pota Wangka , Boleng, West Manggarai , East Nusa Tenggara , Indonesia , 86757.
A waterfall is probably the most mesmerizing wonder nature has to offer. It feels like the roaring sound of water discharge is taking away all cumbersome stresses when getting near one. Cunca Wulang waterfall is the perfect destination for waterfall goers. This hidden gem elevates 200 m above sea level, in the middle of a jungle.
The river flows incising the rocks in the middle. It resembles the rock formation of the Grand Canyon but is a lot smaller. Massive rocks on both sides of the water flow stand 10m tall creating a narrow divide to peek at the fall.
Cunca Wulang waterfall is dubbed as the small version of Green Canyon, the beautiful lavish green rock and cliff structure in Pangandaran, West Java. Another name for Cunca Wulang bears is the Green Canyon of the East for it situates at Wersawe village, East Nusa Tenggara.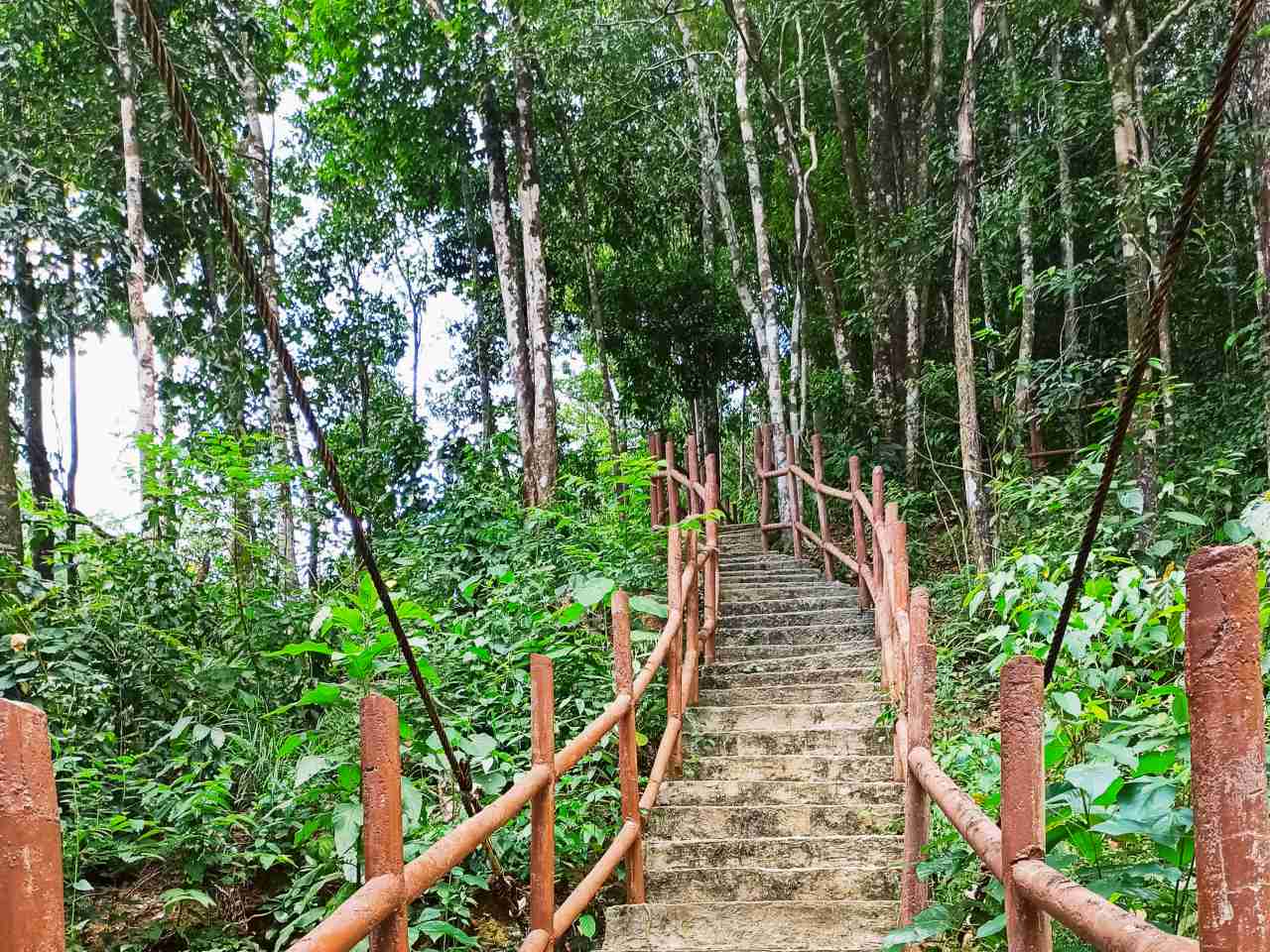 Thrilling Trek to the Waterfall
While offering a magnificent atmosphere, getting here is debilitating especially for those who never exercise. Cunca Wulang situates in a secluded area. It takes a 45-minute hike through rice fields and small plantations of vanilla, banana, coffee, candlenut, and cocoa owned by locals. Follow the signs and never get lost.
Once entering the forest, the path goes steeper with some steps to track. Then, tourists must go through a suspension bridge before arriving in the fall. That's why wearing good footwear is a must since the trek will be slippery and damp.
The Waterfall & Guide
Upon arrival, visitors will instantly forget all the struggles! The cold waterfall creates a refreshing blow of air to the face. Below, the green pool is calling visitors to jump into it.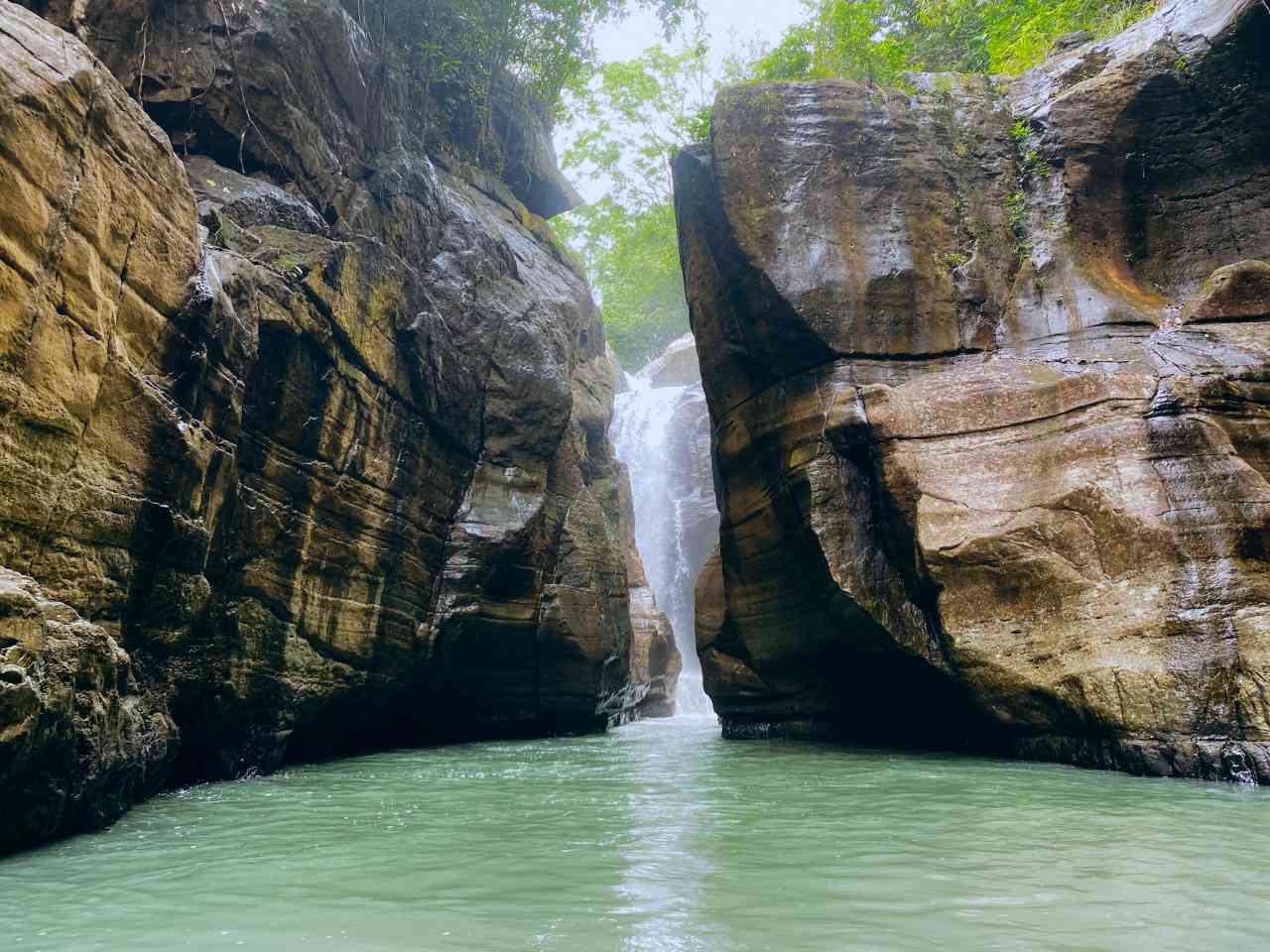 There are many activities to be done here. But not all spots are safe for everyone because of the strong current and the deep pools. The guide will indicate the safe ones for every activity. To point out, the guide is compulsory, and there is an extra fee besides the entrance ticket.
Cliff Jumping
It is just irresistible to jump into the pools. Surrounding trees shade the place, so people don't have to worry about sunburn. Visitors may indulge themselves in swimming as long as they want.
Cliff jumping is also a thrilling activity for those who dare. Jumpers can choose from 4-m to 10-m high cliffs, and jump into deeper pools that are safe for everyone not to hit the floor. Despite coming with a guide be aware that some spot is not for a beginner swimmer. Some have a strong current and it requires good swimming skills to reach the pool edge.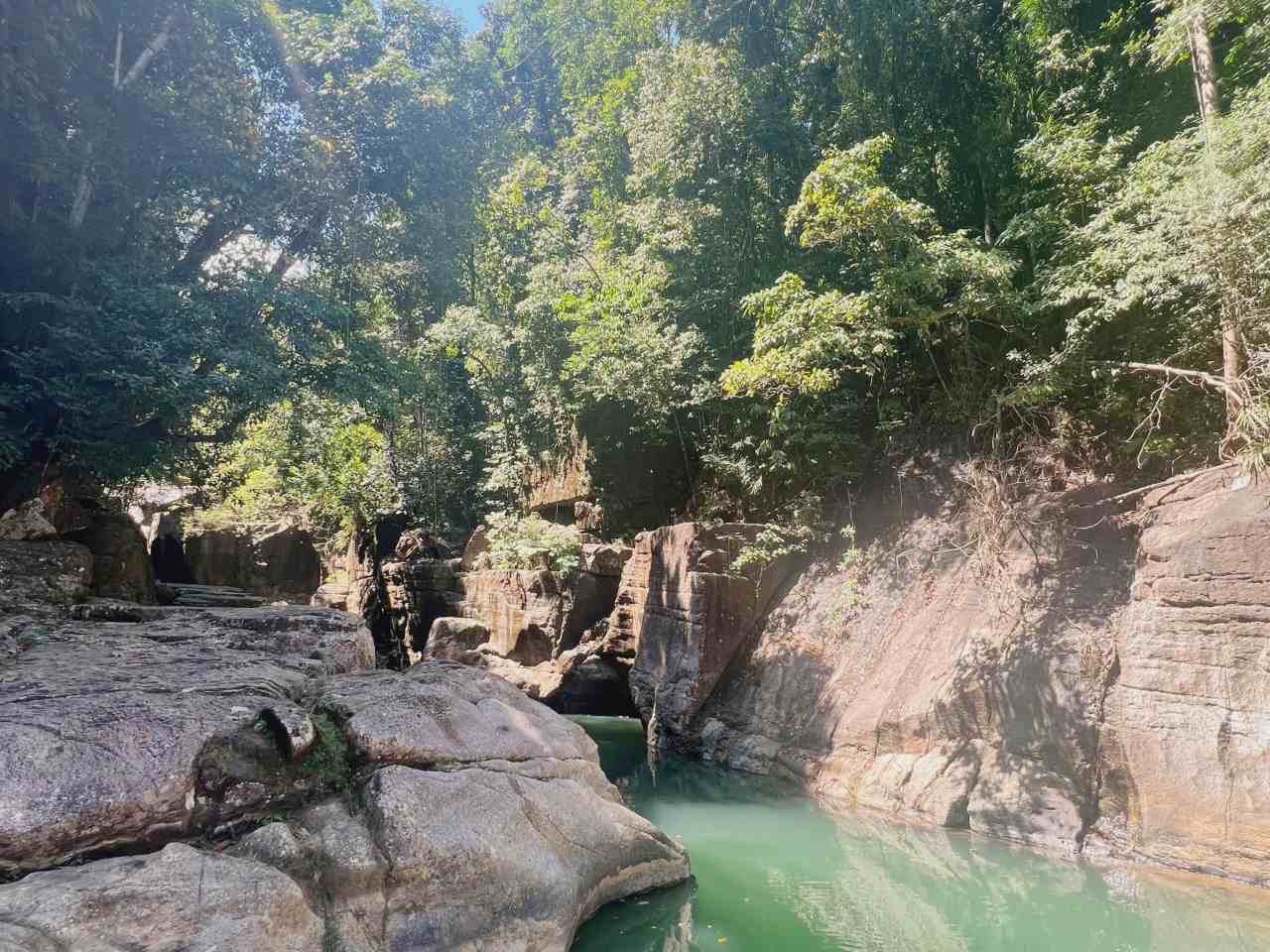 Nature Scenery
For those who don't want to get soaked, there are boulders to lie back and relax. Hot coffee is also a perfect company in this cool environment. A tiny shop nearby can cater to this need.
And of course, the view is just too magical not to be in a picture. The waterfall, the canyon, and the verdant surroundings blend in a stunning scenery people love to be in all day. Cunca Wulang waterfall also boasts some freshwater pools between magnificent cliffs.
Water has eroded and carved the rocks into some interesting formations of cliffs, including several small, watery caves. Down the river, the canyon widens with cascades that stretch some kilometers to the valley. Tourists can capture the scenery from every corner of the place.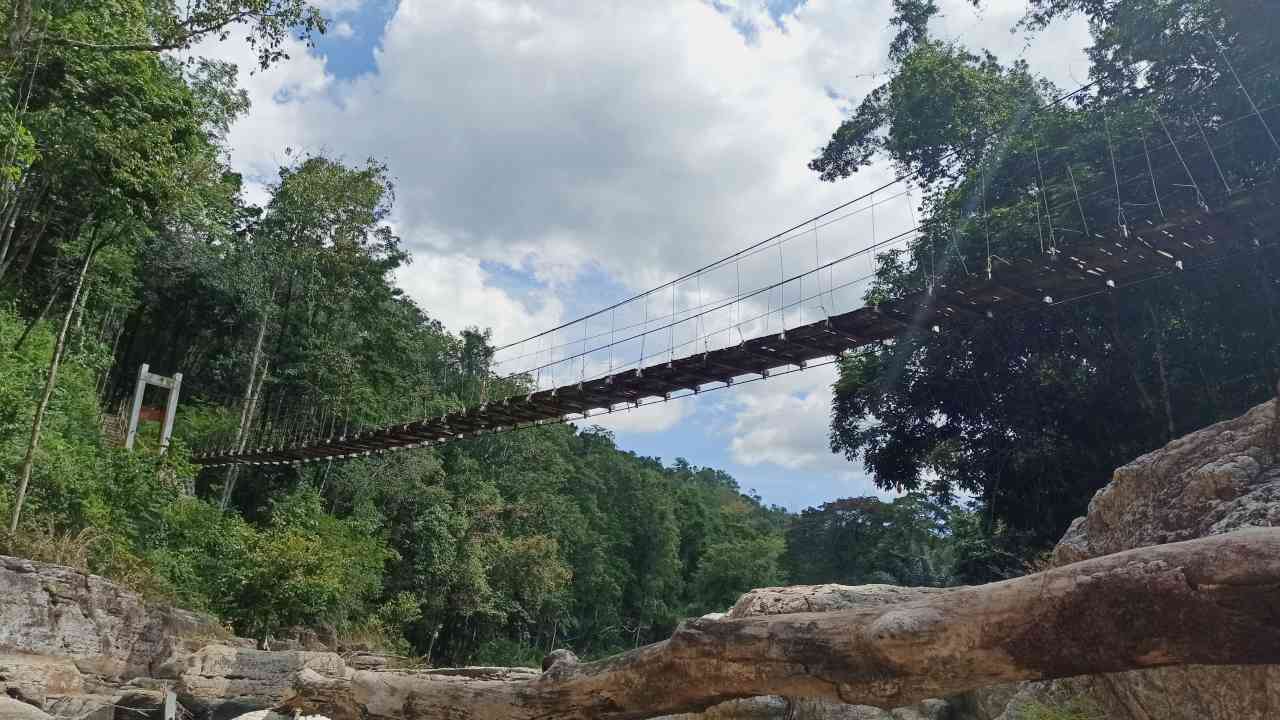 Moon-Shaped Spring & Underground River
Cunca Wulang means Air Terjun Bulan in the local language. The name originates from a moon-shaped spring that sits in the middle of a rock niche, at the top of the waterfall. The place is full of mystical nuance.
Locals believe that this spring is guarded by a mystical figure called Empo Cunca Wulang. That's not all. There is an underground river about 1 km from the fall. It is a 2km long and 10-m wide, Wae Ranteng river that flows into a cave called Liang Rodak.
No one could explore the entire river length. But with an extra fee of Rp150,000 for 2 rangers, tourists can explore the cave mouth where the river flow enters. There is a vortex inside the cave that prevents further exploration of the underground river.
See: Guide To Wae Rebo Village & Entrance Ticket.
Cunca Wulang Waterfall Opening Hours
The waterfall opening hour is from 6 AM to 5 PM. But do leave before the sun goes down since tourists will have to track through the same forest on the way back. Rain season is the worst time to be here because even a small rain can cause increased water level that brings alarming effects.
In addition, the pleasant turquoise pools will turn into brown muddy ones with raging torrents. And tourists should always be very careful here as there have been fatalities due to ignorance for not taking every caution given.
Cunca Wulang Waterfall Opening Hours
Every day
06:00 – 17:00
See: Guide To Explore Kelimutu National Park & Crater Lake.
Cunca Wulang Waterfall Entrance Fee
Tourists need to pay Rp100,000 for a retribution fee that includes a guide to explore the waterfall. To point out, there's a price difference between coming alone and in a group. The perk of coming in a group is the guide fee will be shared depending on how many participants.
Cunca Wulang Waterfall Entrance Fee
Ticket + Guide
Rp100,000
See: Guide To Explore Komodo National & Ticket.
Facilities
Cunca Wulang Waterfall is a secluded gem in the middle of a rainforest. The facilities available are a parking lot and a toilet at the post. There is only a very small shop serving only snacks and drinks near the waterfall. So, prepare everything to enjoy the waterfall.
See: Tourists SIM Card, Price & Providers Options.
How To Get To Cunca Wulang Waterfall
The spot is about 30 km to the east of Labuan Bajo. Take the Trans Flores highway. Then, turn left at Cekonobo and drive 4 km to Wersawa village. The road is pretty good but at some points, it is a winding road and there are holes here and there.
As there is no public transportation serving this destination, the best way to get here is by renting a bike or car. A bike for 2 people costs Rp75,000 with 2 helmets. A car will cost tourists Rp650,000 per 10 hours.
See: Komodo International Airport & Public Transportation Guide.
Address & Location
Cunca Wulang Waterfall is located in Pota Wangka village, Boleng, Manggarai Barat, East Nusa Tenggara 86757.