Rangko Cave
Entrance Fee: Rp50.000
Opening Hours: 06:30 - 18:00
Telp. Number: -
Address: Desa Tanjung Boleng , Tj Boleng , Boleng , Manggarai Barat , East Nusa Tenggara , Indonesia , 86754.
Labuan Bajo isn't only about Komodo Dragon and Padar Island. There are more gems that are hidden in this super-priority destination. One of the gems is Rangko Cave. The cave is only one hour or so from Labuan Bajo. However, it is a secluded spot in a grove on a beach that is flanked by mountains.
The cave might be chilling for some people. It's not wrong, though. It is a dark place underground with some bats flying in and out sometimes. But Rangko Cave is a must-visit before one dies. The cave in Labuan Bajo gives a magical experience when being in, especially for a couple of hours at noon.
In those golden hours, the cave shows its true beauty. Structures of stalactites hang on the ceiling pointing down to a blue lagoon. Situated in Rangko village, Tanjung Boleng, Rangko cave is not the place to have camping. But it suits those who want a moment disconnected from civilization.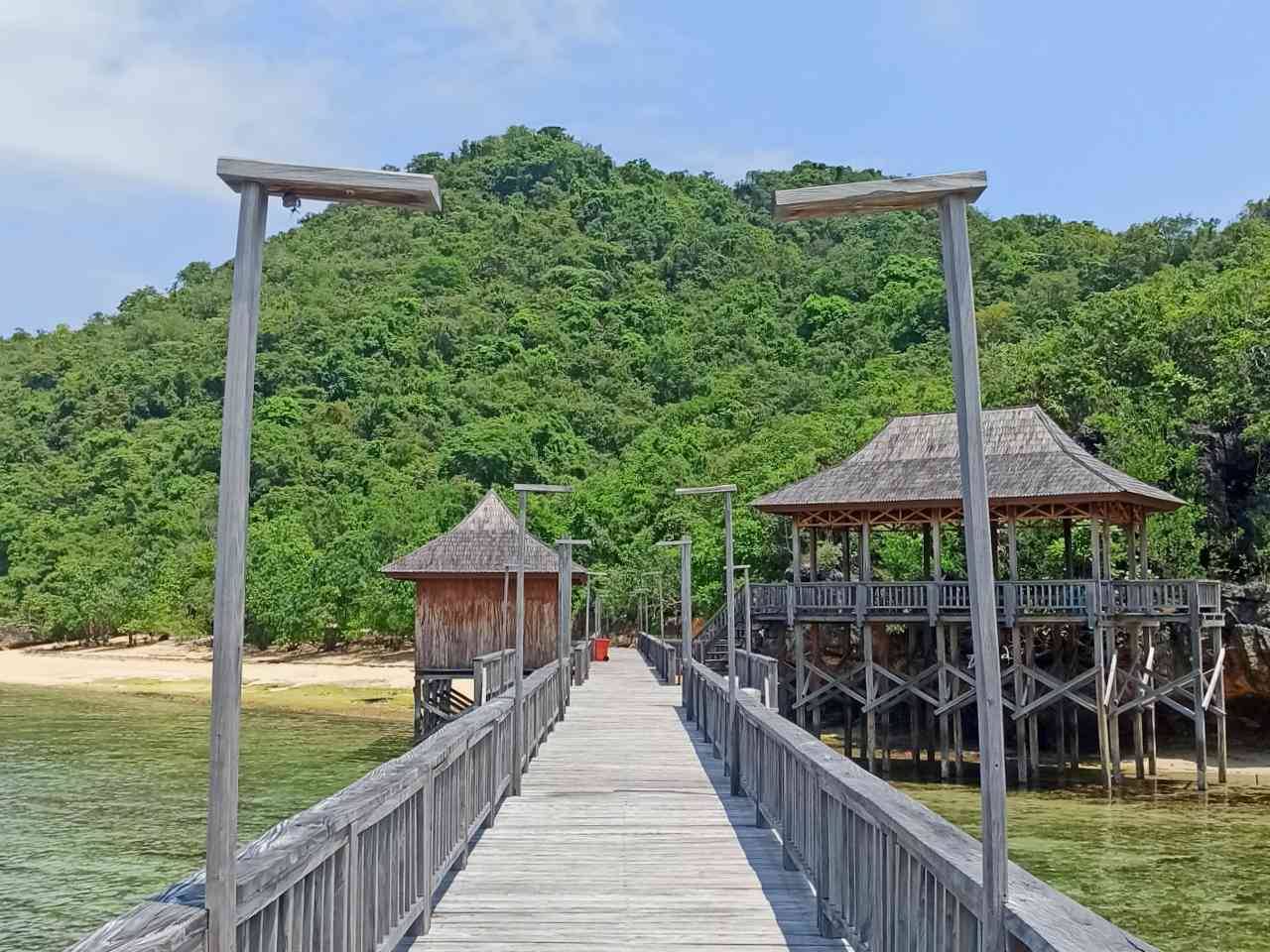 Rangko Cave Entrance Fee
International tourists will be charged Rp50,000 ($3) to explore the cave. The entrance doesn't include a jetty fee to get to the cave. The boat cost Rp250,000 to Rp400,000 for a 5 to 7-person capacity. So it's best to come in a group or share the boat cost with other fellow travelers.
Rangko Cave Entrance Fee
International tourist
Rp50,000
Boat (5 to 7 person) capacity
Rp250,000 to Rp400,000
See: Guide To Explore Komodo Island National Park & Tickets.
Rangko Cave Opening Hours
This tourist attraction opens every day including on national holidays from 6:30 AM to 6 PM. To get perfect photos, the best time to visit Rangko Cave is between 12 PM to 03:30 PM. Just like other tourists attraction in Indonesia, national holidays are the peak time of all tourist sites.
Rangko Cave Opening Hours
Every day
06:30 – 18:00
See: Guide To Explore Wae Rebo Village & Ticket.
Access to Rangko Cave
The trip to reach the cave requires some effort for it's only accessible by sea. After approximately 30 minutes drive from Labuan Bajo, tourists will arrive at the start boat point to Goa Rangko. Despite being small, the place is shady with beautiful scenery. And, there is a small shop where tourists can buy snacks and drinks to bring to the cave.
Locals rent out boats for commuting to and from the cave. Always remember to negotiate as locals will ask a quite pricey fare. Reasonable cost ranges from Rp250,000 to Rp400,000 per boat which can take up to 7 passengers. It takes 40-45 minutes for the boat to arrive at a pier. Be careful when stepping since it is only 1.5 meters wide and slippery when it's wet.
Below, the clear water showcases colorful coral with fishes swimming around. There is a post where tourists buy the ticket for Rp50,000 which allows tourists to enter. After 20 minutes walk through a grove, everyone can spot the cavity that is waiting to be explored.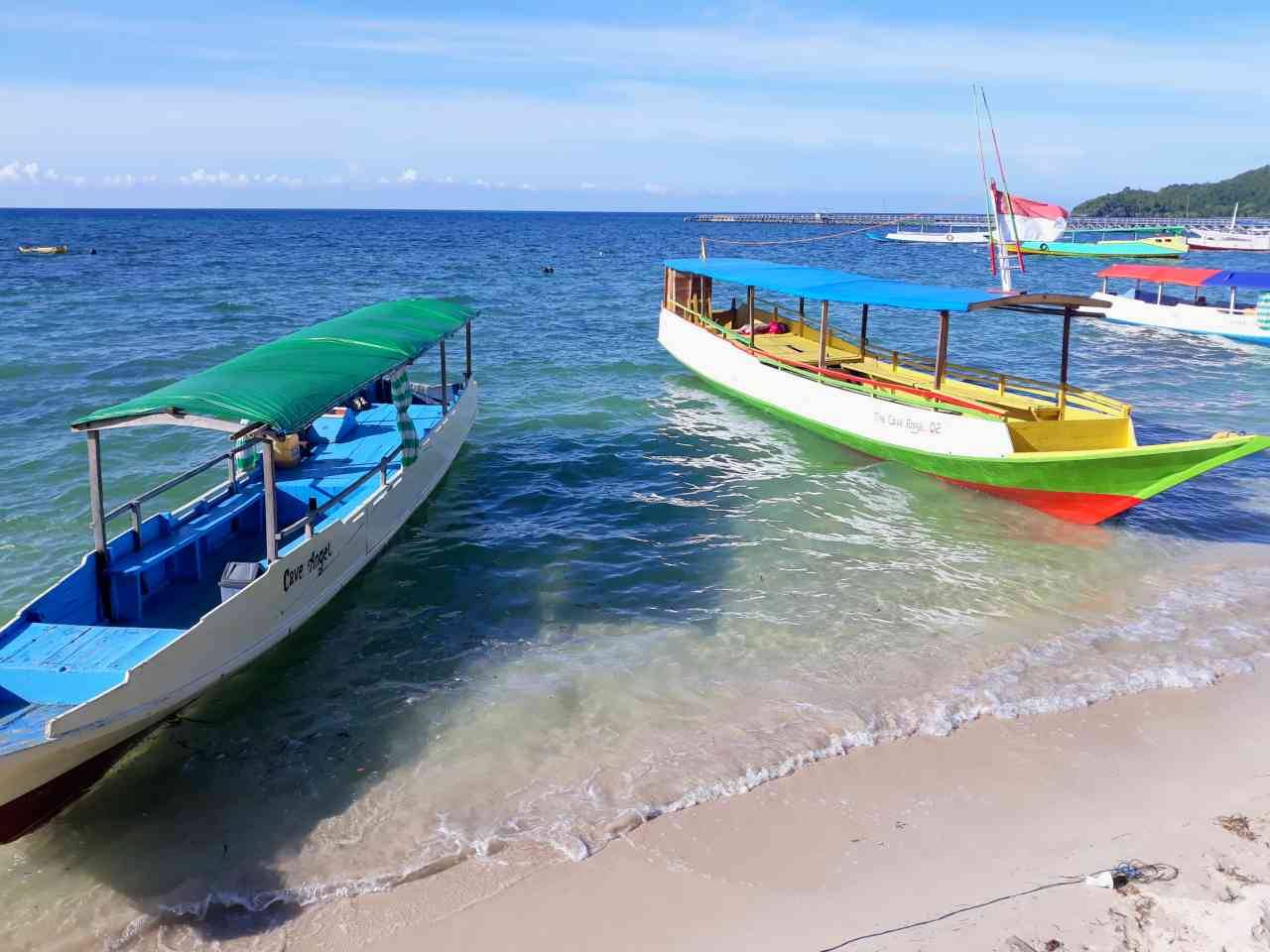 Subterranean Lagoon
The cave entrance is a 2 x 3-meter opening on the ground. It continues with calcite steps to go down to the cave bottom. Be careful when stepping since the steps are slippery. Hold on to the wooden railing to avoid falling. Wearing water shoes is a good idea when visiting here.
Inside the cave, beautiful structures of stalactite adorn the cave's ceiling. Below, a blue pool spans its fresh water. To point out, this amazing view is only visible clearly when the sun lights through the opening.
Taking Photos & Swimming
The sunbeam is visible entering through the cave's mouth. The light hit the stalactite and the pool reflects its beautiful blue color. Unfortunately, this amazing picturesque view only lasts until 3 PM. Then the light starts to fade again by 03:30 PM. But the time frame could vary according to the season. Grab the camera gears, and capture the view before darkness takes it away.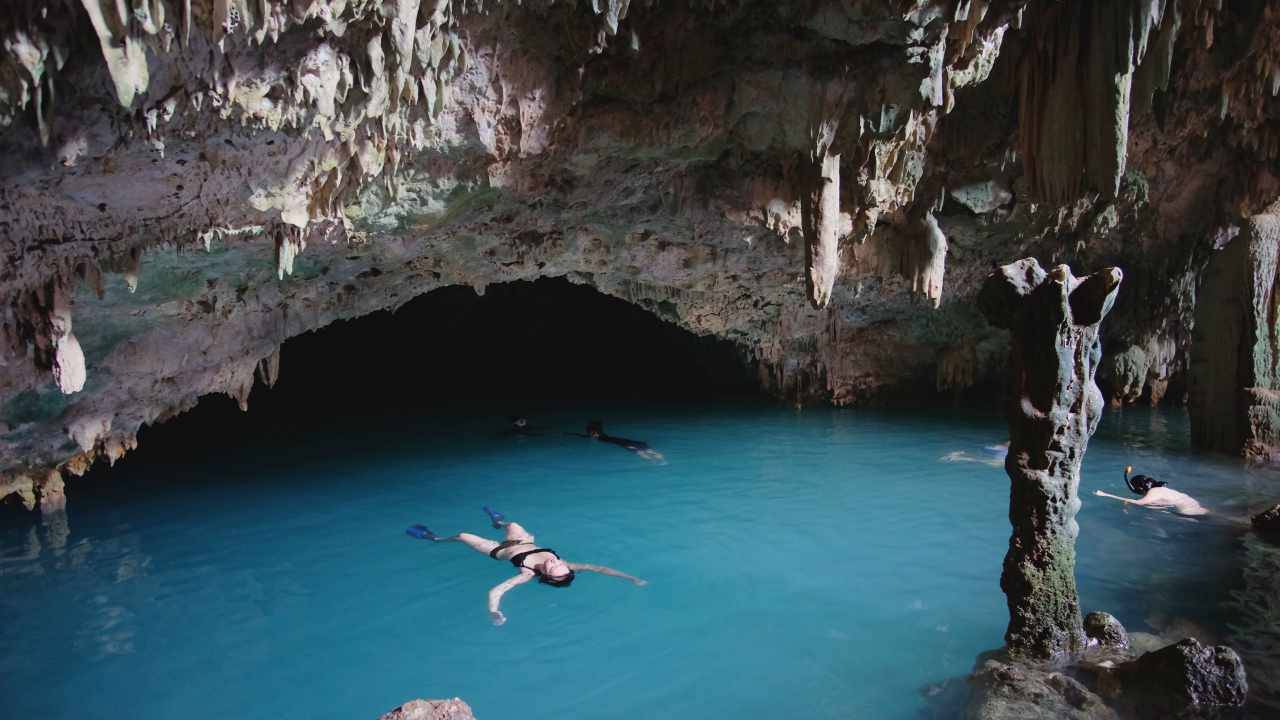 The water invites everyone to have a dip or swim. When the time is right, the lagoon becomes a private pool tourists can have all for themselves. But be careful, since it's not fun to bring home bruises from hitting the rocks.
Diving Into the Pool
At the poolside, one stalagmite grows upright resembling a pole. It becomes the point to climb up and jump into the lagoon. Those who can't swim should be careful because the pool is 3-4 meters deep. However, it is easy to float on the surface.
And, it is also safe even for novices to dive to the bottom. The diving gives up-close sightings of corals and small fishes that swim around the natural pool.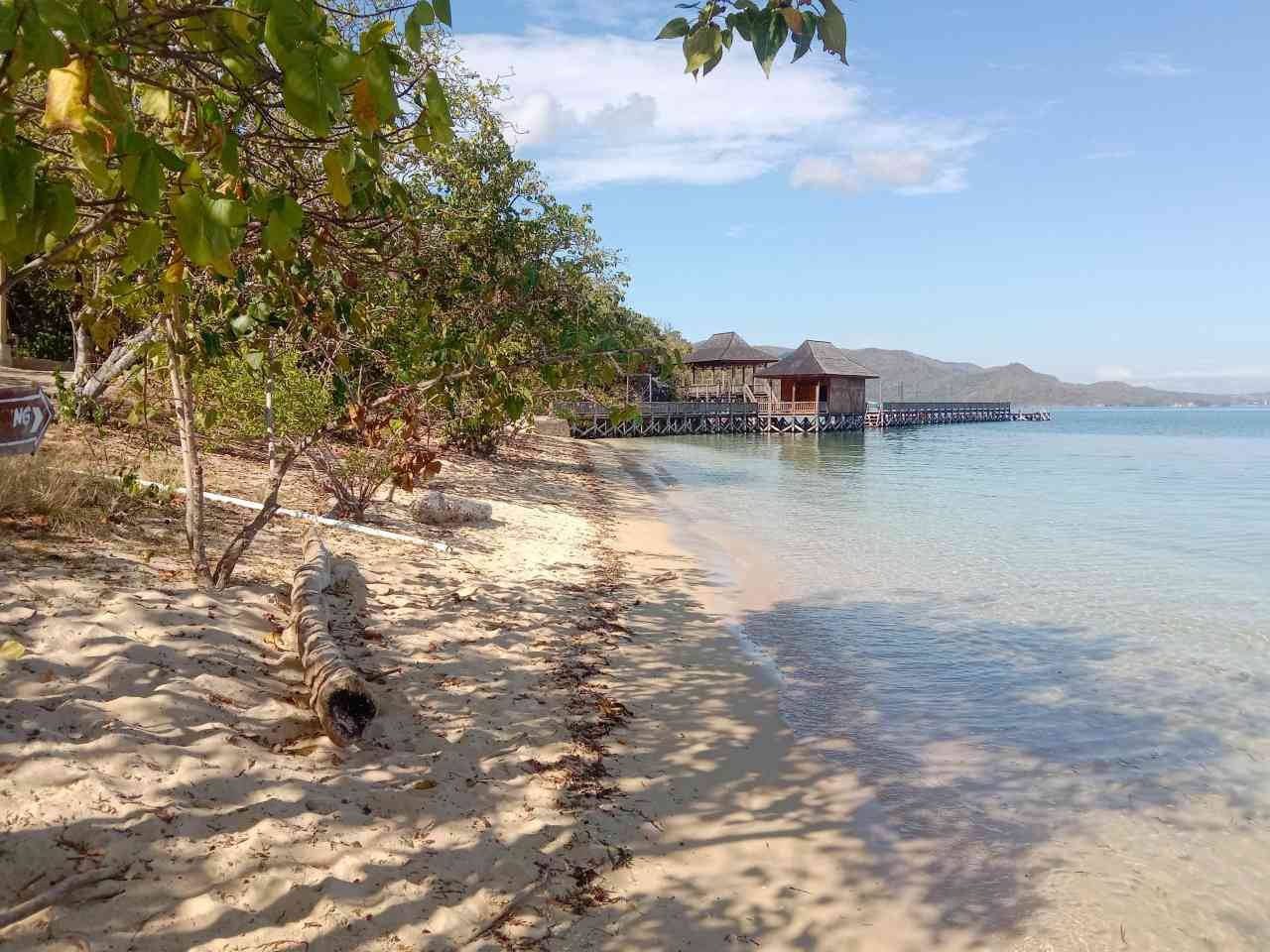 Pasir Timbul Gusung Island
Near the cave, there is a crescent shape sandbar. It lies in the sea only a 5-minute boat ride from the cave. But it appears only in low tide and the ride may cost tourists an extra Rp50k to Rp100k.
There is actually nothing on this small island but a sand dune. However, the white sand in the middle of the blue sea is a great background for drone photography. On the contrary, the sun might be blistering.
See: Guide To Explore Cunca Wulang Waterfall & Top Things To Do.
Facilities
Rangko Cave situates on an uninhabited island. All facilities are available in Labuan Bajo. Tourists should prepare everything for all that is available here is only nature.
Bearing that in mind, prepare everything from a swimsuit, water shoes, snorkeling gear, camera gear, food, drinks, and medication to have a memorable vacation here. And, don't litter or pee in the cave.
See: Komodo International Airport Flight & Transportation Guide.
How To Get To Rangko Cave
From Labuan Bajo, the distance to the jetty pier is around 14 km. And it takes about 30 minutes by car or faster by scooter. Then, tourists will have to continue the journey to Rangko Cave by boat, follow by a short walk to get to the cave. The boat trip from the pier to the cave will take another 15 to 20 minutes.
Public transportation is scarce in this area. So, the best option is to rent a motorcycle or car. A scooter will cost tourists Rp75,000 to Rp150,000 per day. A car with a driver will cost about Rp550,000 for 6 hours and start from Rp830,000 per 12 hours.
Another way to reach the cave is by renting the boat from Labuan Bajo which will take 50-70 minutes. Of course, renting the boat will cost higher than taking the land trip.
See: Guide To Choose Indonesia Tourists SIM Card & Price.
Address & Location
Rangko Cave is located in Tj. Boleng, West Manggarai, East Nusa Tenggara, 86754.