Rinca Island
Entrance Fee: Rp150.000 - Rp225.000
Opening Hours: 12:00 - 23:59 WITA
Telp. Number: -
Address: Pasir Panjang, Pasir Panjang, Komodo, Manggarai Barat , East Nusa Tenggara , Indonesia , 86754.
Many people assume that Komodo dragons live exclusively on Komodo Island. However, this is not true. The neighbor Rinca Island hosts a significant population of this prehistoric reptile too. The dragon's population is slightly lower here, only around 1.300 Komodo compared to 1.700 Komodo on Komodo Island.
Rinca's landscape is almost identical to Komodo's, but there are some slight differences. Apart from the same rough limestone hills with dry forests as Komodo's, Rinca island has a wider area of open grassland. Also, unlike in Komodo, there's a village on the island, although undeveloped and with limited basic facilities.
However, the weather is similar between both, hot and dry with low rainfall. Rinca Island used to be overlooked before. But in recent days it has become the alternative to Komodo Island. Offers the same breathtaking views and the same dragon experience, but with far fewer crowds.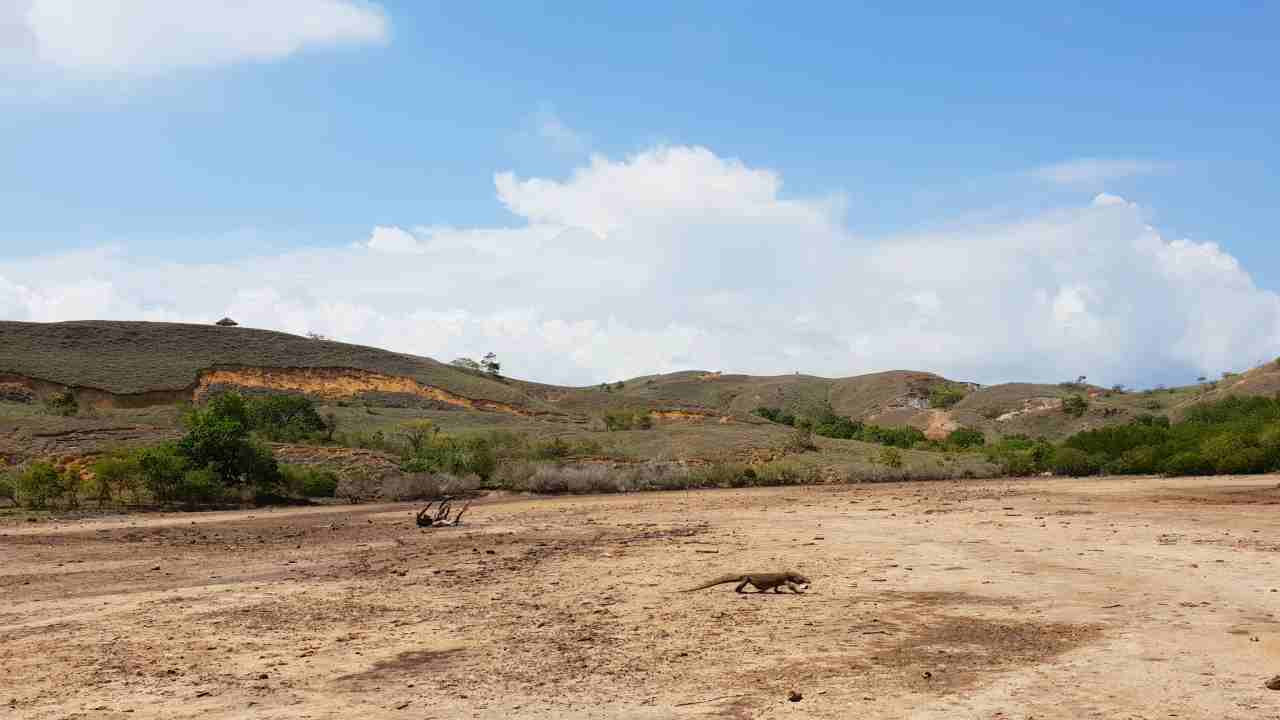 In Rinca, there's a higher chance of Komodo sighting. Besides the Komodo population, the exposed savannah grassland, and fewer trees to shelter under, make Komodo easier to be spotted.
Rinca Island The Komodo's Dragon Trek
Visitors can choose between three routes when trekking on the island. A short route (around 30 minutes) is perfect for anyone having limited time. This route is also better suited for families with children, as the short route will provide them with an easy walk with less hiking.
Seeing Komodo dragons is the main focus here, with the main stop at an artificial water pond where Komodo gathers. The medium route (around 1 hour) offers a longer hike with more views. Apart from the waterholes, hikers will pass through some Komodo nests.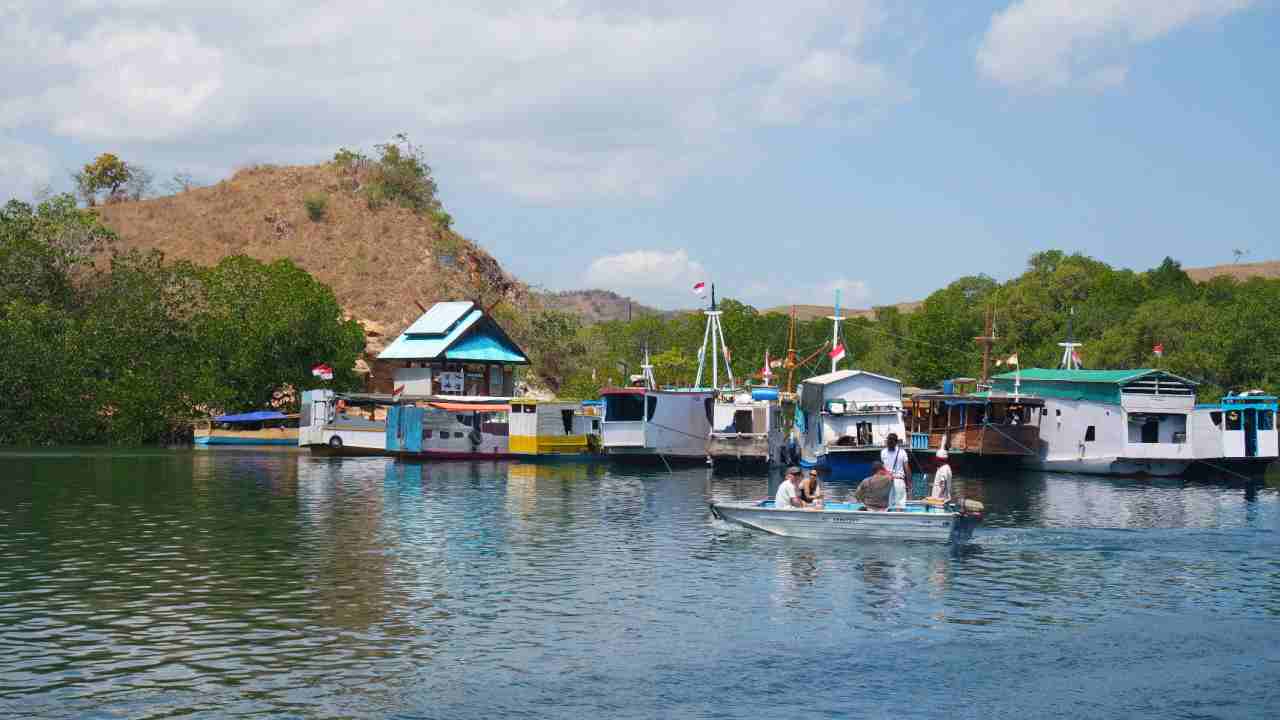 Watch female komodos protecting their eggs, while juvenile komodos play around among the adults, a bit curious toward the humans observing them. These families might seem harmless, but be careful, they're still dangerous carnivores so keep a safe distance.
For an in-depth exploration of the island, choose the long route. The two-hour trek will go deeper into the wild where visitors can watch more of the dragons' activities than just lying lazily under the sun. Tourists might spot Komodo hunting for prey. It's incredible to witness, like watching a live episode on Discovery Channel.
Each tour group is accompanied by a guide, called a "ranger". These brave locals will guide visitors as they walk through the island. They carry a stick, usually a forked branch, to protect the groups from a possibly aggressive Komodo.
It may not look convincing, but these rangers know what they're doing. Besides, they've been trained just in case an accident happens.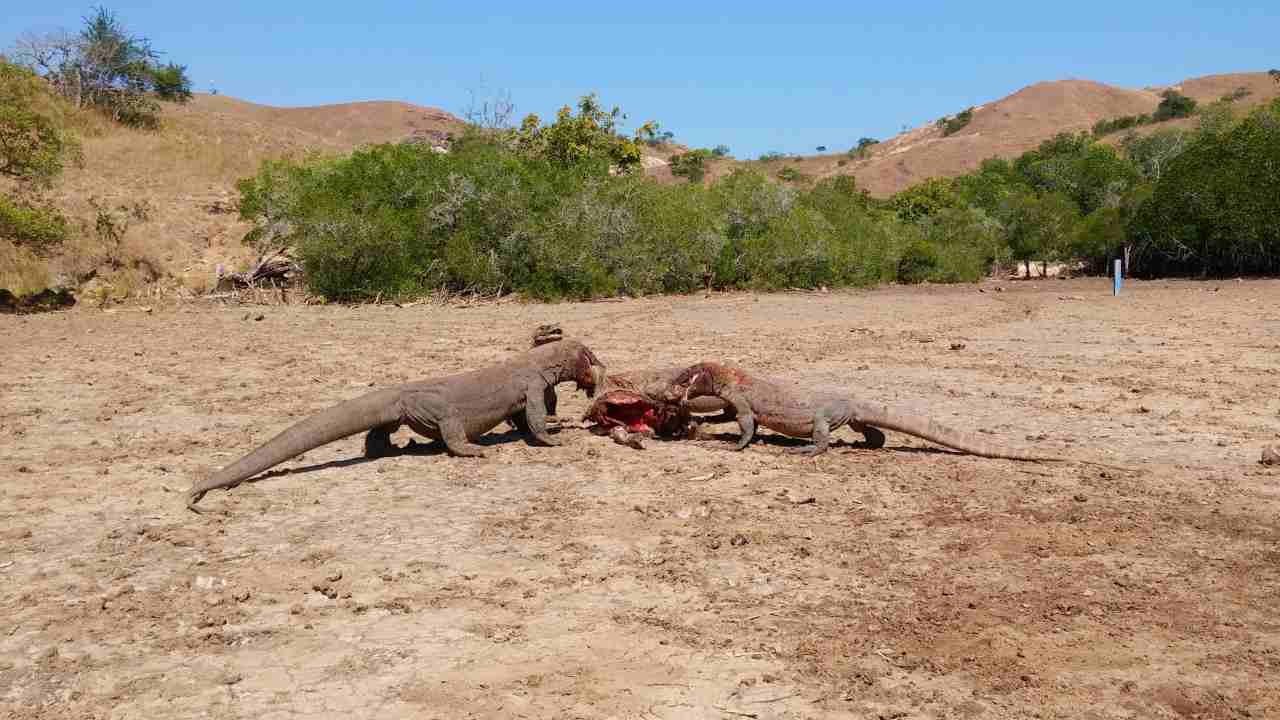 Rinca Island Wildlife Animal
Whichever route visitors choose, they will not miss the panoramic landscape this island has. The short route will end up on a hill with a view over the bay. The medium route brings visitors across the sea of grass as the Rangers guide them from one komodo's nest to another.
The long route is a combination of both, with more slopes to climb, and hilltops to reach. The final show is a sweeping view of the whole island and beyond. The grassland below, the bays, the sea, and the infinite arrays of little islands nearby. Spot some mammals along the way.
Boar, pig, and deer are the usual mammals serving as the food source for the dragon. Exotic birds and some mischievous monkeys live by the beach. Besides Komodo, another dangerous reptile visitors should be cautious of is the cobra snake. Snakes have caused more fatalities than the Komodo itself.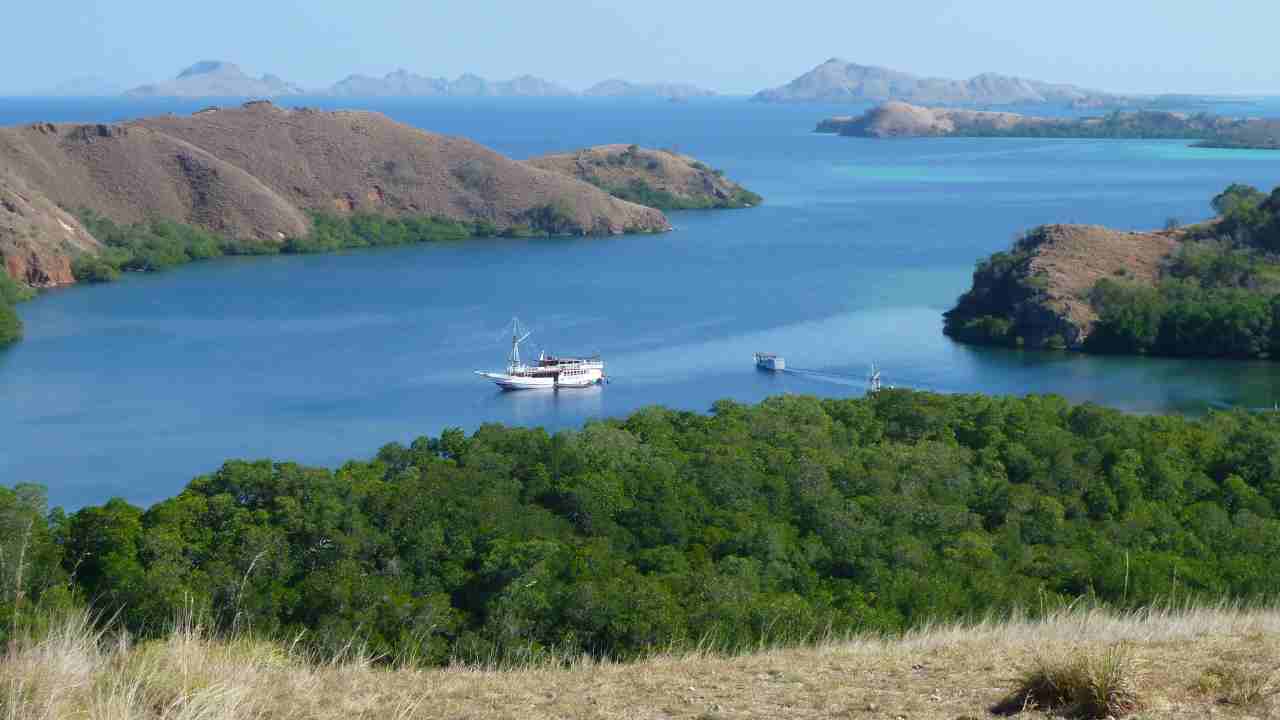 Diving Spot
Komodo might be one giving the national park its name and its fame. But there's another treasure hidden and protected by this park. Below the water, the staggering diversity of marine creatures will astonish anyone who is courageous enough to reveal its secret.
Enjoy drifting along the water with manta rays and sharks, with hundreds of species of reef fishes swimming in the crystal clear water. Little creatures, rare and unique to the area, live among the vivid corals and anemones. It is easy to see why this place is among the most excellent diving spots in the world.
One thing to note, the strait between Komodo Island and Rinca Island hosts strong currents and harsh waves. The currents around Rinca Island can go up to 10 knots, and whirlpools are common. In 2008, four divers were caught by the rip current. They had been missing for two days before being found stranded on a beach at Rinca.
See: Mount Rinjani, Segara Lake Guide & Trekking Summit.
Rinca Island Opening Hours
There are no official opening hours, but for obvious reasons, it's better to visit the island during the day.
Rinca Island Opening Hours
Every day
Open 24 Hours
See: Pink Beach, Watersport & Padar Island Guide, 
Rinca Island Entrance Fee
The ticket price is Rp 150.000 on weekdays and Rp 225.000 on Sundays and national holidays. The ticket is a 1-day entry to the Komodo National Park. That includes Komodo and Padar Island.
There's also an additional government tax of Rp50.000. The guide charges fees are Rp100.000 per group. But visitors going to another island nearby will have to pay again for the guide fee. Don't lose the entrance ticket.
Komodo National Park Entrance Fee
1 Day pass weekday
Rp 150.000
Weekend
Rp 225.000
Guide
Rp 100.000
Snorkeling Activity
Rp 15.000
Wildlife Observation
Rp 10.000
Hiking & Climbing Activities
Rp 5.000
Scuba Diving
Rp 25.000
Canoeing
Rp 25.000
See: Komodo Island, The Top Spot To See Komodo Dragon. 
Facilities
Visitors can find many facilities for tourists in Labuan Bajo. Here plenty of affordable accommodations are available, and so are restaurants, ATMs, and minimarkets. As for this island, there are no accommodations here. Toilets are available right at the National Park office, at the entrance. There is also a small warung nearby, but they only sell snacks and drinks.
See: Kanawa Island Guide & Activities.
How To Get To Rinca Island
The boat trip to the island from the nearest city Labuhan Bajo takes 2,5 hours. Labuan Bajo itself can be accessed by planes from many major cities in Indonesia. There is also a ferry option from Bali and Lombok. To reach Rinca, boats are available for rent.
A regular boat ride to the island typically costs around Rp300.000 – Rp400.000 per person. Many tour services offer one-day trip packages. The cost varies depending on the destinations and boat facilities.
A budget package can go as low as Rp1.200.000 per person. It includes a one-day trip to Rinca, Padar Island, and some diving activities. Visitors can get a cheaper price by getting more people to join the same tour.
See: SIM Card for Tourists, Price & Coverage.
Address & Location
Rinca island location is in the part of Komodo National Park, West Manggarai Regency, East Nusa Tenggara.