Kanawa Island
Entrance Fee: Rp100.000
Opening Hours: Open 24 Hours
Telp. Number: -
Address: Pasir Putih, Pasir Putih , Komodo , Manggarai Barat , East Nusa Tenggara , Indonesia , 86752.
Among Indonesia's archipelago, Kanawa Island stands out to entice on its own. Not for mediocre reasons, the 30-hectare island is the literal summer paradise coming true. With a picturesque image of crystal white sand and turquoise water surrounding the deserted island.
Vibrating solitude in each corner makes everyone who comes wish to not leave. That is why travelers who come to Labuan Bajo fear missing out on this island.
Stopping by Kanawa Island always makes the iconic Labuan Bajo island-hopping experience splendid. As if the shore's beauty is not enough to attract tourists from all over the world. Huge green hills soaring behind the summer setting complete the whole charm.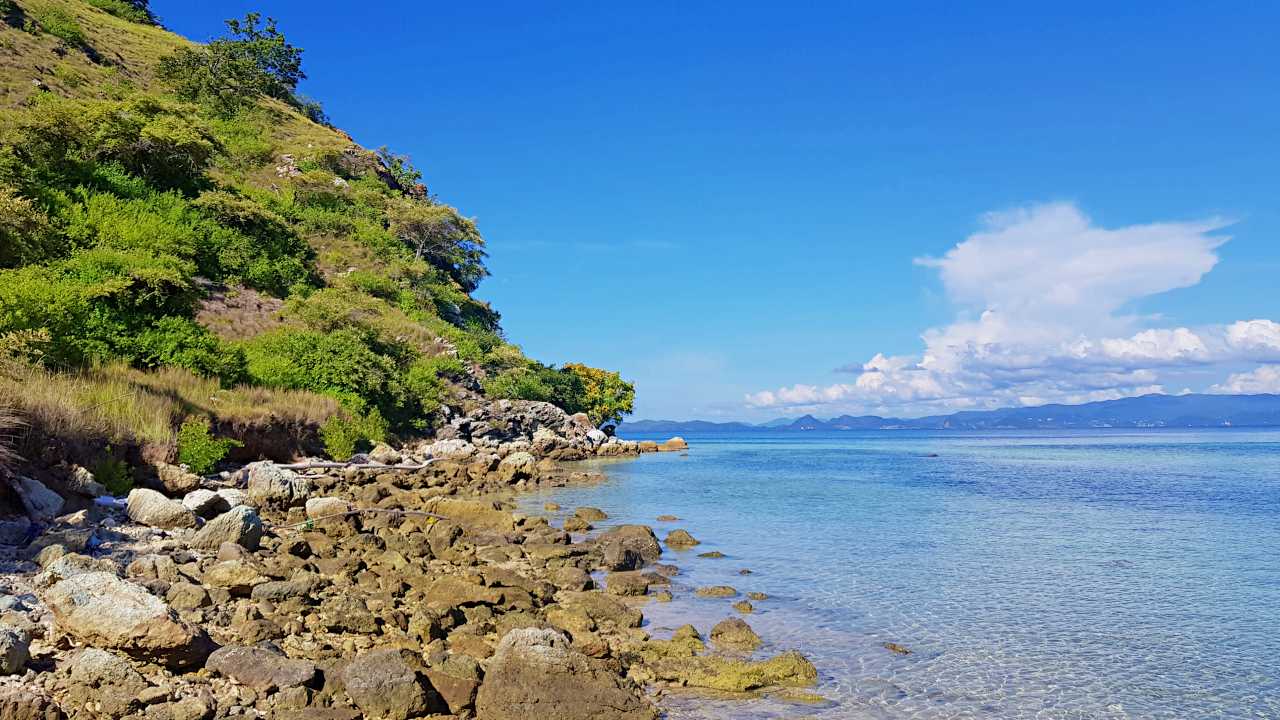 Kanawa Island Entrance Fee
The island is on the list of the island hopping tour. Besides Komodo National Park, Padar, and Rinca Island. The entrance fee charged to explore the island is for one boat.
Kanawa Island Entrance Fee
Ticket
Rp100.000/boat
See: Guide To Explore Rangko Cave Natural Pools.
Kanawa Island Opening Hours
Now an accessible island, there are no operational hours applied on Kanawa Island. Even some travelers take a courageous chance to stay over at the existing bungalows. However, access to and from the island depends on the boat services. That mostly operates between early morning to early evening. Try contacting Kanawa Office in Labuan Bajo first for further information. Because there is no exact schedule for the boat's operation officially published yet.
Kanawa Island Opening Hours
Every day
Open 24 Hours
See: Komodo National Park, Activities & Entrance Fee.
Kanawa Island Pristine Nature
Meanwhile, the deep northern behind remains an untouched area to preserve flora and fauna. Covered completely in lush trees that block the sight of its habitat inside.
Being a far distance from the mainland, no one can access phone coverage conveniently. Let alone the internet because wifi is not available on the island.
Although, in some moments, the signal will reach in to access basic stuff. Such as messaging to receiving emails. But, it is better to put no hope and just enjoy nature's presence here.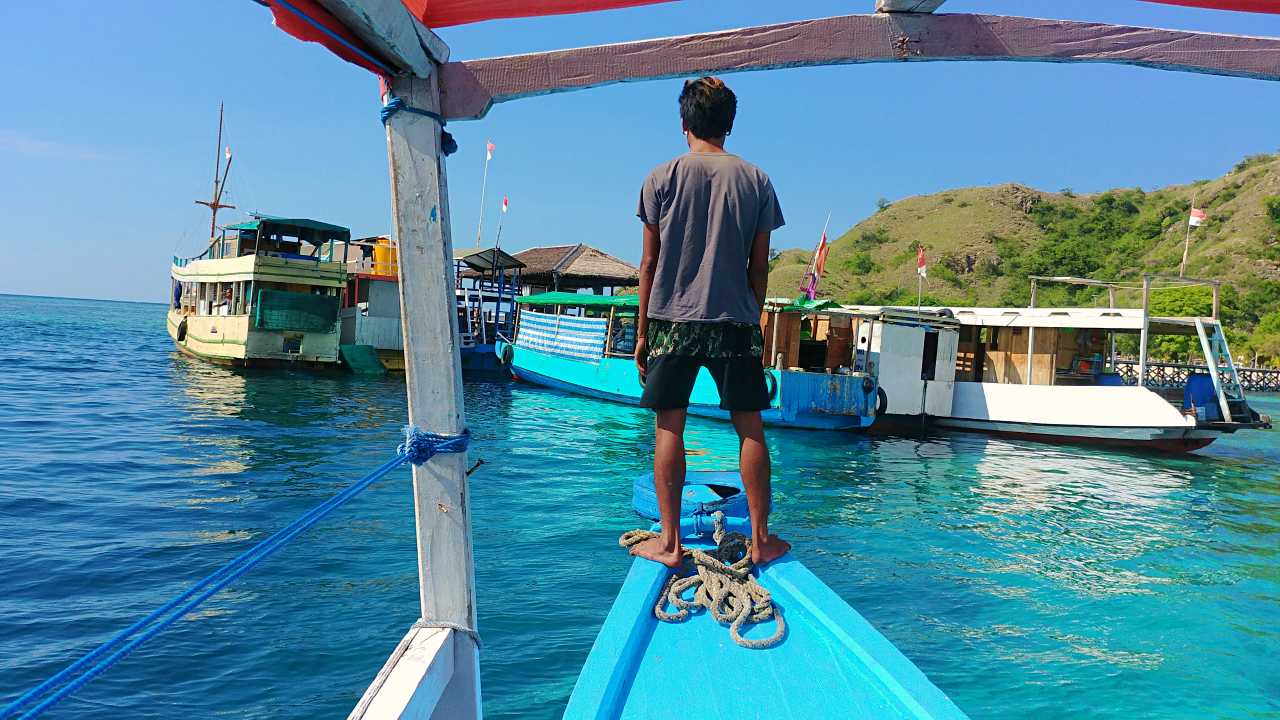 Going Around the Island
Formerly a private island, the first thing to notice is how calm the neighborhood is compared to the usual beaches. Expect nothing about intense and roaring waves around. Because mother nature blesses Kanawa Island with calm water surrounding it.
It is undoubtedly perfect for beach bums who wish to experience a silent coast. But, definitely not ideal for surfers with no signs of big tides at all. Before starting any kind of activity, make time to stroll around the island on foot. It is such a waste of an opportunity to not explore every corner of Kanawa Island.
The accessible land part might probably be a quarter of it. Yet, it already takes about 45 minutes to one hour to walk around. Safety-wise, ask around for locals' company to prevent the unwanted. Do not let the excitement cover up the fact that Kanawa Island is a wholesome wild nature.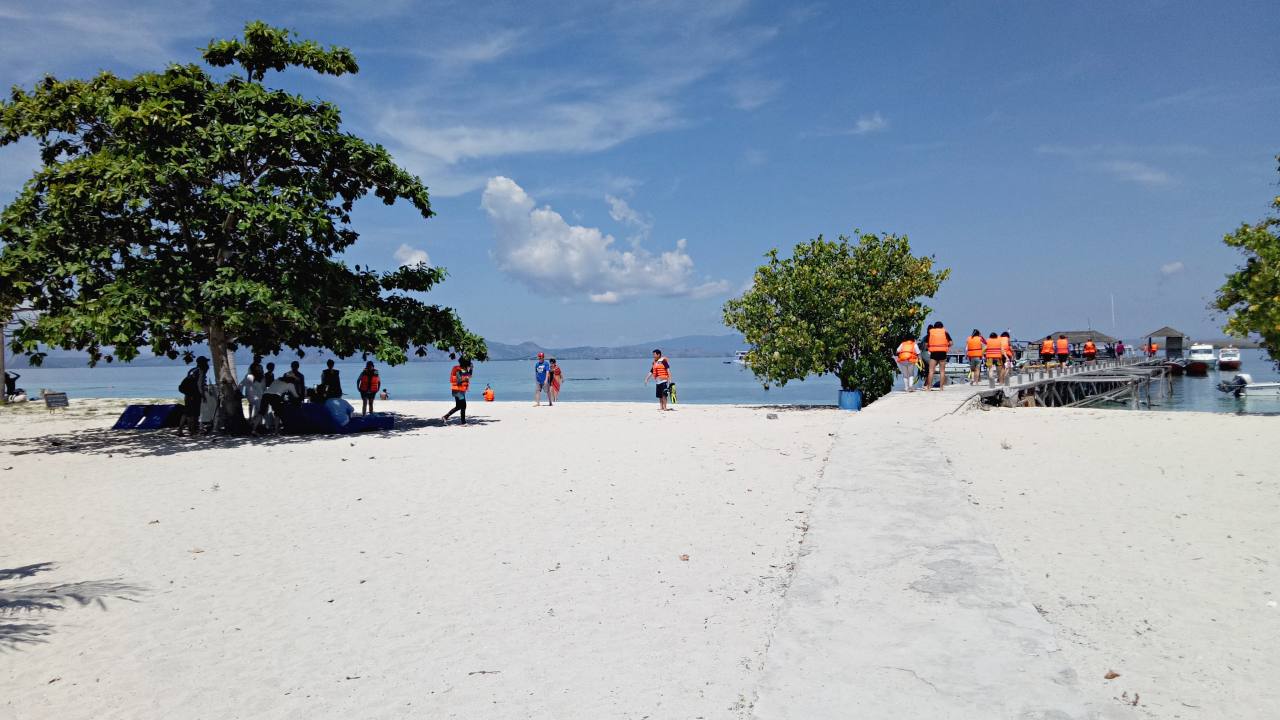 Discover the Underwater
Ask one thing to brag about Kanawa Island. Then everyone will mention how visible the varied underwater life is. Glassed with transparent water, the sea displays the vivid life of colorful fishes and other sea biotas. Swimming and settling in between coral reefs protect the island.
Almost rare these days is the fact that there is no trace of murky water around. According to the words that travel, everyone agrees that sea heaven hides below the harbor. From there, many get the precious chance to meet rare sea creatures.
The kinds range from mantas, wobbegong (carpet sharks), and pygmy seahorses, to many more. Some of the divers even dare to travel further. Only to end up seeing a whale shark at a close distance!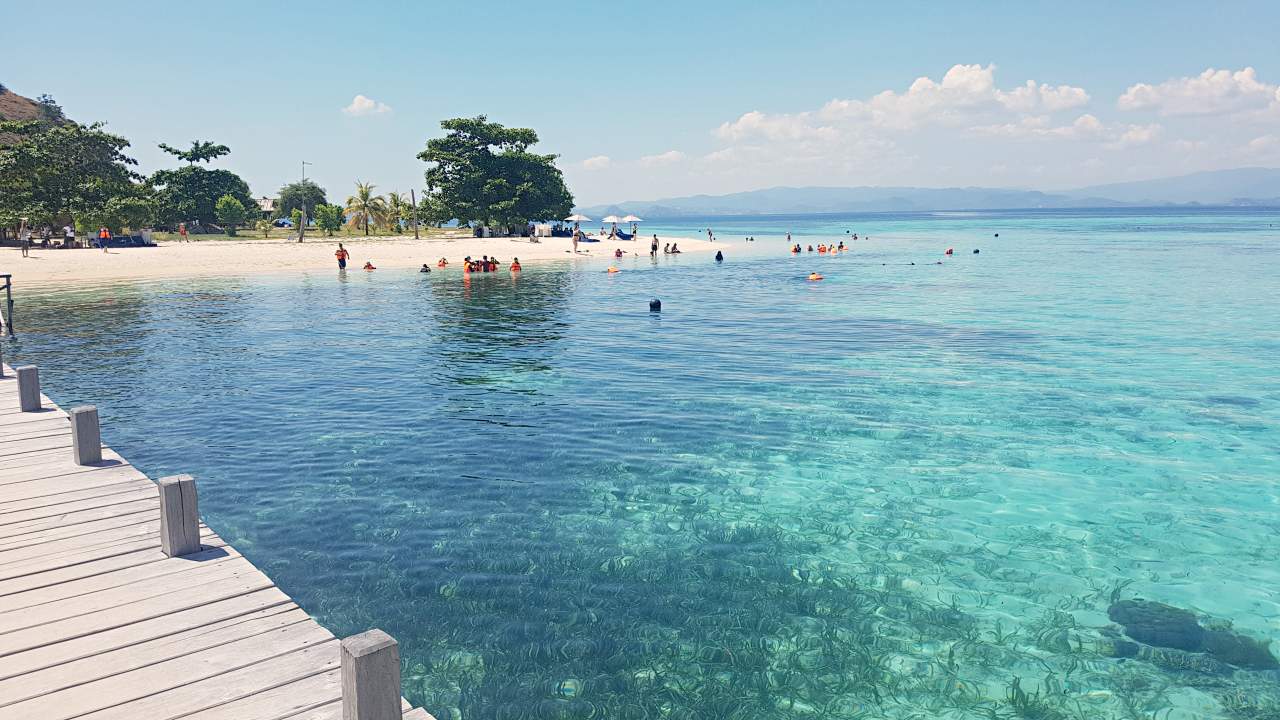 For hygiene reasons, it is better to prepare personal snorkeling or diving equipment. Even though, the operators rent it for those who come unprepared to the island.
The equipment is easy to find in Labuan Bajo for a reasonable price. Thus, spare time to shop for one before departing for Kanawa Island.
Relaxing on the Beach
Nothing is more relaxing than laying around on top of the sandy beach face. Especially when it is almost quiet with no sea swash. With very few locals around, there are many vacant spots to settle.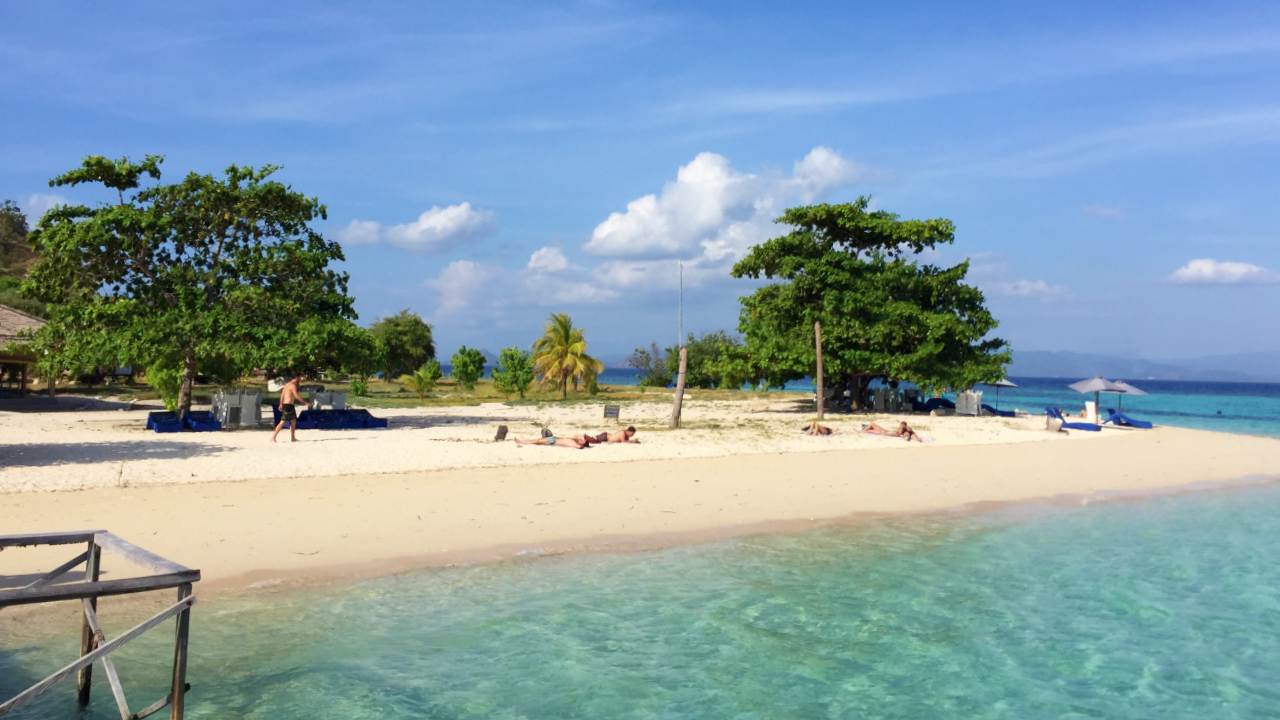 Whether it is under the tree or directly under the sand. The only thing to worry about is deciding which spot is most comfortable. If laying in the sand is not preferable, there are beach chairs or hammocks to rent.
Two beach chairs included with one desk is available at Rp50.000. Meanwhile, the hammocks cost a higher price at Rp100.000 for two units. Perhaps because the quantity is not as much as the chairs. And the experience is somewhat more summer-like.
When playing around the water, watch out for sea animals like sea snakes and sea urchins. It tends to appear on the beach line coming from the bare sea. Especially for kids because the sting can pretty much cause discomfort.
Anyone must not want the summer holiday to turn into a disaster. Considering that there is no hospital to find inside the distant island.
Hike Up the Hill
It is a land rich with majestic sceneries day and night. Whether it is underwater, surface, or sky. Hence, it is only right to climb up the hill to witness the best view.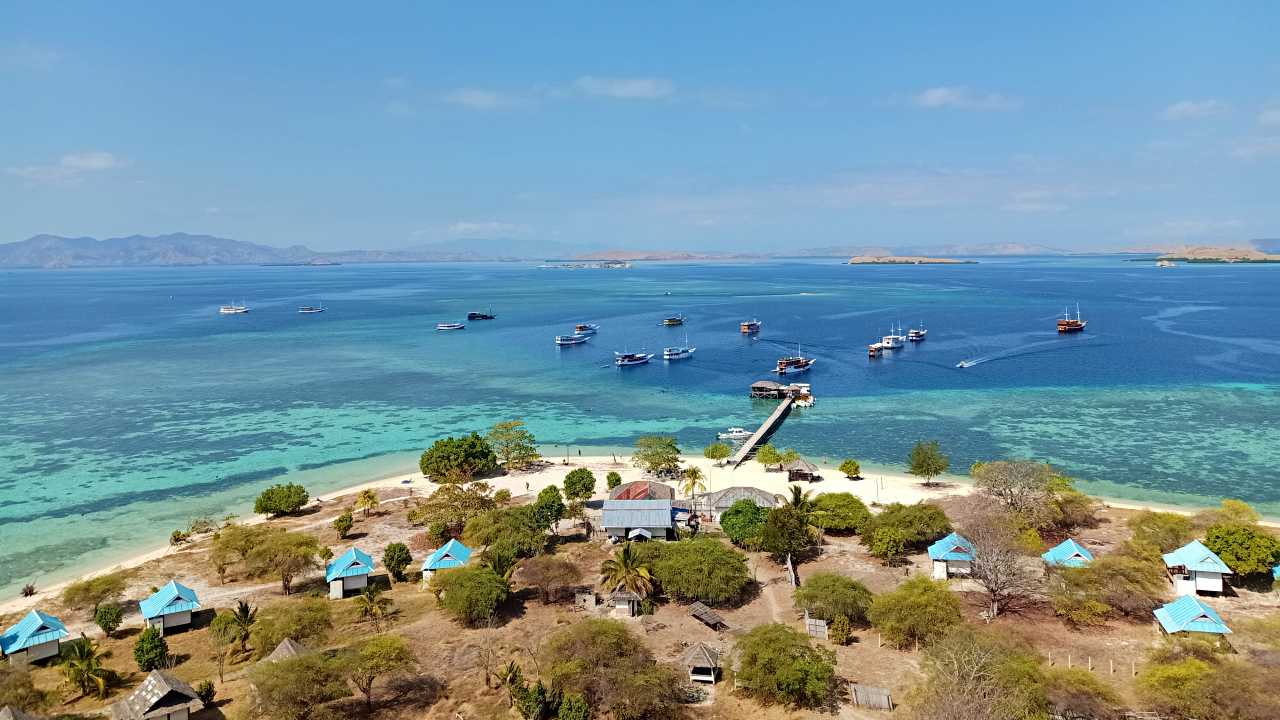 Great news that there is no bushy rainforest to go through. Yet, be very careful because the dirt road is slippery–raining or not. On the hilltop is the perfect spot to pamper eyes with Flores sea panorama.
Although not high, it is more than enough to cover the overall surrounding. As well as the sight of island neighbors across the sea. From up here, the sky also seems reachable by hand. Hence, when the sky timelapse starts, every color transition can appeal very clearly.
Travelers are usually on a hunt for the sunset around 6:20 PM. Unless for stayover visitors that can also enjoy the sunrise at about 6 am. As enjoyable as the sight is, climb back down immediately before the dark. Because the hills and the island itself lacks lighting due to electricity limitation.
See: Guide To Explore Wae Rebo Village.
Watch Sunset from the Dock
In movies, there are many scenes that portray dramatic sunset watching from a deck. The ones where the actors sit side by side serenading toward the setting sun.
In Kanawa Island, try bringing those scenes into reality for it is more than possible. Just make sure that the weather is going to be bright. Or else, it is all for nothing.
Being existed in the tropics, most time on Kanawa Island is summer days. The best season to drop by the island is from April to December. While the rest of the month is the rainy season. Therefore, choose the travel plan wisely to avoid getting washed by heavy rains. After all that effort to reach Kanawa Island.
Another sunset hunting trick to remember. If the swing near the dock is vacant. Just hurry and take a seat to watch the sunset from there. Take the precious chance to swing back and forth into the sea breeze. While watching the sun go down past the sea horizon into an orange cotton hue.
See: Guide To Explore Kelimutu National Park & Entrance Ticket.
Facilities
One thing that travelers should be aware of is the lack of facilities on Kanawa Island. There is no shop to find around except for a single restaurant. Therefore, make sure to prepare everything beforehand. Starting from clothes to the most crucial cash. Because there is no ATM or card machine across there.
Meanwhile, visitors should worry less about food because the restaurant is available. Although, it can be crowded during peak season. The food costs reasonably below $8 for the meal and about $2 for the beverages. However, everyone is welcome to bring their own snacks upon entering the island. Just simply mind the trash and avoid littering across the island.
Toilets are available in the area, although not well kept. Spare a bottle of clean water because sometimes water is not accessible. Even some travelers have to use seawater to clean up. Which everyone wishes to avoid when it comes to body hygiene.
See: Komodo Airport Flights, Airport Transfer & Public Transportation Guide.
How To Get To Kanawa Island
There is no other access to the island than using boats. It departs from Kanawa Office where all the boats docked around. From there, collect information about the available boat that is going to sail away soon. Board with a price of Rp100.000 per person for one boat back and forth.
To Kanawa Office, it takes around 10 minutes to drive from the airport area. It should be the district where most hotels and guest houses for travelers are available.
The most ideal trick is to rent a motorcycle for Rp75.000/day. That safe more money compared to other options of car rental or tour. Or take a taxi at a higher price starting around Rp40.000 for a short distance.
See: Indonesia SIM Card, Price & Coverage.
Address & Location
Kanawa Island is situated in Pasir Putih, Komodo, Manggarai Barat regency, East Nusa Tenggara 86752.