Mount Rinjani
Entrance Fee: Rp150.000
Opening Hours: 24 Hours
Telp. Number: -
Address: Jl. Cendrawasih , Cakranegara Barat, Cakranegara, Lombok Timur , West Nusa Tenggara , Indonesia , 83239.
Anyone visiting Lombok island, Indonesia, will notice a looming mountain dominating the island's landscape. Lombok island is only slightly smaller than Bali, yet almost half of its land area is occupied by Mount Rinjani (Gunung Rinjani). The volcano is 3,726 m in height.
It is the second-highest volcano in Indonesia, after Mount Kerinci in Sumatra. The Segara Anak Lake that situated in one of Mount Rinjani's ancient craters. It is famous for its ocean blue water which contributed to its name Child of The Sea. Mount Rinjani's constant volcanic activity also forms several hot springs around the lake.
These natural pools are popular not only among trekkers. But also among locals, since they believe in the hot springs' healing effect. As for flora and fauna, Mount Rinjani hosts unique biodiversity since it's located in a transitional Wallacea region.
Australasian bird species such as cockatoos and green hanging parrots are a common sight. They live side by side with animals whose origin is the east of the Wallacea line, such as monkeys and porcupines. The park also has a unique species. In 2013, the Rinjani scops owl is recognized as an endemic species which only can be found on Lombok Island.
Mount Rinjani Trekking
A complete 4-day and 3 nights trek will include two nights of camping. First night in the crater rims then go to the summit. Hikers will also spend a night camping right in Segara Anak Lake. There are two villages from which hikers can start the trail, Senaru village, and Sembalun village.
The trek usually starts from one of the villages and ends at the other. Nature does not design Mount Rinjani for beginners hikers. Rinjani invites those who are more experienced. A certain level of fitness is required, as well as a strong mind and spirit. It is a journey not only to quench an adventure thirst, but it is also a test.
After a certain elevation, the humidity in the tropical lowland is non-exist. Temperature can go as low as 4°C. The terrain is extremely challenging as 50°degrees climb. Pushing the body to its limit. The last trek to the summit keeps getting harder. To point out, it's a kilometer of continuous climbs on steep terrain and sandy path.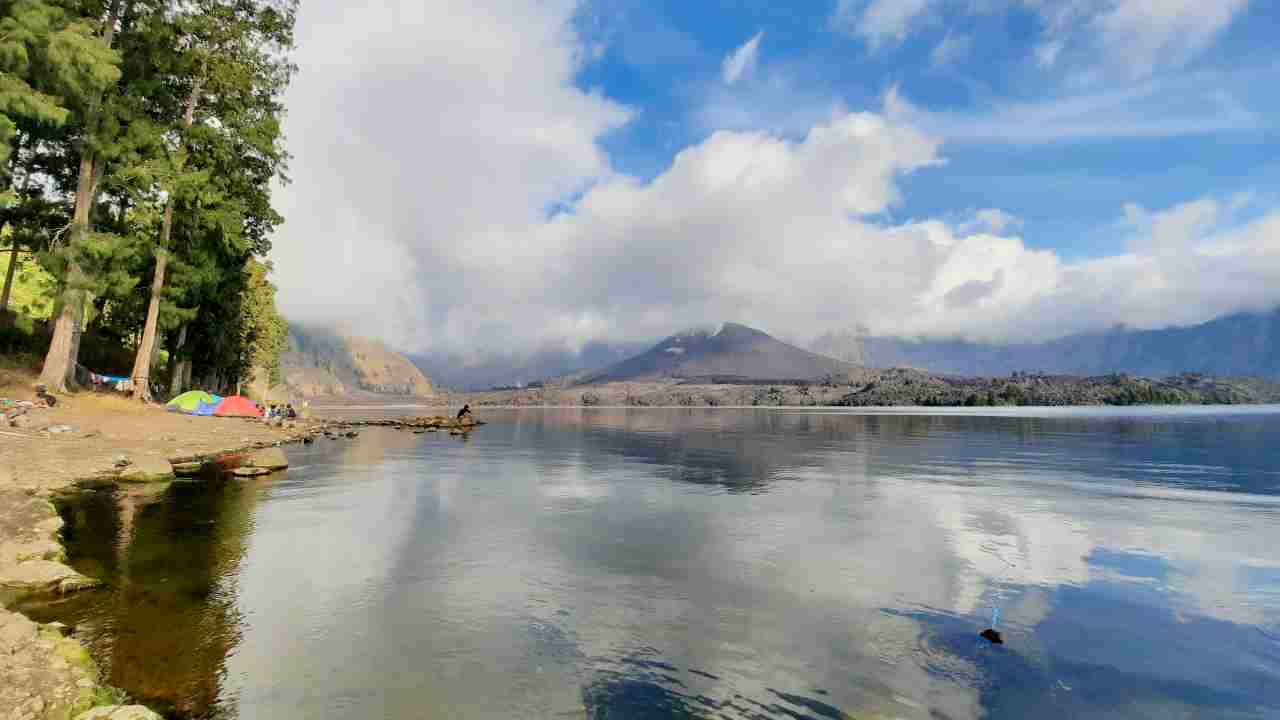 The reward for such a rigorous hike is the diverse views offered by Mount Rinjani. Hikers will pass a recently restored traditional village. Who inhibited an ancient caldera called Sembalun Lawang. Dark and dense forests are the early sight for hikers who depart from Senaru.
Where long-tailed macaque monkeys accompanied along the journey. At one point climbers will also pass through savannah grasslands, waterfalls, a sea of volcanic sand, and rocky canyons. But the summit waits with its special vista, a breathtaking sunrise.
After the sun is up, the spectacular view of Bali Island and the Java sea is seen from above the clouds. Below, the crescent-shaped crater lake sits magnificently with its deep turquoise water. The new mountain, called Gunung Barujari, stands beside the lake, still growing.
Mount Rinjani Crater Lake And Hot Springs
The descent toward Segara Anak lake is the second most difficult challenge after the climb to the summit. At 2,000 m elevations, the lake has a rocky and strenuous trek going down. Sharp sulfuric rocks demand more climbers' concentration. Even with full focus, it's hard to pass this trek without some scratches and bruises.
By the time visitors reach the lake, tired hikers will find the hot springs just minutes away from the lake. The 40°C temperature of the hot spring provides a natural spa treatment for the aching muscles.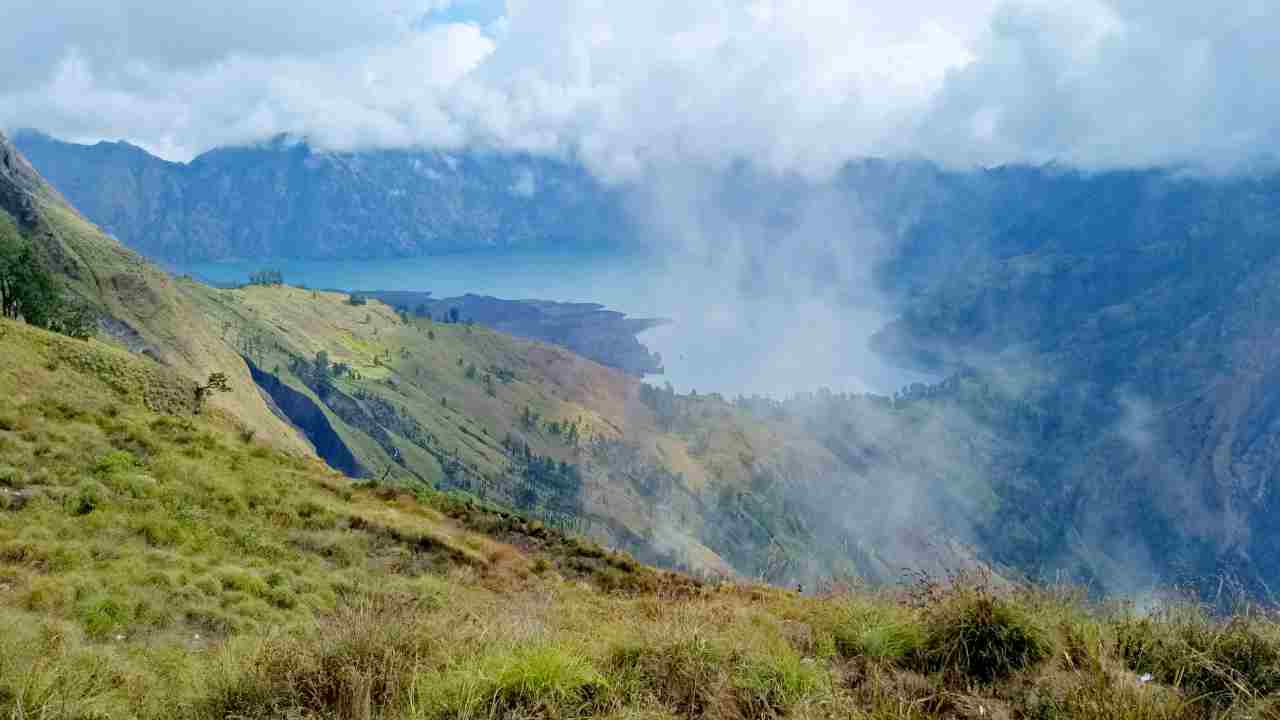 Enjoy the hot bath while mesmerized at the sight of Segara Anak with its still waves. At night, the sky exhibits a clear view of million shining stars. The view will make anyone reluctant to leave the next morning.
Trekking To The Crater Rim
For those who are not able to do a full trek of Mount Rinjani, an easier option is available. A two days one-night package might be a convenient option. The 2 days 1 night trip allows hikers to still get a magnificent view of the crater rim.
The hike is about 7 hours and hikers will spend overnight by the viewpoint, overlooking the lake. In the morning, hikers will wake up over an incredible sunrise and a sweeping view of the lake and the summit.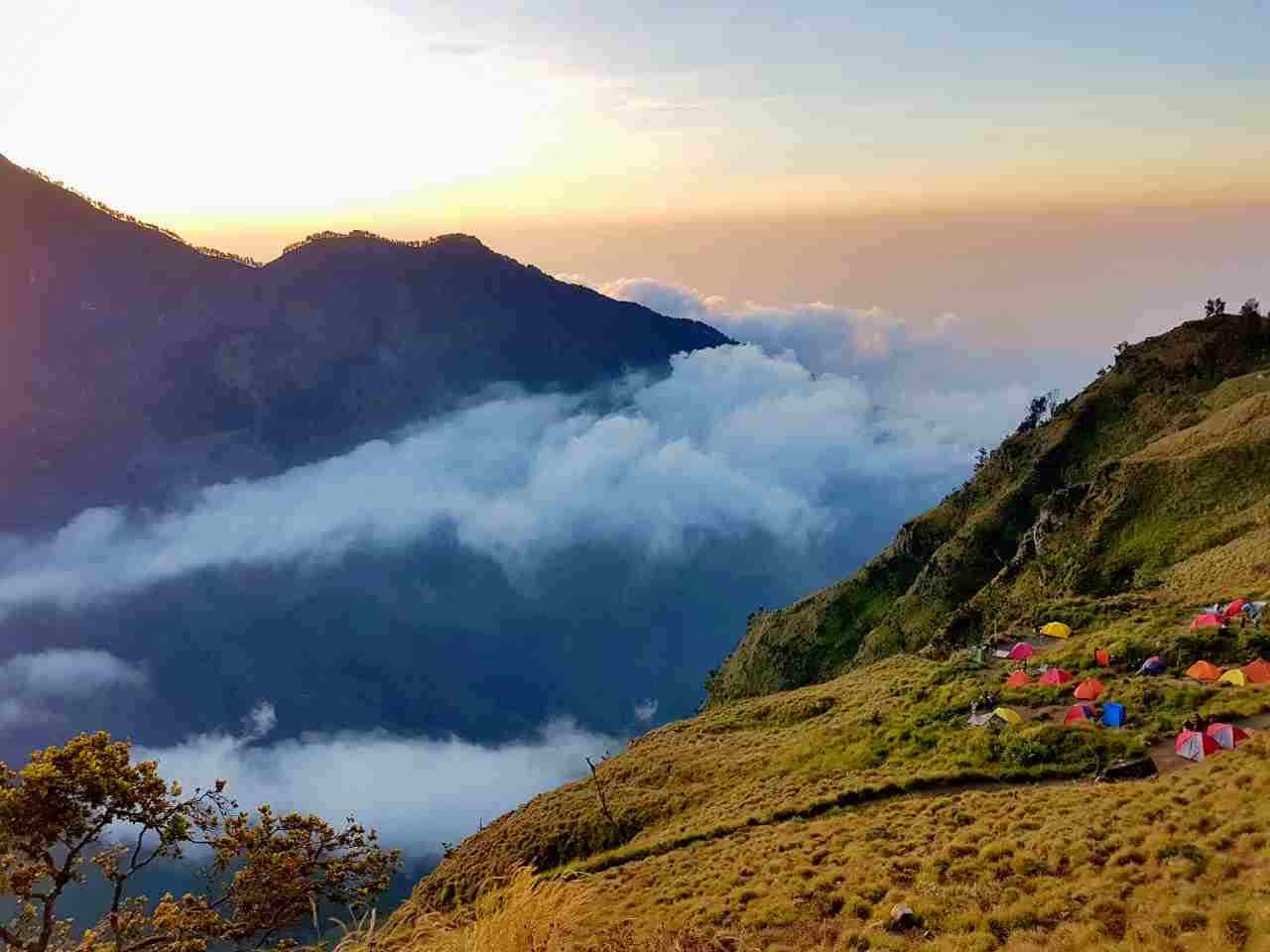 Mount Rinjani Trekking Trails
Either going to the summit, the crater rim, or Segara Anak Lake. There are only two trails. Hikers could opt to depart from Sembalun village and end at Senaru or vice versa.
Sembalun Hiking Trails Itinerary
Mataram to Sembalun (4-5 Hours Car Transport)
Sembalun Lawang – Summit (± 7 Hours)
Sembalun Lawang to Segara Anak Lake (8-10 Hours)
Senaru Hiking Trails Itinerary
Mataram to Senaru (3-4 Hours Car Transport)
Senaru Gate – Segara Anak Lake (7-10 Hours trekking)
Segara Anak Lake to Pelawangan Sembalun (4 hours)
Pelawangan Sembalun – Summit (2-3 Hours)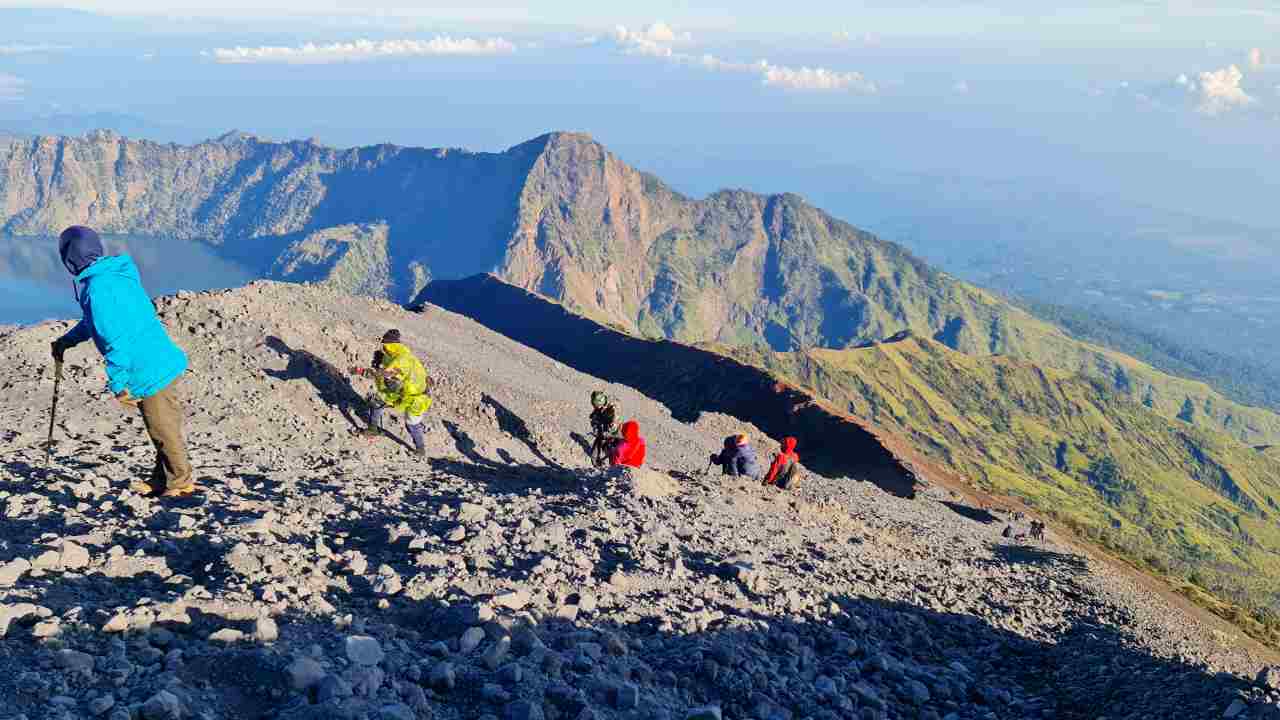 The Sasak People
Called the guardian of Mount Rinjani, the Sasak people are hikers going to meet along the mountain trip. They lived in villages around the mountain, some still in their traditional thatched houses. Their culture is one of a kind. Due to a long history of conquest and occupation, Sasak culture is a mix of cultures from Hindu, Budha, Islam, and Balinese.
As visitors walk through the village, visitors will be able to see its unique culture. Within the villagers' daily life. Balinese-style rice farming, with a Subak irrigation system and rice terraces, is applied to the rice paddies. Some of the villagers still practice the old religion, Wetu Telu, which is a blend of Hinduism and Islam.
Around November and December, tourists can participate in an amusing tradition called Perang Topat. It is a fun sticky rice food war between the Hindus and Muslims. It's practically to celebrate tolerance and people living harmoniously between the two religions.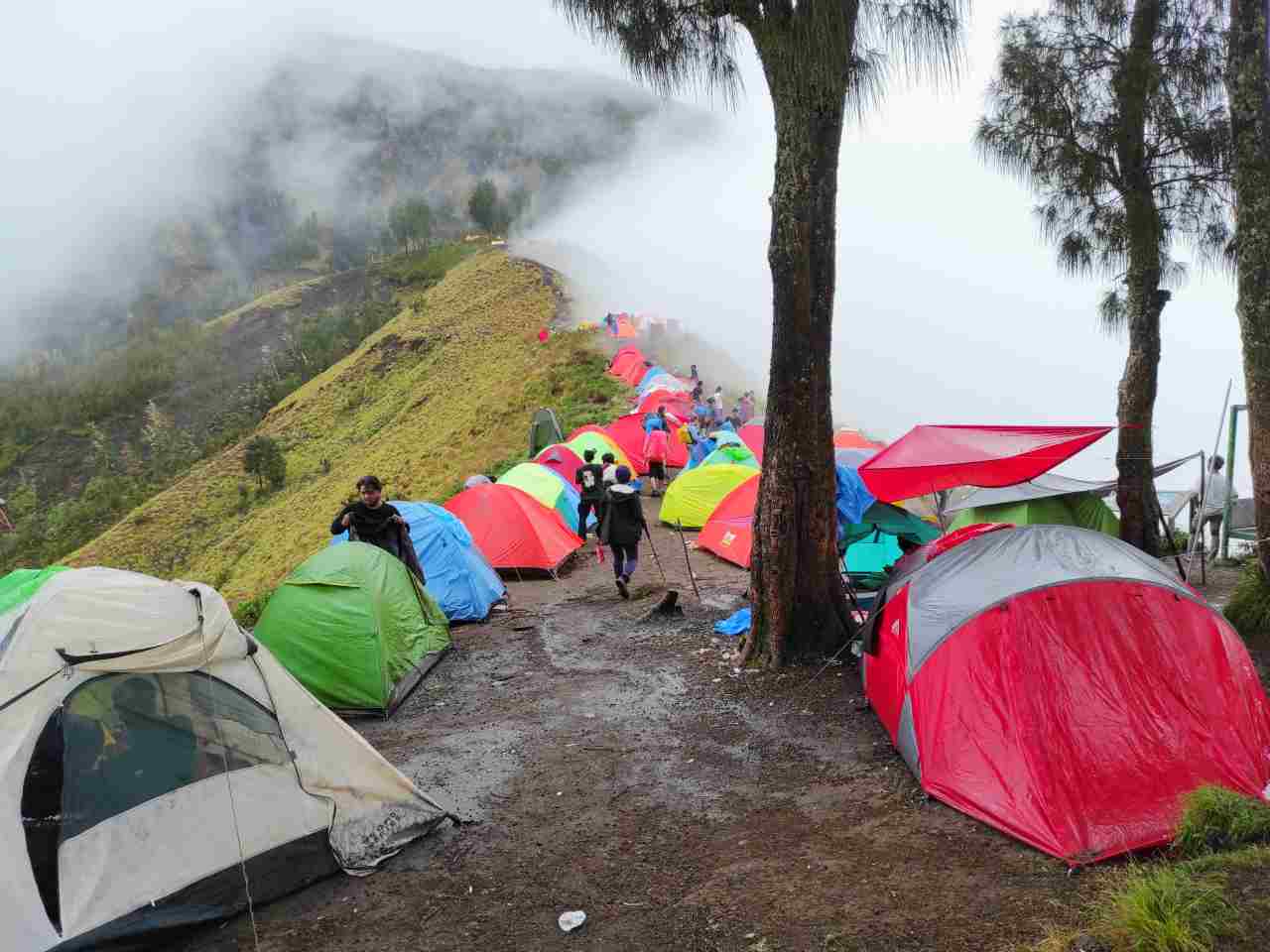 Aside from the culture, Sasak delicacies are another thing to experience. Go to the modest food stall nearby and enjoy a bowl of Gule Lemak. A savory curry-like chicken soup. A vegetable dish called Kelor goes well with Ayam Taliwang. A grilled chicken sauteed with chili sauce. For dessert, try Lapis – it is a sweet sticky cake made from rice flour and coconut milk.
See: Lombok Airport Flights, Guide & Public Transportation.
Mount Rinjani National Park Opening Hours
There are no official opening hours to visit Mount Rinjani. However, visitors are required to pay the permit/entrance fee before hiking. The best time to hike Mount Rinjani is during summer. During monsoon, from January to March, Mount Rinjani is closed for trekking activities.
Mount Rinjani Opening Hours
Mount Rinjani
Open 24 Hours
See: The Volcanic Mount Kelimutu, National Park, and Tri-colored Crater Lake.
Mount Rinjani Entrance Fee
The permit cost to hike Mount Rinjani is Rp150.000 for international tourists. This entrance fee goes directly for the maintenance of the Mount Rinjani trek and some go to the local community. Register and submit the application directly to the Rinjani National Park office in Mataram. Hikers can also register in Rinjani representative office in Senaru Village or Sembalun.
Hikers could book a guide and porter in advance before the hiking trips. Otherwise find one in the national park office on the spot. The fee for a porter is Rp250.000 to Rp300.000 for a day for a maximum of 2 people. They will be in charge of carrying logistics, setting up a tent, and cooking.
Mount Rinjani Entrance Fee
Rinjani Trekking Fee
Rp150.000/person/day
Porter
Rp250.000 – Rp300.000
See: Guide To Explore Komodo in Komodo National Park. 
Facilities
Lodges are available in Sembalun and Senaru villages, nearby the entrance to Mount Rinjani trail. The villages also have plenty of restaurants offering local specialties. When trekking, tents are the accommodation for the night. As for toilets on the mountain, some tour companies provide toilet tents for better privacy.
See: Indonesian SIM Card, Provider & Price.
How To Get To Mount Rinjani
Praya Lombok International Airport makes it possible for tourists to arrive by plane from any major city in Indonesia. From Bali Airport, the flight trip will take around 40 minutes. And the flight ticket cost around Rp600.000 to Lombok airport. By far, going by plane is the most expensive option, however, the fastest one.
The second option is going by public ferry that is available in Padang Bai Harbor to Lembar harbor in Lombok. The ferry fare price is Rp57.000 for adults and technically it takes 4 hours to reach Lembar harbor in Lombok. However, in reality, it could be a 6-12 hours trip for the ferry to finally reach the harbor. It's been a while issue like there could be ferry queues to dock in the harbor. In other cases, it could be the ferry suddenly has a technical issue.
The last and faster option besides going by plane is by using the fast boat service. There is numerous fast boat operator available in Padang Bai and Sanur harbor. Obviously, some offer the same ticket price. The others offer additional services with higher ticket fares. The price range for a fast boat is Rp385.000 to Rp800.000.
And the journey will take 1.5 to 2 hours to reach Lombok harbor. To reach Mount Rinjani National Park, visitors need to go to the village first, either Senaru Village or Sembalun Village.
The most popular transport is rental cars (cost around Rp400.000 for a 7-seat car). There is also local public car transport called "engkel". It's cheaper but takes a longer time than renting private cars.