Mawun Beach
Entrance Fee: Free Entry
Opening Hours: Open 24 Hours
Telp. Number: -
Address: Jl. Pantai Mawun, Tumpak, Pujut, Lombok Tengah, West Nusa Tenggara , Indonesia , 83572.
Lombok started to get the world's attention as an alternative destination. People come here to stop by when finding Bali is hectic and crowded. Yes, it is indeed the right place to find serenity at the beach. There are still many untouched beaches, that sit quietly along the southern coastline. One of those is Mawun Beach.
Mawun Beach is a fishermen's boat anchorage. The boats line at the shore in the morning, giving a unique view of the beach. Its white sand along with the clear water will spoil the eyes that see.
Tumpak village, Punjut subdistrict, Central Lombok Regency is where the beach situates. The coastline is arching to form a cove. Not only does it present a stunning view, the beach also has friendly currents.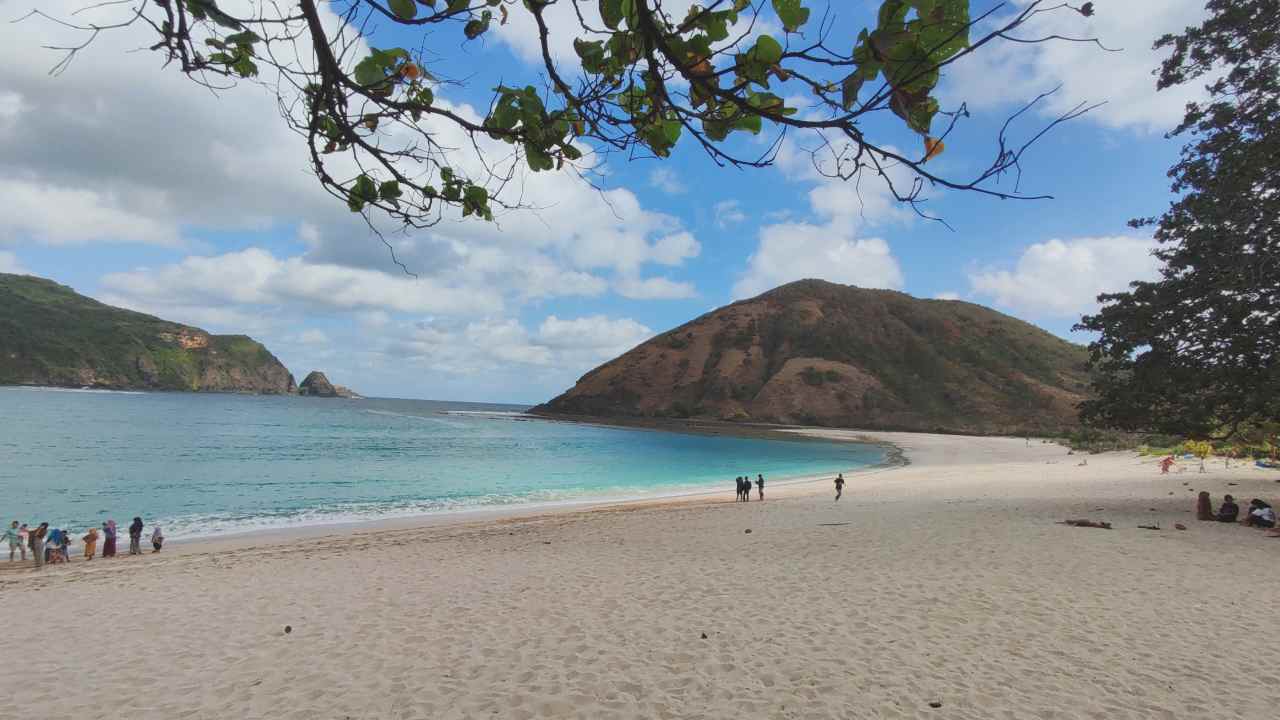 Mawun Beach Entrance Fee
The only entrance ticket tourists have to pay is the vehicle parking fee. Travelers coming with a scooter will have to pay Rp10.000 for the parking fee. The beach is a free-entry beach.
Mawun Beach Entrance Fee
Ticket
Free Entry
Parking
Rp10.000 (scooter)
See: Guide To Explore Gili Trawangan & Top Activities.
Mawun Beach Opening Hours
Mawun beach indeed offers breathtaking scenery. It is not crowded like on other beautiful beaches. However, it's a secluded place far from the residential area. So it will be dark and is not recommended to be on the way during the night. Despite there being no limitation on opening hours, most food vendors close at 6 PM.
Mawun Beach Opening Hours
Everyday
Open 24 Hours
See: Guide To Mount Rinjani Summit, Crater & Segara Anak Lake.
Mawun Beach Breathtaking Scenery
From up above, Mawun Beach looks like a horseshoe. The land surrounds the beach with hills on both sides. The hills, Pengolo and Nettem, look like two hands embracing the beach and the seawater within.
At the center, the dazzling color of the white sand lines a semi-circle shape. It opens at the space between the two hills. On the white line, a gradient of turquoise and aquamarine colors fills the cove.
Beyond the two hills, the open sea extends a deep blue color to the horizon. It is where the sea meets the sky, sometimes with clouds drifting at the center line. Imagine how it would look in a picture.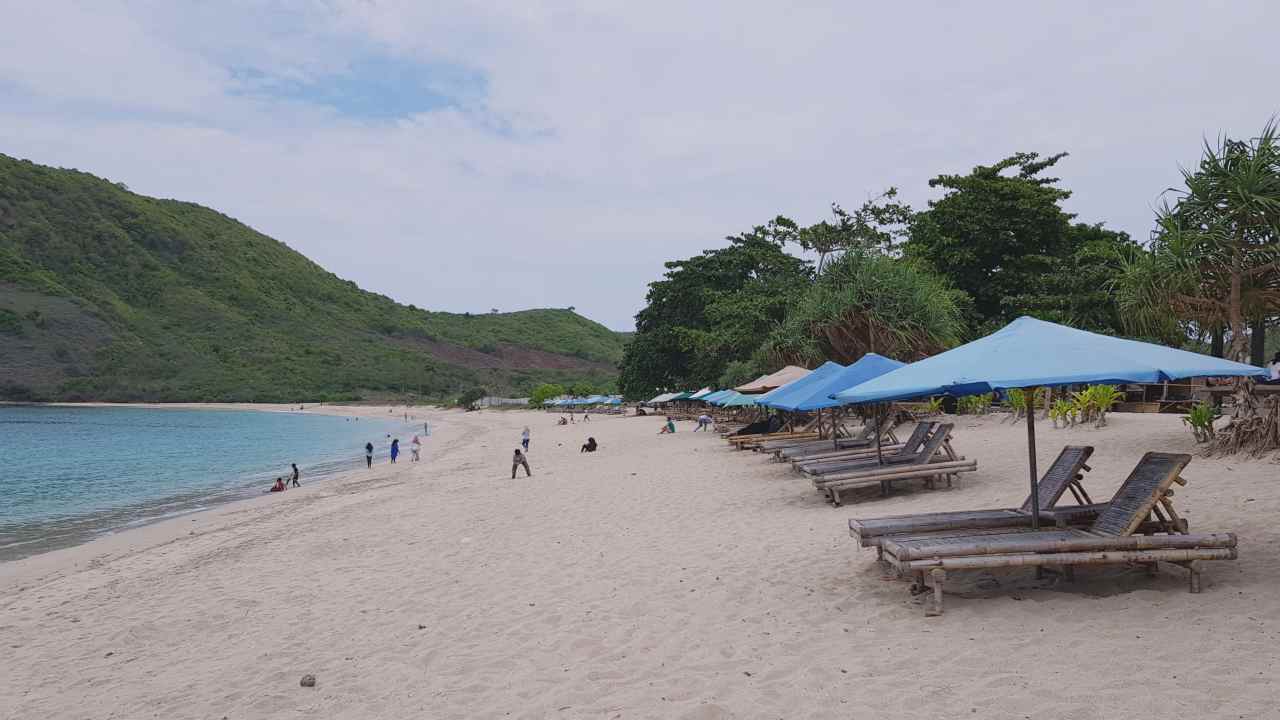 Hill Climbing
The hills at the beach's tip welcome tourists to climb. It is probably not easy for those who aren't used to it. But the hilltop presents the cove's magical scenery impossible to resist.
The white sand gives calming sensation to walk on. It feels soft on the feet, with a fresh breeze blowing onto the skin and hair. It stretches 3 km long at the beach's circular coastline.
Sunbeds and umbrella rentals are available at Rp50.000. On one hand, the price is negotiable, so it's best to bargain. Some food vendors even allow tourists to use the sunbeds for free with some purchases. There are also gazebos and hammocks tourists may use to take a rest. However, please apply sunscreen lavishly and wear a sunhat, the sun is scorching.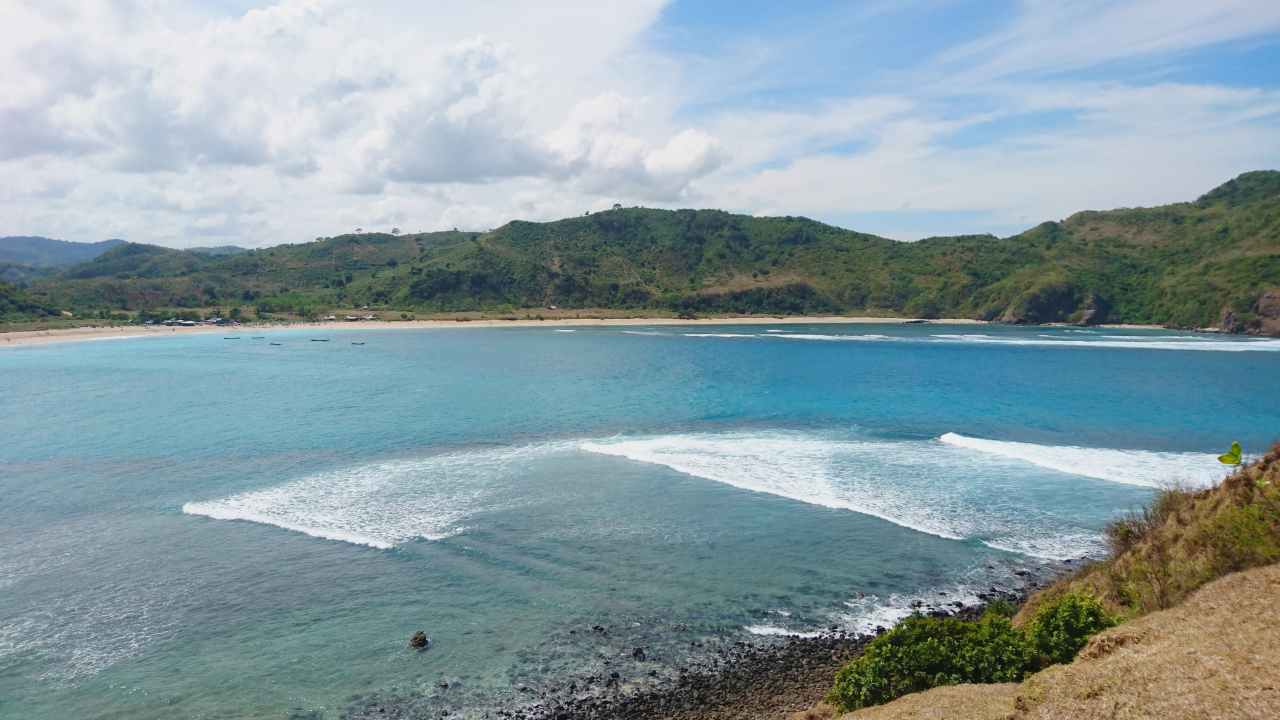 Calm Waves
Mawun Beach offers a definitely magnificent view. Nature's colors and the beach's shape blend in photogenic scenery. No one should miss capturing them as a photo backdrop.
The Indian Ocean is renowned for its rough currents. But the rocks at both the east and west tips break the waves, leaving only calm ones entering the bay. So, it is safe for everyone to swim or play with water.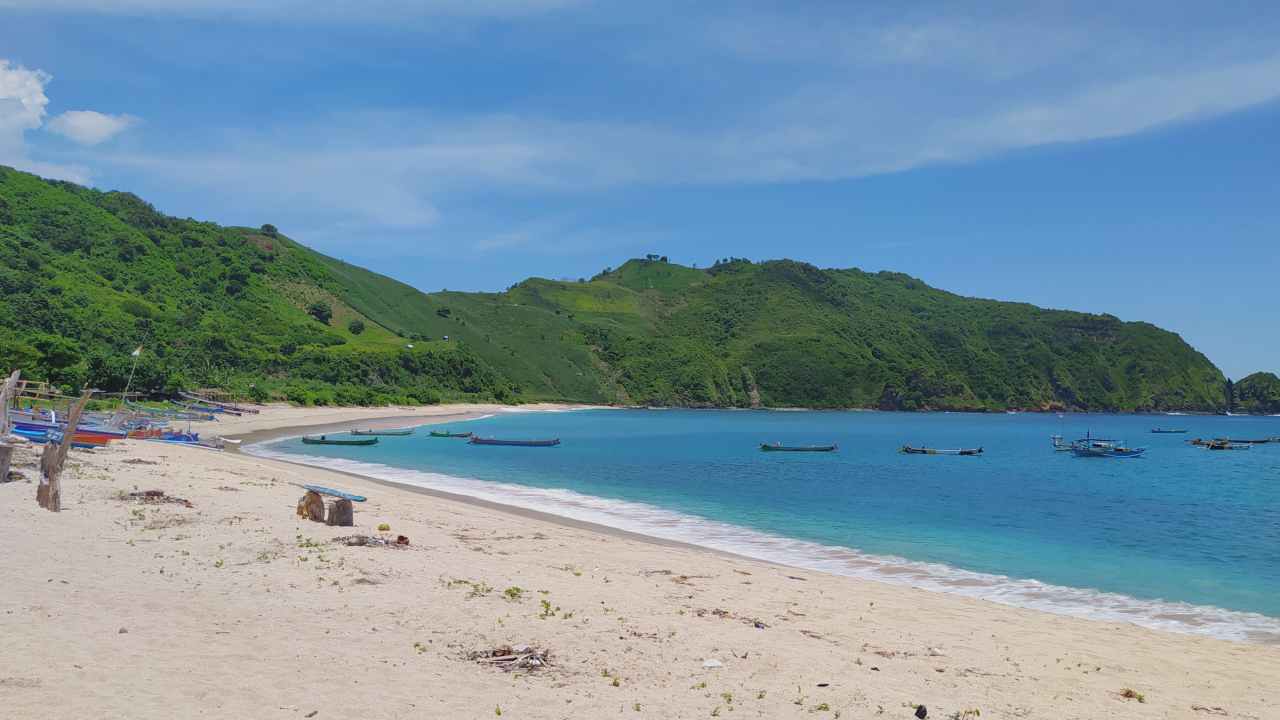 However, people still have to be cautious since the seabed is steep. For those who dare enough, the spot around the hill foot is suitable for surfing. And, the waves are friendly enough for novice surfers.
See: Guide To Explore Tiu Kelep & Sendang Gile Waterfalls.
The Beach's Unique Nuance
While there is serenity on the beach, there will be kids tagging visitors along everywhere. The kids are hawkers trying to sell bracelets. If interested, tourists may buy the bracelet for under $1. But if not, just decline firmly but politely.
The kids may also show tourists where the corals are if tourists want to find some. In addition, there are also stray dogs that may come over when tourists are having a meal. If tourists wouldn't mind sharing, the dogs just want to have a little food.
Restaurants & Lodgings
There are stalls run by the locals. Most of them sell coconut at Rp20,000, mineral water and coffee start from Rp5,000, a soft drink at Rp.15,000, and beer start at Rp30,000. Seafood and local delicacies such as nasi campur, start at Rp30,000. Customers may have the meals on the sun beds for free.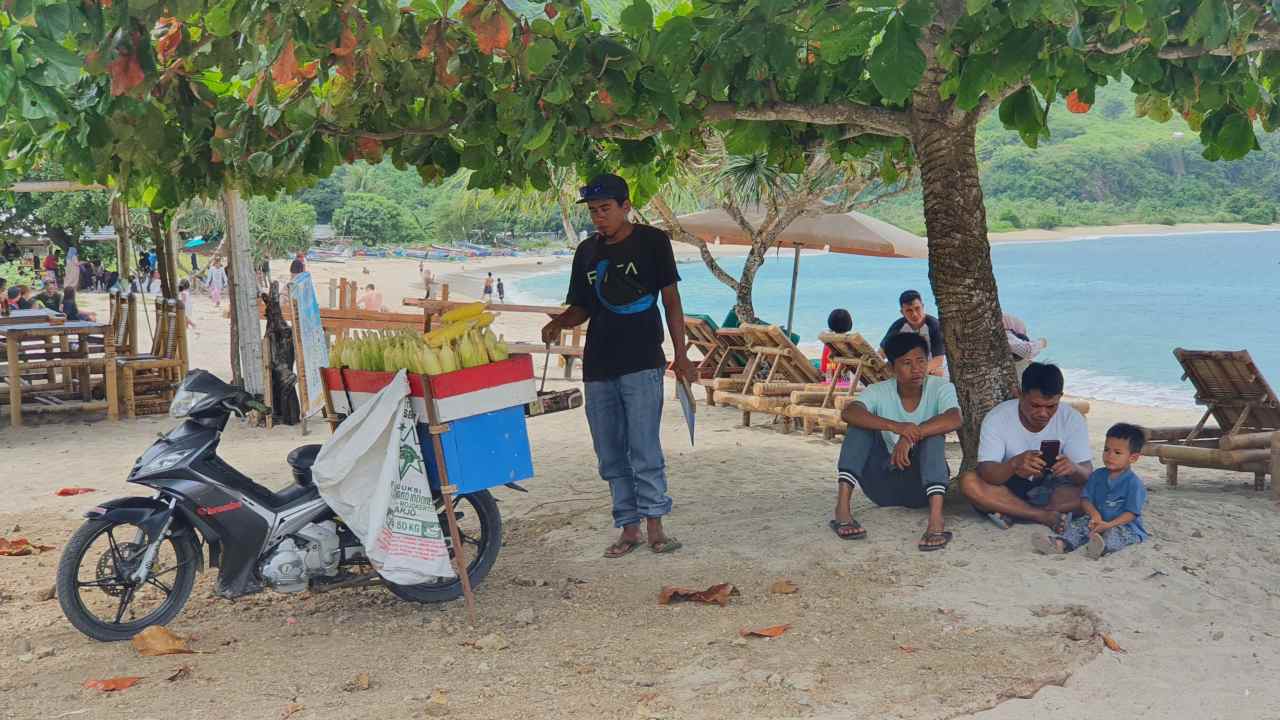 There are some lodgings and homestays not far from the beach. One of them is a 2 km or 7-minute drive to the east. A room for 2 people may cost Rp300,000, including breakfast and free wi-fi.
See: Guide To Explore Komodo National Park & Ticket.
Facilities
Basic facilities are available such as parking, paid toilets, and food stalls. Prepare Rp2,000 to Rp5,000 for using the facility and Rp 10,000 for parking. Lodgings and homestays are also available near the beach.
However, there is no ATM or money changer nearby. In addition, no stall or warung serves digital payment. So, prepare some cash to spend on food.
See: Lombok International Airport & Public Transportation Guide.
How To Get To Mawun Beach
Mawun Beach is 60 km from Mataram and 35 km from Kuta. There is no public transportation serving this route. That leaves travelers with 2 options, renting a scooter or a car. Car rent starts from Rp400,000 per 12 hours with a driver. While a scooter rental starts from Rp60,000 per day complete with a raincoat and helmet.
From Mataram, take the Kuta Mandalika route and head to Cakranegara, Kediri, and Praya. Continue to Batunyale, Sengkol, and Rambitan Lane, to Kuta Lombok Street. Then take the right turn to Mawun Street and follow it to the destination.
See: Tourists SIM Card Price, Internet Package & Providers List.
Address & Location
The beach is located in Jl. Pantai Mawun, Tumpak, Pujut, Lombok Tengah, West Nusa Tenggara 83572.