Tanjung Aan beach
Entrance Fee: Rp5.000 - Rp10.000
Opening Hours: Open 24 Hours
Telp. Number: -
Address: Jl. Mandalika resort, Sengkol, Pujut, Lombok Tengah, West Nusa Tenggara , Indonesia , 83573.
Those who can never get enough of the beaches should visit Lombok. The second Bali in the central region of Indonesia offers a line of beautiful beaches on its coastline. Moreover, the beaches are not as crowded as in Bali. For instance, one is Tanjung Aan Beach, the one in Mandalika area, central Lombok, on the south of West Nusa Tenggara.
Tanjung Aan is not only about a beach. There are a lot more charms around. This Indian Ocean coast is surrounded by the gorgeous green color of hills. Unique-shaped karst rocks stand on land that goes a little into the sea, adorning some spots a little far offshore.
Tanjung Aan Beach White Sand
Tanjung Aan is tucked by 2 lands that go further offshore, making a curve shape to the beach. White sand stretches 2 km long on Tanjung Aan beach. The sea has turquoise color on the shallow part that gradually turns into dark blue on the deep part. This splendid view satisfies everyone even by only looking at it while lying on the sand.
There are sun beds with umbrellas lining the beach to lie on. Tourists may use the sunbed for only $3. Some stalls even let the customers use it for free only by buying some drinks. It is pleasing to touch the sand at some parts of the beach for it is as soft as powder.
On the other part near the hill, the sand feels like pepper grains that locals also call this beach Pantai Merica. It is believed that this sand has a therapeutic effect. People will improve blood circulation when stepping barefoot on it.
Boat Ride
The beach has a sloped contour and calm waves. Many visitors enjoy the water by swimming, and, surfing in the afternoon when the tide is high. Snorkeling is also fun to do in the shallow area of the water. The gears are available to rent in the stalls around the beach.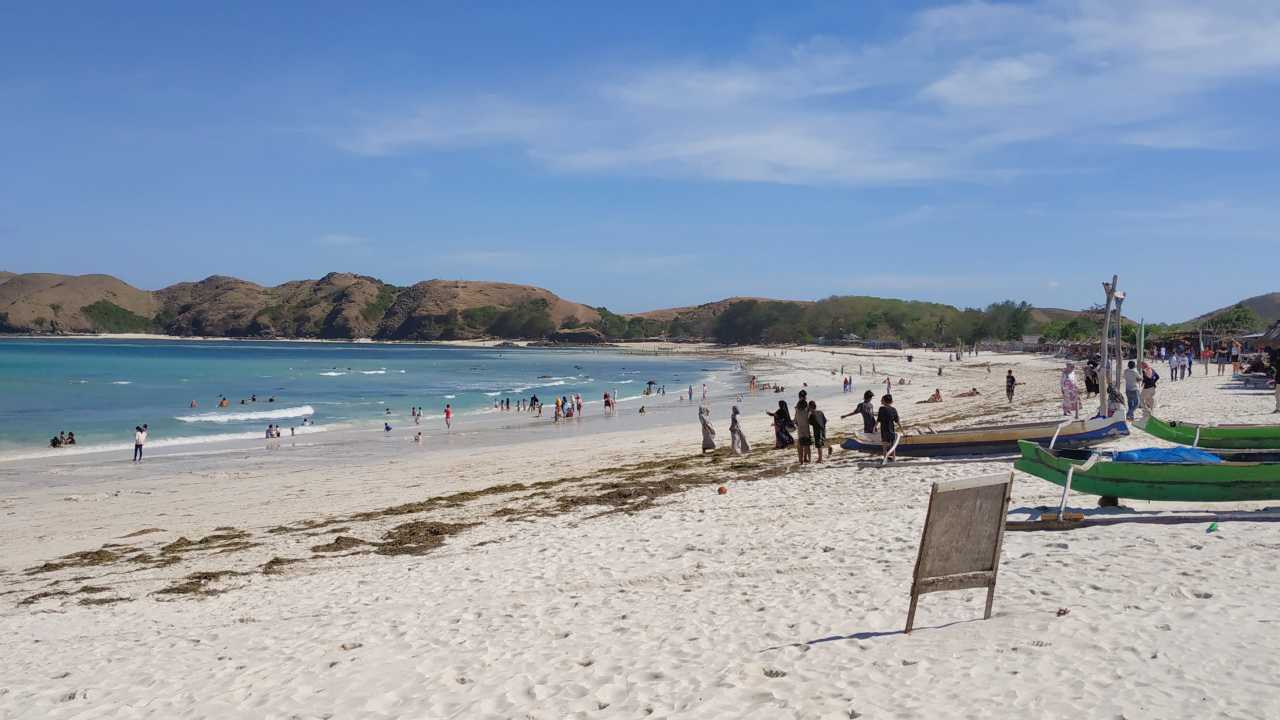 A rock stands a little offshore. The bottom part is eroded by water creating a unique shape that locals call Batu Payung or umbrella rock. Visitors can get here by renting the fisherman's boat at approximately Rp300.000, negotiable.
Sunset Sightseeing on Merese Hill
A stunning view of the color combination and the beach shape can be seen clearly from Merese hill. It is on the west side of the beach where many people climb up there in the afternoon, waiting for sunset. Access to the hill is also easy by trekking the coral and rock paths.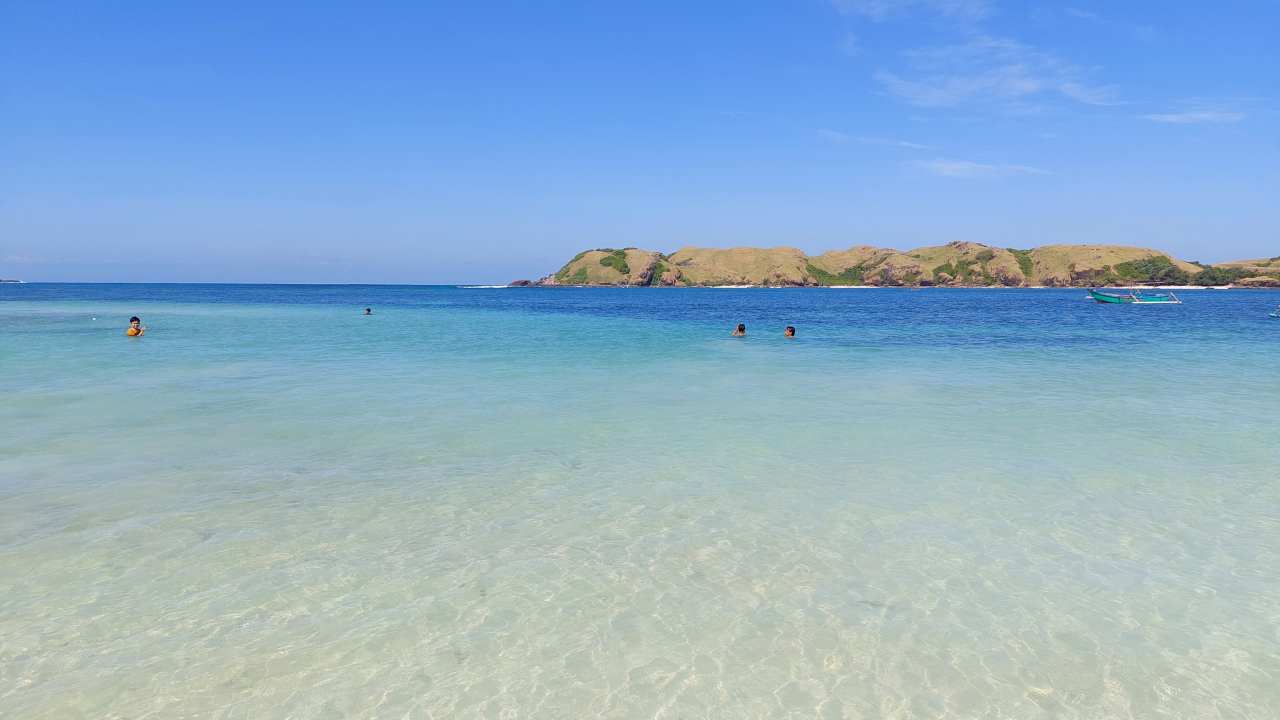 Photo Spots
Batu Payung is the iconic spot of this destination. Of course, no one would want to miss taking pictures here. From the top of Merese hill, visitors may capture the curve shape of the beach. A mixture of white, turquoise, deep blue, and green colors decoration within, makes a great background in photographs.
On the beach, there is a wooden swing that people love to use. Going on a swing during high tide also gives a unique sensation. It is also amazing to capture this experience in a picture.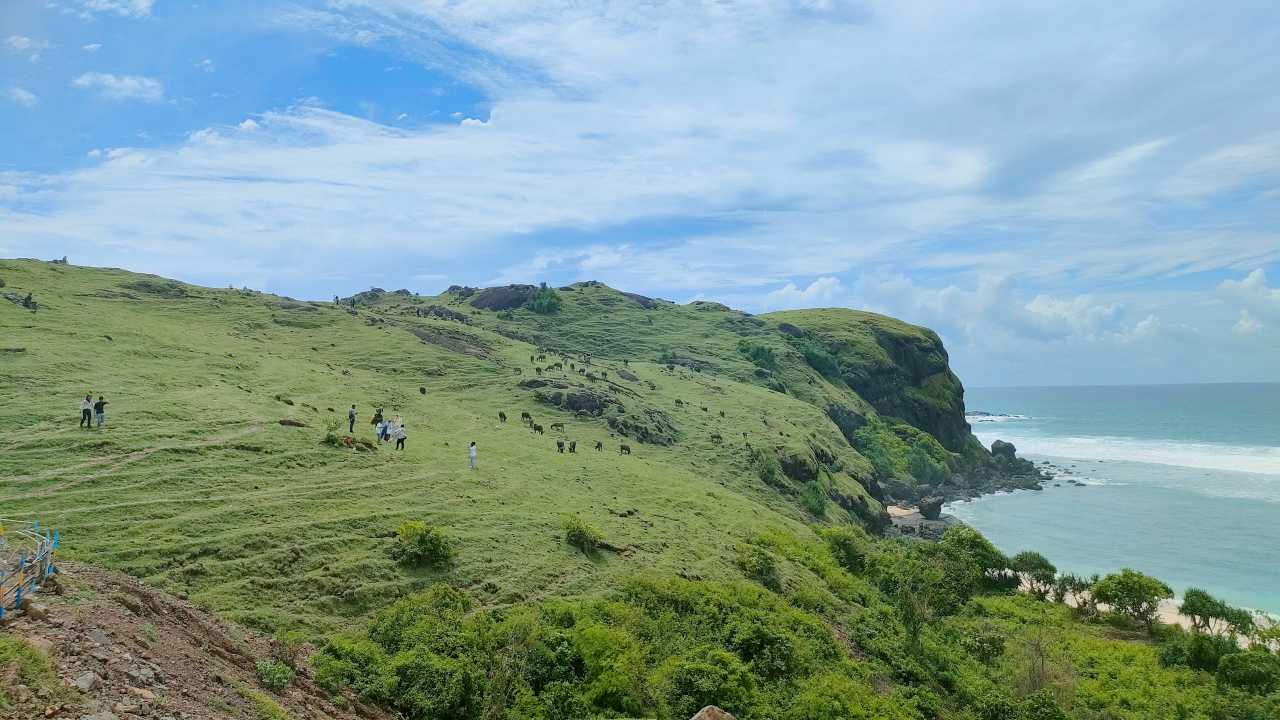 Surfing Lesson 
When it's mealtime, warungs and stalls are lining along the beach to provide tourists' needs. Most food vendors here offer not just sunbeds and bean bags. Besides tasty food and coconut as refreshments, they have surfing boards for rent. The price for a longboard starts from Rp50.000.
As for food, these modest restaurants serve seafood dishes such as grilled tuna, crispy prawns, and fish nuggets. Gado-Gado and curry are also available here. The drinks range from coconut, juices, soft drinks, beers, and other liquors at affordable prices. There are sun beds and bean bags to rent as well.
Some even let customers use the sunbeds and beanbags for free. Another thrilling activity worth trying here is the surfing lesson. Most restaurants here offer the same service and it leaves customers with finding the best price. For the beginner level, a 2-hour surfing lesson including a boat ride and the board starts from Rp400.000.
Souvenir Hawkers 
There are hawkers who sell Lombok unique crafts such as songket that costs Rp70.000 to Rp350.000. The prices are of course negotiable. Other souvenirs are T-shirts and bangles that start from under $1.
See: Guide To Explore Tiu Kelep & Sendang Gile waterfalls.
Tanjung Aan Beach Opening Hours
The beach welcomes tourists every day. And despite there being no closing hours, most restaurants close after 6:30 PM. It's best to leave the beach after sunset as some spot on the road going up is pretty dark.
Tanjung Aan Beach Opening Hours
Every day
Open 24 Hours
See: Guide To Explore Mount Rinjani & Segara Anak Lake.
Tanjung Aan Beach Entrance Ticket
Beach guests will not be charged entrance tickets to explore the beach. However, for travelers coming with a private vehicle, there is a parking fee of Rp5.000 for a scooter.
Tanjung Aan Beach Entrance Ticket
Ticket
Free
Parking
Rp5.000 (scooter) / Rp10.000 (car)
See: Guide To Explore Mawun Beach & Top Activities.
Facilities
Tanjung Aan completes with facilities to cater to all tourists' needs. Visitors may park cars for Rp10.000 and motorcycles for Rp5.000. Prepare small notes of Rp2.000 to Rp5.000 to use toilets. Gazebos and sun beds are also available for tourists to rent that cost Rp50.000 for 2 beds.
Some stalls let the customers use them for free after minimum spending of Rp50.000. Photo spot such as wooden swing is free to use. Restaurants and food stalls sell mainly seafood and local delicacies such as nasi campur, gado-gado and noodles cost Rp35.000 to Rp70.000.
Mineral water, coffee/tea, soft drinks, and coconut cost Rp5.000 to Rp15.000. While local beers cost Rp30,000 to Rp45,000. Tourists may get various brands of liquor for 50 to 60k. Lodgings are available at the beach. Many homestays offer affordable rooms that cost only $10.
See: Tourists SIM Card, Internet Package Price & Providers.
How To Get To Tanjung Aan Beach
Tanjung Aan beach situates on the south coast 25 km or 30 minutes drive from Lombok International Airport. Take Jl. Bandara Int. Lombok to Jl. Bypass BIL-Mandalika. At the roundabout, take the first exit and continue on Jl. Sengkol to Kuta beach. The beach is only a 15-minute drive from here.
Unfortunately, the public transportation Damri bus's last stop is Kuta Mandalika. And from Kuta Mandalika beach, Tanjung Aan beach is still 9 km away. So for now, the best way to reach the beach is by renting a car for Rp400.000 per 12 hours with a driver. Or a scooter for Rp60.000 per day, complete with raincoats and 2 helmets.
See: Lombok Airport Guide & Public Transportation.
Address & Location
Tanjung Aan beach is located in Jl. Mandalika resort, Sengkol, Pujut, Lombok Tengah, West Nusa Tenggara 83573.