Lombok Airport also popularly known as Zainuddin Abdul Madjid is located in Tanak Awu, Praya. It is over 30 minutes away from Mataram city and around 26 minutes away from the Kuta Mandalika MotoGP racing track. This single-runway airport is serving both domestic and international flights.
Lombok Airport has a large capacity with over 136.800 m² of apron that can serve nearly two million passengers and 15 thousand airplane navigation throughout the year. Speaking of the terminal building, Lombok Airport has 3 floors with modern minimalist architecture.
Even so, it has the cultural elements structure of Bale Lumbung which is the traditional house of West Nusa Tenggara. Inside the airport, it contains five departure gates with spacious waiting rooms. Lombok itself is the capital island of West Nusa Tenggara. It is famous for some remarkable destinations, the trinity of Gili Islands, mount Rinjani, and the International Mandalika Street Circuit.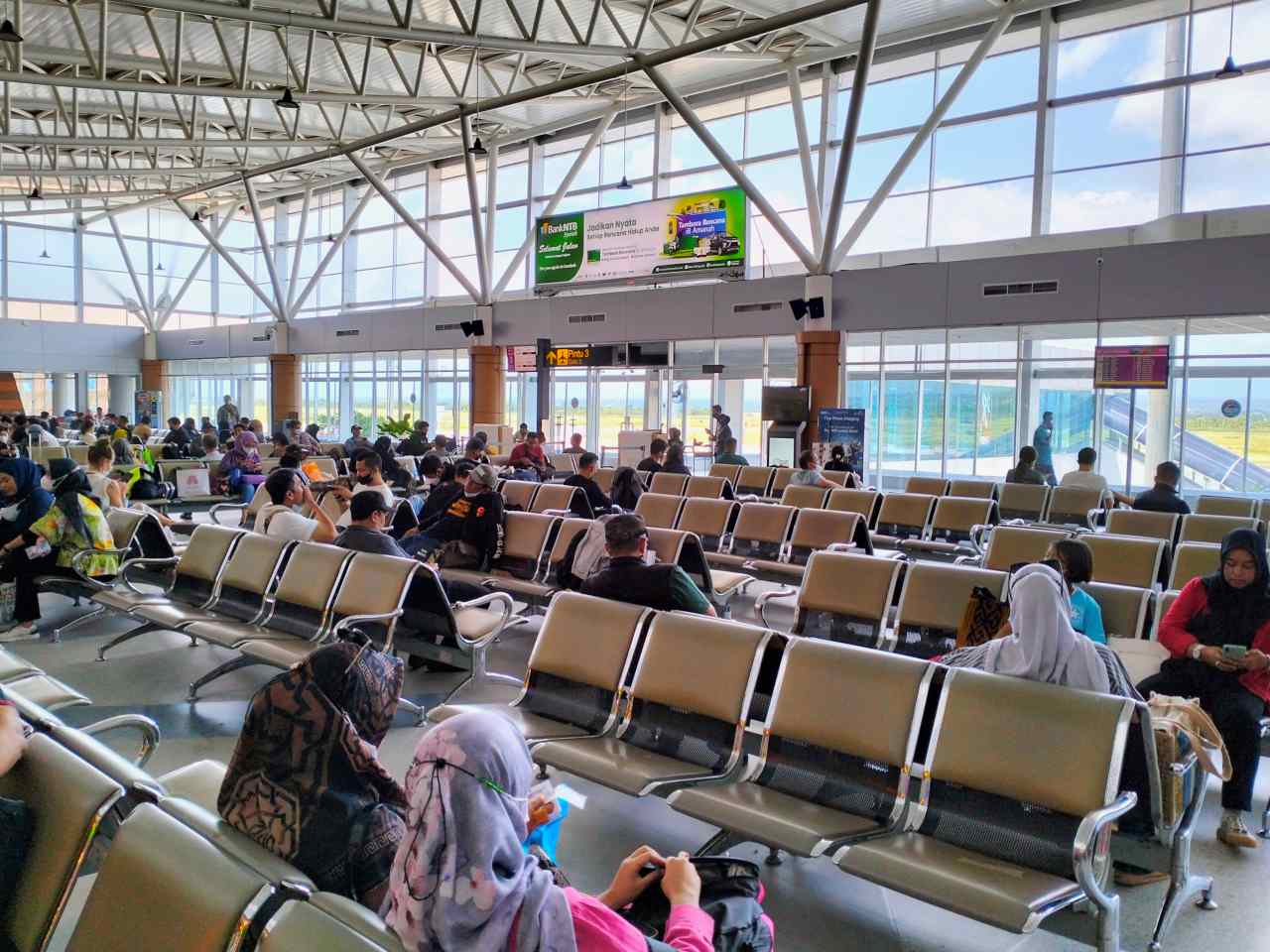 Lombok Airport Public Transportation
Public bus transportation DAMRI is available at Lombok International Airport. This public bus has 5 destinations, Matraman, Ampenan, Senggigi, Selong, and Bangsal. The bus fare is different depending on the destination. However, compared to taxis, the fare is cheap.
Lombok Airport DAMRI Bus
Destination
Price
Mataram
Rp35.000
Ampenan
Rp35.000
Senggigi
Rp50.000
Selong
Rp40.000
Bangsal
Rp20.000
See: Komodo Island Guide & Entrance Tickets.
DAMRI Bus Lombok Airport Time Table
The bus operates from 4 AM to 8 PM every day. Some destination has shorter operating hour. The bus even has lines to several famous tourist attractions like the Kuta Mandalika circuit and Rinjani Geopark.
DAMRI Bus Lombok Airport Time Table
Departure
Destination & Departure From
Airport
Bangsal
09:00 – 16:00
06:00 – 15:00
Airport
Mataram
09:00 – 20:00
04:00 – 16:00
Airport
Senggigi
09:00 – 17:00
07:00 – 14:00
Lombok International Airport
Selong
09:00, 12:00, 15:00
06:00 & 07:30
Bangsal – Rinjani Geopark vice versa
08:00, 10:00, 12:00, 14:00, 16:00 WITA
See: Guide To Explore Wae Rebo Village, East Nusa Tenggara.
Lombok Airport Domestic & International Terminals
Domestic flights from Lombok Airport operate to some of the big cities in Indonesia like Jakarta, Surabaya, Bali, and Makassar. The domestic airline list includes Air Asia, Super Air Jet, Batik Air, Lion Air Garuda Indonesia, Citilink, and NAM Air. The flight regulation for carry-on baggage to the cabin is 7 kg
The checked luggage allowance depends on the airline's limit. If travelers carry lots of belongings, there is a porter service to help with a tariff of Rp5.000/bag. Meanwhile, for International flight, there are several destinations, Kuala Lumpur, and Singapore that departs from Lombok Airport. Generally the international flight schedule there is only 1 flight for a day.
Scoot Air and Silk Air are among the airline that provides international flights. Transit passengers who are landing at Lombok Airport don't have to exit the arrival gate. Passengers just need to inform the staff. The staff ground staff will be happy to assist passengers to the transit counter to self-report and check in to another flight.
Terminal Map Guide & Lounge
The check-in counters, baggage claim, and arrival gates are located on the first floor of Lombok Airport. Then there are Angkasa Pura Logistic services for wrapping, strapping, box, and goods packaging. Banking services, refreshment shops as well as transport pick up and drop off including airport taxis are all located on the first floor as well.
The second floor is where the departure gates area with spacious waiting chairs are located. On the second floor, fast-food chain lining on the corners. There is also an airport lounge Concordia Executive Longue that is open from 5 AM to 11 PM. The lounge offers comfy rooms to rest and sit in.
The lounge facilities include fast wifi, TV, snack and premium foods, and shower toilets. The entry to the lounge is Rp200.000 and sometimes credit card holders will get a cheaper price. The third floor is the exclusive gate of Batik Air which has 8 flights scheduled every day.
See: Guide To Explore Gili Trawangan & Top Attractions List.
Money Changers & ATMs
BNI Bank, the authorized money changer in Lombok International Airport located close to the exit gate of domestic arrival. It is open on workdays from 8 AM to 4 PM. It also offers other bank services with no queue. Alternatively, there is also PT. Senggigi Arta Andi that located near parking area.
The booth opens every day from 8 AM to 6 PM. While for withdrawing cash, the ATM center, BCA, BRI, and BNI Bank are located on the first floor.
See: East Nusa Tenggara, Top Attraction List.
Tourist Information Center
The information center booth at Lombok International Airport is located near the arrival gates. It covers services like hotel reservations, daily tours to fast boat information to Gili islands. Travelers looking for information about mountain trekking, and offshore adventures to Komodo island can ask about that too.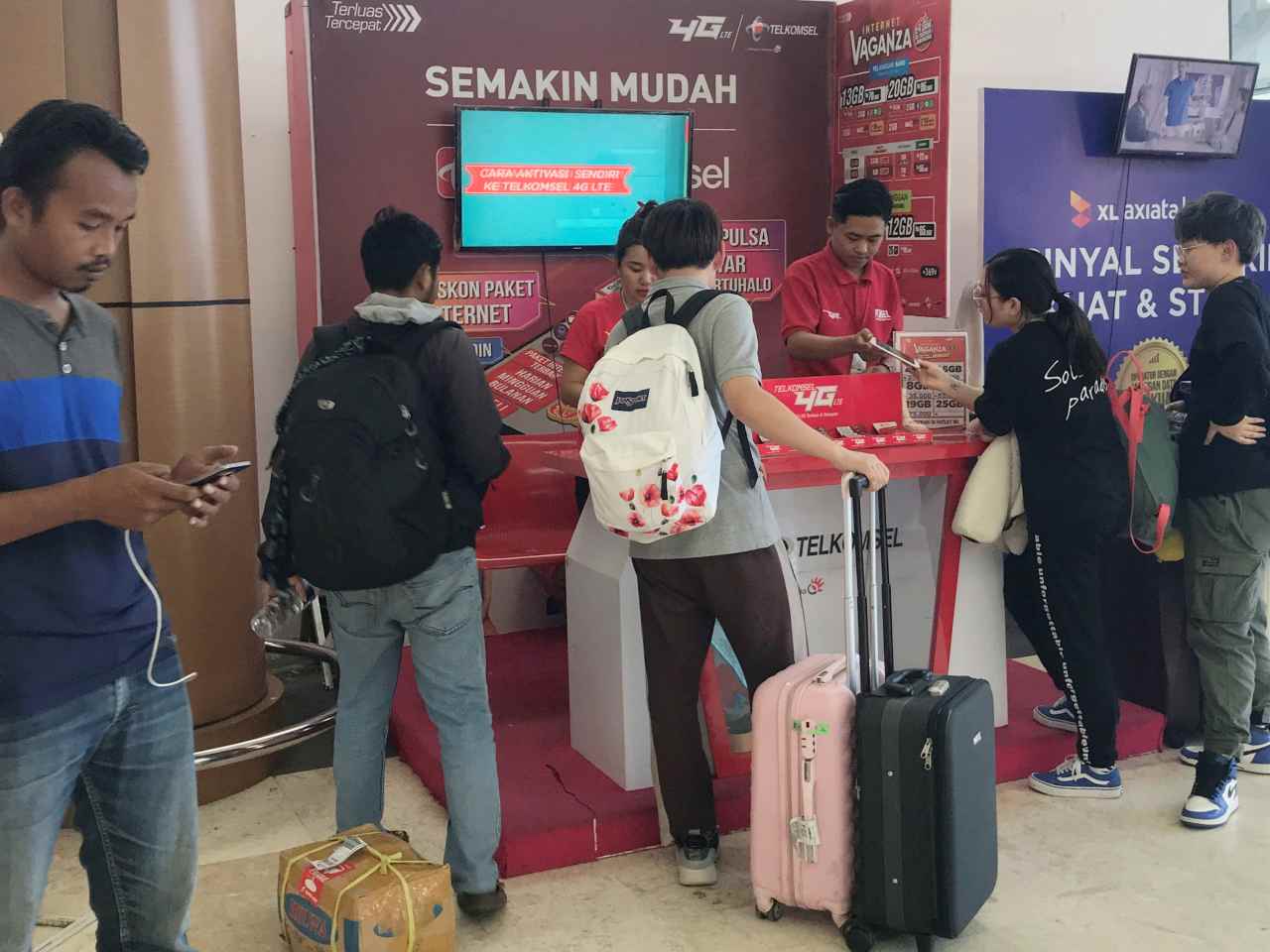 The staff will be happy to provide information and guidance to explore some of the popular destinations in West Nusa Tenggara. To point out, the tourist information center booth is located near the baggage claim.
See: Mount Rinjani Hiking Guide & Segara Anak Lake Attractions.
Hotel near Lombok Airport
Tanawu Airport Hotel is established across the roundabout of Lombok Airport gate. Staying in this hotel will cost slightly under Rp300.000 which is perfect for travelers to catch an early flight.
D'MAX Hotel & Convention Lombok is located a few miles away from Lombok Airport. This four stars hotel has quite a cheap room rate which is around Rp300.000 per night. It has airport transfer services and renting a car is also available in this hotel.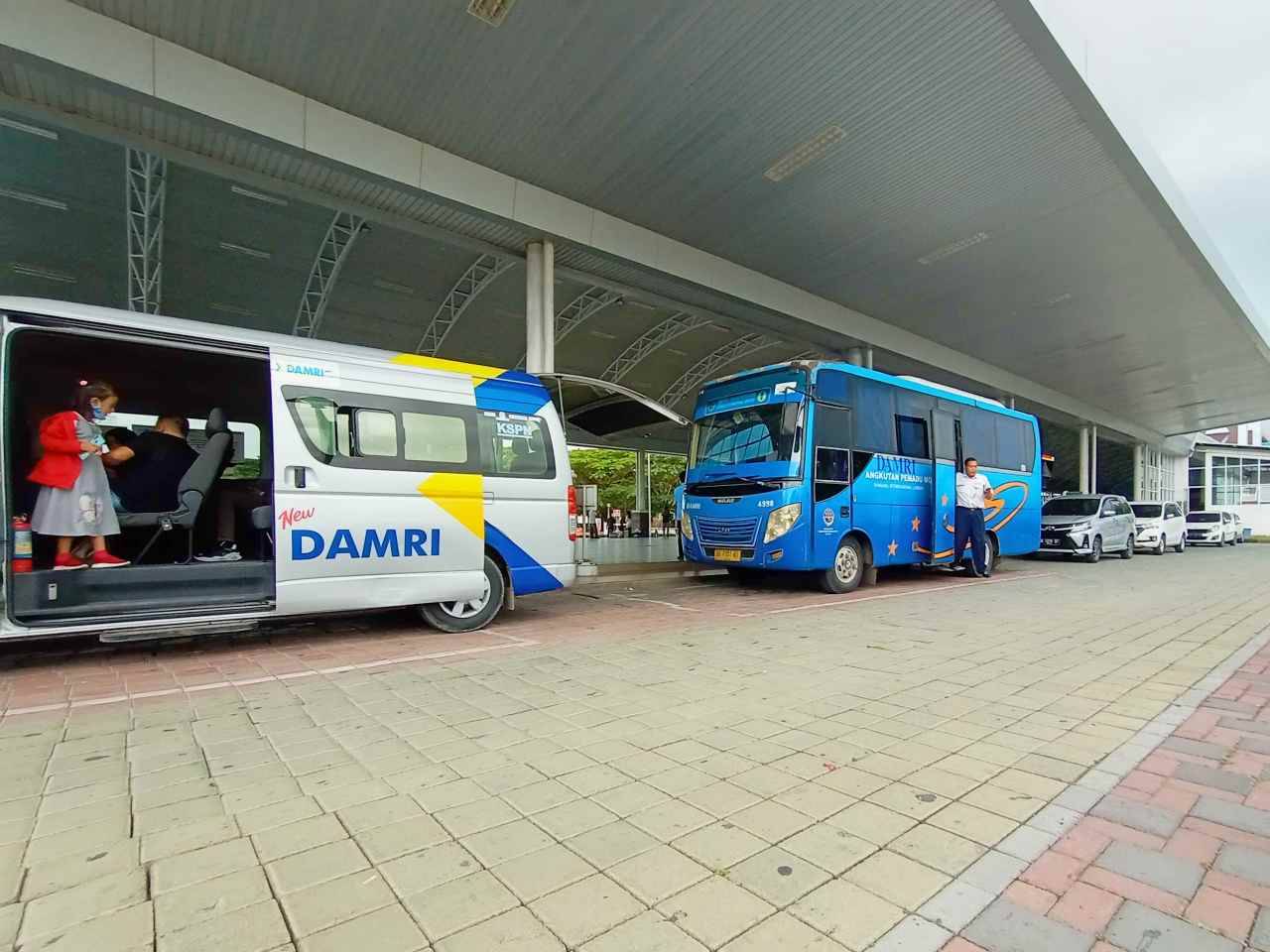 Lombok Airport General Facilities
Mostly serving domestic flights, Lombok Airport does not compromise the facilities ranges. It has numerous lists of fast food chains like KFC, Roti O, Bakmi Naga, Beard Papa's, GoGo Franks, and Pizza Hut. Some coffee shops at the airport include Starbucks, Soerabaya Café, and Dante Coffee.
Restaurants Tridatu Taste of Bali, Ranca Bana, and Nasi Balap Puyung Inaq Esun are on the list as well. The minimarket shop Indomaret is located in the departure terminal. And Alfamart minimarket location is in the parking area. General airport facilities like ATMs and Currency Exchange are on the first floor.
While charging stations, clothing outlets, and a bookstore is scattered on the building. Lombok International Airport offers free Wifi service too for passengers. Along with other essential facilities like a health station, toilets, praying and nursery rooms as well as a smoking area.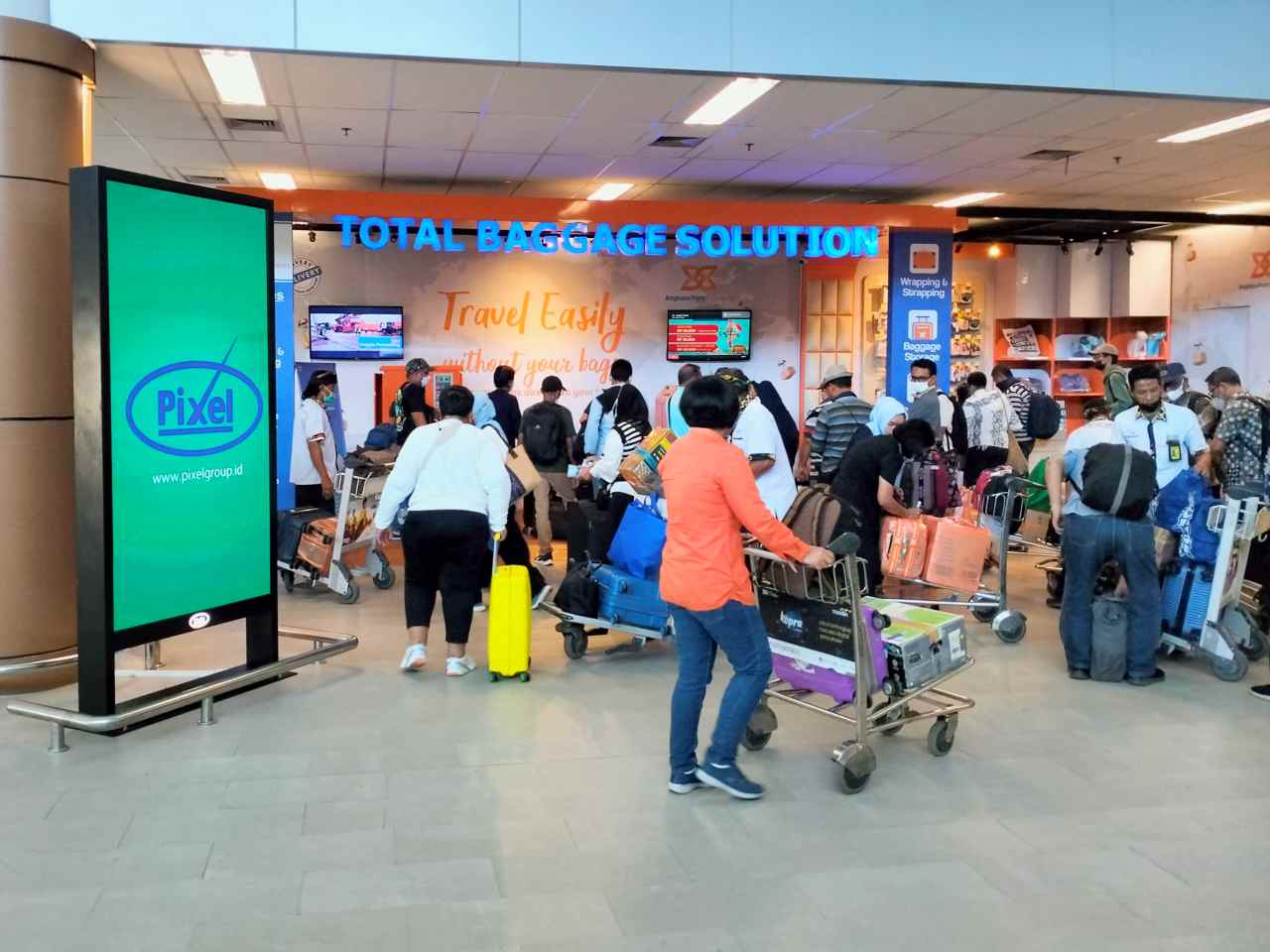 Lombok Airport TAXI & Car Rental
Airport Taxi has the same operating schedule. The fare is determined by zone. And this transport service is available at the arrival gate. Then there is a Grab lounge in Lombok Airport that offers direct booking from mobile apps. It is more convenient since passengers can choose the car's capacity and know the trip fare.
While for car rental, there are five providers travelers can choose from. It is Dharma Lestari, BIL Local Transport, TRAC, Pusaka Prima Transport, and KSU Mandalika. They are operated from 7 AM to 10 PM. The price range for a car with a 6-seat passenger starts from Rp500.000 per 12 hours which includes a driver, gasoline, and water. There is another option for a minibus with 15 passenger seats which will cost Rp1.200.000.