Gili Trawangan island
Entrance Fee: Free Entrance
Opening Hours: Open 24 Hours
Telp. Number: -
Address: Gili Indah, Gili indah , Pemenang district , North Lombok , West Nusa Tenggara , Indonesia, 83352.
Gili Trawangan is the biggest one of the three isles (Gili) situated in northwestern Lombok, West Nusa Tenggara. It lies only 3 km long and 2 km wide. Taking up 338 hectares area, it offers a beautiful beach that is impossible for everyone to resist. The beach stretches from east to west. Gili Trawangan makes a great place to enjoy both sunrise and sunset. 
The most interesting is that there is no car or scooter here. The local government sets the regulation that prohibits motorized vehicles here and on the other two Gilis. Therefore, bicycles and cidomo—modest horse-wagons— are the common modes of transportation in Gili Trawangan.
No motorized vehicle allows people to enjoy slow-paced life. Appreciate totally different atmosphere from today's routine that seems to always be in a rush. Imagine beautiful beaches in mainland Bali but with less noise! The views surrounding are only clean, white sand and crystal clear waters, and people enjoy life. The island is a perfect escapade to relieve daily stresses.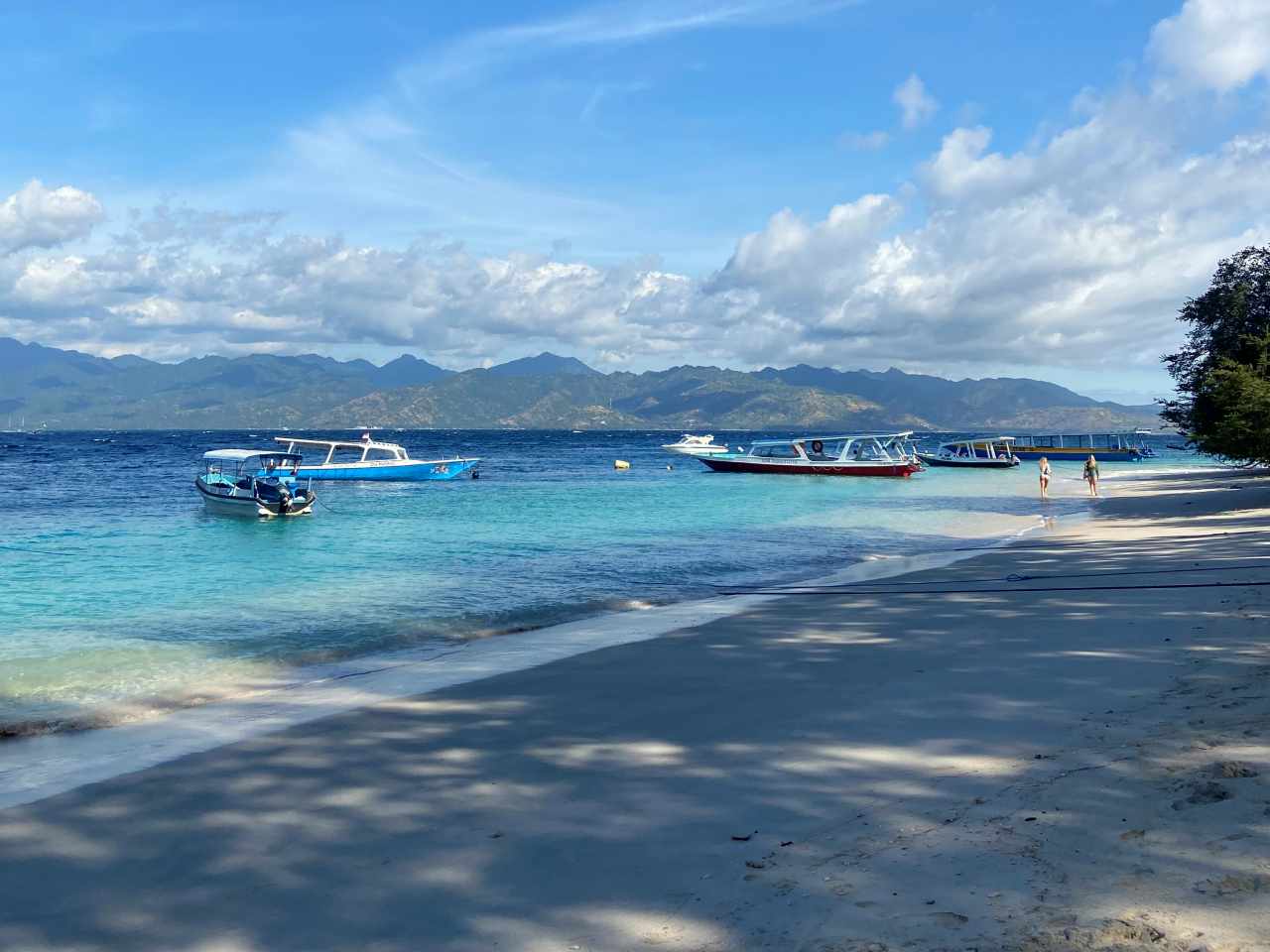 Gili Trawangan Entrance Fee 
For now, there is no charge for tourists to explore Gili Trawangan island. However, in the future, the local government has agreed to charge Rp10.000 for international tourists as a retribution fee. 
Gili Trawangan Island Entrance Fee 
International tourist 
Rp10,000
See: Guide To Explore Wae Rebo Village & Ticket.
Gili Trawangan Beach & Night Life 
Everywhere along the coastline is just perfect to enjoy the white sandy beaches and the natural greenish blue sea. In the morning, just go near the harbor to witness the sunrise. Sunset Point Beach is the place to go to see the golden sunset. And, the other 2 Gilis are only a 15-minute boat ride away. Feel a quiet environment on Gili Meno and enchanting beaches on Gili Air. 
In the evening, cafes play invigorating music and hold parties. Some hotels or restaurants also offer Open Air movies all moviegoers must try. One of them is in Villa Ombak. It operates daily from 7 to 9 PM, except when it's raining or in bad weather.
With Rp100.000 to Rp200.000, audiences may enjoy blockbuster or classic movies, plus, free popcorn or fritters. If rain falls in the middle of the movie, it will continue playing in the restaurant.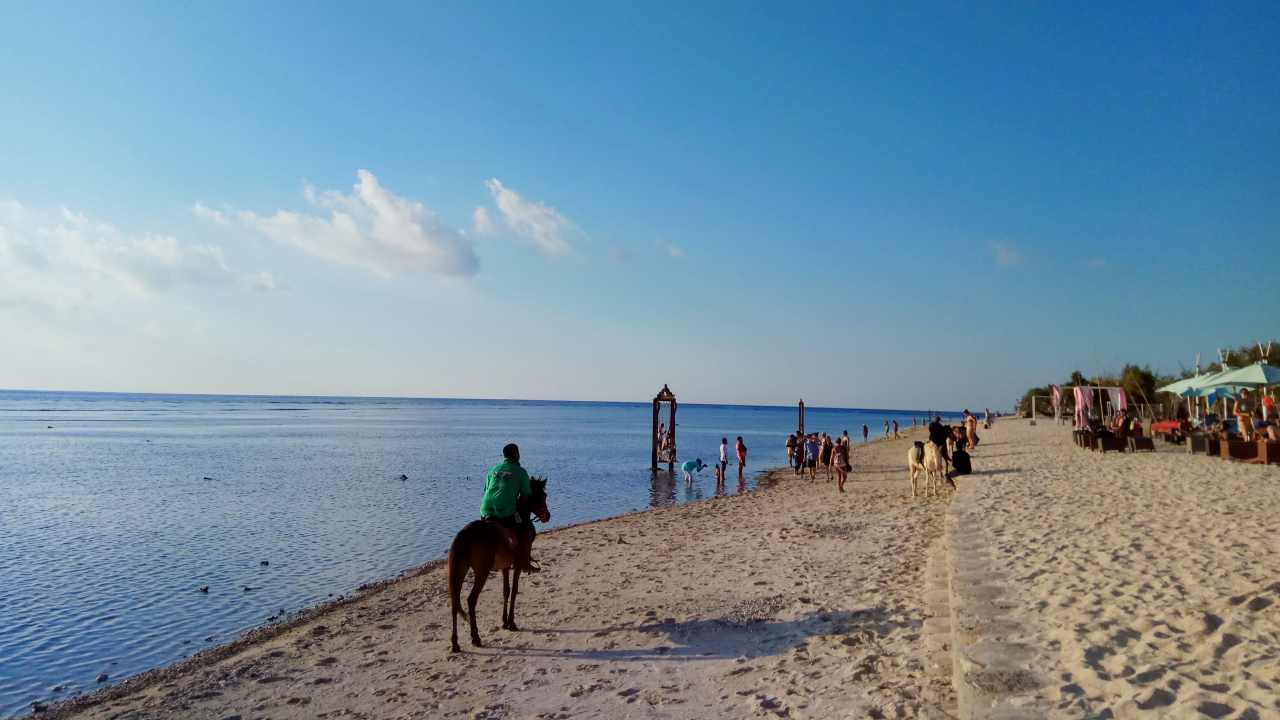 Watersports & Turtle Sightseeing 
Turtle Shore in the north is one of the spots worth exploring for amateur snorkelers and certified divers. Snorkelers can spot sea turtles and colorful corals. What it takes is only swimming 200 meters from shore. The snorkel gear rental on the spot starts from Rp50.000 and another Rp25.000 for a safety jacket.
Scuba diving is another way to explore further the island's underwater views. The diving package for a certified diver starts from Rp650.000. While a fun dive course for non-certified starts from Rp950.000. The famous spot for diving is shark point where whitetip, blacktip, grey shark, manta, turtle, and bump head parrotfish are common sightings here. 
Seeking to have fun on the surface instead? Banana boat, Jet Ski, kayak, and paddleboard operators scatter near the harbor. It all offers competitive prices, even a snorkeling package tour starts from Rp150.000 to Rp1.200.000.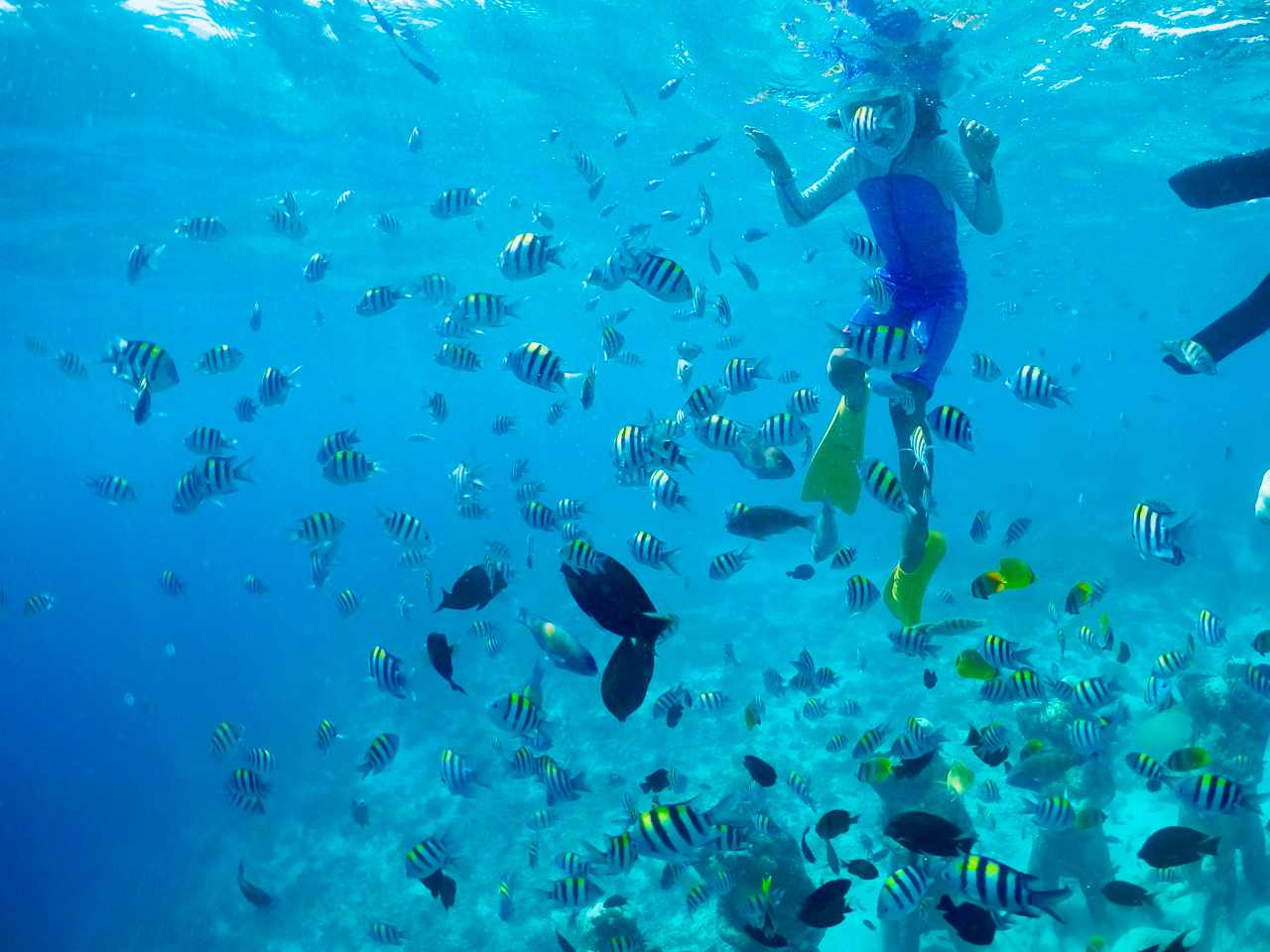 Gili Trawangan Night Market
Gili Trawangan Night Market showcases mostly whole fresh seafood. However, the must-try dish here is local-prepared nasi campur. Alongside, there are also skewers of chicken, beef sausage, corn cob, and veggie slices. Sellers will fry or roast the foods right after buyers place the order. Prepare Rp100.000 for 1 big grilled fish.
While the small ones, skewers, and other dishes sell at Rp25.000 each. The market is prominent not only for its' affordable prices but also for possible bargaining as some sellers may try to give a deal. In addition to cake and other desserts, es campur is the right choice to end the eating feast.
Refreshing fruit chunks combined with condensed creamer topping on shredded ice are delightful at only Rp10.000. There are also spring rolls, bananas, and sweet potatoes, on the fritters list that cost under Rp10.000. Open right after sunset, the later the night gets, the more crowded it becomes.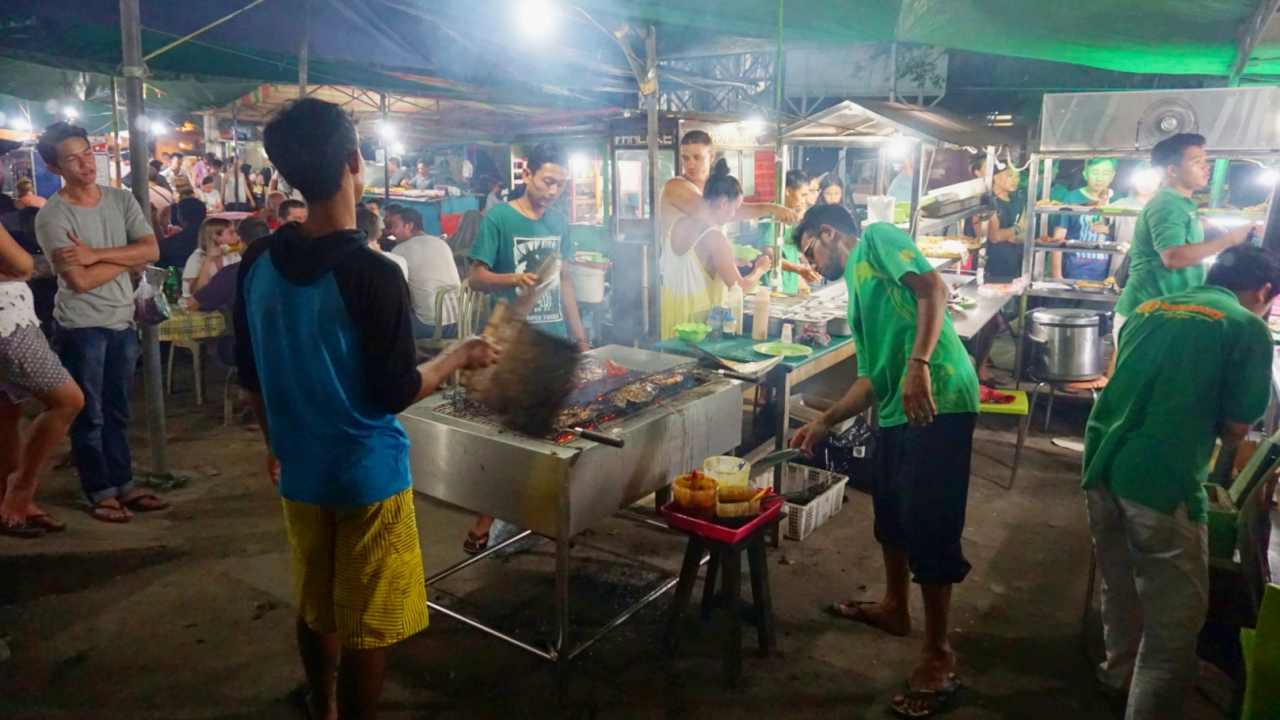 How To Get Around Gili Trawangan 
The residents at Gili Trawangan enjoy the privilege of managing a 65-hectare parcel of land. And, many locals rent out equipment to support tourism activities here. To roam the isle, tourists may rent a bike at Rp25.000 for 3 hours. Or, sit down and relax in a group of 3 people on Cidomo ride at Rp150.000.
See: Guide To Kelimutu National Park & Volcanic Lake.
Best Time To Visit Gili Trawangan  
The Gilis island including Gili Trawangan is open all year long. The peak season starts from June to August. Then on Christmas and new year's celebrations from December to January. And in March when tourists flee from Bali before Nyepi day.
Being elongated from east to west, Gili Trawangan is the perfect spot for both sunrise and sunset. Be here before 06:20 AM for sunrise, and 6 PM for sunset. In addition, modest lodgings will probably be full during peak season. 
See: Komodo Island, Top Activities & Entrance Ticket.
Facilities 
Being one of the tourist destinations since the 1990s, there are many hotels and lodgings with comfortable rooms now. Some of the hotels and lodgings also offer instagenic photo spots. Tourists may take photographs on swings, hammocks, antique bikes, and wooden planks.
Starting from Rp100.000 for a room in a modest lodging. Tourists wouldn't get into any trouble when having a remarkable vacation at Gili Trawangan. However, there is no online booking for small lodgings. Bear this in mind when having a vacation here in peak season. Gili Trawangan also gets all guests' approval for culinary heaven.
There are many street vendors, restaurants, and cafes all over here. Tourists may choose various meals from local delicacies, Indonesian dishes, fresh seafood, and Western cuisine, to gelato. Tourists may enjoy local delicacies such as Ayam Taliwang from Rp30.000 with rice and sambal. Gluten-free food for vegetarians is also available at pretty affordable prices.
See: Guide To Explore Tiu Kelep & Sendang Gile Waterfall. 
How To Get To Gili Trawangan 
At Bangsal Harbor in the northern of Lombok Island, there is public transportation used also by locals. Tourists may take public boats managed by the local cooperative at Rp20.000 plus Rp1.000 retribution per person. It takes 45 minutes to 1 hour to get here depending on the weather. Tourists should bear in mind, though, that the boat will only depart when 20 people have been onboard. Another way, take a public speedboat at Rp75.000 fare.
Many tourists also travel directly to Gili Trawangan by ferry from Bali. The transportation operates from Serangan or Padang Bai. Regular fast ferries departing Serangan at 8 AM and 10 AM, from Padang Bai, leaving at 11:15 AM. The ferry operates daily and costs Rp400.000 per person.
See: Indonesia SIM Card Price & Tourists SIM Card Package. 
Address & Location 
Gili Trawangan island is located in Gili Indah, Pemenang district, Lombok Utara, West Nusa Tenggara 83352.