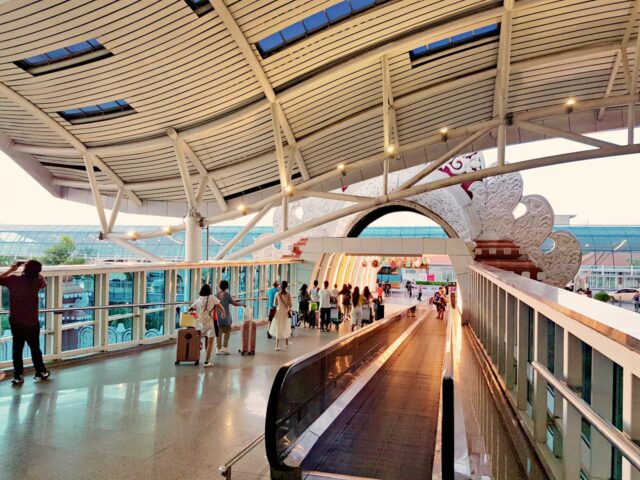 For many tourists, Bali Airport, Ngurah Rai International Airport is a doorstep to Indonesia. A gateway to the most popular destination in the world. This airport is one of the busiest in the country. Annually, the airport serves 20 million of passengers. Bali Airport is a harmonious combination of traditional and modern.
The modern architecture is strong in the exterior especially the airport's wavy rooftop. For the traditional touch, travelers may notice the Balinese gate. It's all obvious at the terminal entrance with a touch of Balinese paintings at each gate.
Bali Airport also uses sophisticated technology. Such as the advanced Baggage Handling System (BHS). It guarantees more secure and efficient luggage processing.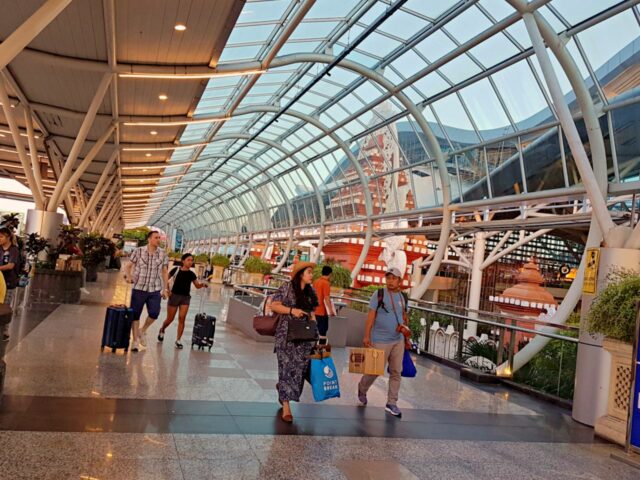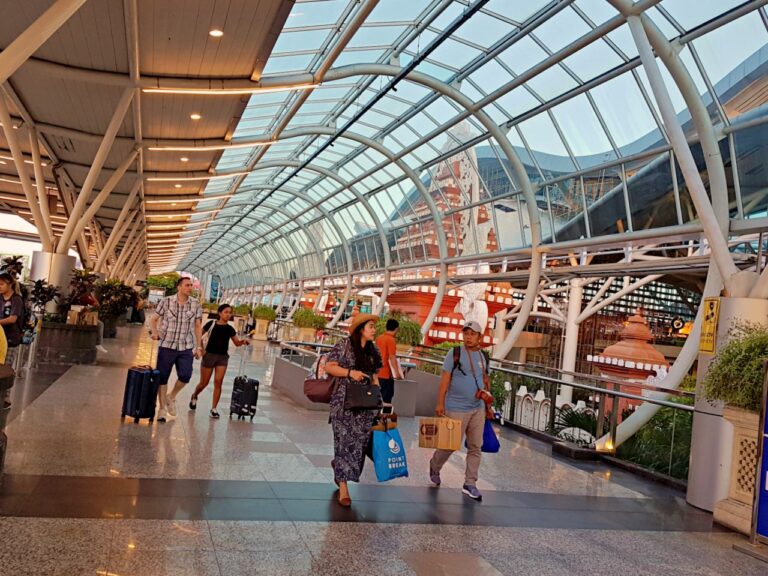 Bali Airport Distance
Bali Airport is located not far from the city center. Only 2,5 km south of Kuta, near the most popular tourist area in Bali. A taxi can take visitors from Denpasar Airport to Kuta in 10 to 30 minutes depends on the traffic.
Meanwhile, tourists heading to Ubud will spend at least an hour from the airport. Nusa Dua takes 20 minutes from Bali Ngurah Rai airport. Bali airport is connected to the other part of Bali by Ngurah Rai Bypass road.
Bali Airport International Terminals
The international terminal covers an area of 28.630 m². And it has a capacity of 20 million passengers a year. Singapore Airlines, Cathay Pacific, Emirates, and Air New Zealand. Are among of a few airlines depart through this terminal.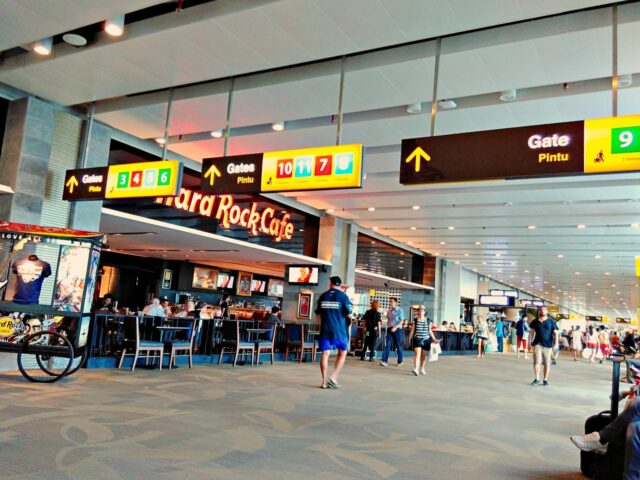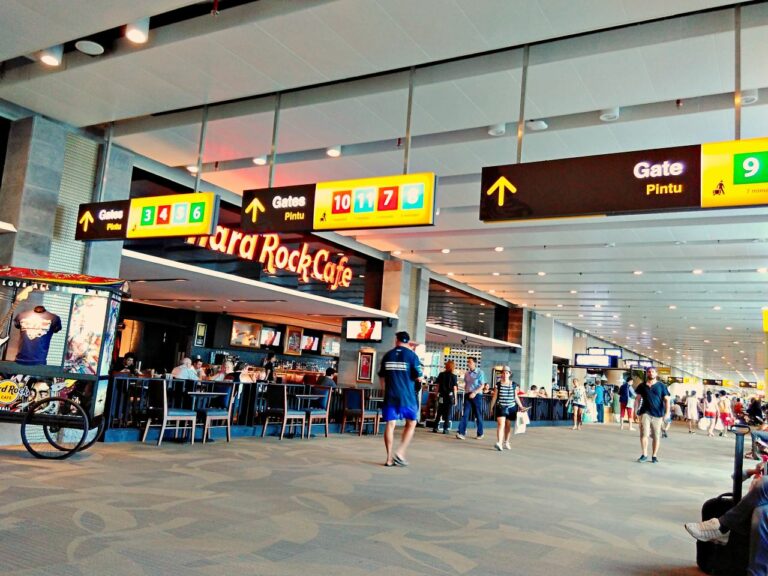 The departure area at International Terminal is equipped with 62 check-in counters. And each has a conveyor and digital scales. Meanwhile, there are 7 baggage collections areas on its arrival hall. Immigration, custom, and Visa on Arrival (VOA) are also located at the arrival hall.
Ngurah Rai Airport Domestic Terminal
The new domestic terminal occupies the old international terminal. It is now able to serve up to 9 million passengers. As opposed to the previous 1,5 million. The departure terminal has 8 gates with five of them equipped with Avio bridge.
Some of the domestic airlines are Garuda Indonesia, Air Asia, Sriwijaya, and Lion Air. They run a domestic flight from Bali to another region in Indonesia. Particularly big cities like Yogyakarta, Surabaya, and Jakarta.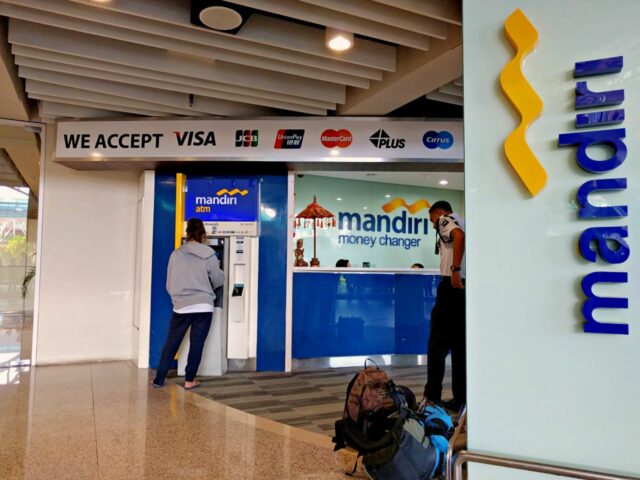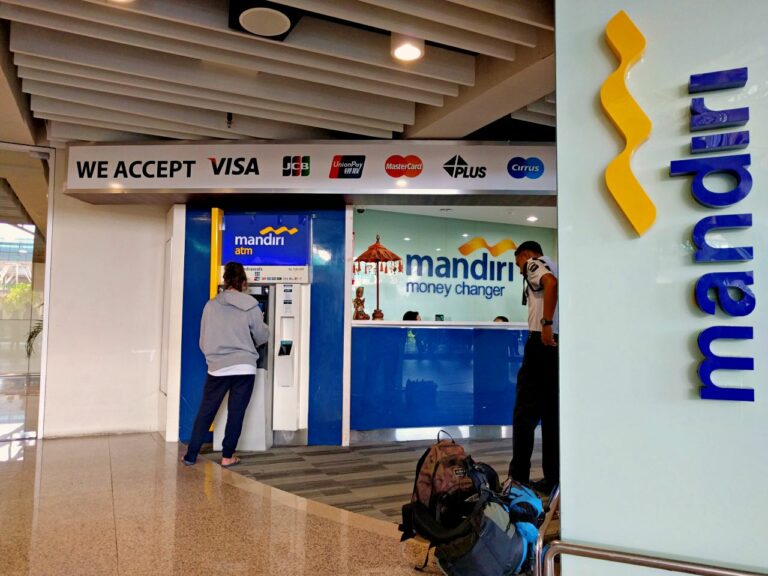 Restaurants and Cafes
Cafes and restaurants are available throughout the airport. Most notable includes Made's Warung. A famous restaurant franchise offering Balinese specialties. Visitors can find this restaurant near Gate 2 of the International Departure. The cafeteria "Kantin Modern" offers full meals at an affordable price. Its location is at the domestic terminal corridor.
Looking for a light meal, coffee, snacks, and wifi, head for cozy cafes. There is plenty of cafes such as House of Beans on the third-floor International terminal. Or the Hard Rock Cafe in International Terminal L3-37.
At Domestic Terminal, local coffee chain My Kopi-O also offers coffee and light meals. Just head to the departure area F-05A-05B, right after the check-ins counter.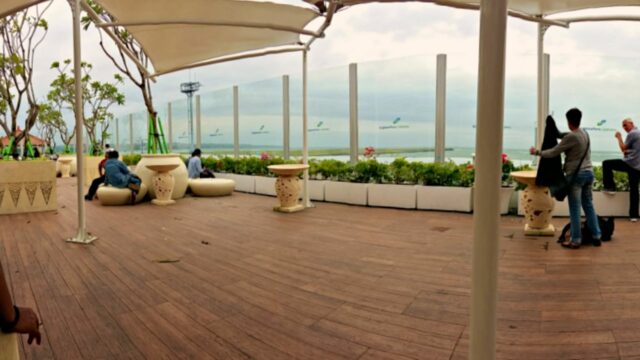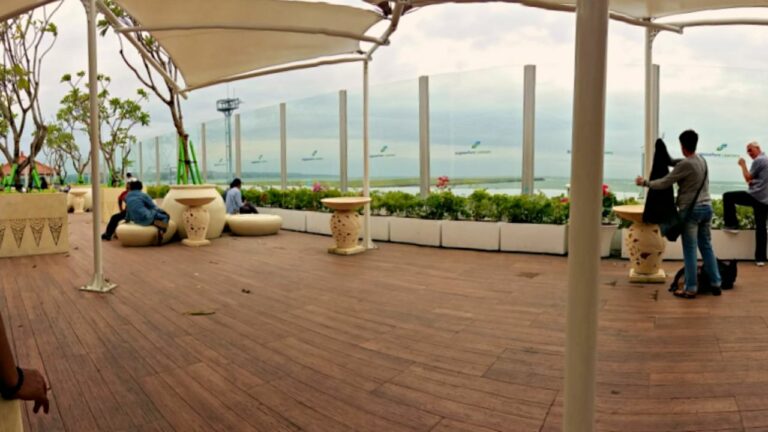 Duty-Free
Dufry shops offer tax-free goods visitors can buy. There are six stores across the airport. All selling liquor, cigarettes, cosmetics, food, and confectionery. The main shop is located on the third floor of the International Departure. There are also two "last-minutes" shops near Gate 4 and Gate 7.
Bali Airport Lounge
Wait for boarding time at several exclusive lounges at Bali Airport. Choices include Premier Lounge and TG Lounge at the International Departure terminal. Premier Lounge offers plenty of tables and a complete set of amenities. From Wi-Fi, showers, to massage service.
Standard Priority Pass members pay only US$ 27 per visit while it's free for Standard Plus and Prestige. The lounge is open until 1 AM.
Just next to Premier Lounge is the TG lounge. It has cinema corners, billiard tables, a bar, and is open for 24 hours. It doesn't have to be a member to access the lounge. Since they offer pay-at-the-door entry (fee is US$ 25 per visit).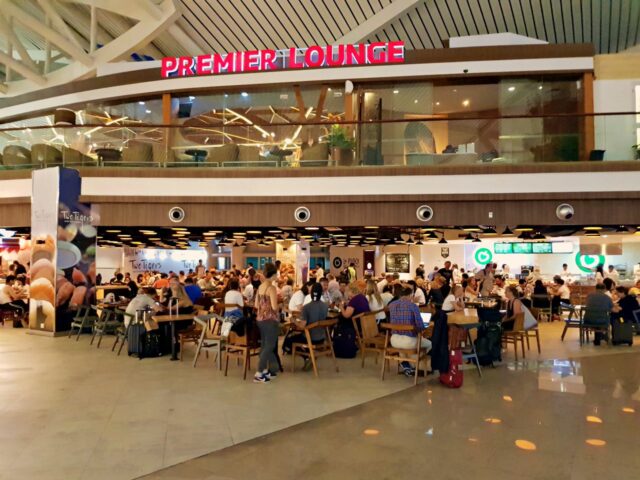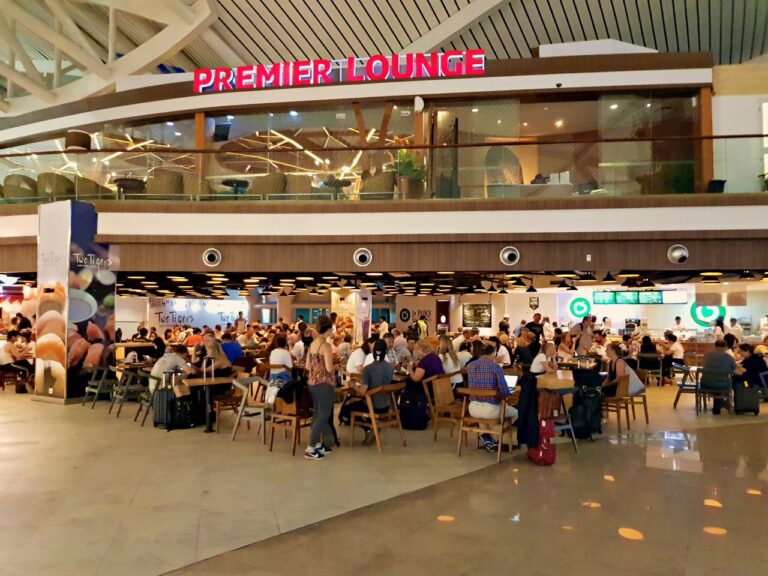 Bali Airport Hotel
Novotel Bali Ngurah Rai Airport is located only a few minute's walk from the terminals. This four-star hotel has direct access from the International Departure terminal. Rate starts from IDR 1,1 million per night. Another option beside Novotel is the Hilton Garden Inn. It only 500 meters away from the airport.
Money Exchange and ATM
Money exchange service booth available at both International and Domestic Arrival. Just search for Bank Mandiri counter near the exit of the arrival hall. There is two other money exchange at International Arrival, Wahana. It also nearby the exit of the arrival hall. While the other one Sinar Artha resides at the pickup zone of International Terminal.
Travel Agency
Prasarana Airport Travel Agency will help tourists book hotels, transportation. As well as plane tickets. Their office is located at both International Arrival (B-07) and Domestic Arrival (L1-04A). Prasarana opens until 2 AM or until the last flight of the day.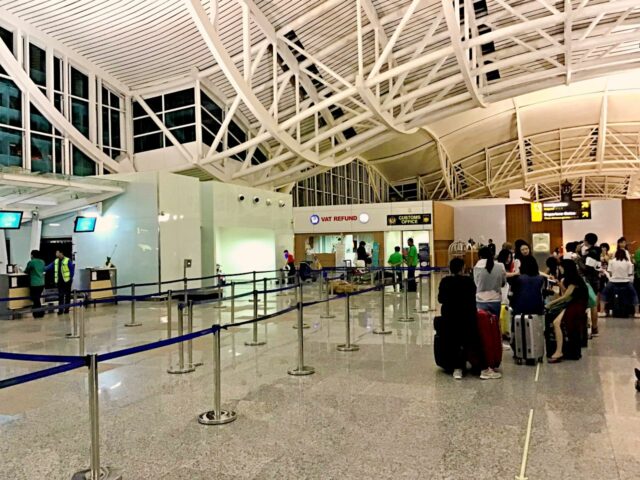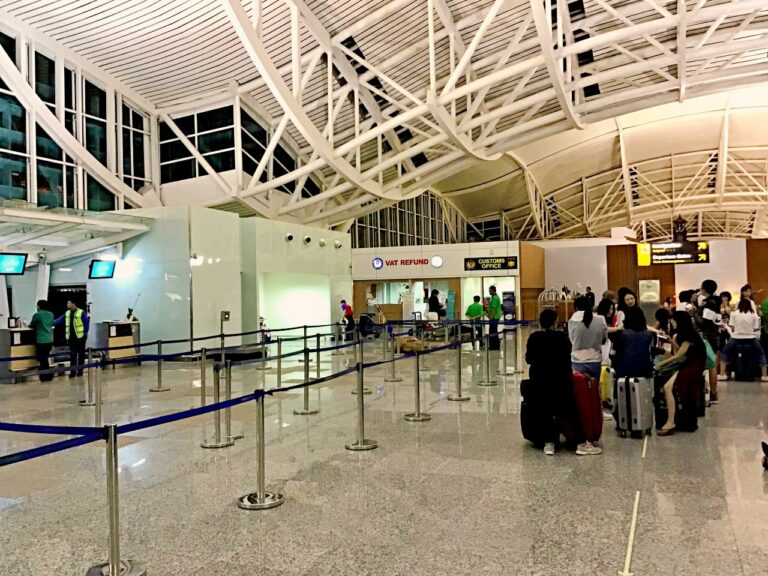 Luggage Wrapping & Locker Service Bali Airport
Securitech and Aerotek offer luggage wrapping services at Bali Airport. Find their stations at the check-in area of International Departure and Domestic Departure. It will cost IDR 80k for luggage of any size. Securitech also provides luggage storage service with the rate starting from IDR 50k/day. The office is at the drop off zone of both International and Domestic Departure.
GST Refund Ngurah Rai Airport
Bali airport is one of the few airports in Indonesia with the GST Refund counter. To get a GST Refund head to the check-in area of International Departure.
General Facilities
The airport provides easy-to-find clean restrooms, nursery rooms, and smoking areas. WiFi is available throughout the airport. Outlets for charging phones can be found on many spots. Such as the waiting area and boarding room.
Convenience stores WHSmith open for 24 hours. And they located at Level 1 and Level 3 of the International Terminal public area. There is 2 smoking area at the departure domestic terminal. One next to gate 1 c and the other one in near gate 6. Smoking area in the international departure on the 3rd floor. While at the arrivals the smoking area right next to the pick-up area.
Bali Airport Ngurah Rai Transportation
Three lines of Bali public bus "Trans Sarbagita" start and end at this airport. Those lines are Corridor 3 Airport – Tabanan, Corridor 10 Airport – Nusa Dua line, and Corridor Airport – Batubulan line. With all the line picks up and drops off passengers in both International and domestic arrival. Fare is IDR 3500 per bus trip.
Trans Sarbagita Bali Airport Line To City Center
Ngurah Rai Airport – Tabanan
Rp7.000
Ngurah Rai Airport – Nusa Dua
Rp3.500
Ngurah Rai Airport – Batubulan
Rp3.500
For the taxi service, Bali Airport has the airport taxi Kokapura. They will drive tourists to any tourist area on their list at a fixed price. The taxi counter located in the arrival area. The fare for a taxi is IDR 80k to the Kuta area. As it gets further, it gets more expensive. It will cost around IDR 250k to Ubud, IDR 125k for Nusa Dua, and IDR 165k to Canggu.
See: Guide To Buy, Register & Top Up Indonesian SIM Card.