Sudirman Street Food
Entrance Fee: Rp5.000 - Rp110.000
Opening Hours: 10:00 - 22:00; Saturday : 10:00 to 23:30
Telp. Number: -
Address: Jl. Jend. Sudirman No.107, , Karanganyar, , Astanaanyar , Bandung, , West Java , Indonesia , 40212.
Tasting locals food is a fun thing to do. Finding the gem where locals like to eat, instead of just dining in a touristy restaurant. Luckily Bandung offers a lot of culinary spots. Located in downtown Bandung, Sudirman Street Food culinary spot is easy to reach.
This spot can accommodate many food vendors to open their stalls. As a result, customers could taste a broad variety of menus. For locals, Sudirman Street Food is a one-stop culinary spot. Here, customers could order local food, refreshing beverages, as well as fusion delicacies. All in one area.
Don't worry about the price. As the place caters mainly to locals. With Rp100.000 in hand, foodies can relish a variety of finger-licking food. Sudirman street food is an open communal eating space. And it offers a casual dining experience.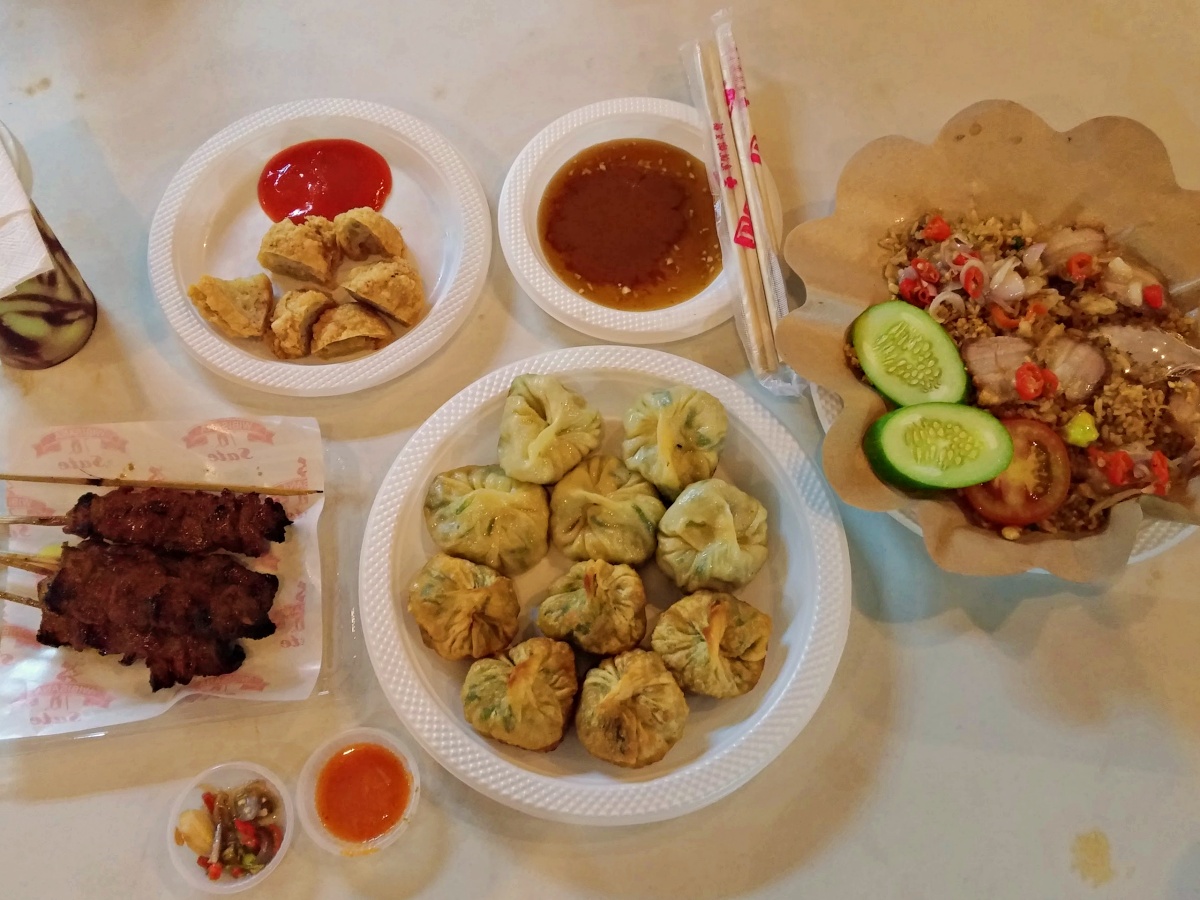 Here, people can chat freely with family, friends, or even locals. Sharing the same table over the served food. The food court serves both lunch and dinner crowds.
Sudirman Street Food Strategic Spot
This culinary center serves as a popular destination for food lovers. The place is located not far from the town hall. Its location is even within the walking distance. Many locals love to spend leisure time in the open-space city hall. And Sudirman street food is by far the closest dining destination. The spot is always flooded with locals, especially during the weekend.
Sudirman street food spot is a road that is open on both ends. This means space enables pedestrians to come from Sudirman Street and walk in. Then, reach another road, Cibadak Street, which also has food vendors that offer local delicacies.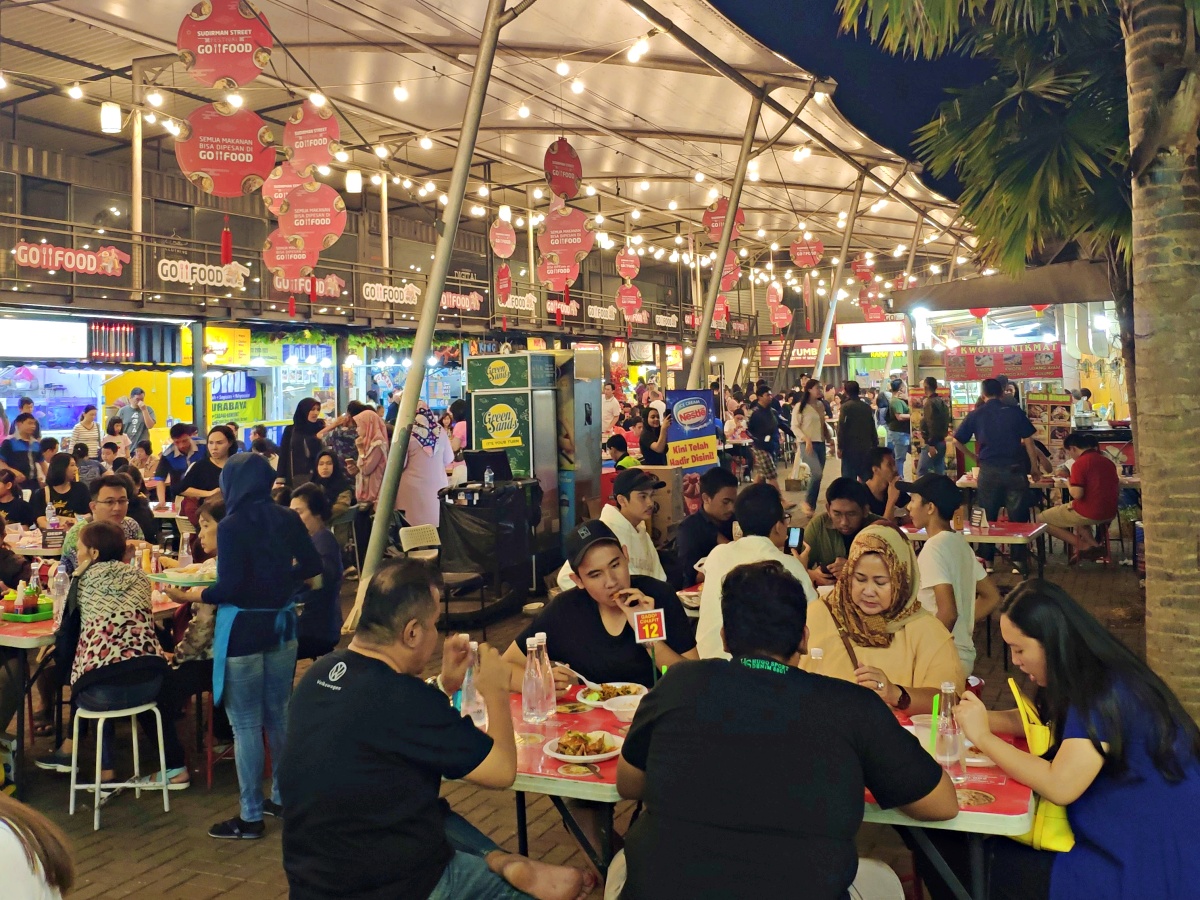 Along Sudirman Street, there are some mural paintings. And the food stalls are nicely decorated with colorful paints and decent lighting. This too is another reason that the dining spot is famous among youngsters.
Originally An Alley
Sudirman Street Food was originally an alley that connects two adjacent streets. The management table turned the place into one of the prominent culinary destinations in Bandung. Here, food stalls offer various menus from appetizers to desserts.
Ranging from snacks to fulfilling meals available at any mealtime. For snacks, people can try fried meatballs, fish cake, or chicken/pork dumplings. The price starts from Rp20.000 to Rp60.000 depending on the size portion.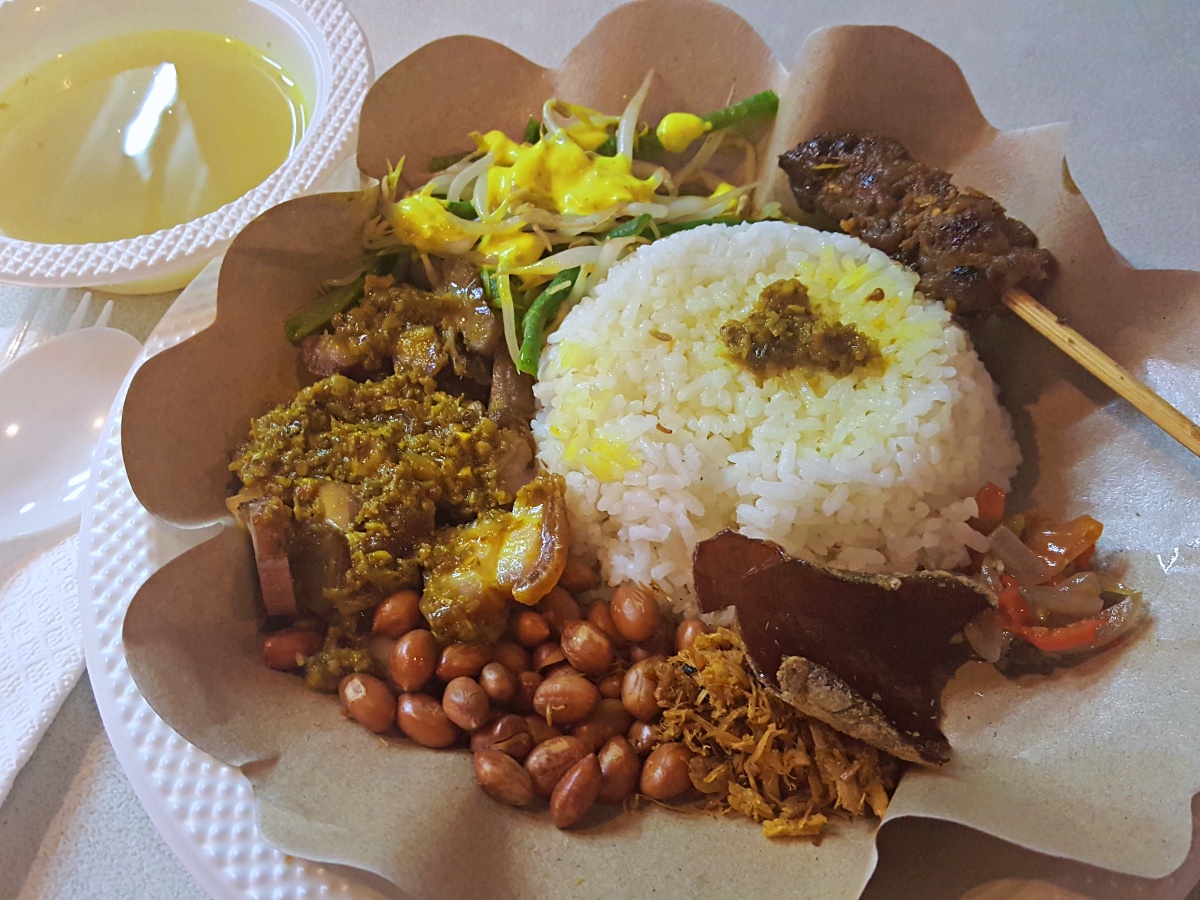 As for meals, the option varies from local, Chinese, to Western delicacies. Foodies are recommended to taste the local dishes such as nasi goreng pete – fried rice which is cooked with bitter beans. Other examples include fried carp with red/green chili sauce, nasi timbel, and mie kocok.
Both nasi timbel and mie kocok are the traditional Sundanese staple food. One is an aromatic rice cook and steamed in a banana leaf. Served with either fried/grill fish or chicken, tempeh, and sambal.
As for mie kocok, the dish is noodle soup. It consists of bean sprouts, noodles, kikil, and beef/chicken serve with hot beef broth. The price for a portion of mie kocok starts from Rp20.000.
Bringing Pork To Its Finest
Sudirman street food court is also famous for its various pork dish. The sweet pork skewers and pork martabak are by far the people's favorite. The pork grilled in the skewers is super juicy and sweet. Some even like it better to eat it with warm white rice.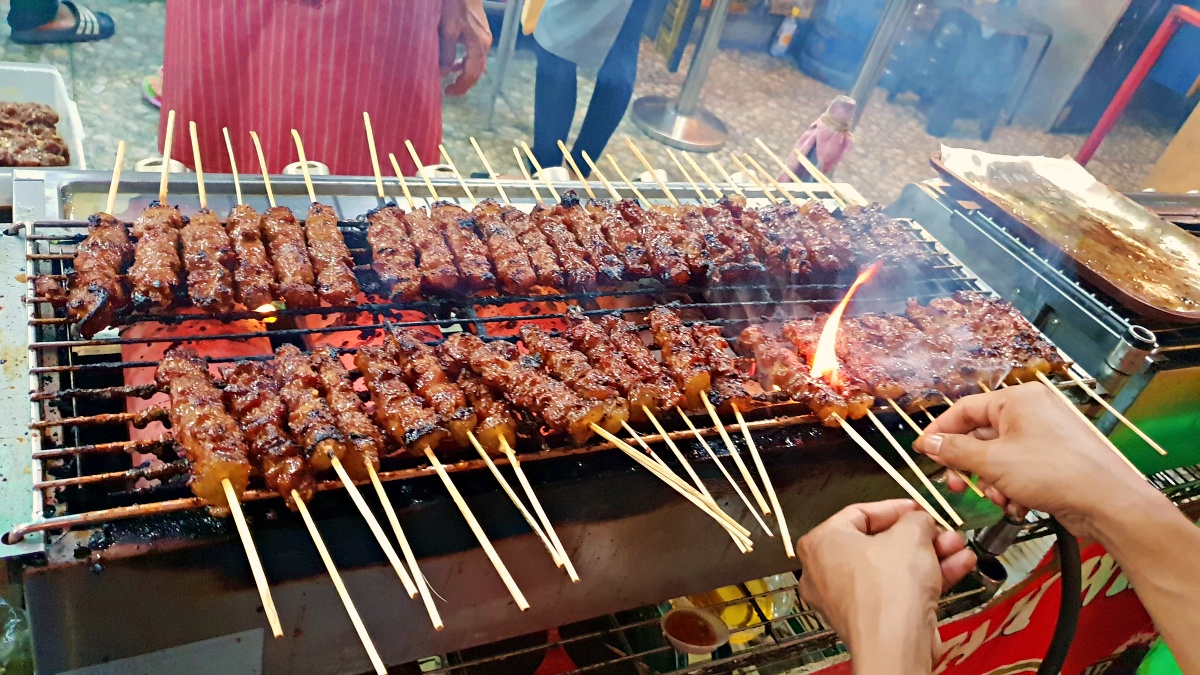 Another recommended menus for pork lovers are bakut sayur asin. Bakut is a salty, warm brothy pork Chinese dish. This main course is a combination of pig's ribs, some spices, and fermented mustard. It's a perfect food choice for Bandung's chilly weather. The price of 1 portion of Bakut with rice starts from Rp45.000.
As for snacks, try everyone's favorite ambokue. The dish is a nice combination of tofu, eggs, pig's ear, cucumber, and lapchiong. All the ingredients are drenched with a thick seasoned brown sauce. The price for ambokue is Rp25.000 per small plate. For the other snack, pork martabak, the price starts from Rp60.000.
More toppings and more eggs mean additional cash to pay. The pork skewers cost Rp65.000 per ten skewers. Some main courses like pork mixed rice, and mixed grilled pork cost Rp50.000 per portion. It is considered pricey compared to any place in Bandung. However, despite the price, the pork dish here is worth trying, since some come with a large portion.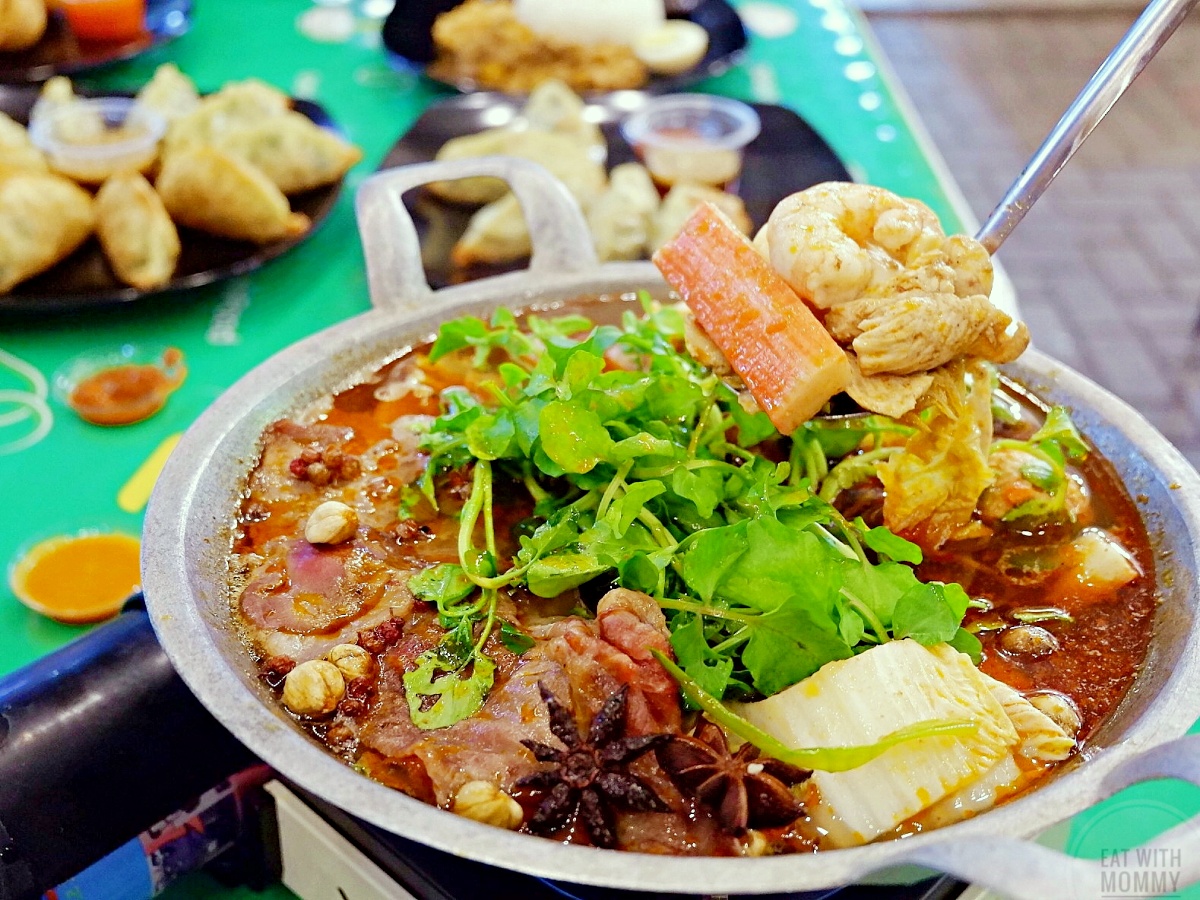 The Paradise for Meat Lovers
Foodies who crave steaks and grilled meats will be delighted too here. Sudirman Street Food has several food stalls offering grilled meat as its main menu. Not only beef and pork there are also various chicken menus, such as fried chicken and grilled chicken. The food court also has a seafood stall, popular for its crab mouth-watering dish.
Sweets and Snacks
Sudirman street food does not only filled with main course vendors. Deserts like durian ice cream, kue Pukis, and boba ice tea are something to look forward to. There's even fusion food such as smoked ham Banh-mi that cost Rp30.000 only.
End the evening with a sweet and refreshing drink. There are plenty of dessert and drink choices to try. Like the rainbow fruit juice and iced coffee. The price range for ice cream desserts and juice starts from Rp12.000 to Rp30.000. Another dessert worth trying is the combination of ice cream and tropical fruit.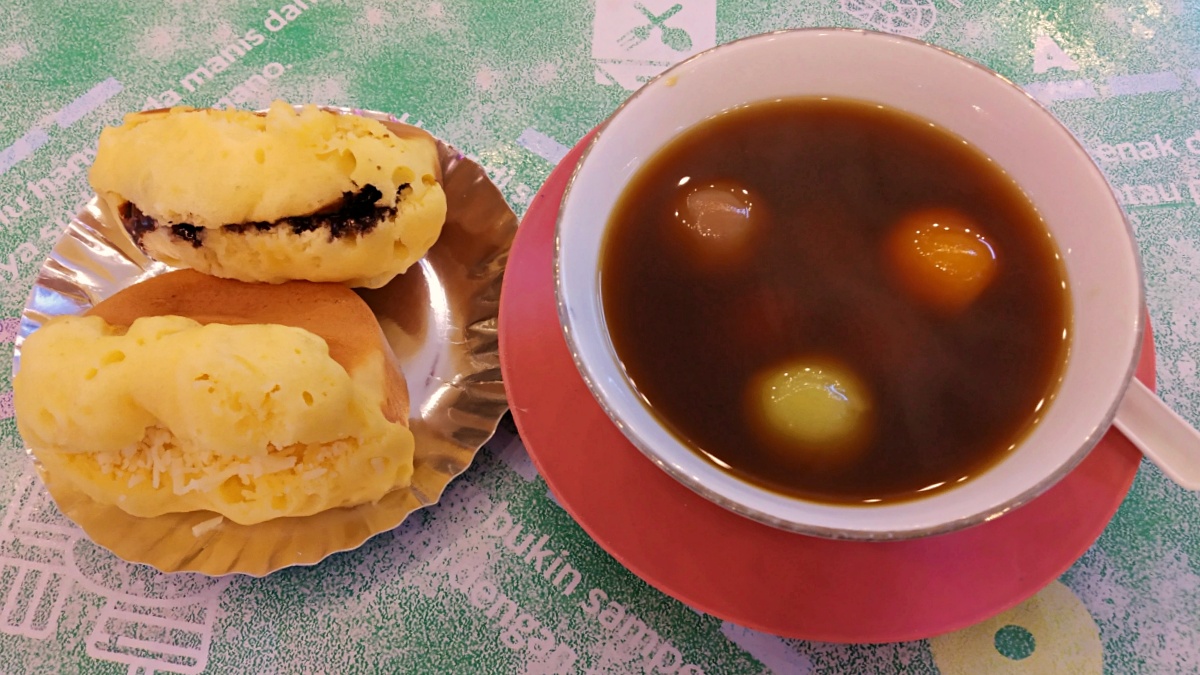 Order one of a coconut bowl or melon bowl. The so-called 'bowl' dessert is just Rp25.000 per portion. It comes with half coconut shell, topped with 2 scopes of ice cream. Add it with various toppings like marshmallows, jelly, nata de coco even fruit loops. Whichever taste is OK. The green tea flavor ice cream by far is the best seller here.
For a touch of local savory taste, try the fried meatball. Exchange Rp30.000 with a portion of it. This snack is made of seasoned grounded meat with a spicy kick of chili sauce.
See: Bandung Culinary Spot, Paskal Food Market.
Sudirman Street Food Opening Hours
Most of the vendors in Sudirman Street, whose stalls are closer to Cibadak Street, open from 10 AM-10 PM. The vendors located on the opposite side, closer to Sudirman Street opens in the afternoon or evening. The food court itself closes at 10 PM. There is no entrance fee to the food court, visitors only need to pay the parking fee.
Sudirman Street Food Opening Hours
Every day
10:00 – 22:00
Saturday
10:00 – 23:30
Food Price Range
Rp5.000 – Rp110.000
See: Punclut Ciumbuleuit, Activities & Dining Spot
Facilities
Sudirman Street food spot has a limited parking lot for motorbikes and cars. For this reason, it is almost impossible to find a parking space here. Sometimes people have to park and walk quite far to get to the food court.
To avoid the parking situation, simply just order a taxi to get here or use public transportation. Basic facilities like toilets and sinks are available on the premises. The toilet is not free though, prepare a small note of Rp2.000.
A wide alfresco dining space is the concept of dining here. Busy kitchen staff and customers are a common sight. For trespassers, the mural paintings can be an eye-catching photo spot.
See: Transportation Guide from Jakarta to Bandung.
How To Get To Sudirman Street Food Spot
Sudirman Street Food is easily accessible from the town center. In fact, the food vendor's crowds are only 700 meters away from Alun-Alun Bandung. It just takes a 10-minute walk from Bandung grand mosque. Another transportation choice includes a ride-hailing service. One thing for sure is the car unit availability is plenty in Bandung downtown.
For a cheaper fare, tourists could opt to go with a public minivan. Departing from Bandung railway station, the trip will not be that far. And the right public minivan is colored purple with white and green stripes on its lower body. Carefully listen to whether the minivan has passed Dulatip Street. Because Sudirman Street is the next stop after it.
Passengers could ask the driver to stop near the food court entrance too. As for the public van price, it charges Rp4.000 per person for a short distance.
See: Prepaid SIM Card for Tourist, Internet Package & Price.
Address & Location
Sudirman street food vendors located in Jl. Jend. Sudirman No.107, Karanganyar, Astanaanyar, Bandung, West Java 40212.