The Great Asia Africa
Entrance Fee: Rp50,000
Opening Hours: Weekday: 09:00 - 18:00, Weekend: 08:00 - 19:00
Telp. Number: -
Address: Jl. Raya Lembang - Bandung No.71, Gudangkahuripan, Lembang, West Bandung, West Java , Indonesia , 40391.
As the name suggests, The Great Asia Africa features icons in 7 countries of Asia and Africa. The Instagramable tourism spot lies in the highland of Bandung at Jalan Raya Lembang No. 71. Covering an area of 5 hectares, the Great Asia Africa is a big theme park with a cool ambiance to satisfy visitors' need for photographic tourism.
This destination offers a sensational experience of traveling to seven countries without going abroad. It is where people can pose in front of the miniatures of prominent icons of Asian and African countries. However, there are more things that this place offers. Hopping from one icon to another and enjoying the food are only to name a few of the things tourists shall do.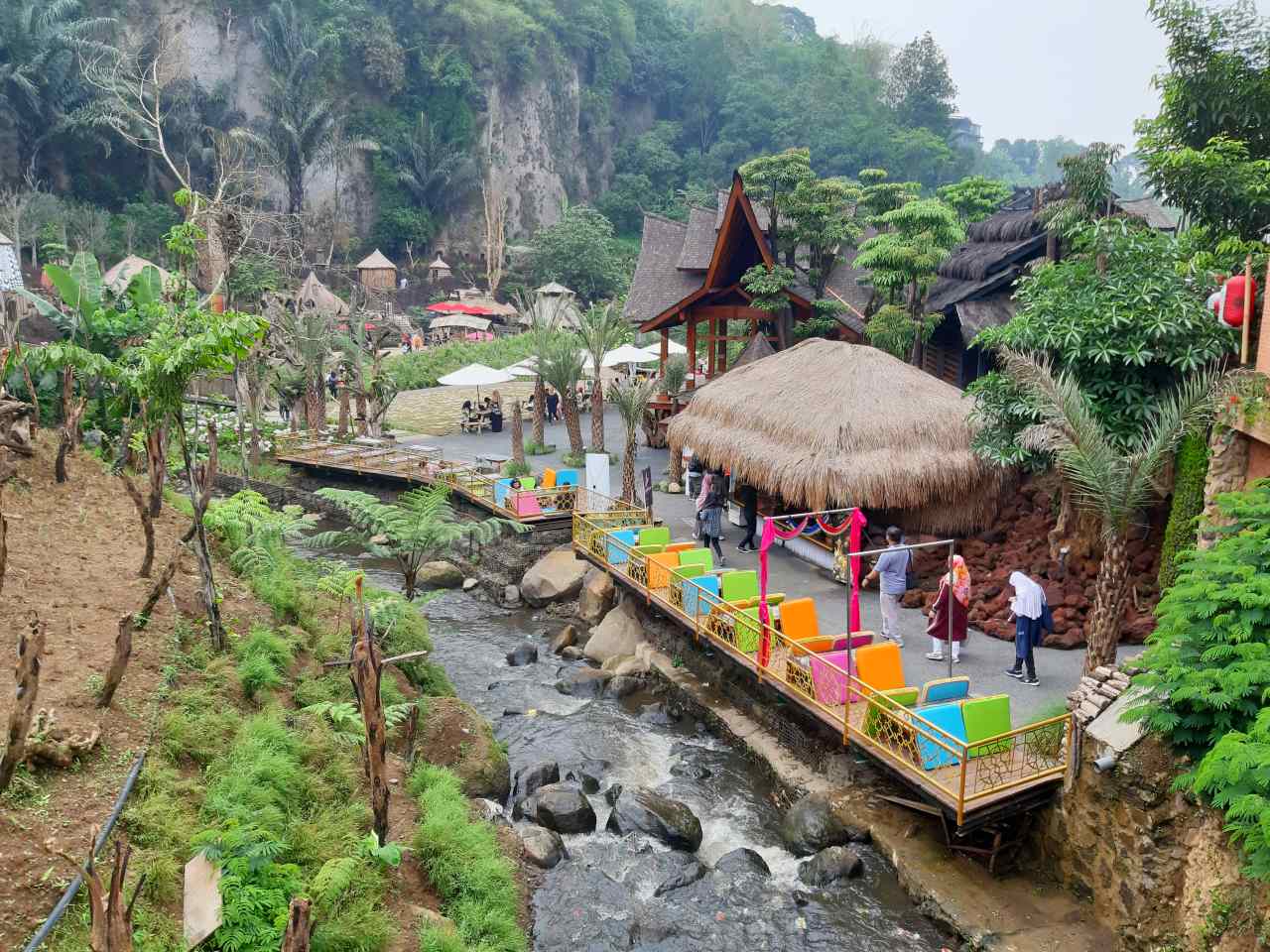 The Great Asia Africa Entrance Fee
Visitors from 2 years old and above are charged Rp50,000 to enter the premise. The cost also earns visitors optional drinks or sausage on sticks. Gondola rides for the elderly and children are free. However regular visitors will be charged Rp10,000 for the ride.
See: Guide To Explore Kawah Putih Crater & Top Things To Do.
The Great Asia Africa Opening Hours
The Great Asia Africa opens daily from 9 AM to 6 PM on weekdays and 8 AM to 7 PM on weekends. As a family-friendly spot, Great Asia Africa is not great during weekends and holidays since it will be most crowded here. And, the sun will be sweltering during midday. Put on plenty of sunscreens and wear a sunhat and sunglasses. Prepare the stamina to spend long hours enjoying all activities here.
The Great Asia Africa Opening Hours
Weekday
09:00 – 18:00
Weekend
08:00 – 19:00
See: Guide To Explore Bandung Street Food in Sudirman Street.
Something to Learn From the Great Asia Africa
The Great Asia Africa is not the first spot that offers the door to various icons of the world in one place. Nevertheless, it offers not only spectacular photo spots, but also the real experiences of visiting countries, feeling the joy of trying the traditional costumes, the excitement of doing the costume, and other activities.
In the Bigdino section, little visitors can feel the sensation of feeding a dinosaur. A big dinosaur's skeleton welcomes visitors at the front. Then, visitors will walk along a dark alley toward a big screen that displays a T-rex image moving in the forest. Using CGI technology, visitors will feed the T-rex virtually. There will be both photo and video recordings of this activity visitors can take for Rp50,000.
Japan Pavilion
In Japan Pavilion, a miniature of Fushimi Inari Shrine's Torii Gates will catch visitors' eyes with the straddling gates of vermillion color. Next to a red bridge, four waterwheels made of bamboo are winding by the creek's stream under the bridge. There are minka, traditional Japanese houses across the Torii Gates with a pool upfront.
Other structures unique to Japan's Kyoto environment are Kinkaku-Ji and Toji temples, the Arashiyama bamboo grove, and many others. Visitors can visit not only the structures but also experience the culture. Rp100,000 will grant visitors dressing in Yukata or Kimono for an hour.
Or, play the challenging game Kingyo Sukui, goldfish scooping using a small fine-messed scoop. A Japanese artist offers face painting with many characters to choose from. Last but not least, write wishes on Emma's Card, a small wooden placard with a picture, and hang it on the hook hanger.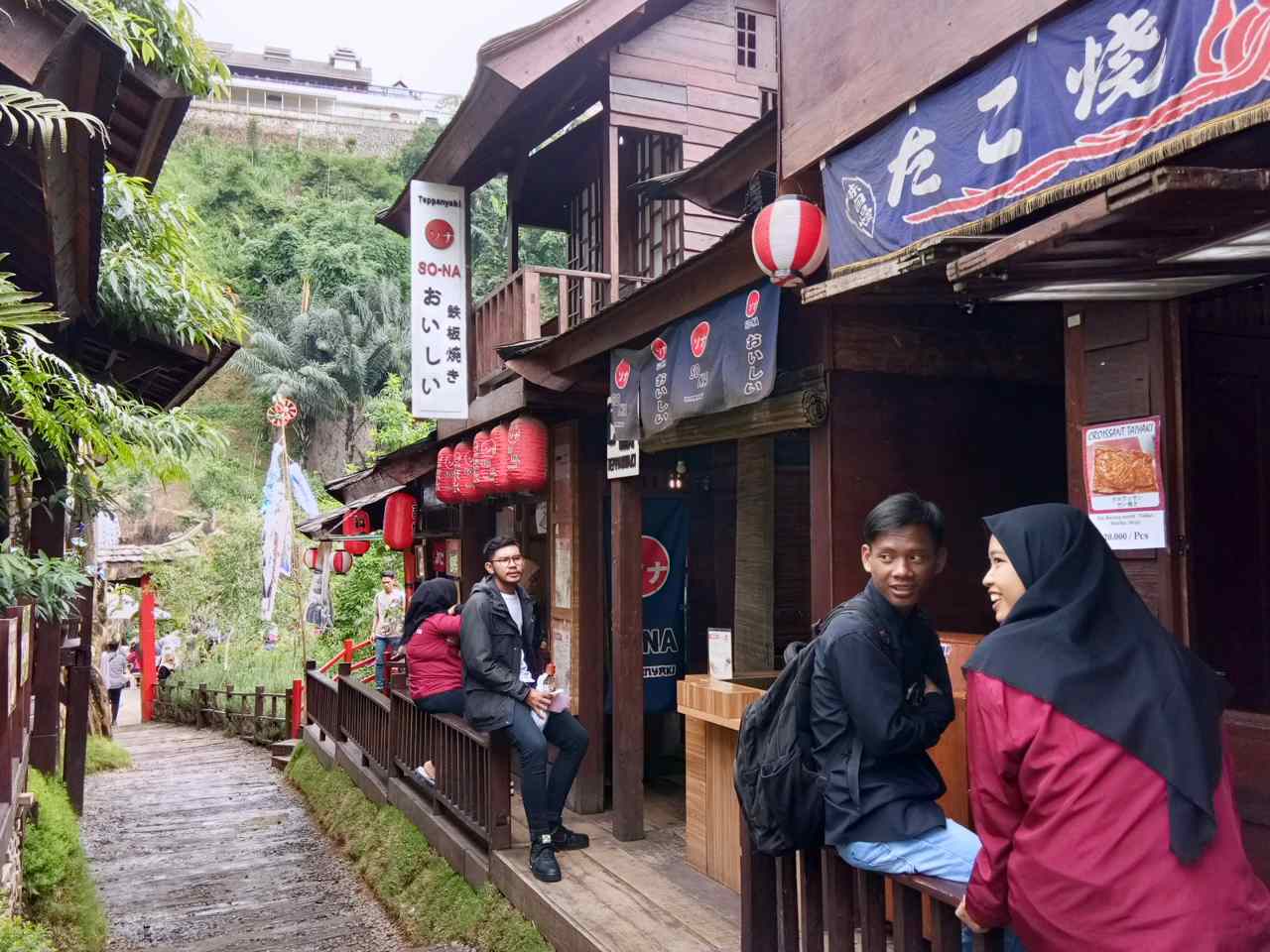 Trying Traditional Costumes
All ladies are welcome to rent and put on hanbok for Rp50,000 and pose in front of a traditional Korean house, hanok. The wooden house is closer to its original situation with earthenware pots. Bollywood lovers can hop onto the Pink City Jaipur wearing Lengha or Saree at Rp100,000 – Rp125,000.
The buildings are topped with colorful domes combined with complicated Indian carvings, mehndi. Other costumes are Jasmine's and Aladdin's for Rp75,000. One costume will only be used once for the day.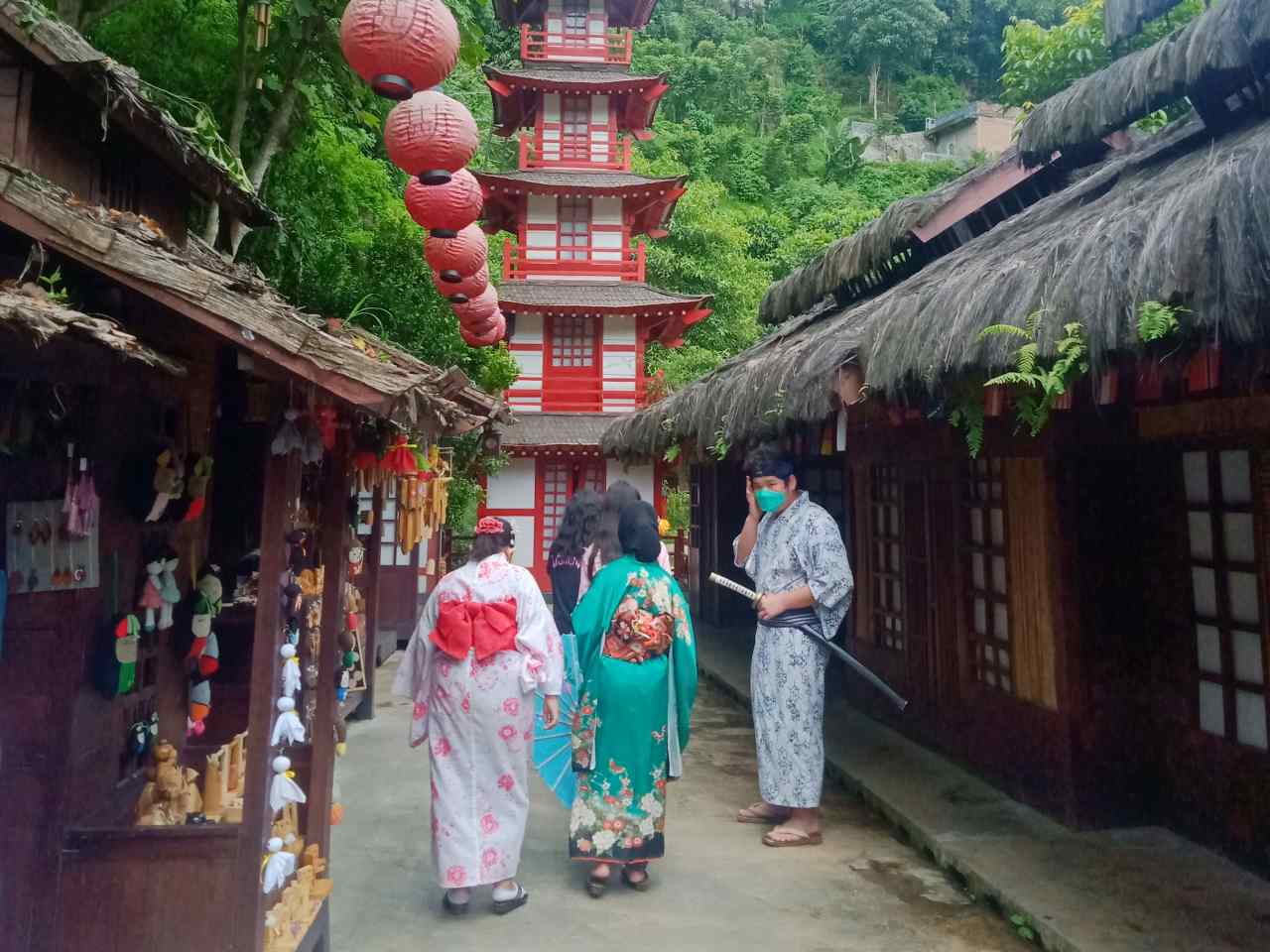 On the other side, more miniatures are waiting to be explored. Thailand's golden temple, huge hand statue unique to the Middle East, traditional African house, camel replica, and many more.
See: Top Things To Do In Punclut Ciumbuleuit Highland.
Tasting the Countries' Local Delicacies
The foods are available in each country's area. Nasi liwet is rice cooked with herbs, spices, and salted fish from Indonesia. India area features street food such as puri, aloo tikki, and kalufi ice. One of the Japanese foods available here is takoyaki. African area serves prominent lamb satai with banana, and Kimchi is available in the Korean zone. Visitors can enjoy the foods that start from Rp30,000.
The Great Wall of China
The area's topography is suitable for the miniature of the Great Wall of China, the latest construction that took advantage of the local terrain. Visitors can walk up and down along the replica while enjoying the cool air and the spot's collection of icons.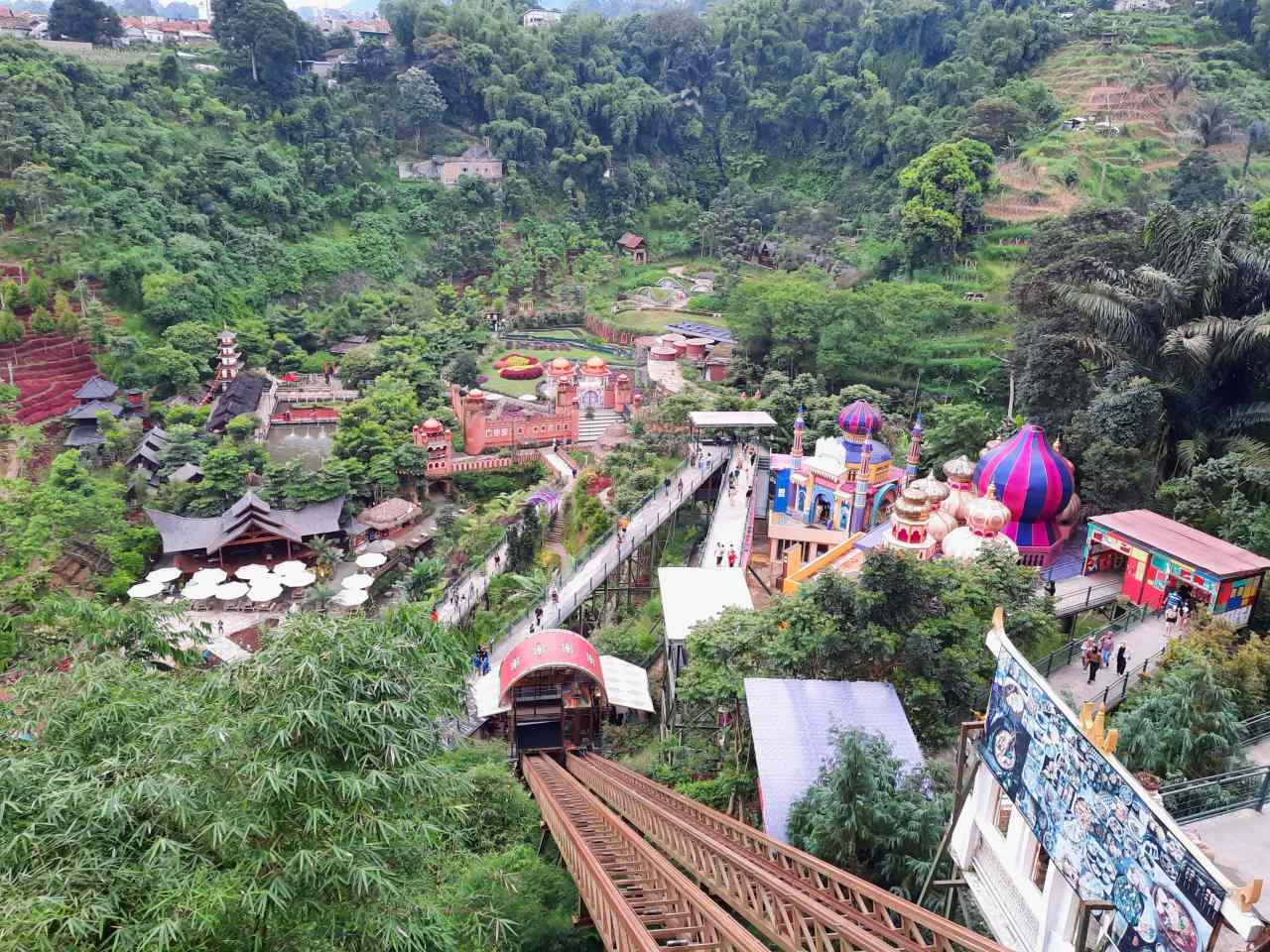 Even though only 100 to 120 meters in length, there is strong China's original atmosphere supported by Chinese ornaments. A local artist was hired to decorate the great wall with an interesting mural. The great wall is also great for selfie background.
Facilities
With such monumental attractions, there are complete facilities such as parking and a praying room. Toilets spread at some points, also restaurants and souvenir stalls. The parking fee is Rp10,000 for a car and Rp5,000 for a scooter. The food, especially street food's price start from Rp10,000.
Shuttle buses and gondolas are free to get the elderly and children to the spots and enjoy the scenery. However, others can enjoy the facilities for Rp10,000.
See: SIM Card Price, Provider List & Internet Package Price.
How To Get To The Great Asia Africa
The Great Asia Africa situates at Jl. Raya Lembang No. 71, Gudangkahuripan, West Bandung across to Farm House. It is accessible by both car and scooter. It's a 1,1 km or 34-minute drive from Bandung Station via Jl. Dr. Setiabudi. From Jl. Stasiun Barat, head west toward Jl. Kebon Kawung and drive for 2 minutes to Jl. Pasir Kaliki, Jl. Sukajadi, Jl. Dr. Setiabudi and Jl. Lembang to Jl. Lembang. After 29 minutes, turn left to the Great Asia Africa.
There is one public van from the station. Take Stasiun Hall-Lembang route van and stop at Farmhouse Lembang. The spot is across from it. Or else, hail online transportation for a more comfortable trip that will cost tourists around Rp50,000 for the car and Rp29,000 for bikes. Don't take a regular taxi when in Bandung. The drivers will push tourists to bargain the fare which will lead to a more expensive fee than using the meter.
See: Jakarta Airport To Bandung Transportation Guide.
The Great Asia Africa Location & Address
The park is located in Jl. Raya Lembang – Bandung No.71, Gudangkahuripan, Lembang, West Bandung, West Java 40391.