Floating Market Lembang
Entrance Fee: Rp30.000
Opening Hours: Weekday 09:00 - 18:00, Weekend 08:00 - 19:00
Telp. Number: -
Address: Jl. Grand Hotel No.33E , Lembang , Lembang, Bandung Barat , Jawa Barat , Indonesia , 40391.
Floating Market Lembang takes inspiration from the floating markets at Pattaya, Thailand, and Banjarmasin, Borneo. Perhaps not even roughly similar, but the market sure has its own quirk. Instead of a river, Floating Market Lembang stands on an artificial lake.
The tenants at this market sell street snacks and drinks, as opposed to daily necessities at a typical market. The owner, a local businessman called Perry Tristianto, did take inspiration from the floating market at Banjarmasin. He managed to build one on a highland of Lembang, Bandung, West Java.
Around 45 local businesses were selected to be the tenants. They occupy colorful boats that serve as their stall, docking on the edge of the lake. Floating Market Lembang is more of a food court on the water than a market. Apart from binge-tasting street food, there is plenty more to do.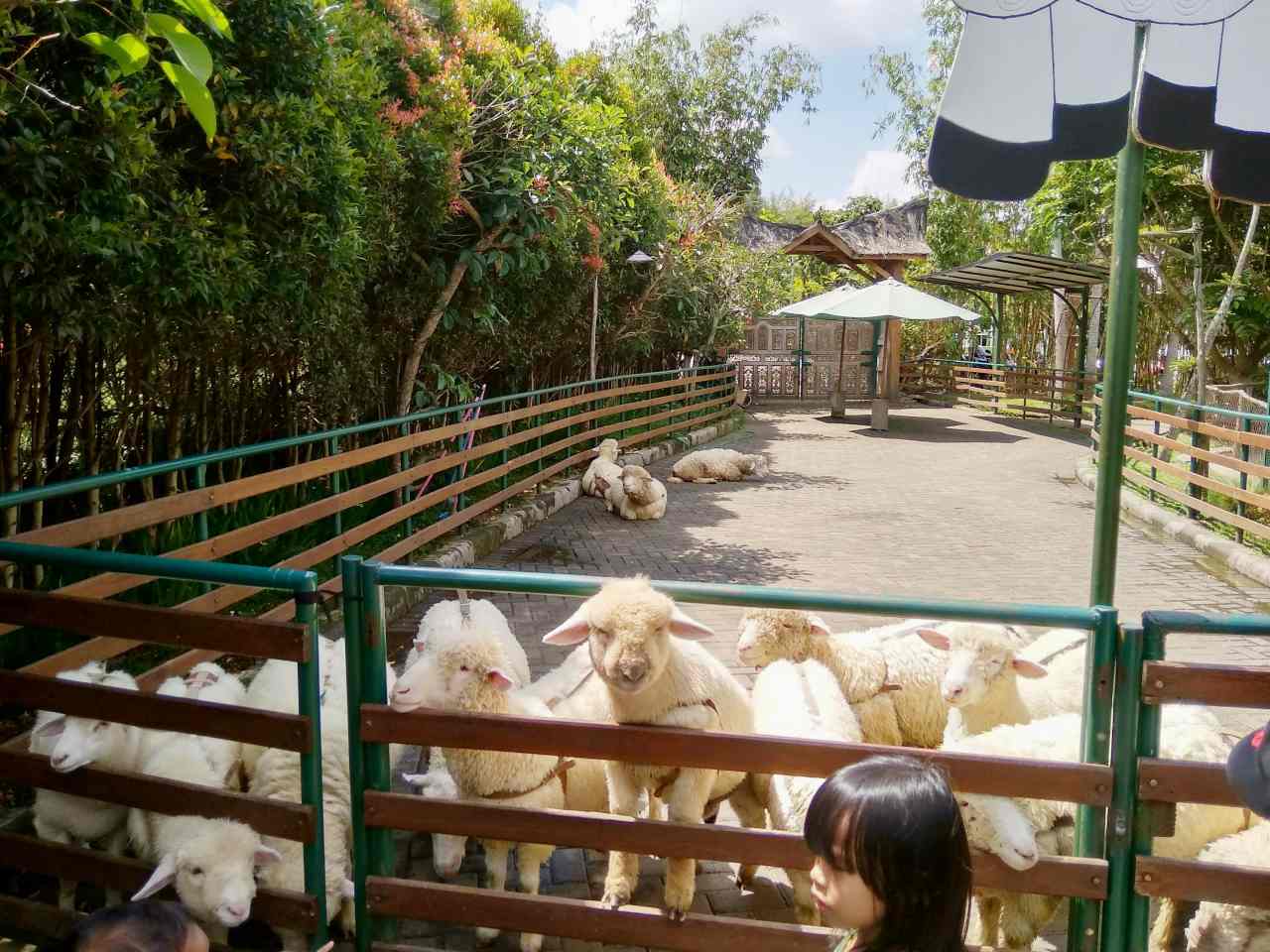 A garden and theme park area provide a fun pastime to burn calories after the previous food feasts. The place utilizes the artificial lake really well too. As there are a bunch of water activities visitors can do here.
Floating Market Lembang Food Choices
First, to shop here, they have their own currencies – the floating market coins. In fact, it comes in 2 denominations, 5k coins, and 10k coins. Exchange Rp50.000 for a start at the ticket counter. It's enough for a full belly until lunchtime. And don't worry, visitors could always buy more later.
Don't get confused by various Bandung street snacks. There's no right way to start, but here are some highlights. Try the local snack tahu pletok, a chewy snack with tofu for its filling. Or sate kelinci, a satay with a twist. As it uses rabbit meat instead of beef/chicken.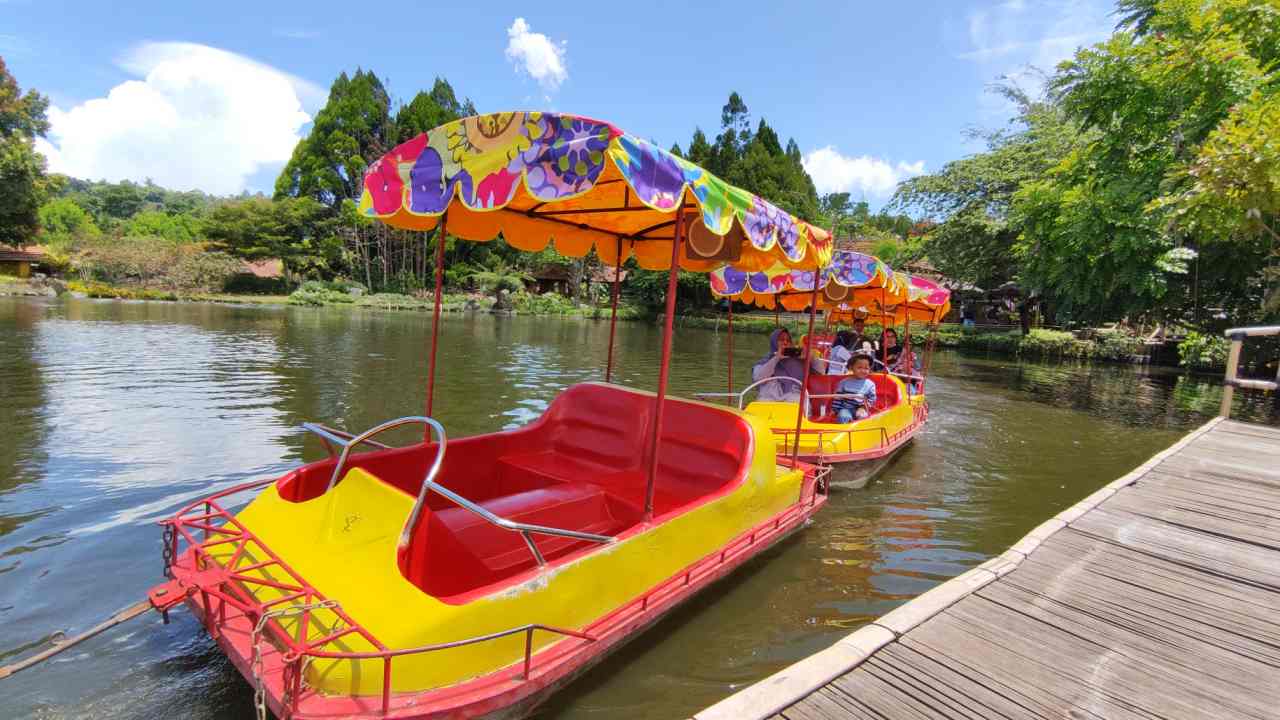 Toasted banana "Pisang Sangkuriang"  with cheese and chocolate sprinkles is the favorite choice for dessert. As for drinks, order a glass of Ronde jahe. The warm ginger beverage would be a perfect selection on a chilly day.
Sit on one of the lake patios or even better, sit closer to the lake. Hundreds of fish would swim expecting some share of food. Don't give them any as it would litter the lake – just let them watch in jealousy.
Water Activities
Water trains, water bikes, and canoes pick among these water rides at Floating Market Lembang. Try this for a fun: rent a water bike, and pedal to one of the boat food stalls. And buy a snack or a drink. Then proceed to enjoy the food while continue exploring the lake.  It's the right way to have a genuine floating market experience.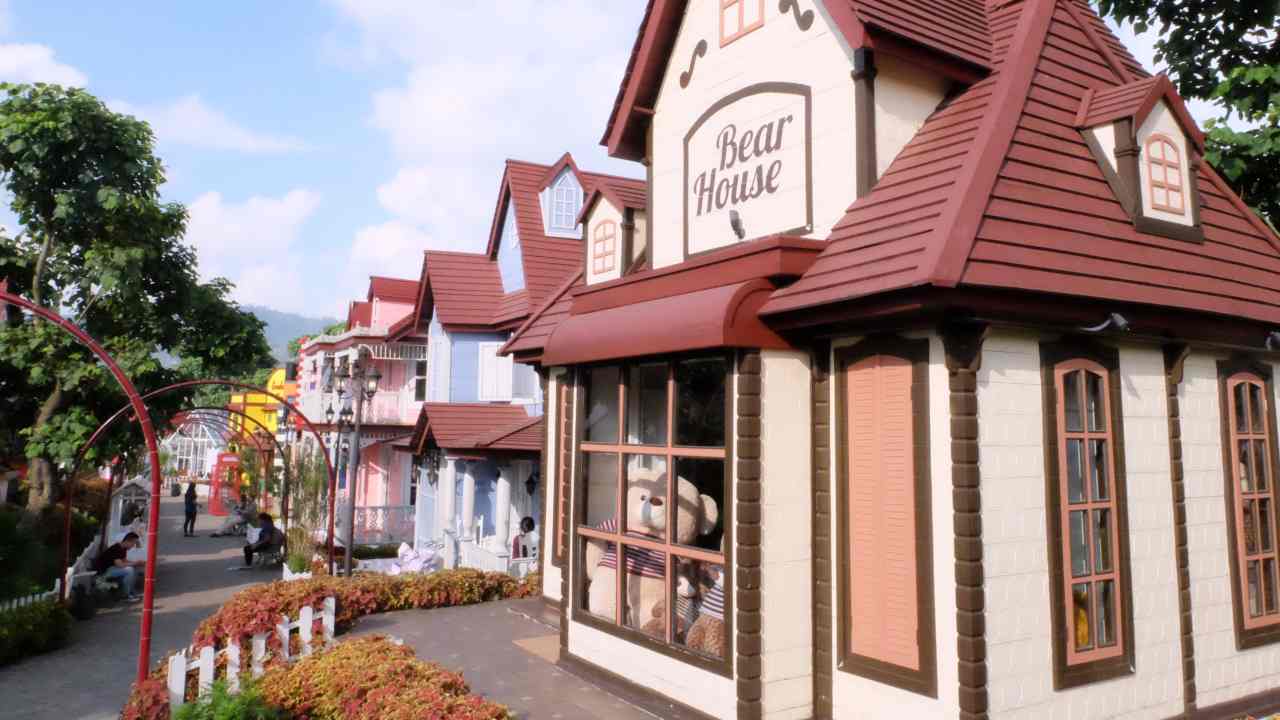 The Mini-Town
The mini-sized town "Kota Mini" could be as well a fully functional town. They have a post office, a gas station, and even a mini railway station! The place is very photogenic. At every corner, there are plenty of spots for a nice photo opportunity. The little buildings here sell souvenirs and interesting knickknacks, some also sell food.
Check out the London-style telephone booth or stand at the cute little verandas of the houses. Kota Mini is a place to awaken anyone's imagination, young and old. It's just excitingly fun to stroll its mini road and explore its every mini detail. To stroll around Kota Mini, there is an additional cost of Rp25.000.
The Rainbow Garden
Floating Market Lembang itself has a breathtaking landscape. The typical Javanese highland. In Rainbow Garden situated in the higher part of the floating market, visitors can witness the magnificent landscape 360°. There are colorful flowers and a glass house in the garden. The area serves as a quiet corner of the floating market. Spend some time here for a recharge.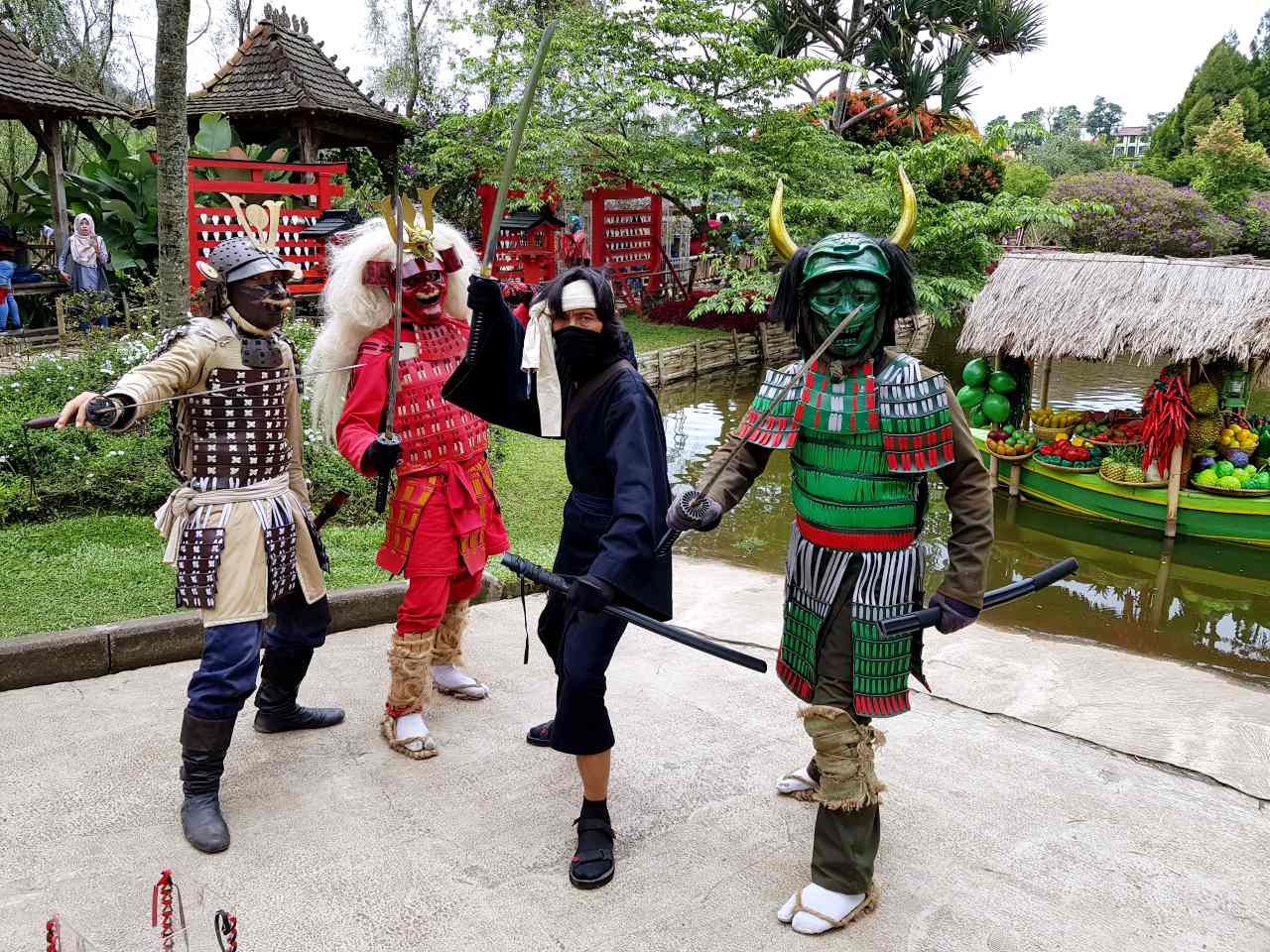 Kyotoku, The Japanese Corner
It's not Indonesia if a tourist attraction doesn't come with a twist. The Japanese corner "Kyotoku" might seem out of place in the whole local food market setting, but it's fun regardless. Rent a kimono or a yukata at Rp75.000 per hour and get a photo taken by a professional. Kyotoku also comes with a bamboo forest and a real-size miniature of a traditional Japanese house.
Nearby: Maribaya Hot Spring Ticket & Pool Choices. 
Floating Market Lembang Opening Hours
Floating Market Bandung opens daily from 9 AM to 6 PM. On the weekend, the market has longer operational hours, from 8 AM to 7 PM.
Floating Market Lembang Opening Hours
Weekday
09:00 – 18:00
Weekend
08:00 – 19:00
Nearby: Dusun Bambu Park & Bandung Culinary Experience.
Floating Market Lembang Entrance Fee
Tickets to the floating market are Rp30.000/pax. For children under 2 years old, free of charge. Visitors can exchange the ticket for a complimentary beverage of their liking. Either a cup of warm milk, a soda, or a glass of juice. And there is an additional fee of Rp25.000 to enter Kota Mini.
Floating Market Lembang Entrance Fee
Ticket
Rp30.000
Kota Mini
Rp25.000
Bundling Ticket
Rp40.000
See: Horse Riding & Outdoor Fun Park in De Ranch Bandung.
Facilities
There are ample facilities at Floating Market Lembang. Toilets are situated in several spots. It's relatively easy to find around the market despite its 7-hectare wide area. The spacious parking space accommodates many vehicles at once. The parking space comes with an hourly rate, of Rp10.000 for a car for the first 3 hours then it's Rp3.000/hour. Other facilities are restaurants and gift shops.
See: Prepaid SIM Card Price, Internet Package & Providers.
How To Get To Floating Market Lembang
Floating Market Lembang is relatively easy to access from Bandung downtown. Either by a rented car, a rented minibus, or a taxi. A rented car typically costs around Rp400.000/day. It takes around 45 minutes to get there. Apart from rented vehicles, tourists can also opt for public transport 'angkot'.
Visitors coming from the Husein Sastranegara International Airport and Bandung Railway Station can hop into an 'angkot' waiting for passengers to Lembang. Make a stop at Bank BJB Lembang and just walk to the location. The fare is around Rp 9.000/trip. The public minivan route is Stasiun Hall – Lembang from the station and Ciroyom-Lembang from the airport.
See: Jakarta Airport To Bandung, Transportations Guide. 
Address & Location
The floating market Lembang location is 17 km away from downtown. Precisely in Jl. Grand Hotel No.33E, Lembang, West Bandung, Jawa Barat 40391.