De Ranch Lembang Bandung
Entrance Fee: Rp26.000
Opening Hours: Weekday: 09:00 - 17:00, Weekend 08:00 - 18:00 WIB
Telp. Number: (022) 278-5865
Address: Jl. Maribaya No.17, Kayuambon, Lembang , Bandung Barat , Jawa Barat , Indonesia , 40391.
De Ranch Bandung is a horse-riding ranch that is open to tourists in Bandung. It was originally a private farm horse riding enthusiast. Horse riding is not a popular hobby in Indonesia, hence this is how the place got the idea. It offers a rare opportunity to learn about horse riding, horse grooming, and equestrian in general.
The animal collection begins with a few horses and several dairy cows. It has since expanded into 20 horses as of right now. The ranch adds more farm animals such as sheep, rabbits, and goats. More facilities were also added. Turning De Ranch Lembang into a comprehensive tourist destination. And more importantly suitable for children.
Aside from horse-related facilities, there are also animal farms, a children's playground, a food court area, and venues for outdoor sports such as archery and rock climbing. De Ranch Bandung is located at Lembang, West Bandung. Tourists visiting De Ranch will get a bonus of a beautiful landscape of the surrounding highlands.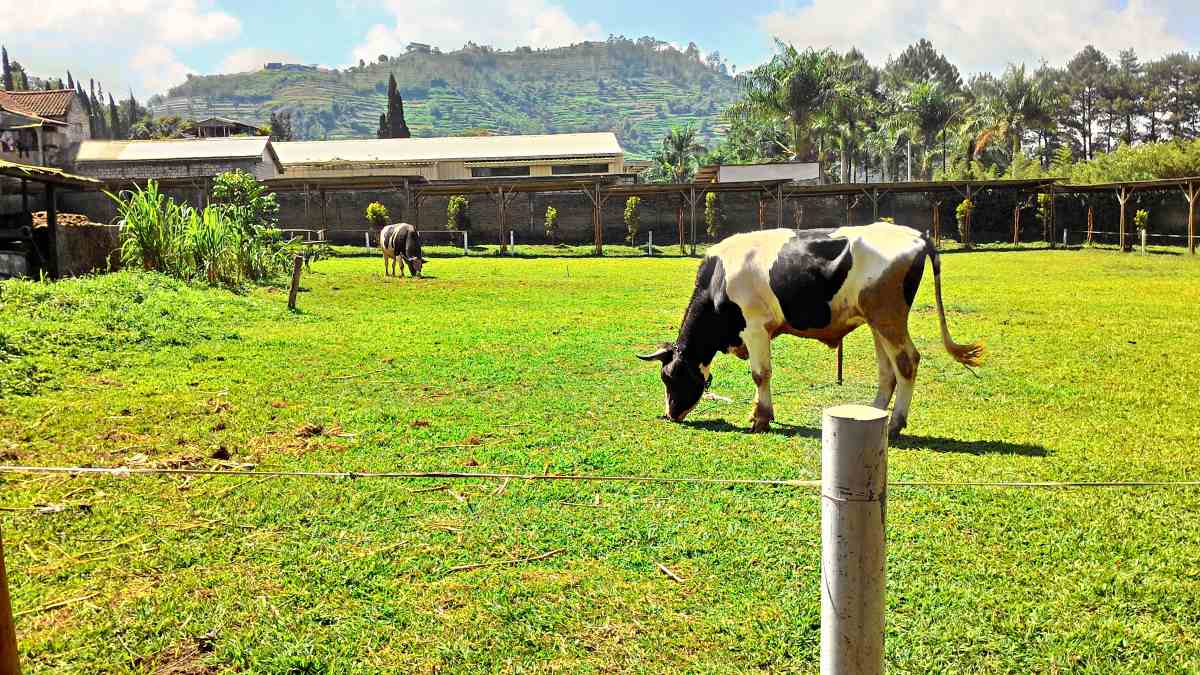 The mountainous area stands at 1,300 to 2,000 above sea level, offering pleasant chilly weather along with a scenic countryside view. De Ranch Bandung offers a horseback tour of the village. This way visitors can enjoy Lembang scenery to the fullest.
De Ranch Bandung Entrance Fee
The entrance ticket is Rp26.000, which later can be exchanged for a cup of milk. Rides and attractions have their own separate tickets, starting from Rp15.000.
De Ranch Bandung Entrance Fee & Attraction Ticket
Entrance Fee
Rp26.000
Horse Carriage (max. 3)
Rp40.000
Horse Riding
Rp30.000
Triker, Rabbit zone, Fun Boat, Gold Hunter, Fishing Pool, Flying fox, Water Baloon, Bicycle Track, Trampoline, Archery, Indian Pool, Horse Swing, Pony Kidz
Rp25.000
Toddler bicycle, Jumping zone, Catching Fish, Kid trick, Togopet, Sliding trunk
Rp20.000
Feeding Sheep & Cow
Rp15.000 – Rp20.000
Delman
Rp100.000/hour
Riding outside De Ranch
Rp200.000/1 hour
Riding lesson
Rp200.000/45 minutes
Baking Class
Rp35.000/session/30 minutes
Coloring Clay
Rp60.000
Coloring Backpack class
Rp75.000
Milking Class
Rp20.000
Grooming Horse Class
Rp25.000
See: Tangkuban Perahu Crater Bandung, Activities & Guide.
De Ranch Bandung Opening Hours
De Ranch Bandung opens every day except on Monday. During weekdays, De Ranch opens from 9 AM to 5 PM. On weekend they open early from 8 AM to 7 PM.
De Ranch Lembang Opening Hours
Weekday, (Monday Closed)
09:00 – 17:00
Weekend
08:00 – 18:00
Nearby: Guide To Maribaya Hot Spring, Lembang.
De Ranch Bandung Attractions
Accompanied by a guide, have fun trotting and galloping on De Ranch's 600-meter-long horse track. The horse riding package comes with a rent-free cowboy costume. It's not every day one can be a cowboy. So why not put on that cowboy hat and ride the horse into glory?
For more adventure, join a riding tour outside the De Ranch area. Enjoy tracing the dirt road passing through Bandung's countryside. Take a closer look at the rural life of Lembang villages. As a finish, ride into a pine forest and enjoy every last moment with the four-legged friends, before heading back to the ranch.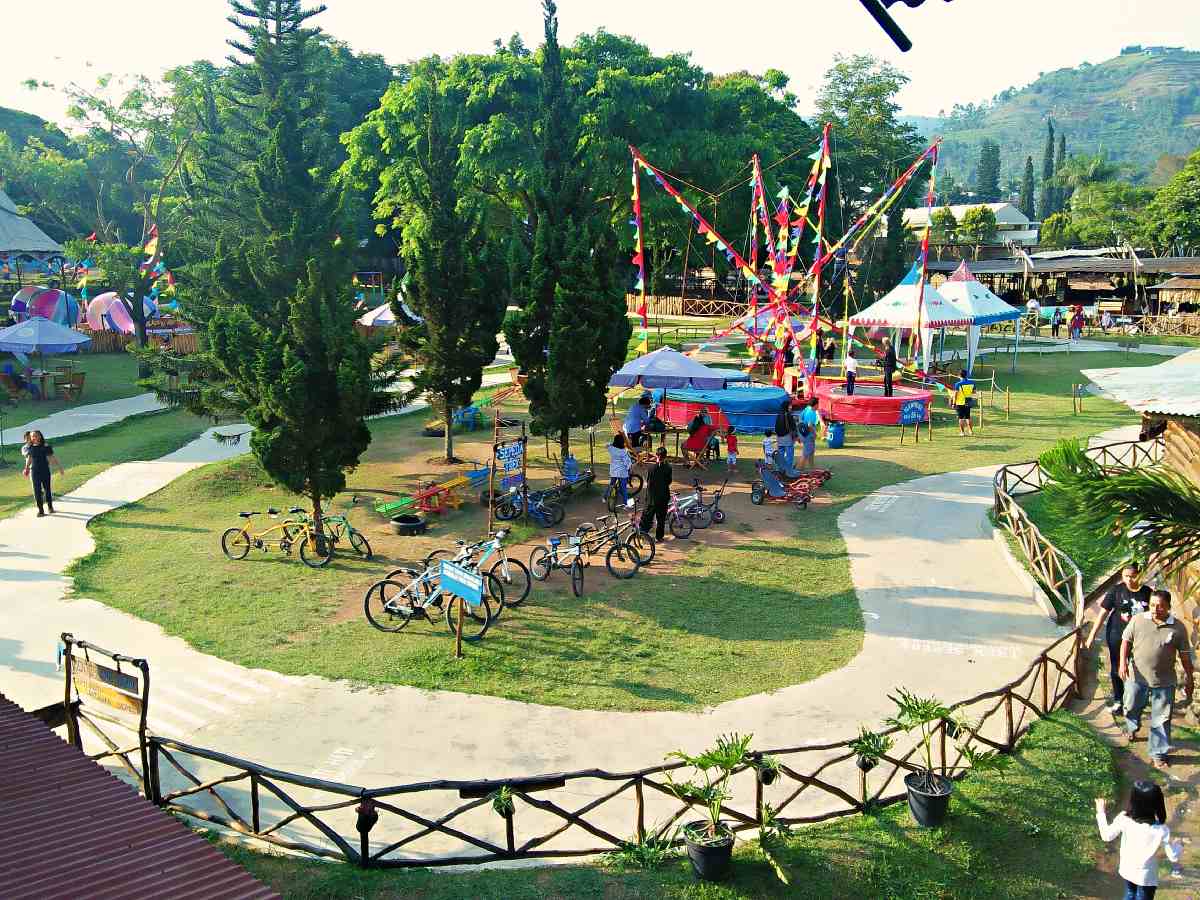 Delman
Don't miss an opportunity to enjoy a nostalgic ride on a horse carriage in De Ranch Bandung. Delman is an Indonesian traditional carriage pulled by a horse. Back in the old days, Delman used to be a familiar sight on Indonesian streets. It is now almost extinct, only available in tourist cities such as Yogyakarta.
However, Delman in De Ranch Bandung blasted the West Java design. Smaller carriage and comes without a roof. The absence of the roof is perfect for an unobstructed view when riding it. There are also two options for Delman-riding. Tourists can either choose a ride circling around the ranch area or venture further into the surrounding village.
Horse Grooming Class in De Ranch Lembang
Learn how to take care of this majestic animal in a grooming class. The instructor will show visitors how to properly comb a horse's. Brushing the horse's mane and tail or cleaning their hooves. A healthy horse is the key to a glorious horseback ride. The course can also be a sweet excuse to interact with the horses more – because one riding session apparently is not enough.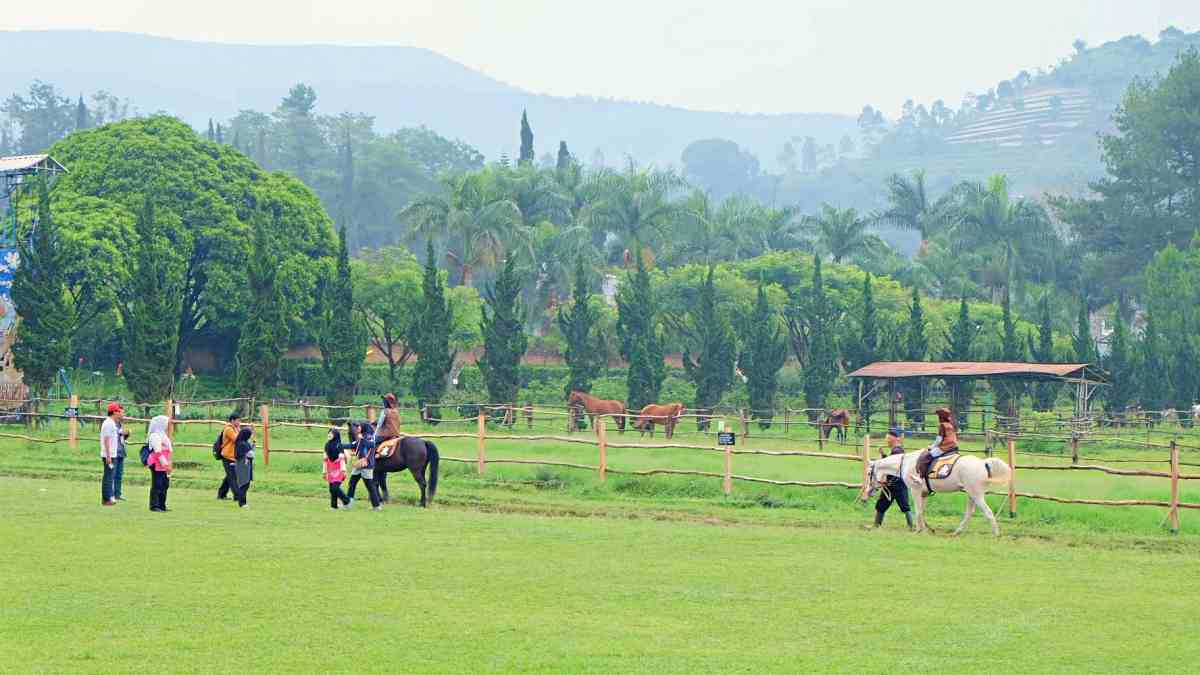 Petting Animals
The animal experience here doesn't stop with horses only. Pay a visit to the horses' friends too. There are little bunnies waiting for their next carrot treats. Baby sheep and cows would love a helping hand with their lunch. So help them by holding their milk bottles.
At the dairy farm, visitors can learn how to milk a cow properly. Afterward, get a taste of fresh milk – a treat for a job well done.
Kids Rides
Even after all the animals, there are still many things left to do at De Ranch Bandung. Head for the archery yard and pick a bow. Test marksmanship ability here by accurately hitting a target.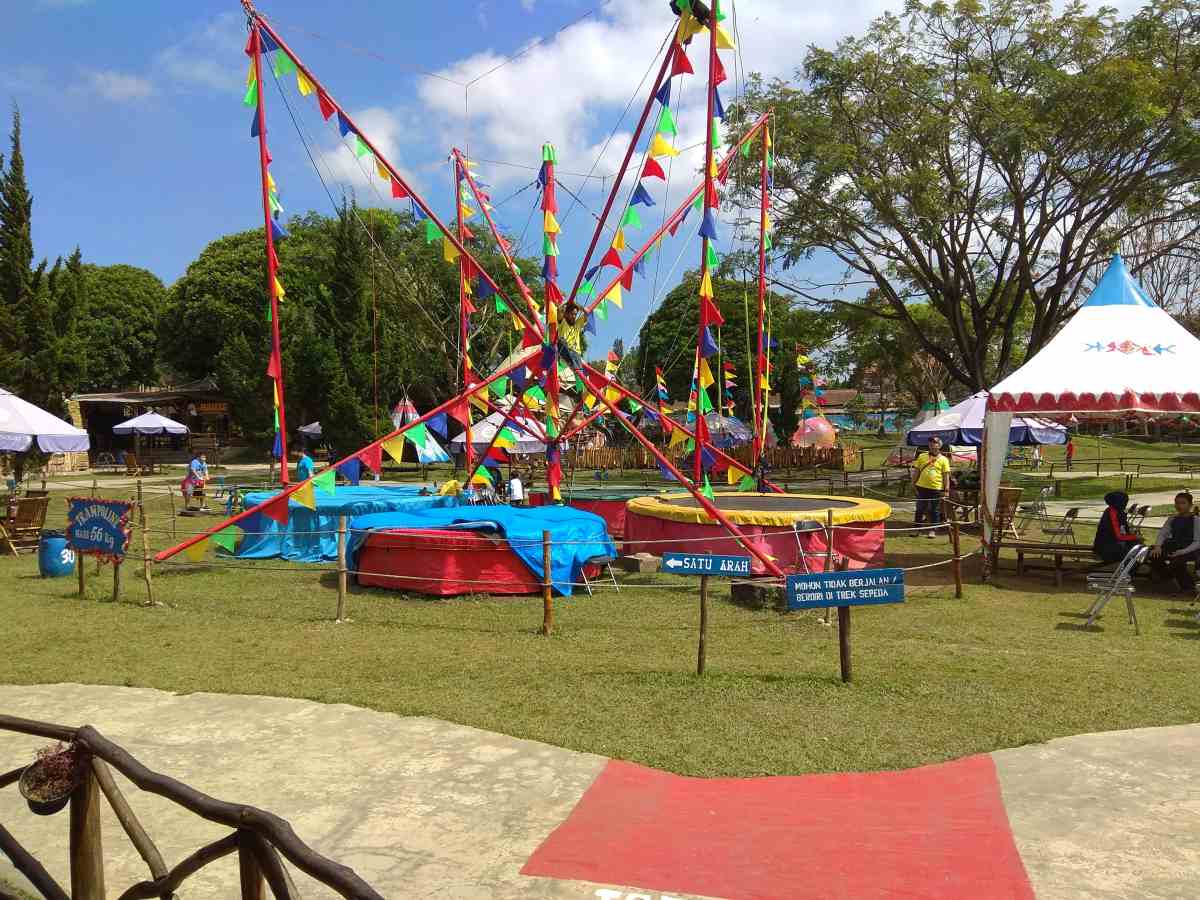 For more adrenaline rush, queue for the zip-line. Also called flying fox, tourists will glide on a rope from a height of 5 meters. If there is some energy left, head to the climbing wall and do some rock climbing.
See: Guide To Punclut Ciumbuleuit Culinary Spot.
Facilities
De Ranch has a wide parking space and clean toilets. Tourists can enjoy choosing souvenirs at the gift shop here. There's even a typical Bandung factory outlet for clothes shopping. There are lots of choices of food and beverages at the ranch's food court.
See: Indonesian SIM Card, Price & Provider.
How To Get To De Ranch Lembang From Downtown
With public transport, tourists from Bandung Railway Station can take a public minivan 'angkot'. Hop on the minivan with route Stasiun Hall – Lembang. Get off at Terminal Lembang then continue to walk 700 m to the entrance gate of de ranch. A trip with the public van from the station costs around Rp9.000.
From Husein Sastranegara International Airport, tourists can take angkot route Ciroyom – Lembang. The fare costs Rp10.000. From the airport, it's easier to take a metered taxi since the nearest angkot stop is 1 kilometer away. There's also an option for a rented private vehicle. Renting a private car starts at Rp400,000 for a day.
Read: Jakarta Airport To Bandung Public Transportation Guide.
Address & Location
De Ranch Bandung located in Jl. Maribaya No.17, Kayuambon, Lembang, West Bandung, 40391.