Rancabali Lakeside Entrance Fee: Rp20.000 Opening Hours: 09:00 - 17:00 Telp. Number: 082180028888 Address: Jl Raya Ciwidey, Situ Patengan Km. 39, , Patengan, , Rancabali, , Bandung, , West Java, , Indonesia , 40973.
As one of the districts in Bandung, Rancabali offers various destinations to visit. One of them is Rancabali Lakeside, a glamping site that combines natural beauty with glamorous nomadic tourism. Since the place is located in a mountainous area, the place possesses fresh and cool air.
For downtowners who crave a soothing ambiance, staying in Rancabali Lakeside is a perfect way to enjoy the holiday. Just like the name implies. The place is a magnificent spot to witness the beauty of Situ Patenggang Lake. Adjacent to the lake is a tea plantation with the same name.
Everything here is so green, noiseless, and far away from what is so-called modern life. There's no tall building, except some cottage for travelers to lay low. And living a slow-paced life for a day or two just to relieve the stress from a hectic week.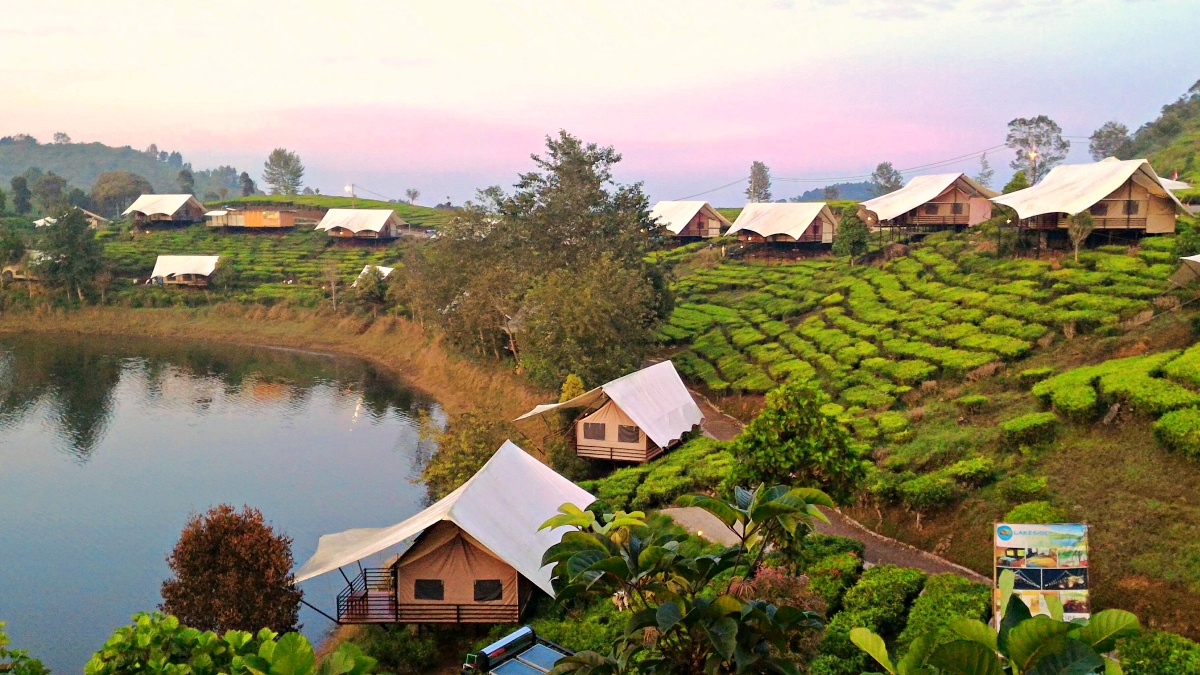 Not to forget, travelers with children can enjoy their time by playing with rabbits. Yes – Rancabali Lakeside has a rabbit park as well. The vast beautiful scenery of the lake will fit landscape hunters' dreams of serenity. Abundant greeneries will invigorate visitors as well.
Rancabali Lakeside Entrance Fee
For the glampers and staying guests, the closing hour does not apply for sure. The entrance fee is Rp25,000 per person. But the price does not include other spots' entrance fees. For example, such as going to the strawberry farm or the tea plantation. Price-wise, buying an all-in ticket is cheaper.
Rancabali Lakeside Entrance Fee
Entrance Ticket
Rp25,000
Boat Rent
Rp35.000/person
See: Kawah Putih (White Crater) Guide, Attractions & Tickets.
Rancabali Lakeside Opening Hours
Rancabali Lakeside is open for all – not only for travelers who intend to stay. For explorers who want to visit this place, the place opens every day at 9 AM and closes at around 5 PM.
Rancabali Lakeside Opening Hours
Everyday
09:00 – 17:00
Nearby: Ranca Upas Hot Spring & Camping Ground
Lakeside Glamping
Glamping, the shortened form of glamorous camping, is the main attraction this place offers. In Rancabali Lakeside, visitors will be able to rent tent resort units. In fact, there are several kinds of tent resort units. Likewise, the price varies from one to another. Each unit is generally designed as an eco-friendly resort, which emphasizes the use of natural materials.
For example, wood for walls and flooring and a bunch of natural stones in the bathroom. The larger units are equipped with balconies. Some rooms even have the nearest spot to the lake.  Although the wooden walls seem to make the room dark. The properly-placed windows, still bring natural light and illuminate the whole unit.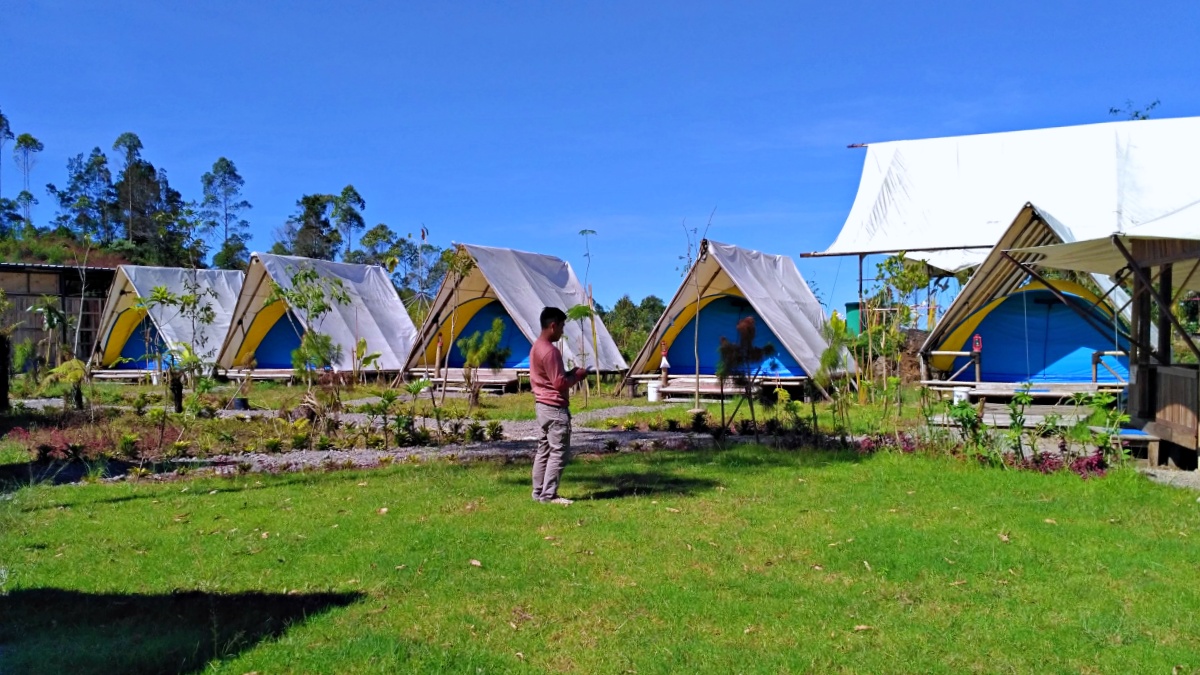 Different types of rooms offer different setups. Some room places 4 beds on the wooden floor. Establishing a more intimate overnight situation. Especially for a group traveling with friends or family. And some just cater fewer lodgers.
Rancabali Lakeside Top Spots
Being in a remote place should not lock visitors away from any fun things to do. Rancabali Lakeside is a great place to get a photo shoot. For instance, the vast landscape of Situ Patenggang Lake is one must-have photo guests should take.
For a surreal landscape as a photo background. As an illustration, capture what is like in the morning, surrounded by nothing but fog. Aside from that, there are spots to visit in the lakeside area, such as the strawberry farm and the tea plantation. Of course with an affordable entrance fee for every spot. Take a stroll and get closer to nature.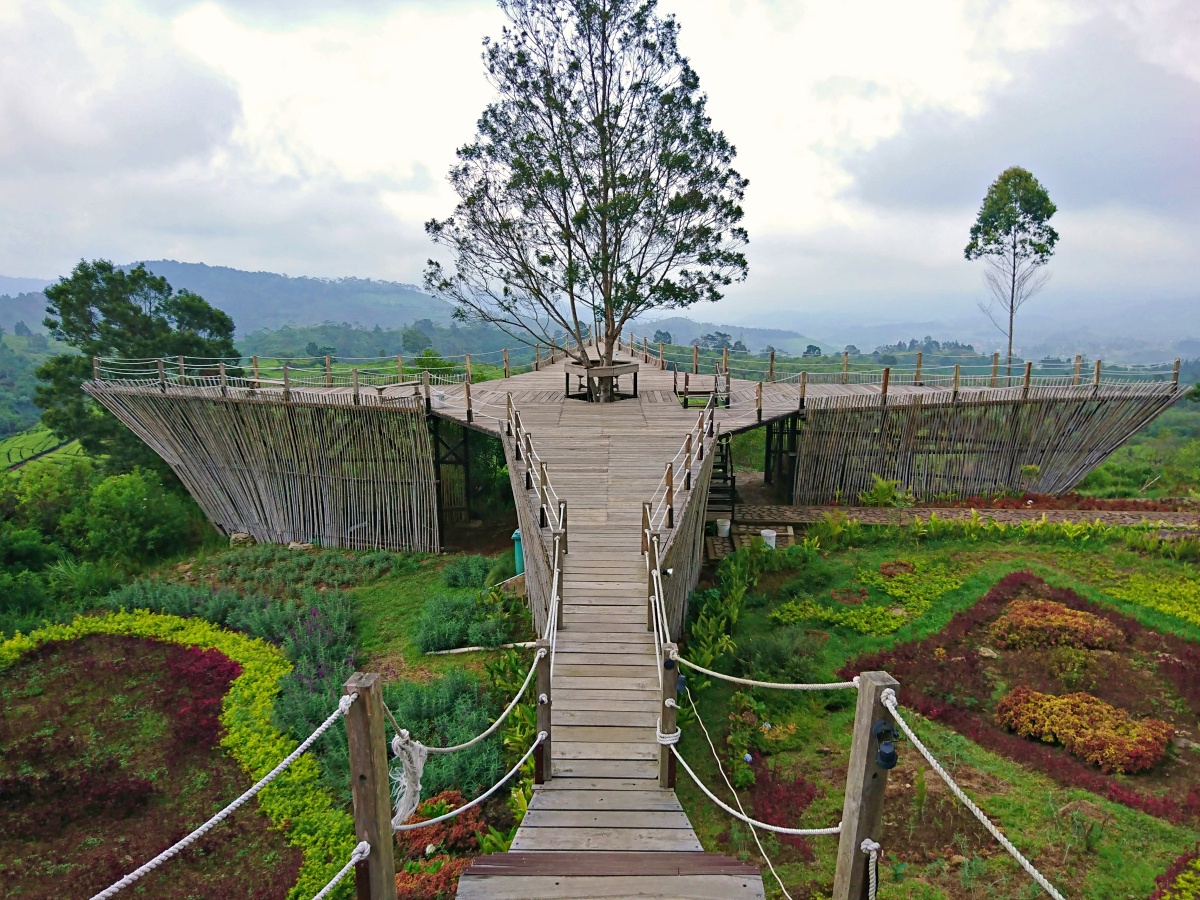 Another prominent spot to visit is the Phinisi Bridge. In short, the hanging bridge is by far the most popular spot for a quick snap. And at the end of the rope, it leads to the restaurant. Lastly, the ultimate spot is Teras Bintang a wooden star-shaped terrace. It's the best spot to get a 360° view of the lake and tea plantation.
Nomadic Tourism Spot For Family
For travelers that come with an extended family, Rancabali Lakeside has tent units to accommodate. There are ten fit-for-eight resorts. Another choice goes to Sayang Heulang Resort, which is enough for 12 people. The price starts from  Rp2.000.000 to Rp2.700.000. It can accommodate 4 people per room and is cost cheaper.
Overall, facilities provided in all types of resorts are mattresses, breakfast, a water heater, as well as 24-hour room service. The difference lies in the parking lot availability. And some rooms offer different scenery and free BBQ for two persons. The tent resort renters will also get toiletries, free tea and coffee, and several bottles of mineral water.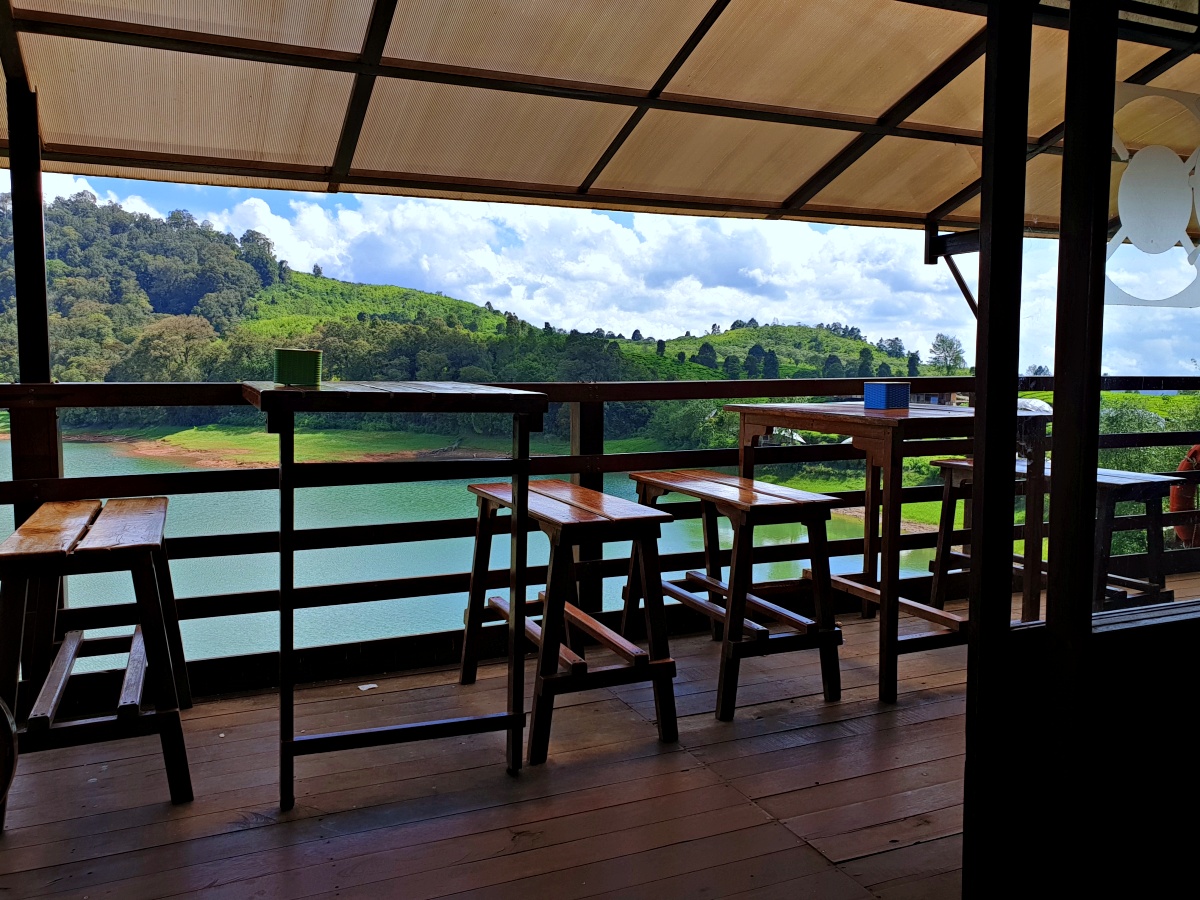 Strawberries Farm & Plantations
Here in Rancabali strawberry farm guests will only have to pay Rp20.000 for the entrance fee. In return, visitors will get to choose a fresh and ripe strawberry. Carefully handpick the juicy red ones and paid based on how much the weight. Don't worry not just for adults, kids can join the activity too.
Never been to a tea plantation before. Worry not, the tea garden here is open to everyone. There's nothing here except magnificent sight, tea bushes stretch for miles. It's a vast green area, the landscape is stunning and pleasing just to be amongst it.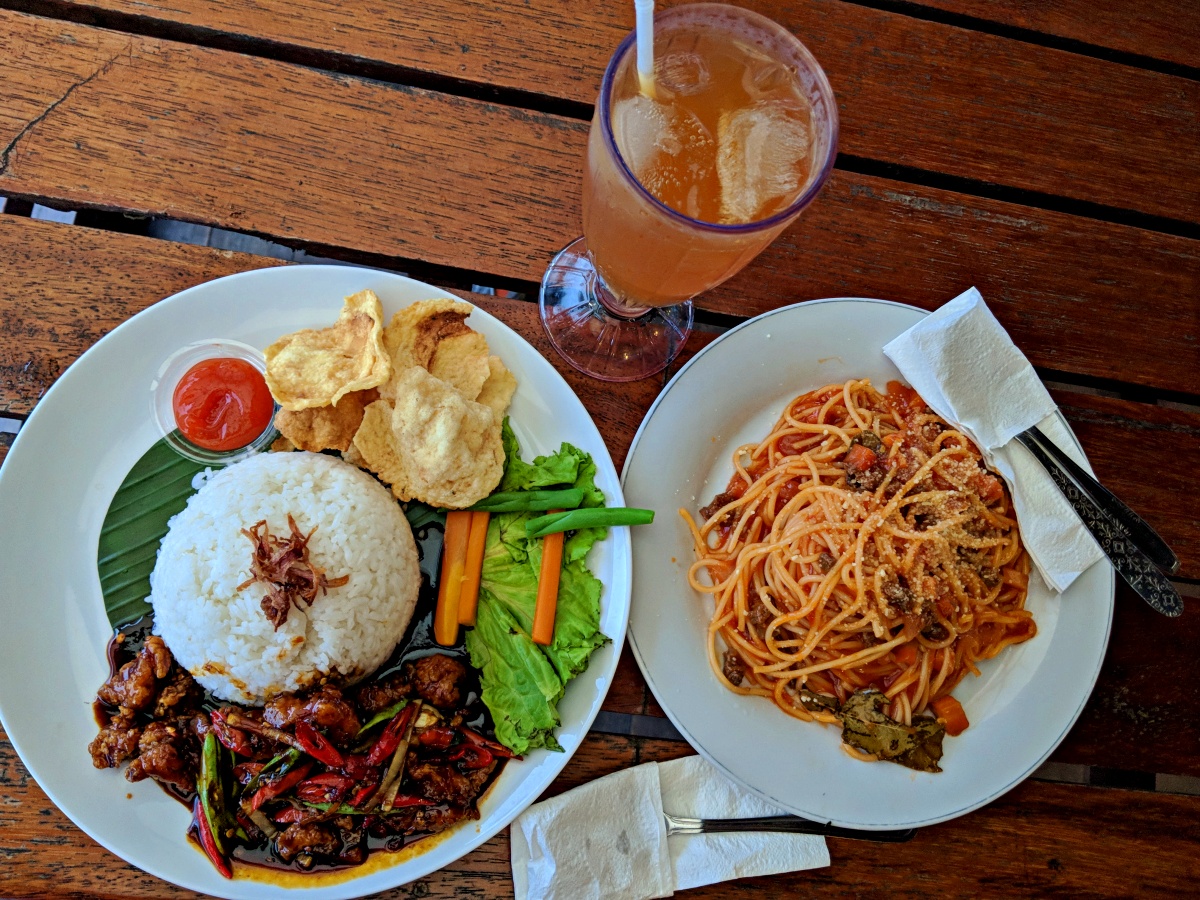 Riding Golesat
To spend the time in a more fun way, Golesat – a relatively new spot made in 2018, is worth trying. Here, travelers can have the joy of sliding down while being surrounded by the tea plantation.
With a 550 meters track, Golesat offers a drift trike-like experience. Hence making this interesting activity suitable for thrill-seekers. In order to enjoy the game, visitors will get charged Rp50,000 per person.
See: Indonesian SIM Card Internet Package & Price
Facilities
Interestingly enough, the site offers free Wi-Fi for the glampers. To put it another way, everyone will get connected during their stay. Complimentary toiletries and free beverages are available in every room. To satiate hunger, make reservations in Bahtera restaurant or also known as Phinisi restaurant.
The restaurant is well-known for its boat-like design located at such an altitude, making this spot is full of photo-hunters. For the Indonesian menu, try fried rice and nasi liwet. Both offer a savory taste and are a perfect dish to be eaten in a cold tourist spot. Local beverages such as bandrek and bajigur are available to order as well.
Both beverages are served hot and sweet, the difference lies in bandrek's spicy kick. Snack vendors are also available during selected operational hours. And it's rarely open on weekdays. For snacks, try seblak or jasuke. Seblak is a brothy, spicy wet cracker cooked with eggs or various condiments. And Jasuke is a sweet and cheesy corn appetizer.
See: Jakarta Airport to Bandung Transportation Guide. 
How To Get To Rancabali Lakeside
There is no public van that goes directly to the site, so that will be more convenient to go by car or bike. From the center of Bandung, the distance is around 50 km to the south. To begin the journey from Bandung, the first notable district outside the town that will be reached is Soreang.
From Soreang, the ride should be continued to leave for Pasir Jambu. Ciwidey marks the next point to go to Rancabali. From Ciwidey, the journey continues go south to reach Ciwalini. The distance left to arrive in Rancabali is not that far once travelers reach this place. Vast tea plantations and cool air mark travelers' arrival in Rancabali.
See: Tourist SIM Card Price & Provider List.
Address & Location
The glamping site Rancabali Lakeside is located in Jl Raya Ciwidey, Situ Patengan Km. 39, Bandung, West Java, Indonesia,40973