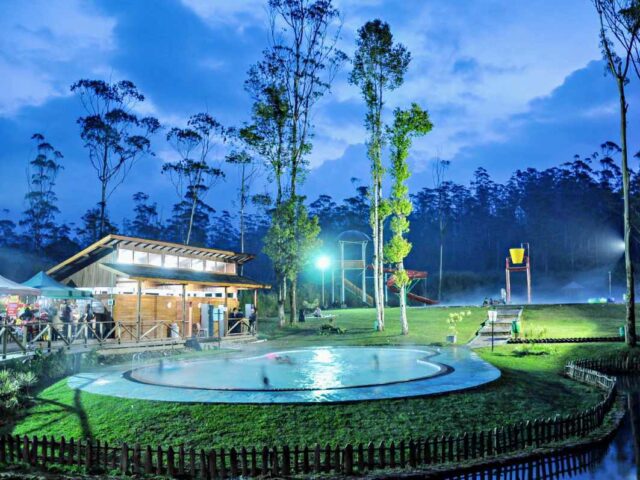 Ranca Upas is a flatland area surrounded by 215 hectares of protected forest. It is situated at Ciwidey Village, Bandung, around 1700 above the sea level. The area has chilly and pleasant weather. Making it a favorite destination to escape the heat of the city. Apart from being a popular camping ground, Ranca Upas is also famous for its Javan deer conservation.
The protected forest of Ranca Upas is home to local birds and flora such as Huru tree and Jamuju (Dacrycarpus imbricatus). The Javan deer breeding program was a government initiative to preserve this vulnerable species. The forest also has its own local myth.
The name "Upas" was taken from a Dutchman who lost in this forest and whose body is never found. The legend says he haunts this place. Don't be discouraged by the horror story, Ranca Upas is a pleasant place overall. Aside from camping, there's plenty of fun outdoor activities to do here.
Ranca Upas is also a cultural hub and has hosted many local events. In 2018, the place hosts the photography event "Bandung Lautan Photographers". Hundreds if not thousands of people are expected to participate.
Camping Ground Ranca Upas Bandung
The vast camping ground at Kampung Cai Ranca Upas can accommodate up to 10,000 campers. Its wide area means that visitors can pick any spot without having to worry annoying neighbors. Tourists who do not bring camping gear can rent a tent and some camping utensils at the ticket office.
Firewood is also available to buy at IDR 15,000 a stack. To build a tent, pick somewhere with few trees to get the best view of the sky. Spend the night mesmerized by the stars, accompanied by the sound of cicadas and the rattling bonfire.
A little tip, build the tent facing the east. In the morning, unzip the tent and be spoiled by the marvelous sight of orange and purple adorning the sky.
Step out into the misty air and do not forget wearing at least three layers of clothes. Sometimes the temperature can reach 10 C in the morning. Cook some hearty breakfast and make a cup of coffee to warm up the body. After, venture to the surrounding forest or simply enjoy the scenery from a hammock.
Playing With The Deer
There was originally only 6 deer when the government started the breeding program. They have since bred into dozens. Deer are generally gentle animals and harmless to play with. Only pay more attention during the sensitive mating season (around July-August). Male deer are having a lot of fights during this time.
Javan deer at Ranca Upas is shy. They approach visitors during feeding times only, and when a caretaker is present. The best way to lure this animal is by bringing some carrots as a peace offering. Chances are the deer will approach visitors. Mommy deer are usually more reserved and protective of their cubs. Be gentle around them especially.
Ranca Upas Hot Springs & Fun Park
From canoeing to archery, there's no short of choices when it comes to outdoor activities at Ranca Upas. Adrenaline junkies can choose among these action-packed activities: mountain biking, paintball, fun archery, and flying fox. Train to be an old-time warrior with fun archery.
It is regular archery with a twist—visitors will shoot some arrows while riding a horse. Some activities are less adrenaline-inducing but they are relaxing. Rent a canoe and paddle idly around Ranca Upas' lake while enjoying the chilly weather.
Or simply enjoy a cup of warm beverage while sitting on a gazebo beside the lake – sometimes it doesn't need a lot to have fun. Ranca Upas also has a hot spring. Tourists can get rid of last night's cold by taking a relaxing hot bath here.
Ranca Upas Opening Hours
Ranca Upas doesn't have official opening hours, meaning that tourists can come anytime during the day. Although it is advisable to come during daylight to avoid dark road during the night.
Ranca Upas Opening Hours
Every day
24 hours
Nearby: A Guide To Kawah Putih Crater, Turquoise Lake & Strawberry Picking.
Kampung Cai Ranca Upas Entrance Fee
An entrance ticket is IDR 10,000 with additional parking fee IDR 5,000 for a car and 2000 for a motorcycle. Attractions and rides will have their own ticket, starting from IDR 10,000. There's a price list available on the ticket counter.
Ranca Upas Entrance Fee
Entrance Ticket Weekday
Rp10.000
Weekend
Rp15.000
Parking Fee (car)
Rp10.000
Carrot (feeding deer)
Rp10.000
Swimming Pool
Rp15.000
Tent (rent, max. 3 person)
Rp150.000
Tent (max. 4 person)
Rp250.000
Sleeping Bag
Rp25.000
Firewood
Rp15.000
Matress
Rp15.000
Paintball
Rp90.000 weekday Rp120.000 weekend
Nearby: Patenggang Lakeside, Glamping & Lunch in Thematic Restaurant.
Facilities
There are some important things to note when spending days at Ranca Upas, especially when camping. There's no ATM near the area so make sure to bring enough cash. Toilets are available at every corner, but their conditions are poor and visitors need to pay for each bathroom visit.
For food and drinks, there are coffee shops and café line up near the entrance gate. They also provide electricity to charge electronics at a fee.
How To Get To Kampung Cai Ranca Upas
Ciwidey is a popular tourist destination in Bandung and there's regular public transport heading to this area. From Bandung Leuwi Panjang Bus Terminal, tourists can take a bus heading to Ciwidey Bus Terminal. The bus route is LW.PANJANG-CIWIDEY and has 23 stops between Leuwi Panjang Terminal to Ciwidey.
The nearest stop from Bandung Suleyman Airport is Terusan Kopo-Soreang 300. From Ciwidey Terminal, take a yellow public minivan heading to Patenggang area. Ask the driver to stop in front of Ranca Upas' entrance gate.
A private option is available for visitors who want to avoid inconvenience caused by too many transits. A rented car is affordable starting at IDR 350,000 for a day rent. It takes around 2 hours to get to Ranca Upas from Bandung.
Ranca Upas Address & Location
The deer conservation and camping ground area located in Jalan Raya Ciwidey – Patengan No.KM. 11, Patengan, Rancabali, Bandung, West Java 40973.