Maribaya Waterfall
Entrance Fee: Rp45.000
Opening Hours: 08:00 - 18:00
Telp. Number: -
Address: Jl. Maribaya Kampung Cikondang Lamajang Pangalengan, Cibodas, Lembang, Bandung Barat , West Java , Indonesia , 40391.
Spare at least half a day if Maribaya Waterfall is on the go-list. Seeing that this spot is a complete nature gem. Green surroundings combined with man-made attractions fit perfectly for both adults and children. Whilst to get to the waterfall, guests would have to walk quite a bit. The cold breeze, vast trees, and fresh air would entirely make the journey pleasant.
Many child-friendly attractions are ready to lift up the little ones' moods. Such as that quite immense playground and the little zoo. Fluffy sheep, monkeys, as well as rabbits, are some of the occupants of this zoo. Guests will get to see the little quarter of living animals en route to the waterfall.
As the jewel of the premise, Maribaya Waterfall stands hidden just like a treasure. The Maribaya waterfall actually consists of two waterfalls: Cigulung and Cikawari. These two are located in one adjacent area. Located nearby is a café facing the waterfall, as well as a hot spring pool. Unlike other waterfalls, Maribaya Waterfall has a more well-equipped establishment.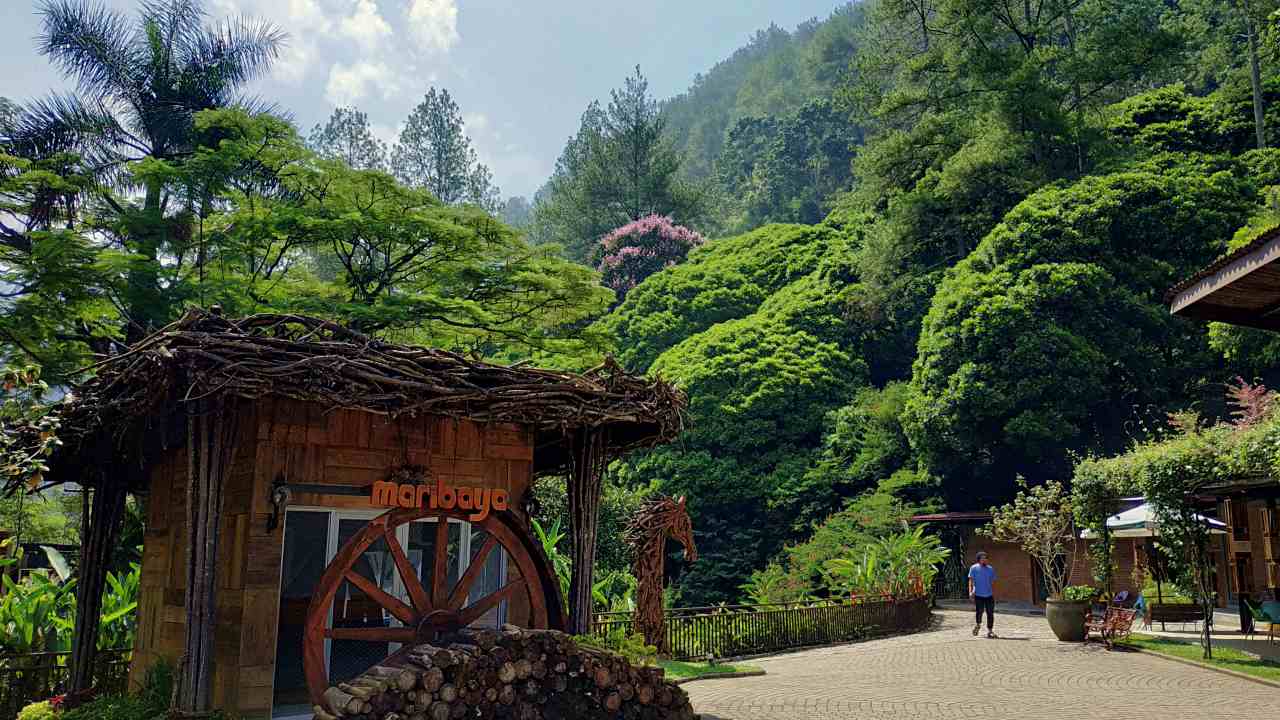 Maribaya Waterfall Entrance Fee
As for the entrance fee, tourists will get charged Rp45.000. There's an additional charge for other spots like the children's playground and the bridge. Visitors could also get to Maribaya Waterfall from Tahura forest park.
Maribaya Waterfall Entrance Fee
Ticket
Rp35.000 (weekday) Rp45.000 (weekend)
Children Playground
Rp35.000
Nearby: The Lodge Maribaya, Attraction & Children's Activities.
Maribaya Waterfall Opening Hours
Maribaya Waterfall follows the operational hours of Maribaya Hot Spring Resort. Which is 8 AM to 8 PM. The site is open every day from Monday to Sunday and on national holidays.
Maribaya Waterfall Opening Hours
Monday – Sunday
08:00 – 20:00
See: Orchid Forest Cikole, Sky Bridge, Camping & Attraction
Maribaya Waterfall Upon Arrival
Greeneries will welcome visitors warmly upon entering the spot. All combined with buildings built on wood and bamboo materials. A souvenir shop is located nearby. The nice food smell from the food court may allure to dine in. Feel free to have a meal first before walking to the waterfall.
The entrance gate is far from modest. There's plenty of an automatic gate in line to avoid long queues. A tall rectangular gate with a pretty unique installation is by far the guests' favorite to take photos. This a simple reminder to commemorate the day.
Waterfall Calling
Unlike Curug Cimahi which requires an effort to climb down a hundred stairs. The access is pretty easy here, and it leads guests through several other attractions first before reaching the waterfall. There's the sky-bridge Taman Halimun, an amphitheater, as well as a playground.
A little zoo location is also along the way. Attractions that simply divert visitors' from walking exhaustion. The first waterfall sight is known as Cikawari Waterfall. It may not be that enormous, it's just around 15 meters tall. Several currents this fall created a wide beautiful plunge pool. Guests are allowed too to take a dip and walk across the stream.
Unlike Cikawari Falls, tourists aren't allowed to do the same thing at Cigulung Waterfall. However, guests can still see the sight of Cigulung waterfalls from the Twig Café located nearby. The difference between Cikawari and the sister waterfall is the stream beneath it. Compared to Cikawari's, the flow beneath the Cigulung waterfall is quite brisk.
Animals Feeding
Animals especially the fluffy little ones always have a way to perk up children. And luckily before reaching the waterfall, there's a quarter where these living lovely things lived. It's a perfect spot where parents and children could enjoy some quality time. After all, what's not appealing from a tame cute animal.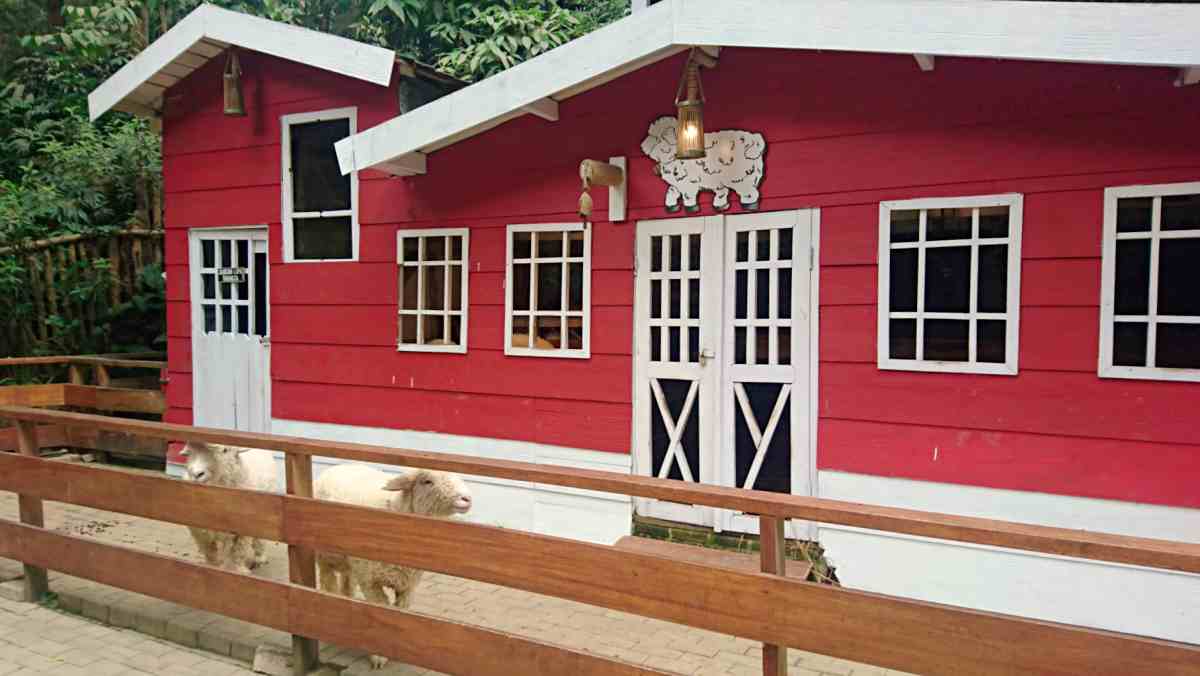 Find tame and fluffy sheep with thick wool roaming around the sheepfold. These sheep are well-fed, and their living area is clean too. Not just the sheep, kids could see the monkey and rabbit too. And the most exciting part is children are allowed to feed the animals here. A sort of green and other colorful veggie is available for sale. Guests could simply ask the staff for the animals' food.
Waterfall Photo Spots
There are two types of photo spots here: free and paid photo spots. The sky bridge, as well as that rectangular gate, are some of the free photo spots. Several paid photo spots include the Cikawari sky tree, rainbow bridge, and jungle swing.
For these photo spots, guests will be charged from Rp5,000 – Rp20,000 per person. Normally, there is a photographer around the sky tree offering a short photo session service. Six photo files will then be given in exchange for Rp20.000 for this spot.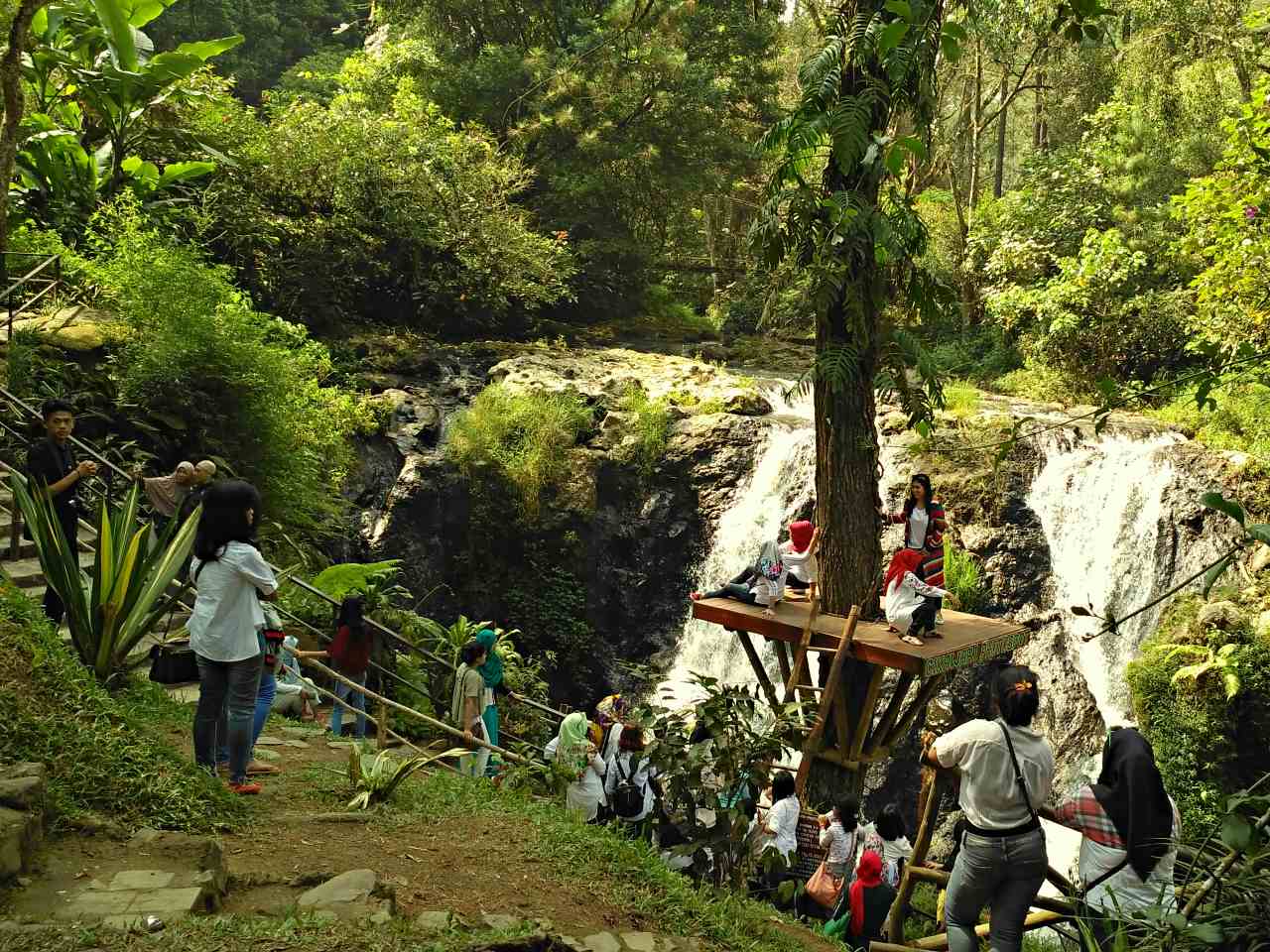 Hot Spring Area
Besides the waterfall, other fascinating attractions are its hot pools. Charge at a different price. The ticket starts from Rp25.000 for a foot spa and Rp35.000 for the deluxe pool. The water in the pool contains sulfur and sodium bicarbonate. That is why most people believe that dipping in the pool will cure skin diseases.
The water's warm temperature of 40°C, could help guests to relax. And relieving sore muscles after a long drive. There are communal hot pools. But tourists fancy a more private pool.  There are two VIP pools and private rooms. For the VIP pools, the setup is pretty much like the Japanese onsen.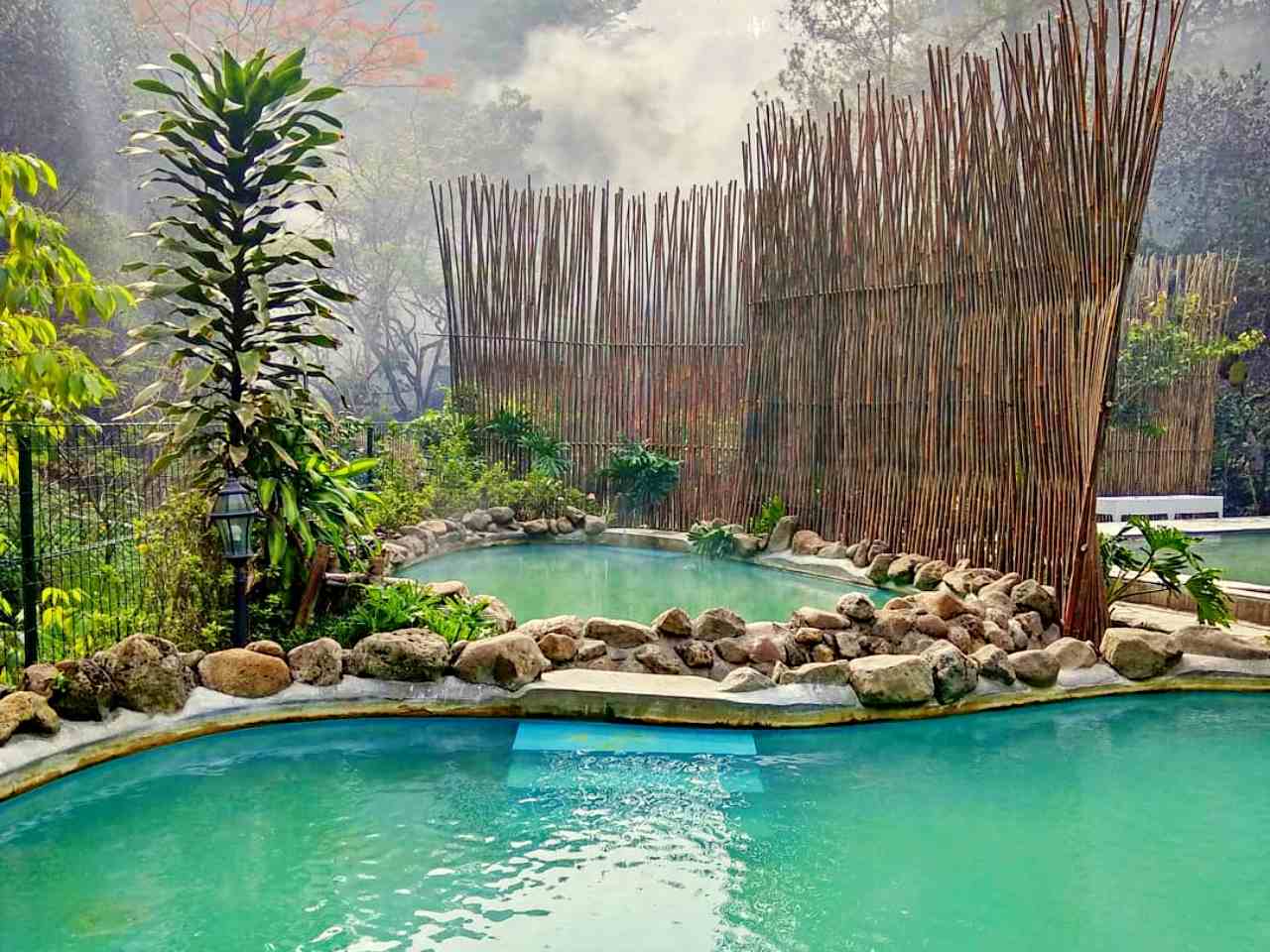 No 'dress code' guests should follow like in an onsen, though. So, people practically can wear whatever is comfortable. The bamboo fence encircling VIP pools keeps the pool private in a natural way. The natural greyish stones surrounding the pool adorn the pool even more. With such a design, no wonder this is perfect for family/group bathing choices.
See: Keraton Cliff, Japanese & Dutch Cave Attraction Guide.
Facilities
As the waterfall is located inside a resort, guests could relish the resort facilities too. It's properly nice facilities like clean toilets and spacious parking space. Bikes, cars, and buses parking space is located across the entrance gate. Guests coming with a rented vehicle will have to pay Rp10.000 for the parking fee.
Food stalls selling snacks and meals are within a reach. Some serve fried and grilled fish, chicken, and duck with authentic Sundanese sambal. While for snacks, the alternative includes fried cassava, seblak with its spicy broth, and stuffed tofu.
Try seblak as it is a popular Sundanese snack. Mainly made of krupuk (traditional crackers), cooked with eggs, chicken, or meatballs. The spices, galangal, chilis, and tasty broth are perfect to enjoy in the chilly weather. Here, the price range for the snacks starts from Rp10,000. While for the meals, prepare at least Rp50.000 for a complete meal.
See: Indonesian SIM Card, Internet Package & Price
How To Get To Maribaya Waterfall
From downtown Bandung, it's around a 15 km drive to the spot. Renting a car by far is the most convenient way to reach Maribaya Waterfall. Tourists could also order a ride-hail car or bike. The fare is around Rp32.000 for a bike. While that ride-hail car costs around Rp50.000/car for a maximum of 4 people for a one-way trip.
As for public transportation, there's a public van that departs from Alun-Alun Bandung. There are a few options, but it requires transit and changing to another van. In short, the van's last stop is near Taman Hutan Raya or Tahura.
And to point out, Maribaya Waterfall is still halfway from the last stop. It takes another 7 km to reach the destination. The public van costs Rp15.000. From the last stop, tourists could continue the journey by booking a ride-hail car or bike. Unfortunately, the availability is not as many as downtown.
See: Jakarta to Bandung Public Transportation Guide.
Address & Location
Maribaya Waterfall located in Kampung Cikondang Lamajang Pangalengan, Cibodas, Lembang, West Bandung, West Java 40391.