The Lodge Maribaya
Entrance Fee: Rp65.000 - Rp125.000
Opening Hours: 09:00 - 17:00
Telp. Number: -
Address: Jalan Maribaya No. 149/252 , Cibodas , Lembang, Bandung Barat , West Java , Indonesia , 40391.
The Lodge Maribaya offers something that other hotels cannot. Comfortable lodges surrounded by impressive views and many outdoor activities to do. All in one tourism site. The lodge may mostly rent out tents, but the following facilities are much hotel-like.
Aside from tents, two traditionally fully-furnished houses for premium staying place are available too. While enjoying the vast forest view, guests can sip a cup of coffee. Or enjoy a delicious authentic Sundanese meal at Lodge Maribaya restaurant. The fun doesn't stop there. The highlight of Lodge Maribaya lies in its picturesque scenery.
Unique photo spots scatter and definitely will make exceptional snaps for social media. For example, try its zip bike, gantole, and its hot air balloon photo spots. With a nice arrangement, these photo spots also account for the fame of this lodge.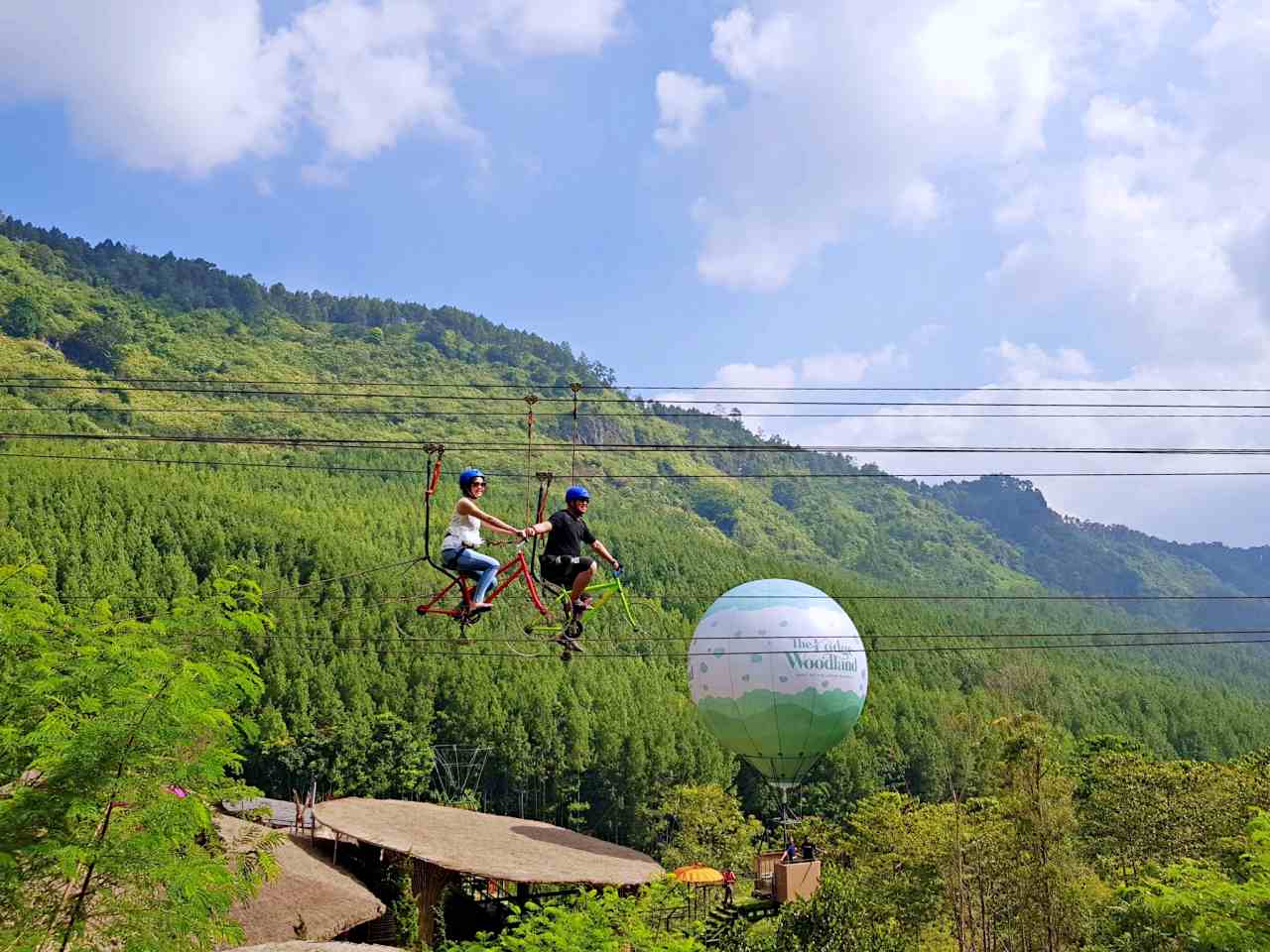 The Lodge Maribaya Entrance Fee
The entrance fee is Rp65,000 which includes access to the Lodge Maribaya and Fairy Garden. However, that price doesn't include a paid-photo spot fee. There's an additional Rp15.000-Rp35.000/person, depending on the spot chosen. As for the parking fee, it is quite standard which is Rp5.000/bike and Rp10.000/car.
The Lodge Maribaya Entrance Fee & Additional Ticket
Entrance Only The Lodge Maribaya & Fairy Garden
Rp65,000
Combo Ticket 1 Fairy Garden, Lodge Maribaya, Carosel, Animal Feeding, Mini Train, Electrical Bike.
Rp100,000
Combo Ticket 2 (Lodge Maribaya, Fairy Garden, Rides)
Rp125,000
See: Keraton Cliff Pine Forest & Cave, Activities & Entrance Fee 
The Lodge Maribaya Opening Hours
The Lodge Maribaya is open every day even during the public holiday. Visitors can enjoy the facilities here from 9 AM – 5 PM. The glampers also cannot enjoy the photo spot facilities offered beyond the hours.
The Lodge Maribaya Opening Hours
Monday – Sunday
09:00 – 17:00
See: Maribaya Hot Spring, Spa & Activities
Glamping Amidst The Pine Forest
Coming from somewhere far? Try staying in their hotel-like glamping site. Interestingly, the tent is uniquely shaped just like an onion. And it can fit 2 people. Besides the clean bed, every tent gets a bean bag for guests to chill just outside the tent.
There's electricity too so unlike camping in the wild, guests can stay connected. Other decent facilities are also prepared to give comfort to glampers. Which is worthy of every buck spent. The bed size is adjusted based on the tent's occupancy. The staff will also prepare a sleeping bag to replace the blanket.
A clean towel, as well as toiletries, make this tent feels like a real hotel. Separated toilets and showering places with hot water are located nearby. Adding a luxury feature to its accommodation. The rate for glamping starts from Rp450.000 for a night.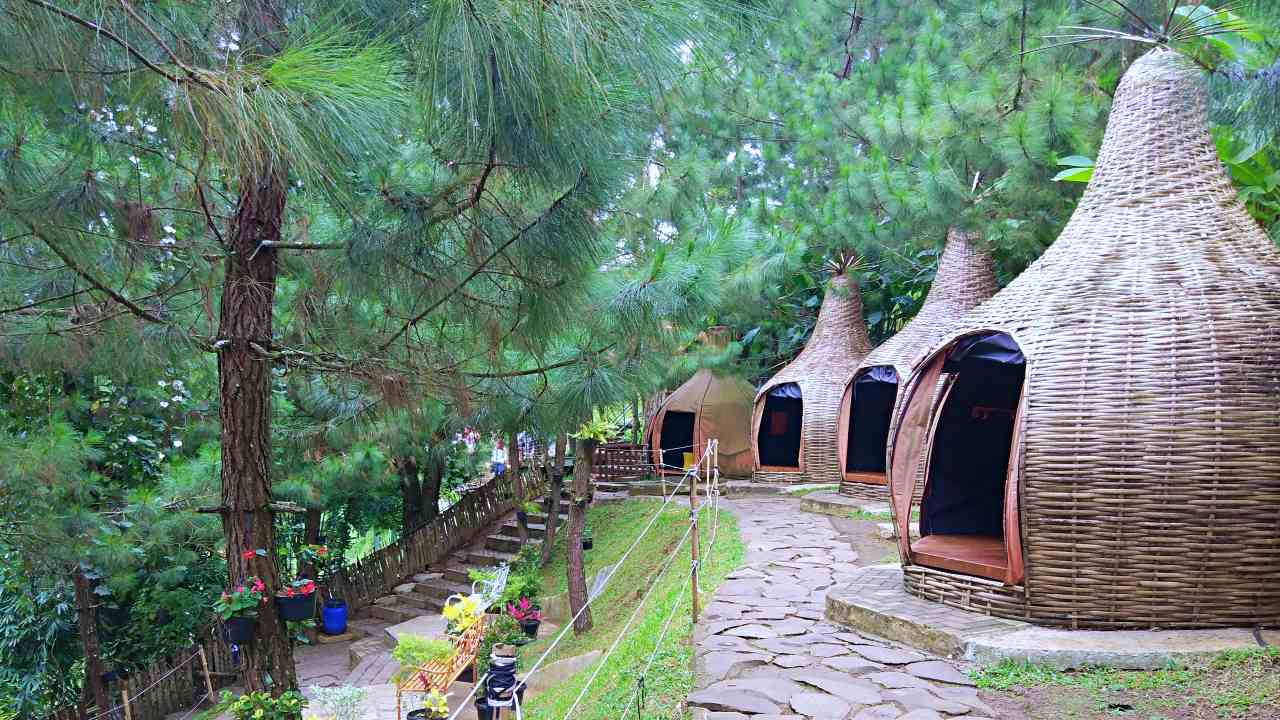 Compared to non-staying visitors, glampers can bring snacks to the site. And there's even a complete package to choose from a full board meal to a bonfire activity.
The Village House
Not only tents for staying option. Two Javanese-styled houses are available too as an option. Embracing and preserving the Javanese style, take a look at the door. The truly Javanese door frame carve is uniquely made of teak wood. Adorn by flowers and plant details, these carves depict the fertile land of Java.
From the outside, the house slightly looks like a treehouse. With short stairs and a balcony to lie back and relax. Surrounded by pine forest, that makes spending time on the balcony even more pleasurable.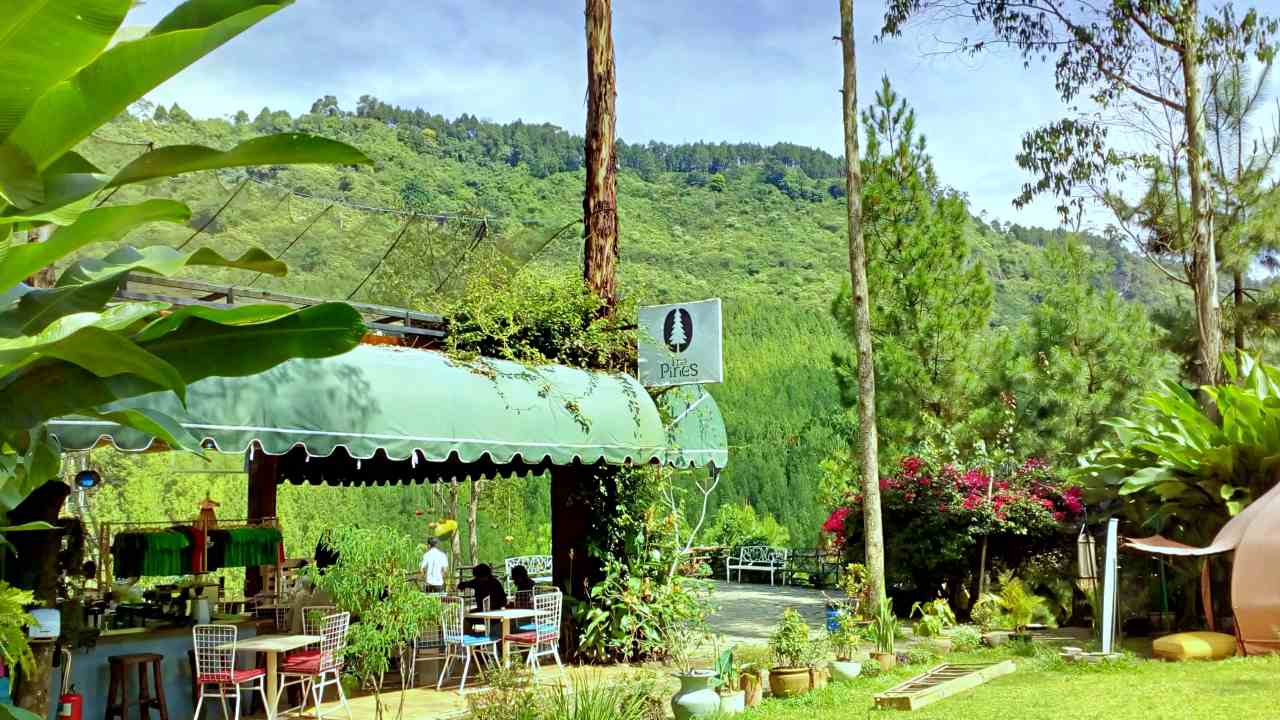 All furniture is mainly made of wood and decorated with some carving too. The king-size bed with curtains – in wooden materials as well. Even the fabric and chair are all vintage Javanese style. Besides the minibar, and private bathroom with hot water, the private terrace overlooking the forest is the main charm. The rate for a 1-night stay starts from Rp675,000.
Lodge Maribaya Rides & Swing
Level up the social media photos by taking them on Lodge Maribaya's cool paid photo spots. As an example, try posing while standing on the sky tree. In this spot, a wooden platform is built encircling the tree trunk. With a view overlooking the green vast forest. To get onto the platform, there is a short stair guests will have to climb.
Another cool spot to try on is the Hot Air Balloon. It doesn't truly fly like those in Cappadocia, though. But so far it's still the guest's favorite. The ground of the standing spot is made transparent. So, tourists can see greeneries beneath it. Visitors can also hire an on-spot photographer to get the best shoot done.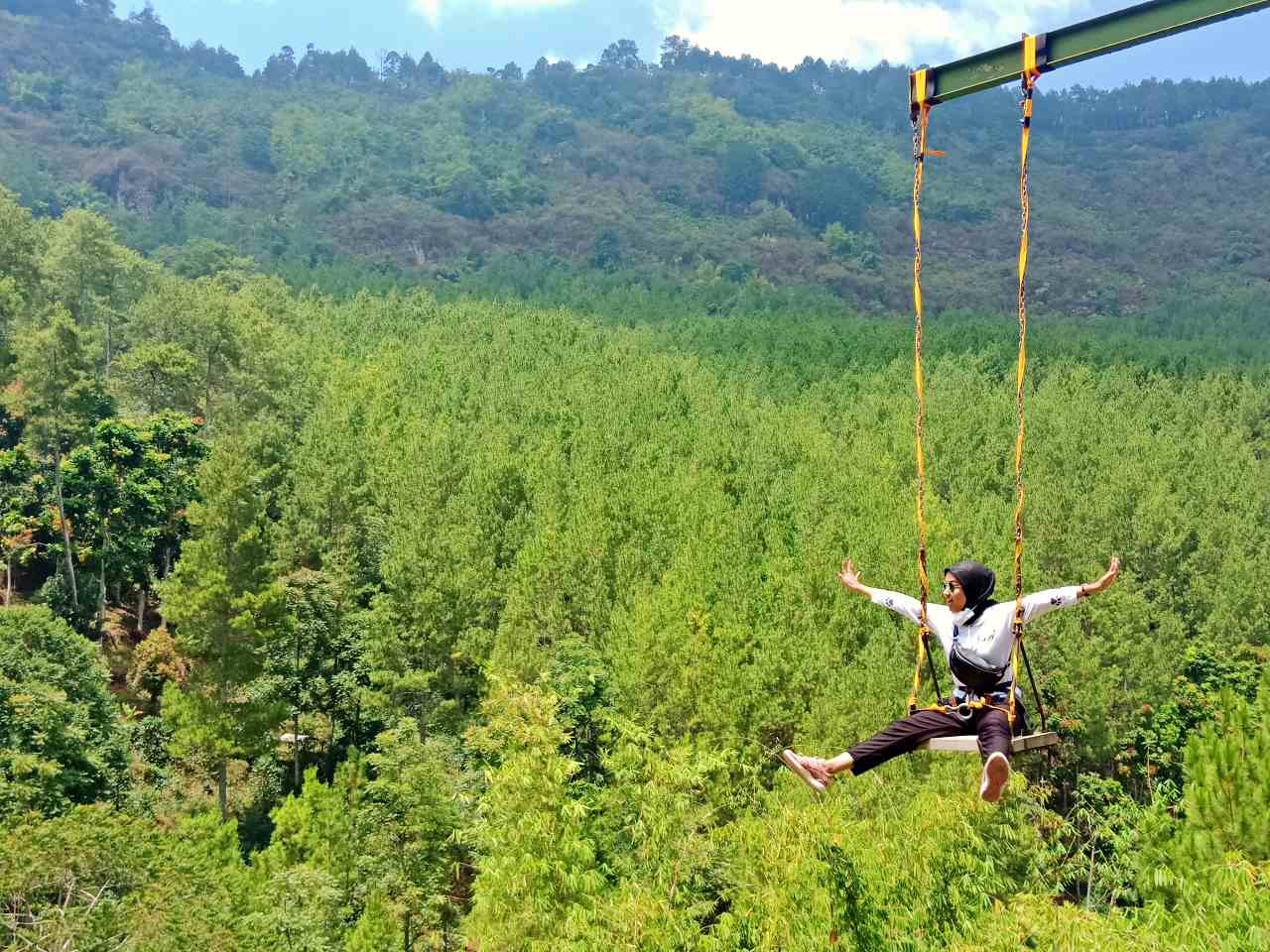 Feel the adrenaline pumping by trying the more extreme rides, zip bikes, or swing attractions. Capture the spectacular vista of the Maribaya pine forest and valley. And worry less. The photographer on the spot will make sure guests will come home with memorable striking photos.
Children Fairy Garden
Besides going back to nature and breathing the refreshing cool air. The Lodge Maribaya has a fascinating kid-friendly spot too. Children could enjoy bouncing in the bounce castle. Learning how to paint, grow a flower, and walk into a castle. Every spot in the park is based on a fairy tale, the children's favorite theme.
Meet all the friendly fairies and elves in this theme park. There are even animals too. Get close and play with the rabbit, bird, mister, and miss cow and horse. Ride on the merry-go-round or a real horse. And for the final moment let the children be a fairy and wear the costume.
Eateries
Since guests can't bring any food from outside. The place comes with plenty of eateries. There are two big restaurants on the premises. Prepare at least Rp100.000 per person to dine in one of these restaurants. Since most meals cost around Rp50.000-Rp65.000.
Try the authentic Sundanese cuisine in the unique Omah Bamboo restaurant. Not only the taste is superb, but the portion is also quite satiating too. Embracing a traditional look, Omah Bamboo furniture is all made of bamboo. Here, one of the top dishes is grilled fish.
Visitors can taste the sweet-and-savory seasoning combo enhancing the fish's taste. As common as another Asian dish, it comes along with warm rice, chili sauce, and veggie. Other favorite menus in the restaurant include sop buntut Maribaya. An oxtail soup made with truly Sundanese spices served along with rice, pickles, and emping crackers.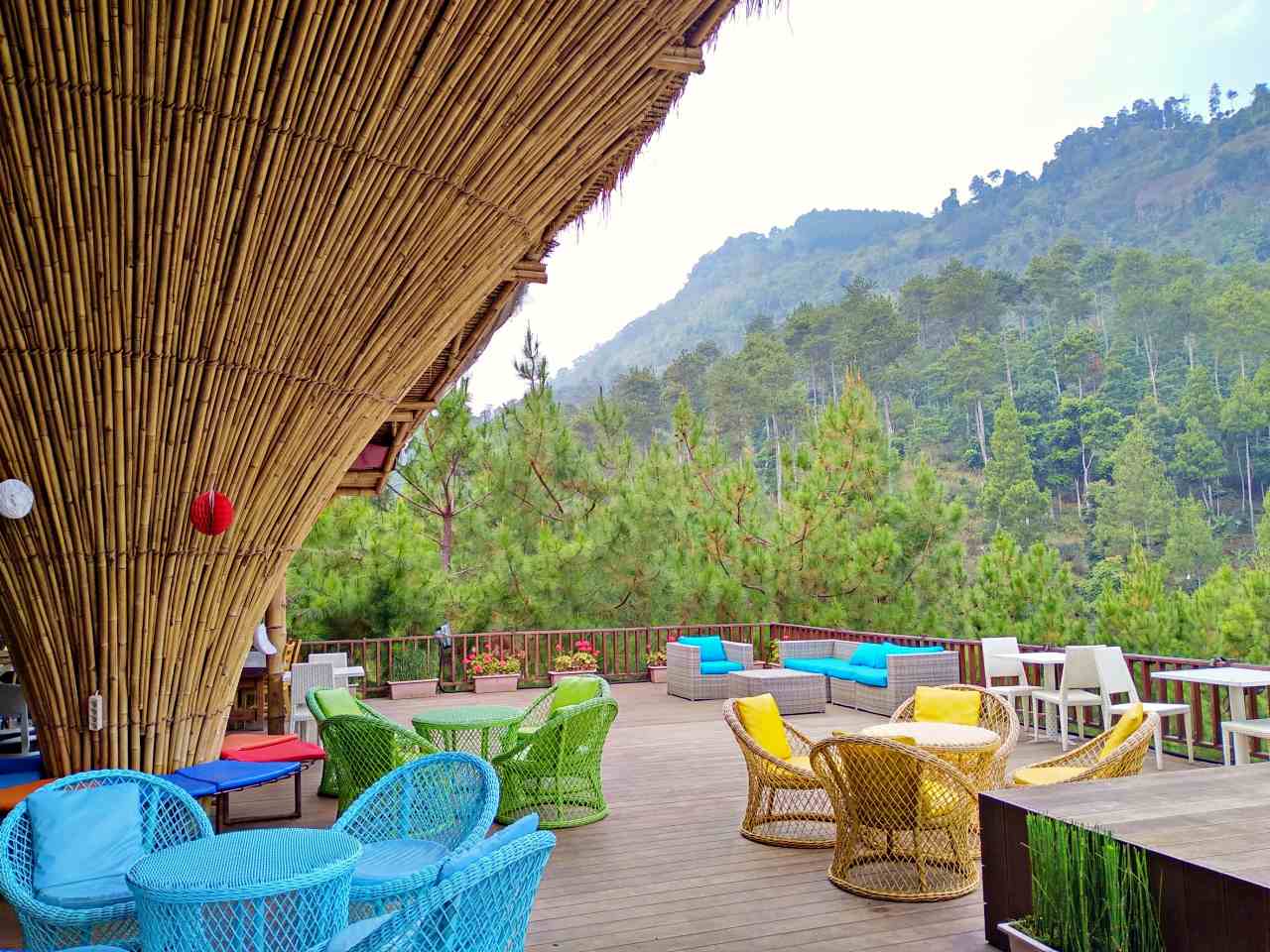 Café
Order a cup of premium coffee and sip that while admiring the surrounding pine forest. The only café on the premises offers a bunch of drinks. This café even goes like the downtown café by making coffee art.
Not into coffee? Order fruit juices or tea instead. And to accompany the drinking feast, order some fritters. Such as fried bananas, fried cassava with grated cheese, as well as Bombolone donuts. To enjoy drinks and/or some snacks, prepare at least Rp50.000.
See: Bandung Street Food Guide, Sudirman Street.
Facilities
Aside from those unique photo spots and glamping sites. The lodge Maribaya has restaurants offering authentic Sundanese dishes. A vast field for bus parking, as well as ample spaces for bikes and cars. Don't worry about toilets too since the premises have clean toilets.
After paying the entrance fee, keep the ticket. The ticket works as a food coupon as well. To exchange the ticket for food, guests can go to its counter. Which is located nearby the deposit counter.
Since it is quite far to walk from the parking lot. Shuttle buses are available to pick up tourists. Visitors coming from Fairy Garden could use this service too. The ticket fee already includes this service as well.
See: Punclut Ciumbuleuit, Bandung Highland and Culinary Spot. 
How To Get To The Lodge Maribaya
It's best to rent a car or motorbike to get here. Since there's no public van that links Bandung to the spot. The distance is 20 km from downtown. Ride-hail car fare will be around Rp80.000/car, and for motorcycles is around Rp50.000. The access road is quite good with elevating contours in many areas.
If coming from Bandung City Center, head the way to Dago Area first. To do that, go to Banceuy Street, followed by ABC Street – Braga– Perintis Kemerdekaan – Wastukencana – Ir. H. Juanda. There will be a road divider in Ir. H. Juanda around 5 km after turning left from Wastukencana Street. Take the left lane to Jajaway Street, and make sure to keep following this street.
After around 11 km from that road divider. One will arrive at Cibodas-Bukit Tunggul Street where the lodge is located. Spot the sign for the bus parking field on the right side. Adjacent to the field, there's an alley leading to The Lodge Maribaya. Drive another 400 meters to reach the entrance gate.
See: Indonesian SIM Card Guide, Pricing & Coverage
Address & Location
The lodge Maribaya located in Jl. Maribaya No. 149/252 Gentong, Cibodas, Lembang, West Bandung Regency, West Java 40391.