Pari Island
Entrance Fee: Free Entry
Opening Hours: Open 24 Hours
Telp. Number: -
Address: Kepulauan Pari , Pari , Kepulauan Seribu , Jakarta Utara , Jakarta , Indonesia , 14520.
It is not impossible to find tranquility around Jakarta. The bustling city boasts lay back spot not far from the city center. Everything goes in the opposite manner in that spots. It is an archipelago north of the Gulf, Kepulauan Seribu district where Pari Island is located.
As the name suggests, the island is called Pari due to its shape. Pari means stingray, an easily recognizable species of fish with a wide body. The island covers a 99.63-acre area and looks like a stingray on the map. In addition, there are many stingrays found in the waters near the island.
Pari Island is popular with its Pantai Pasir Perawan. Perawan means virgin in Indonesian. Virgin Beach can also mean that people rarely swarm the beach. That is why people will find tranquility amongst idyllic nature. But that doesn't mean the island is uncivilized. On Pari Island, human interventions blend with nature and create a comfortable spot for a vacation.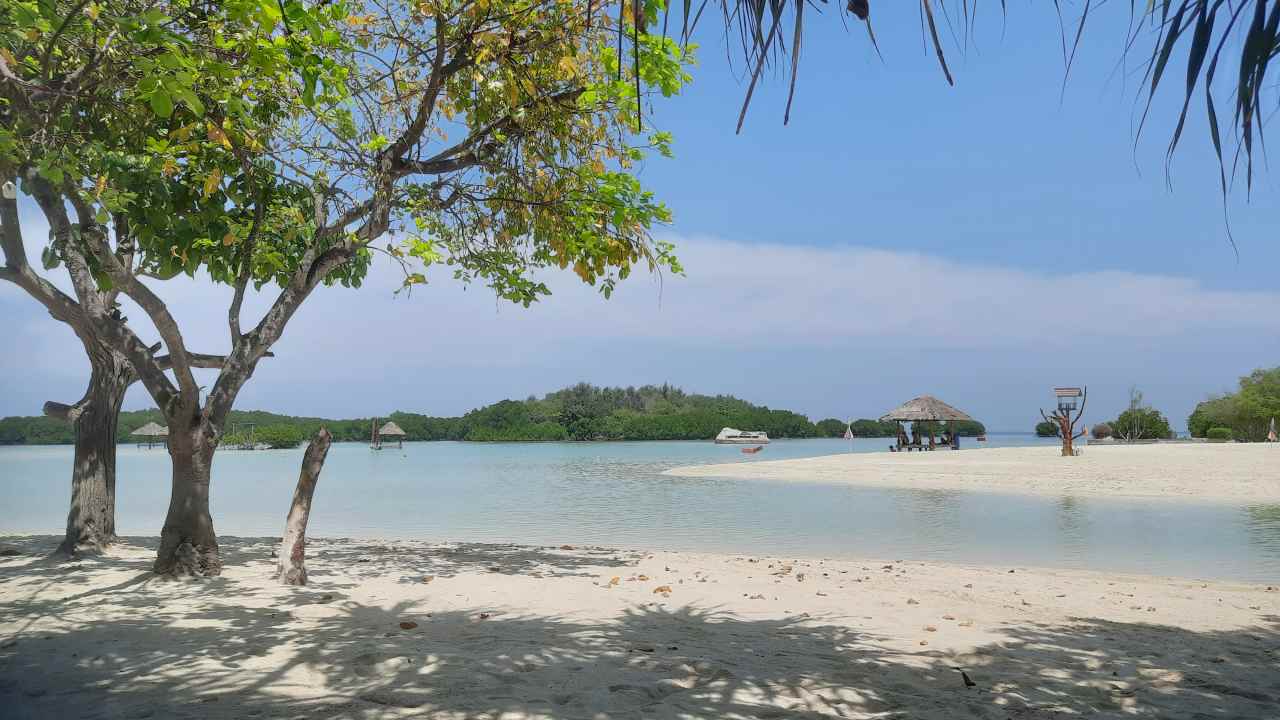 Pari Island Opening hours
Pari Island is a populated island that is open to everyone. There are no official opening hours. However, staying here is just like mingling with the population. Most visitors are from Jakarta and usually visit on weekends but the spot is still comfortable to visit. The boats that come to Pari Island depart in the morning and will bring back tourists from the island and leaves at 2 PM.
Pari Island Opening Hours
Every day
Open 24 Hours
Nearby: Guide To Explore Tidung Island & Top Things To Do.
Pari Island Entrance fee
There is no retribution or entrance fee to explore the island. However, tourists might need to donate to some of the spots for maintenance by local people. For example, to explore Pari virgin beach, visitors will be charged Rp5,000 for the entrance ticket.
Tidung Island Entrance Fee
Ticket
Free Entry
See: Guide To Explore The Biggest Mosque in SEA, Istiqlal Mosque, Jakarta.
Access to Pari Island
Pari Island situates at the Jakarta Gulf with easy access. To get here, visitors must take a boat that is available in Muara Angke. The boat goes at 8 AM and back from Pari Island at 2 PM. It takes 2-2.5 hours to get to this gem.
Another departing point is Marina Dock. From here, tourists may take a speed boat that takes faster, about 1 and a half hours. However, it is more expensive than a regular boat.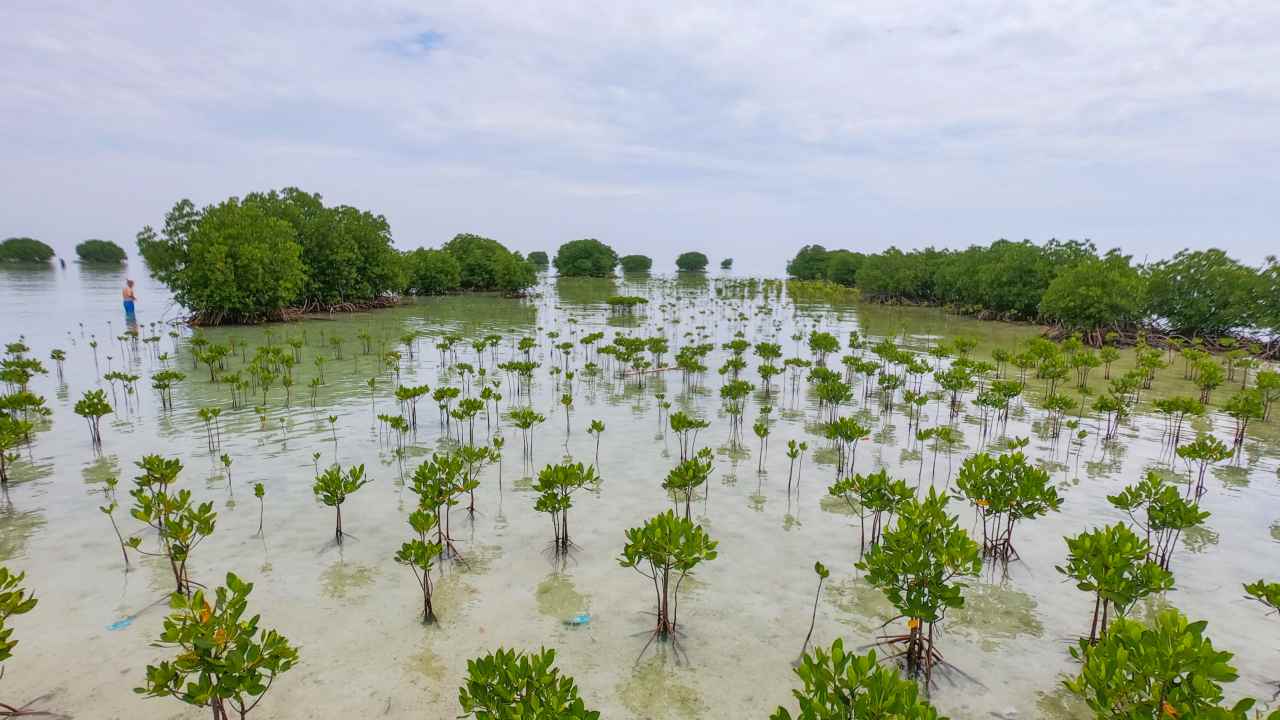 White Sand Beaches on Pari Island
The story goes that a virgin fell in love with a fisherman. They both made a promise to unite one day as the fisherman went fishing. But the fisherman never made it back to the island. And, the virgin waited for him until the end of her life. Although the story might only be a myth, Pantai Pasir Perawan is a real natural beach.
The sand is white and soft so it will be relaxing to lie on. Feel the sun and the breeze on the skin while enjoying clear turquoise water. However, Pantai Pasir Perawan is not the only beach visitors can enjoy on Pari Island. There are Kresek Beach, Bintang, and LIPI Beach to see a wide range of attractions. There are turtle, starfish, and stingray captivities on Kresek Beach. Gazebos, hammocks, and seats are the facilities available on the beaches.
In addition, A starfish statue becomes an icon and favorite photo spot on Bintang Beach. Most of the beaches are shady with pine forests and coconut trees. And, there is no entrance fee to visit these spots unless a small amount of donation. Tourists can explore the beaches on foot or by bike. The people rent out bicycles at Rp35,000/day, and the bike park is only Rp2,000 all over the island.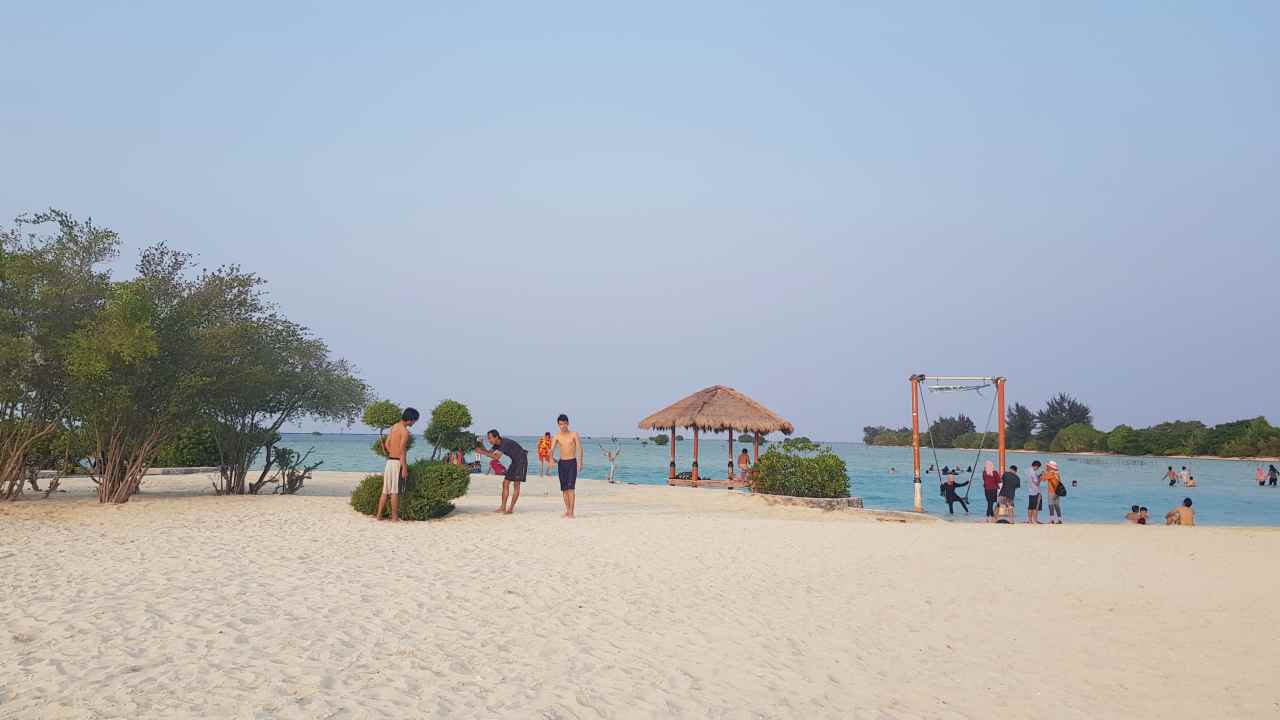 Sunrise and Sunset
Near the Pari Island Pier, there is the best spot for sunrise. It is the Bukit Dermaga Matahari. It is actually not a hill as the name suggests. But, only big sand dunes where people like to swarm at dawn and wait for sunrise. Moreover, Pari Island is known to have a complete tropical water ecosystem that covers coral reefs, mangroves, and seagrass which makes it a natural laboratory.
Indonesian Institute of Science (LIPI) undertakes oceanographic studies on this island. The agency manages the western part of this island to accommodate the research, known as Pantai LIPI. It manages the cultivation of seaweed and mangrove and captivates stingrays and starfish. Other than educational tourism, this beach is also a favorite spot for sunset.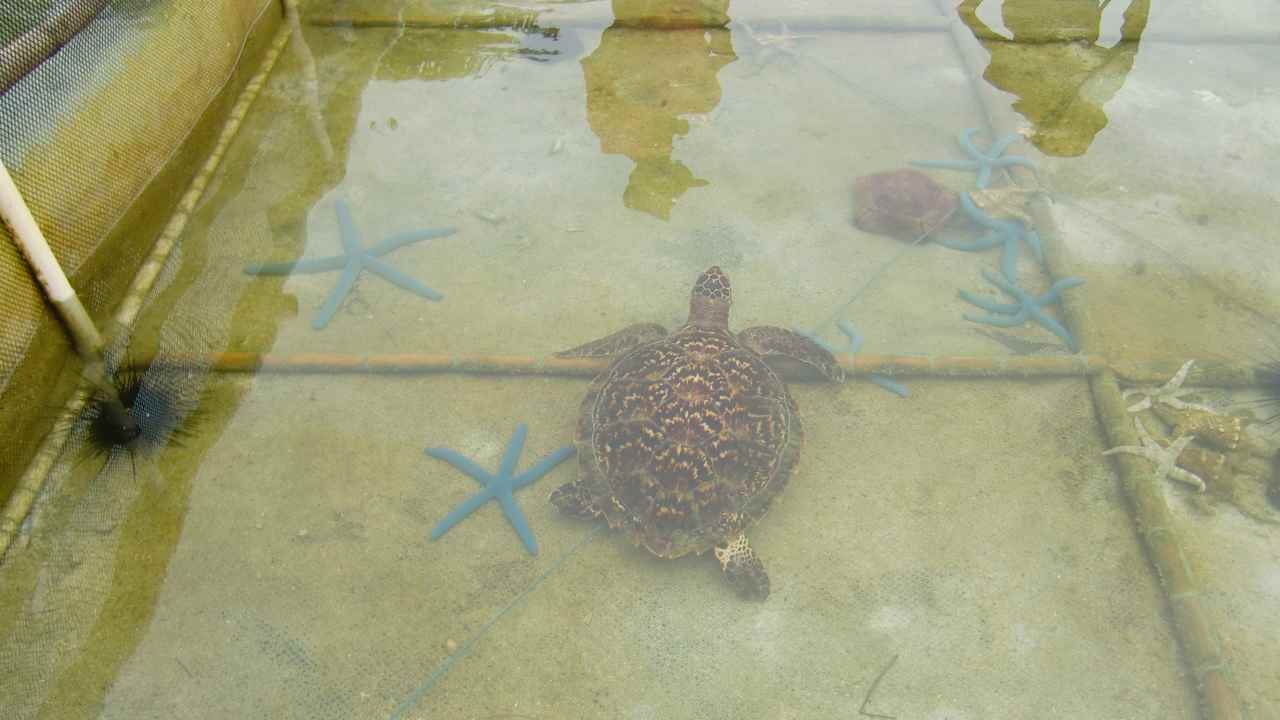 Watersport
The marine ecosystem on Pari Island is maintained well. It ensures the biodiversity of the submarine habitat. The underwater is rich in coral reef species including colorful coral creatures and fishes. The shallow beaches are good snorkeling spots that are kid-friendly.
To enjoy the surface, there are banana boats, sofa boats, kayaks, and jetskis. There is also traditional boat rent for island exploration. And, the people on Pari Island provide the gear and equipment of various watersports for rent. The equipment is also affordable that starts from Rp35,000 for the snorkeling gear.
While the boat rides to explore some spots on the island cost Rp350,000 to Rp500,000. It depends on the boat's capacity. The smallest boat could fit up to 5 tourists. Some even offer a great deal that includes a boat explorer to several snorkeling spots, underwater photos, and lunch included price.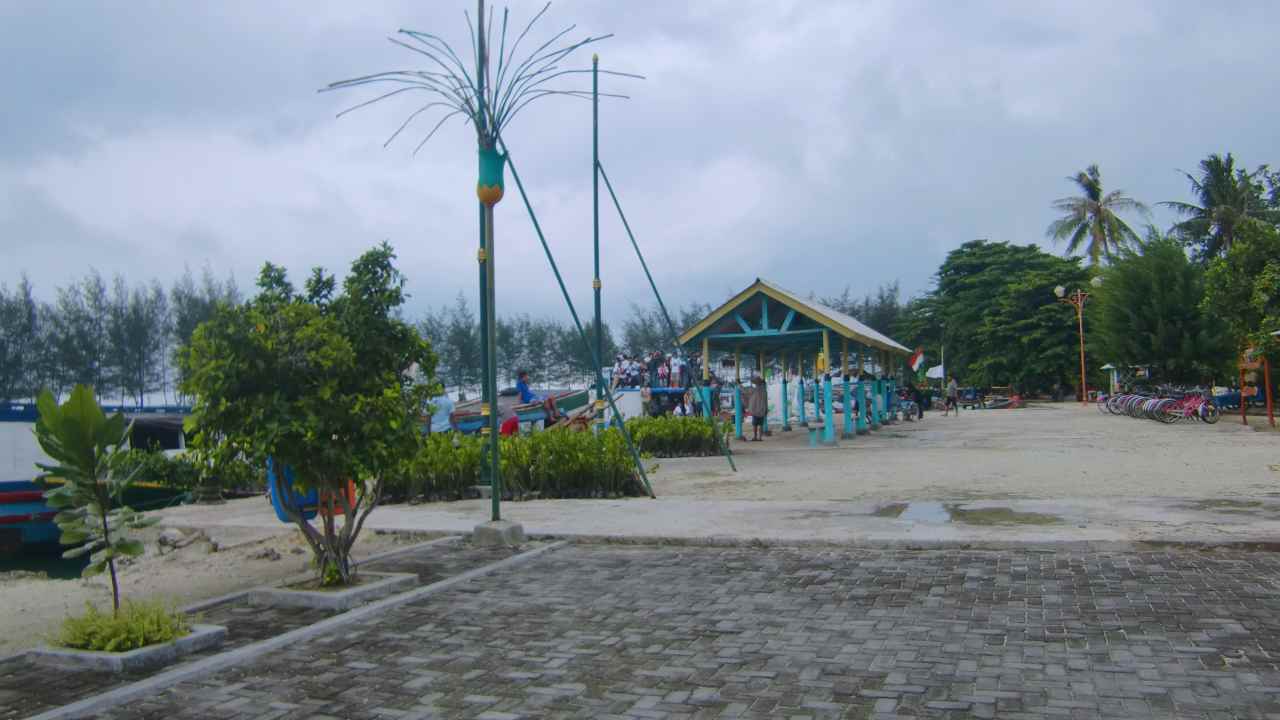 Facilities
People on Pari Island welcome and support tourism by providing complete facilities that cover accommodation, toilets, washing rooms, food and souvenir vendors, and stalls. Most lodgings are beach-view homestays managed by the locals. Facilities provided are beds for 3-4 people, TV, fresh water, and WiFi although the internet connection is highly compromised.
The lodgings cost starts from Rp380,000. The menu is mostly seafood, starting from Rp60,000 for a fish barbeque and Rp20,000 for fried rice. The prices are lower at the stalls and warungs. Gazebos, seats, hammocks, and photo spots are also available on the beaches. But there is no ATM on this island. So, tourists have to pay attention to how long they want to stay and bring sufficient cash.
See: Jakarta Airport Guide & Public Transportation to Downtown.
How To Get To Pari Island
The boats to get tourists to Pari and other islands in Kepulauan Seribu are available at Muara Angke Port. To get to the port, tourists may take both conventional and mobile-hailing taxis. At the dock, take the boat that cost Rp43,000 to 85,000, depending on the boat. The government transportation ferry is cheaper than the traditional boat. It takes about 2,5 hours to get there and the boat departs at 8 AM.
From Marina Ancol, there is a speedboat that takes about 90 minutes to get there but is more expensive. To get to the Marina, visitors need to enter Ancol Beach with a ticket that costs Rp25,000. And the speed boat fare is Rp200,000 for a one-way trip.
See: Tourists SIM Card, Price, Providers & Internet Package.
Address & Location
Pari island is located in Pulau Pari, Kepulauan Seribu Selatan district Jakarta 14520.