Saung Angklung Udjo
Entrance Fee: Rp70.000-Rp120.000
Opening Hours: 15:30 - 17:00
Telp. Number: +62 22 (727 1714)
Address: Jl. Padasuka No.118, Pasirlayung, Cibeunying Kidul , Bandung, West Java , Indonesia , 40192.
While many tourist spots are based on natural attractions or amusement parks. Saung Angklung Udjo stays eccentric with its cultural shows. There's an angklung orchestra that the audience shouldn't be missed. Other cultural shows include helaran and traditional dance as parts of the rundown.
Interestingly, from all collaborating talents, there are children as young as 4. These children are parts of Sanggar Saung Angklung Udjo. Teenagers who got on stage for the orchestra too are the members.
The sanggar, or studio in English, is established back then in 1966. 54 years and counting, the studio has evolved in many aspects. Including the show itself which feels interactive and more entertaining.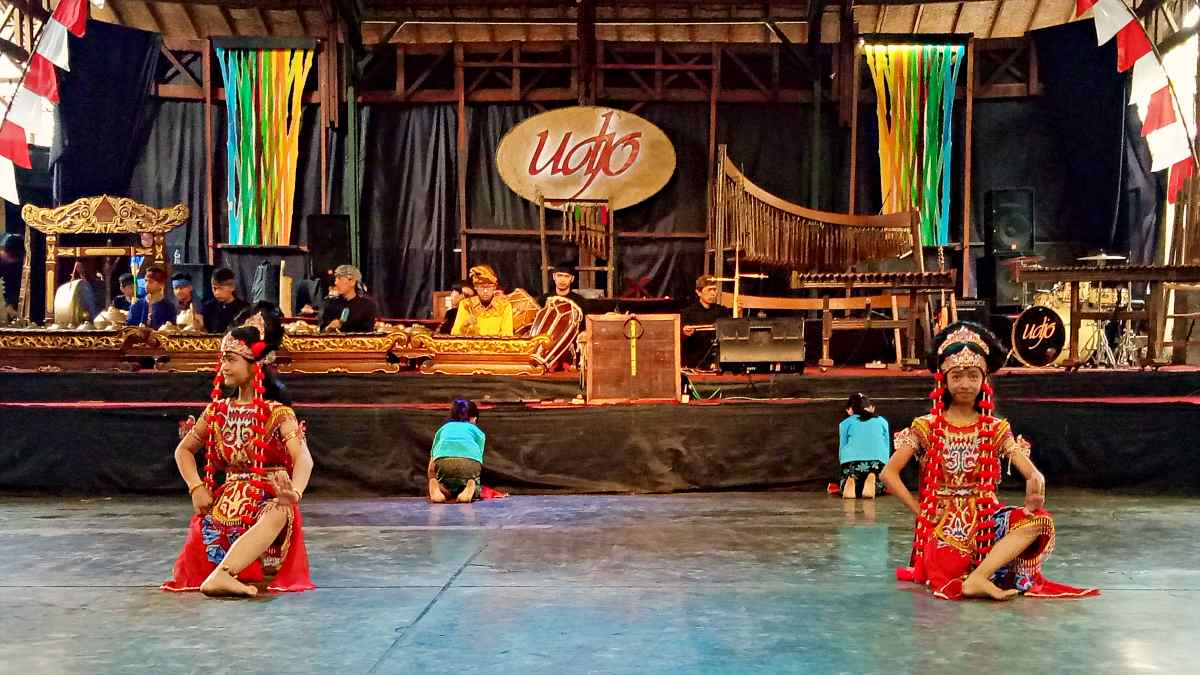 Even more, there's part of the show when all visitors get to learn and play angklung together. And dancing along with the talents on the stage. With the bamboo plants and green trees surrounding the site. In balance with the traditional vibes, the spot offers calm and tranquil energy too.
Saung Angklung Udjo Entrance Fee
As for the ticket price, tourists should pay Rp120,000. The price includes a complimentary drink, booklet, and of course the 90-minute show. Don't worry since the booklet is in English. An angklung necklace will be later given to each spectator.
Saung Angklung Udjo Entrance Fee
Children
Rp85,000
Adult
Rp120,000
See: Punclut Ciumbuleuit Guide, Activities & Culinary Spot.
Saung Angklung Udjo Opening Hours
Saung Angklung Udjo opens every day. On weekdays there will be only one show starting at 3:30 PM. While on weekends, there are two shows. Saturday shows are starting at 1 PM and 3:30 PM. While Sunday shows are at 10 AM and 3:30 PM. The visitors are recommended to be there at least 30 minutes before the show begins.
Saung Angklung Udjo Opening Hours
Every day
15:30 – 17:00
Saung Angklung Udjo Show Schedule
Saturday
13:00 & 15:30
Sunday
10:00 & 15:30
See: Kawah Putih Crater, Activities & Entrance Fee.
Saung Angklung Udjo Upon Arrival
Neatly arranged bamboo trees welcome visitors to the spot. Easily park the vehicle in the parking lot. For scooter riders, there's a sign directing vehicles to its lot. Located right to the entrance gate is the souvenir shop. Guests could purchase a souvenir without buying the entrance ticket.
Among other stuff, angklung is for sale too in the gift shop. To watch the performance, guests would have to buy the entrance ticket first. Then, going to the pendopo (hall) when the show is about to begin.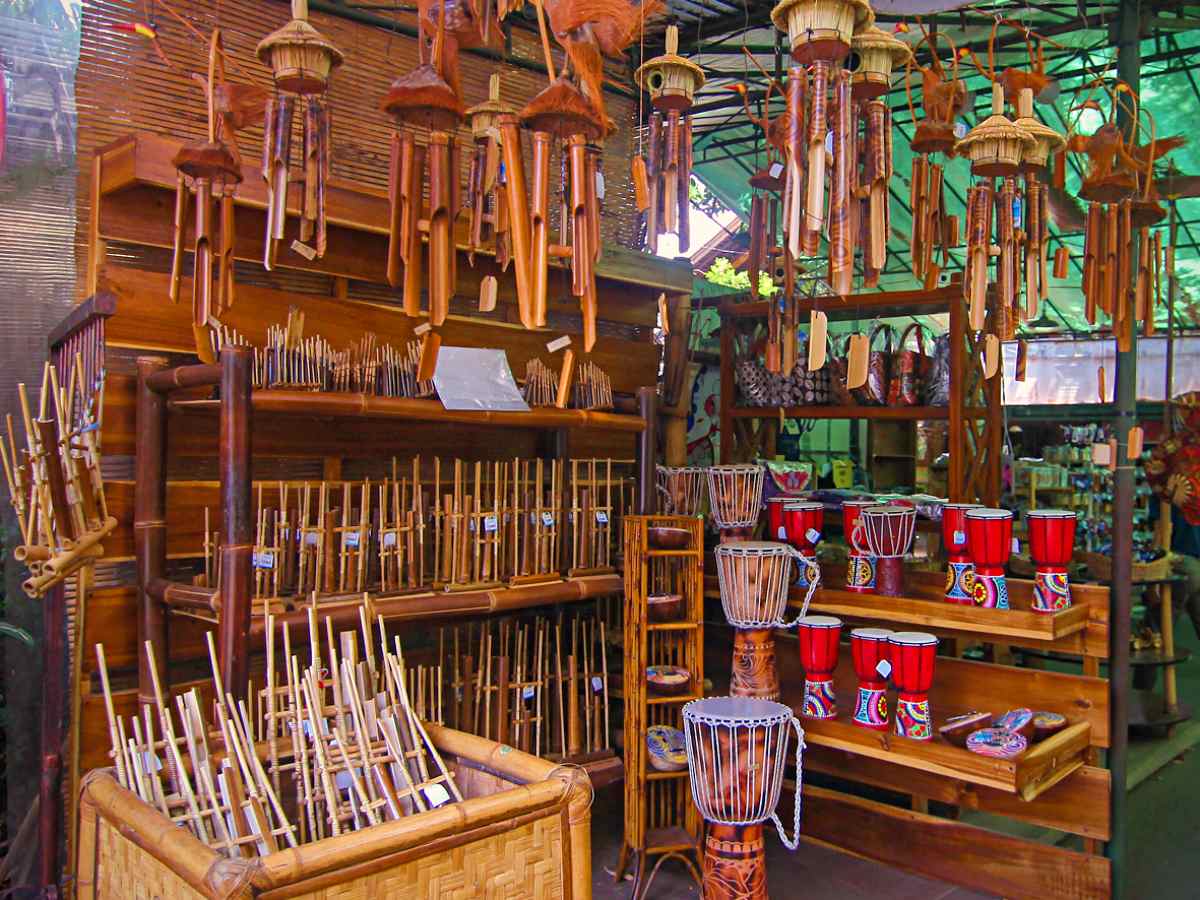 Friendly staff with Sundanese attire will stand by near the hall. These staffs are in-charge to give visitors a welcome drink. Which is usually bottled mineral water or ice popsicle.
Wayang Golek Show
Traditional puppet show (wayang golek) is the first play guests will enjoy. Wayang Golek show is quite popular in West Java, although its origin was in Central Java. The puppeteer, the person who does the story-telling, will demonstrate how to play a puppet to the audience.
From making a simple gesture to conducting certain acts. Such as laughing, walking, or venting anger. Of course, there'll be a certain story combining the protagonist and antagonist. Gamelan music as the background music beautifully upbringing each of the scenes.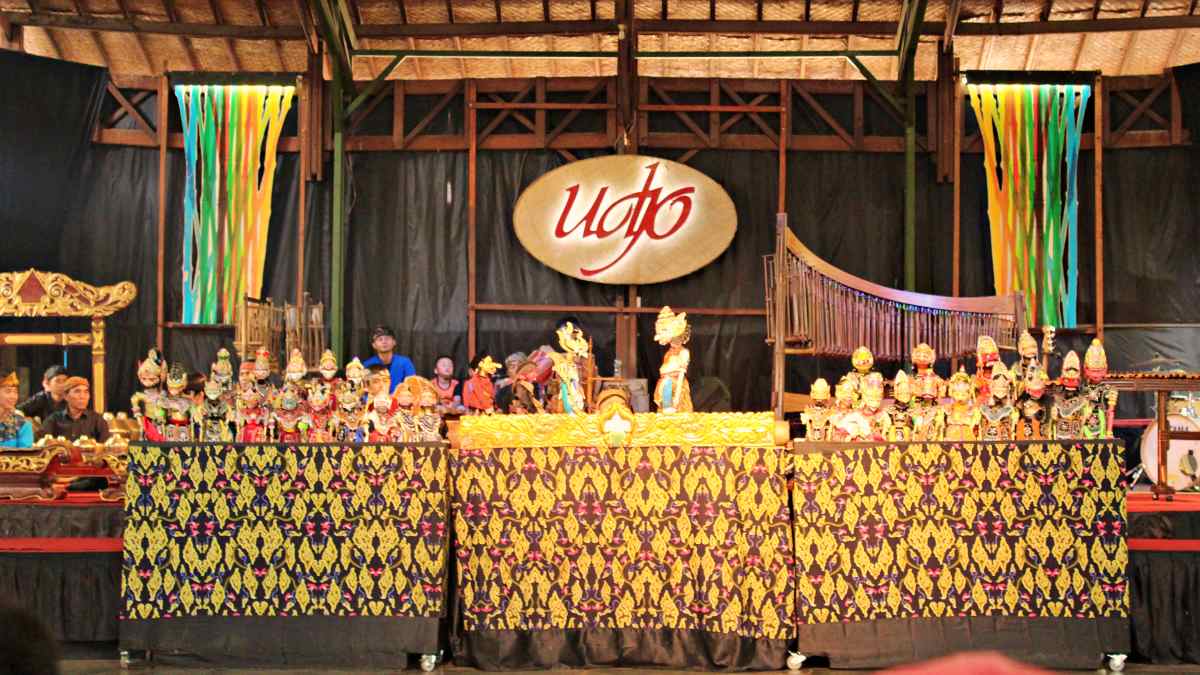 Witness how skillful the dalang is while playing two puppets at once. Watch the entire funny performance. Though the duration is quite short. The show is remarkably amazing, and it's a good opportunity to learn more about the Sundanese culture.
The storytelling part uses multi-language, Sundanese, Indonesian, and a bit of English. Despite mostly the dialogue is in Sundanese. Don't worry, not all the local's audiences know what it means too. The jokes and the puppet sound are funnily charming though. Don't miss the puns and learn a bit of the Sundanese language during the play.
The Sundanese Celebration
In Sundanese culture, Helaran is known as a parade. A festivity where locals celebrate a day with music, dance performance, and entertainment. Every important event, like a harvest event, anniversary, even when a boy got circumcised. Helaran is the celebration that follows next.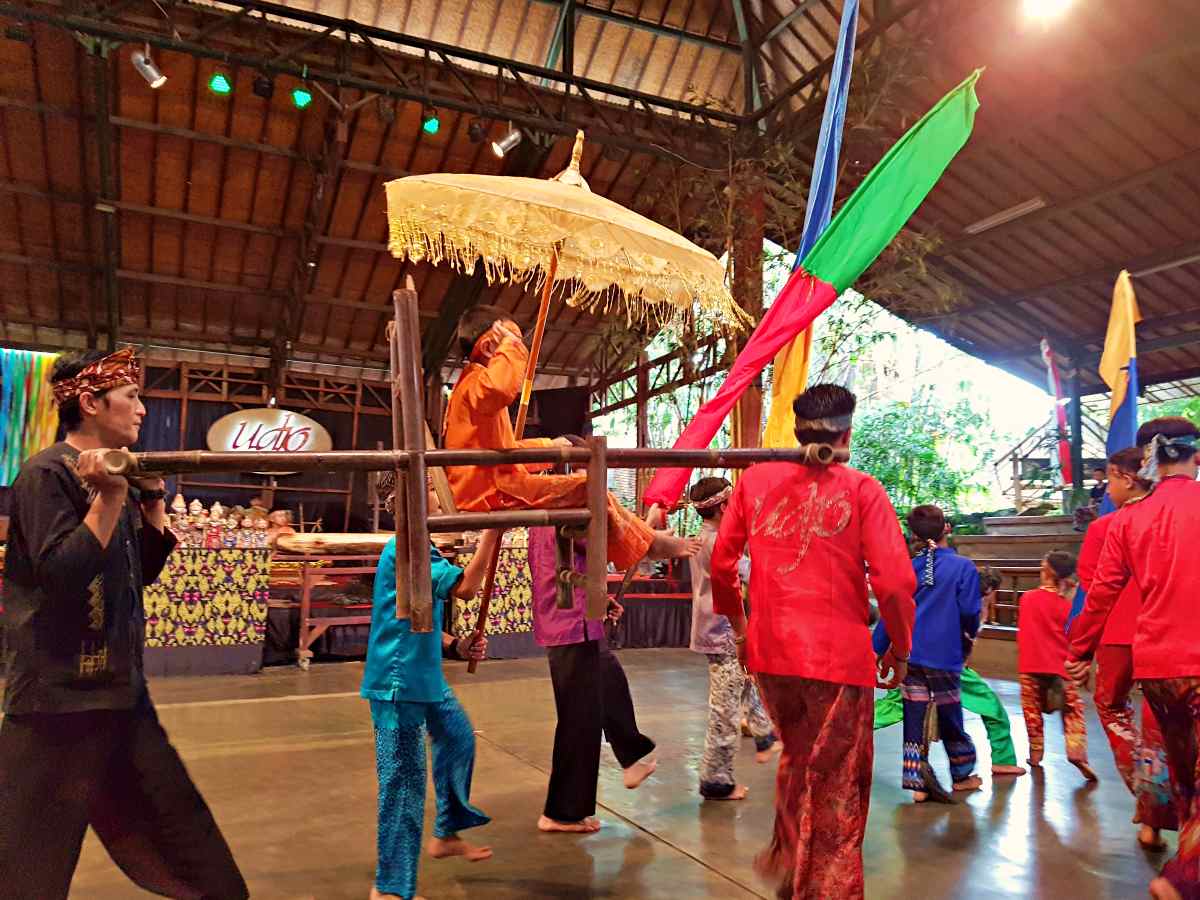 But in Saung Angklung Udjo, helaran is purely done for the show's purpose. The Helaran show highlights how Sundanese people celebrate an important event. In this particular show, the festivity after a young boy was circumcised. The boy will be treated like a king for a day. Sitting on a bamboo chair carried by 2 dancing, adult men.
In front of the carrier, several boys ride 'horses' made from painted woven bamboo. Behind them are the crowd, around 30 girls and boys with their angklung. Gamelan music is played in the background. After the chair has been put down, several kids ranging in age, come up front.
Usually, 4-5 boy and girl pairs will play and dance together. In the later act, the boys will perform a bit of Sundanese traditional martial art. For the purpose of the show, it's more subtle and more like a dance act. In the real setting, all of these are done on purpose. Which is to entertain the boy who just got circumcised.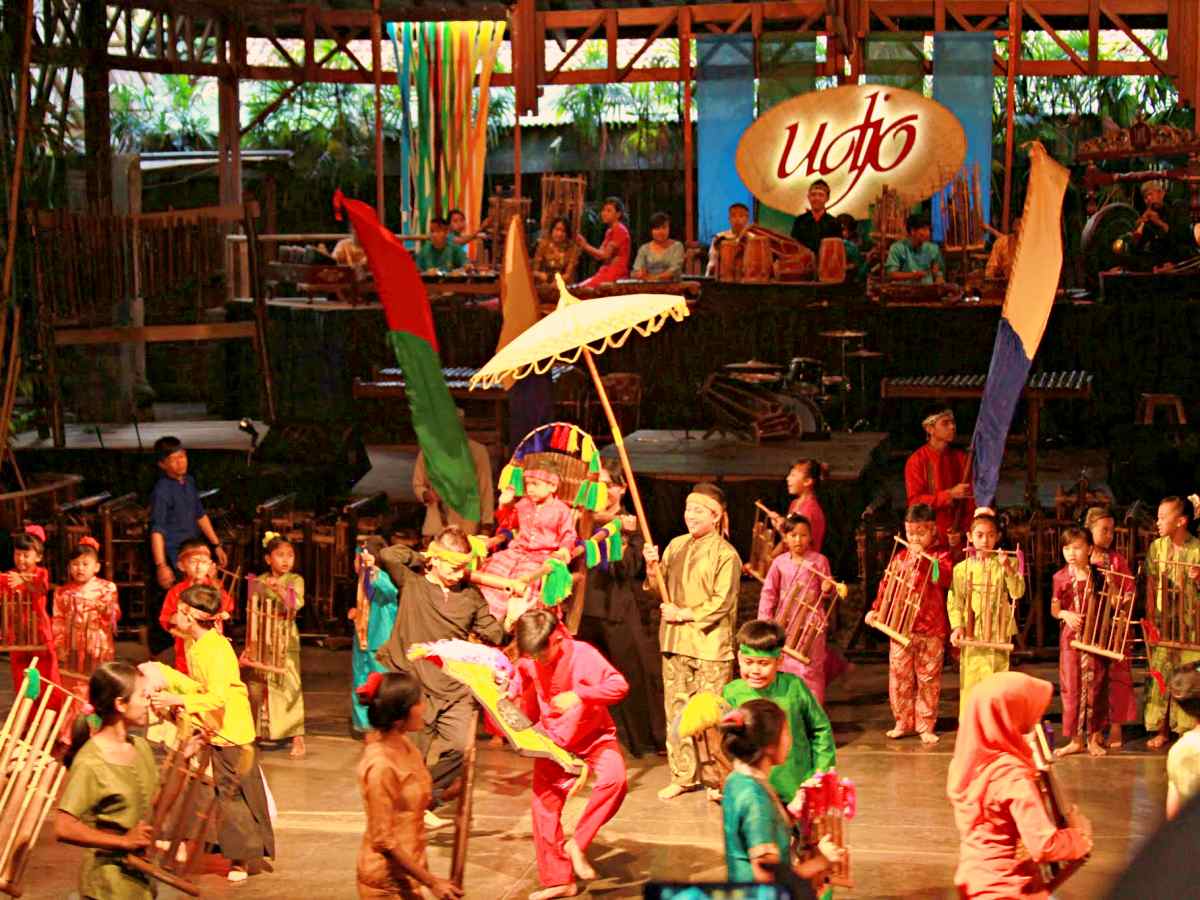 Angklung Orchestra
If one thinks that angklung can only be used as a simple musical instrument. Put aside that thought. Along with the band, the angklung player can play various songs. For example, Queen's Bohemian Rhapsody or Mozart's Symphony No. 40.
Occasionally, the orchestra plays local songs too. Interestingly, it's the angklung that covers all notes of the song. The band with modern musical instruments then emphasizes it. Such a combination makes the show stellar, too bad the duration is quite short.
Angklung Tutorial
Amazed by the angklung orchestra? Never miss this chance to learn how to play angklung. Each visitor will then be lent one angklung. The interactive MC will patiently guide the visitors to play the instrument. First, all visitors will learn how to play each note.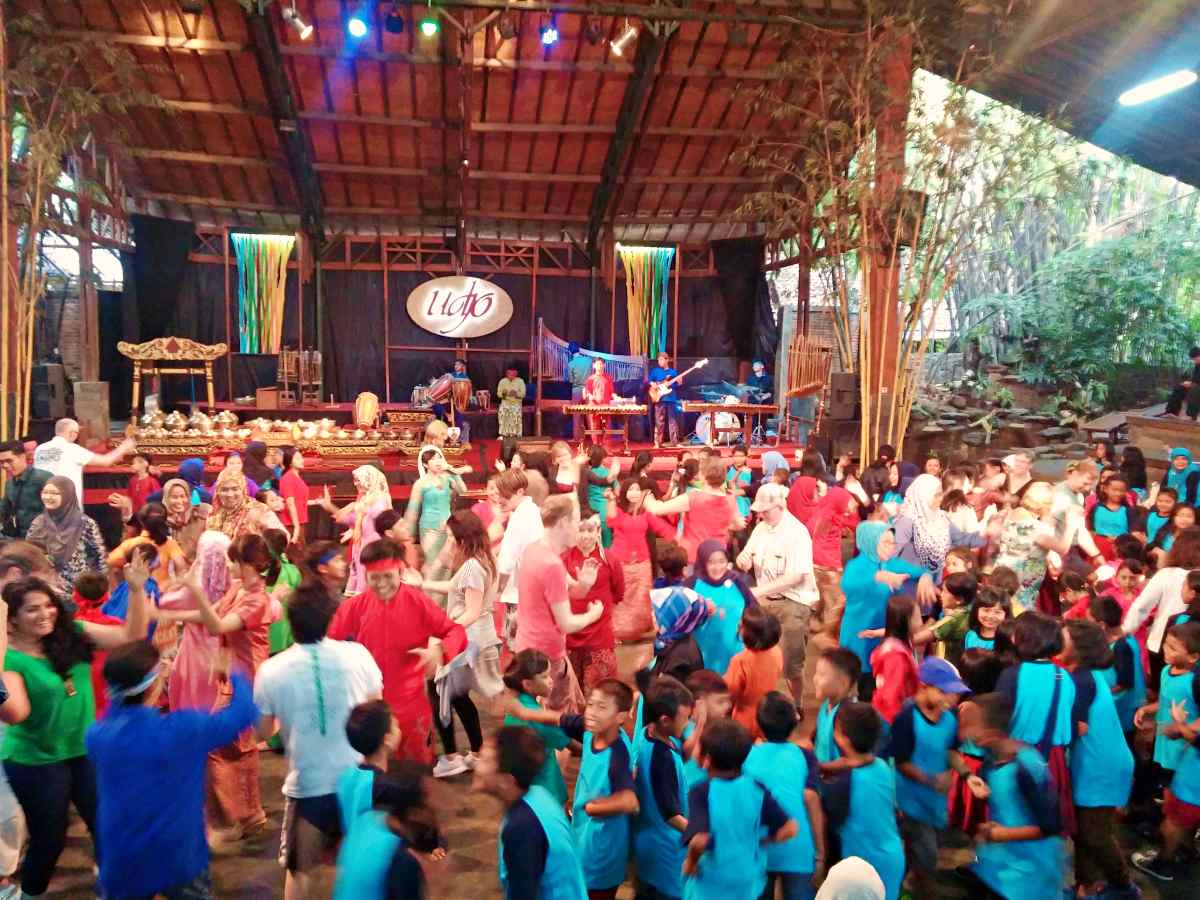 Then the participants are categorized into several groups representing each note. After several exercises and trials, the MC will conduct the visitors to play a song. Finishing one song can give extra satisfaction. Also, a sense of achievement.
Souvenir Hunt
Souvenirs for loved ones at home, why not? Get some in Saung Angklung Udjo's souvenir shop. The price of a souvenir starts from Rp10.000. Buy simple accessories such as traditional-style bracelets and necklaces. Or the unique ones like Wayang and angklung small replicas.
There's an angklung windchime too to beautify the house. Not to forget, Sundanese batik textile which emphasizes bright colors. Find that Batik in the form of wallets, udeng hats, or any other merchandise. Thinking of purchasing a set of angklung? It is possible to do it too.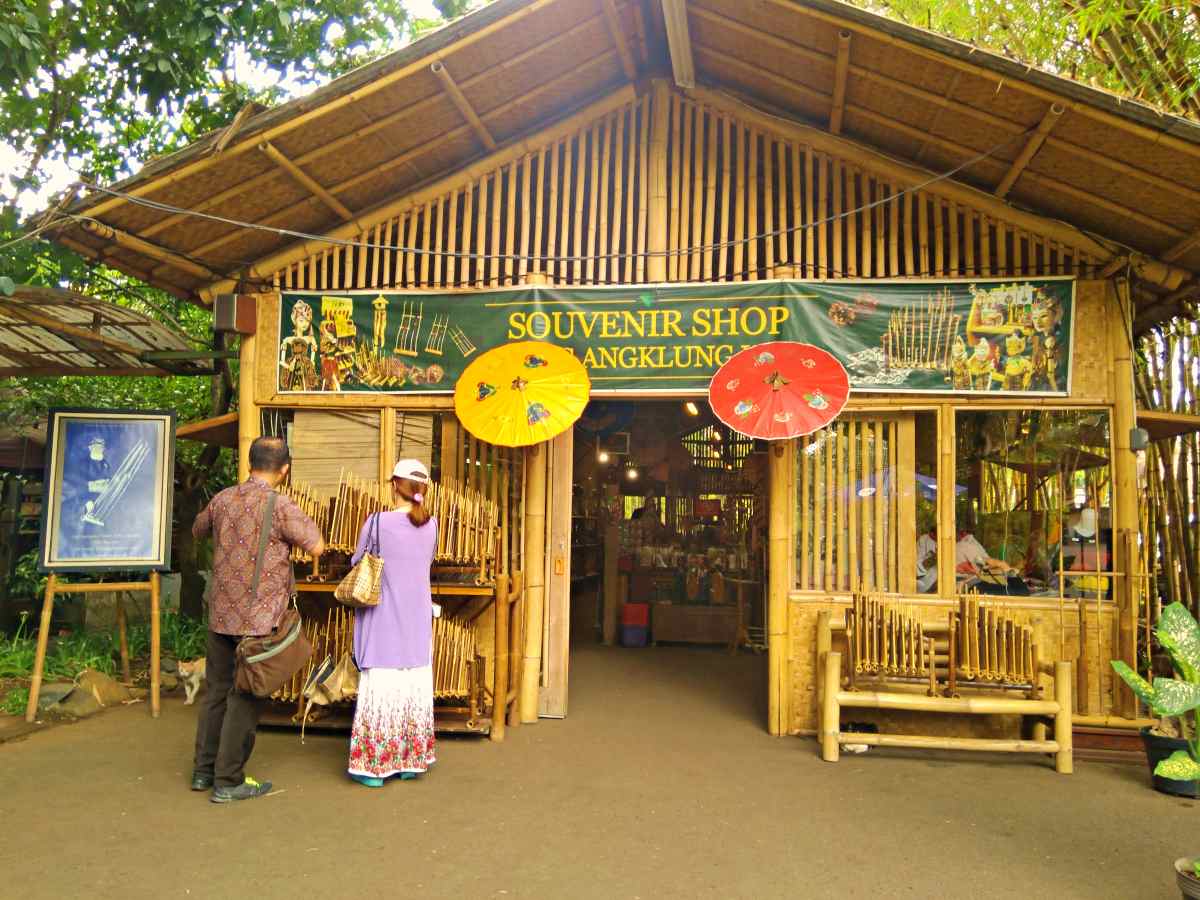 Eating and Drinking
Saung Angklung Udjo has one main restaurant serving Indonesian food only. There's fried rice with different side dishes to opt for, fried chicken for example. Sundanese food like nasi timbel is also on the menu. Try the local delicacy nasi timbel, aromatic steamed rice wrapped inside a banana leaf.
As side dishes, there are vegetarian options, Tempe, and tahu (tofu). Meatball, locally known as Bakso, with its hot savory broth, is also available on the spot. Doesn't want to eat too much – then grab some snacks instead. Cireng is by far the guests' favorite snack.
A locally originated snack, made from tapioca starch, garlic, and salt. All these are battered into one and then fried until the outer is crispy. Dipping cireng in its sweet-spicy sauce is recommended. Other than cireng, there's french fries, rissoles mayo, and many more.
For the drinks, actually, it's pretty basic. Get a cup of coffee or tea, served hot or iced. Or, sip a young coconut. Kolak pisang is an authentic Indonesian dessert made from banana, coconut milk, brown sugar, and water. This is usually served warm, not too hot or iced.
See: Indonesian SIM Card, Coverage & Internet Data Price.
Facilities
Before entering the hall, there will be complimentary drinks for guests. Choose one of two options given: mineral water or es lilin. Es lilin is the Indonesian term for ice popsicles. Each guest will also get a booklet explaining the show.
The hall isn't an indoor one but still has roofing on top of it. The place can accommodate up to 500 spectators. Three stands with stadium-like seating allow visitors to sit cozily. To get the best spot, better come early.
Don't worry about the vehicles, the parking area is wide. Even after several buses, there's still ample space for cars. Clean toilets too are available. As well as a praying space for Muslim visitors. Coming too early, like 2 hours before the show? No need to go anywhere, many places to sit here. With green scapes surrounding, waiting is worth the time.
Other facilities such as a souvenir shop, cafeteria, and outdoor seats complete the place.
See: Ranca Upas, Animal Feeding, Camping & Attraction.
How To Get To Saung Angklung Udjo
From Bandung City Center, the distance is around 7 km. To go there taking ride-hail scooters will be the most comfortable option. Having a rental car to go there is fine as well as ordering a ride-hail car.
However, occasionally there are traffic jams, especially on weekends. Plus, the last road before reaching the spot is quite narrow. Two-lane with alternating direction, and occasional truck passing by. So renting a car without a driver isn't much recommended.
From Alun Alun Bandung there's a public bus DAMRI that stops near the destination. Catch the Damri bus route: Cibiru – Kebon Kelapa. And ask the driver to stop at Cibeunying Kidul police station. From there go to the right side, Padasuka Street. Saung Angklung Udjo is 500 meters only from the police station.
The bus ticket cost Rp10.000 and it takes almost an hour to get to the destination. Since it stops at many bus shelters. Despite it taking much longer than hailing a cab. It's somehow a way to experience the off-beaten track. And see Bandung Street other than the touristy area.
See: Public Transportation Guide To Bandung from Jakarta.
Address & Location
Saung Angklung Udjo located in Jl. Padasuka No.118, Pasirlayung, Cibeunying Kidul district, Bandung, Jawa Barat 40192.