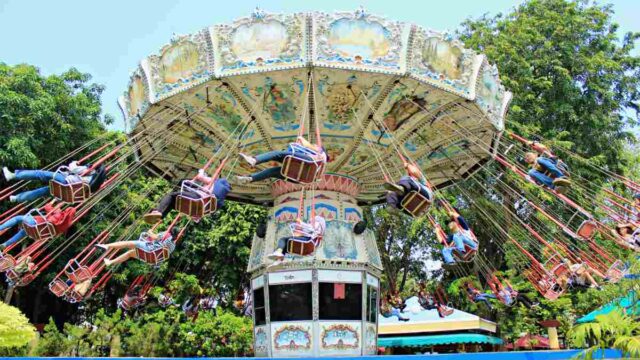 Ancol Dreamland Entrance Fee: Rp25.000 - Rp600.000 Opening Hours: 06:00 - 22:00 Telp. Number: (021) 29222222 Address: Jl. Lodan Timur , Ancol, Pademangan , Jakarta Utara , DKI Jakarta , Indonesia , 14430.
Ancol Dreamland, located in the capital Jakarta, is one of the oldest recreational parks in Indonesia. Its history goes back to the 60's era. It was a swamp along Jakarta's waterfront. Full of mosquito and prone to a malaria outbreak.
The first president of Indonesia, Soekarno later order a redevelopment of the area. The first park built was called Binaria. A beachfront park is famous for its drive-in theater back in the day.
Today, Ancol Dreamland is now an integrated recreational theme park. The largest one in South East Asia. At 552 ha, the park has two main beaches at its shoreline. With resorts sprawls in between the two beaches.
Dunia Fantasi (Fantasy World) is the most popular theme park with more than 40 rides and attractions. After Dunia Fantasi, Atlantis Waterpark is people's second most favorite. Ancol Dreamland has more things to offer. There is a park called Allianz Ecopark, where nature and the environment are the sparks.
Sea World and Ocean Dream Samudra focus more on Indonesian marine life. For culture and art enthusiasts, there is an art market to explore. Ancol Dreamland also caters night-crawlers, with restaurants, nightclubs, and bars open until late at night.
Ancol Dreamland Beaches
There are two main beaches in Ancol Dreamland. The Carnival Beach and Festival Beach. Carnival beach features long shorelines overlooking Java sea, with white sand and coconut trees. Swim the calm waves or simply let the skin kissed by the sun.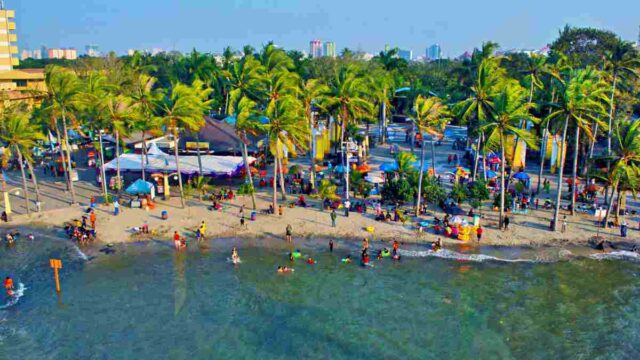 Dine at a beachfront restaurant nearby called Segarra. It's a perfect dining place with a view over the beach and the sea. Festival Beach, sets at the west part of Ancol, is more rocky than sandy. The beach's long promenade is perfect for a nice evening stroll.
Walk along and find a wooden sea pedestrian where the sunset can be enjoyed at its best. At the beach, there's a playground for children to play. If things get a bit boring here, visitors can always rent a small boat and ride toward the ocean.
Ancol Dreamland Fantasy World Dufan
The most fun theme park in Ancol Dreamland is arguably Fantasy World, or Dufan, like how locals call it. For starter, try calm rides such as Poci-Poci or Alap-alap. Poci-Poci is where visitors sit in a large cup, moving and circling slowly on a giant tea table. Alap-alap is a roller coaster. But it's more of a relaxing fun ride than a stomach-flipping one.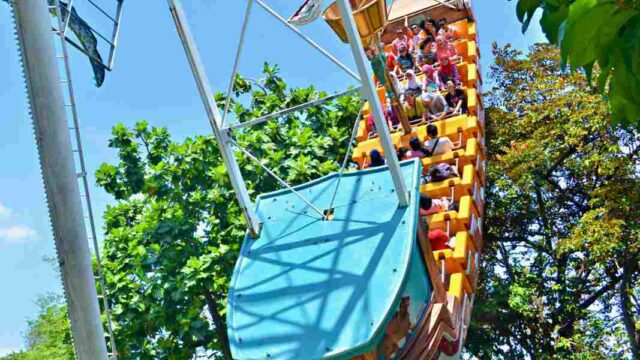 Feel warm-up already, try the thrill rides. Tornado, the most notorious of all Dufan's ride. Will spin, drop and flip riders up in the air in a seemingly random fashion. Experience a free-fall sensation on hysteria.
The chair will bring riders up 60 m above the ground. Before dropping back to the ground within 4 seconds, after all the adrenaline rush. Slow down the pace by enjoying Jakarta's sunset on the Ferris wheel Bianglala.
Ancol Dreamland Water Amusement Parks
When it comes to Jakarta's heat, nothing is better than playing at Atlantis Waterpark. Slide the 140 m long waterslide. The big splash at the end will freshen the body better than any ice cream. Adventure seekers should try Skybox. Step into the transparent tube, and as the tube's floor open.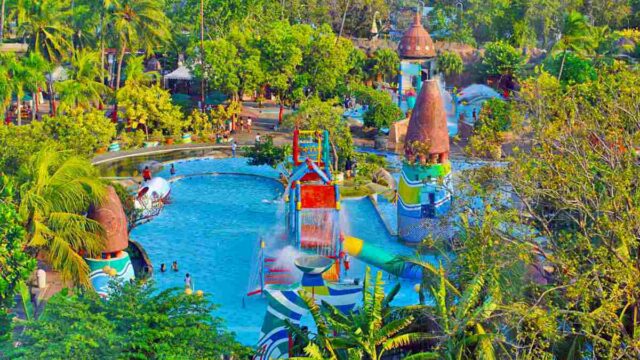 Enjoy being dropped from 80 meters height into the pool. The free fall is only 5 seconds, but the thrill will remain in memory forever. Want some water adventures without having to change swimwear? Visit the oceanarium Sea World. It is a large aquarium park filled with hundreds of fish species.
From marine fishes to freshwater fishes. Walkthrough the Antasena tunnel to watch 3.500 fishes swimming freely above. At Sharkquarium, watch a shark feeding show. If that's not exciting enough, there is also a feeding show for piranha and Pacific giant octopus.
If there's some time left, enjoy the animal show at Ocean Dream Samudra. Dolphins will make spectacular jumps with a sophisticated LED backdrop. Pet these friendly sea mammals at the end of the session – they will appreciate it. After, sea lions will take over the stage, making the audience laugh with their funny behavior.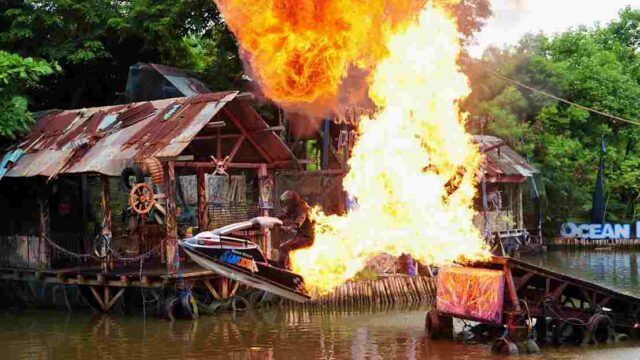 Eco Park
Allianz eco-park at Ancol is a site built for environmental education in Ancol. Learn about the types of renewable energy at this eco-park. There's a bee farm to learn the honey-making process and a small zoo called FaunaLand.
Apart from education, the park provides a large open space for various outdoor activities. Enjoy participating in archery, paintball, or outbound activities. There's also a small river where visitors can go canoeing.
Ancol Dreamland Art Market
Ancol's Art Market used to be the center of arts and crafts in Jakarta back in 1970.  The art market sells vast collections of arts, paintings, carvings, and other art products at an affordable price.
Visitors might get lucky to see some art in-the-making while sightseeing here. Shoppers are welcomed to haggle. Strike a  successful bargain and go home bringing some interesting finds. It's a nice way to conclude the whole of Ancol Dreamland's experience.
See: Jakarta Airport Guide & Public Transportation
Ancol Dreamland Opening Hours
The Ancol bay welcomes visitors & tourists every day including on National Holiday. It opens for 24 hours, while theme parks open from 9 AM to 10 PM.
Ancol Dreamland Opening Hours
Ancol Bay
24 Hours
Ancol Dreamland Theme Park
09:00 – 22:00
See: Visit Jakarta Landmark & Museum, Monas, The National Monument.
Ancol Dreamland Entrance Fee
Visitors will have to pay Rp 25.000 when entering the Ancol Dreamland entrance gate. The entrance ticket only allows visitors to explore the festival beach and shoreline. There is an additional fee to enter every amusement park. Fantasy world's tickets start from Rp 200.000, Sea World starts at Rp 85.000, and Atlantis starts from Rp120.000 per person.
Ancol Dreamland Entrance Fee
Entrance Fee Adult & Children
Rp25.000
Car
Rp25.000
Segaraga Weekend
Rp15.000
Fantasy World (Dunia Fantasi)
Children & Adult Weekday
Rp200.000
Weekend including on national holiday
Rp295.000
Fast track (skip the queue at 14 favorite rides)
Rp200.000
Annual Pass + Merchandise
Rp600.000
Premium (Get access to the premium lounge and skip the queue at 14 favorite rides)
Rp450.000 weekday / Rp550.000 weekend
Dufan & Seaworld Bundling
Rp250.000 weekday / Rp350.000 weekend
Ancol Dreamland – The Ocean Dream Samudra
Weekday
Rp90.000
Weekend & National Holiday
Rp125.000
Ocean Dream Annual Pass
Rp160.000
Ocean Dream Samudra & Sea World Bundling ticket
Rp135.000 weekday/ Rp180.000 weekend
Ancol Dreamland – Atlantis Water Adventure
Regular Pass
Rp94.000 weekday/ Rp140.000 weekend
Annual Pass Allday (a year pass including on national holiday)
Rp345.000
Ancol Dreamland – Sea World Ancol
Regular Pass
Rp80.000 weekday/ Rp100.000 weekend
Fauna Land
Children >2years old
Rp65.000 weekday / Rp75.000 weekend
River Safari Cruise
Rp25.000
See: Indonesian Traditional House & Tribes at Taman Mini Indonesia Indah, TMII, Jakarta.
Ancol Dreamland Ecopark Ticket Rides
The eco-park offers a variety of activities suitable not only for children but for the adult. Ancol Eco-park welcomes visitors every day from 06:00 am to 06:00 pm.
Ancol Dreamland Ecopark Rides Ticket
Flying Fox
Rp25.000
Green Mission Paint Ball
Rp130.000
Shooting Target
Rp75.000
Combat Area Fee
Rp60.000
Bullet Refill
Rp35.000
Eco bike
Rp35.000
Golf Car
Rp130.000
Bicycle Charge
Rp35.000
Mat Rental
Rp30.000
Learning Farm Ticket
Rp50.000
Fish per ounce
Rp4.500
Bait refill
Rp10.000
Canoeing
Rp75.000
Fish Feed
Rp5.000
Changing Room
Rp15.000
Ecotrike
Rp35.000 (15 minutes) / Rp70.000 (30 minutes)
ATV
Rp35.000 (15 minutes) / Rp70.000 (30 minutes)
Water Pedal Boat
Rp35.000
See: A Guide To Visit The Biggest Islamic Site in Jakarta, Istiqlal Mosque.
Facilities
The area is equipped with tons of facilities. Such as a spacious parking lot, toilets, and easy access for the disabled. Hotels and resorts are available inside the premises. There's never a shortage when it comes to shopping as plaza, malls, and shops are plenty. There are many choices for restaurants, with some of them open for 24 hours.
How To Get To Ancol Dreamland
Ancol is only 40 minutes from Soekarno Hatta Airport by cars. Ancol can also be accessed by TransJakarta Busway and commuter train (KRL). For KRL, visitors can stop at Kampung Bandan or Ancol Station.
For Bus, hop-off at Ancol Bus Shelter. It is recommended to bring private vehicles since it's easier to navigate around the vast Ancol area. But for visitors without vehicles, there's a gondola service connecting Ancol's major tourist attractions.
See: Guide To Choose Indonesian SIM Card & Provider.
Address & Location
Ancol Dreamland Park and beach located in Jl. Lodan Timur No.7, RW.10, Ancol, Pademangan district, North Jakarta 14430.
Ancol dreamland charge tourists Rp25.000 at the entrance gate. It allows visitors to access the beach only. Rp200.000 for playing in Dufan theme park.