Taman Mini Indonesia Indah
Entrance Fee: Rp25.000
Opening Hours: 07:00 - 22.00
Telp. Number: 021-87792078
Address: Jl. Taman Mini Indonesia Indah , Ceger , Cipayung, Jakarta Timur , DKI Jakarta , Indonesia , 13820.
Just like the name, Taman Mini Indonesia Indah is a miniature park that represents Indonesia. Located in the capital Jakarta, the park exhibits an enthralling culture of the entire 300 ethnic groups in the country. As a matter of fact, Taman Mini Indonesia Indah exhibits Indonesia's beauty from over 17.000 islands.
At 1.5 km square area. It is a wonder how the park manages to squeeze the country's rich diversity in such a relatively small space. Taman Mini Indonesia Indah or TMII was founded in 1975 by Tien Soeharto. The first lady of Indonesia's second president.
There's a large artificial lake in the middle of the park called Indonesia's miniature lake. In short, the lake forms artificial islands to replicate the Indonesian archipelago. Encircling the lake, traditional houses from 33 provinces of Indonesia were built on a real-life scale.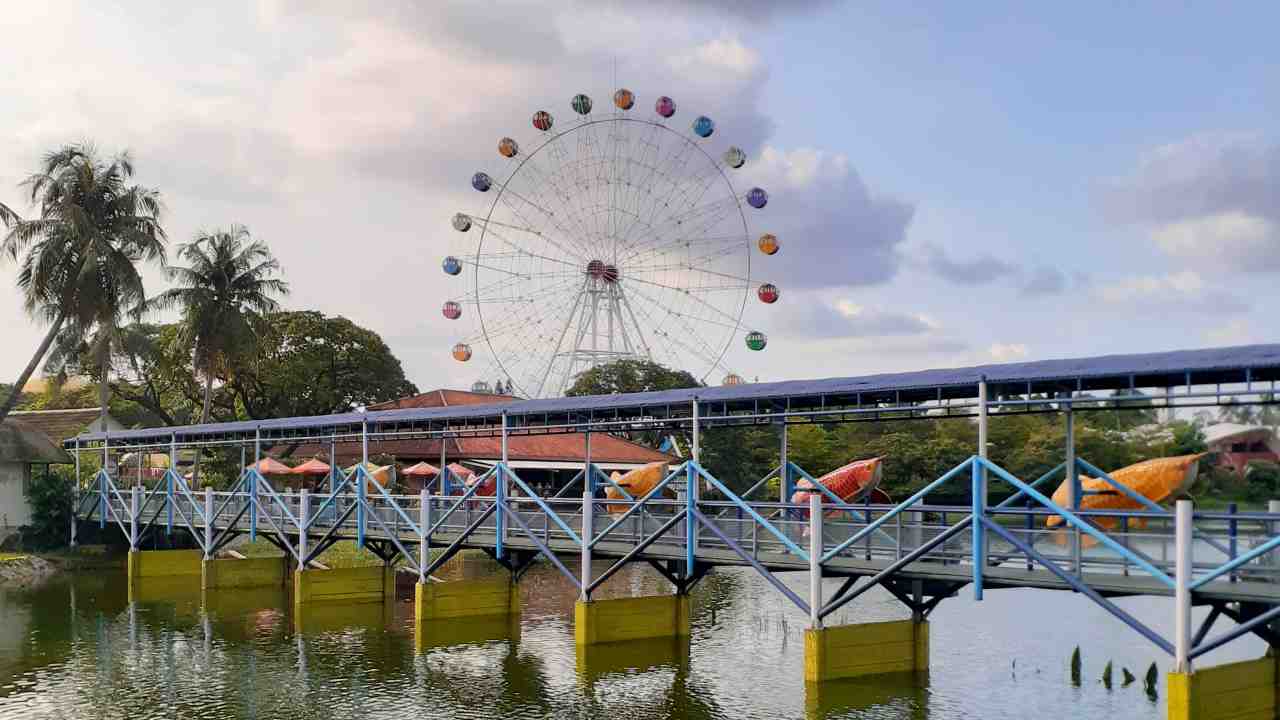 Apart from the traditional houses, there are over 50 attractions to explore. In total, Taman Mini has 19 museums, 7 nature parks, 3 cultural parks, 4 recreational parks, and other fun attractions to try.
One of the most striking structures built here is the Keong Mas IMAX theater. The stack shell architecture might look like it tries to imitate the Sidney Opera House. But the design, in fact, resembles the golden snail 'Keong mas' from famous Indonesian folklore.
Rent A Bike & Explore Anjungan
The best way to get around the vast area of Taman Mini Indonesia Park area is by bike. Which is available for rent at Rp15.000/hour. First, go to the nearby Anjungan which is the closest one to the park's entrance. Anjungan is what the traditional houses are called. At Anjungan, prepare for a cultural trip from Aceh to Papua traditional houses.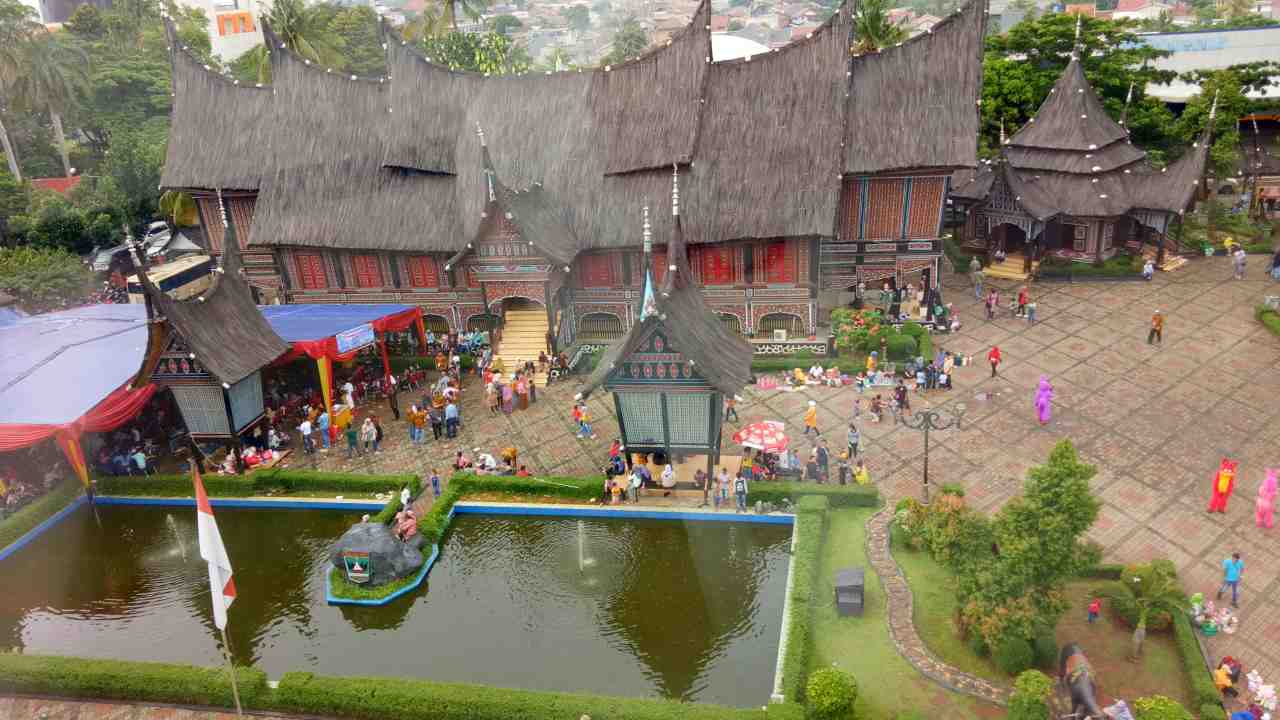 At Jogjakarta's Joglo house, try to play the traditional instrument Gamelan. Then, walk through a beautiful Balinese gate "Candi Bentar" when exploring Bali's Anjungan. Eventually, when passing West Sumatra's Anjungan, it's hard to miss the sight of a colorful Gadang traditional house.
Here visitors can learn about the only matriarch society in Indonesia, the Minang tribe. Continue to go on the bike, because there are still 30 other traditional houses to explore.
Taman Mini Indonesia Indah Museum
Among the 19 museums at TMII, some are definitely not to miss. Asmat Museum will bring visitors away to Papua, the westernmost province of Indonesia popular for its Raja Ampat diving spot. But away from the ocean, the Asmat tribe lives deep in the Papuan jungle. Get to know about their customs and traditions in this museum.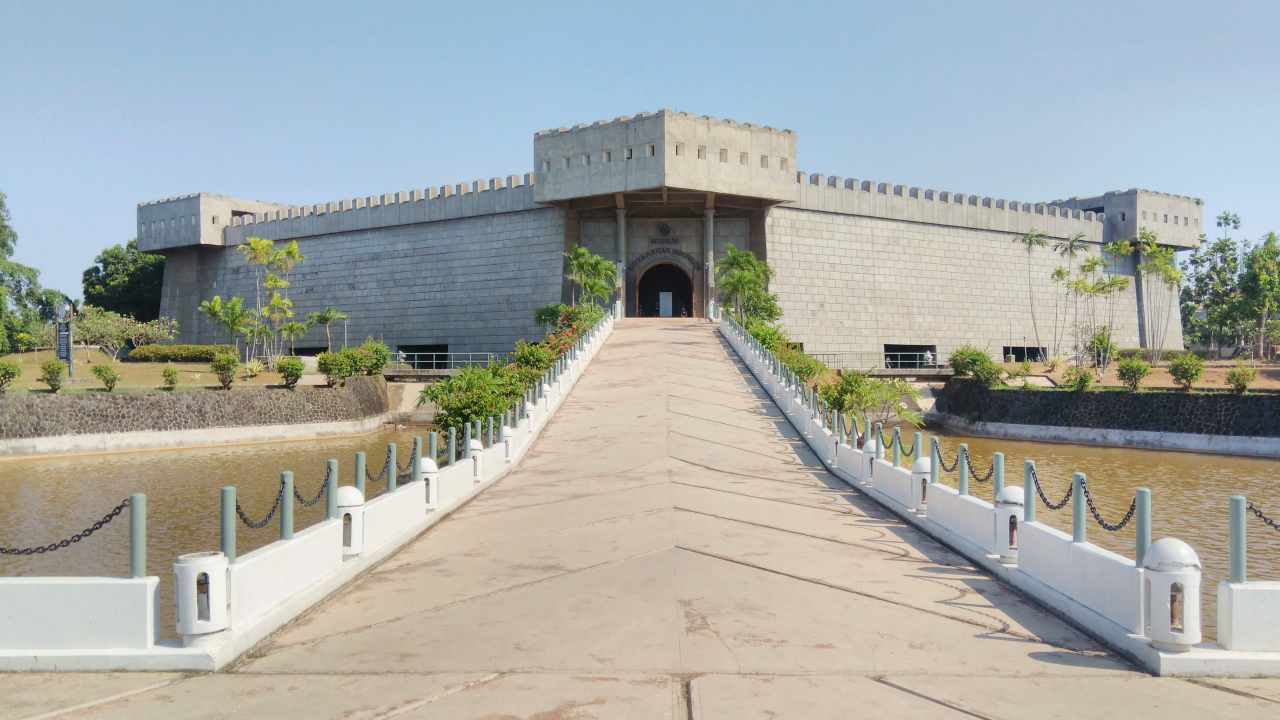 Try to make some beats with a war drum instrument called Tifa. And learn how to make Asmat's staple food, the sagoo. The Museum of Indonesian fauna stands out with its giant Komodo architecture. It's a museum, not a zoo. So expect to meet a lot of preserved animals from birds, butterflies, mammals, marine biota, and reptiles. But go outside to the backyard and be delighted as there are some real Komodo dragons living here. There are other living reptiles too, such as crocodiles and tortoises.
Garden and Nature Parks
Gardens at TMII are where TMII visitors could take a quiet break with greens and nature. Park the bike and instead, go for a walk at the bird park. Swans and koi fishes swim in a small artificial river, while pelicans walk casually among people. Play several minutes with friendly pigeons before heading to jasmine and the cactus garden nearby.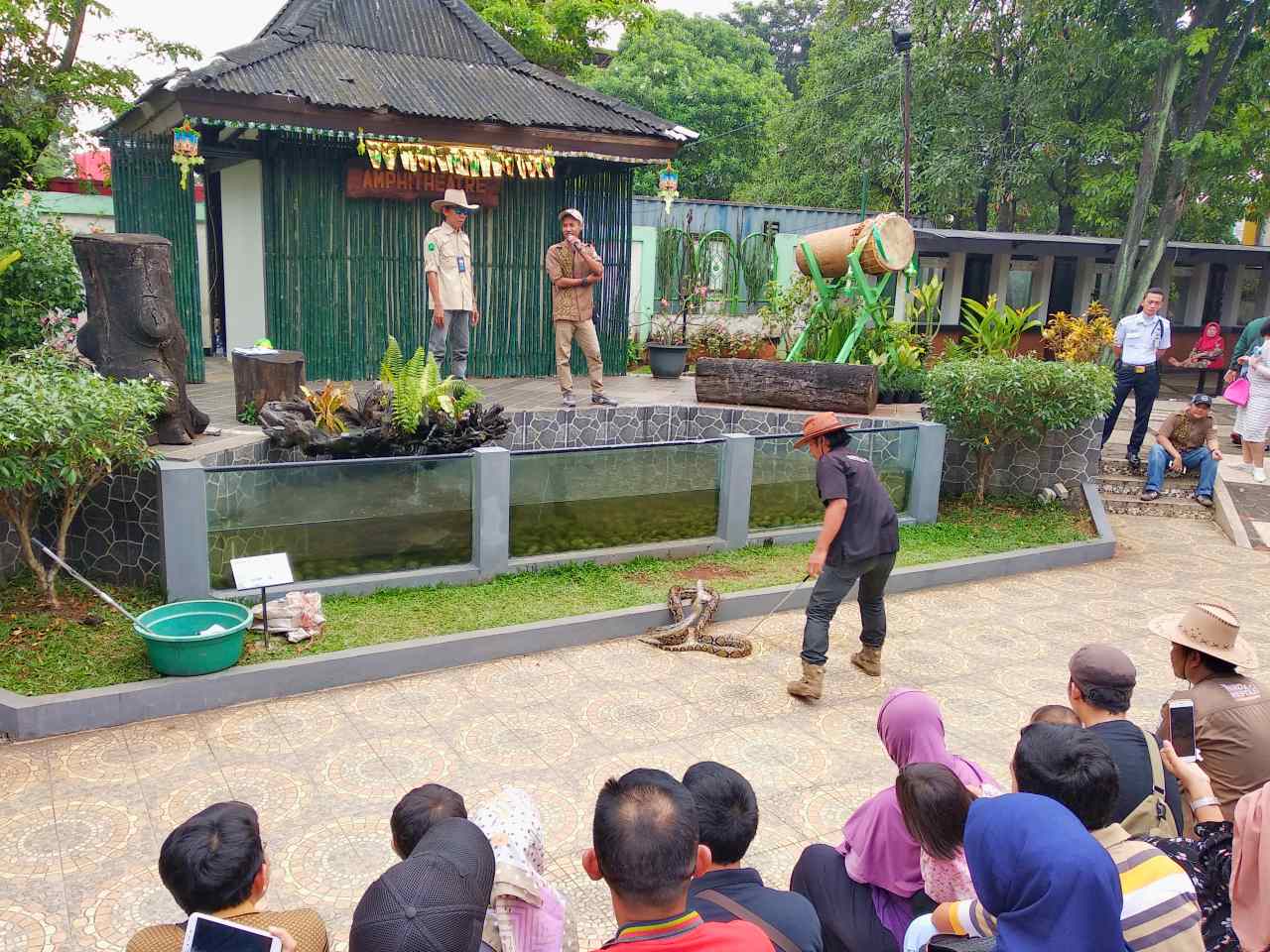 Learn Indonesian aquatic fauna at Freshwater Aquarium Park. At Aquarium park, be ready to observe about 126 species of Indonesian freshwater fishes here. Arowana (Scleropages formosus). A type of fish mainly found in the Borneo rivers is on display.
Along with its local sibling shark saws (Pristis microdon), and Tapah (wallago leerii). The collection also extends to fishes from other tropical countries. Enjoy the sight of the giant Arapaima, a giant freshwater fish that originated from South America.
Theme Parks
After all the educational visits to museums, parks, and traditional houses, it's time to have some fun.  Experience again the nostalgic childhood at Istana Anak. The Disneyland of TMII. Ride the rabbit train or get on to the Ferris wheel.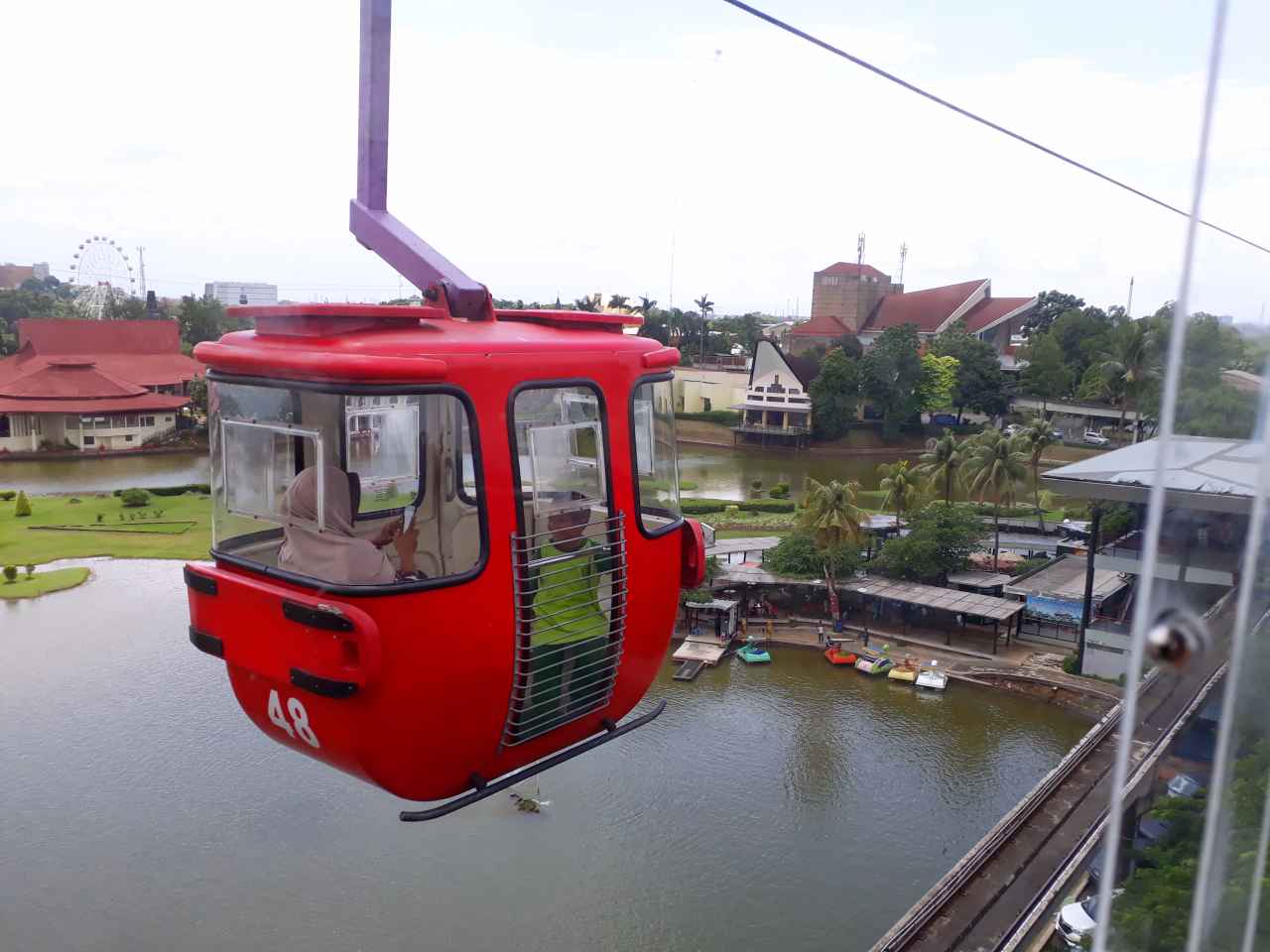 Inside Istana Anak's Disney-esque castle. Mannequins clothed with Indonesia's traditional costumes will remind visitors of a large dollhouse. Only more exotic.
It's easy to spot the golden snail building since it glitters under the sun. Go to Theater IMAX Keong Mas to watch an Indonesian classic folktale. Take a ride with a Gondola, where riders can have a nice view of the Indonesia Archipelago Lake from above. Lastly, strip off Jakarta's heat from the body by swimming at Snowbay Waterpark.
See: Transportation Guide To Bandung from Jakarta.
Taman Mini Indonesia Indah TMII Opening Hours
Taman Mini Park is open every day from 7 AM and closed late at 10 PM. While the rides in the TMII park operate from 8:30 to 5 PM.
Taman Mini Indonesia Indah TMII Park Opening Hours
Every day
07:00 – 22:00
Rides Operational Hours
08:30 – 17:00
See: Guide To National Museum Jakarta & Traditional Dance Class Schedule.
Taman Mini Indonesia Indah Entrance Fee
An international visitor entrance ticket is the same as a local one, Rp25.000. However, TMII visitors will need to pay an additional fee for museum and park admission. Meanwhile, the price varies, but on average, tickets cost Rp10.000/museum. Even so, recreational parks have more expensive ticket prices, from Rp35.000 for a regular seat at the IMAX theater and Rp60.000 for a balcony seat.
Taman Mini Indonesia Indah Entrance Fee
International visitor
Rp25.000
Private Vehicle Ticket
Rp20.000
See: Things To Do In Jakarta, A Tour To The Biggest Mosque in SE Asia, Istiqlal Mosque.
Taman Mini Indonesia Indah Museum Ticket Price
There are more than enough museums to get to know better of Indonesian history. From the diversity of its origin ethnic tribe, the technology to
Taman Mini Indonesia Indah – Museum Entrance Fee
Museum Indonesia
Rp15.000
Soldier Museum
Rp4.000
Philately
Rp5.000
Pusaka
Rp10.000
Transportation Museum
Rp5.000
Electricity & New Energy
Rp10.000
Telecommunication Museum
Closed
National Sport Museum
Rp2.000
Asmat Tribe
Rp10.000
Timor-Timur
Rp5.000
Science & Technology Museum
Rp27.500
Oil & Gas
Closed
Museum Penerangan
Free
Bayt Al-Qur'an & Istiqlal Museum
Rp10.000
See: Guide To Visit Monas, The National Monument Landmark.
Taman Mini Indonesia Indah The Children's Castle Rides & Entrance Fee
The castle is an all-aged free zone. However, some of the rides are suitable only for children.
Taman Mini Indonesia Indah Castle, Rides Ticket
Entrance Fee
Rp10.000
Rabbit Train Ride
Rp10.000
Sendang Sejodo Pool Weekday & Weekend
Rp20.000 / Rp25.000
Bumper Car
Rp15.000
Airplane
Rp10.000
Monorail
Rp10.000
Merry-Go-Round
Rp10.000
Roda Tamasya
Rp10.000
Kiddy Boat
Rp10.000
Battery Car
Rp10.000
Dragonfly airplane
Rp10.000
Fancy Animal
Rp10.000
Giring Ombak
Rp10.000
ATV Motorcycle
Rp10.000
Roller Coaster
Rp10.000
Swing Boat
Rp10.000
See: Street Food & Discover The Trace of Deutch Building in Jakarta Old Town.
Theather & Amusement Park Ticket
Likewise, not only the park is huge TMII also has the Snowbay waterpark. Bring a swimming cloth, try all the rides and get wet in the waterpark. Snowbay waterpark is open every day including on National Holiday. And opens from 09:00 am to 06:00 pm.
Taman Mini Indonesia Indah Snowbay Waterpark Ticket & Theather
Snowbay waterpark
Closed
IMAX Theather Keong Mas
Rp35.000 (Regular) / Rp50.000 (VIP/Balcony)
Keong Mas Legend Park
Rp30.000
Dinosaurs Adventure
Rp30.000
The Eye Legend
Rp20.000
Nirwata Kisar
Rp20.000
Pirate Boat
Rp15.000
Beos Train
Rp15.000
Ulat Selur
Rp15.000
Anak Tirta
Rp25.000
Aeromovel
Rp50.000
Cable Car
Rp50.000
Mini Train
Rp25.000
4 Dimension Theather
Rp20.000 Weekday / Rp25.000 Weekend
Skyworld
Rp80.000
Freshwater & Insect World
Rp35.000
Bird Park
Rp30.000
Komodo & Reptile Park
Rp25.000
Bicycle Rent
Rp15.000/hour (single) Rp25.000/hour (double)
See: Jakarta Cathedral & Museum, A Century & Neo-Gothic Roman Catholic Church.
Facilities
TMII is equipped well with facilities. Large parking lots accommodate hundreds of cars and buses. There are hotels inside the complex for visitors looking for a place to stay. Also, restaurants, gift shops, and even a bookstore are also available within the area. Toilets are available at almost every park and museum.
See: Jakarta Airport Guide & Public Transportation Tips.
How To Get To Taman Mini Indonesia Indah
From Soekarno Hatta International Airport, visitors could go to Taman Mini Indonesia Indah by rental car or taxi. While the journey takes 1 hour. Certainly, it does not include time wasted being trapped in Jakarta's horrendous traffic.  Using a taxi straight from the airport is also expensive.
Therefore, choose public transport instead. Use a Damri bus with the route from Soekarno Hatta Airport to Tamini Square. Visitors can find Damri busses near the airport's Terminal 3. From Tamini Square, make transit and hop on to a bus heading for the Taman Mini entrance. For a faster option, visitors can use a taxi service from Tamini Square to Taman Mini.
See: Prepaid SIM Card Tourists, Activation & Price.
Address & Location
TMII theme park is located in Area Tmii Jl. Taman Mini Indonesia Indah, Ceger, Cipayung, East Jakarta 13820.