Alas Harum Ubud
Entrance Fee: Rp50.000
Opening Hours: 08:00 - 19:00
Telp. Number: -
Address: Jl. Raya Tegallalang, Tegallalang, Tegallalang, Gianyar , Bali , Indonesia , 80561.
Located in the middle of a paddy field and coffee plantation, Alam Harum is of the most popular agrotourism sites in Ubud, Bali. Alas Harum Ubud offers a range of outdoor activities for tourists to try, from trekking, and zip lining, to the iconic Bali swing experience! This spot is the best place to see and experience Ubud everything all at once!
Alas Harum is located in the middle of a magnificent rice field. Tourists can stroll into these stacks of rice terraces and coffee plantations. Follow the well-built pathways and climb up some stairs to reach the top of the hill. There are some man-made caves for visitors to rest during the hike and take pictures.
On the fun side, see the process of Luwak Coffee making, a special coffee bean from Bali. There is a coffee-tasting session aftermath.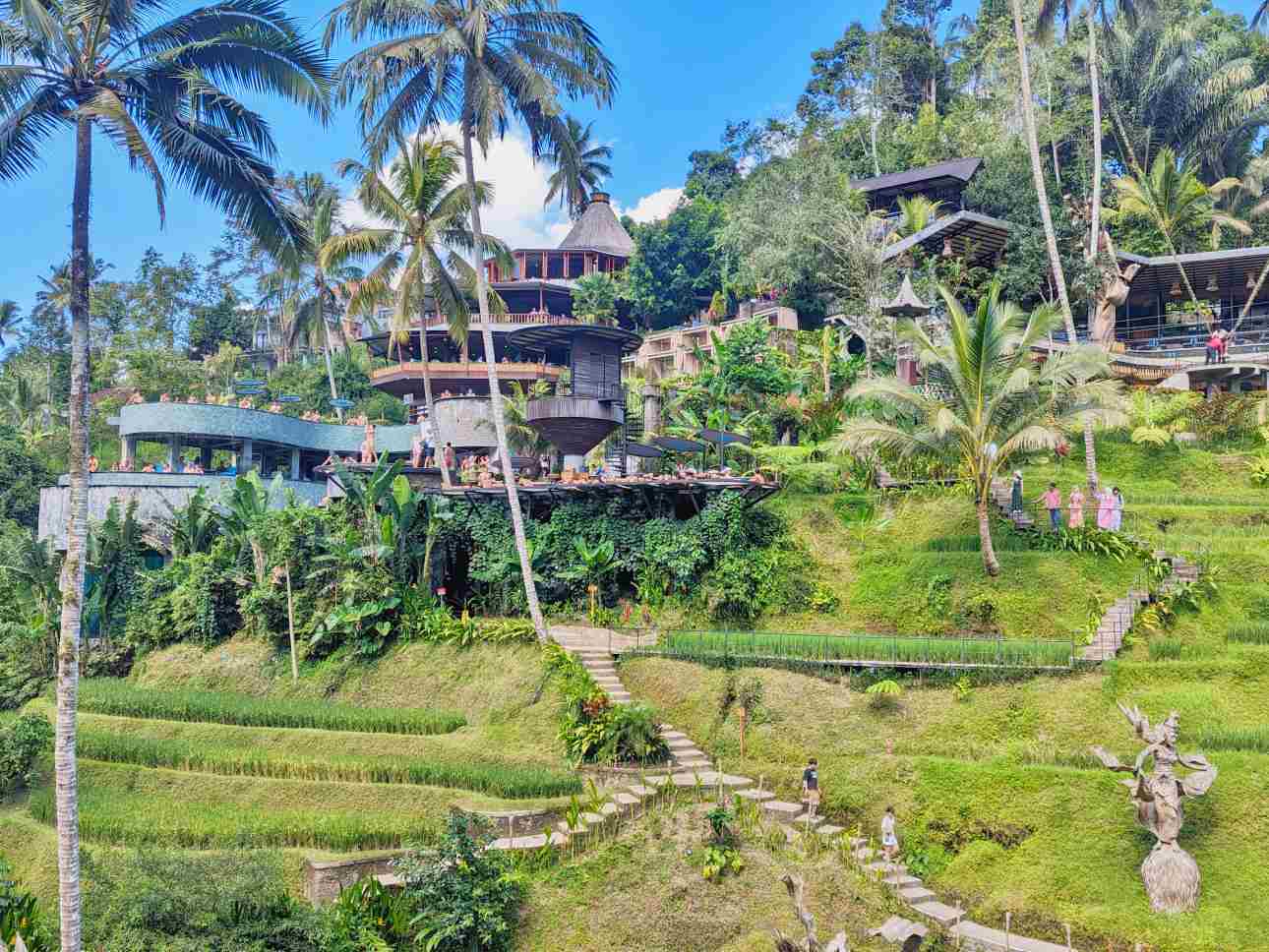 Alas Harum Entrance Fee
The entrance fee is Rp50,000 to explore the rice terrace, caves, and bridge in Alas Harum. The attractions like swing, zipline, and skybike have an age minimum. Alas Harum has a vast area with lots of stairs and might not be suitable for children and the elderly. There is also a restriction age of a minimum of 18 years old to swim in the tiered pool Cretya. In addition, there is also an entrance fee to swim in Cretya Ubud. The entrance is Rp50,000 the same as Alas Harum. To point out, there is also an additional charge of tax and service of 17,5 to 17,6% for all attractions and food and beverages in the Alas Harum restaurant.
Alas Harum Entrance Fee & Swing Ticket
Book Online Alas Harum & Extreme Swing Ticket
Rp50.000 – Rp171.000
Adults and Children > 3 years old
Rp50.000
Cretya Ubud
Extreme Swing
Rp175.000
Sky Bike
Rp225.000
Flying Fox
Rp325.000
Dress Rental
Rp150.000 – Rp250.000
Nearby: Tegalalang Rice Terrace Guide and Entrance Fee.
Alas Harum Opening Hours
Alas Harum is open every day from 8 AM to 7 PM while Cretya Ubud and Cretya Lite are open from 8 AM to 9 PM. It is best to come early to avoid crowds and heat. Since most of the attractions are outdoors, it is best to come during the dry season when the rain is unlikely to happen. During school holidays, the site can be very crowded as well.
Alas Harum Opening Hours
Every day
08:00 – 19:00
See: Guide To Explore Ubud Night Market.
Sky Walk and Zipline
This one might be terrifying for some, but get a chance to walk on a skywalk made of a see-through glass floor. Glass Flooring is one of the most favorite photo spots in Alas Harum. Get the thrilling sensation of looking straight down from 15 meters height! If the glass skywalk is not exciting enough, tourists can also take on a zip line here!
The zipline is about 300 meters long and carries the riders to glide above the magnificent rice field. The zipline is not too fast so there is time to enjoy all the panoramic scenes leisurely. It is relatively safe, even for children (minimum age 7 years old). To try the zipline, visitors need to pay about Rp325,000/person, insurance included.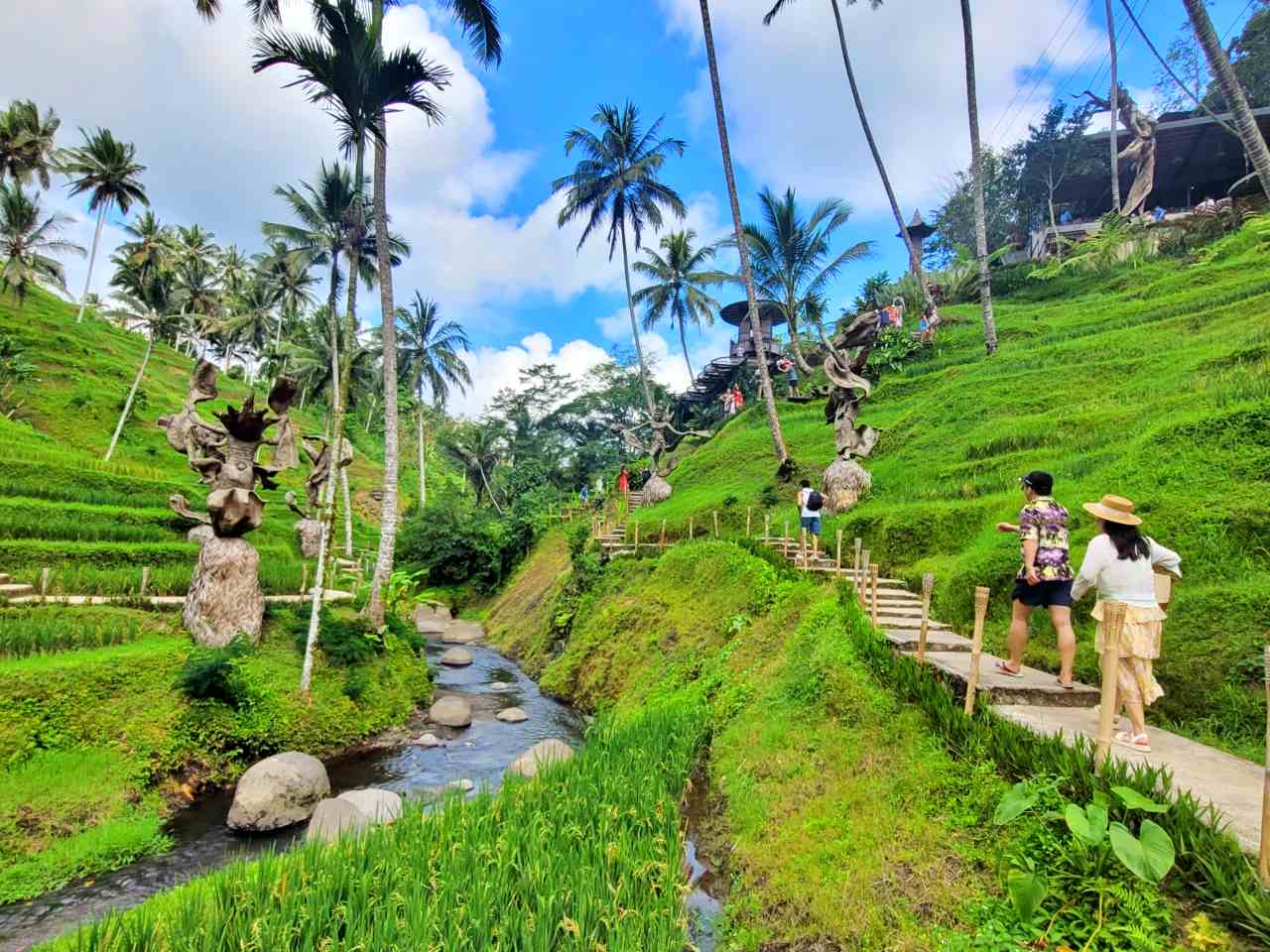 Riding A Bike in The Sky
Besides zip line, tourists can also ride a tandem bike in the sky! Not far from the zipline site, find a tandem bike that is attached to a cable 15 meters above the ground. It's only a one-way line, so the ride is going upward and backward only. Nevertheless, riding a bike in a line is a thrilling experience.
To try this attraction prepare Rp225.000 per person or Rp 325.000 per couple. The requirements to try a sky bike are 155cm minimum in height and 90kg maximum weight.
Iconic Bali Swing
The showstopper of Alas Harum is its iconic Bali swing! Many Alas Harum holiday photos are taken from this spot. The super swing is dangled about 28 meters above the ground, right on the edge of the hill. To try this attraction, visitors will have to wear full harnesses to ensure safety. Then, the staff will push the swing to soar to the sky!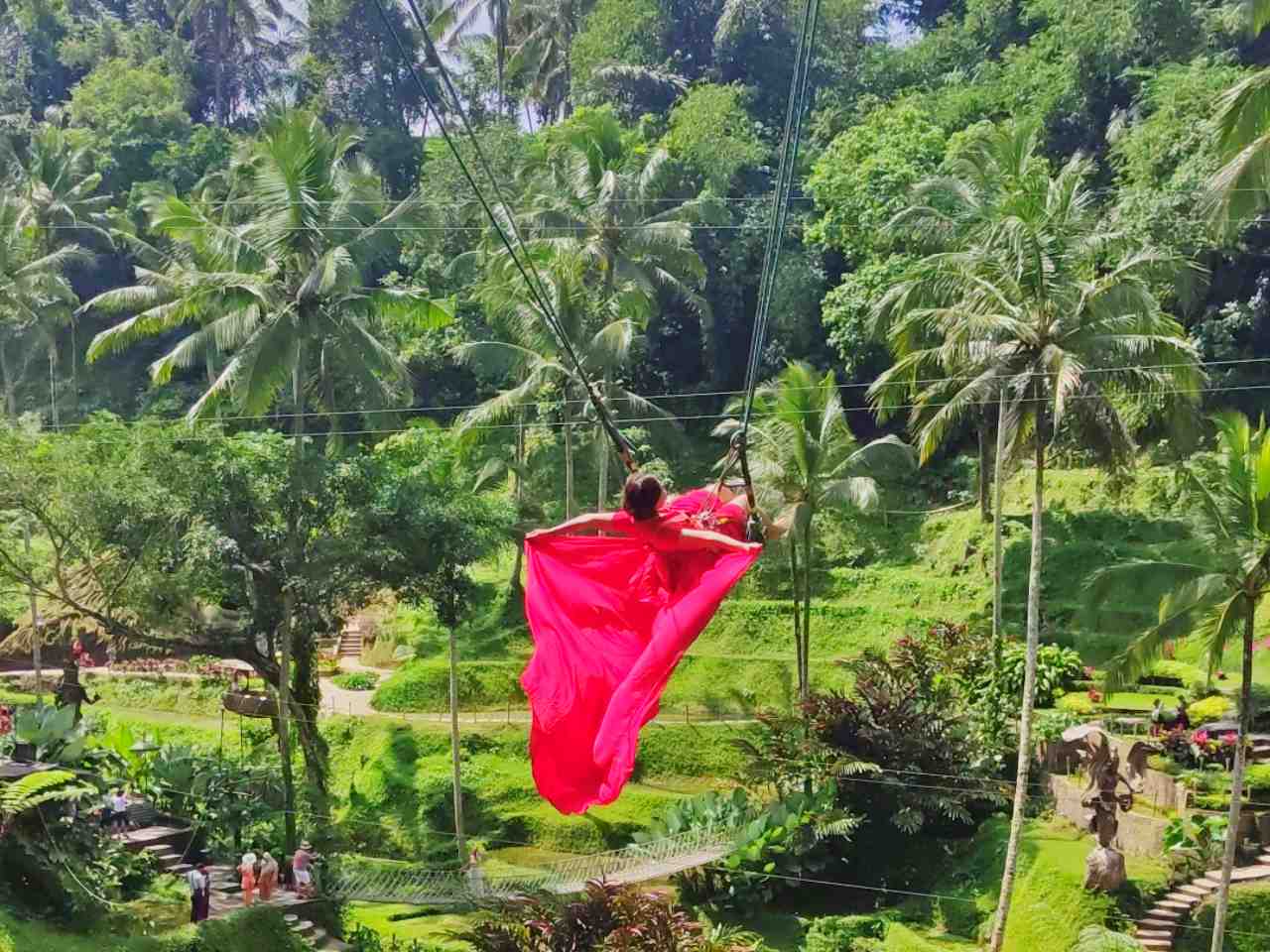 There are several swing attractions on site and all offer the same magnificent scenery. The 15 meters swing is perfect for visitors who'd like to experience Bali Swing for the first time. The ride is enough to feel that kind of adrenaline rush. And within 15 times push, the time is enough to capture beautiful photos and videos.
To make the photo shoot looks even more beautifully dramatic, rent and wear the long dress. There are many selections of beautiful dresses for rent on site for tourists to wear while dangling in the swing. To try the Bali Swing ride the price starts from Rp205,000 per person. There is also another giant swing set in the Cretya Lite area with decorated swings. The fee for this ride starts from Rp200k to Rp 325k for a couple.
Swimming on Tier Pools Cretya Ubud
After exploring the rice field and trying exciting rides, have some relaxation at Cretya Ubud Day Club. It has a three-tier infinity pool. The pool is impeccable, divided into three sections; upper, middle, and bottom, with some small tubs in the corners. Soak into the mirror-like water while gazing at the nature scenery from above.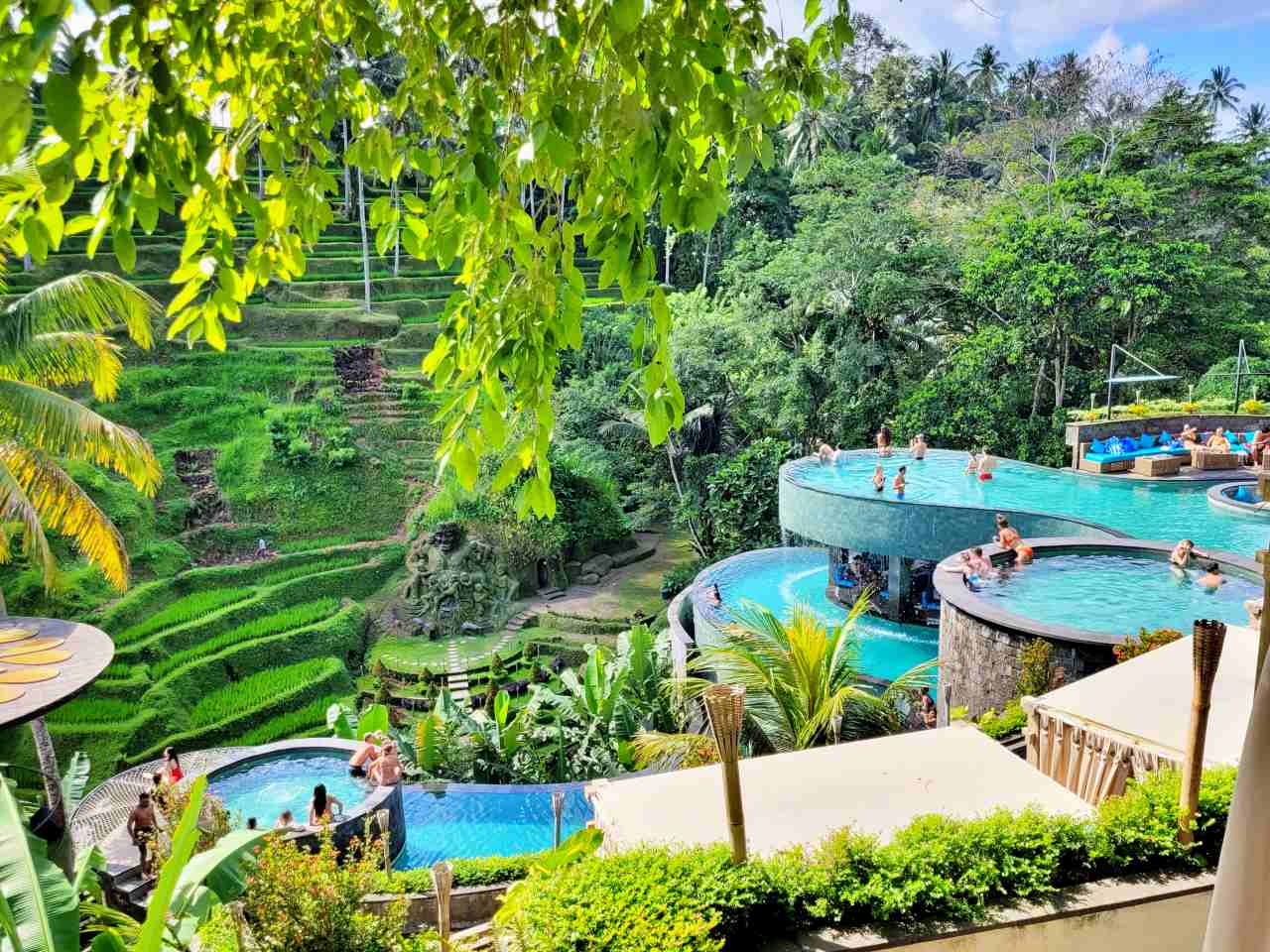 There are also a pool seating area and an exclusive lounge near the restaurant and bar. Tourists can order some food, snacks, and refreshment. This area, however, is only available for adults (18 years above) and requires a reservation in advance with minimum spending. The range starts from Rp500k to Rp2.500k for a 2 to 8-person capacity.
See: Guide To Explore Ubud Art Market.
Facilities
Visitors are not allowed to bring food and beverage from outside, but there is a restaurant with a decent menu and various food stalls inside. To get the uttermost experience and gorgeous photos, a long dress from adult to kids size is available to rent. The price starts from Rp125.000 to Rp175.000, for an 1-hour use. Pretty convenient, right? The place is very well-managed. Toilets and restrooms are easy to find everywhere in the area.
There is no ATM around the premises. However, all merchants, food stalls, restaurants, and the day club accept card payments.
See: Bali Airport Guide, Airport Transfer, and Transportation Guide.
How To Get To Alas Harum Ubud
Alas Harum is addressed in Jl Raya Tegallalang, Gianyar. It is 20 minutes away from Central Ubud. The route to reach Alas Harum is easy and accessible either by car or scooter. There is no public transportation heading there. So it's best to go with private vehicles for more flexibility.
The price for a small car rental is Rp300.000 and it's enough for 4 passengers. While for a scooter the price rent starts from Rp70.000 for a day. The other option is to book a ride-hail app like Gojek or Grab from Ubud Center. A scooter ride would cost around Rp25.000 for a one-way ride. While with a car it would cost around Rp80.000.
From Ubud Palace, Alas Harum is about 15 minutes ride to the north. Pura Tirta Empul is also nearby, only 20 minutes away by car from Alas Harum.
See: Tourist SIM Card Guide, Price and Where To Buy.
Address & Location
Alas Harum is located in Jl. Raya Tegallalang, Tegallalang, Gianyar, Bali 80561.