Tegalalang Rice Terrace
Entrance Fee: Rp5.000-Rp10.000
Opening Hours: 06:00 - 18:00 WITA
Telp. Number: -
Address: Jl. Raya Tegalalang, Tegalalang , Tegalalang , Gianyar, Bali, Indonesia , 80517.
On the route between Bali's popular Ubud and Kintamani road, lies slopes of rice paddies with a dramatic view. Known as Tegalalang Rice Terrace, it is considered one of the best rice terraces on the island. It lies in a valley in Ceking village, Tegalalang, not too far from Ubud.
These 61 square km of rice paddies are called Ceking Rice Terrace. In ancient times, the valley was originally an uninhabited area consisting mainly of wild grass. Begin from several centuries ago, it then been transformed into well-maintained rice fields. Line up neatly across the valley on a terrace formation.
Layers of green rice paddies, supported by a traditional irrigation Subak system. There is nowhere else people could get this spectacular scene. Especially that close to downtown. And that is why this is one of the top visit lists when visiting Bali.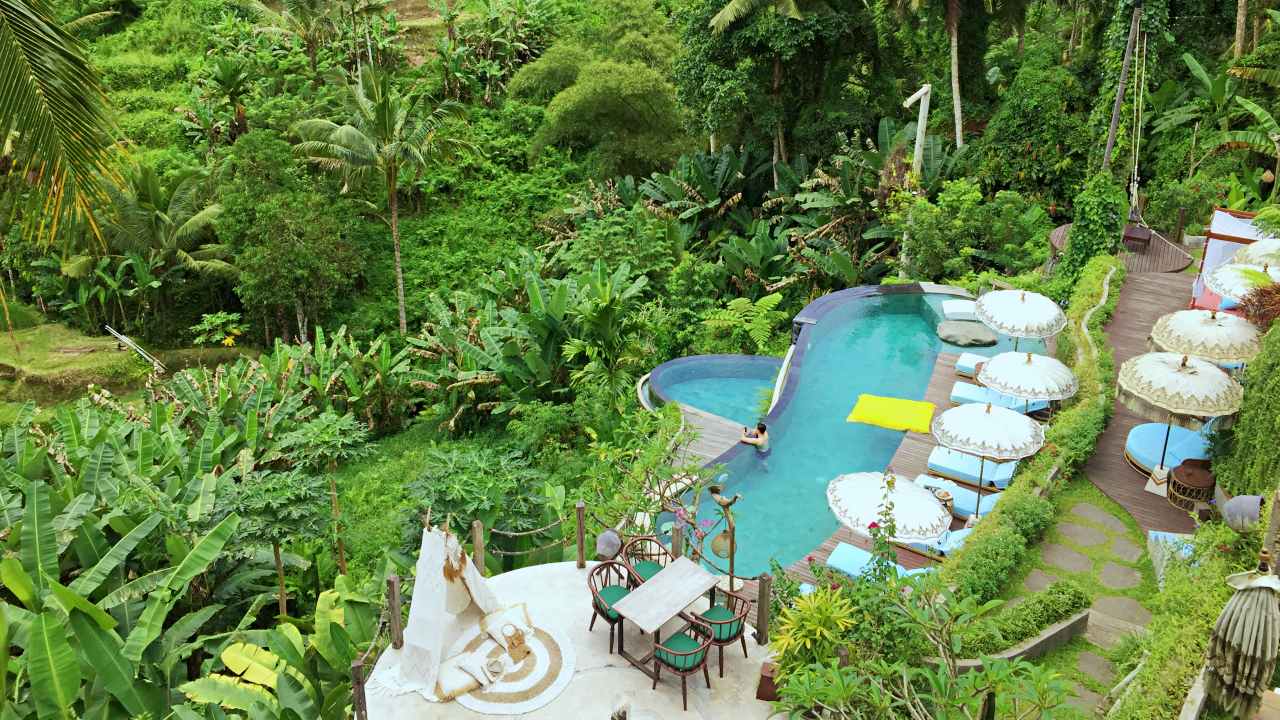 Tegalalang Rice Terrace Entrance Fee
Tourists intend to go to the rice terrace. Be aware that Tegalalang Rice Terrace does not belong to just one person. So prepare some small notes Rp5.000 – Rp10.000 for the entrance fee to get through certain parts. There will be people asking for a donation in several spots. And sometimes it will get too annoying, as some visitors reported.
Tegalalang Rice Terrace Entrance Fee
Foreign
Rp10.000
See: Guide To Explore Gunung Kawi Temple & Top Things To Do.
Tegalalang Rice Terrace Opening Hours
The best time to visit, temperature-wise would be early in the morning to avoid scorching heat and humidity at midday. It is also the best time to catch a glimpse of early sunshine. Visitors also recommended visiting Tegalalang Rice Terrace before harvest time when the plants its most green.
The scenery will also be no less beautiful in any other phase of rice farming. Whether it is during the soil-plowing, the seedling planting, or the harvest season. Each delivers its own interesting spectacle to observe.
Tegalalang Rice Terrace Opening Hours
Every day
06:00 – 18:00 WITA
See: Cycling in Panoramic Hill Campuhan Ridge Walk Ubud.
Rice Terrace Attraction
Tegalalang scenery is simply splendid. The green emerald rice plants as far as eyes can see, with coconut trees in between. The golden sun rays shine through the valley, touching gently the leaves on these seemingly endless slopes. It feels like being transported to another world. It's easy to get lost in nature here.
Visitors may also enjoy little details while walking through the little muddy path between each field. In some spots, people will encounter small temples with offerings. There are also "saung", little wooden gazebos built as a place for farmers to rest between work.
Take a break and sit in one of the gazeboes while enjoying the performance of birds and cicadas. Feel the cool breeze, take time, and immerse nature before moving on to other activities like taking pictures.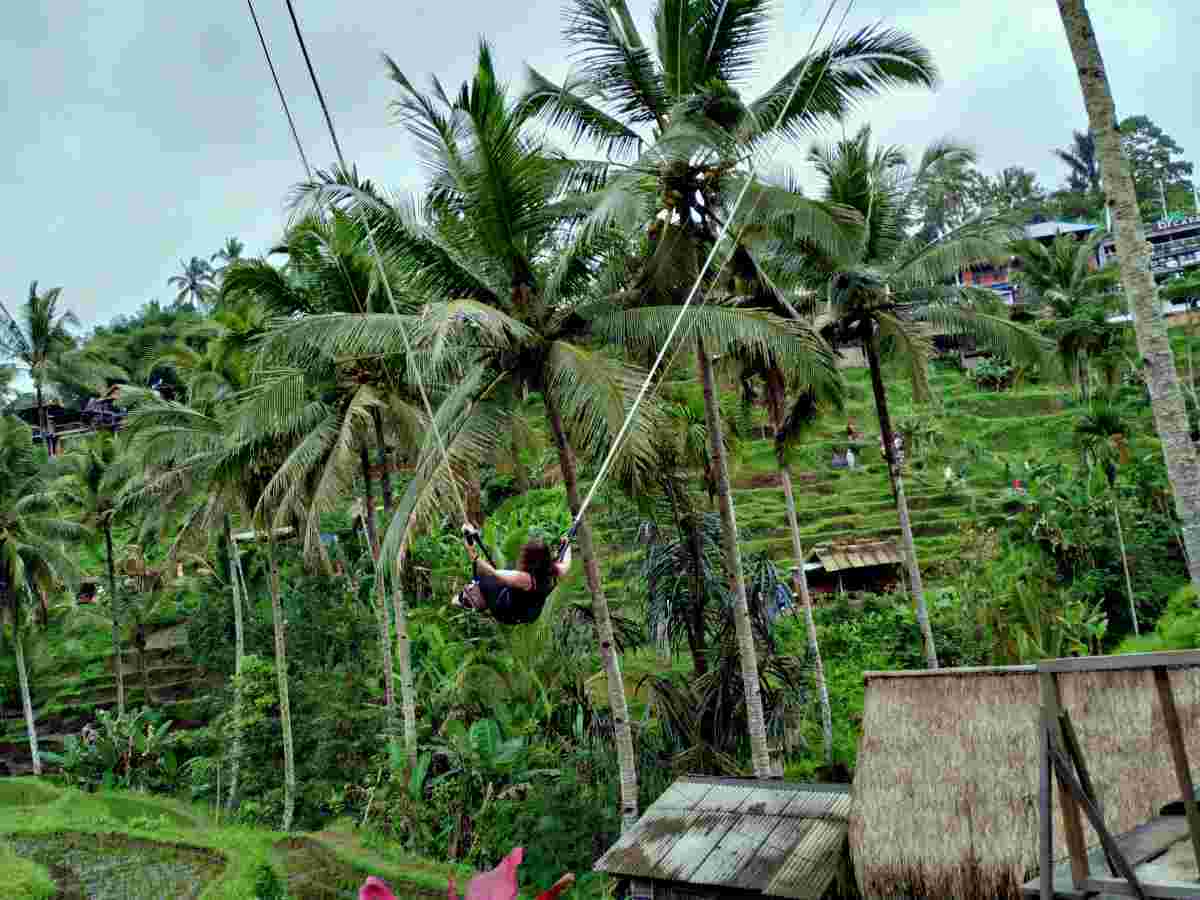 Locals' Farming Activities
Tegalalang Rice Terrace is an active and working farm. It means tourists will come across usual rice-farming activities happening every day here. It can be farmers plowing the wet field and preparing for the new seedlings. Or the farmers harvesting and transporting the recently harvested crops.
Whatever it is, indulge and observe these processes. It's a meaningful experience, a valuable lesson about hard work, a relationship with nature, and Bali's humble lifestyle. It is also an opportunity to learn on-site about the Subak system. As an irrigation system, it's incorporated into Bali's way of life beyond just the technical work of watering the fields.
It is a system created to harmonize this agrarian society together. People might not learn about Subak in detail during their first visit here. But talking with local farmers would at least give some insight into how this system applied to their lives daily.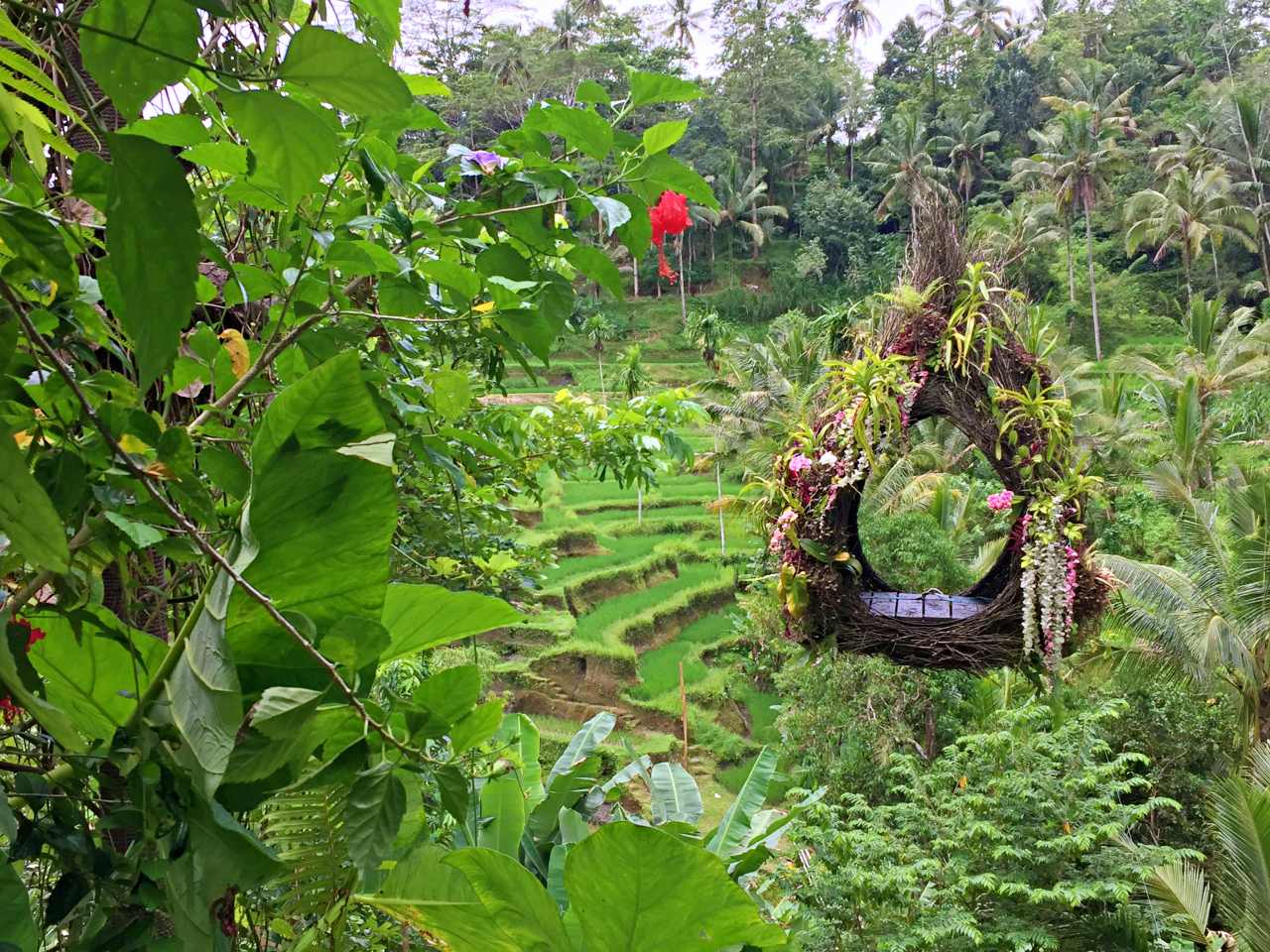 Pre-Wedding Spot
For locals, Tegalalang Rice Terrace is one of those perfect places to take pre-wedding photos. The vibrant green nature and heavenly atmosphere in this place are fit as a backdrop for such a once-in-a-lifetime occasion.
Now, it's becoming a trend among tourists to capture beautiful self-portraits among the green rice fields and then post them to social media. Why not participate? The locals seem to understand this trend as well. Several spots are now marked to help tourists to take pictures comfortably.
These spots have made choosing the best view or the perfect angle much easier. But don't be limited to these spots only, be creative and explore every possibility. Every corner of the rice terrace can provide a perfect vantage point to capture one's experience on Tegalalang.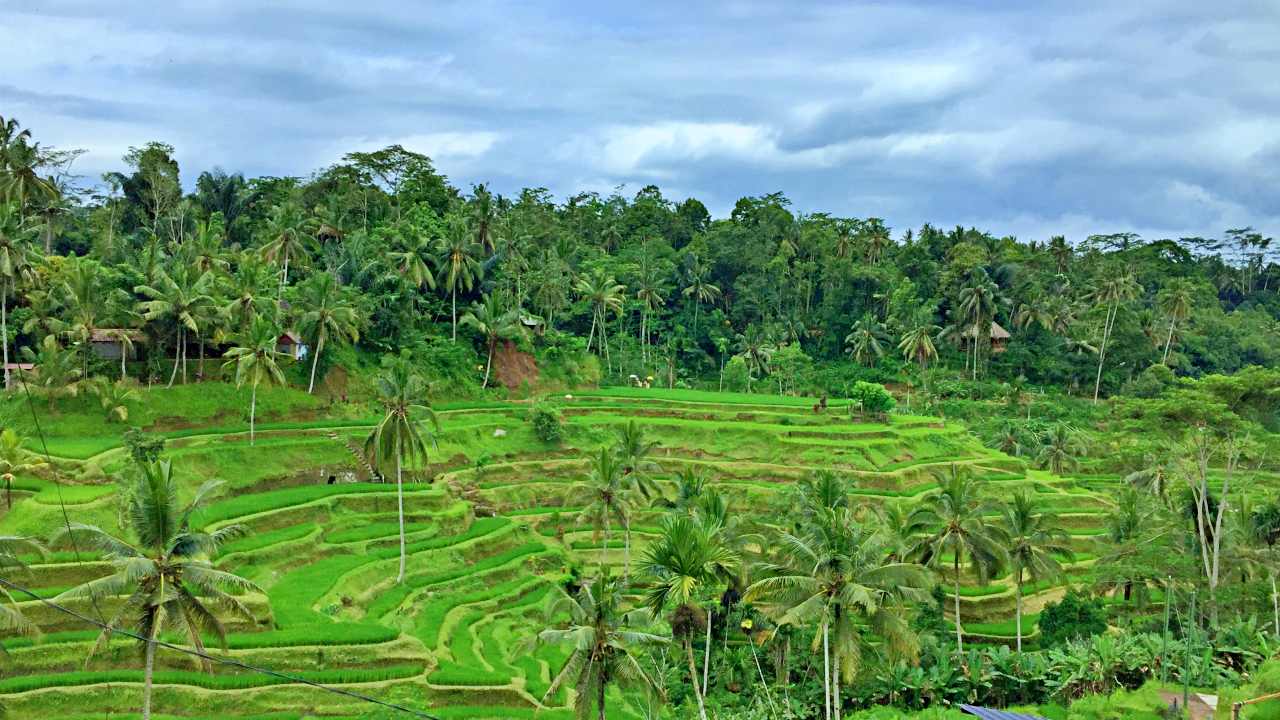 Endless Arrays Of Art Shops
Tegalalang district has a designated area for growing businesses in the field of arts and crafts. It has arrays of art shops extending up to 10 kilometers for tourists to explore. This area is the longest collection of art shops in the world. It is a perfect place for both art collectors and souvenir hunters.
Skilled craftsmen produce fine wooden carvings and sculptures resembling various animals or mythical figures related to Bali culture. Glass is also another popular material for making these sculptures. There are a variety of paintings from local artists and also bags, hats, and clothes. Make sure to bargain to get the best price here.
See: Ubud Art Market Guide & Top Souvenirs To Bring Home.
Dining Surrounded By Rice Fields
After hiking up and down exploring the rice terrace, nothing better than having lunch in some cozy restaurant and taking a rest. There are plenty of restaurants and cafes for visitors to dine surrounded by exceptional green scenery.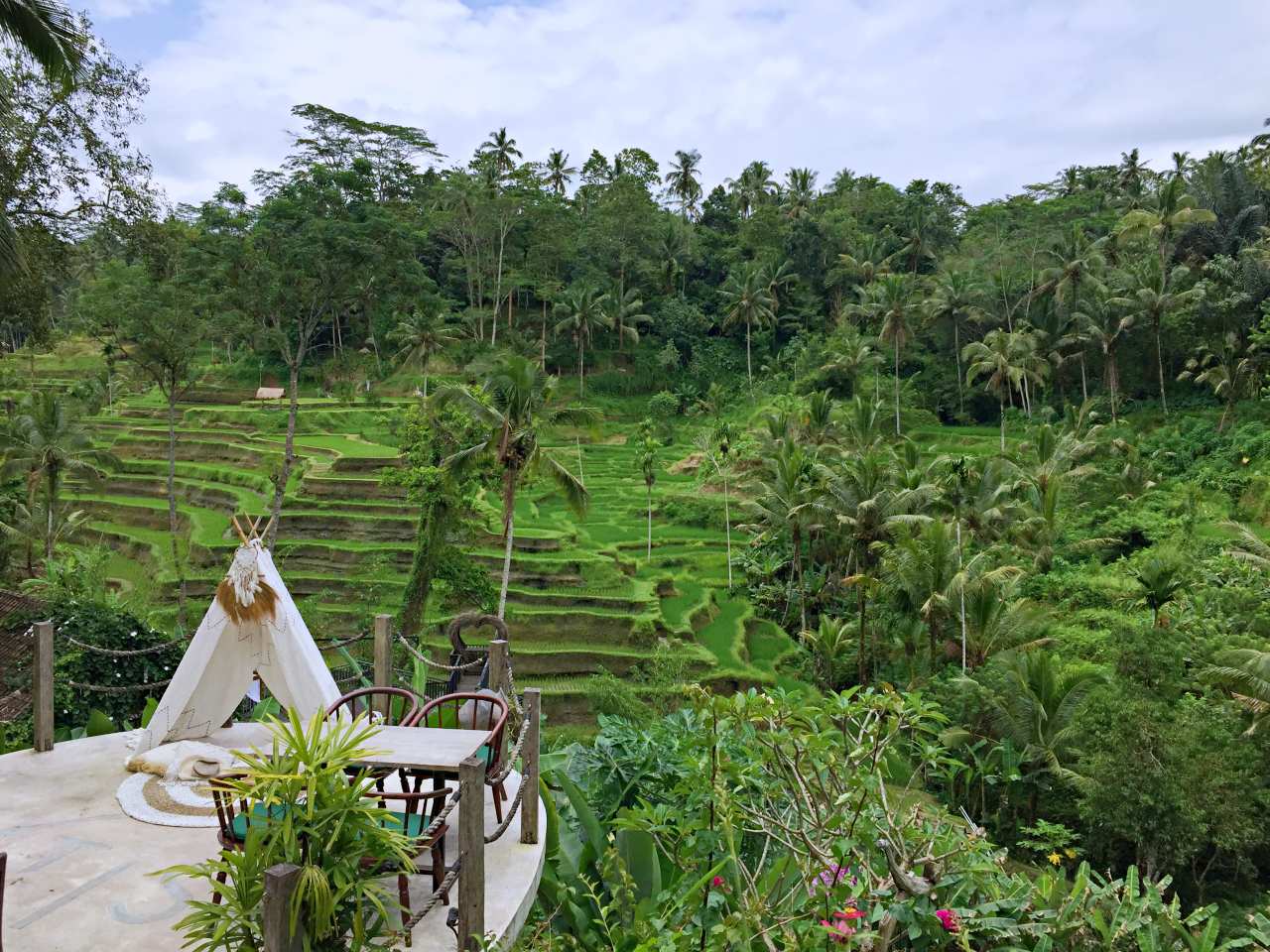 Sit and take a nice look over the green terrace while enjoying the various Bali cuisine these restaurants offer. Visitors also recommended trying the delicious cold young coconut drink, it is perfect to quench the thirst and replenish energy.
See: Guide To Explore Ubud Night Market & Street Food.
Facilities
Hotels and accommodations are plentiful downtown. Besides, it is just 20 minutes away from Central Ubud. There are plenty of villas nearby the area. However, it's quite a distance since the center is in Ubud.
However, it's perfect for tourists who don't want to be late catching sunrise in the morning. Parking space is available by the side of the road, regulated by locals.
Restaurants and cafes are scattered around Tegalalang Rice Terrace. It's also the best spot for people who don't intend to go to the muddy rice field.
See: Tourists SIM Card, Price & Where To Buy.
How To Get To Tegalalang Rice Terrace
Tegalalang rice terrace is easy to reach from Ubud. It's located just beside the road of Ubud-Kintamani. And it will take only 20 minutes. Like everywhere else in Bali, the transportation mode that dominates the tourism of that island is rental vehicles. Whether it's a car, scooter, or even bicycle.
Although the options are pretty much limited to that, don't worry since there are a lot of options from many rental services and the price is quite affordable. There are also taxis and motorcycle taxis for tourists who don't want to drive.
To get to Tegalalang Rice Terrace, tourists could also use ride-hailing apps such as Gojek or GoCar. It cost around Rp20.000 for a motorbike to Rp40.000 for a car with a passenger capacity of up to 4 people.
See: All About Bali Airport, Facilities & VAT Refund.
Address & Location
Tegalalang rice terrace location is 9 km away from Ubud Art Market. It's located in Jl. Raya Tegalalang, Tegalalang, Gianyar Regency, Bali 80561.