Campuhan Ridge Walk
Entrance Fee: Free Entry
Opening Hours: 24 Hours
Telp. Number: -
Address: Jl. Raya Campuan, Sayan , Ubud Kabupaten , Kabupaten Gianyar, Bali, Indonesia , 80571.
Ubud is not only a center of arts, traditional dances, or crafts. In the center, even the corner of Ubud has stunning natural landscapes. Let's go to Campuhan Ridge Walk for example. Campuhan is just 15 minutes walk from the busy Ubud Art Market. It offers a tranquility and flawless nature landscape.
If Tegalalang is famous for its rice terrace. Campuhan Ridge Walk's magnificent scenery lies in its verdant trees and valley view. This spot is located between two rivers and thus offers a natural scene. Trees cover the left and right sides of the hilly terrain.
Breezy fresh air, and a walking trail for everyone provided for free. And just at the entrance, Gunung Lebah temple makes the tour even more paradisiacal.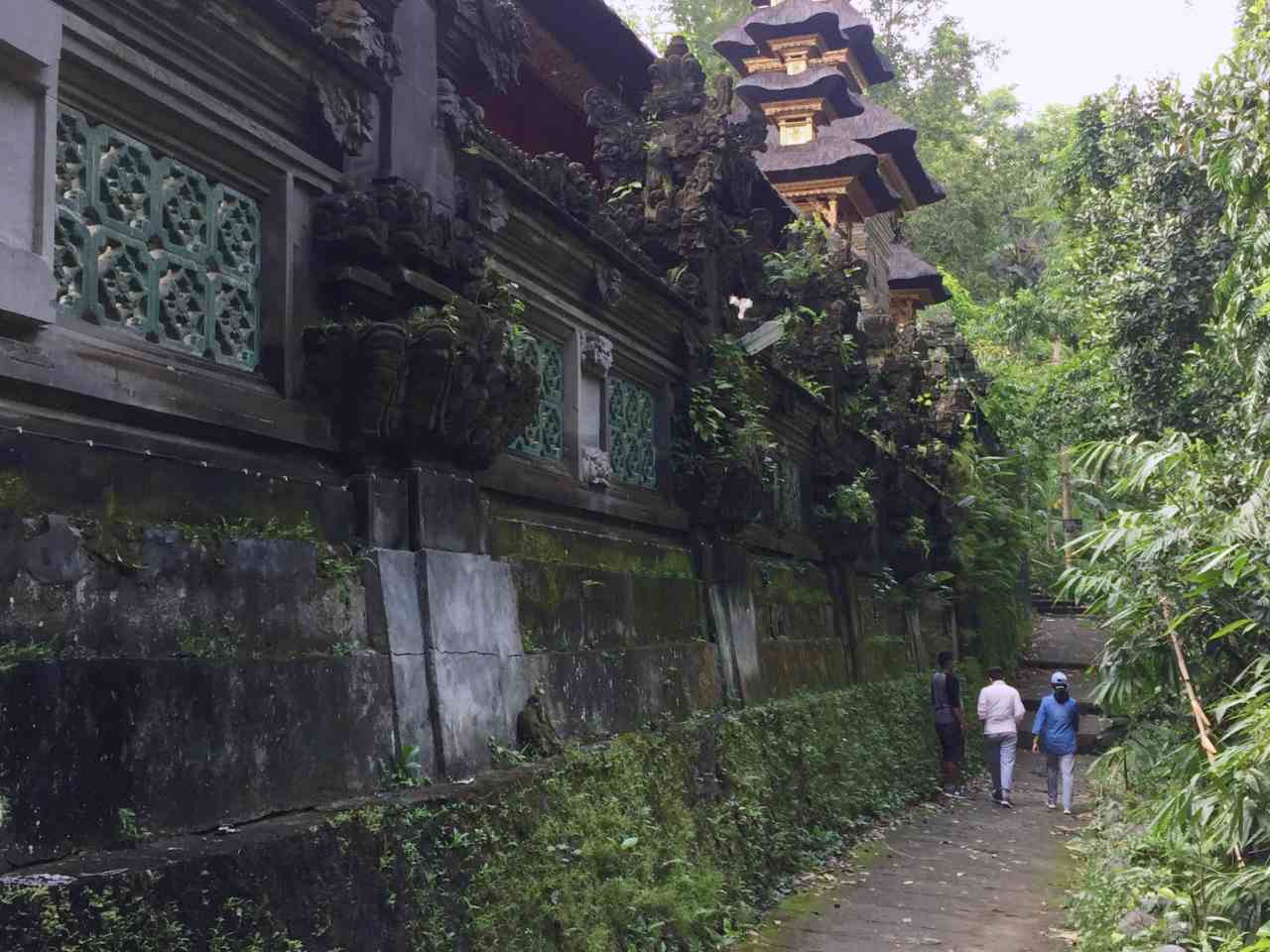 Campuhan Ridge Walk Entrance Fee
Tourists will not be charged entry tickets to access Campuhan Ridge Walk. However, tourists coming with a private vehicle will have to pay Rp2.000 for the scooter parking fee.
Campuhan Ridge Walk Entrance Fee
Ticket
Free
Read: Traditional Dance Performance in Peliatan Royal Palace.
Campuhan Ridge Walk Opening Hours
The access to Campuhan Ridge Walk is open 24 hours. However, after sunset, it's difficult to see the path. Accommodations are available but after the hill track. And before that, there is no light pole. The best time to visit Campuhan Ridge walk is in the morning walk after sunrise. And an evening walks before sunset around 4:30 to 5 PM.
Campuhan Ridge Walk Opening Hours
Everyday
24 Hours
See: Ubud Palace, Top Attractions & Dance Performance Ticket.
Campuhan Ridge Walk Top Activities
There are a lot of things why people keep coming back to this spot. And it's not just because of the gorgeous view. First, its location is very near the center of Ubud. It only takes a 10-minute walk from the tourist's staying area, Jl. Raya Ubud. The second reason it's not just tourists. Locals people including one with family like to take a short walk here, since it's a free spot.
Green Hill and Paddy Field
No one can deny the beauty of valleys and fields in Campuhan Ridge Walk. The green and yellow rice fields and trees has never been failed in alluring visitors. Campuhan Ridge Walk offers a gorgeous view of Ubud through the verdant hill.
There is nothing modern in this spot. It's all only nature, the little jungle with the river sound. The valley and the hill with nothing but vast greenery. And at the end of the journey, the view of the paddy field next to a small house and little cafe.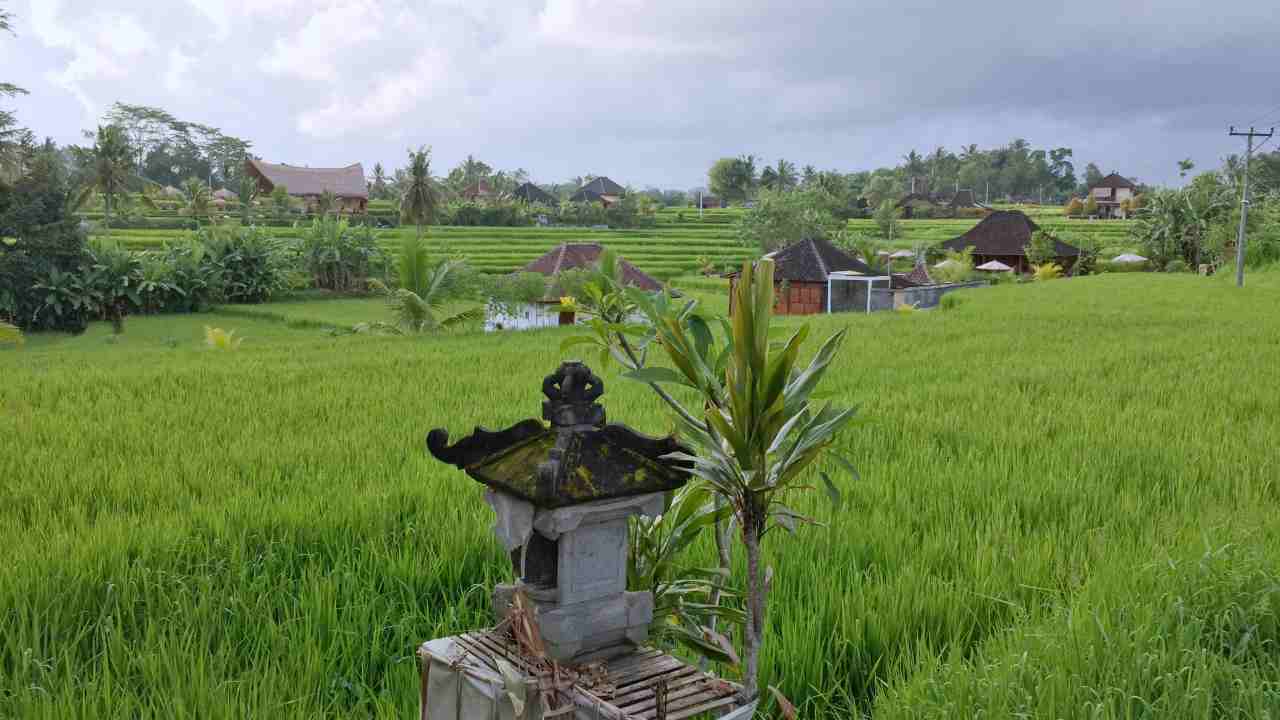 Gunung Lebah Temple
To point out, there is 2 entrance to Campuhan Ridge Walk. The first one, the south entrance is beside a hotel. Before the bridge, there are stairs going down to a temple called Gunung Lebah. The huge tree and shrubs here and there spark a little jungle vibe at the entrance.
The sounds of water flowing down the river next to Gunung Lebah temple makes this place look even more sacred. Unlike most temples in Ubud, Gunung Lebah temple doesn't accept tourists all the time. The 2 rivers down the temple were used by the locals for the cleansing ritual called Melukat.
Pura Gunung Lebah is a typical Balinese temple with statues and tiers of towers. The only difference is although the location is near the main road. Gunung Lebah was covered and half hid with big trees and the sound of the rivers. Thus giving a tranquility vibe for worshippers to pray in peace.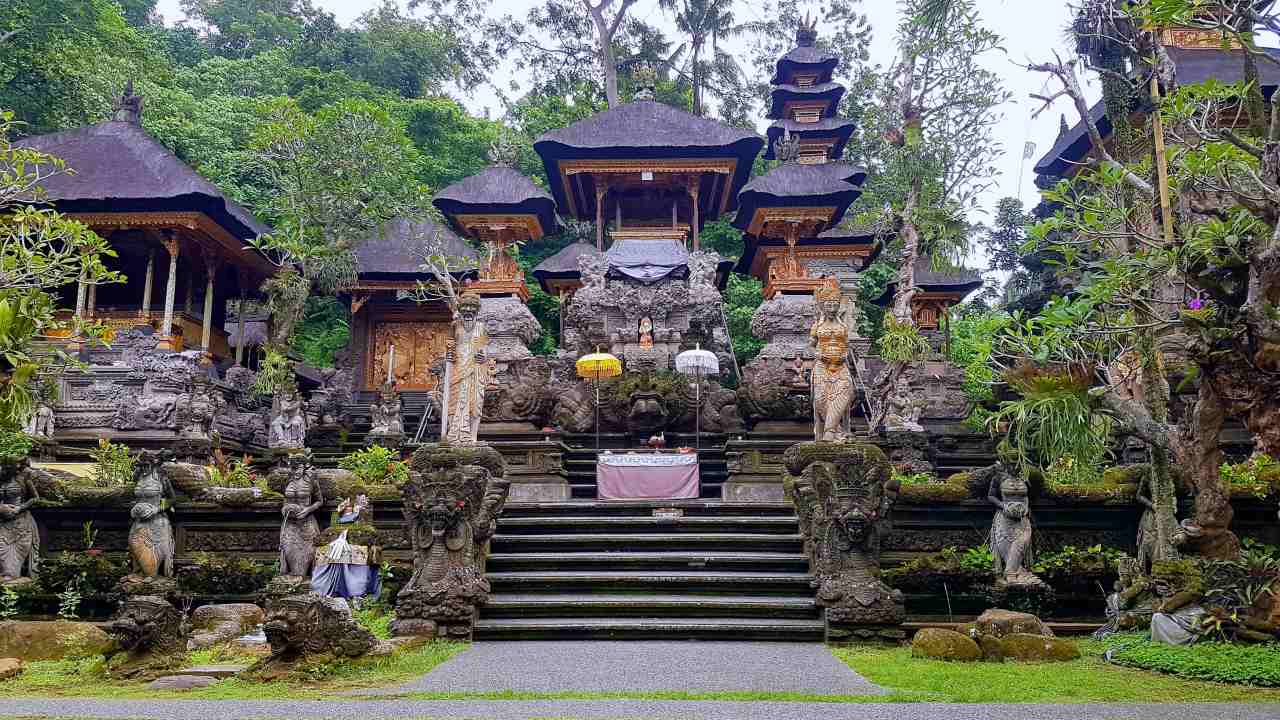 Jogging & Cycling
Another activity that attracts Campuhan visitors the most is jogging. Most sightseers will come early in the morning or before sunset. Even if Ubud is not necessarily hot. It's best to avoid going here in the afternoon. The locals and travelers have different visiting times.
Most travelers like to go for a morning jog and get breezy fresh air with a view. While the locals would prefer to go on before sunset. Some would even be going with a bike. The track is around 2 km with a 1.5 meters trail width. It's not necessarily hard, even locals like to go with their kids here.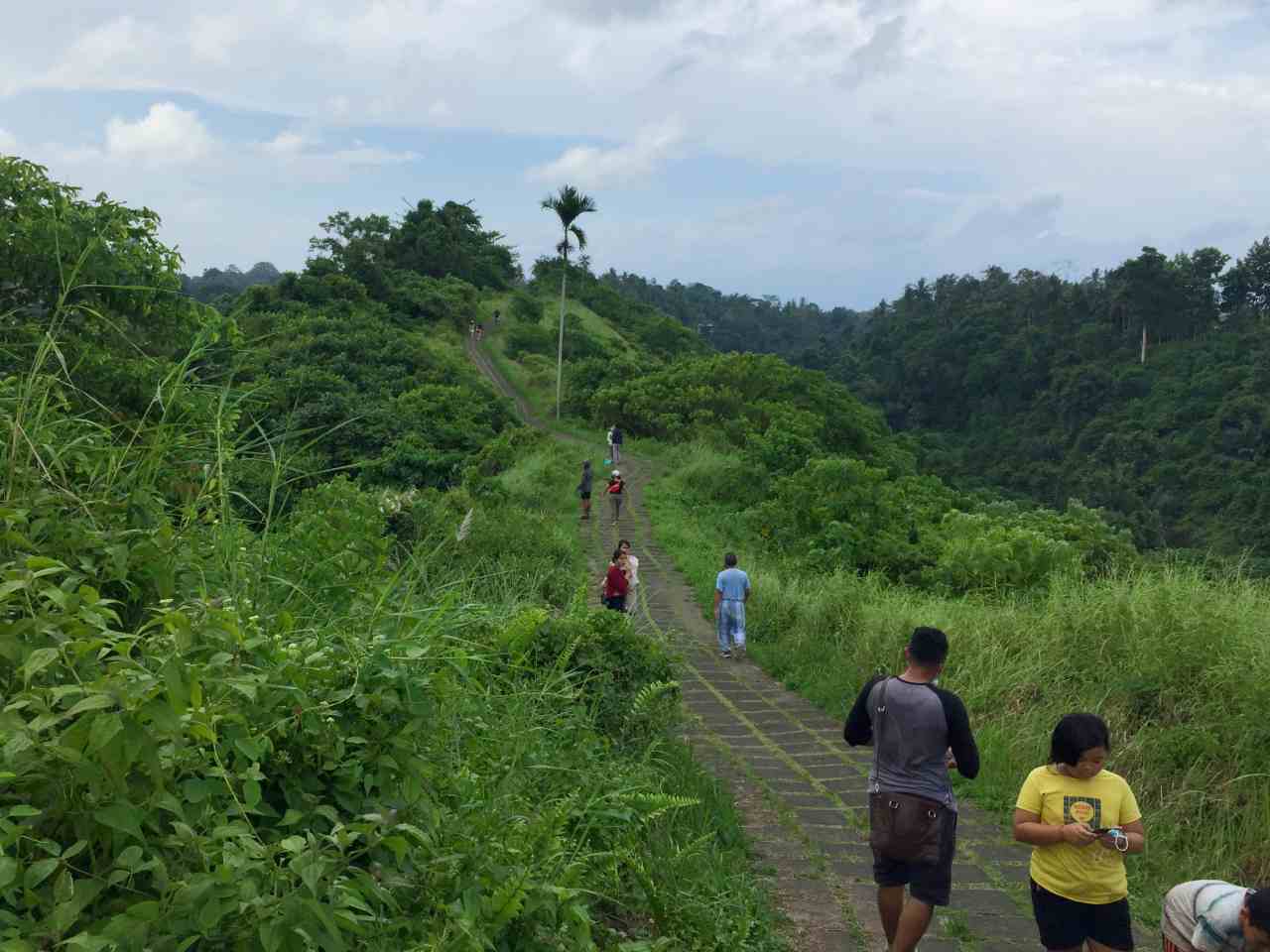 The only tricky part is when people come with vehicles. Instead of leaving at a different entrance. People coming with vehicles will have to go back for another 2 km from where they started.
See: Street Food in Ubud Night Market.
Photography
On account of its beautiful panorama, Campuhan Ridge Walk is a perfect photo spot too. Many visitors come to this place to capture glorious pictures for personal and professional purposes. The neat and green scenery of fields and jungle make this spot check the list. Even the locals like to take pre-wedding photoshoots here.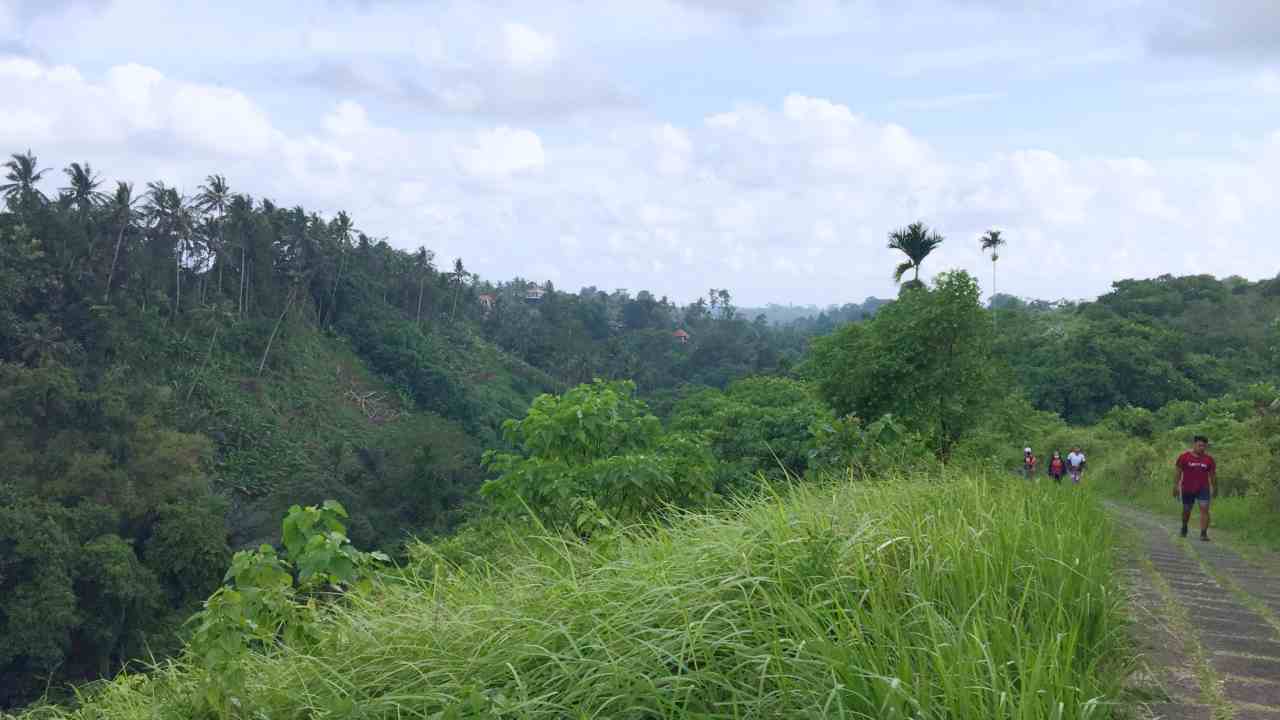 Dine In Overlooking Paddy Field
There is no doubt that every spot in Ubud sparks a pure nature vibe. And here in Campuhan Hill is no exception. After 1 km pass the hilly path with a vast greenery panorama. There are plenty of cafes and restaurants tourists could choose to take a stop and relax.
The choice of beverages is plenty, from coffee to cold beer. Others looking for healthier beverages could order juice or fresh coconut water instead. Some cafes and restaurants even have a breakfast menu that starts from Rp30.000 to Rp50.000 ($2 to $5). And the perk is the dine-in area overlooking a paddy field.
See: Guide To Explore Ubud Art Market.
Facilities
Basic facilities such as toilets are available only in restaurants and cafes nearby. Small food vendors selling water, coconut water, and snack are available after the hill track. Accommodations from small guest houses to luxury villas are available near the premises.
Tourists coming without a vehicle could easily order a ride-hail app at the end of the track. And wait and sit back in the cafe.
See: Bali Airport, Public Transportation & Airport Transfer.
How to Get To Campuhan Ridge Walk
Although the entrance to Campuhan ridge walk track is located behind a building. This spot is easy to reach. From Ubud Art Market or Ubud Palace head northwest toward Monkey Forest Street.
Continue onto Campuhan Street and watch for the Ibah Hotel sign on the right side. Follow the hotel sign and turn left to the parking area.
See: Prepaid SIM Card for Tourists, Price & How To Register.
Address & Location
The hill and ridge walk is located in Jl. Raya Campuhan, Sayan, Ubud, Gianyar, Bali 80571.