Sidemen Valley
Entrance Fee: Free Entry
Opening Hours: Open 24 Hours
Telp. Number: -
Address: -, Sidemen , Sidemen , Karangasem , Bali , Indonesia , 80864.
Sidemen Valley is dubbed as the latest hidden tourists spot in Bali. It is a paradise for those who want to immerse in nature. This hidden gem of east Bali has a splendid natural panorama. Offering a range of terrains, from the mountain to rivers, and ricefield. There is no time to waste in Sidemen Valley!
Besides the scenery, the Sidemen Valley neighborhood represents the real and authentic Balinese life in the countryside. That is absolutely different from the vibe that the South part of the island offers. With Mount Agung in the background, Sidemen Valley has a serene and magical atmosphere that surely cannot be missed.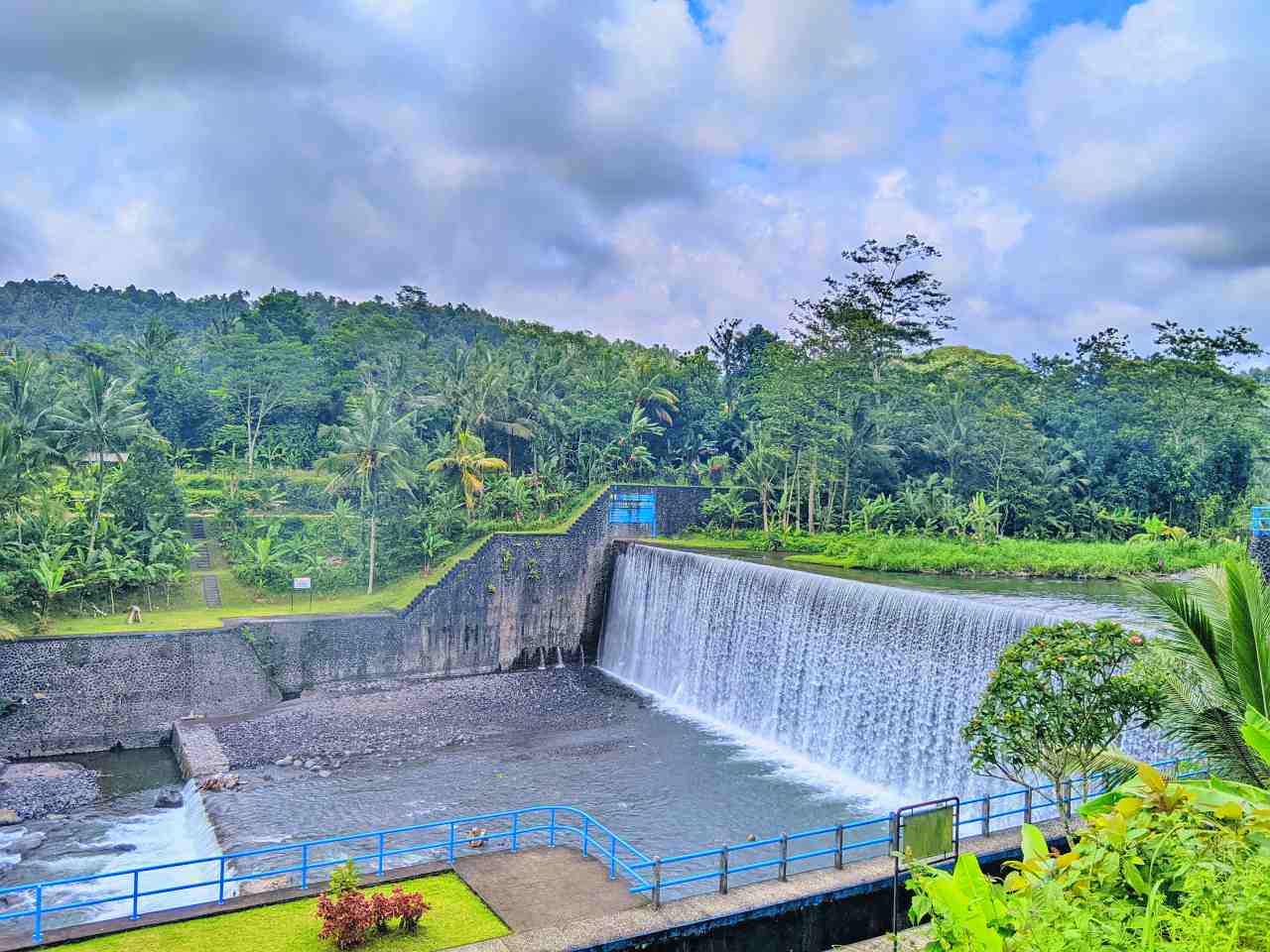 Sidemen Valley Entrance Fee
There is no entrance fee to explore the Sidemen Valley area. However, some attractions charge donations or entrance fees such as trekking on the rice terrace.
Sidemen Valley Entrance Fee
Ticket
Free Entry
See: Gembleng Waterfall Entrance Fee & Top Things To Do.
Sidemen Valley Opening Hours
The authentic Sidemen village welcomes visitors every day throughout the year except on Nyepi. Where the entire island is shut down and people are not allowed to go out. The best time to be here in Sidemen Valley is during the dry season between May to October.
Sidemen Valley Opening Hours
Every day except on Nyepi
Open 24 Hours
See: Guide To Explore Virgin Beach Candidasa and Entrance Ticket.
Ricefield Trekking
Trekking through the ricefield and walking through the river stream is something worth trying while visiting Sidemen Valley. For the best experience, it's best to book ahead with a tour guide. The walking tour can take up to about 3 hours long to the locals' rice terrace.
What makes Bali rice fields special is their complex irrigation system, also known as Subak. The rice terrace here is divided into several tiers. The water from the uphill spring flows equally to every part of the field, before finally reaching back to the river downstream. The tiers create a remarkable structure for the paddy field.
Besides the aesthetic, Subak holds the philosophy of Balinese religion, people, and nature. Hence, it is one of the most essential parts of Bali. Tourists will also get to experience walking through other plantation fields such as tomatoes, chili peppers, and cabbages. The price for trekking with a tour guide varies, depending on the route and duration. It usually starts from Rp100.000/hour for 2 people.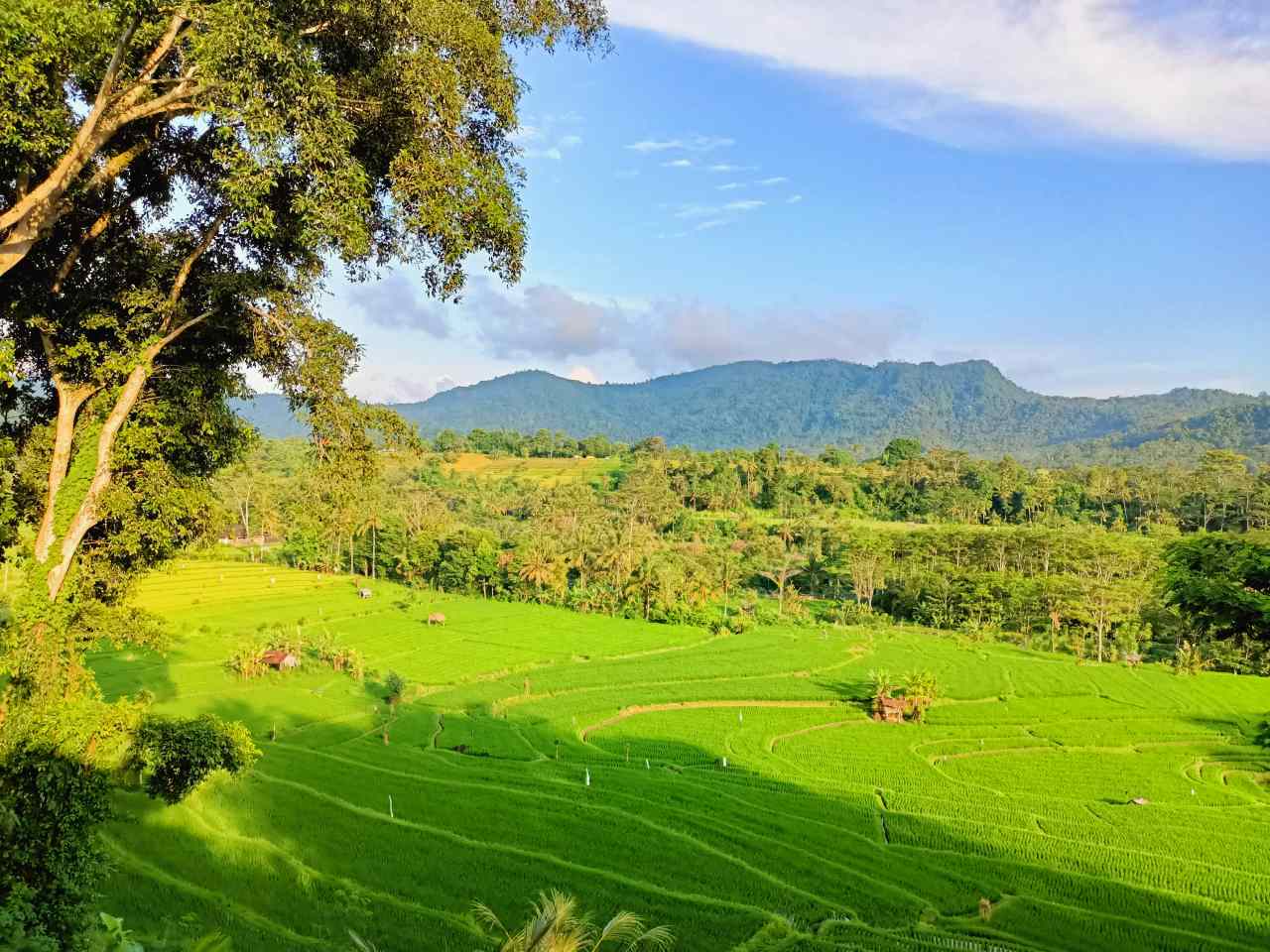 Mount Batur Sunrise
If trekking is not challenging enough, try hiking Mount Batur! Mount Batur distance is 50 km away from Sidemen Valley. It would take almost 2 hours ride to get to the slope of Mt Batur. Almost the same distance as departing from Ubud.
Besides Mount Agung, Mount Batur is considered a sacred mountain too in Bali. Although the height is only 1.717 m, the sunrise here in Mount Batur is quite popular among hikers. It would take at least 2 hours to summit. And for sunrise hunters, it's best to start at 3 AM from the slope. The path to the summit is steep and rocky.
And the trail to Mount Batur is considered moderate. It's challenging for beginners and would require a certain fitness level. And for some reason including safety, tourists are not allowed to hike Mount Batur without a local guide.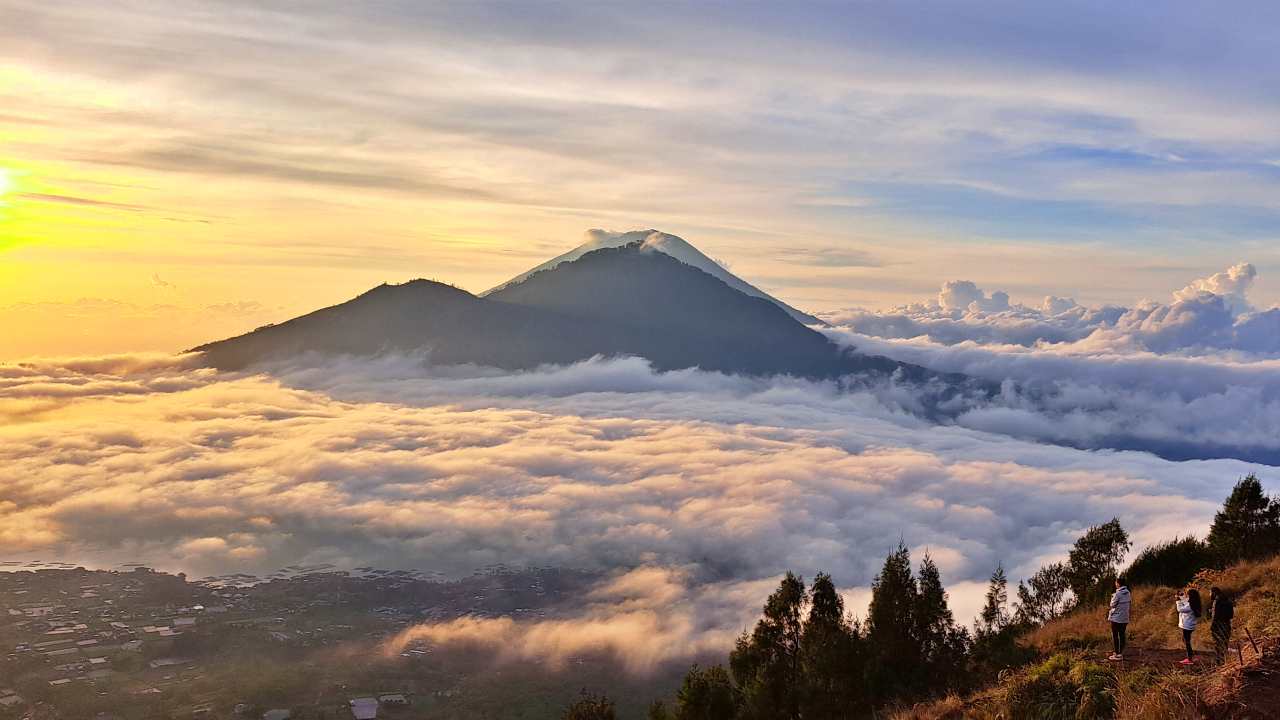 As an active volcanic mountain, hikers will find a range of terrain and vegetation, from lush forests to rocky hills. The summit is an exotic volcanic crater overlooking Lake Batur in the valley. Mount Batur is definitely one of the best places to watch the sunrise. What a splendid view to start the day!
See: Mount Batur Sunrise, Trekking, And Guide.
Waterfall in Sidemen
If Mount Batur requires an effort to watch the sunrise, it doesn't apply to Gembleng Waterfall. As one of the popular waterfall sites is Sidemen, Gembleng Waterfall has a different panorama to offer. The waterfall is located on the side of a hill. And visitors would need to climb up to reach the waterfall. However, it's just a short walk from the parking space.
Gembleng Waterfall has natural plunge pools for tourists to soak in. The water is crystal clear and the pools are surrounded by tropical vegetation. Enjoy a good relaxing bath in the natural pools, while adoring the glorious view of Sidemen Valley.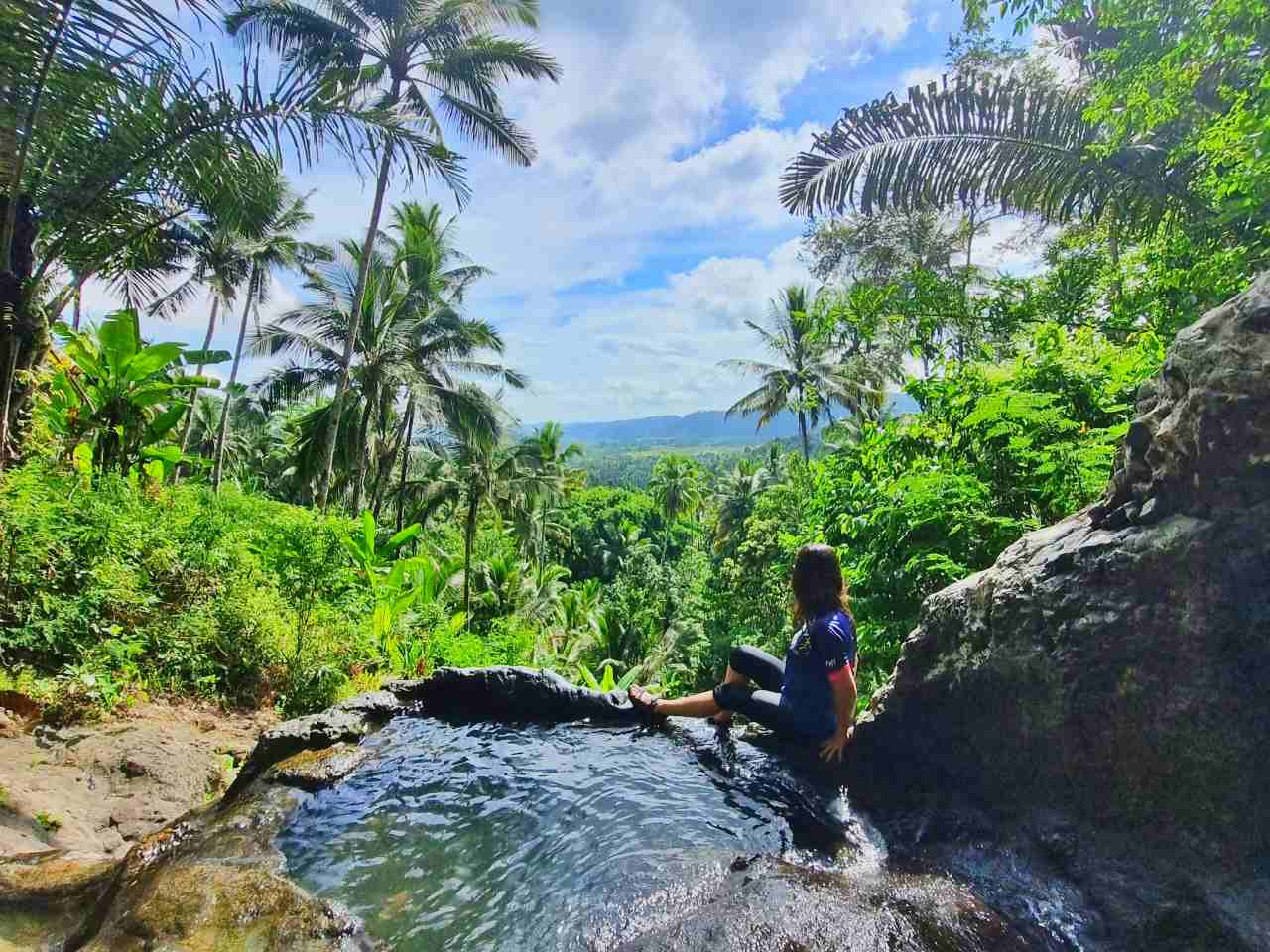 Rafting
For another adventurous activity, try rafting in Sidemen. Many rivers are crossing this area. One of the most popular is Telaga Waja River rafting. Telaga Waja River has a clear and thrilling water flow, it's best for rafting activities even for beginners. The rafting trip would take about 3 hours to half a day with a break session in the middle.
The rate for rafting in Sidemen ranges from Rp300.000 to Rp 500.000. It depends on the duration and distance. But most operators have included lunch on their rafting package. Don't worry, it is worth every penny!
See: Gate of Heaven Lempuyang Temple Complete Guide and Entrance Ticket.
Songket Weavers
Besides its nature, Sidemen is also known for its Songket tradition. Some of the villagers in Sidemen are crafting Songket, a traditional fabric from Bali. When walking through a village in Sidemen, it is common to find Songket weavers. Sidemen Songket has various patterns that are made from gold and silver. Sidemen Songket used to be associated with traditional rituals. But as time goes on, it is used for a wider public purpose.
See: SIM Card for Tourists, Price & Where To Buy.
Water Palace
For another option, tourists can also visit Tirtagangga Palace, which is one of the famous sites in Karangasem. It only takes about 45 minutes away from Sidemen Valley. Tirtagangga Palace is a heritage water palace with a scenic panorama. The water spring of Tirtagangga has an important role for the Balinese, especially for ceremony purposes.
Nowadays, Tirtagangga Palace is one of the most favorite holiday spots, especially for family trips. There is a beautiful garden to explore, a large pond filled with koi fish, and a water pool with a fountain.
Read More: Tirtagangga Palace, Entrance Ticket & Top Things To Do.
How To Get To Sidemen Valley
Sidemen is located in the east of the island. From Sanur, start from Jl. Bypass Ngurah Rai to Jl Prof Ida Bagus Mantra. Take the first exit onto Jl Gunaksa, to the Bukit Belong tourist attraction. Star on the main road to find plenty of other tourist sites from Tukad Unda Waterfall and Gembleng Waterfall, Sidemen Rivers, and many more.
It is recommended to bring a vehicle for better flexibility. Tourists can rent a car for Rp600.000 – Rp800.000 which includes a driver for 10-hour use. Or a scooter for Rp70.000. However, most of the tour packages offer a good deal by including a pick-up facility from the visitor's hotel.
See: Bali Airport, Airport Transfer & Public Transportation Guide.
Address & Location
Sidemen Valley is located in Sidemen village, Karangasem, Bali 80864.