Virgin Beach Candidasa
Entrance Fee: Rp15.000
Opening Hours: Open 24 Hours
Telp. Number: -
Address: Jl. Raya Bukit Asah , Bugbug, Karangasem , Karangasem, Bali , Indonesia, 80851.
Virgin Beach is the prominent countryside escape that lies on the east side of Bali. It offers the best scenery of a white sand beach with the great ambiance of a tranquil rural setting. This destination is located underneath the hilly landscape of Bugbug village Karangasem.
It just takes around 16 minutes away from the tourist-staying area Candidasa. Virgin Beach is surrounded by picturesque palm trees and greenery vegetation. It has stunning turquoise blue water and medium waves so people still can swim. There are several beach retreats to do in this place. From taking a snooze on the cozy beach chair to experiencing foot massage therapy.
Next to Virgin beach, there is a spacious campsite that faces the ocean. It is the local's favorite place to arrange events or gatherings. The breathtaking views of sunrise are the best highlight of this beach as well.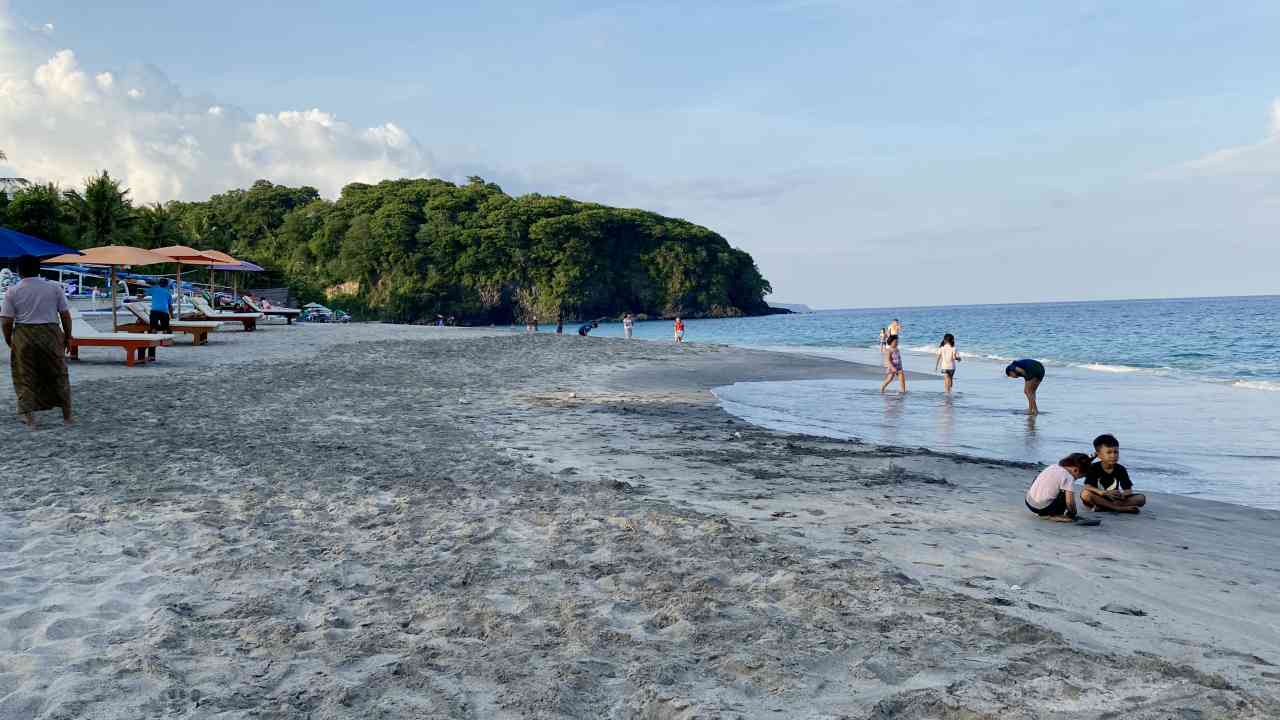 Virgin Beach Entrance Fee
There actually 2 access from the different villages to get to the beach. The first one is through Perasi village. And the second one is through Bugbug village passing Bukit Asah campsite. Access from Bugbug village is the most convenient one. Tourists don't need to climb down steep stairs to get to the beach.
The entrance ticket from Bugbug village is Rp15.000. There is no additional charge for a parking ticket. The ticket counter is located before the camping ground.
Virgin Beach Candidasa Entrance Fee
Ticket
Rp15.000
Nearby: Taman Ujung Water Palace Guide & Top Things To Do.
Virgin Beach Opening Hours
Just like other public destinations in Bali, Virgin beach is open 24 hours every day. Situated in the rural east, this beach is rarely crowded. Therefore it's the perfect place for relaxation and healing. It is better to leave this place before the dark because at some spots there is no street light.
Virgin Beach Opening Hours
Every day except Nyepi
Open 24 Hours
See: Tirtagangga Waterpalace Guide & Tickets.
Virgin Beach Local Massage
There will be some local who offers massage service under sun bed. The price is individually varied which is around $6. But, the best advice is to make a good deal upfront.
The wellness option at Virgin Beach is a great option to ease soreness from a long journey. It is one of the best reflexology experiences to relish paired with gentle winds from the ocean.
Sunbathing
Unlike the beaches located in the south which often flocked with many tourists. Virgin Beach is more peaceful and quiet with medium tides most of the time. That is why this beach is a family-friendly destination to swim and enjoy some beach activities. Towels are available for rent for just around Rp5.000 in a nearby warung.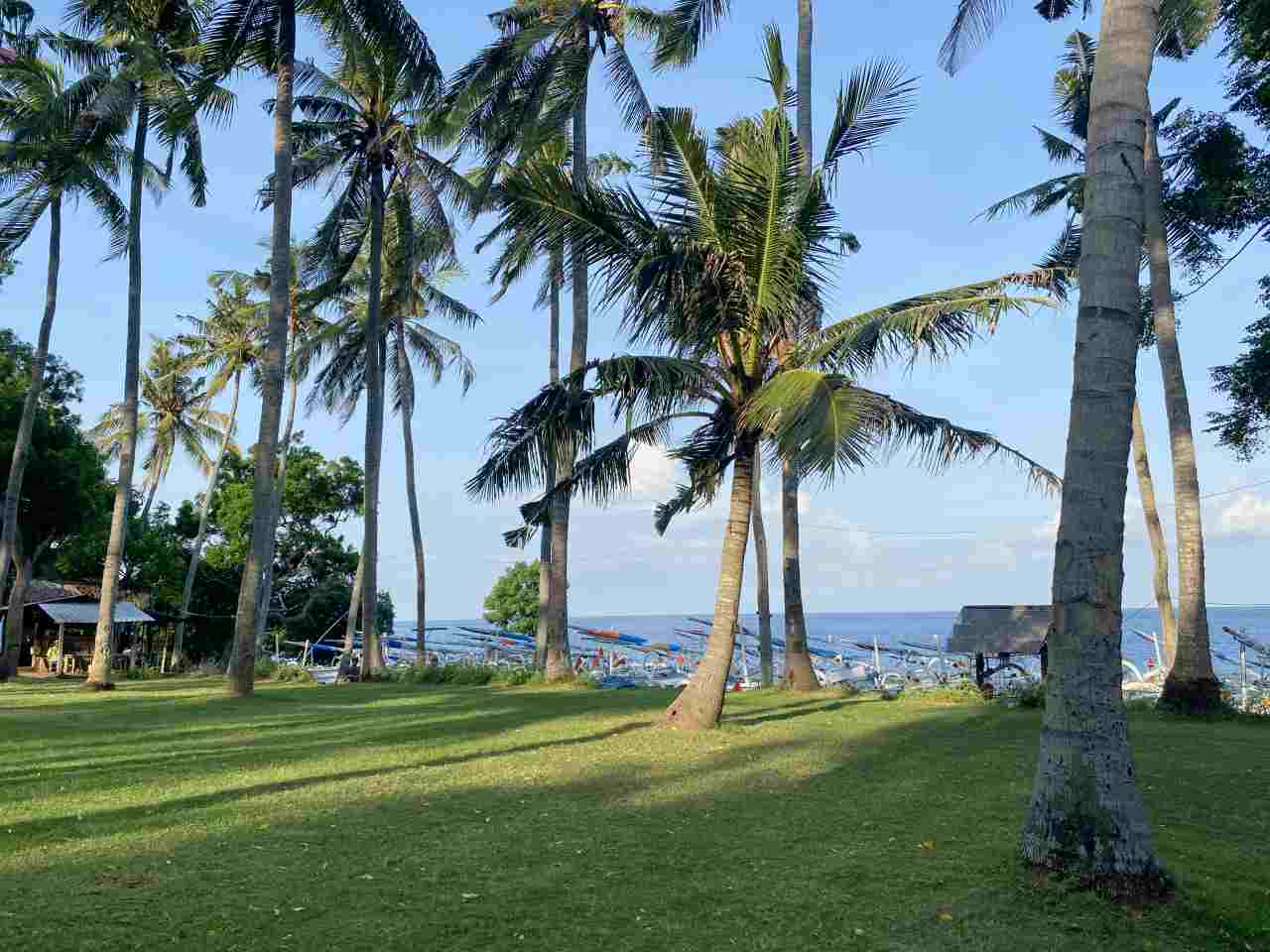 Showers are free to use afterward. Otherwise, sunbathing, playing sand, or flying kites by the beach side will bring so much joy to the kids. There is nothing better than lying on the beach lounge and taking a short nap or reading books. Renting sunbed prices is varied around Rp50.000. The best tip is to buy some food at the warung to get a lower price of renting a bed beach.
Foods & Souvenirs
Hawkers around will offer handmade souvenirs like bracelets, necklaces, keychains, and dream catchers. This is a good opportunity for anyone who likes to practice bargaining skills. Other than that, several food vendors are lining the beachfront.
It serves seafood with delectable local seasoning and choices of sambal including comfort food like meatballs and instant noodles. The choice is not limited to local food. Some warung offers western dishes as well. Cold beer and fresh coconut water are available too.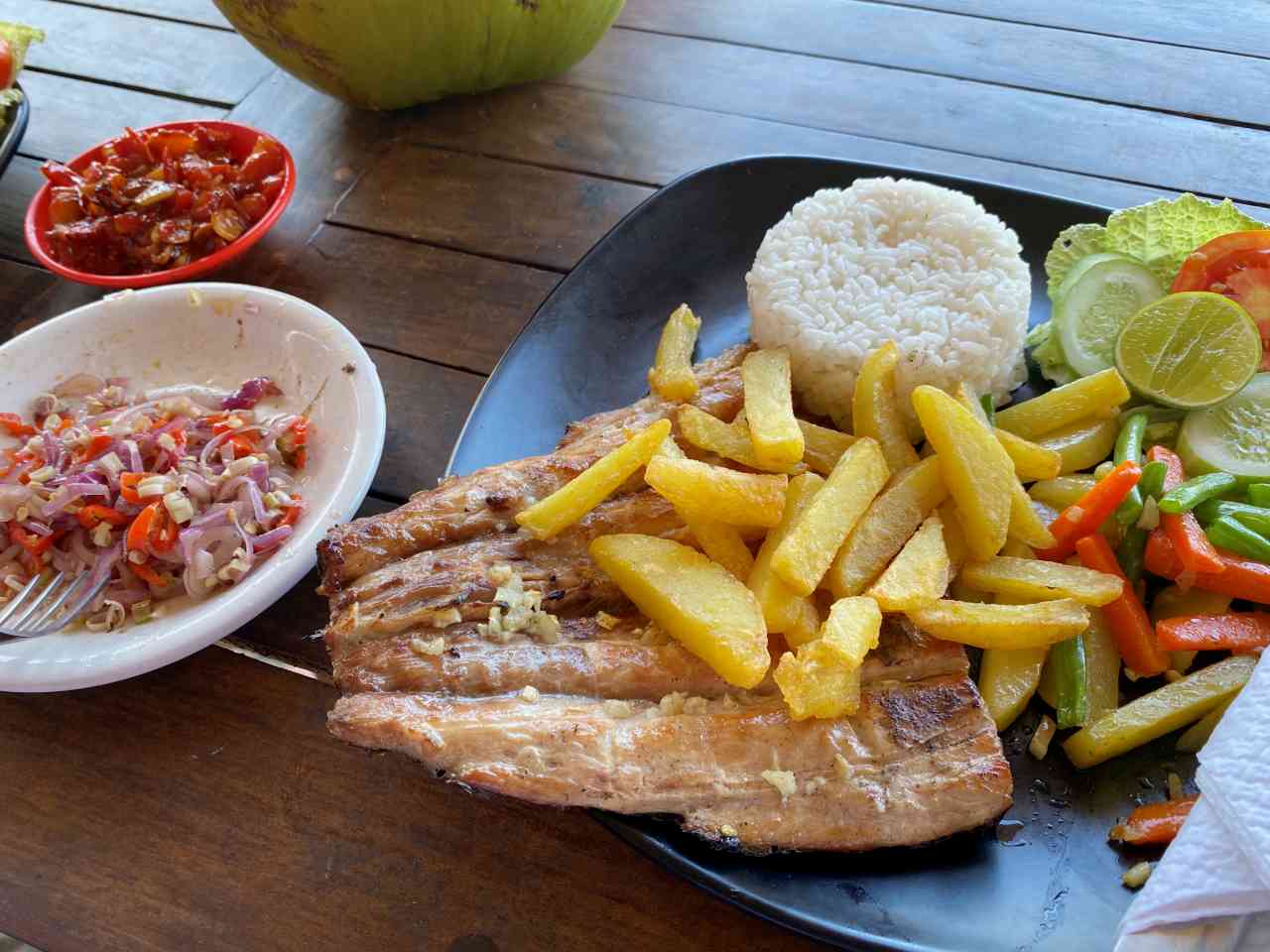 Bukit Asah Cliffside and Camp Site
Next to the virgin beach is Bukit Asah Bug Bug Cliffside beach and camping ground. It has a scenic small rock island in the middle of vibrant blue sea water. Entry tickets just cost Rp10.000 per person. This place is popular as a camping site among locals.
The best feature of the campsite is waking up in the morning overlooking the picturesque sunrise. For people who wish to stay overnight at Bukit Asah BugBug, there is a rental place for camping equipment. A tent with a mattress that fits 4 people will cost Rp300.000. And with the same capacity but without a mattress is Rp150.000.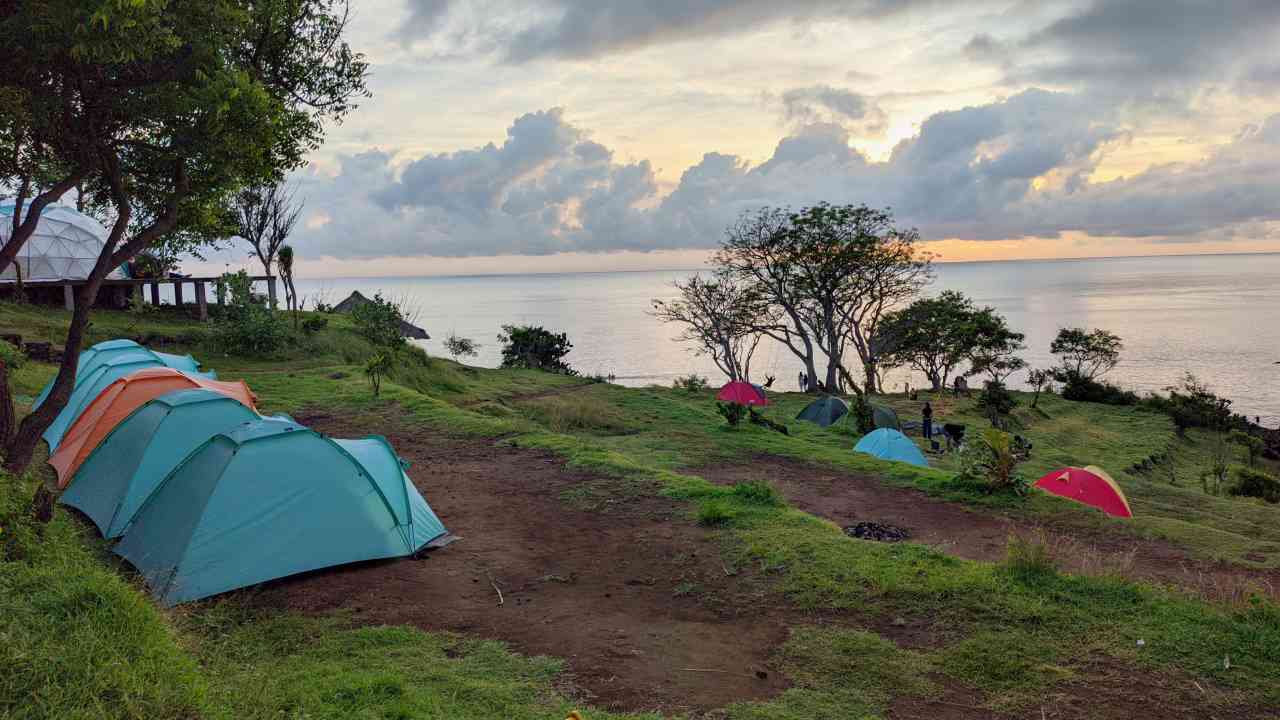 And for campers who bring their own tent, there is a Rp20.000 charge per person. There are toilets, food vendors, and a power supply. Firewood is also available for sale at Rp20.000 price point. For campers who don't bring enough food supply, don't worry. There are 24-hour food stalls that sell food, beverage, and even snacks.
See: Besakih Temple Attractions & Guide To Explore.
Facilities
There are toilets, food vendors, and a wide parking area. Locals warung that offers a beach chair with an umbrella for a fee. The humble beachfront restaurants mainly offer a western menu and fresh grilled fish. And sometimes by ordering in the warung, customers could get a cheaper price for renting the sunbeds.
A camping site is available on the hill just above the beach. As well as a rental for tents and other camping equipment. There is no ATM machine in Bukit Asah and virgin beach. So prepare cash to pay.
See: Tourists SIM Card, Price & How To Top Up Credit.
How To Get To Virgin Beach Candidasa
Virgin Beach is located in Karangasem, the east part of Bali. Reaching this destination is quite accessible and will take around 2 hours from Denpasar. Once arrived in Jln Raya Bugbug, travelers have to turn right to Bukit Asah Street. It will certainly pass through a hilly road for another ten minutes.
From Candidasa, tourists staying area only takes 20 minutes to get to the beach. There is no public transportation heading to the beach right now. Alternatively, renting a car or scooter is much more favorable. Renting a scooter will cost around Rp60.000 and a car with six passenger capacity will cost Rp800.000.
See: Bali Airport Guide, Airport Transfer & Public Transportation.
Address & Location
Virgin beach is located in Jl. Raya Bukit Asah Desa Adat Bugbug, Karangasem district, Karangasem, Bali 80851.