Taman Ujung Water Palace Entrance Fee: Rp50.000 Opening Hours: 07:00 - 19:00 WITA Telp. Number: - Address: Jl. Raya Taman, Tumbu , Karangasem , Karangasem , Bali, Indonesia, 80811.
Taman Ujung Water Palace or also known as Soekasada Park once was a former Karangasem palace. The water palace lies on 10 acres of land, within a walking distance of Ujung beach. And it has the best panoramic scenery with Mount Agung as background.
The palace has been around for more than 100 years. And unlike most palaces in Bali, it has a unique design. If most palaces display Balinese characteristics with their traditional carving and statue. Taman Ujung Water Palace mix Balinese, Chinese, and Dutch-style architecture in their building.
Taman Ujung Water Palace has gone through remodeling in 1909 to buried its dark history. Back then there is just one pond that was believed to have magic forces. And it gave justice to people that's been accused of betraying the king. The pond knows the guilty one and killed the betrayer.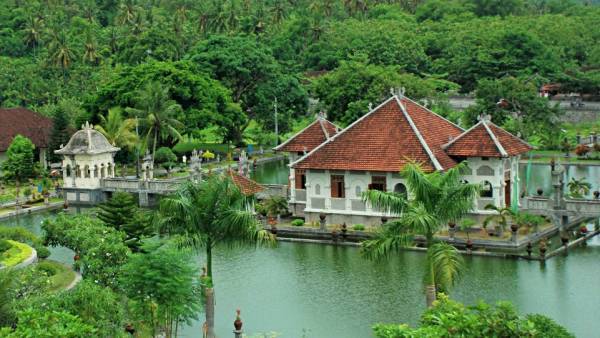 Museum & The Royal Documentation
Located at the center of the pond, there is a mini-museum. Where visitors could learn more about the site's history. The Kings, all photographs of the royal family adorn the wall. With story and details of each photo are written right below it. Some photos even capture important events during the king's reign.
Go to a room that once was the King's master bedroom. From the King's room, visitors could see the white and pink lotuses floating on the pond. On a special occasion, pilgrims often come and pray in the bedroom for the deceased King. As the room consider sacred, women in a period are not allowed to enter the room.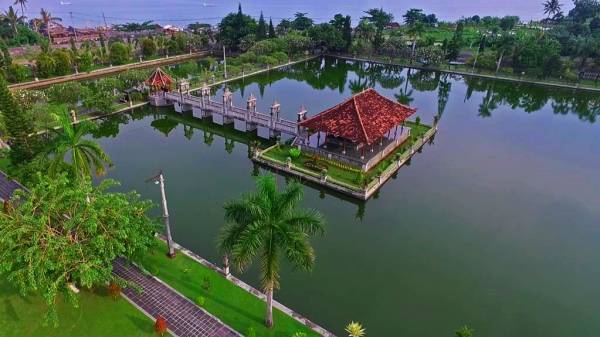 Balai Kambang
A square shape building lies in the center of a pond. The Balai Kambang is hard not to notice. As it's compelling as it sounds, the building has an important role during the King's reign. An uncountable supper and important meeting held in here. A fierce argument during meeting and laugh through celebration.
The building has witnessed a lot of events back in the glorious time when the King rule. Even it includes a trial and dispute settlement judge by the king.
Paddle Boat & Feeding Fish
The garden and old buildings are not just the only thing to explore in Taman Ujung Water Palace. Visitors with children could enjoy activities such as riding a paddleboat. Go explore the center of the pond. Paddle the boat and stop in the middle to appreciate the building architecture.
The paddleboat cost another Rp20.000. And while in there, don't forget to feed the fish in the pond. Fish food is available at the entrance gate for Rp2.000.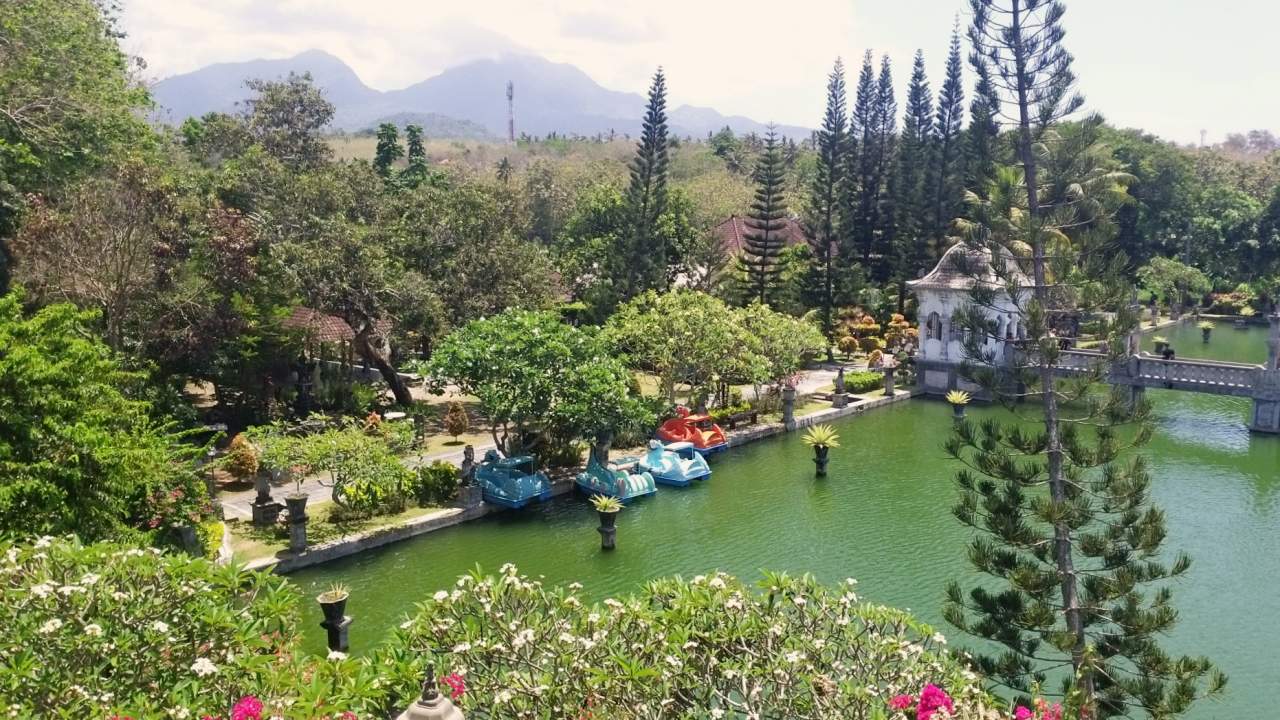 Bisbis Hill
The building and the ponds are not the only beautiful things in Taman Ujung Water Palace. The Palace has the best spot to see Karangasem area from the higher building. Within a short walk, its location lies higher than the main building. And this is where the spot to see the entire palace without any barrier.
This building once also functions as a meditation site. However, there are some damages in the building as the result of the Mount Agung eruption in 1963. From this building, the visitors could see Bisbis hill. And relax after exhaustion exploring the entire palace.
Prewedding Venue
The pre-wedding photoshoots have become very popular among domestic and international tourists. Taking advantage as it possesses a mountain and wide 360-degree panoramic view. The site allows guests to use the venue to capture beautiful photos for the prewedding occasion.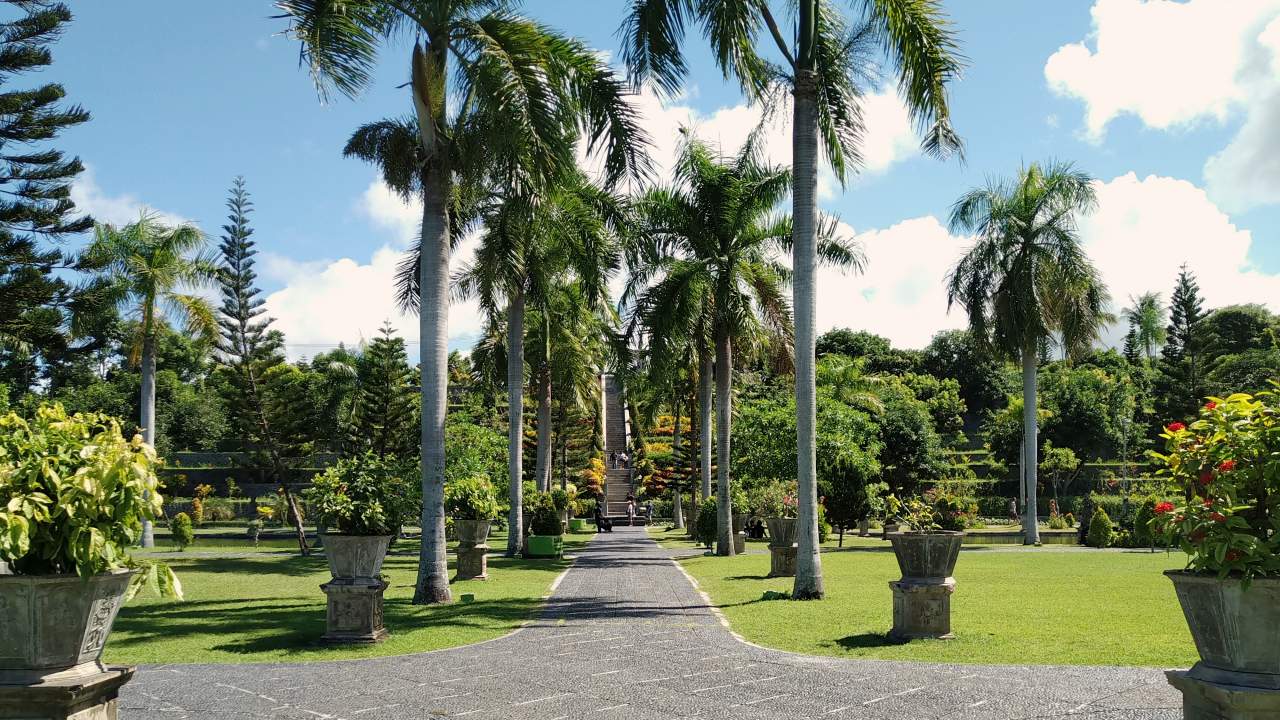 There is an additional charge to take a prewedding photoshoot here Rp150.000/person. But don't worry, the venue offers breathtaking scenes. And has been known long as the best spot to have prewedding photos among locals.
See: Indonesian SIM Card Price & Coverage.
Taman Ujung Water Palace Opening Hours
The palace is open from 7 AM to 7 PM on Mondays to Sundays. The best time to visit this spot is early morning. As the weather will get too hot in midday.
Ujung Water Palace Opening Hours
Monday – Sunday
07:00 – 19:00 WITA
See: Tirtagangga Water Palace, Activities & Pool.
Taman Ujung Water Palace Entrance Fee
Taman Soekasada Ujung Water Palace charge visitors Rp50.000 for the entrance fee. While for the paddle boat ride ticket is Rp20.000 for 1 person.
Taman Ujung Water Palace Entrance Fee
Children & Adult
Rp 50.000
Paddle Boat
Rp 20.000/person
Parking fee
Rp2.000 (motorcycle) / Rp5.000 (car)
See: The Colossal Heaven Gate, Penataran Agung Lempuyang Temple
Facilities
Basic facilities, toilets are available at the premises. A line of warungs selling snacks and bottles of water is located next to the entrance gate. And there is a spot for visitors to park vehicles with an additional parking fee.
However, there are no cafes and restaurants around the area. But small warungs selling local delicacies are plenty. The menu is quite varied like meatball soup, satay, rice with assorted veggie and chicken, and grill fish warungs next to the beach. Prepare enough cash, as the nearest ATM machine is 4 KM away from the site.
See: Guide To Secluded Bias Tugel beach, Padang Bai.
How To Get To Taman Ujung Water Palace
Taman Ujung Water Palace used to be an off-radar tourist spot. But that has changed recently. From any tourists area in South Bali, Kuta and Seminyak it will take 2 to 3 hours to get here. Unfortunately, public transportation still doesn't stop here. Damri line from Bali Airport to Amed only stops at Tirtagangga Water Palace. From Tirtagangga Palace it's still around 10 KM to go.
Luckily car rental with or without a driver is plenty, especially in south Bali. The average price for a car with a driver and fuel is Rp500.000 for 10 hours. And for 10 hours, it's enough to explore other sites in Karangasem area. Such as Tirtagangga Water Palace, the beach, and Lempuyang temple. While for motorcycle rent, the price starts from Rp 50.000 to Rp100.000 for day rent.
See: Bali Airport, Airport Transfer Guide & Bus Schedule.
Address & Location
Taman Ujung Water Palace located in Tumbu village, Jl. Raya Taman Karangasem District, Bali 80811.