Gedung Sate Museum Bandung
Entrance Fee: Rp5.000
Opening Hours: 09:30 - 16:00 WIB
Telp. Number: (022) 4267753
Address: Jl. Diponegoro No.22, Citarum , Bandung Wetan , Bandung , Jawa Barat , Indonesia , 40115.
Gedung Sate in Bandung, West Java, has a catchy name for a building. It acquired such a name because of the ornaments on the central pinnacle that resembles a satay. An Indonesian popular skewer delicacy. This iconic landmark acts not only as the West Java government building. But also a popular tourist destination.
The building attracts tourists for both its beautiful architecture as well as its rich historical value. Gedung Sate is built in 1920 by the Dutch government which colonized Indonesia at the time. It has a neoclassical design that incorporates elements from many cultures, from east and west.
Gedung Sate's original name is Departement van Gouvernements Bedrijven or in short, GB building. It was dubbed the most beautiful building in Java. The government opens the eastern part of the building as a museum. That later claims to be the first government office smart museum in Indonesia.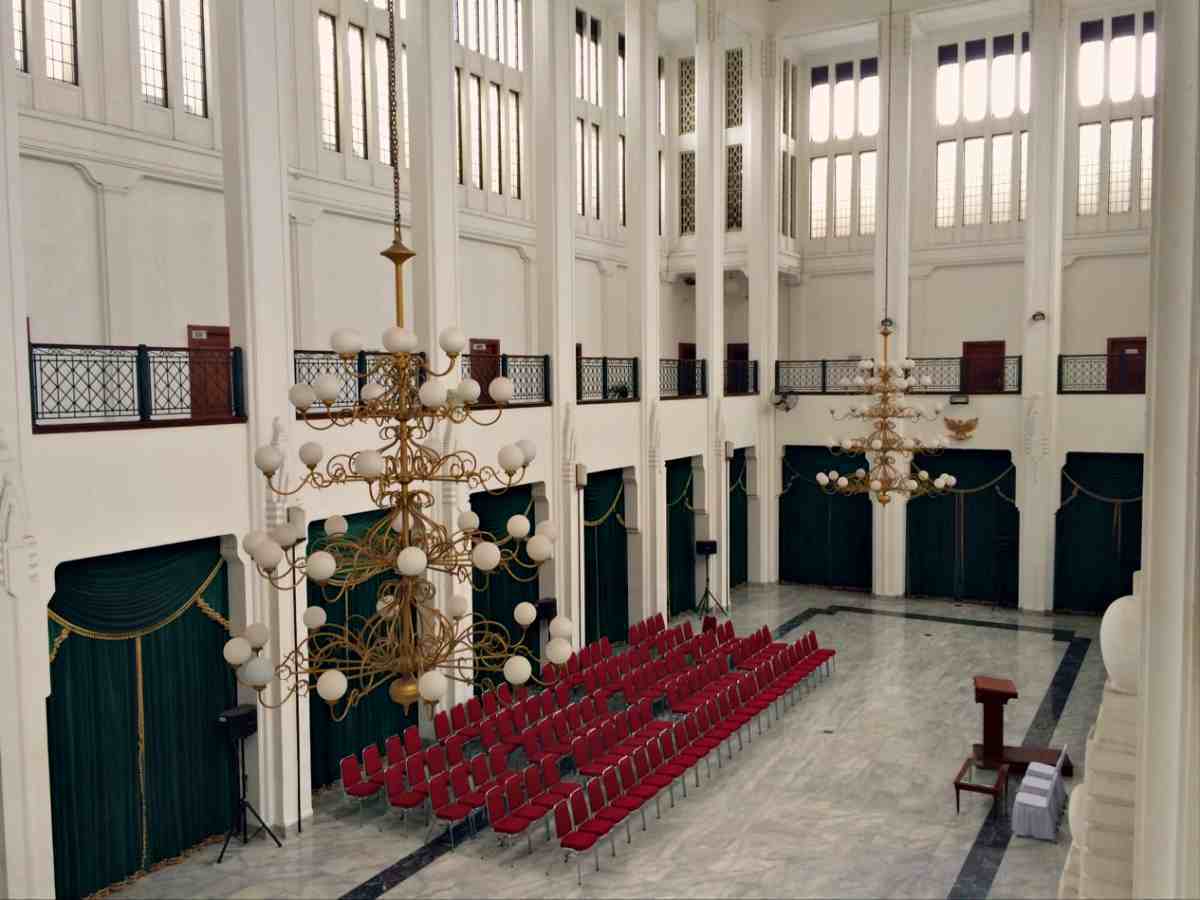 It uses technologies such as augmented reality and virtual reality for its exhibits. Only opened in 2017, the museum since has gathered curious visitors due to its unique concept.
Peeking Inside The Building
If only every corner of the building is accessible for visitors, that would be perfect. Unfortunately, a good portion of the building is a government-restricted area. A tour is possible but requires a certain bureaucratic procedure. That involves sending a formal letter a few days before. If there's no time to do that. There are several parts of the building visitors can take a peek at.
First, it's the reception hall. The first sight to welcome is a bronze rhinoceros statue. Further inside, there are two European-style ballrooms. Adorned with tall pillars and hanging chandeliers. An elegant party venue in the past, the ballrooms are now often open and accessible when there's a public event.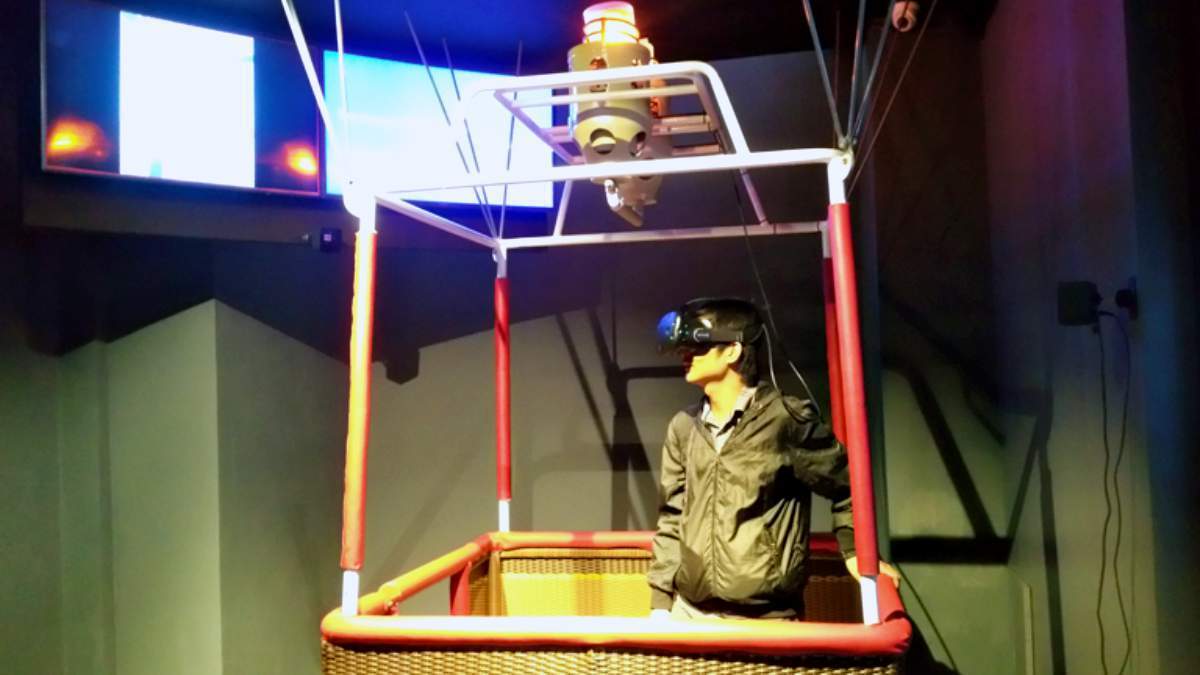 The Exterior
Stepping outside to see the exterior. Notice how windows at Gedung Sate are inspired by Moorish architecture. The Moorish style is also something people will notice in Spanish renaissance buildings. Balinese architecture inspires its Meru cascading roof design.
Many say that the overall design of Gedung Sate resembles Washington DC's White House. Which is true, more or less. The 6 satay pieces at the top represent how many millions of gulden it takes to finance this building's construction – spoiler alert, it's six million.
A well-tended Garden
Stepping further into the courtyard is the well-tended garden of Gedung Sate. A popular spot for locals to hang out during the weekend, the garden is spacious, green, and clean. On Sundays,  locals can be seen strolling around or doing some light sporting activity.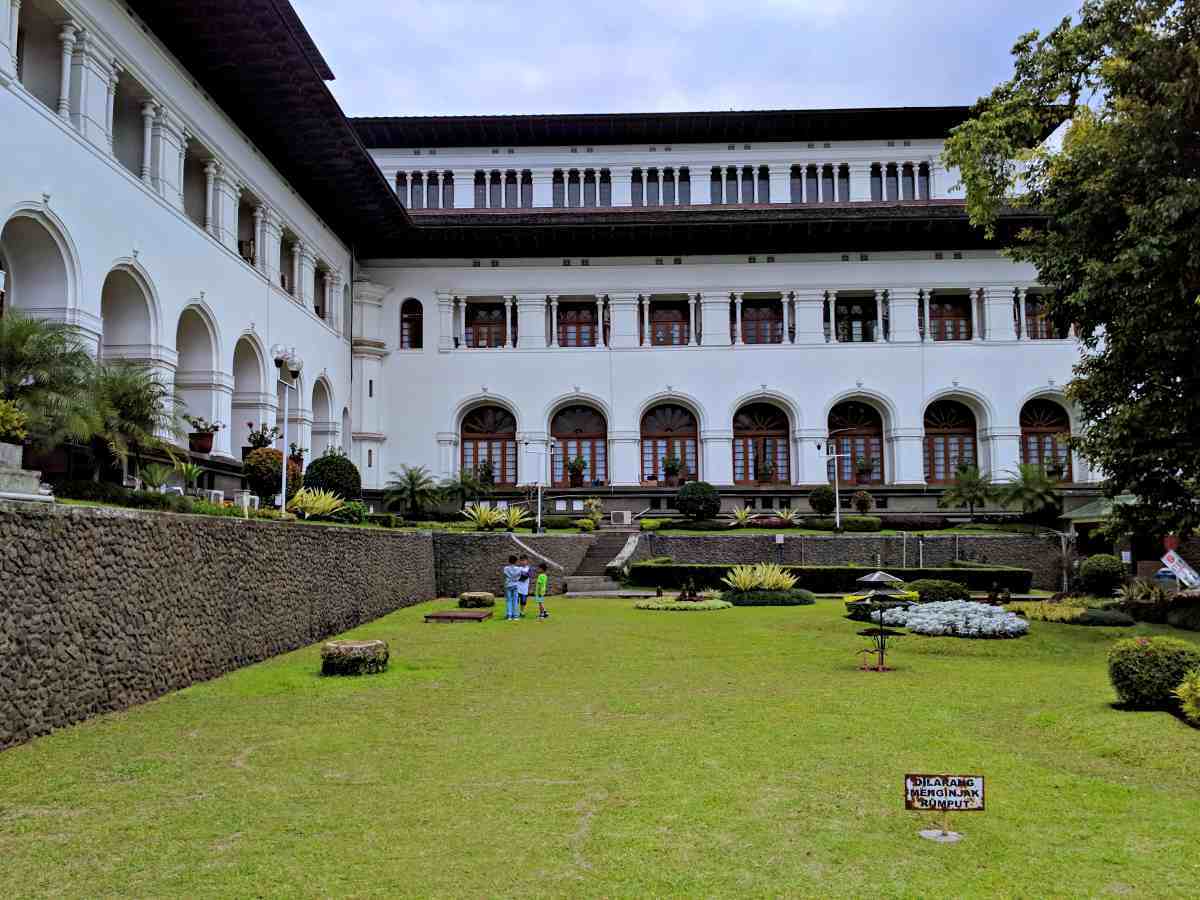 Street food sellers will join the crowds, offering snacks and refreshing beverages to garden-goers. A refreshing tip, try a cup of pineapple juice to quench the tropical thirst.
Gedung Sate Museum
The technology innovation in the museum will definitely make up for the disappointment. Compensation for not being able to explore the entire building. Here visitors can learn everything needed to know about the building's construction. One corner of the wall is deliberately broken into. Revealing a gaping hole where rocks were used as the foundation of the construction.
There are also extensive explanations about the building's history, from its construction to the present era. The fun comes with trying out every virtual reality exhibit here. Grab the virtual reality glass. And enjoy a virtual journey with a hot air balloon above the building.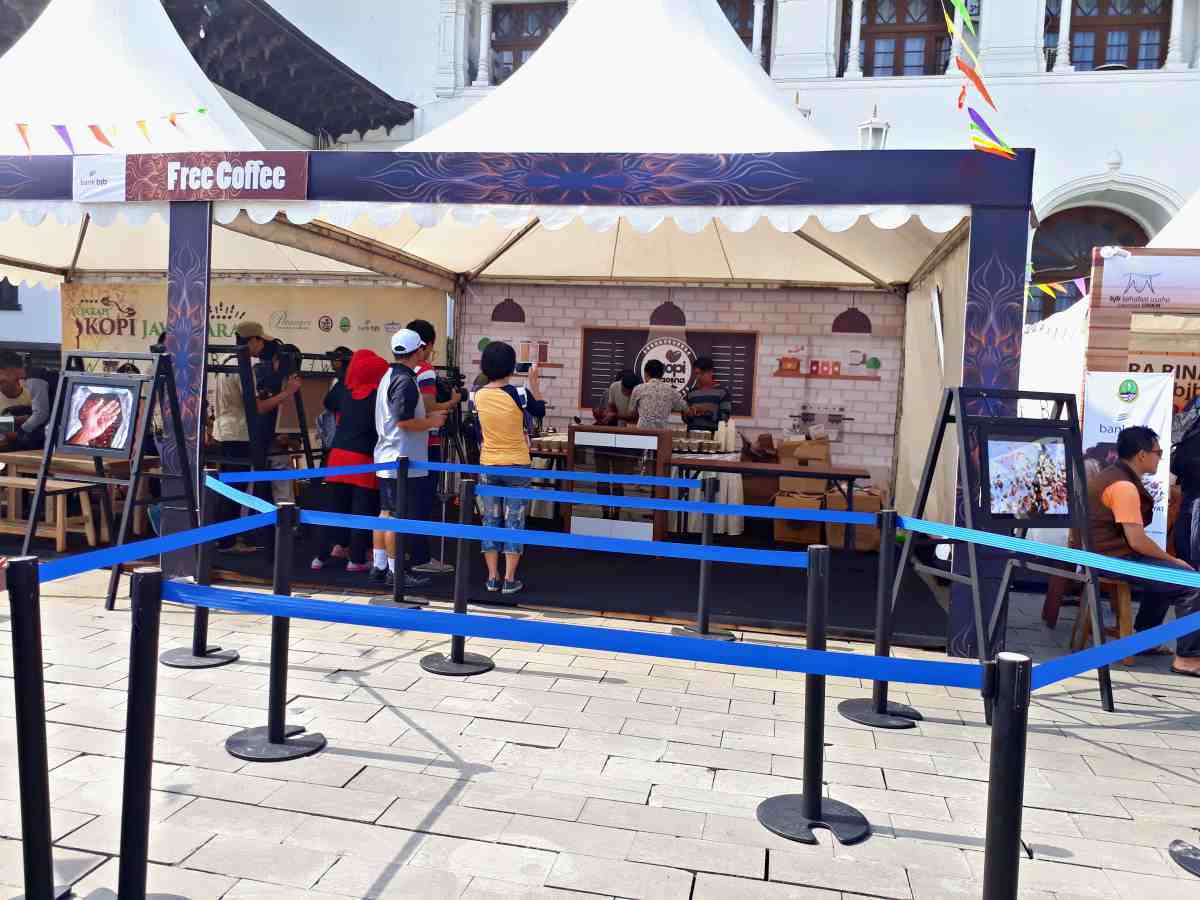 Want to know what it's like being a construction supervisor in the 20s? Head to a special room where augmented reality technology provides such an experience. Warp the visit by watching a short documentary about Gedung Sate in the audio-visual room.
Gedung Sate Tower
The best part of the building, the tower of Gedung Sate, is luckily open to visitors. The tower is accessible by the stairs past the museum. At the top, there's a little cafe called Coffee Morning with tables on the tower's veranda.
Pick a table around this veranda and enjoy a 360° view of Bandung city. Inside the tower, it's said there's an old siren that can be heard from a 40-km radius.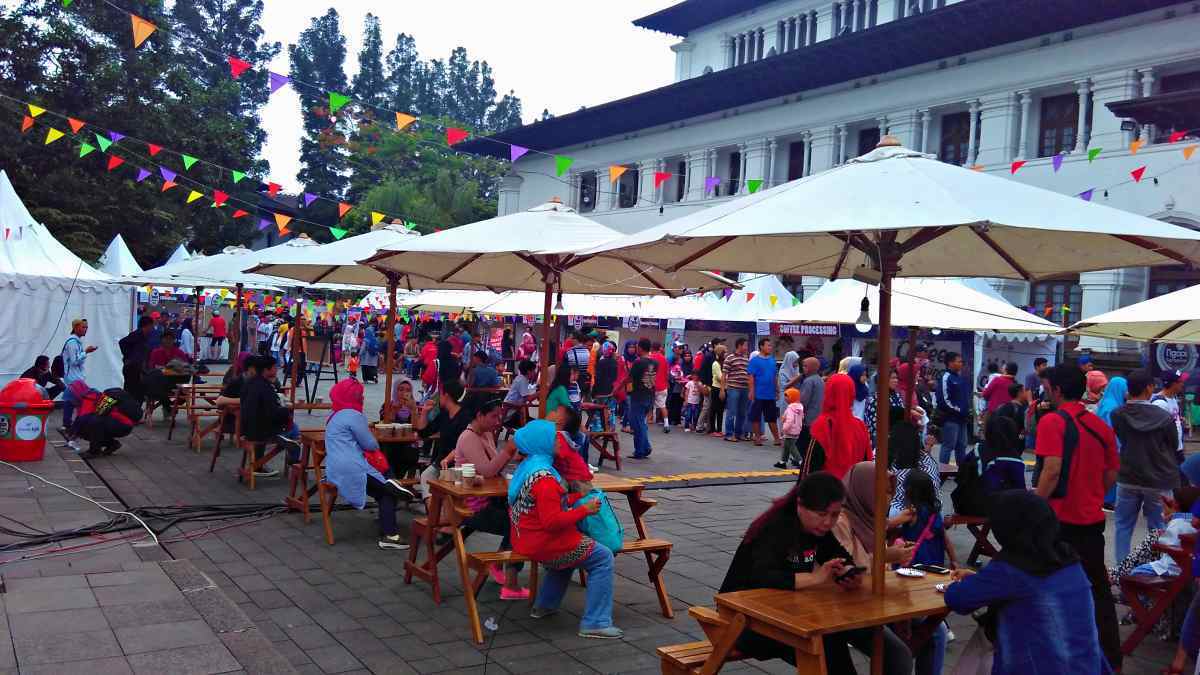 Gedung Sate Opening Hours
Gedung Sate is open for tourists every day except on Mondays and the national holiday. The visiting hours are from 9.30 AM to 4 PM. To visit its museum, visitors need to make a reservation first on its official website. And show the digital ticket later at the museum's entrance.
Gedung Sate Opening Hours
Tuesday – Sunday
09:30 – 16:00
Nearby: Explore the longest forest walk in SE Asia, Babakan Siliwangi, Bandung. 
Gedung Sate Museum Entrance Fee
Visitors can always buy tickets on the spot, but since they have a quota. It's always better to book ahead. A ticket to Gedung Sate Museum is Rp5.000 per visitor. A guide is available and free, to go on a tour with a guide, just simply go to the receptionist.
Gedung Sate Museum Entrance Fee
Children & Adult
Rp5.000
See: Bandung Culinary Experience with 360° degree landscape view in Punclut Ciumbuleuit.
Facilities
There are parking spaces and toilets for Gedung Sate's basic facilities. The museum offers free wifi across its premises. Restaurants and cafes are abundant around the area. Especially since Gedung Sate is close to a famous Bandung university. The closest hotel is a colonial-style Vio Hotel. Which is located just across the street.
See: Jakarta To Bandung Public Transportation Guide.
How To Get To Gedung Sate Museum Bandung
Conveniently located in the city center, Gedung Sate is easy to access from any point in Bandung. If coming from Alun-Alun Bandung (Bandung city square) or Asia Afrika Street. Tourists can hop onto the public van route Stasiun Hall – Sadang Serang. Get down at Citarum Street and continue walking for about 5 minutes. It takes around 25 minutes to Gedung Sate.
From Bandung Railway station, visitors can use the public van route Stasiun Hall – Dago. Hop off at Dago-Diponegoro intersection then continue with the public van route Ledeng-Cicaheum. From Bandung airport, a taxi is the fastest and the most convenient option. While the journey from the airport takes less than 20 minutes, covering a 5,4 km distance.
See: Tourists SIM Card, Price & Where To Buy.
Address & Location
Gedung sate museum located in Jl. Diponegoro No.22, Citarum, West Bandung district, Bandung, Jawa Barat 40115.