Forest Walk Babakan Siliwangi
Entrance Fee: Free Admission
Opening Hours: 06:00 - 18:00
Telp. Number: -
Address: Jl. Tamansari No.73, Lb. Siliwangi , Coblong , Bandung, Jawa Barat , Indonesia , 40132.
Babakan Siliwangi is a forest located in the heart of Bandung. Baksil, as locals call it, covers a 3,8-hectare C-shaped area at Siliwangi, Coblong, and Bandung. As one of the remaining forests in the city, Forest Walk Babakan Siliwangi is where the locals would go for a quick escape.
Babakan Siliwangi got a certification as a world urban forest from the United Nations in 2011. But the story of Forest Walk Babakan Siliwangi dated back to the colonial era. In the past Babakan Siliwangi was called Lebak Gede. It was already a public space for Bandung citizens at the time.
Along with the green open space, the architect of the city during that time built a garden called Taman Sari and a zoo, later known as Bandung Zoo. Since the independence of Indonesia, there have been several attempts at privatization and commercialization.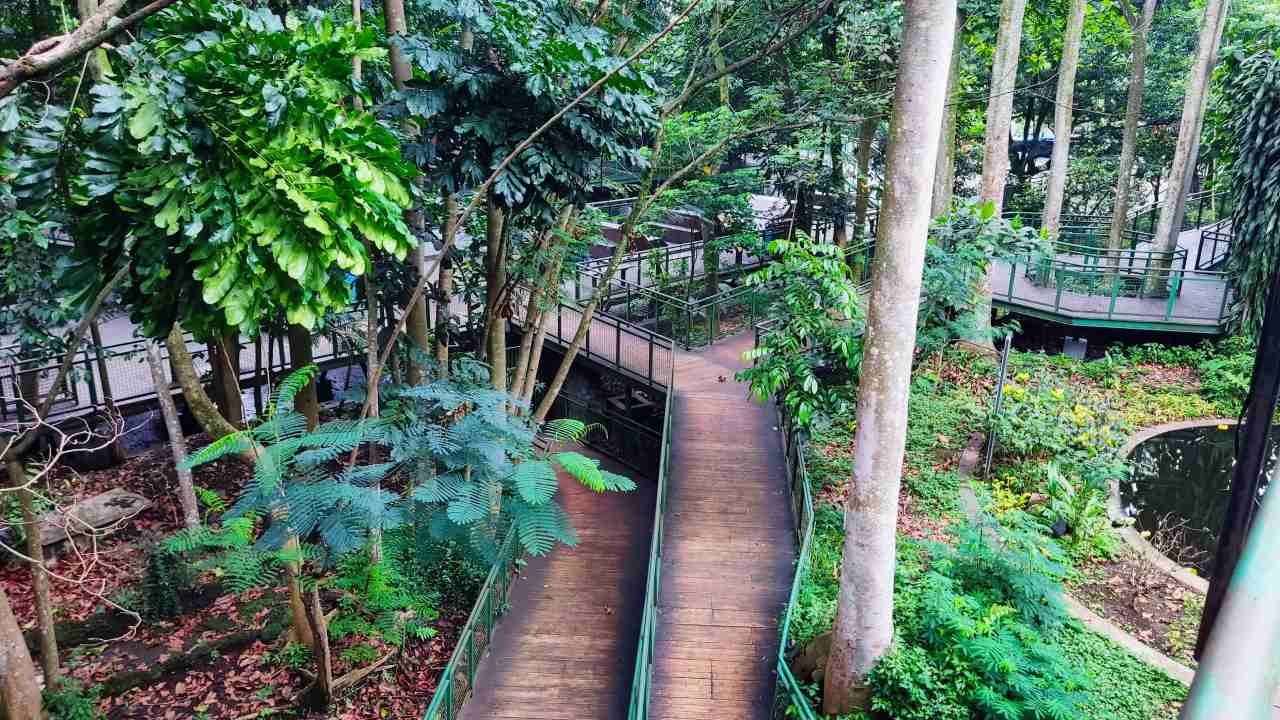 The attempt has caused controversy among the government and the public. But in 2013, the forests have been returned fully to government care. And until now become freely accessible to the public. In 2017, the government set up a pedestrian bridge and rename it Forest Walk Babakan Siliwangi.
The Longest Sky Bridge In ASEAN
A 2,2 km sky bridge crossing through Forest Walk Babakan Siliwangi. And it claims to be the longest forest walk in ASEAN. The sky bridge is built 3-4 m above the ground. With an average width of 1,5 m. And in several spots, the bridge is wider with several park benches available for resting.
Since the beginning of the trail, there is both an air of comfort and mystery coming from this forest. Sunlight gradually penetrates the dense green canopy. The noise of a busy city is nowhere to be heard. The air is fresh and cool, free from any pollution.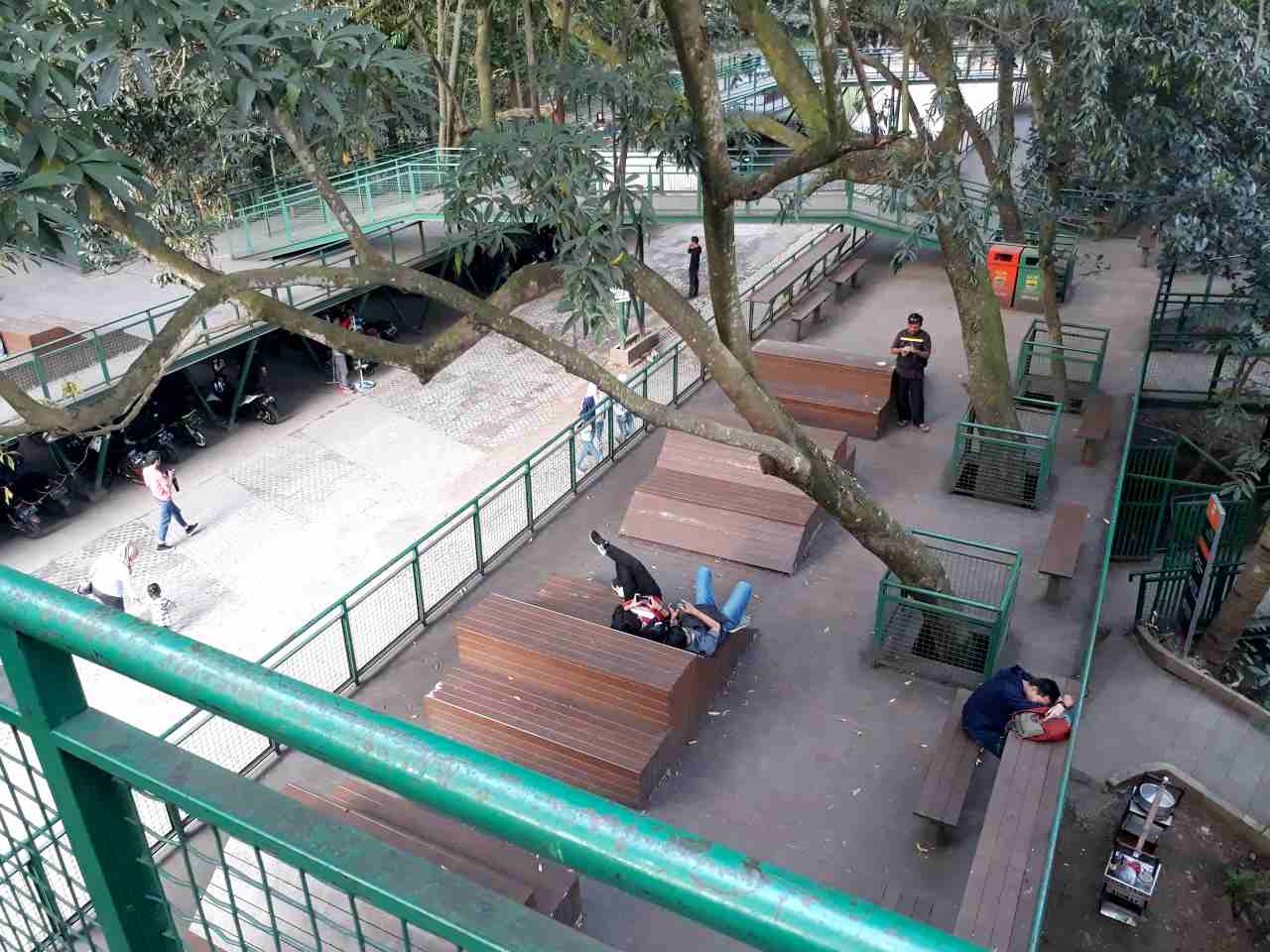 Enjoy trekking in forest walks, either by walking or jogging. Once in a while, spot a squirrel hopping from one tree to another. The bird is another type of animal inhibiting Forest Walk Babakan Siliwangi. Listen closely to their chirping. Like humans, these animals also find joy in this limited green space of Bandung.
See: Guide To Explore Alun-Alun Bandung & Grand Mosque.
Saraga Ganesha
Saraga Ganesha is a sports complex belonging to the Bandung Institute of Technology. It is open to the public and located next to Forest Walk Babakan Siliwangi. Consider Saraga as the next level after the forest walk.
Use its athletic track if visitors want to do more than a casual morning jog. The arena also has an Olympic standard swimming pool open for the public, perfect for anyone who wants to swim afterward.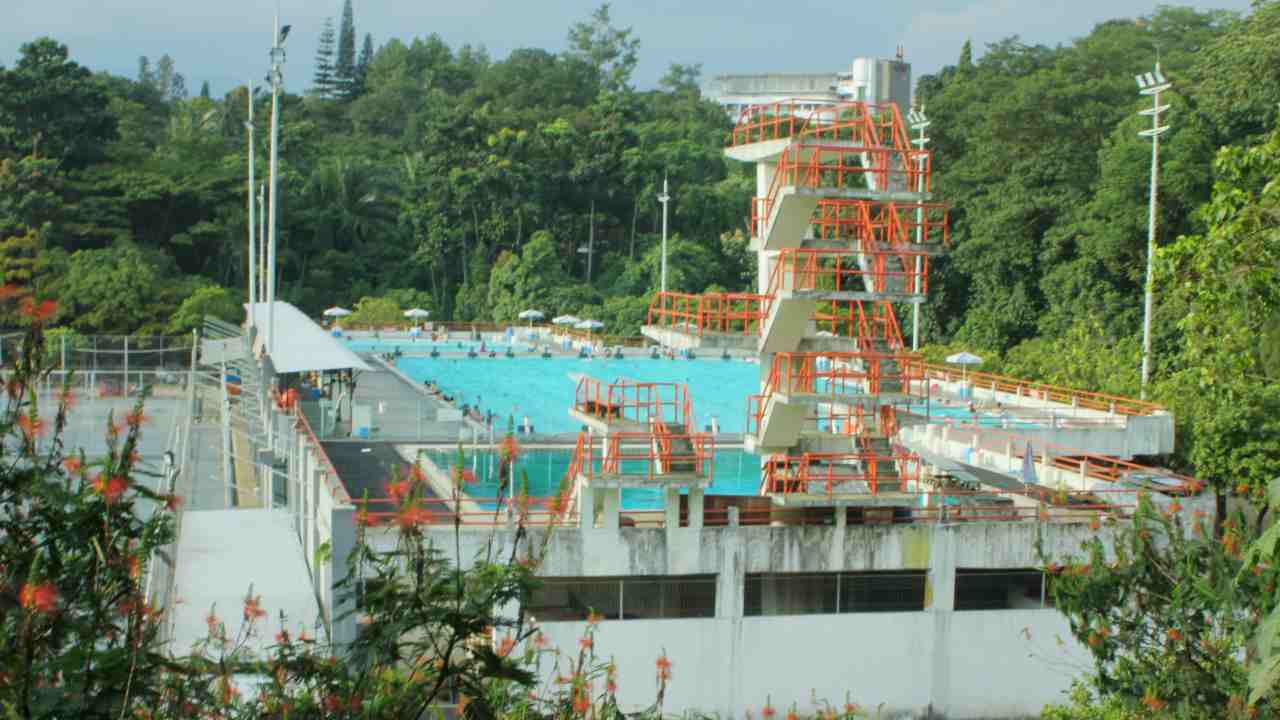 Art Gallery
Sanggar Olah Seni is perhaps the only good thing left from the 80s back when Forest Walk Babakan Siliwangi was a commercialized site. Initially, the art studio and workshop were established by the Bandung artists association. In fact, it routinely hosts art training where everyone is invited to participate.
Its gallery is also open to public visitors. To point out, visitors can find Sanggar Olah Seni near the exit of Forest Walk. First, pick between the painting course and the sculpting class. The instructors here are among Bandung's finest artists and sculptors.
And last, the art gallery doesn't charge a fee for its workshops. The underlying idea is inspiring, to make art education as accessible as possible to everyone. However, visitors can give a voluntary donation to support the gallery program.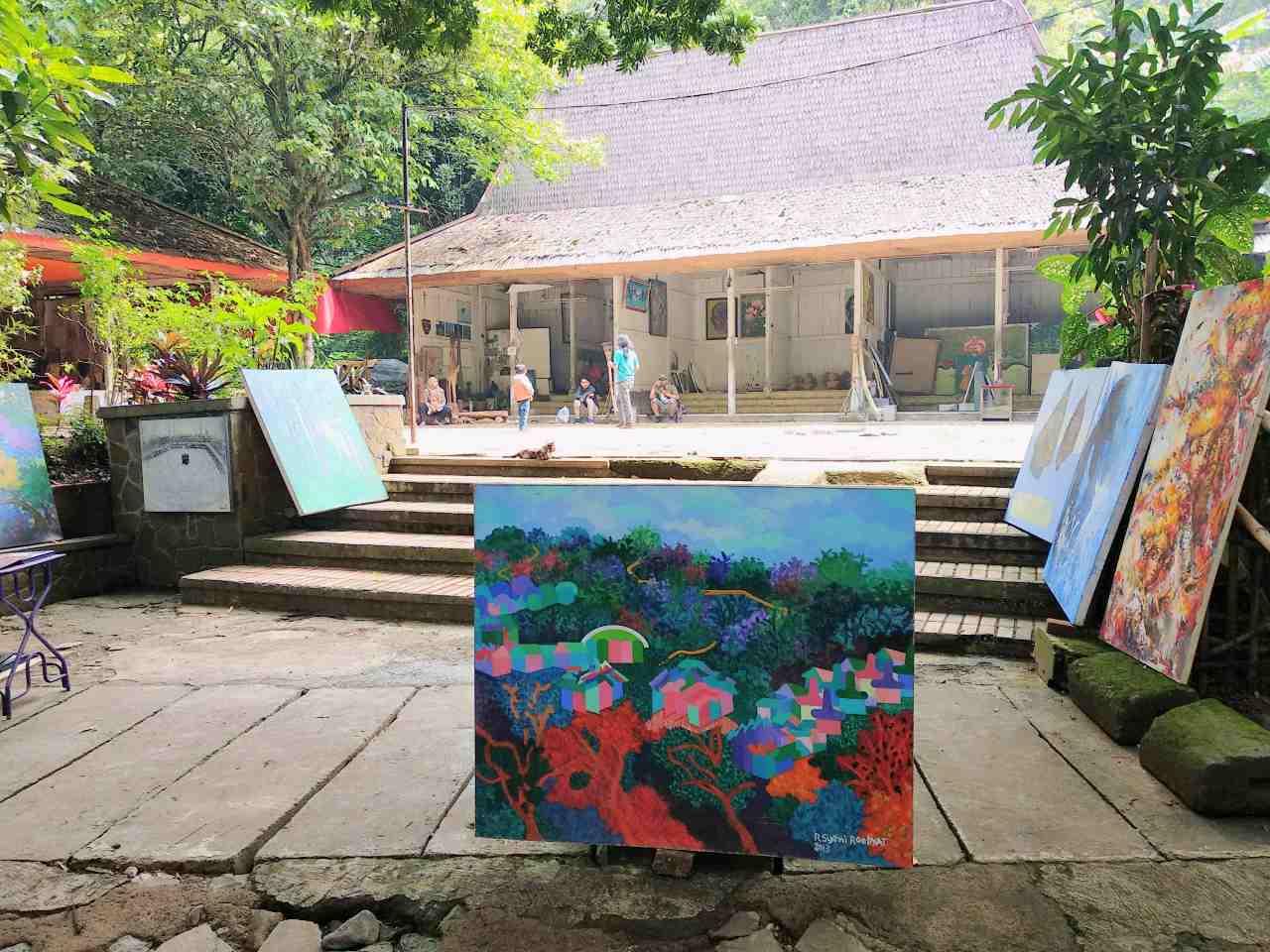 Bandung Zoo
Located only 1.3 km from the forest walk, Bandung zoo is definitely a spot worth visiting. In fact, the zoo has been around since 1933. To point out, this zoo is almost as old as Forest Walk Babakan Siliwangi itself. The zoo entrance fee is quite cheap at Rp40.000. Make a stop here if the sight of squirrels and birds from the forest walk is not enough. In total, there are 213 animal species at Bandung Zoo. It is surely enough to amuse visitors for the rest of the day.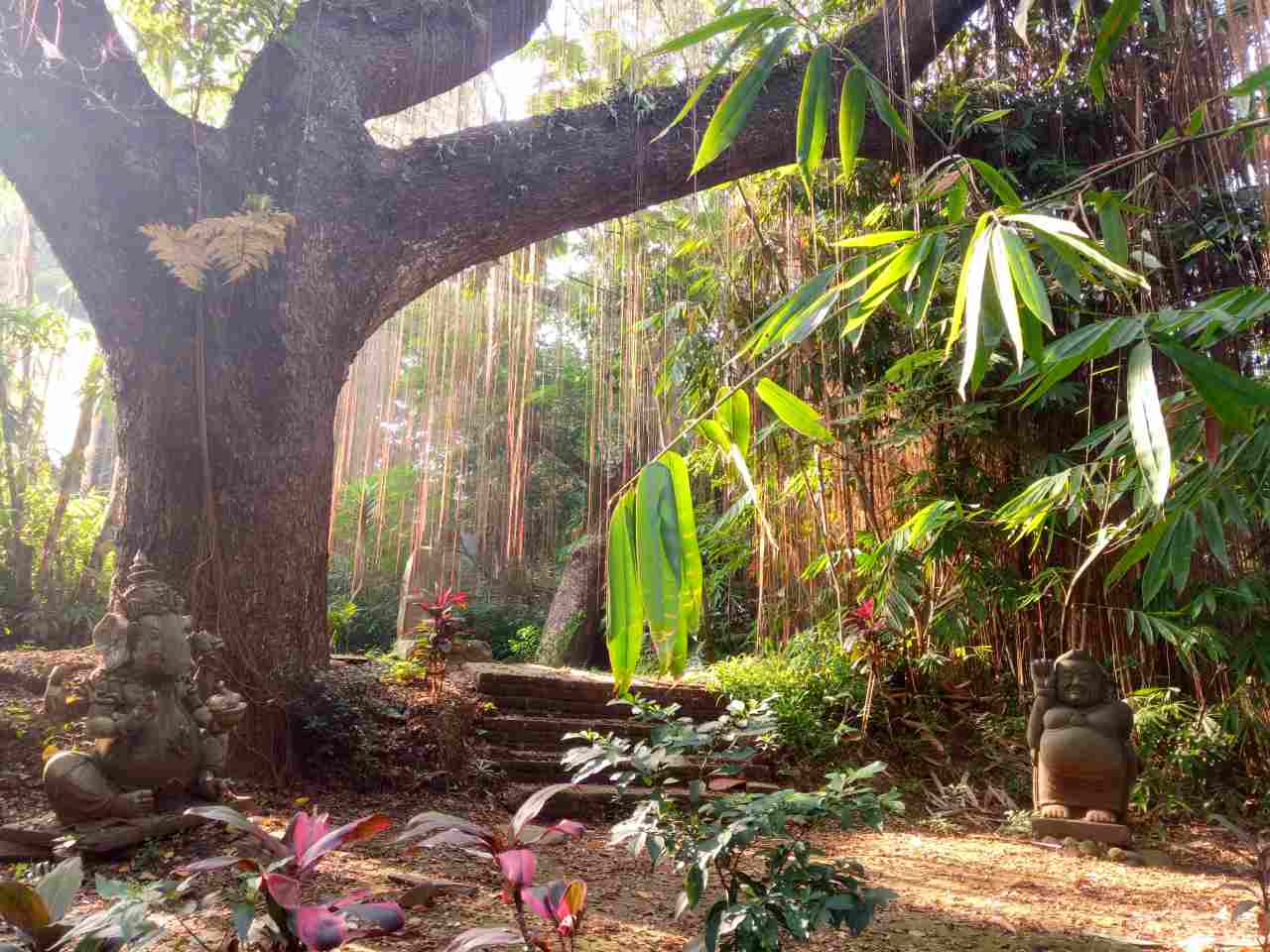 Forest Walk Babakan Siliwangi Opening Hours
The site opens from 6 AM to 6 PM. It used to be open 24 hours but not anymore. The best time to walk on the sky bridge is in the morning or before evening around 3 to 4 PM.
Forest Walk Babakan Siliwangi Opening Hours
Every day
06:00 – 18:00
See: Tangkuban Perahu Volcano Attractions & Entrance Ticket.
Forest Walk Babakan Siliwangi Entrance Fee
Since the forest is under government management. It has charge-free entrances for all visitors. Guests going to the sky bridge only need to pay the parking fee. Prepare a small note of Rp5.000 for a car, and Rp3.000 for a motorcycle.
Forest Walk Babakan Siliwangi Entrance Fee
Ticket
Free Admission
See: Saung Angklung Udjo, Ticket & Performances.
Facilities
Every 15 meters, there is a trash bin available on the site. Babakan Siliwangi is also equipped with Wifi in some spots. Near the entrance, visitors can find street food vendors selling snacks and drinks.
Basic facilities at Forest Walk Babakan include ample parking space and toilets. As for accommodation, since the forest is located in a busy area, it's easy to find a hotel nearby.
See: Feeding the deer, playing in the fun park at Ranca Upas Bandung.
How To Get To Forest Walk Babakan Siliwangi
Forest Walk Babakan is easy to reach from any point in the city. It takes less than 30 minutes to get to the site. Either from Bandung Airport or Bandung Railway Station. The most convenient way to get there is by taxi. Hail a metered cab or use an online taxi service.
There is a public van route Ciroyom-Cicaheum which stops in front of the forest walk's entrance. Use this public van if visitors happen to be in an area passed by this transport line. A trip typically costs around Rp9.000. Another option is visitors can rent a private car if planning to visit several places in a day. Renting a car costs Rp500.000 for a day trip.
See: Jakarta Airport To Bandung Guide – Public Transportation.
Forest Walk Babakan Siliwangi Location
The forest walks are situated in Bandung downtown, Jl. Tamansari No.90, Lb. Siliwangi, Coblong, Bandung, West Java 40132.