Sarae Hills
Entrance Fee: Rp50.000 - Rp65.000
Opening Hours: Monday - Thursday 10:00 - 20:00 | Friday - Sunday 08:00 - 21:00
Telp. Number: -
Address: Jl. Pagermaneuh, Pagerwangi, Lembang, West Bandung, West Java , Indonesia , 40391.
Bandung is prominent not only for the nicknames, Paris Van Java and the city of Flowers. It has an outstanding landscape and fresh, cool air that keep making people long to come. There is an endless list of attractions everyone just couldn't resist here. The one that is getting more popular is Sarae Hills.
Sarae Hills is where tourists can enjoy the amazing world's man-made wonders. WOW Sarae Hills presents the world's landmark icons in the middle of a cool and luscious environment. There are, among others, the Eiffel Tower, Liberty Statue, Sphinx, Giza Pyramid, and Amphitheatrum Flavium.
Bandung also offers everyone countless signature dishes. At Sarae Hills, people can go for gastronomic tourism. The restaurants and cafes offer not only Sundanese cuisines. There are also Javanese traditional and western cuisines to modern foods and popular snacks the youngsters hunt.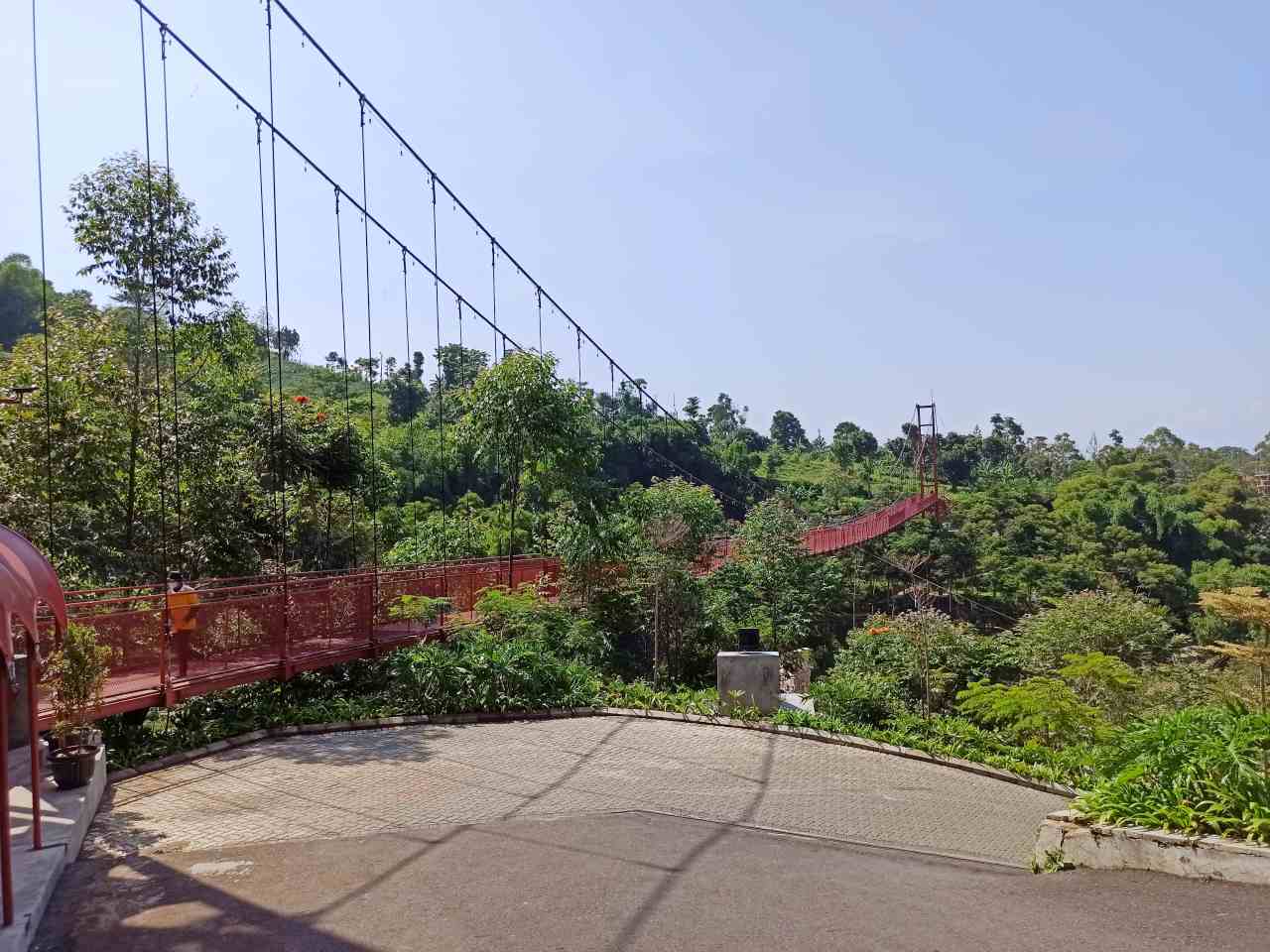 Sarae Hills Entrance Fee
There are 2 different tickets for visitors to choose from. First, the Rp50.000 entrance fee, the ticket covers all photo spots except the golden bridge. What's more, visitors will get a free welcome drink too. There is a free shuttle car that will drop tourists at several spots.
The Rp65.000 ticket covers all photo spots including the bridge. In addition, tourists will get a WOW passport and have it stamped on several photo spots. The WOW passport holder then could get a discount from the merchandise store on the spot.
Sarae Hills Entrance Fee
Regular Ticket
Rp50.000
Package (including WOW passport and golden bridge)
Rp65.000
See: Maribaya Hot Spring, Guide & Entrance Ticket.
Sarae Hills Opening Hours
This tourist spot is open every day from 10 AM to 8 PM on Monday to Thursday. While on weekends, it opens early from 8 AM to 9 PM. The best time to visit the hills is either early in the morning or after 4 PM to avoid the heat.
Sarae Hills Opening Hours
Monday – Thursday
10:00 – 20:00
Friday – Sunday
08:00 – 21:00
Nearby: Punclut Highland, Culinary Spot & Top Things To Do.
World Of Wonders Sarae Hills
In the Punclut area, WOW Sarae Hills situates in a hidden valley. The area is accessible from a narrow two-way road of Ciumbuleuit Street. The ticket booth is at the lowest level of the parking building. And, the eye-catching Sudut Pandang café topped the building. Don't forget to ask WOW passport to collect stamps when buying the ticket.
Tourists may choose to buy the ticket with a pass to the Golden Gate Bridge. At the entrance gate, tourists may exchange their tickets for a welcome drink. A free shuttle is waiting to take visitors around. There is not much to see at the gate yet. But, a pass ticket will allow visitors to enter the world of wonders through the Golden Gate Bridge.
The imitation of the San Francisco bridge rises 30-m high and 150-m long. Nevertheless, it is safe to accommodate 30 people with safety harnesses on. The suspension bridge is sturdy and equipped with a railing. It is the best spot to view all of what WOW Sarae Hills has to offer, and, the city view of Bandung.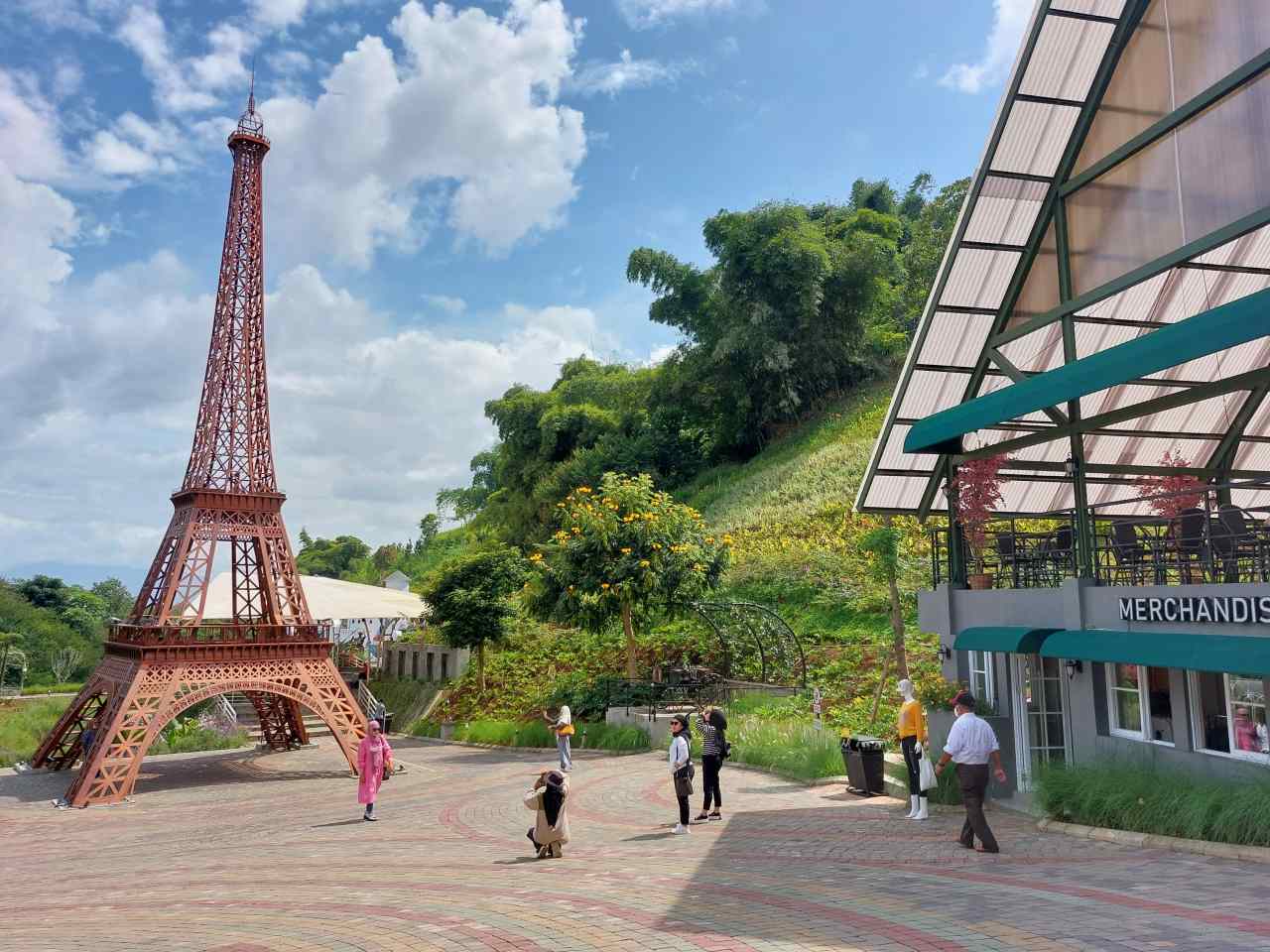 Paris van Java
Paris van Java has been a popular nickname that represents Bandung since the 19th century. Now the nickname becomes even fitter with a miniature of the Eiffel Tower and Arc de Triomphe standing here. The size might be way smaller than the original ones.
However, visiting the real ones may seem far-fetched for some people. So, at least, the miniatures can be unusual backgrounds for pictures. The Eiffel Tower miniature is closely mimicking the real one in Paris. Visitors can even go up to the first level.
In the night, colorful lights lit the tower making it a wonderful photo spot. To complete the sensation of visiting Paris, don't forget to pose in front of the Arc de Triomphe near the WOW gate.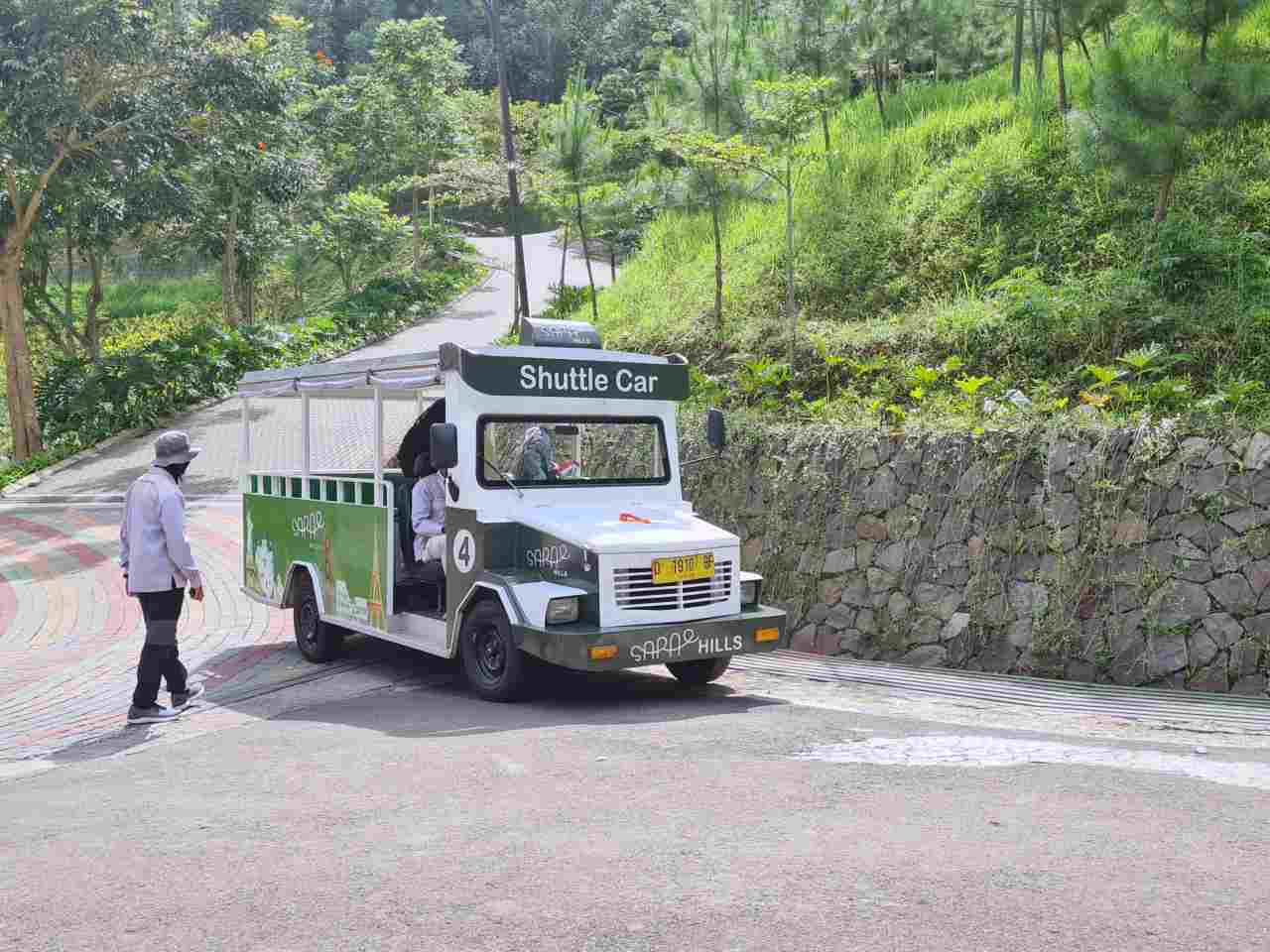 Go Back to Ancient Times
WOW Sarae Hills also suit people who seek historical icons. Ever wonder how is it like to be in a gladiator fighting scene? Visit Roman Colosseum or Flavian Amphitheatre duplicate here. The oval-shaped building features a terraced court complete with knight statues.
And now, people don't have to visit Egypt to take pictures in front of the Giza Pyramid or Sphinx. Moreover, visitors don't have to get heat stroke just to pose in front of those ancient wonders. Giza Pyramid and Sphinx situate after Colosseum which tourists will find after walking on the Golden Gate Bridge.
Santorini Zone
Blue and white colors dominate the Santorini zone. All the buildings constructed at the cliff slope have white walls and blue windows and doors. A vault top at one of the buildings is also blue. Upfront, there is even a pond to complete the zone to get a closer resemblance to the real Santorini in Greek.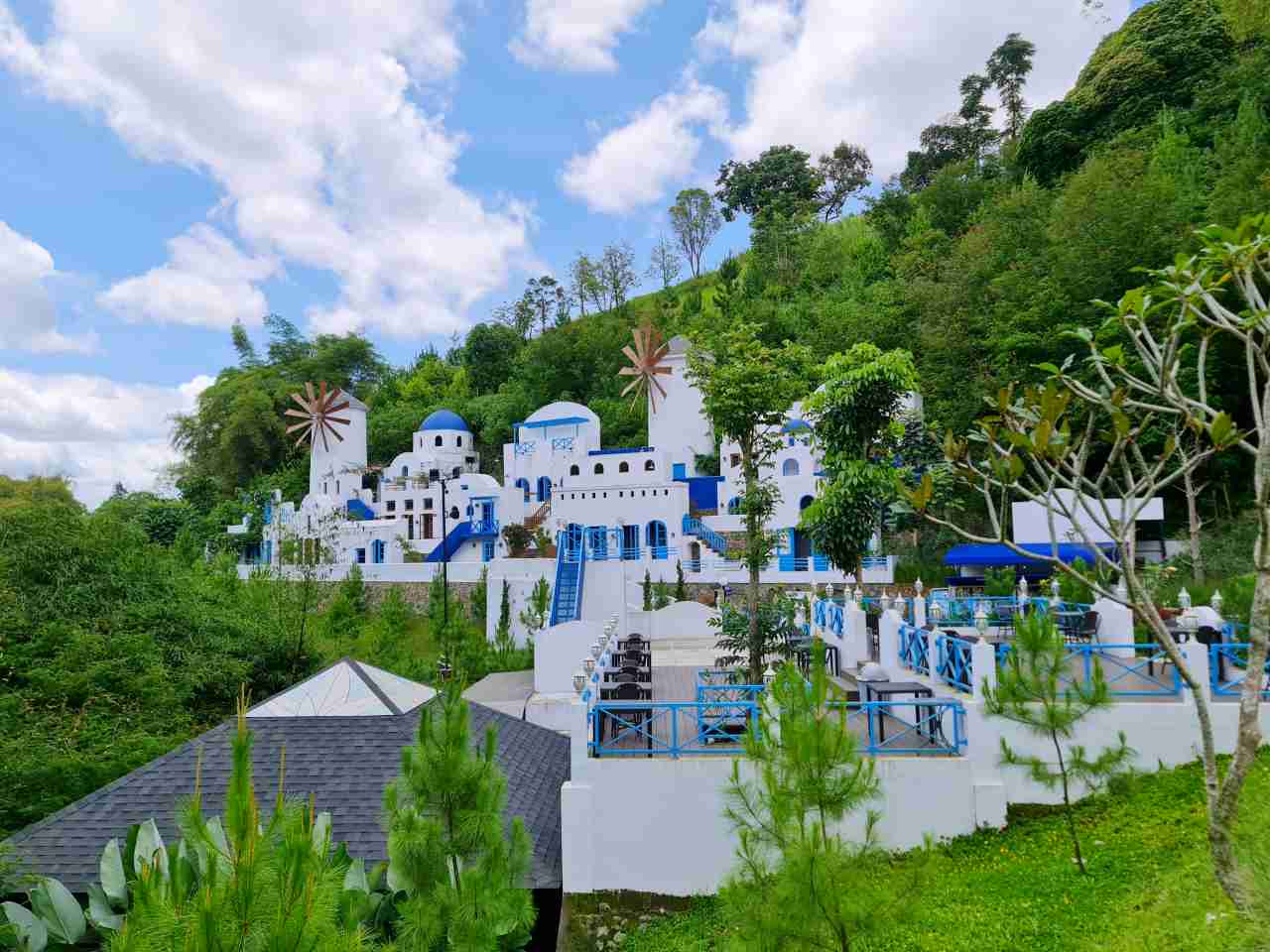 Tourists are free to take photographs anywhere here. And the zone will be more beautiful during the day. The buildings' bright colors will reflect sunlight and make an amazing backdrop for every picture.
Collecting Stamps
The guests will get more sensation of going around the world by collecting stamps on WOW passports. Ask for the stamps at the Golden Gate Bridge, Colosseum, Eiffel Tower, Sphinx, Liberty Statue, Santorini, and Arc de Triomphe. Tourists may use a sufficient number of stamps to get discounts at the souvenir shop.
Chill & Eat at Punclut Ciumbuleuit
There are six restaurants and cafes that offer distinguish nuance suiting every tourist's need. Coming with children or family? D'Dieuland provides outbound facilities such as suspension bridges and flying foxes. An indoor playground is also available with facilities such as a plastic ball pool, trampoline, and slide.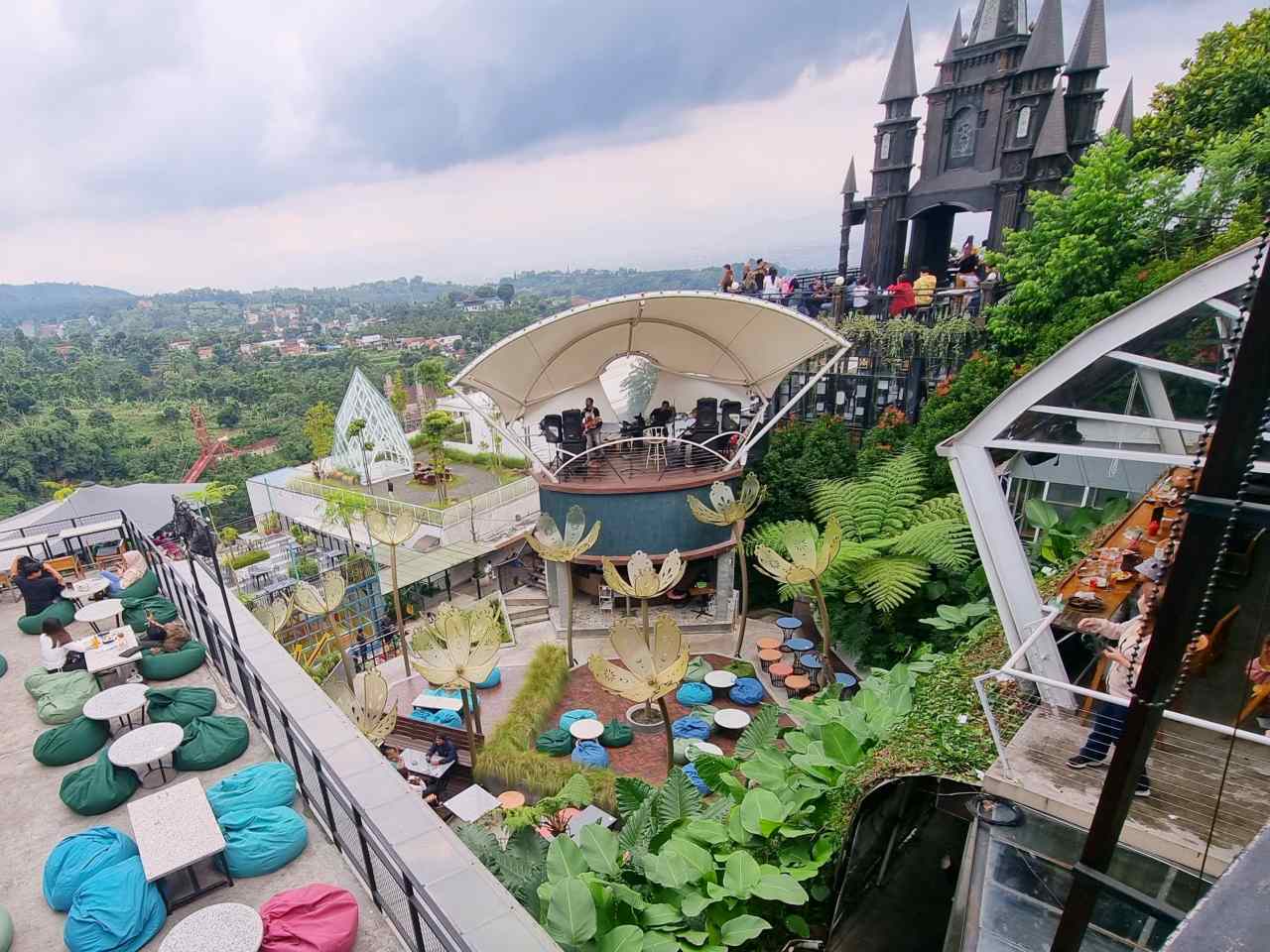 Adults can try giant swings at the cliffside. Lereng Anteng provides local foods with homey nuance. It sells affordable foods and drinks that start from Rp10.000 to Rp60.000. Coffee and snacks are also available other than the main course. Visitors may feel the international atmosphere at Cakrawala Sparkling Nature Restaurant and Dago Bakery.
Both local and western foods are available at Cakrawala. While at Dago Bakery, visitors will find classic Europe nuance presented by a mini castle. The Tafso Barn restaurant is a place with live acoustic music every Sunday. Javanese menu goers can go to angkringan de BlankOn. It's a restaurant with a unique menu such as those in Yogyakarta.
See: Guide To Explore Tangkuban Perahu Volcano Crater.
Facilities
Even though Sarae Hills is only a new destination, this spot has complete supporting facilities. There are spacious parking buildings, toilets, praying rooms, and shuttle cars. However, ATMs are not available in the area. So it's best to prepare cash or withdraw before getting here. As a nature and photographic tourism destination, Sarae Hills has many photo spots and friendly staff ready to give visitors a hand in taking pictures.
More astonishing photo spots are under construction. So, facilities are not something to worry about here. One thing people should bear in mind, Sarae Hills situates at the hill in a quite vast area. Exploring here needs quite a stamina and, be here as early as possible.
There is a souvenir shop to buy merchandises that mark the visit here. Don't forget to show the WOW passport and get discounts when shopping here.
See: Guide To Explore Dago Dream Park & Top Things To Do.
How To Get To Sarae Hills
Sarae Hills situates about 11 km, or, less than a 1-hour drive to the north of Bandung city square. The premise is accessible by both car and bike. It is about 5 km from Dago area. From Dago Terminal, head to Citra Green Dago Residence. Then continue to Stamford School and take the right turn at the junction to go to Pagermaneuh Street.
If Dago Bakery Punclut is in sight, the area is not far anymore. There is no public transportation in this area. Visitors may rent a car or bike to get here. Or, hail an online taxi on a mobile application to go there. A car will cost Rp12.000 minimum fare with Rp2.000 additional fare per km. So, it will cost less than Rp 50.000 from Bandung city square and about Rp25.000 from Dago.
See: Jakarta Airport To Bandung Transportation Guide.
Address & Location
Sarae Hills is located in Jl. Pagermaneuh, Pagerwangi, Lembang, West Bandung, West Java 40391.