Teras Cikapundung
Entrance Fee: Free Entry
Opening Hours: 07:00 - 22:00
Telp. Number: -
Address: Jl. Siliwangi, Hegarmanah, Cidadap , Bandung, Jawa Barat , Indonesia , 40131.
In recent years, Bandung has been restoring the few green spaces left throughout the city. Teras Cikapundung is one of them. Located just 6 km from downtown, on Siliwangi Street. The area was a dirty riverfront before. It was a slum full of shacks and improper housing. In addition, trash has been filling the river.
Cikapundung itself is the biggest river in Bandung. It's a 28 km long river flowing through the city, regency, and west Bandung in particular. The river was once a vital part of the economy while also acting as a water supply. In modern days, its role slowly deteriorates. It changes into a dumpster for irresponsible locals.
Some factories throw their industrial waste here as well. In 2015 the Mayor of Bandung instructed a revitalization effort in Cikapundung. The government relocates the poor community to better housing.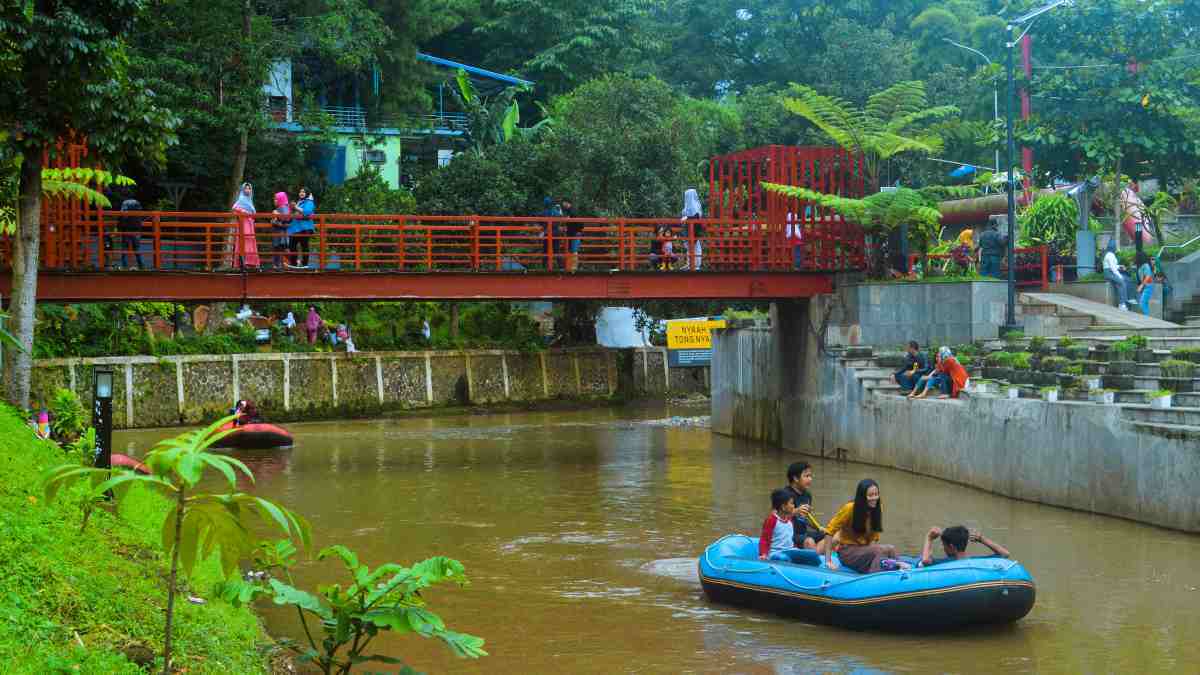 A riverside urban area is built and the trash was cleaned up from the river. In two words, Teras Cikapundung nowadays has transformed into a green and tidy spot.
Teras Cikapundung Entrance Fee
There is no entrance fee required, only a parking fee of Rp3.000 for visitors with a motorcycle. River activities will require visitors to pay between Rp5.000 to Rp150.000. It depends on the package.
Teras Cikapundung Entrance Fee & Activities
Children & Adult
Free Entry
Rubber Boat Children
Rp5.000
Rubber Boat Adult
Rp10.000
Rafting 1,2 – 2 km
Rp75.000 – Rp150.000
See: Kawah Putih Bandung, Activities & What To Expect. 
Teras Cikapundung Opening Hours
Teras Cikapundung opens for visitors every day except on Friday. From 7 AM to 10 PM. Local visitors usually come to Forest Walk Babakan Siliwangi first then go next door to Teras Cikapundung. Or vice versa.
Teras Cikapundung Opening Hours
Every day except Friday
07:00 – 22:00
See: Guide To Explore Tangkuban Perahu Volcano & Ticket.
Teras Cikapundung Open Space
A quick escape from Bandung's hustle and bustle. Teras Cikapundung is built lower than the street to muffle the noise of traffic. There is a terrace seating resembling an amphitheater. Get lost in thought as visitors sitting here. Freely enjoying the scenery around the riverbank area.
This place was a neglected trash dump before, yet there's no longer any sign of it. There are several fountains, adding to the freshness the garden already has. Sculptures and artworks decorate some corners. Giving a modern touch to nature.
A large fish pond full of fishes from the Cikapundung River. A type of fish locals calls 'Ikan badar'. The government has the plan to add more variety of fish into the pond and river in the future. Cross the red bridge at Teras Cikapundung. It will bring visitors to the other side of the river.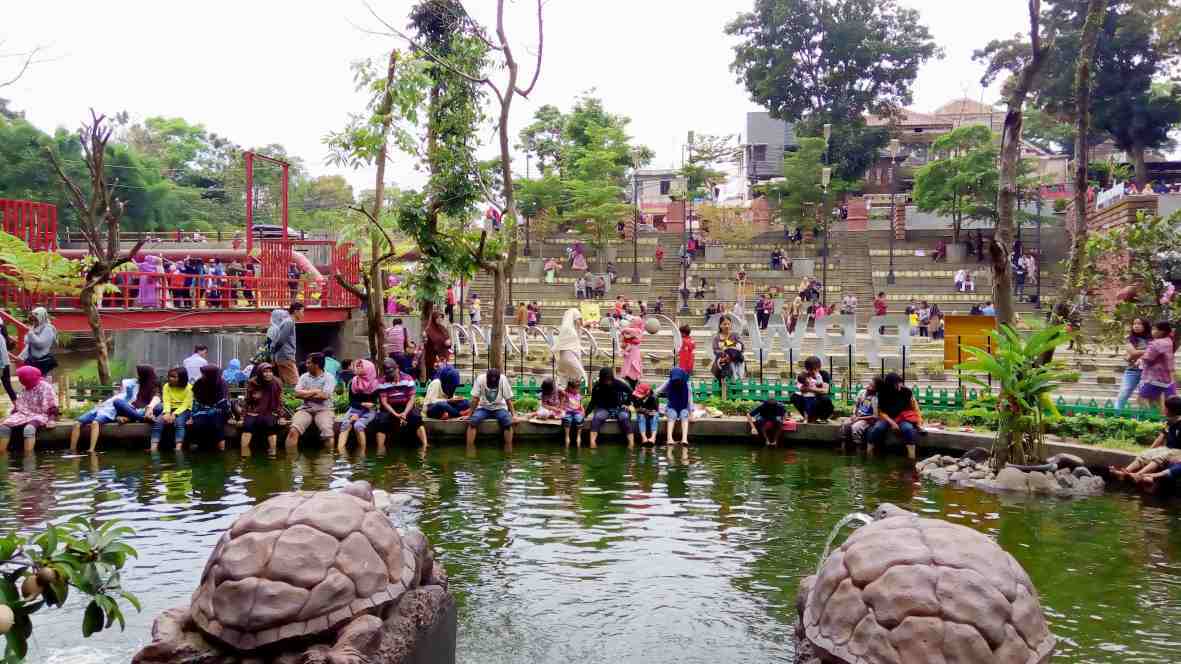 Spot no trace of slums that once filled this riverside. Instead, trees and shrubs planted a few years ago have formed a mini jungle. An oasis in the middle of the city. The greens soothing to the eyes as they also provide clean air.
Rafting in Teras Cikapundung River
Teras Cikapundung offers water activities for its visitors. There are several options to choose from. Join a calm river excursion or test the adrenaline by going rafting. In a calm river excursion. Simply enjoy the breeze and the sound of the ripple of the river below. The guide will take visitors around the Cikapundung River area from end to end.
Choose rafting for those who are more adventurous. Utilizing the swift flow of the Cikapundung River, rafting takes visitors to explore the river in a more daring fashion. The journey starts from downstream in Dago and ends at Teras Cikapundung. It's 2 kilometers of fun maneuvering among rocks and difficult currents.
The Fish Therapy
With only Rp10.000, visitors can submerge their feet into Teras Cikapundung's fish pond. Be delighted as fishes begin to swim around. The dirt on human feet apparently is a tasty treat for fish. They will gladly help visitors to get rid of the dead skin. It's beneficial for both – the human gets clean and healthier feet, while the fish will have a full belly.
The Water Dance
Every evening, fountains at Teras Cikapundung give a delightful performance. Illuminate with colorful lights, the water will sway and dance following the rhythm of the music. The music is usually from an Indonesian folk music genre called 'dangdut'. it's catchy and very danceable. Do not worry about missing a show, as there's a performance every hour from 5 PM to 8 PM.
Cultural Events
Teras Cikapundung is not only a green space but also a venue for cultural activities. The amphitheater facilitates aspiring musicians to hold performances here. On occasion, art exhibitions by local artists host their exhibitions here.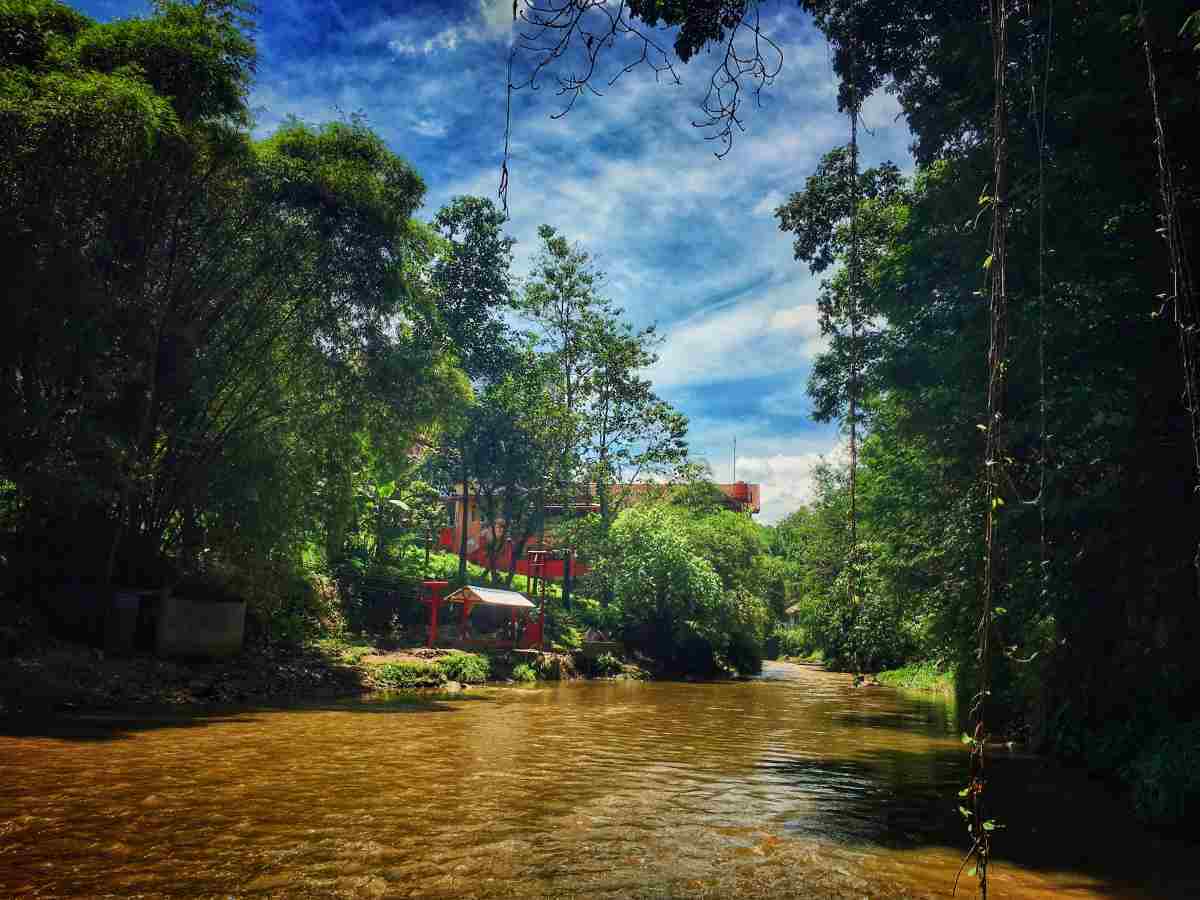 When the city's beloved football team, Persib, has a crucial match. A big screen is set up in front of the amphitheater. Join a flock of fans as they watch the broadcast together.
See: Transportation Guide from Jakarta Airport to Bandung.
Facilities
The park has ample space to accommodate many people. There are enough park benches. But unfortunately, there's a lack of a trash bin here. This explains why there are irresponsible people who still throw trash on the river.
Teras Cikapundung's basic facilities are limited to toilets and a parking space for motorcycles. Visitors bringing their own car can park at the parking lot of Babakan Siliwangi Forest, which is located nearby.
See: Guide To Explore Bandung Culinary Spot, Sudirman Street Food.
How To Get To Teras Cikapundung
Teras Cikapundung is easily accessible with a public transport minivan. From Bandung Railway station, take the van with route Cisitu-Tegalega. Stop at Tamansari shelter and continue to walk 500 m to the location. From Bandung point 0 (Asia-Afrika Street), visitors can take a minivan with the route Sederhana-Buah Batu. And swift to minivan Cicaheum-Ciroyom at Halte Paskal Shelter.
From anywhere else in Bandung the destination is inaccessible by public transport. Stop a taxi instead. It usually takes around 30-40 minutes to get to Teras Cikapundung from any point in the city. Use a metered taxi to avoid scams.
See: Indonesian SIM Card, Guide & Internet Package Price.
Address & Location
Teras Cikapundung location is just 1 km away from the famous factory outlet Rumah Mode. It is located in Jl. Siliwangi, Hegarmanah, Cidadap district, Bandung, West Java 40131.