Besakih Temple
Entrance Fee: Rp60.000
Opening Hours: 08:00 - 17:00 WITA
Telp. Number: -
Address: Desa Besakih , Besakih , Rendang , Karangasem, Bali, Indonesia , 80863.
Besakih Temple is situated at Karangasem Bali. At the foot of the highest mountain on the island, Mount Agung. This millennia-old Pura (temple) is actually a large complex. Consisting of 18 smaller temples, each with different types and purposes. With 3 kilometer radius from the outer temple to the uppermost one.
The complex is the largest temple in Bali. Balinese people also refer to this temple as The Mother Temple. The word 'mother' in Mother Temple indicates the temple's significance in Balinese Hinduism. The site is where the first holy revelation was received by Rsi Markendya. The pioneer of Balinese Hinduism.
This makes Besakih the first Hindu temple ever built in Bali and also the holiest. Pilgrims of all castes come from every corner of Bali to pray and take part in various religious ceremonies at the temple.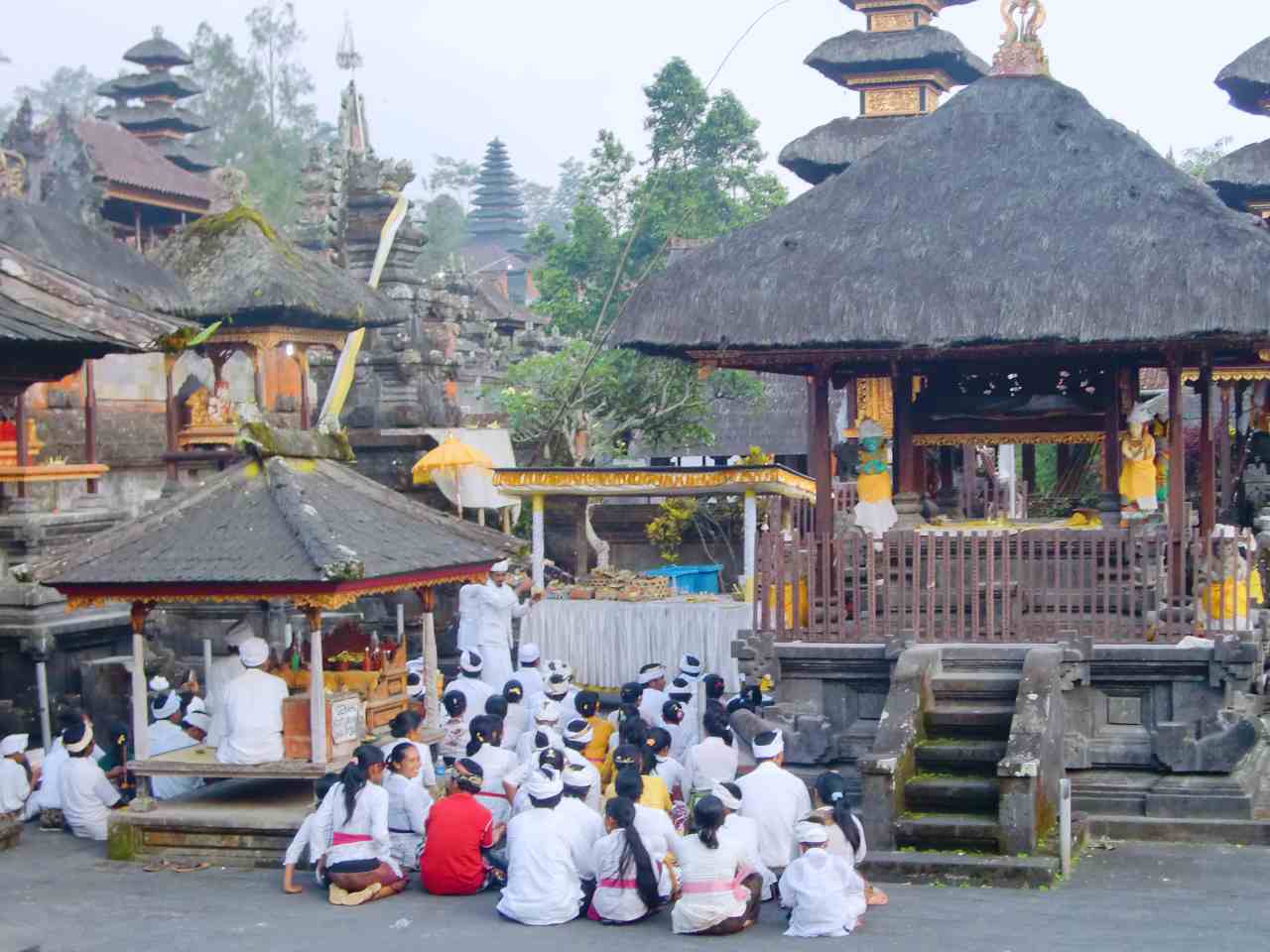 As a tourist attraction, the temple is both loved and criticized. The criticism is mainly directed at stouts, local guides, and 'temple guardians'. Who reportedly scam tourists and therefore reduce the experience when visiting this religious place. This is an issue local officials continue to work on.
Despite that, the Besakih temple still continues to attract visitors with its sacred presence, grand architecture, and surrounding scenic view of the Mount Agung landscape.
'Sembahyang' at Pura Penataran Agung – The Center of Besakih Temple
Going to Besakih, it's hard to not notice the grandiose architecture of Pura Penataran Agung. It is the center of Besakih Temple. Pura Penataran Agung stands out with its Balinese-style giant gate. And the equally giant stairway leading to the temple's courtyards.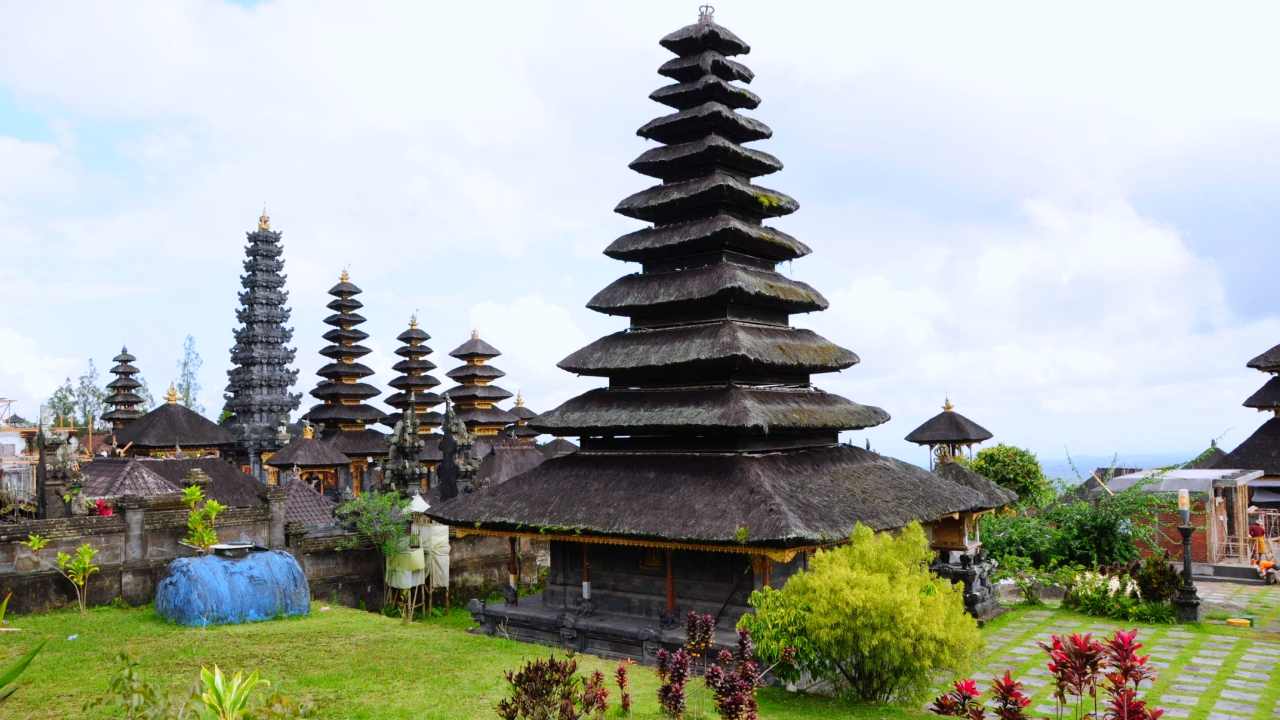 The temple is built on 7 tiered terraces representing 7 universes in Hindu belief. Each terrace has its own shrines and sculptures, decorated with cravings from Mahabarata and Ramayana. Worshippers pray here to seek blessing from the destroyer god Shiva, to whom this temple is dedicated.
Join a group of pilgrims in their traditional attire as visitors ascend the stairway. During normal days without big ceremonies, the inner courtyard is also open for visitors. Observe a group of worshipers as they pray in a devout manner led by a priest. This is when visitors can learn about Balinese spiritual life up close.
To get the most out of the experience, go with a Balinese friend who intends to pray here. Participating in a procession will give a different perspective than only observing as an outsider. Even if visitors are not religious or spiritual. The experience would give an insight into devotion to the Hindu faith.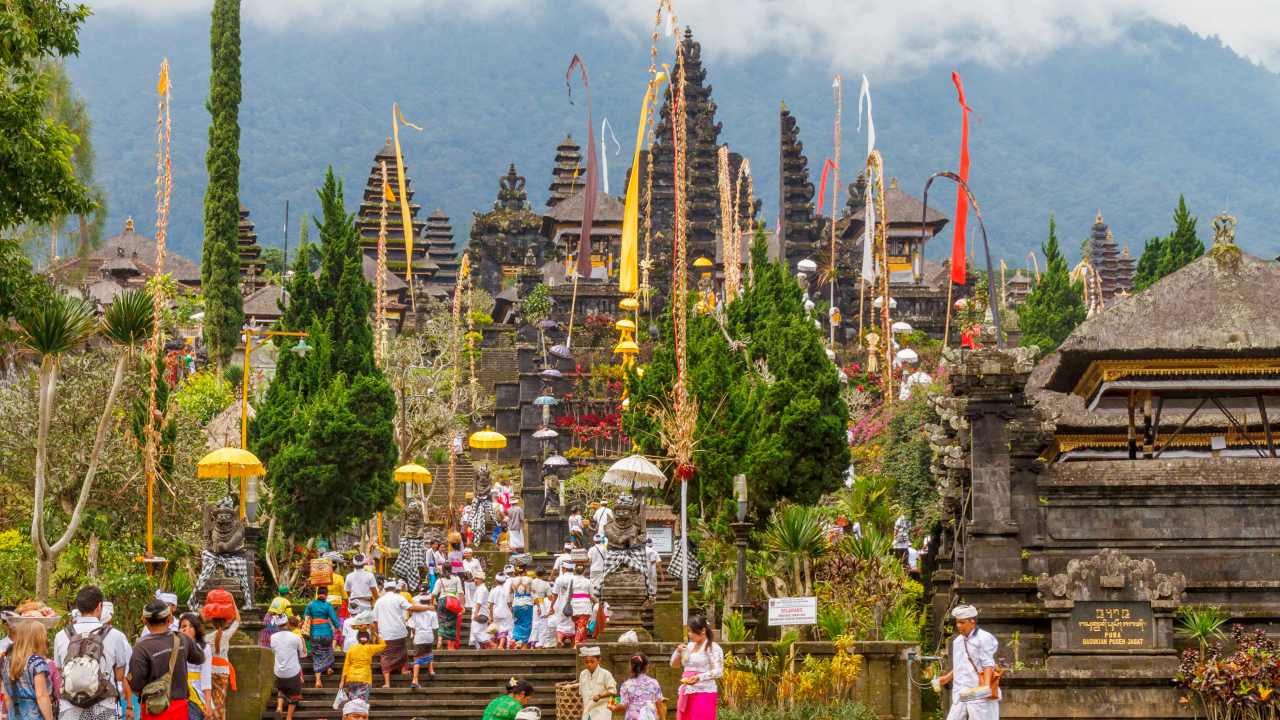 Something that embodies deeply Balinese culture. It is also wonderful to experience a sense of Balinese spiritual collectiveness by kneeling along with other worshipers.
Besakih Temple Ceremonies and Festivals
There are around 70 festivals and religious ceremonies being held every year at Besakih Temple. But visitors should come during the two most important ceremonies. The Odalan (festival) of Penataran Agung Temple, and Batara Turun Kabeh Festival.
During Odalan of Pura Penataran Agung, visitors can see thousands of Balinese crowding this main temple. That every stair on the giant stairway is full of people praying. It's a grand procession and an exceptional spectacle.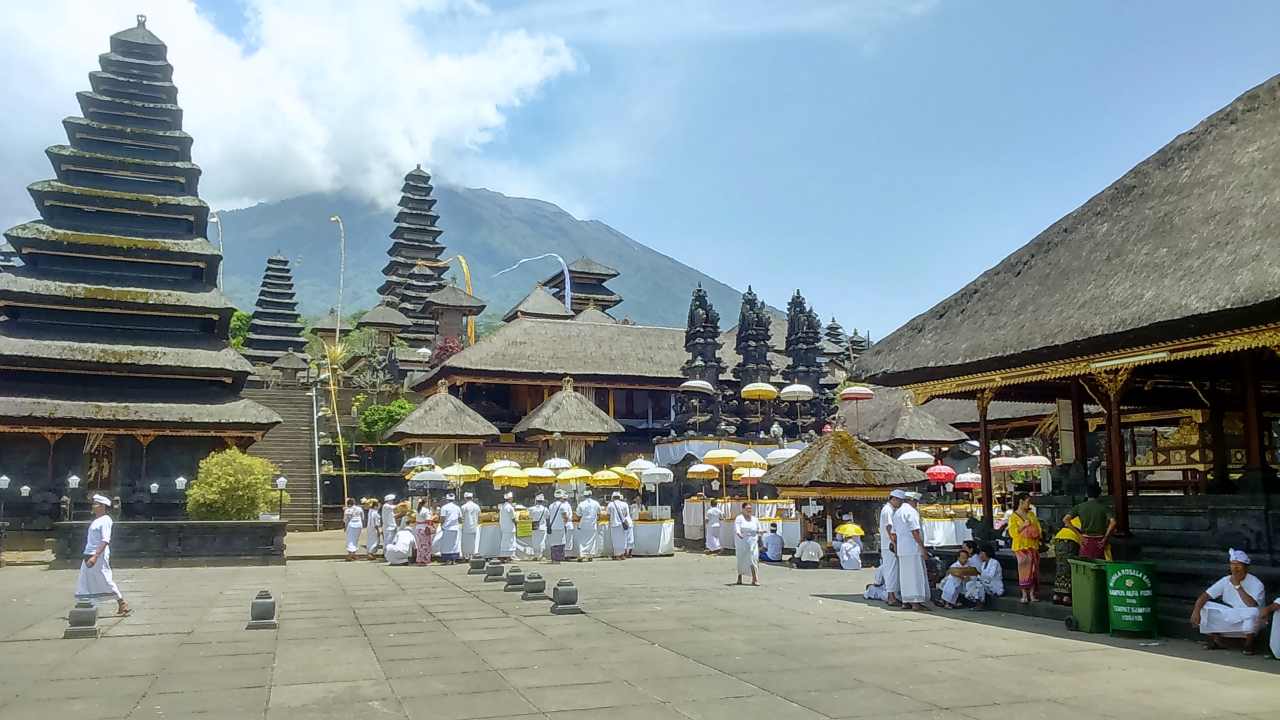 Batara Turun Kabeh is an even bigger festival than the Odalan. Held every 10 lunar months according to the Balinese Saka calendar. The festival is to celebrate the Hindu gods who are believed to descend during the time of the festival.
Prepare to be awe at 1 meter tall. The Balinese colorful offerings bring as a sacrifice to these gods. It's also an opportunity to enjoy traditional dances such as Rejang, Wayang Lemah, and Baris. That is even more, performed many times during this 3-weeks festivities.
Pura Gelap Besakih
A less popular temple, Pura Gelap Besakih, lies just about 20 minute's walk from Pura Penataran Agung. The 'gelap' (dark) in its name refers to the black stones dominating the temple structure. Compared to other temples in Besakih, Gelap Besakih Temple seems to be stuck in the 13th century. With its ancient 'Tomb Raider' vibe.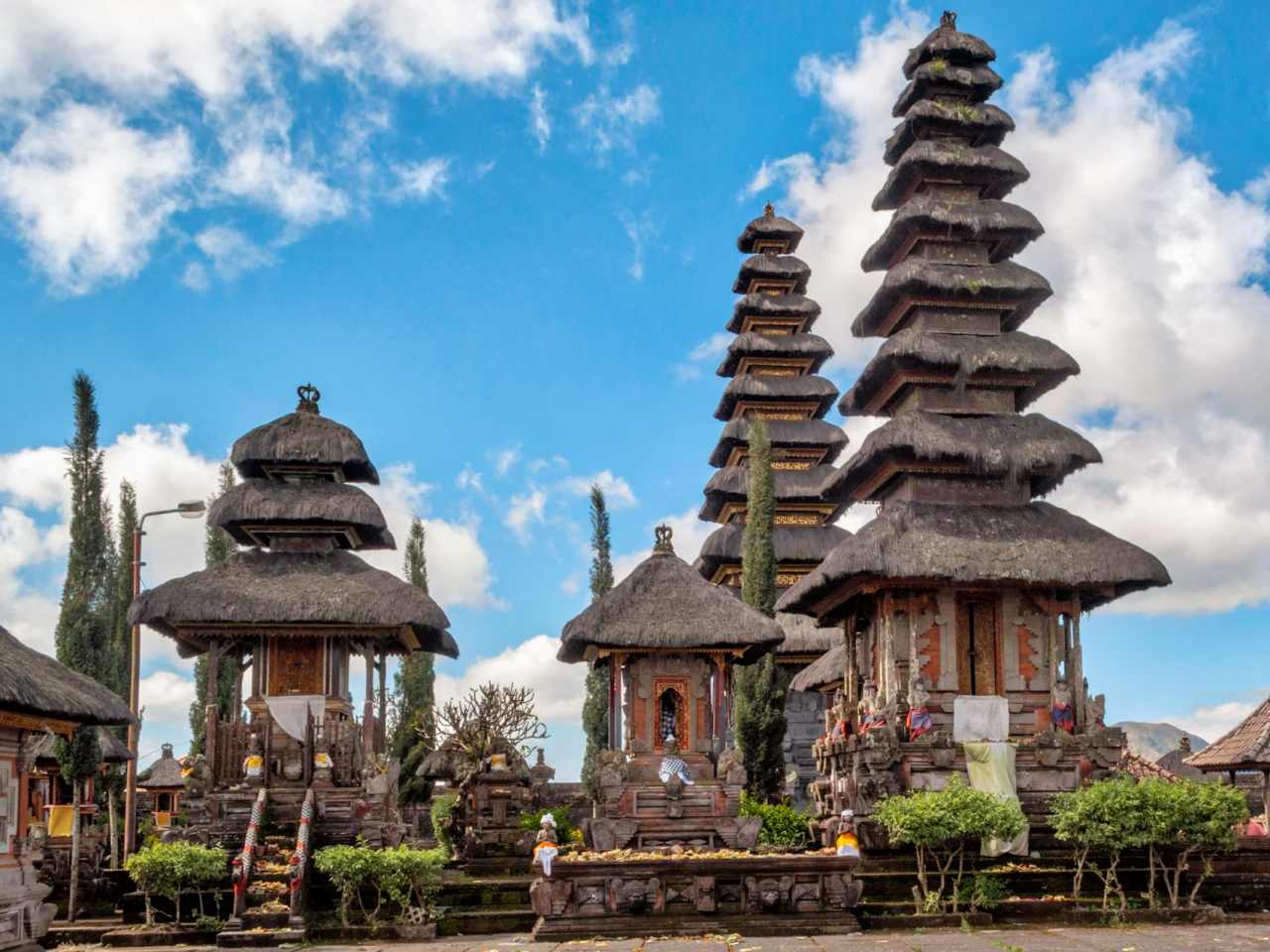 A more unusual, Majapahit-Esque gate adorned with difficult curves and carvings, marks the temple's entrance. The temple is not a ruin, yet it feels like it is. Wild vegetation and green moss grow between cracks in the temple's stairways, banisters, and walls – nobody bothers to clear them.
Upon arriving at the top of the stairs, visitors will see the panoramic view of the whole island of Bali with cities and villages below sprawl endlessly toward the horizon. Standing between the gates will give visitors the impression of being at the intersection between two different worlds.
A Pilgrimage With Nature
Other temples in Besakih also deserve a visit. 30 minutes from Gelap Besakih is Tirta Pingit Temple, a more secluded temple that lies in a valley in Mount Agung. A combination of hiking and pilgrimage will bring visitors to pass through a forest. Along the way to the temple.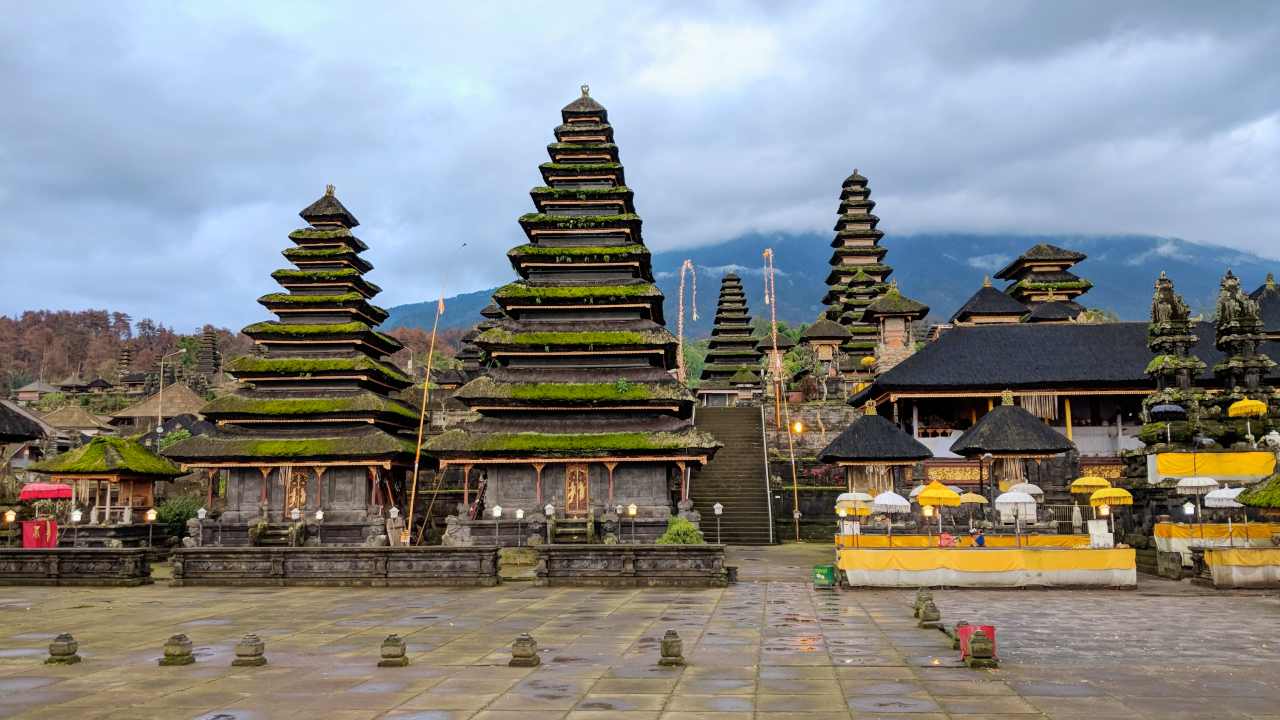 Tirta Pingit is a quiet place for meditation, where the Balinese contemplate and be grateful for the nature their God has given them. Pura Pangubengan is another 20-minute hike northward from Tirta Pingit. This uppermost temple is the closest visitors can get to view Mount Agung's summit from the Besakih complex.
The temple provides views of the surrounding villages nearby, with rice fields and green forests, all rolling into the ocean far in the east. It's peaceful to spend several minutes here. Before going back to the more crowded part of Besakih Temple below.
See: Taman Ujung Water Palace, Soekasada Guide & Ticket.
Besakih Temple Opening Hours
Although the temple is open 24 hours for worshipers. The official opening hours are from 8 AM to 5 PM. The best time to visit is either early in the morning or late in the evening. That is to say when the pilgrim activities at the temple are less.
Besakih Temple Opening Hours
Every day except Nyepi
08:00 – 17:00 WITA
Nearby: Guide To Explore Lempuyang Temple (Gate of Heaven).
Besakih Temple Entrance Fee
The entrance ticket for international tourists is Rp60.000. Bear in mind, that a modest dress code is strictly applied here. Wear proper clothes covering the shoulder. Bring a sarong to cover from the waist down. The entry includes a sarong and a guide. But as the temple is quite packed with visitors.
There is no guarantee sarong is available at the ticket office. The temple is not only popular with its size, but also a scam. Some pushy lady and a child will try to sell or rent a sarong. And the official guide will most likely try to rip off tourists with its non-mandatory tips. Avoid using the pushy guide and be firm.
Besakih Temple Entrance Fee
International visitor
Rp60.000
Nearby Spot: Tirta Gangga Water Palace, Dipping in Hot Spring. 
Facilities
Parking will cost Rp 5.000 for every car. There will be no shortage of food, as hawkers are plenty around the temple complex, selling snacks and beverages. Toilets and an information center are close by the entrance, as well as small restaurants and souvenir shops. Rental for sarong starts from Rp 50.000, just in case visitors don't bring one.
See: Bali Airport Guide, Airport Transfer & Public Transportation
How To Get To Besakih Temple
From Denpasar, head to Sanur and then to Klungkung by taking the Kusumba bypass. At Klungkung, take the right turn at the Menanga intersection and drive toward Besakih. The journey will take 3 hours from Denpasar. Renting a car or scooter is a convenient option back then when there isn't a lot of options for public transport.
Back then there is only Bemo and it is complicated to get to the destination. The journey starts from Ubung to Klunkung terminal. From Klungkung terminal, passengers will have to catch another Bemo that heads to the Besakih temple. Take note the Bemo to Besakih is not available after 3 pm.
Luckily now there is a cheaper and more convenient way to get to the temple. Public transportation Bali Airport Connection Bus is available now and departs from Bali International airport. There are 2 departures at 8 AM and 10 AM, the bus departs from the domestic terminal at Bali Airport. The bus fare during the promotion period is only Rp25.000. While from Besakih temple, the bus leaves at 12:00 and 2 PM.
See: Prepaid SIM Card, Internet Package Price & Provider.
Address & Location
Besakih Temple located in Jl. Gunung Mas, Ds, Besakih, Rendang, Kabupaten Karangasem, Bali 80863.