Kalibiru National Park
Entrance Fee: Rp20.000
Opening Hours: 06:30 - 17:00
Telp. Number: -
Address: Jalan Waduk Sermo, Hargowilis , Kokap , Kulon Progo , Daerah Istimewa Yogyakarta , Indonesia , 55653.
Kalibiru National Park is located at Menoreh Mountain, Kulonprogo Regency, Yogyakarta. The rolling hills host thick green forests with over 7 km of trekking tracks. It wasn't always like this before. In the past Kalibiru was a barren and arid area. Trees are gone due to political instability which leads to unsupervised burnings and illegal logging.
It was not until the year 1999 that the local community took an initiative for a reforestation effort. The effort back then was sponsored by the government. It took years for the trees to grow as tall as they used to be. But thanks to this effort, now everyone can enjoy a green forest that once was a perished dream.
Later, Kalibiru was officially announced as a tourism spot in 2008. Kalibiru National Park has since been managed by the local residents of Kalibiru Tourism Village. It's a popular destination for vacationers looking for an escape from the big city.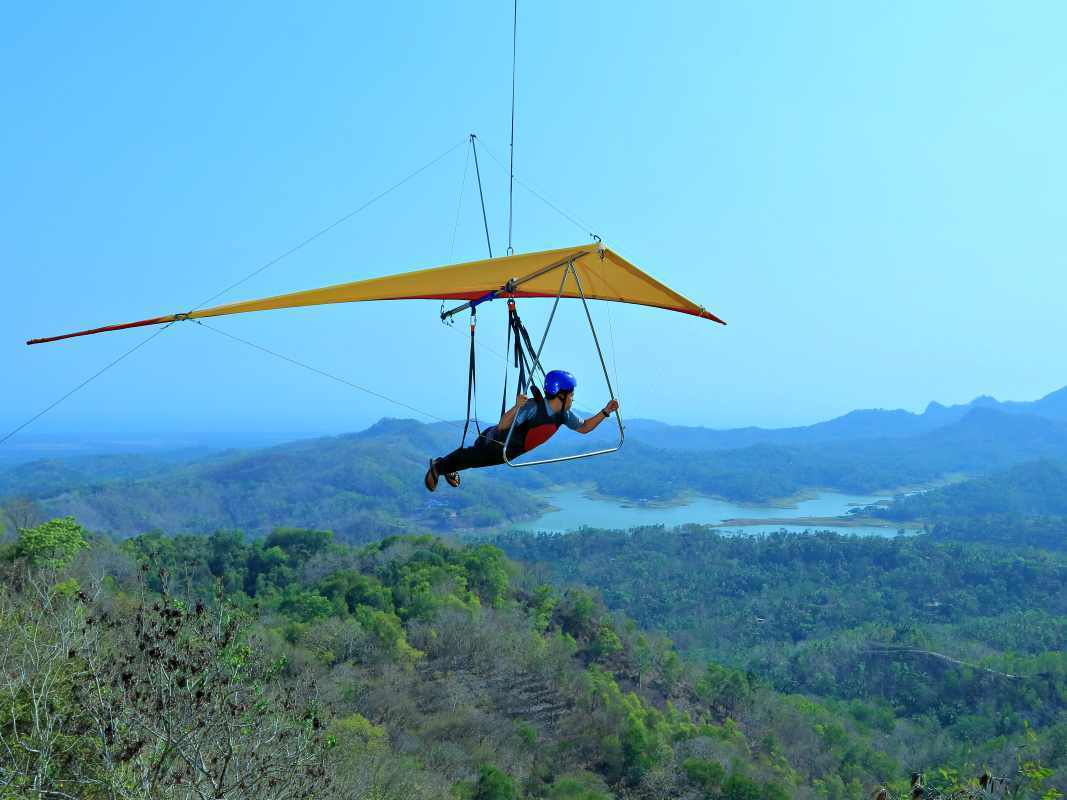 Since Kalibiru is located 450m above sea level, the air is cool and clean. From this viewpoint, tourists can take a glance at the nearby Sermo Reservoir, an artificial lake serving as an irrigation and water source for the Kulonprogo regency.
Kalibiru National Park Entrance Fee
The entrance fee to the site is affordable. For international tourists prepare Rp20.000 and another Rp6.000 to get to the reservoir. Some photo spots and other outdoor activities require other extra bucks.
Kalibiru National Park Entrance Fee
Ticket
Rp20.000
High Rope
Rp35.000
Stage spot, Spot 1, circle spot
Rp15.000
Spot 2, spot 3, the oval
Rp10.000
Bicycle, Canoe, Gantole
Rp30.000
See: Caving and rafting in an underground river, Pindul Cave.
Kalibiru National Park Opening Hours
The national park opens from 6:30 AM to 5 PM. The photo spots are popular, especially during weekends, so it's better to visit on weekdays to avoid the long queue.
Kalibiru National Park Opening Hours
Everyday
06:30 – 17:00
See: Extreme Gondola & Bridge in Timang Beach, Yogyakarta.
Kalibiru National Park Viewpoint & Sunset
Kalibiru is famous for a seemingly endless row of trees surrounding the Sermo reservoir. The Sermo reservoir sits in the south, its surface glistening like a pearl, reflecting the sunlight. Far behind, a white line shows the waves of the South coast's beaches.
In good weather, expect a glimpse of the notorious Mount Merapi on the north side. All of these spectacles are nothing but remarkable. Nearing dawn, head to Kalibiru's iconic viewing deck, a gazebo with a traditional Joglo design. This is the best spot to hunt for sunset.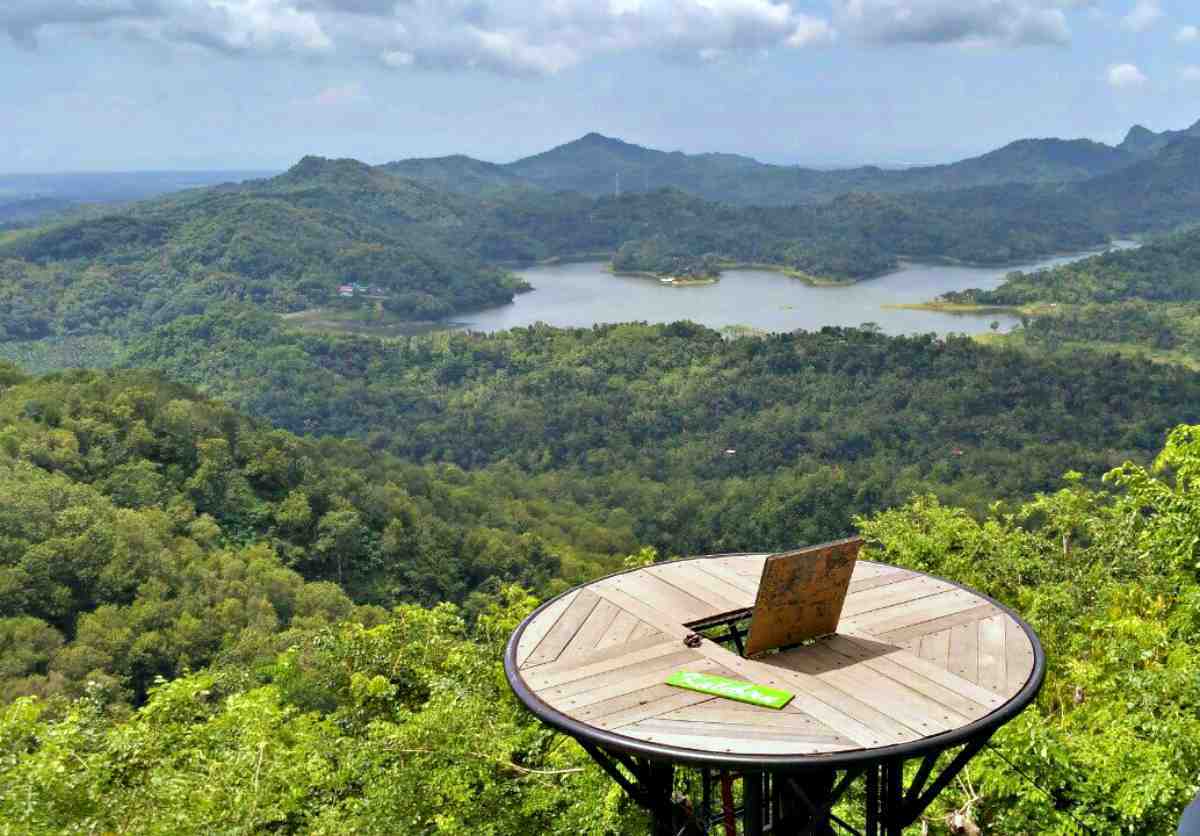 Wait as the time creeps into the evening, and then watch the sun making its way down before disappearing into the horizon. The sky turns from orange to red to purple, all colors stacking to each other creating an incredible painting only nature can create.
Photo Spots
It would be a shame to leave this scenic place without capturing some social media-worthy photos. Queue among eager visitors to snap a picture at one of the photo spots. The photo spots at Kalibiru National Park are basically wooden platforms located on strategic vantage points.
Some are built on tall trees, others are built on the edge of a cliff. Photo spots at Kalibiru National Park are not free, visitors will need to pay an additional fee.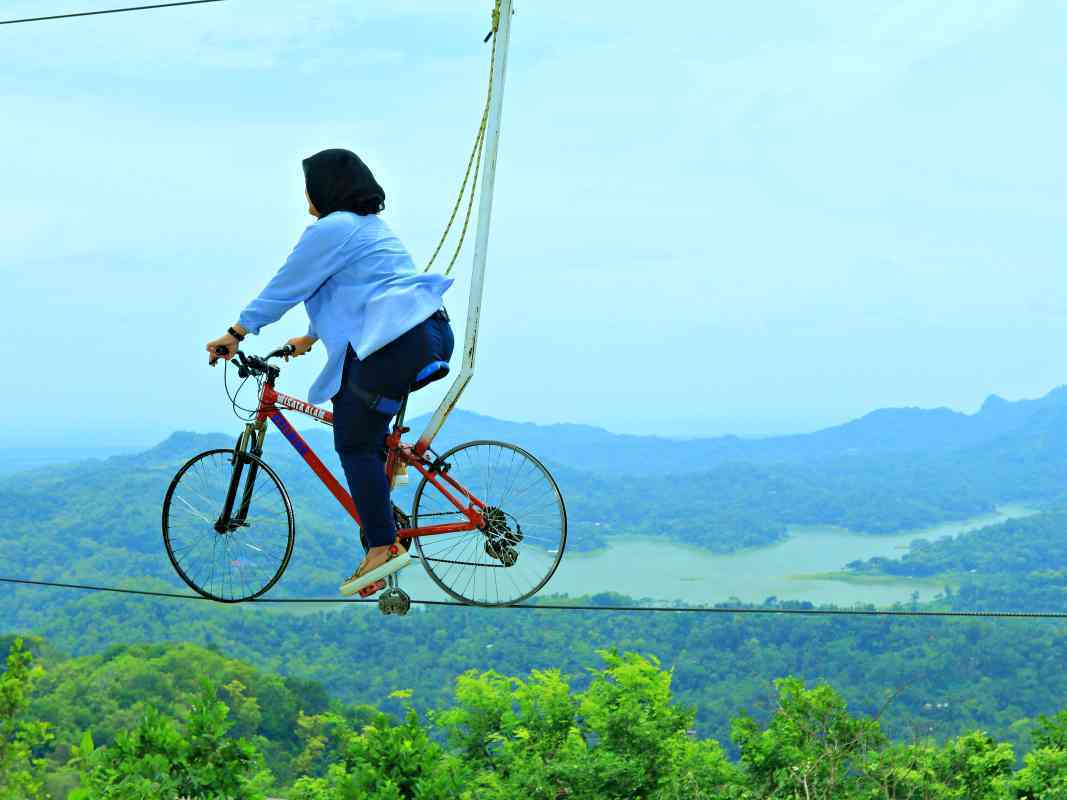 But if the results are heavenly pictures. As if floating mid-air surrounded by wonderful greenery, no one would complain anyway. Photo spots fee starts from Rp10.000 for a 5-minute photo session.
Trekking At Kalibiru National Park
The thick forest of Kalibiru invites hungry adventurers to reveal its beauty. Not only that the trekking route is well-maintain. But it also comes with several options. Opt for the shortest track for an easy stroll. The short route is only 2-3 kilometers.
The longer track is about four to seven kilometers long. Do make a stop at Sermo's reservoir. Because the trek passes through this beautiful artificial lake. Rest on the lakeside while watching the locals fishing. There are also plenty of photo opportunities at Sermo, so do not forget to snap some photos before leaving.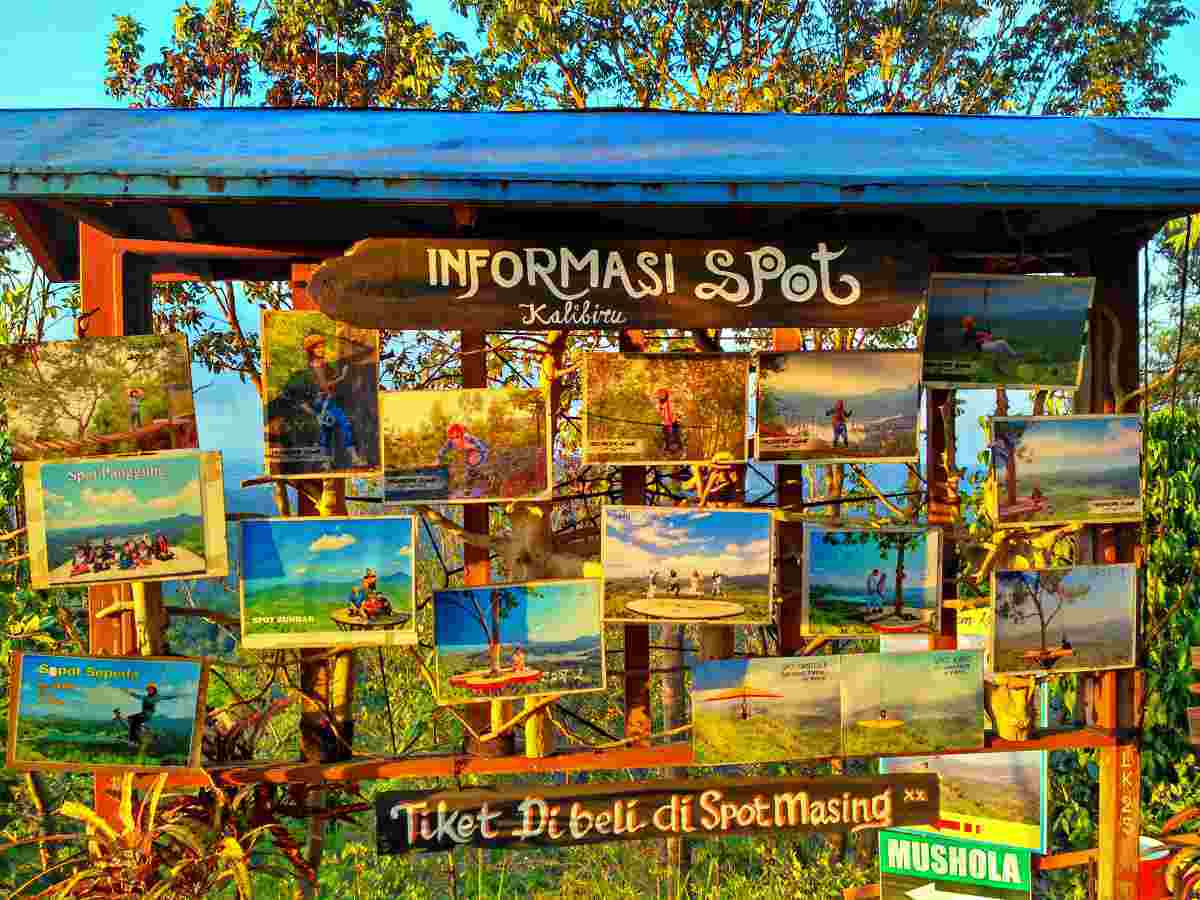 Adrenaline Bridge & Swing
Spice up the peaceful Kalibiru National Park visits with a little bit of excitement. There are plenty of outbound activities to choose from. Rent an ATV or a Jeep, and explore an off-road adventure through the Menoreh forest. If the idea of swaying high above the ground sounds fascinating, then do not miss the adrenaline bridge.
The adrenaline bridge is a sky bridge made from wooden planks tied together with a rope. It's shaky and scary at first, but try to distract the mind with the scenery while crossing.
In no time, visitors will get to the other side. Other activities to do are the zip-line, spider web (rope-climbing), and the death swing (a swing in a cliff-side).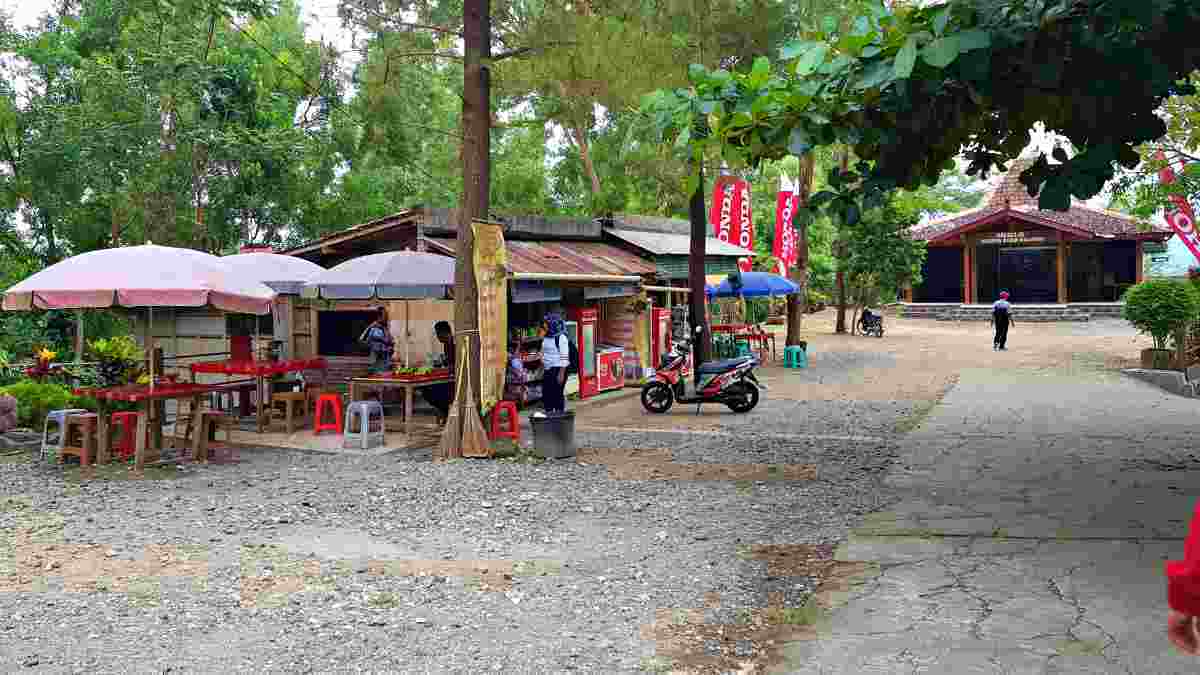 Facilities
Facilities at Kalibiru National Park are pretty basic, such as toilets and parking spaces. There is a free WiFi service near the entrance. Food vendors are plenty, so no need to worry about running out of food supplies. For accommodation, there are plenty of hostels and guesthouses in the village nearby. The rate is as cheap as Rp120.000 per night.
See: Internet Package Price & Indonesian SIM Card Guide.
How To Get To Kalibiru National Park
Kalibiru National Park is a 45-minute drive from downtown Yogyakarta. There are many options to go to Kalibiru National Park. The most convenient is by renting a car. Starting from Rp400.000 for a day trip, visitors can get a 6-seated van including a driver. The cost can be cheaper if there are more people renting the same car (shared car).
Tourists preferring public transport can take Trans Jogja Bus to Giwangan Bus Station. At Giwangan, get into a bus heading for the City of Wates. After stopping at Wates Bus Station, it's still 10 km left to the national park. From here on, continue the journey to Kalibiru using a motorcycle taxi.
See: Yogyakarta International Airport & Public Transportation.
Address & Location
Kalibiru National Park situated in Jl. Waduk Sermo, Hargowilis, Kokap, Kulon Progo, Yogyakarta 55653.