Imogiri Pine Forest
Entrance Fee: Rp5.000
Opening Hours: 06.00 - 17.00 WIB
Telp. Number: -
Address: Sukorame, Mangunan, Dlingo, Bantul, Daerah Istimewa Yogyakarta , Indonesia , 55783.
In Imogiri Pine Forest, Bantul, travelers can find themselves in green natural tranquility. Roughly 24 kilometers away from Yogyakarta, arrays of gigantic pines populate the 500-hectare land. Standing at more than 30 meters, thousands of skyscraping pine trees instantly dwarf every nature lover.
Subtle sun ray beams through the leaves as the distinctive pine aroma rules the air. Under the visitors' very feet, carpets of velvety green moss are stretched out. Pine cones of various sizes dot the area. As some squirrels fights over them. Boulders and logs are scattered around, providing a decent seat to take a rest.
Sheer mist lingers and hovers in peace, leaving a trace of gray. Imogiri pine forest does not show off its natural beauty only though. It also boasts a large amphitheater and observation towers that allow everyone to admire its charm.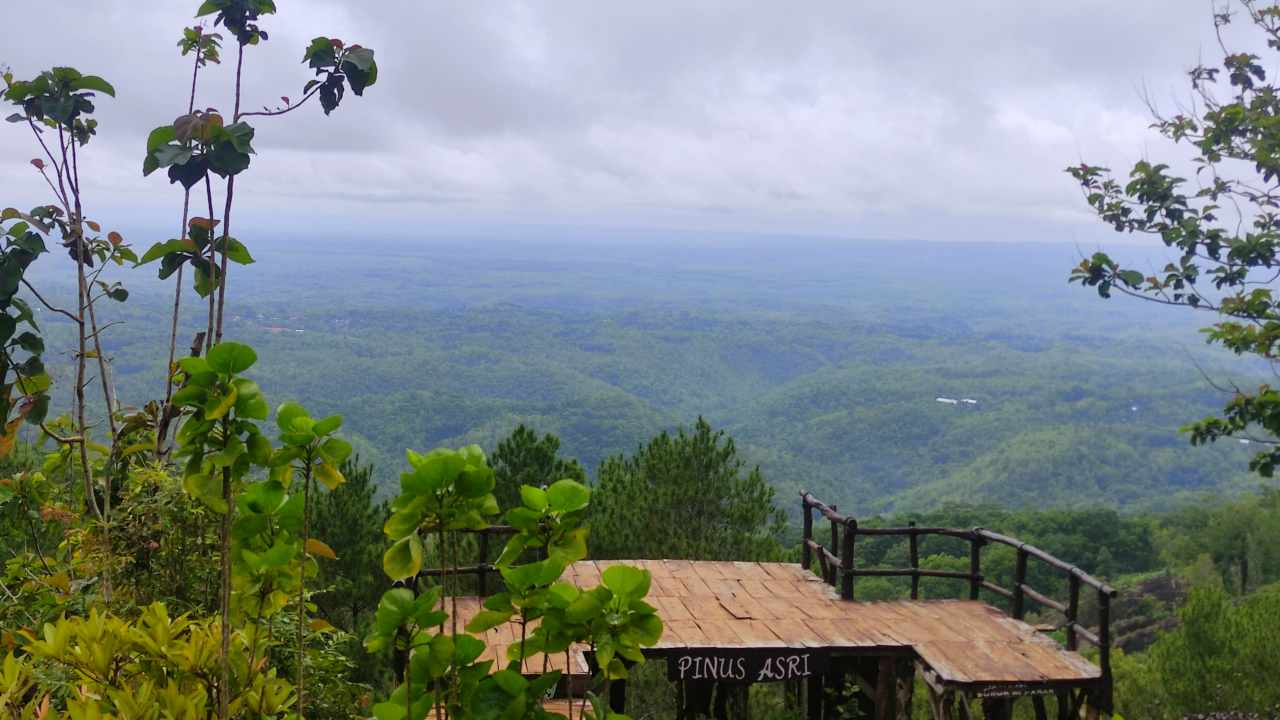 Both are made entirely out of wood and bamboo, a nod to the local wisdom. Guests however only get to spend a maximum of ten minutes at the towers due to safety reasons.
Imogiri Pine Forest Entrance Fee
The entrance fee to explore the forest for international tourists is the same as for local. The ticket is Rp5.000, however, it doesn't include entrance tickets to other nearby spots. On the other hand, the entrance to other spots is cheap too. They range from Rp5.000 to Rp10.000.
Imogiri Pine Forest Entrance Fee
Entrance Fee
Rp5.000
Motorcycle Parking Fee
Rp3.000
Car
Rp 10.000
Hammock Rent
Rp10.000 – Rp20.000
Flying fox
Rp20.000
Glamping
Rp600.000 (weekday)/ Rp700.000 (weekend)
See: Guide To See Imogiri Royal Cemetery & Javanese Costume Dress Code.
Imogiri Pine Forest Opening Hours
The pine forest area is open from 6 AM to 5:30 PM for regular visitors. The amphitheater and the observation towers operate at the same hours on a daily basis. It, however, does not open 24 hours a day as it is pitch black at night. The area's limited electricity supply hinders the forest to have sufficient lighting.
Imogiri Pine Forest Opening Hours
Every day
06:00 – 17:30 WIB
Nearby: Sri Gethuk Waterfall & Top Things To Do.
History of Imogiri Pine Forest
It is actually part of Mangunan Forest Management Resort. And it does not belong to Imogiri. However, since the forest is close to Imogiri, people often confuse it with Imogiri. Such confusion carries on and the "wrong" name sticks to this very day. It is not a damaging mistake though, nothing and no one is harmed anyway.
Before its present fertile glory, it was engulfed in flames from a wildfire a long time ago. The government was thankfully quick to respond and took restorative actions. Years flew by and a hint of green emerged gradually in this once-barren land. The forest which used to lack plants is now very lush and dense.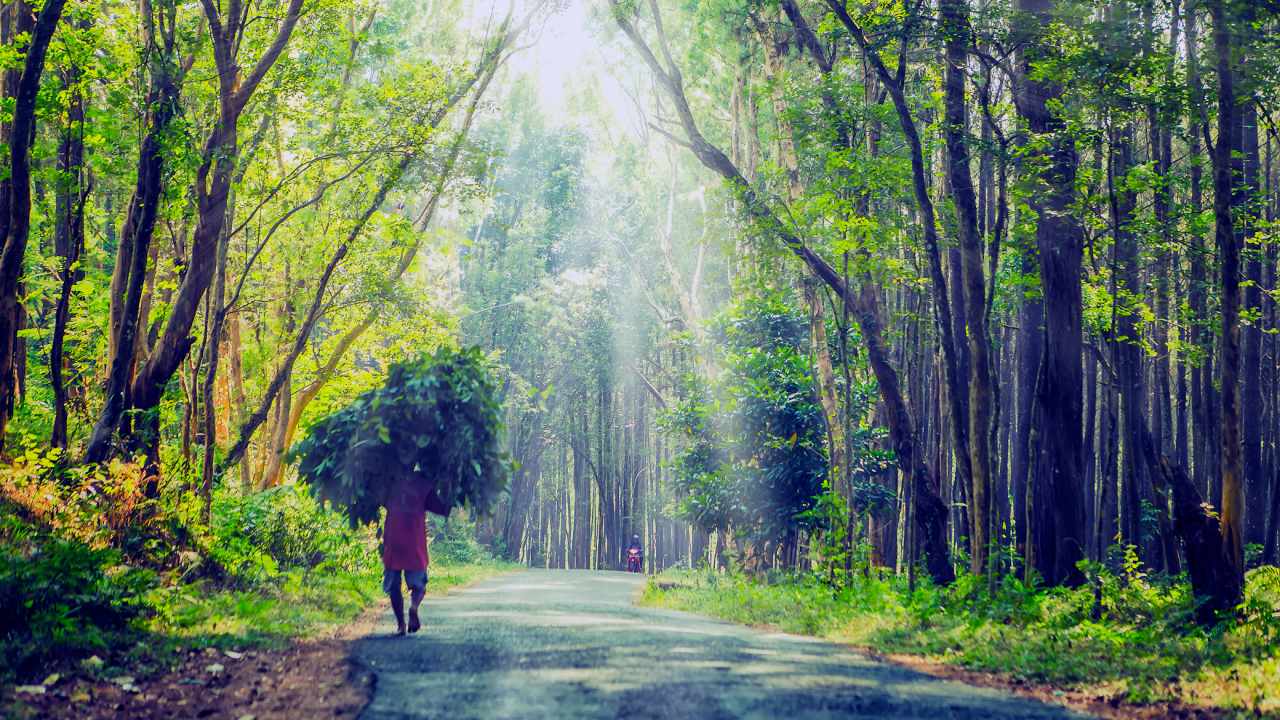 Initially, the government intended to revive the plants for the sake of the ecosystem only. Locals and tourists, however, notice something enchanting. As the pine trees grow. Such sturdy trunks and shady emerald leaves were irresistible appeals for many. All of sudden, Imogiri Pine Forest become one of the top natural destinations in Yogyakarta.
Amphitheater & Observation Deck
Imogiri pine forest has an amphitheater and observation towers that visitors can enjoy. In total there are 3 stages shaped in half-circles and one main stage in the middle. The stages are not high at all, merely about one meter high. The audience benches, made of wood as well, could gather over 150 audiences.
To completely immerse in the forest's stunning scenery, climb up the stairs to the observation towers. The tower is around 10-12 meters high with a 360-degree spectacular landscape. Each tower can only fit five people in one go. While up there, keep in mind. Do not make any sloppy moves as the base is not that solid.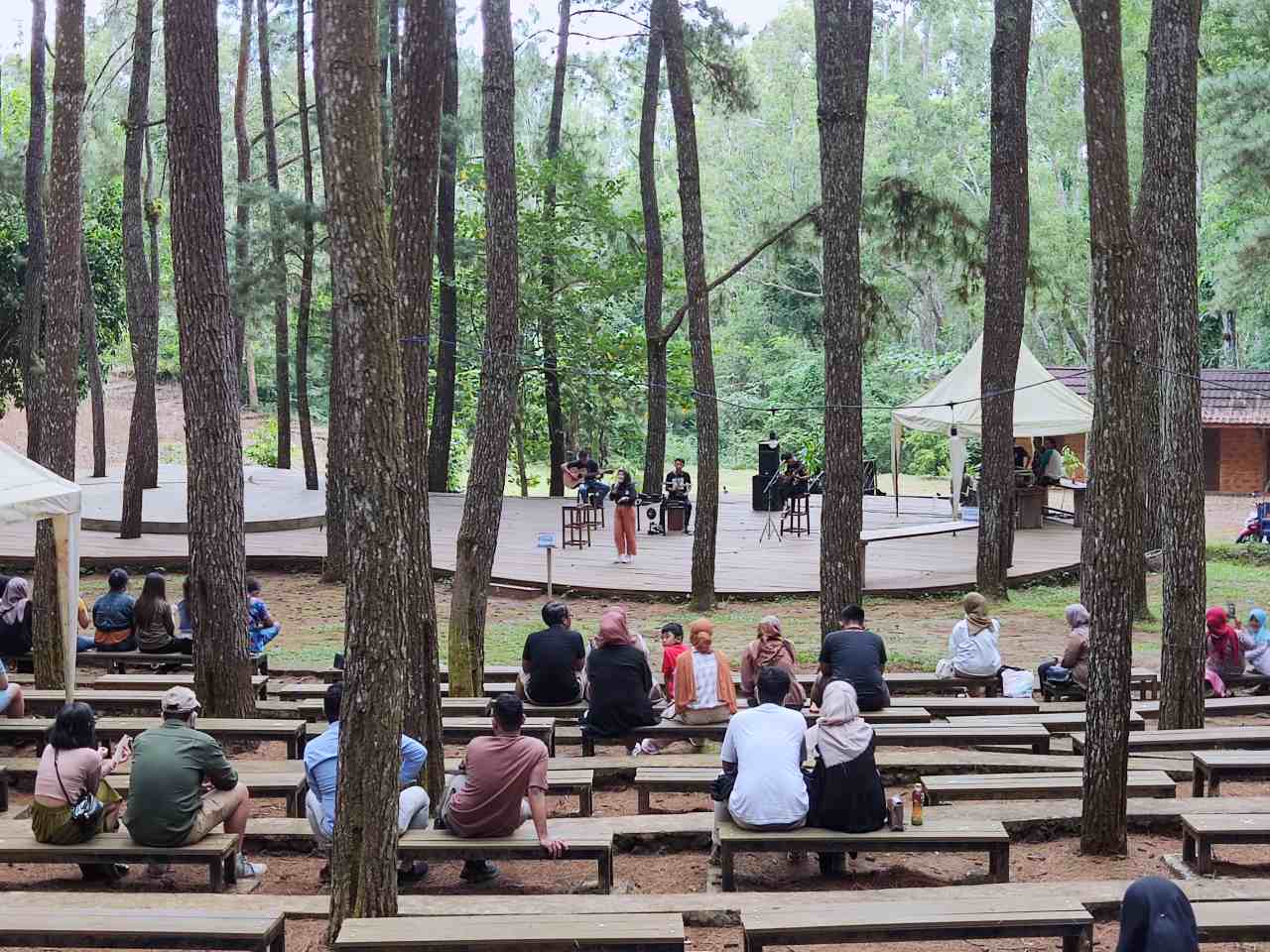 Relax and soak up tranquility in the ephemeral moment. Let the forest's serenity soothe and seep into the wanderer's adventurous souls. The chirps of birds are harmoniously blended with the sound of the leaves rubbing against each other. While picnicking in the forest or just laying lazily in the hammock.
Cold breeze calms down the restless nerves and chills the sweaty skin. For travelers coming from crowded urban cities. Such mute sound harmony is a rare treasure to behold.
Photography
Of course, there is nothing wrong with snapping pictures of the panorama. In every corner of the forest, vacationers can immortalize self-actualization in photographs and videos. The sky-high pine trees and viridian shades backed the golden sunlight. Followed by the bright blue sky pops up all colors definitely will add a vibrant touch to each picture.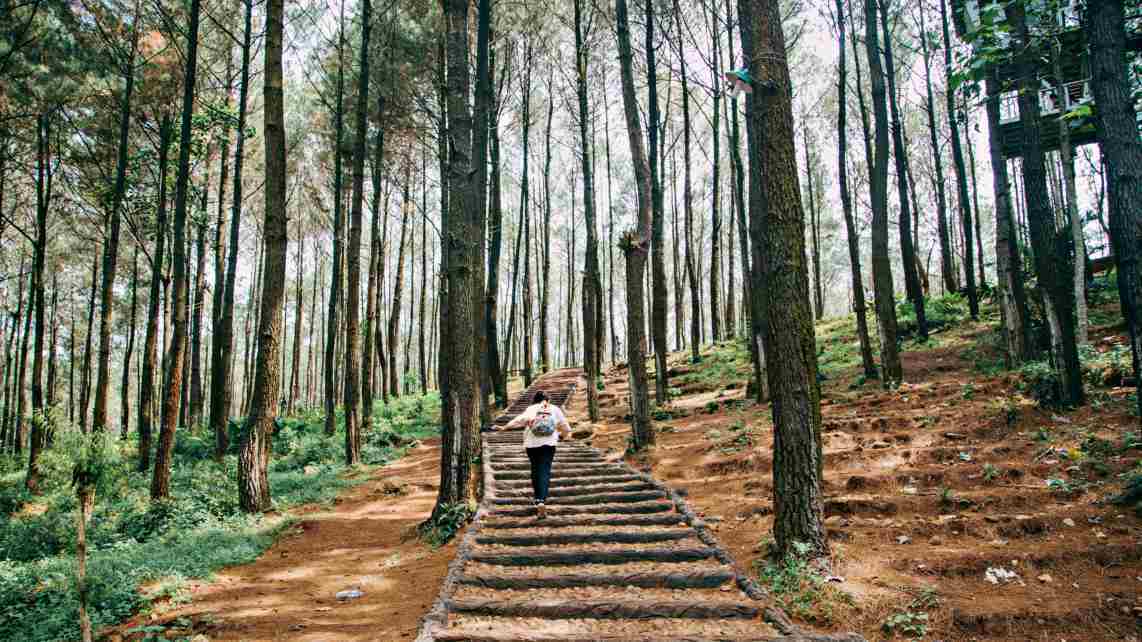 Unlike most tourist attractions, Imogiri Pine Forest charges no cost for professional DSLR cameras. It does not restrict professional or novice photographers to create spectacular images. If photo hunting is on the priority agenda, make sure to come before sunrise or sunset. There's nothing like yellow, red, and orange ribbons of the sun intertwining in between the pines.
See: Guide To Explore Beringharjo Market, Yogyakarta.
Facilities
After spending hours in the great outdoors, hunger and thirst will kick in. Not to worry though as a handful of modest food shacks or warung are available. The food shacks sell snacks, instant noodles, and other meals at affordable prices.
Even though it has no hotels in the forest, Imogiri Pine Forest has a camping ground. Each person will be charged Rp20.000 to set up a tent in the area. To point out, there's even a glamping site in the forest area for a luxury option.
Little mosques for Muslim visitors and restrooms are all set as well. These will ensure a comfortable stay, or visit, for nature enthusiasts.
See: Yogyakarta International Airport & Public Transport Guide.
How To Get To Imogiri Pine Forest
There is no public transportation from downtown to Imogiri Pine Forest or vice versa. Therefore, hiring a private car is the only option. The average private car rental for 12 hours ride including driver is Rp350.000 to Rp700.000. The price doesn't include the gas and driver tips.
The private car can carry 4 – 6 passengers. Motorcycles can also be an option. But consider the narrow steep roads near the location. Also, foreign visitors might not have experience dealing with steep roads, and let's not forget the dangers.
See: Indonesian SIM Card, Data Package & Price
Address & Location
Imogiri pine forest or as known as Hutan Pinus Mangunan located in Sukorame, Mangunan village, Bantul, Special Region of Yogyakarta 55783.