Gumuk Pasir Parangkusumo
Entrance Fee: Rp10.000
Opening Hours: 07:00 - 18:00 WIB
Telp. Number: -
Address: Jl. Pantai Parangkusumo RT. 1, Grogol 10, Pantai Parangtritis , Kretek, Bantul, Daerah Istimewa Yogyakarta, Indonesia , 55772.
Gumuk Pasir Parangkusumo is a coastal sand dune located at Bantul, Yogyakarta. Parangkusumo sand dunes stretch for 2 km from Opak River to the famous Parangtritis Beach. It's the one and only coastal dune in Indonesia. In fact, there are only three coastal dunes in South East Asia.
The Gumuk Pasir Parangkusumo, in the Philipines (La Paz Sand Dunes). And Vietnam has Mui Ne Sand Dunes. The sand is a product of volcanic activities of the Yogyakarta mountains, Merapi, and Merbabu. Opak River carries volcanic ashes which then are carried by air to Parangtritis Beach.
Wind and waves then erode the fine grains and pull them over the shore. This process happened a long time ago and still going. Scientists even say that every day Gumuk Pasir Parangkusumo is only getting wider. The climate of Gumuk Pasir mimics the desert climate.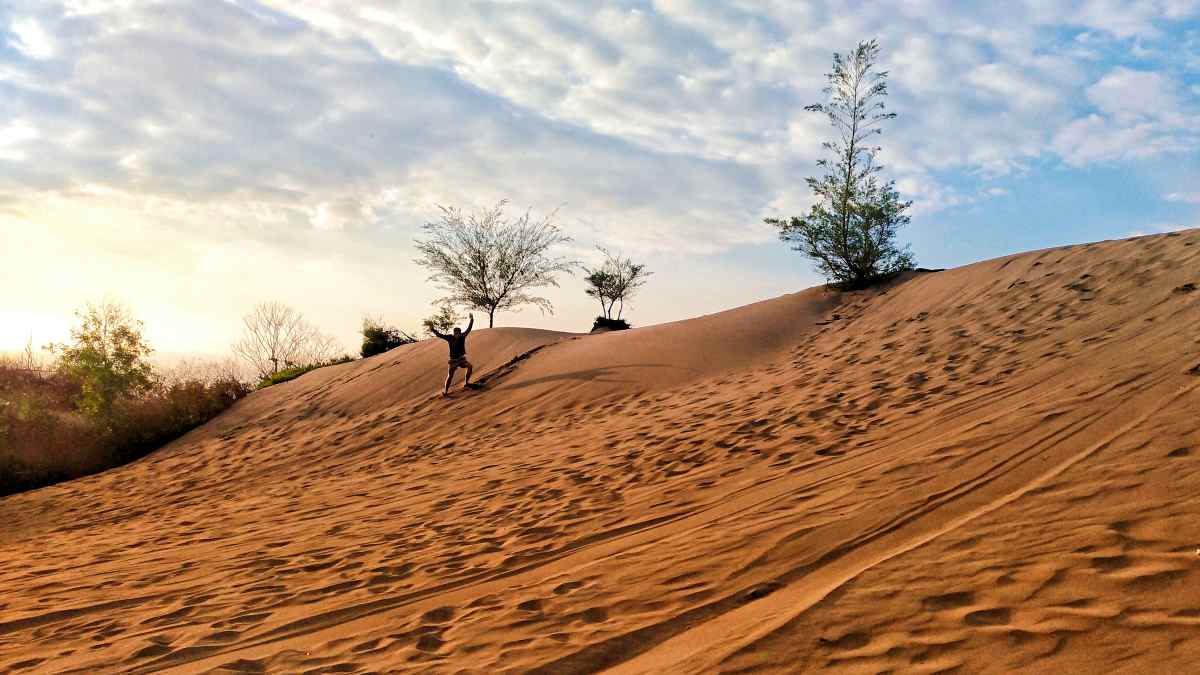 Parangkusumo Sand Dunes Entrance Fee
Admission to the site costs Rp 10,000 per visitor. There is a parking fee, Rp3.000 for motorcycles and Rp5.000 for cars.
Parangkusmo Sand Dunes Entrance Fee
Weekday
Rp10.000
Sandboarding + Guide
Rp100.000
Sandboarding without guide
Rp70.000
Trail & ATV
Rp120.000
See: Seafood Feast & White sand Indrayanti beach, Yogyakarta.
Gumuk Pasir Parangkusumo Opening Hours
Parangkusumo sand dunes are open daily from 7 AM to 6 PM. Visit early in the morning to avoid the midday scorching heat. The best time to visit Gumuk Pasir Parangkusumo is around the evening for sunset. Prepare a hat, sunblock, and sunglasses.
Gumuk Pasir Parangkusumo Opening Hours
Every day
07:00 – 18:00
See: Timang Beach, Gondola Ride & Extreme Bridge.
Parangkusumo Sand Dunes
Scorching at midday, the temperature will then drop significantly at night. Nowadays Parangkusumo sand dunes fascinate both tourists and scientists. The site is popular for sandboarding activities.
While for scientists it's the phenomenon that attracts them in the first place. To add to the fascination, the sand in the site is barchan type, a type of coastal dune that is supposed to only form in an arid climate, not in a tropical climate.
Sandboarding at Gumuk Pasir Parangkusumo
Imagine snowboarding when sandboarding in here. Both are pretty much similar, only the location is different. At Gumuk Pasir Parangkusumo, even a beginner can start sandboarding right away with a cheap rental fee of Rp70,000.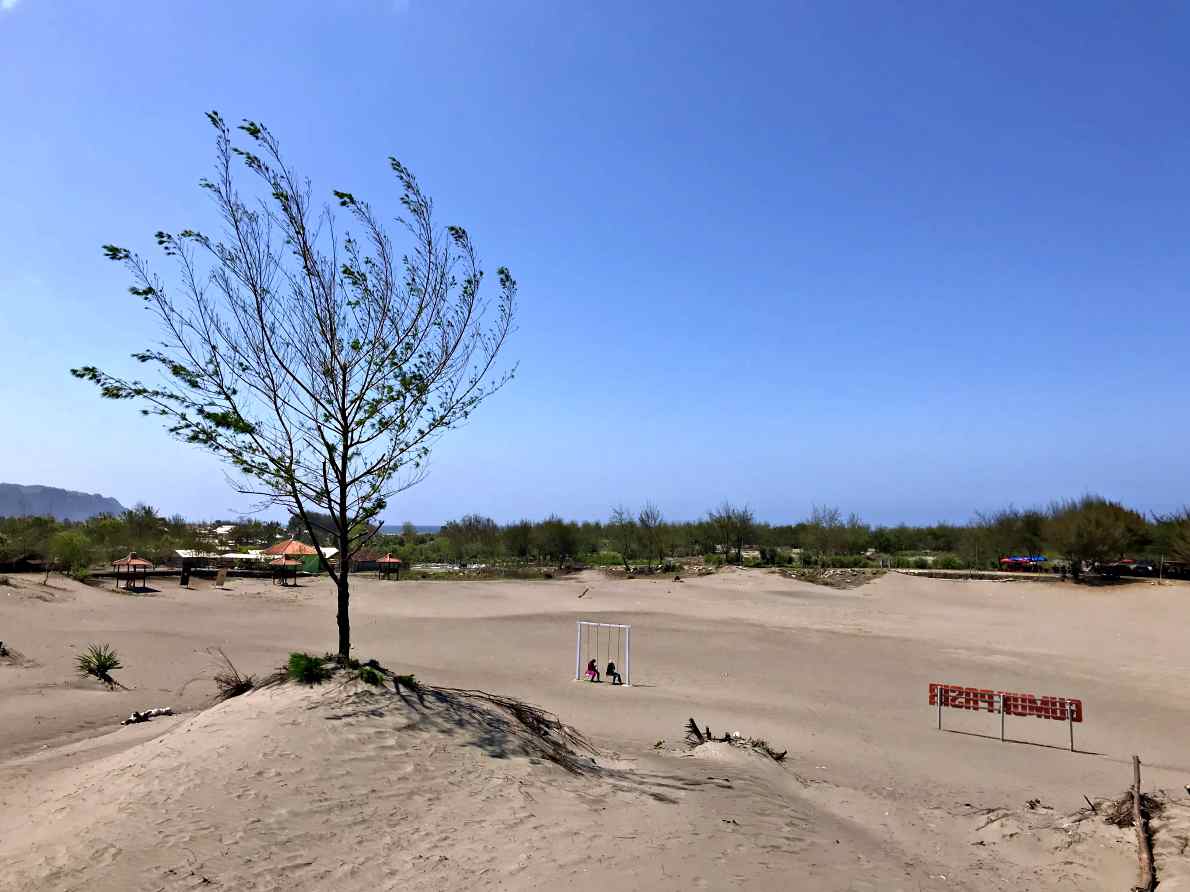 Not only that visitors will get to use a sand-board for an unlimited time. But there's also an instructor that will tell the basic how-tos. Gumuk Pasir Parangkusumo is the only place in South East Asia where tourists can sandboard. Due to its sand type, the dunes can reach up to 5 meters high.
To add to the excitement, a challenging sandboard track was made. The 2 km long site is also perfect for sand-skiing. Attached to the back of a jeep with a rope, get pulled and have fun sliding!
The Unique Natural Phenomenon
Usually, it's an oasis in the middle of the desert. It's the other way around at Parangkusumo sand dunes. Imagine a green tropical setting, in which a random desert is suddenly put in the middle by nature. Gumuk Pasir Parangkusumo is very unique like this. As visitors walk around the sand dunes, notice that the place is surrounded by vast rolling green hills.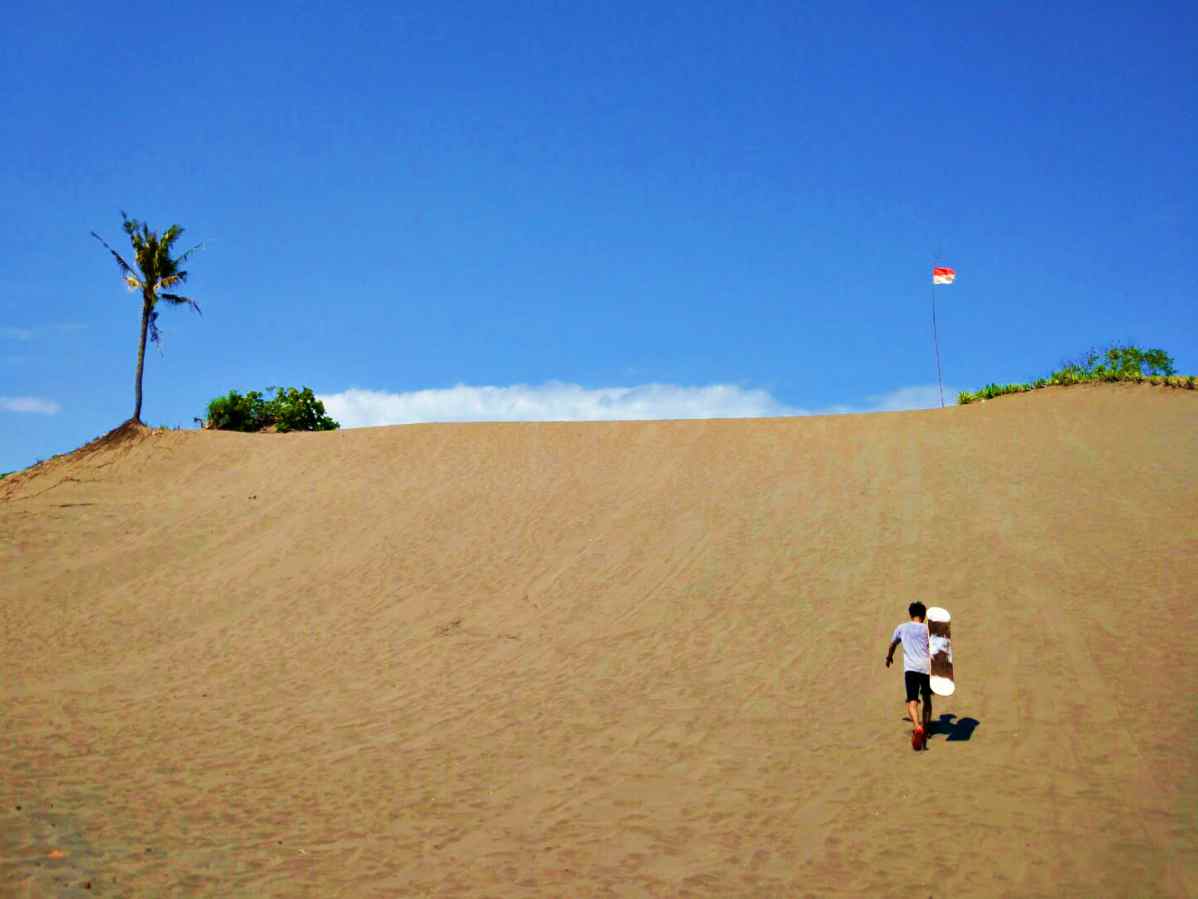 The sand dunes seem out of place. Walk until the edge of Gumuk Pasir, people likely will see green shrubs, villages with fields, and a small forest. During the rainy season, a pool of water forms in some spots. Green trees nonchalantly grow here and there, since it may look like a desert here. But the soil is actually still fertile. There's also a flower garden planted on the sand by locals.
Sunset at Gumuk Pasir Parangkusumo
A beautiful sunset is one of the things to expect at Gumuk Pasir. Enjoy an unobstructed view of the sun making its way home toward the horizon. Twilight hunters will love the gradation of the sky, from blue to reddish.
The desert that extends wide turns into a black silhouette. Far away, sounds of waves coming from the beaches nearby. Evening time at Parangkusumo sand dunes is breathtaking as it is peaceful.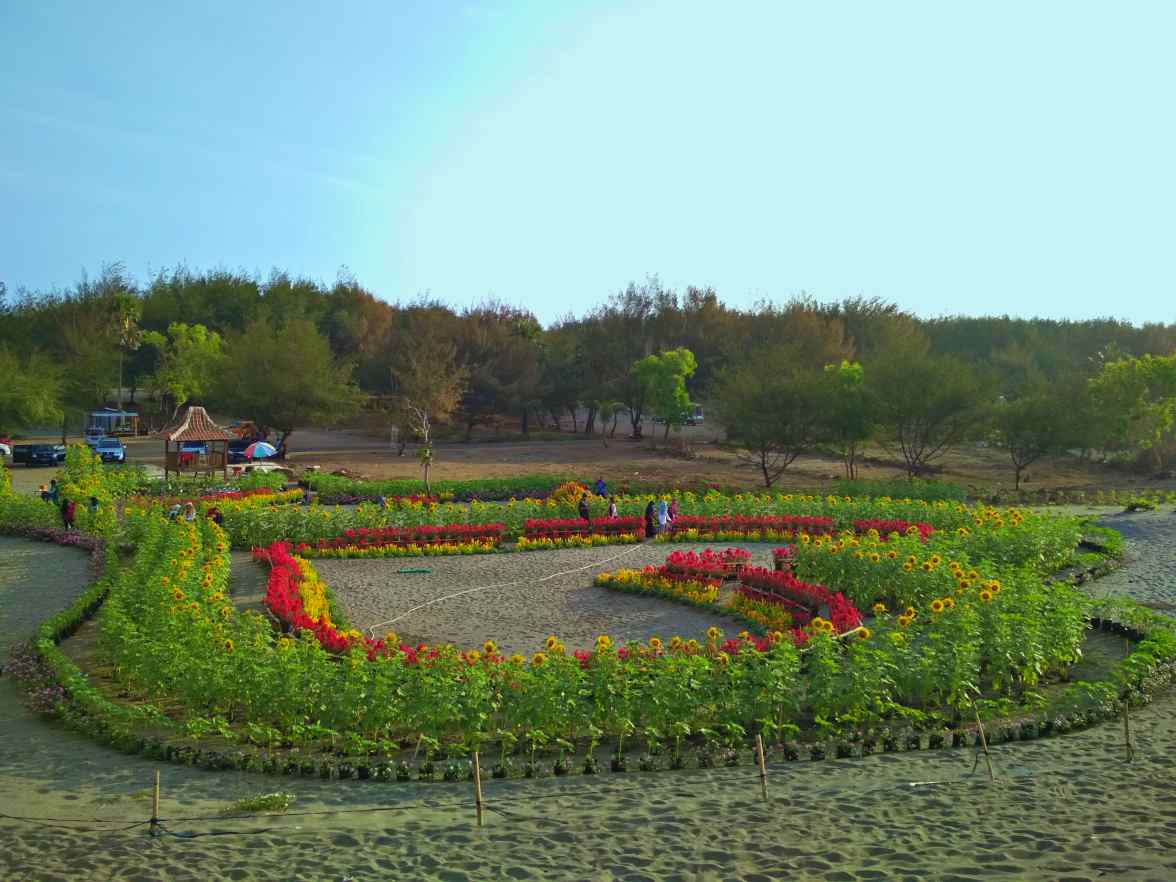 Beaches Nearby
The most famous beach in Yogyakarta, Parangtritis Beach, is only 5 minute drive from Gumuk Pasir. Join the crowds of beachgoers sunbathing, swimming, or simply playing with the waves at Parangtritis. Depok Beach is also a 5-minute drive in the opposite direction.
The beach is famous as a haven for seafood. The fish market here sells a variety of sea catches. With a much cheaper price than in the regular market. Short at a time, worry not, catch a glimpse of the waves nearby. The nearest beach to go to is Barchan Beach. It is still in the same spot as Gumuk Pasir Parangkusumo.
Just need to cross the street. The beach is much less crowded than Parangtritis or Depok, sometimes with no tourists at all. It's a perfect place to get some solitude.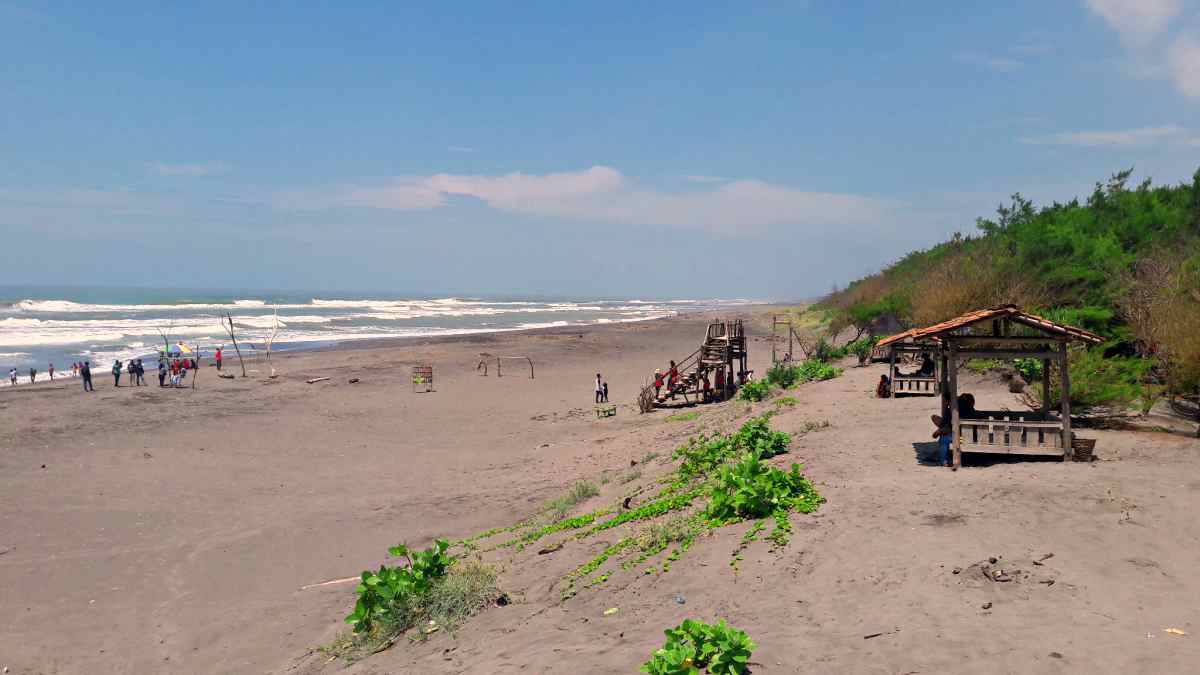 Facilities
Facilities at Gumuk Pasir Parangkusumo are quite adequate. There are public toilets, a parking lot, and a security post. Many nearby stalls sell food and refreshment. As for accommodation, since it's close to many famous beaches. Visitors can expect plenty of hotels and guesthouses around the area. The rate can be as cheap as Rp150.000 for a night.
See: Indonesian SIM Card Price & Provider.
How To Get To Gumuk Pasir Parangkusumo
Parangkusumo Sand Dunes is quite easy to reach from downtown. It's a 50-minute drive southward. Just follow Parangtritis road to Parangtritis beach. However, at the Parangkusumo intersection – besides Gadung Parangtritis Hotel – turn right toward Depok Beach direction. Parangkusumo sand dunes are only around 850 m from the intersection.
Renting private cars or motorbikes provides flexibility. For those willing to explore nearby tourist spots. Renting a car costs around Rp400.000/day while a motorcycle costs Rp65.000/day.
As for public transport, tourists can take a Trans Jogja bus heading to Giwangan Bus Station. Transfer to a bus heading to Parangtritis beach. Stop at the intersection and continue with a motorcycle taxi.
See: Yogyakarta International Airport Guide & Public Transport.
Address & Location
Gumuk Pasir Parangkusumo situated in Jl. Pantai Parangkusumo Kretek, Bantul, Yogyakarta 55772.