Sri Gethuk Waterfall
Entrance Fee: Rp15.000
Opening Hours: 07.00 - 17.00 WIB
Telp. Number: -
Address: Jl. Air terjun sri gethuk mungguran II, Bleberan , Playen , Gunung Kidul , Daerah Istimewa Yogyakarta , Indonesia, 55861.
Limestone and karst cover the majority of the area at Gunung Kidul regency, Yogyakarta. Do not expect lush green forest, as many areas look barren and dry, especially in summer. Due to its rock formation, Gunungkidul has many caves, but the very little waterfall. Hence why Sri Gethuk Waterfall, at Bleberan village, comes as a refreshing delight as a tourist spot.
Sri Gethuk Waterfall had another name, Slempret. The legend says the waterfall was where a mystical king who loves gamelan, live. And sometimes the gamelan sound mysteriously comes from the waterfall. The most prominent sounds were a type of gamelan called kethuk, a type of gong and flute sound.
These two instruments contribute to the waterfall names today. Overall the waterfall has three water springs called Ngandong, Dong Poh, dan Ngumbul.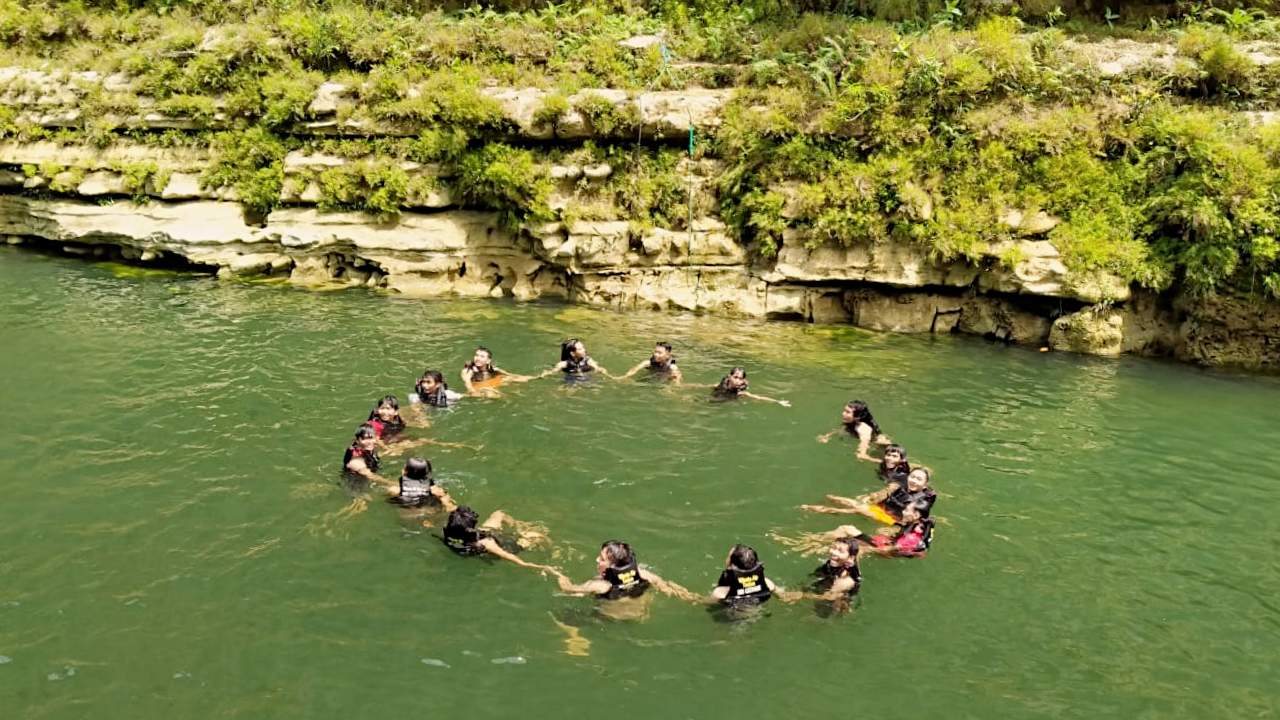 These three water come from a 25-high waterfall pouring down into the river below, the Oyo River. 500 meters from the waterfall, there is a cave called Rancang Kencana where ancient humans used to live. And it's dated from 3.000 years based on the artifact discovered by archaeologists.
Trekking To Sri Gethuk Waterfall
Trekking to the waterfall is relatively easy, especially the first part. The trek is a short 450-m walk through the rice field and coconut trees. Feast the eyes on the green view for a good 10 minutes. Before soon meeting with dozens of steps down toward the waterfall. Pay attention to the sound of roaring water that's only getting closer and closer – use it as an encouragement.
Cruising Oyo River
If trekking is too tiring – or too boring – cruising Oyo River can be a more exciting option. First, head to Oyo River, it's only 300 meters from the parking lot. There will be a small port with self-made rafts waiting for passengers.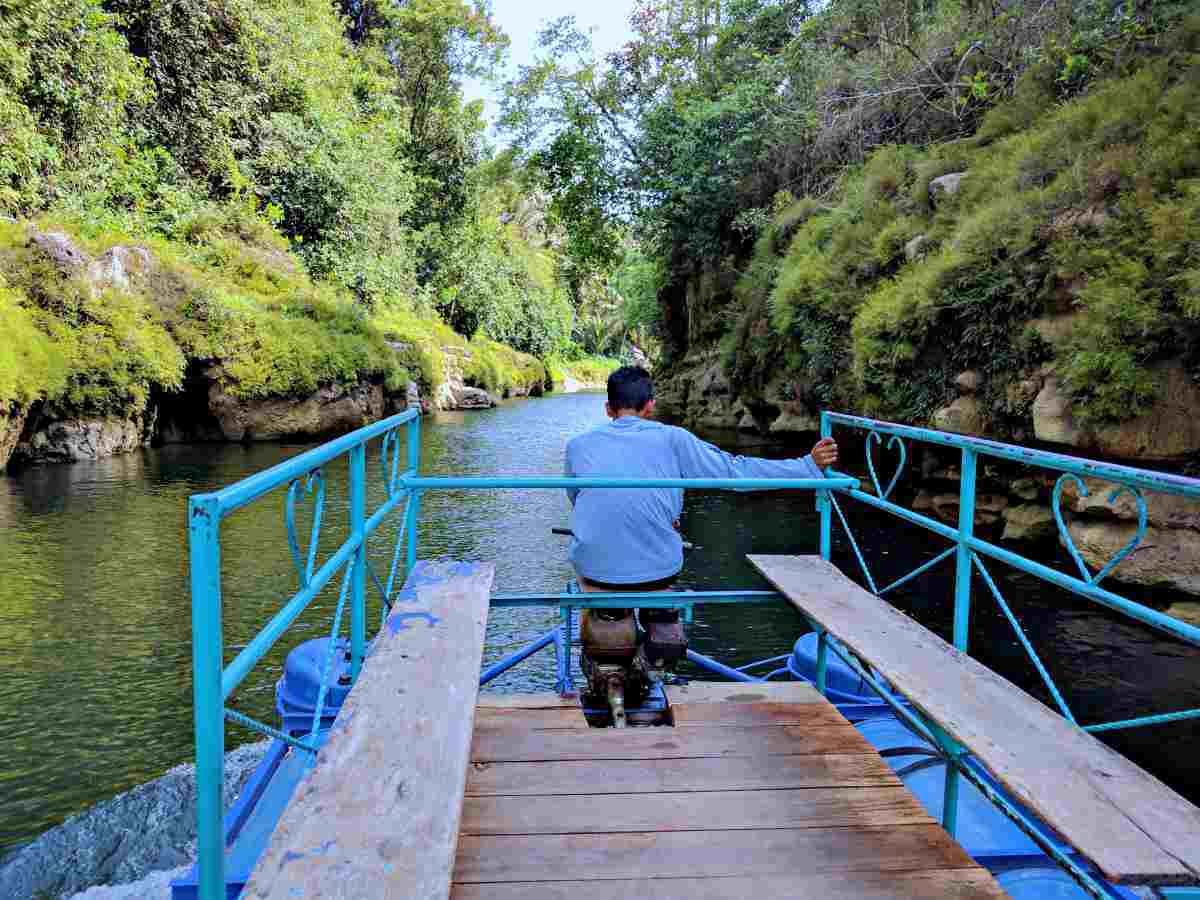 These rafts are made from used drums and wooden planks motored with a diesel machine. The cruise is slow but charming. See high canyons on the side of the river, some that burst small water flow.
Waterfall With Turquoise River
Depending on the season, Sri Gethuk Waterfall can form 3-5 water streams at once. The waterfalls seep into the limestone rocks below before beginning to flow toward the river. There is a big rock with a wide surface between the waterfall and the river. And the water flows through it.
Enjoy the gentle stream by lying on this rock. Or cliff-jumping from the higher ground and splashing on the river below. The water is turquoise, thanks to the lack of mud unlike in more fertile land. Swim around or just dip, there isn't a wrong way to enjoy this refreshing water. Rent an inflatable from locals, and sunbathe while floating in the water.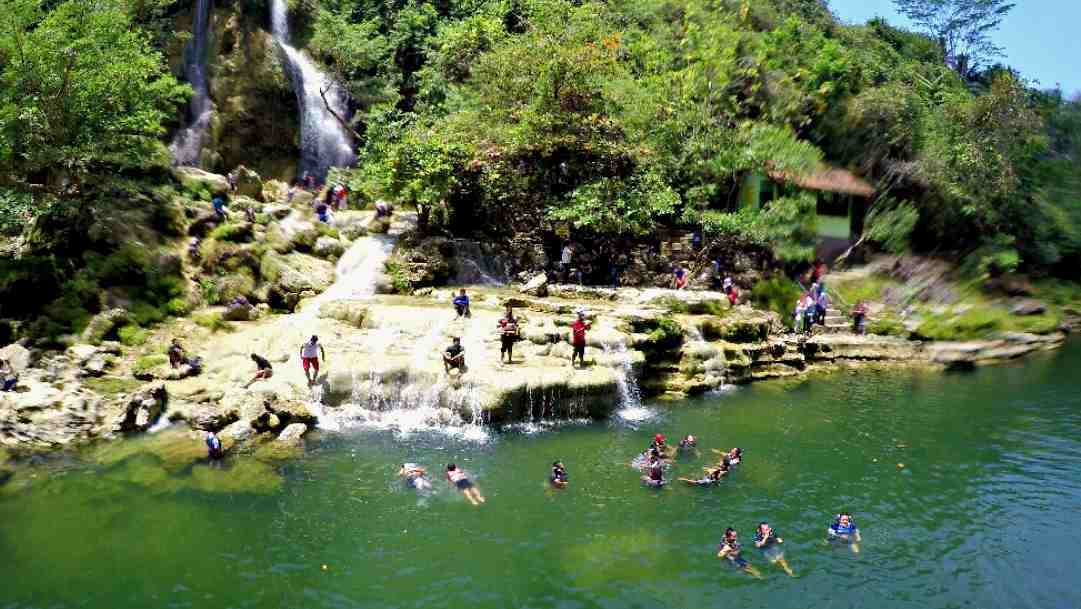 Canyoning
Canyoning is for adrenaline junkies who are not enough to just take a plunge. Using rope, climbers crawl down the waterfall from the highest cliff. It's a test for both stamina and concentration. Maneuver over the slippery rock while having the sight limited by the cascading waterfall.
Canyoning requires a special permit. It is usually allowed when there aren't many tourists that day. Weather also plays a significant factor. As for the equipment, participants can bring their own or rent one on the spot.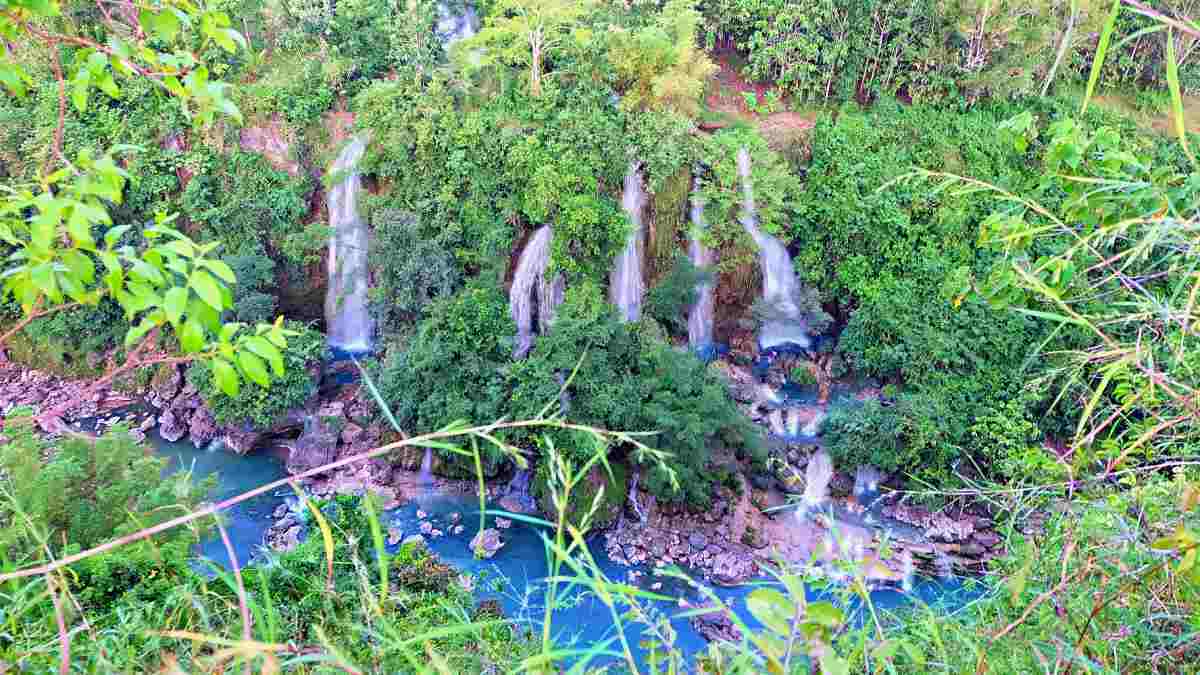 Rancang Kencana Cave
Once visitors reach the parking area of the cave, notice that there's a big tree on the site. The cave's entrance is underground, it's located behind the said tree. To enter, descend down several steps in front of the cave mouth. The steps lead to the main room, a large area that is still well-illuminated by the sunlight.
Enjoy the beautifully nature-carve wall before continuing heading to the second room. It's pitch black further inside, so don't forget the flashlight (rent one from locals). The second room is where the old kings used to meditate. As indicated by a sitting stone in this room.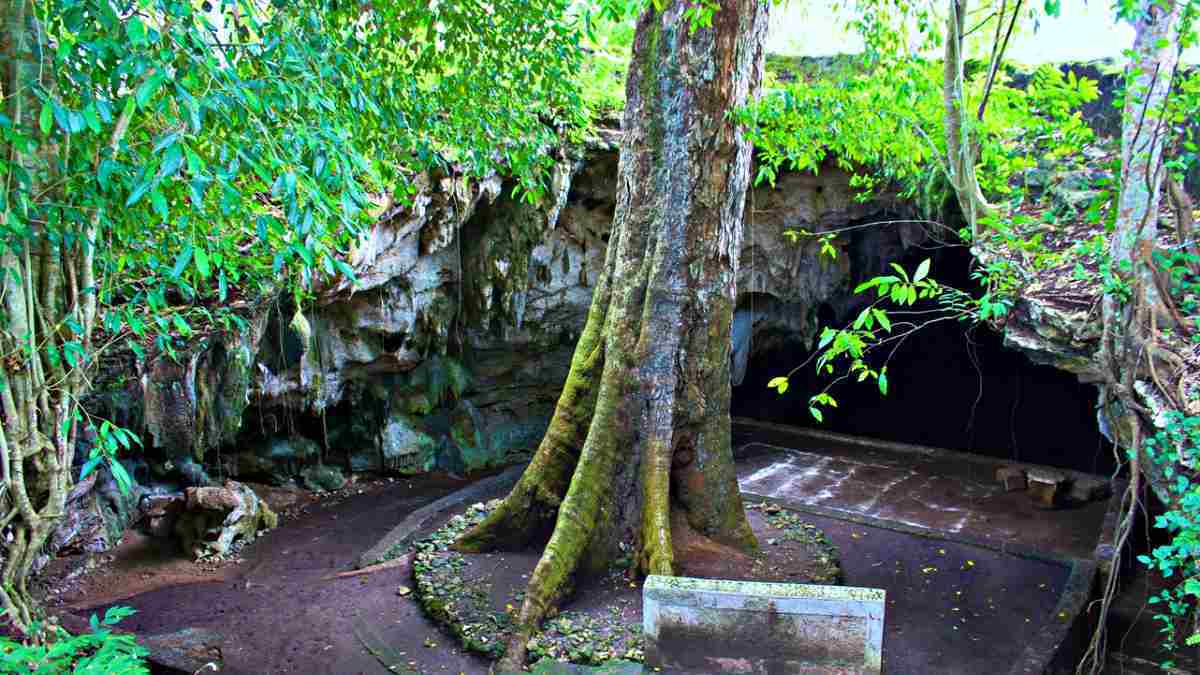 The path to the third room is tricky and narrow, but the room itself is quite large. Here, there is evidence from back when the Indonesian fight for independence. There's an inscription carved on the wall called Prasetya Bhinekaku. It's a soldier's pledge to fight for the country.
See: Guide To Explore Handicraft Market, Beringharjo & Jogja Street Food.
Sri Gethuk Waterfall Opening Hours
The waterfall opens every day from 7 AM to 4:30 PM. The holiday season and school summer holiday is the peak time of all time. Be sure to check the weather cast a day before planning to the waterfall. Since rain will cause the water river to turn brown.
Sri Gethuk Waterfall Opening Hours
Every day
07:00 – 16:30
See: Jomblang Cave Ticket & Guide.
Sri Gethuk Waterfall Entrance Fee
An admission ticket is Rp15.000, which includes entrance to Rancang Kencana cave. The boat ride is Rp10.000 for a trip. The last boat picks up from the waterfall at 16:30. Parking costs Rp5.000 for motorcycles and Rp10.000 for cars. Visitors will need to pay again if they want to rent inflatables and life jackets for swimming.
Sri Gethuk Waterfall Entrance Fee
Entrance
Rp15.000
Boat Ride
Rp10.000
Body rafting
Rp35.000
Flying fox
Rp25.000
See: Pindul Cave Ticket, Cave Tubing Guide in Underground River.
Facilities
Sri Gethuk Waterfall is equipped with standard facilities. Toilets and bathrooms are available to change and wash after all the splashing. There is a locker room to store belongings. Small warungs provide food and beverage for hungry visitors. Parking is sizable and accommodating.
See: New Yogyakarta Airport YIA Guide & Public Transportation.
How To Get To Sri Gethuk Waterfall
To reach the waterfall from Yogyakarta, follow Yogyakarta – Wonosari road until Piyungan. The route then is as follows: Piyungan – Patuk – Lapangan Gading intersection (turn right) – Playen Market. 500 m from the market, pay attention to Sri Gethuk waterfall road sign.
Ask for directions from locals, they will gladly help. The best mode of transportation is rental cars or motorbikes. Motorbike rental starts from Rp65.000 for a day. While for a car it will cost around Rp400.000 per day to rent. From Yogyakarta, it takes around 1-1,5 hours to get to Sri Gethuk Waterfall.
See: Indonesia Tourists SIM Card, Price & Internet Package.
Address & Location
Sri Gethuk waterfall is located in Mungguran II, Bleberan, Playen district, Gunung Kidul regency, Yogyakarta 55861.