Timang Beach Entrance Fee: Rp5.000 Opening Hours: 07.00 - 17.00 WIB Telp. Number: (0274) 587486 Address: Jl. Pantai Sel. Jawa Pantai, Purwodadi, Tepus, Gunung Kidul , Daerah Istimewa Yogyakarta, Indonesia , 55881.
Yogyakarta offers a wide range of beaches to choose from, but Timang Beach stands out on its own. Located in Gunung Kidul, the beach is around 50 km away from central Yogyakarta. It near takes 3 hours from downtown. It's one of Java Island's southern beaches, which borders the Indian Ocean.
Like any typical beach facing the Indian Ocean, Timang beach harbors steep cliffs, deep blue water, and harsh waves. What makes Timang Beach popular among other beaches is ironically not because of its nature. But rather, it is because of the local residents inhabiting the villages nearby.
Partly a fishing society, the locals made a mode of transportation to help them with fishing activities. This transportation is later known as the gondola. Words spread among people about how unique this transportation is. This then attracts challenged explorers to try it.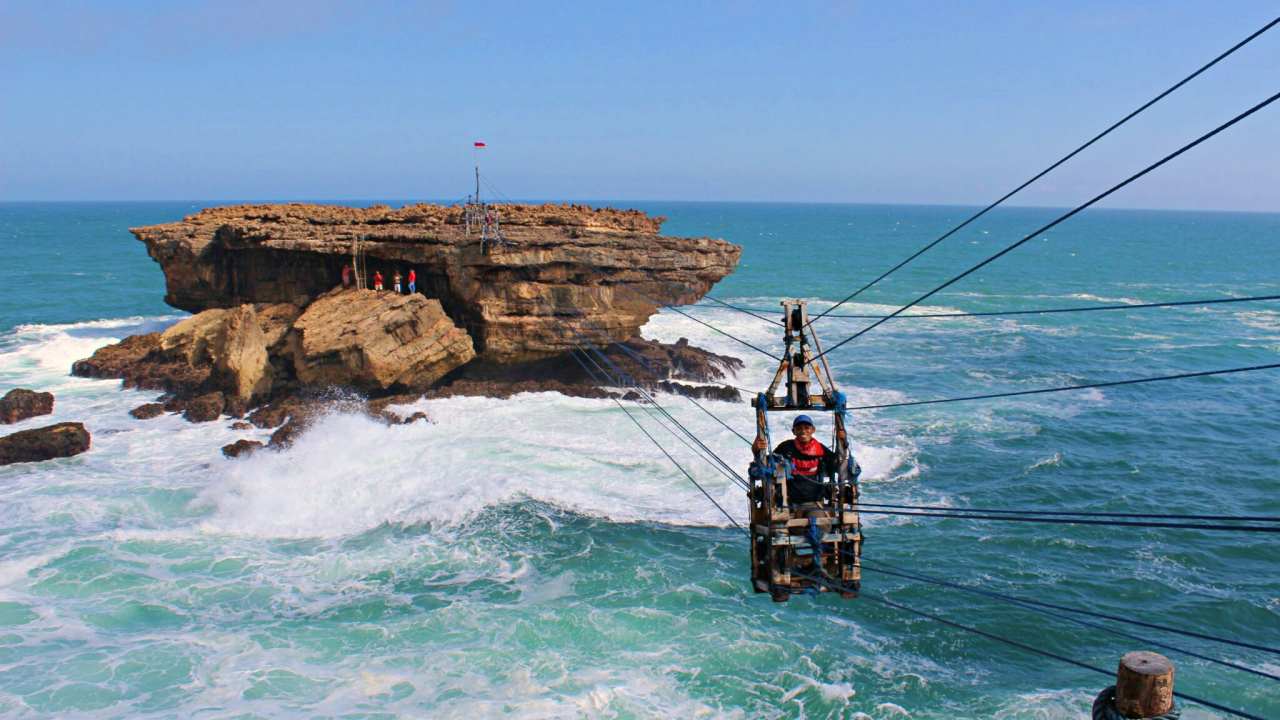 Few more visitors come and the place thrives into a more popular destination. Since then, Timang Beach is recognized for the combination of adventure, scenery, and culinary experience it offers.
Gondola Extreme Ride
Timang Beach has become famous at first because of the locally-made cable car or gondola. It was originally made for the sole purpose of fishing lobsters, and technically not a cable car. It is a narrow wooden open box, hung above the ocean by nylon ropes. And connecting the mainland and the small island.
There's no modern technology involved as it is operated solely by human strength. Around 5-6 people will pull the gondola by hand as a person ride it. The extreme of the ride is what makes tourists attracted to the gondola, despite its traditional, and possibly, unsafe state.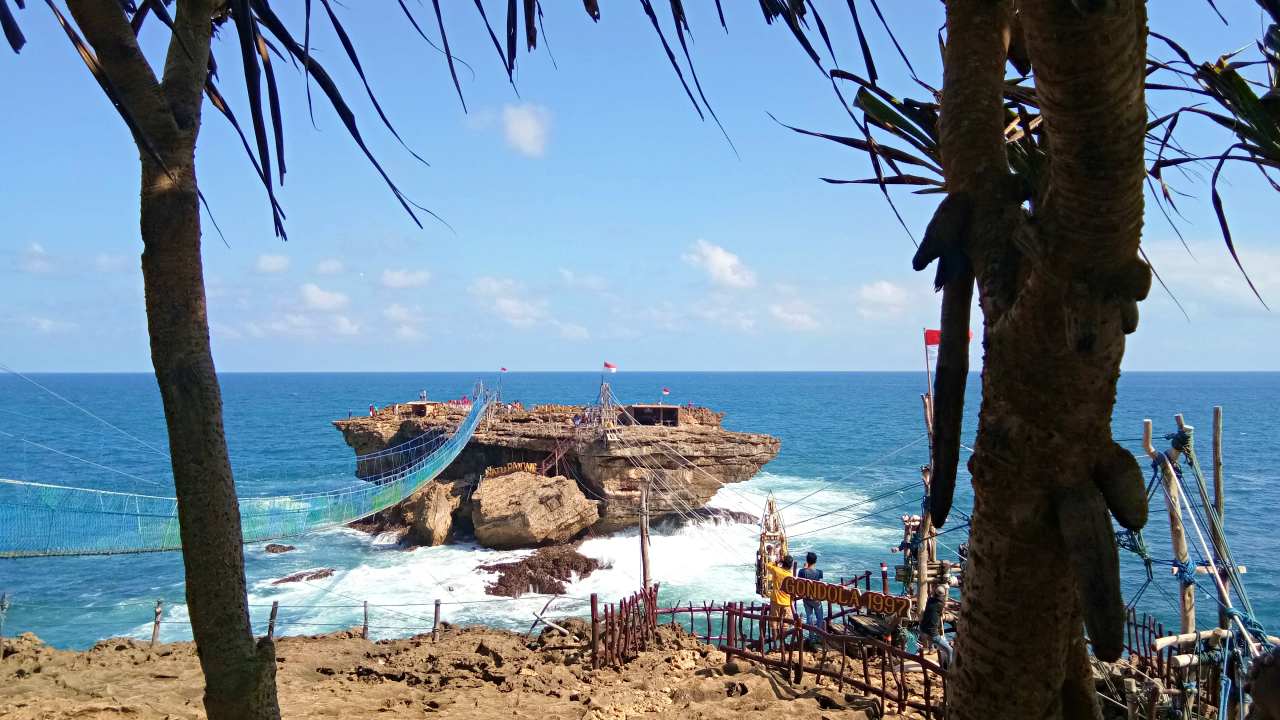 As tourists cross over to Timang Island, the harsh sea waves will greet the guests. Sometimes the sea water even can reach the gondola. Gondola riders will have to prepare for the overcoming fears that follow. The Gondola will also swing a little when the sea wind hits. The journey for those 100 meters rides is truly for those seeking an adrenaline rush.
Timang Bridge & The Raging Indian Ocean
The suspension bridge spans around 120 meters. It is newly made, only built shortly after the gondola became popular. Like the gondola, it connects the beach and the little island of Timang. It provides an alternative for visitors to reach the island, but with no less amount of challenge.
This bridge is considered another extreme ride of Timang Beach. Many are curious to cross the bridge, but few have crossed it successfully. It's understandable since, in hindsight, it looks dubious and vulnerable. The bridge is made solely from ropes and wood. It gets terrifyingly shaky when the wind blows.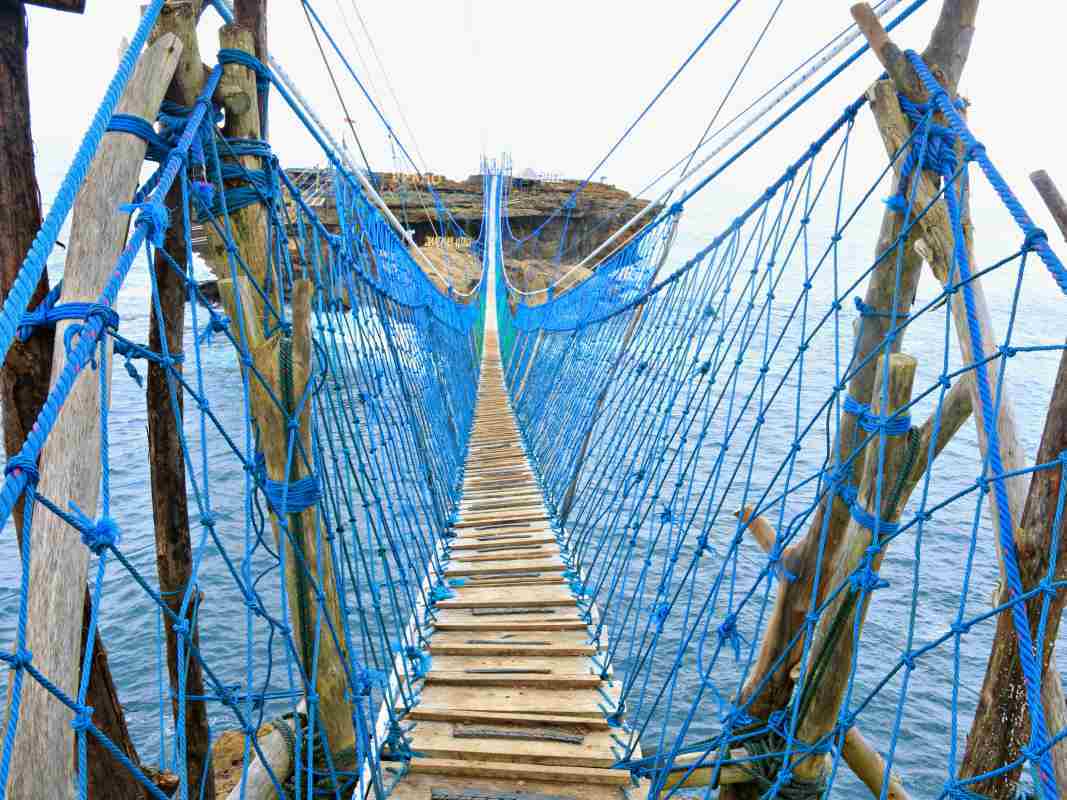 Anticipate the splashing waves despite it being 12 meters high above sea level, and prepare to get wet. It is another test for bravery and clearly not for those with a faint heart.
Timang Island
Also referred to as Pulau Panjang, or Panjang Island, the Island of Timang is basically just one big rock on the Indian Ocean. The island is uninhabited and mostly utilized by locals as a fishing spot for lobsters. This is where visitors will arrive after successfully crossing the bridge, or after riding the gondola.
Here, riders can calm their heartbeat while enjoying the beautiful 360° view of the open sea. There are also several nice spots to take pictures.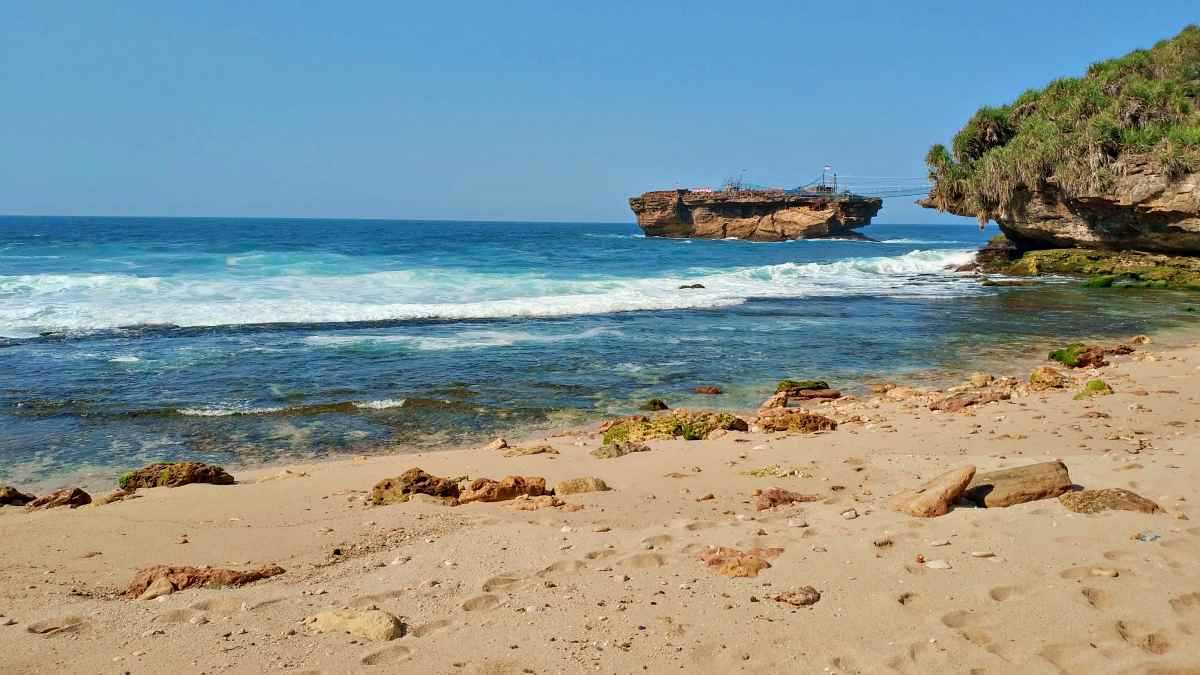 Timang Beach
Having reluctance for the extreme rides? fear not, as Timang Beach has other things to offer too. Yes, it is the beach itself, with the white sand, Pandan trees, and the green moss covering the corals. The perk of an undeveloped beach is that it is still natural with no human intervention.
And so is Timang Beach, its beauty is still untouched. The sandy part of the beach is small since, for the most part, the beach consists of steep rocks directly adjacent to the sea. But the non-sandy part of the beach by any means is no less beautiful.
Here visitors could witness the blue ocean with strong waves that broke out between the rocks.  It is a wonder to contemplate how these waves slowly build the rock formations on this beach over time.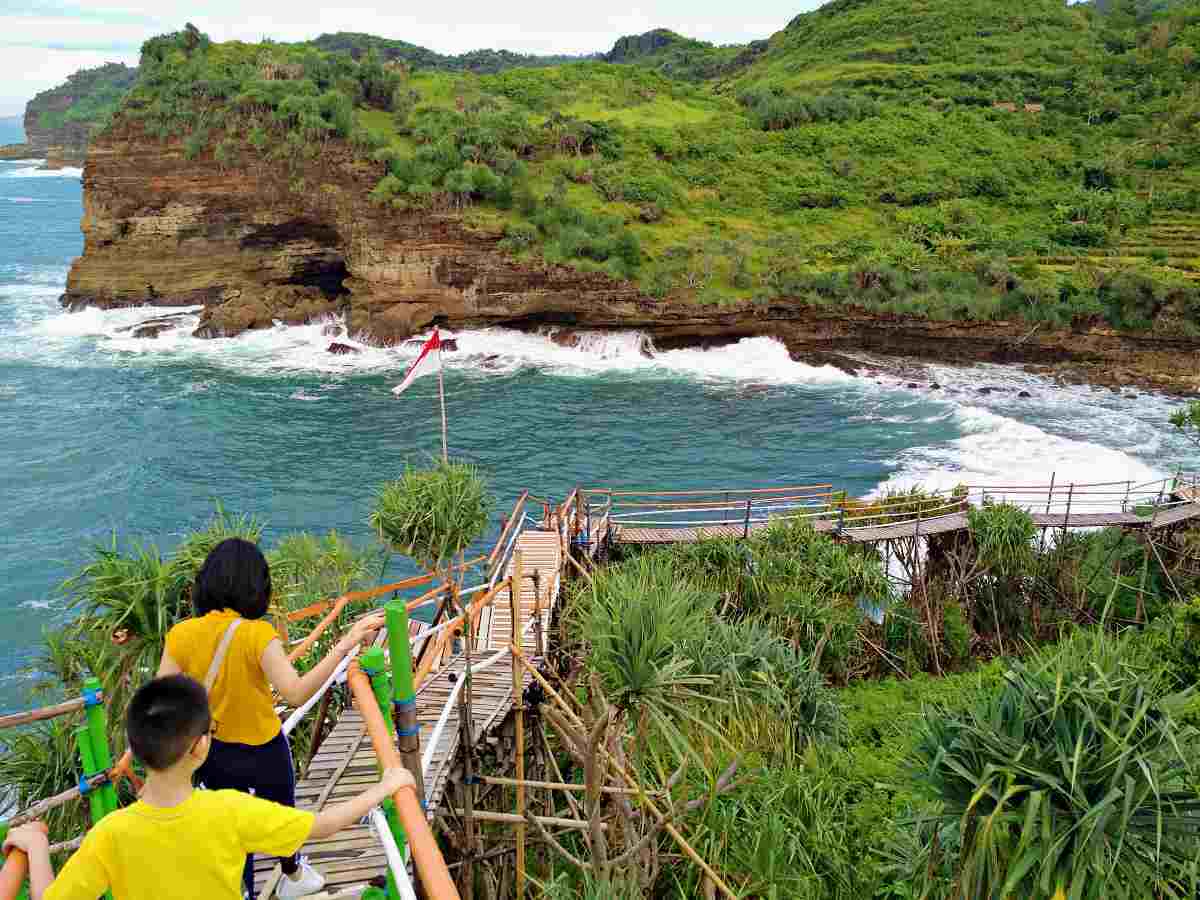 Lobster!
The fresh lobster is something visitors should not miss during a visit to Timang Beach. The lobsters here are popular for their freshness and good quality. A 2 pounds of lobster, is quite enough to feed 2 to 3 people. It cost only Rp250.000 – Rp350.000, a small price for a fresh sweet-savory seafood dish.
All of the preparation and cooking processes are done right on the spot. Along with an additional plate of steamed rice and raw veggie with traditional chips. A must-try culinary experience to taste fresh seafood combined with the local dish.
See: Explore Yogyakarta Biggest Souvenirs Market, Beringharjo Market & Street Food.
Timang Beach Opening Hours
The best time is during the dry season (April- September) especially to avoid slippery and muddy roads. The weather is usually perfect and fewer clouds during the dry season. There are no official opening hours, but of course, the best time would be during daylight, from around 9 AM to 5 PM. Tourists may also consider going during the holiday off-season for a cheaper lobster price.
Timang Beach Opening Hours
Beach
Open 24 Hours
Gondola Operating Hours
08:00 – 17:00
Nearby: Baron Beach Guide & Top Things To Do.
Timang Beach Entrance Fee
There is an entrance fee of Rp5.000 to enter the beach. The locals made an earning too from the rides attraction. And selling spots like providing a simple shack. Tickets for the attraction are quite expensive compared to other beaches. The Gondola is Rp200.000 per session while the suspension bridge is Rp100.000.
Timang Beach Entrance Fee & Rides
Entrance Fee
Rp5.000
Parking
Rp5.000 (scooter) / Rp10.000 (car)
Gondola
Rp200.000
Bridge
Rp100.000
Jeep
Rp350.000
Nearby: Indrayanti Beach, Watersport & Seafood Feast
Facilities
The beach is relatively new to tourism. Its infrastructure isn't well developed yet. Be careful with some additional charges, visitors reported being charged for sitting on a random bench and for taking selfies at certain spots. Unless visitors plan to buy lobsters, there are hardly any restaurants at Timang Beach.
Prepare food and drink before going here. Another thing to note, there is neither insurance nor clear safety procedures for the rides, both for the gondola and the suspension bridge. Visitors have to understand they're at their own risk when they decide to take the rides.
See: Indonesian SIM Card, Data Package & Price
How To Get To Timang Beach
Public transportation is only available to Wonosari, and it is still around 25 km from the beach. For this reason, renting cars from Yogyakarta is recommended for tourists planning to go here. The route to Timang Beach from Yogyakarta is quite challenging, especially for the last 2 km.
The road is unpaved and consists of dirt and mud with sharp turns and inclinations. The road can be slippery and it is dangerous for inexperienced drivers and for cars without proper tires. It is advisable for visitors to stop at the last paved road and then rent local vehicles (either a motorcycle taxi or a jeep) and hire local drivers.
See: New Yogyakarta Airport Guide & Public Transport. 
Address & Location
The beach is located right in Jl. Pantai Sel. Jawa, Tepus, Gunung Kidul, Yogyakarta 55881.