Indrayanti Beach
Entrance Fee: Rp15.000
Opening Hours: 07:00 - 17:00 WIB
Telp. Number: -
Address: Jl. Pantai Sel. Jawa , Sidoharjo, Tepus , Gunung Kidul , Daerah Istimewa Yogyakarta , Indonesia , Indonesia 55881.
Mr. Indra and Mrs. Yanti weren't really expecting anything more than a good chunk of customers. When they opened a restaurant at a beach in southern Yogyakarta. Indrayanti, that's how they named their restaurant, by combining both of their names. It turned out that their name later sticks as the beach name Indrayanti Beach.
Tourists prefer the name Indrayanti Beach over the official government-given name 'Pulang Syawal Beach'. The beach is located in Tepus District, Gunung Kidul Regency, Yogyakarta. It's another Yogyakarta hidden paradise, one of the scenic beaches on Yogyakarta's long shorelines.
Indrayanti Beach is not as popular as the ever-crowded Parangtritis Beach, but it attracts a significant number of tourists nonetheless. The beach has a good reputation not only for its breathtaking view but also for its spotless white sand without rubbish and trash.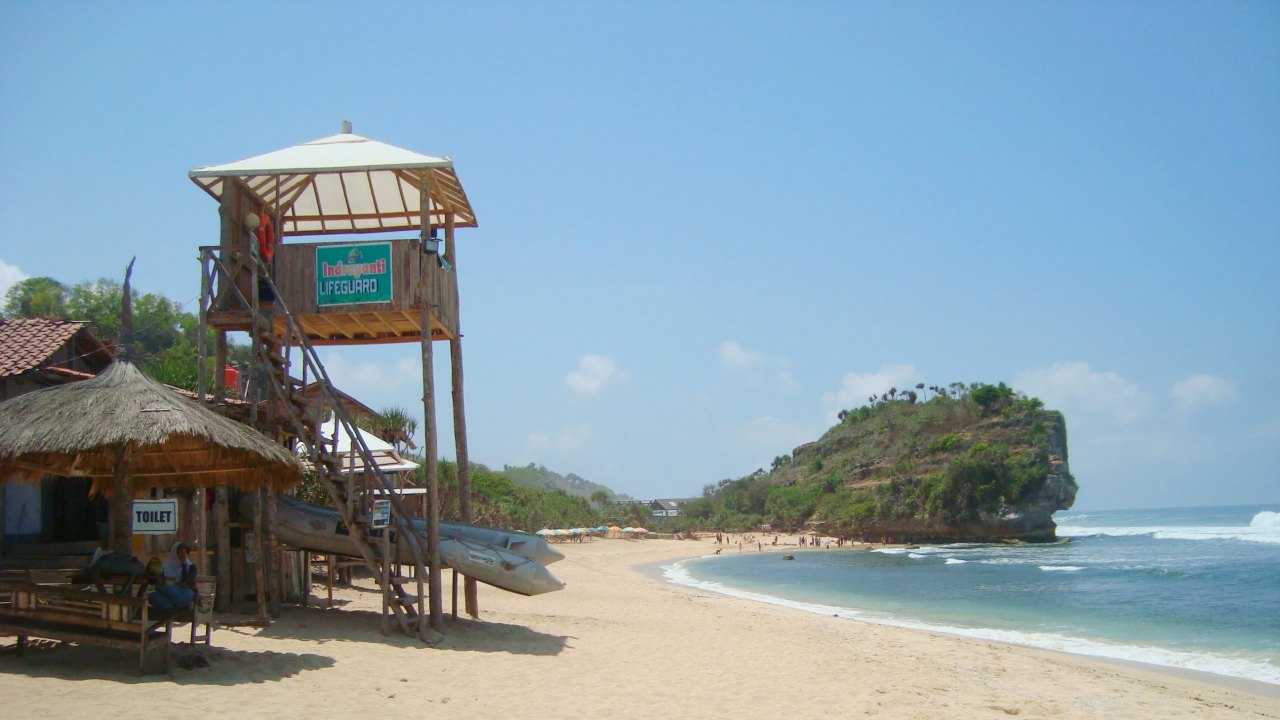 The beach is partly privately managed, therefore the management takes cleanliness seriously. Tourists littering will get an Rp10.000 fine for every rubbish irresponsibly thrown away. So far the rule has proven effective. There's not a trace of trash on its white sandy shores. Offering a spotless beach experience everyone surely appreciates.
Sunbathing
Indrayanti beach features a white sandy shore meeting a deep turquoise sea. The tide here is wild and dangerous, like any typical southern beach bordering the Indian Ocean. Therefore swimming is not advisable, especially for kids and beginners. Surfing is also not an option.
Rent a gazebo or a beach chair instead. Bring along the sunblock, and let the sun kisses the skin, making some nice tan. Enjoy the enchanting roar of the waves while lying on the sand. The ambiance on this beach is beautiful and soothing.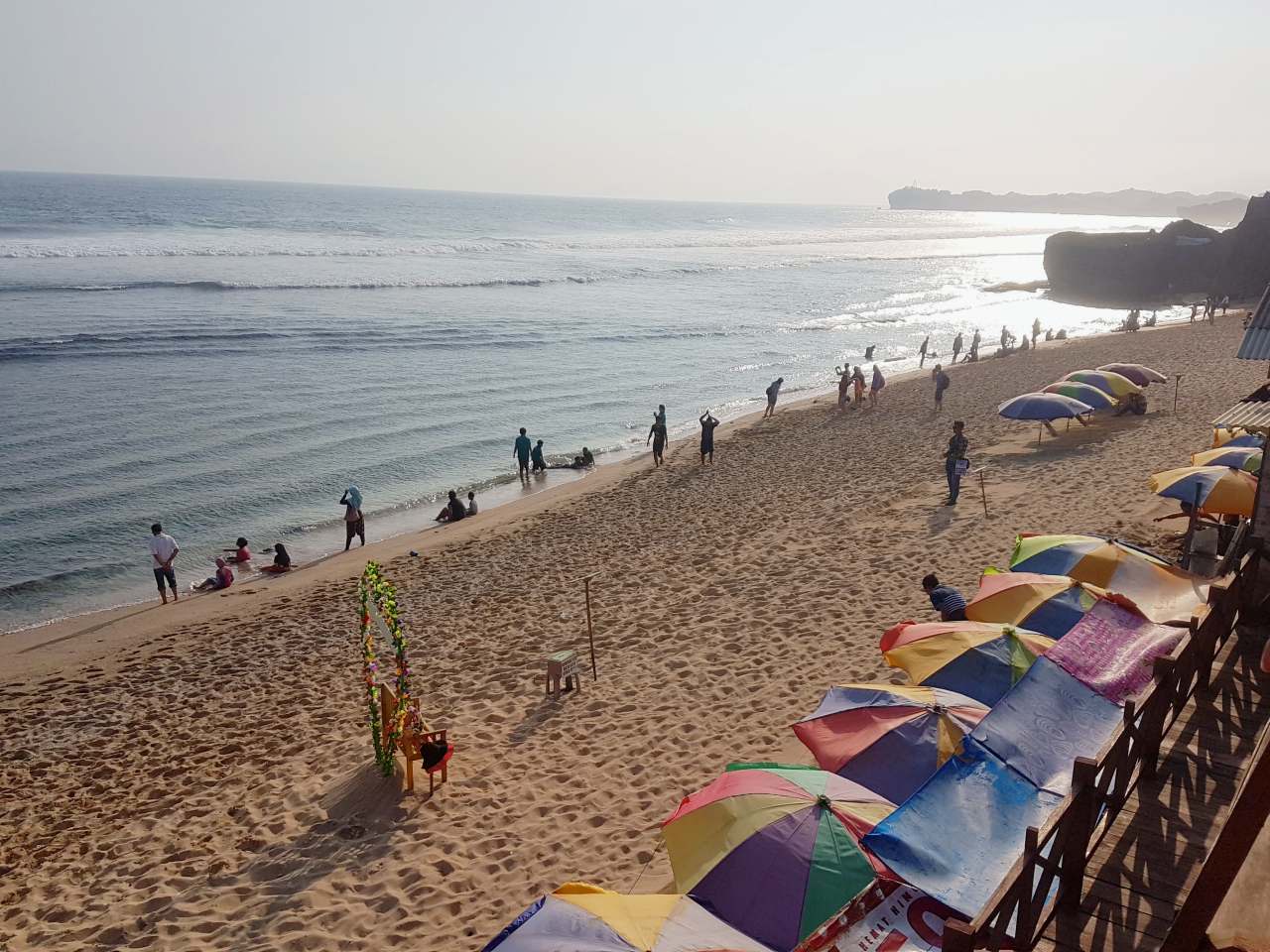 Sunset Spot Bukit Karang Gunung Kidul
Prepare some energy to climb the large rock by the east of Indrayanti Beach. With the cheap entrance of Rp2.000, visitors can enter Bukit Karang Gunung Kidul. This cliff serves as a viewpoint of Indrayanti Beach.
Enjoy a soothing sea breeze and the occasional seagulls making nests in trees here. When dusk arrives, Bukit Karang is the best place to view Indrayanti Beach's dramatic sunset.
Jet Ski Rental
Swimming prohibited doesn't mean visitors can't venture further into the ocean. There is a jet ski rental managed by locals. Rent one at Rp250.000 for 15 minutes. The price is expensive but it matches the luxury. Put on that sunglasses and ride into the ocean with a style feeling like James Bond.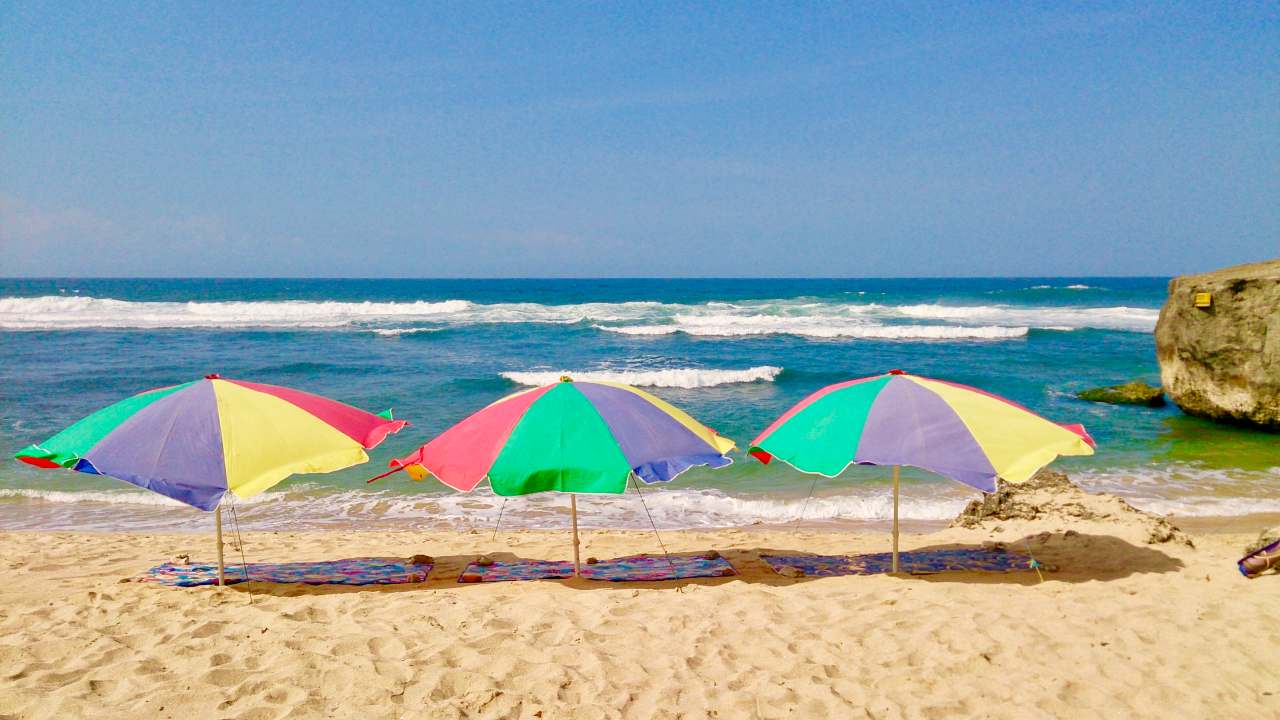 Indrayanti Neighboring Beaches
Alongside this, there are plenty of beaches within walking distance from Indrayanti beach. Tenggole Beach is hidden just behind Bukit Karang Gunung Kidul. Think of a private beach, Tenggole Beach is the one. It is smaller and far less crowded than Indrayanti, but with no less beautiful landscape.
Move the mat and sunbathe here instead for a more tranquil beach experience. Sundak Beach is located in the west of Indrayanti beach. The most interesting feature of this beach is that visitors can find marine creatures near its shores. Hunt for jellyfish, starfish, and small fishes on the bank of the beach.
The tide here is much calmer than at Indrayanti, so visitors can also swim a bit further. Sandranan Beach is a bit further but here is the only beach in the village where visitors can go snorkeling. The water is clear and shallow with plenty of coral reefs and some protected fishes.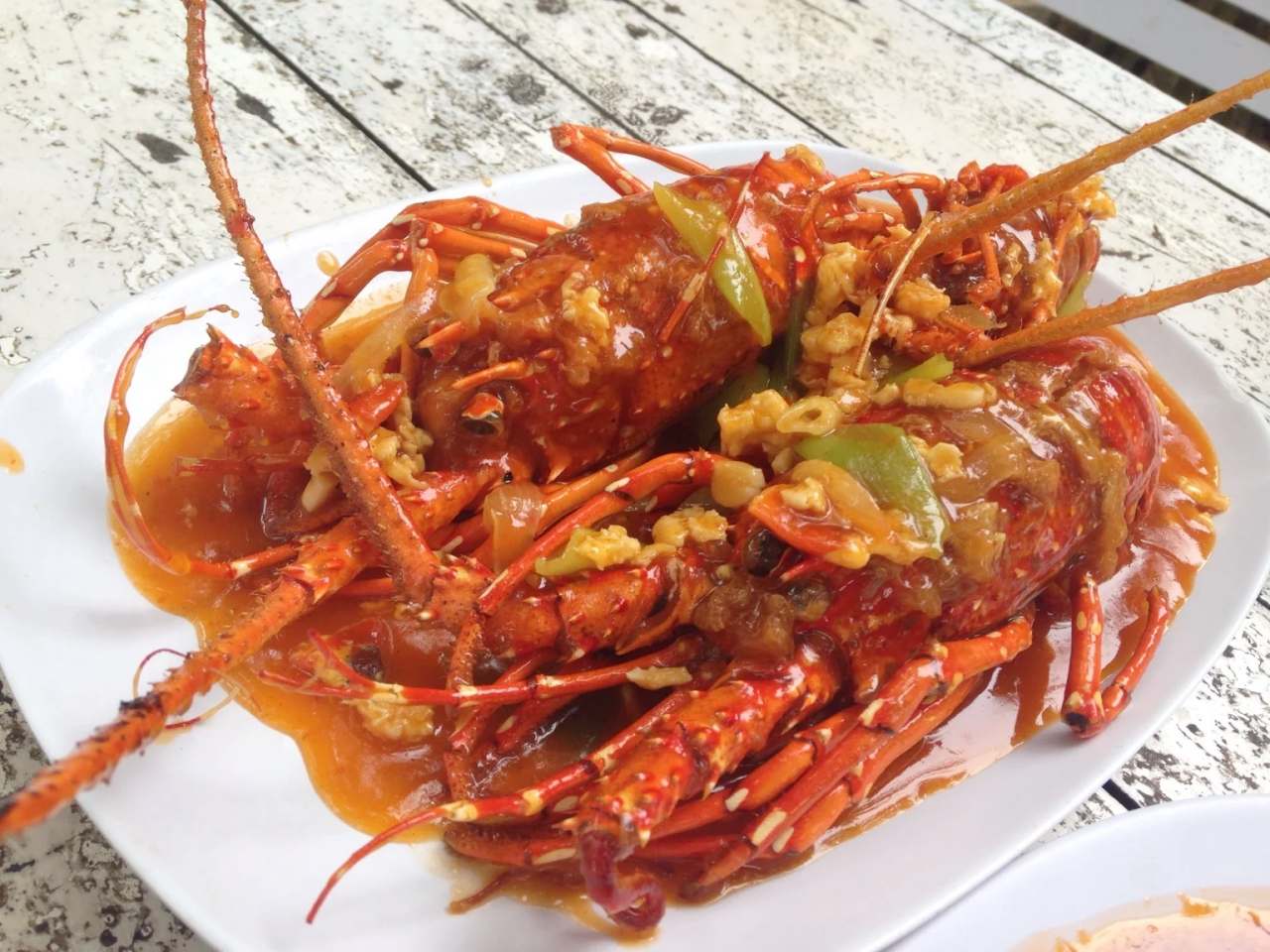 Rent the snorkeling gear, it's affordable at only Rp50.000 without a time limit. However, take extreme caution when snorkeling during the monsoon season. Since the tide can be dangerous for swimmers.
Nearby: Baron Beach, Watersport Activities & Lighthouse 
Seafood Feasts
Visiting beaches in Yogyakarta means an opportunity to taste fresh seafood delicacies. Pay a visit to the famous Indrayanti Restaurant, or any other restaurants available here. The recommended dish is 'Ikan Bakar', a grilled fish served with warm rice and vegetables. Complete this perfect lunch with fresh coconut water, served directly from the fruit itself.
See: Guide To Explore Yogyakarta Handicraft & Souvenirs, Beringharjo Market.
Indrayanti Beach Opening hours
The beach has no official hours, but the ticket stall opens from 7 AM to 5 PM every day. The best time to visit the beach is during summer. The summer holiday in late June to July is the most crowded month. As it is the summer school holiday in Indonesia.
Indrayanti Beach Opening Hours
Every day
07:00 – 17:00
Nearby: Gondola Extreme Ride at Timang Beach
Indrayanti Beach Entrance Fee
The entrance ticket is Rp15.000 per person. The ticket price includes all entry to neighboring beaches. Like Tenggole, Watuwalang, Krakal, Sundak, and Pok Tunggal beach. The best time to visit is around late afternoon for the best sunset.
Indrayanti Beach Entrance Fee
International tourist
Rp15.000
See: Cave Tubing, Fun Activities in Pindul Cave
Facilities
There are several basic facilities in Indrayanti Beach. However, visitors will need to pay an additional fee when using these facilities. Toilets and changing rooms cost Rp2.000 for one-time use. Or Rp5.000 if visitors want to take a bath.
A gazebo is available for tourists to relax and costs Rp30.000. While a beach chair with an umbrella costs Rp20.000 to rent.  Apart from basic facilities, there is a lifeguard tower at this beach to ensure visitors' safety.
See: New Yogyakarta Airport Guide & Public Transport.
How To Get To Indrayanti Beach
Tourists can reach Indrayanti beach by private or rented vehicles. Seeing that the location is quite remote in the south Gunung Kidul regency. To sum up, public transportation is not available. Renting cars from Yogyakarta typically costs Rp500.000 a day.
It takes approximately 2 hours from Yogyakarta City to Indrayanti Beach. The route is as follow Wonosari Road – Piyungan – Patuk – Wonosari – Karangrejek – Hargosari – Tepus – Indrayanti Beach.
See: Indonesian SIM Card, Data Package & Price
Address & Location
Indrayanti beach is located in Pantai Sel. Jawa street, Sidoharjo village, Tepus. Gunung Kidul regency. Yogyakarta, 55881.