Tibumana Waterfall
Entrance Fee: Rp20.000
Opening Hours: 06:00 - 18:00 WITA
Telp. Number: -
Address: Jalan Desa Apuan, Apuan , Susut , Bangli , Bali , Indonesia , 80661.
It gets harder these days to find somewhere more secluded such as Tibumana Waterfall in Bali. This is why explorers appreciate very much the existence of hidden gems throughout this island. However, it also gets more difficult to get some solitude at these hidden gems.
As social media could make a tranquil place in Bali not so tranquil anymore. Thankfully this is not the case with Tibumana Waterfall. Or at least, not yet. Tibumana Waterfall is located in Banjar Bangunlemah Kawan, Apuan Village, Susut, Bangli Regency.
500 meters from the location, there are no houses anymore. Only rice fields. Tall coconut trees adorn the small road toward the entrance of the waterfall. The best lines of coconut trees in Bali, some visitors swear. The place is quite secluded. Its serenity makes anyone question it. Seeing that Tibumana waterfall is only half an hour from the crowded Ubud.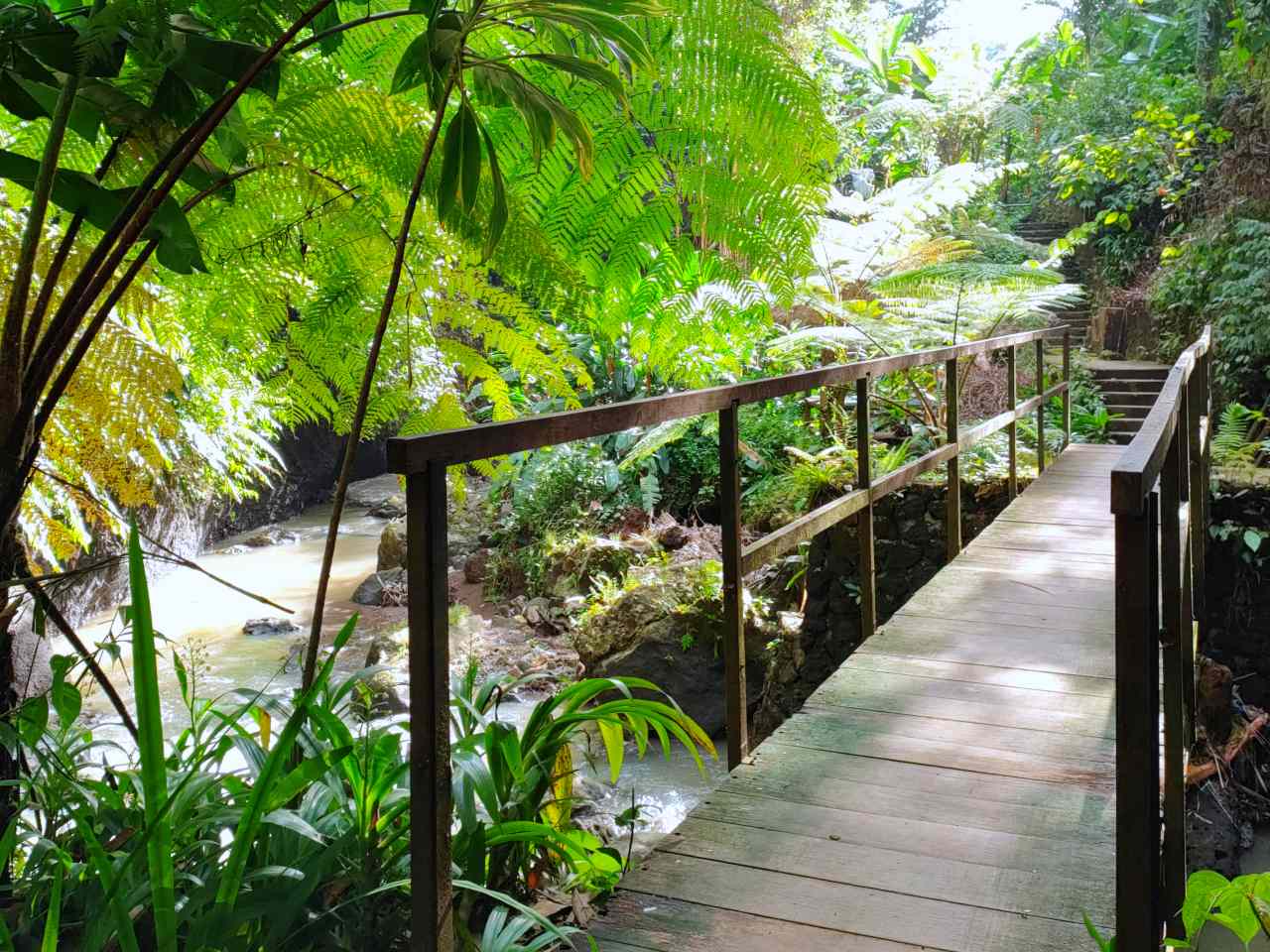 The characteristic of this waterfall is its slow-falling water from a tiny crack above the canyon. The canyon is unique with a large nook that slowly narrows to an entrance of a tiny cave. A mysterious cave that locals believe connects to Goa Raja Temple. Far away, 32 km northwards in the Besakih temple area. It's a mere myth of course.
Tibumana Waterfall Entrance Fee
The ticket is affordable at Rp20.000. Parking is free at Tibumana Waterfall, there is no additional fee. There's locker storage for visitors' belongings, available for rent at Rp5.000 per locker.
Tibumana Waterfall Entrance Fee
Children & Adult
Rp20.000
Locker
Rp5.000
See: Kanto Lampo Waterfall Guide & Location.
Tibumana Waterfall Opening Hours
The waterfall is open for visitors every day from 6 AM to 6 PM. Check the weathercast to get the best experience and clear water.
Tibumana Waterfall Opening Hours
Every day
06:00 – 18:00
Nearby: Guide To Tukad Cepung Waterfall & Valley.
Tibumana Waterfall Short Track
Like any waterfall in Bali, trekking is the only way through. But unlike most waterfalls in Bali. Track to Tibumana Waterfall is easy and short. A decent pathway makes it even easier to get down to the site. So focus that energy to enjoy the view along the way, because it's wonderful and unforgettable.
Flowers and shrubs decorate along the way down, a type of garden croton and Heliconia. Butterflies flying above them. Birds chirp among the trees, vines creep their branches. When passing a wooden bridge, there's a small unnamed waterfall. The waterfall is short but it's beautiful, an appetizer before the entrée.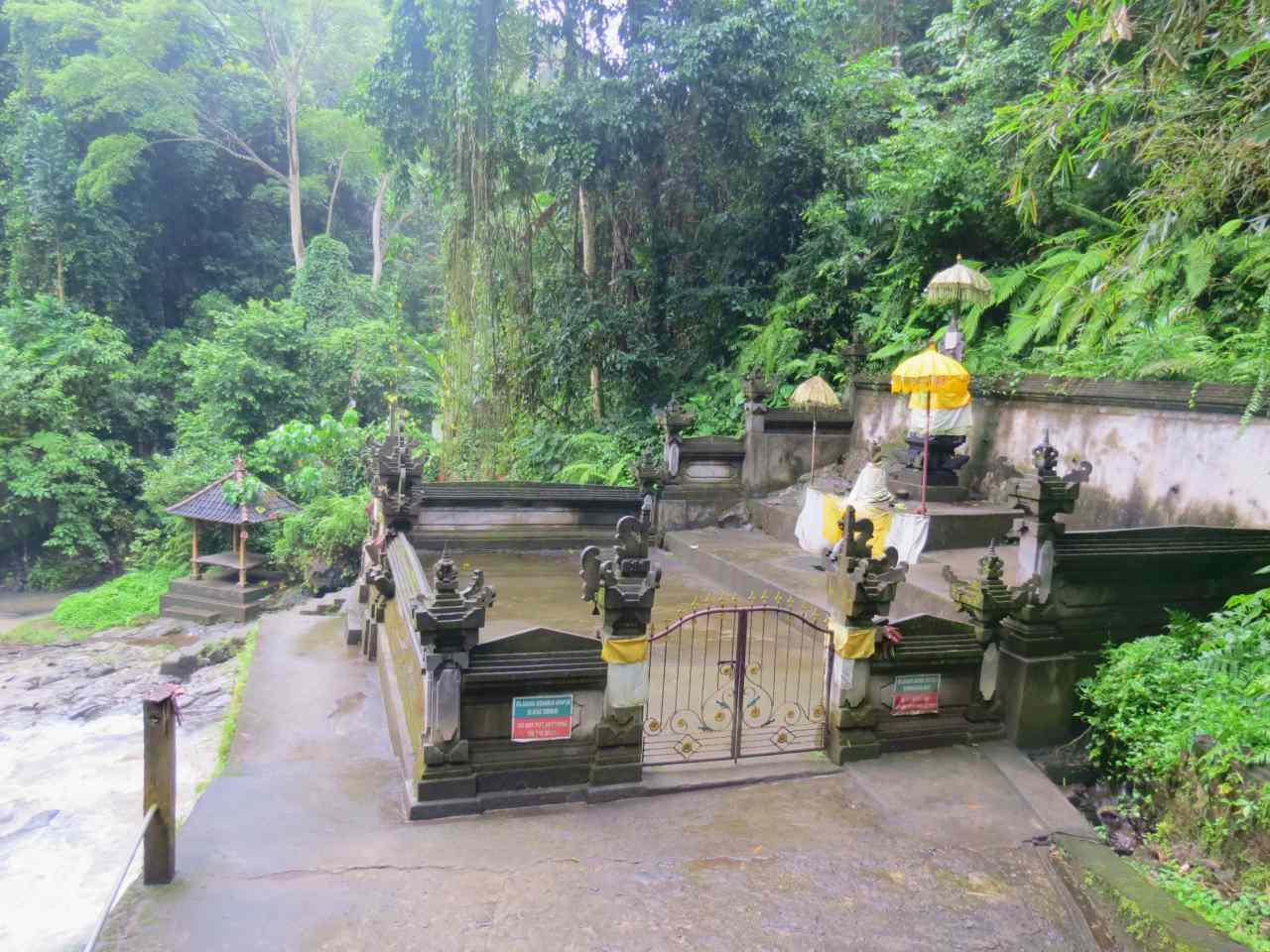 A Tranquil Waterfall
Tibumana waterfall is a single flow of water during the dry season. In the monsoon season, two columns of water will cascade down from the canyon. Nature generously put a large rock just in front of the waterfall. Like it understands the tourists' needs for pictures and selfies.
Swimming is welcome on the creek under the waterfall. That and having an enormous shower under the waterfall. But tourists are prohibited to swim too far close to the cave for fear of landslides. The tranquility of this place is soothing for the tired soul.
Simply relax and enjoy the hidden paradise at the small gazebo nearby, or sit on one of the rocks.
It's easy to get lost in one's thoughts here for hours. Stack pebbles to do some rock balancing art at the river. Local children love to do this and visitors should try too. It's meditative, to practice concentration and fun.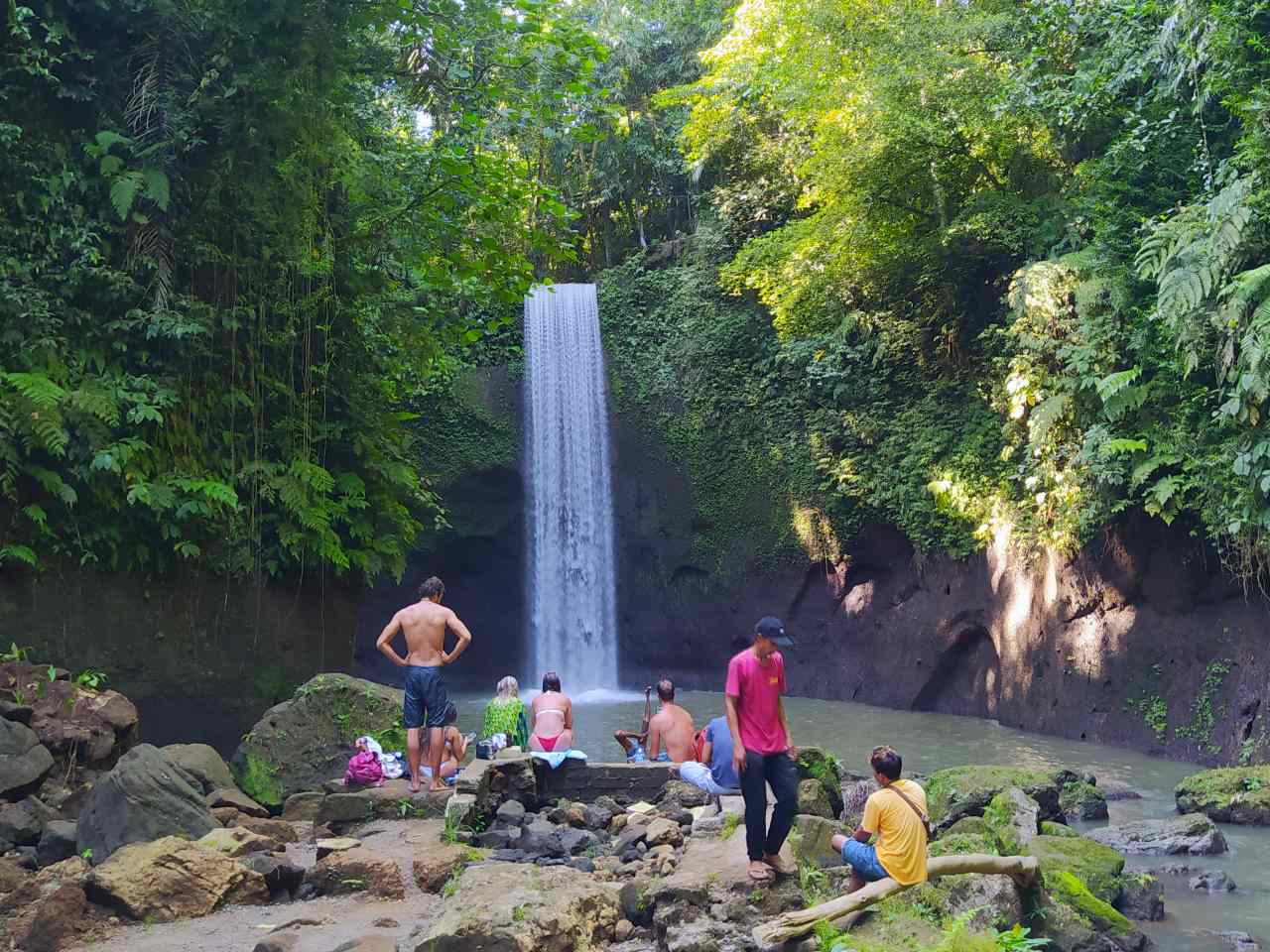 A Small Warung Next To The Rice Paddies
Do not just leave after the waterfall excursion. Instead, stay a bit longer and order a hot beverage at a small food stall nearby. A coffee would warm up the body after all the wading at the waterfall before.
Enjoy the greenness of the surrounding rice paddies, with banana and coconut trees along the road. Stay until sunset and watch as the sun goes into hiding, turning the green fields to a shade of orange before dark approaches.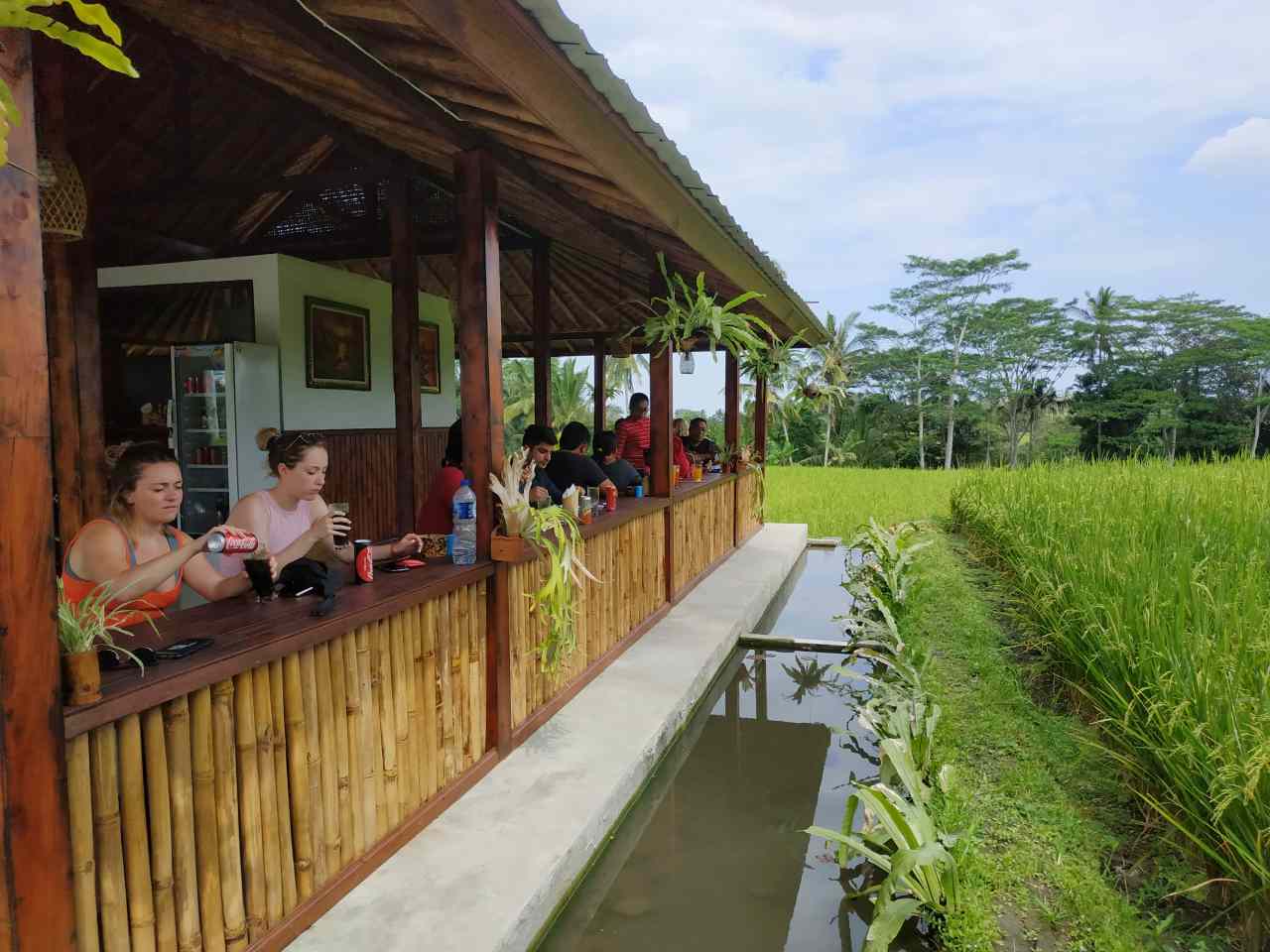 Pura Dalem Agung
There's a temple near the entrance called Pura Dalem Agung. It's not open for visitors and there's a strict dress code. Nonetheless, its Balinese gate is enough to marvel at. Made from red bricks and adorned with difficult carving.
The temple gate 'Candi Bentar' is a definition of wonder. See it from a distance, and take pictures, but don't touch the gate and the statue since it is prohibited.
See: Guide To Explore Gianyar Street Food & Night Market.
Facilities
For a new tourist destination, Tibumana Waterfall has adequate amenities. There are bathrooms that function both as toilets and changing rooms near the waterfall.
Stairs toward the waterfall are well-maintained and equipped with safety handrails. There are two small warungs to buy food and drink. A decent parking space is available near the ticket counter.
See: Prepaid SIM Card, Price & Coverage.
How To Get To Tibumana Waterfall
Tibumana Waterfall is only 35 minutes from Ubud. There is no public transportation that heads to the waterfall. Hence visitors' options are limited to renting private vehicles or taxis. It's best to rent a motorbike or go by bicycle to the waterfall. Since the scenery along the way is such a treat itself.
Follow this route to get to the destination: Ubud (Raya Ubud Road) – Cok Gede Rai Road – Goa Gajah road – Semebaung street – Sawo Road – Betiting Street. After Betiting Street, turn right to a small path beside the village's Cacang Penataran Temple. It's around a kilometer from the waterfall entrance.
Renting a car costs around Rp600.000/ day while a motorbike is more affordable at Rp50.000 to Rp65.000 a day. For visitors choosing a taxi (the only public transport option). Make sure the driver is willing to wait for visitors since it's hard to call a taxi to the waterfall area.
See: Bali Airport, Transportation & Airport Transfer To Ubud.
Tibumana Waterfall Location
The waterfall is located in Jl. Setra Agung, Apuan, Susut, Bangli, Bali 80661. It's also within close distance from other waterfall spots.