Pok Tunggal Beach
Entrance Fee: Rp15.000
Opening Hours: Open 24 Hours
Telp. Number: -
Address: Jl. Pok Tunggal, Tepus, Tepus, Gunung Kidul , Yogyakarta , Indonesia , 55881.
The south coast area of Gunungkidul has outstanding soft, white sand. Lines of karst rocks also embellish most of the beaches, making them even more exotic. Dubbed as a hidden paradise, Pok Tunggal Beach is one of the quiet spots in Tepus Village, Gunungkidul, Yogyakarta.
Two hills hide the long coastline, as though embracing the beach to its' peaceful position. View from up at one of the hills presents a clear, blue sea that meets the white sand. Near the entrance, colorful umbrellas line the beach, giving vibrant touch to the shore.
An old Duras tree stands leaning at one spot. The name Pok Tunggal originates from its existence. The tree gives shading, with its lush, green leaves.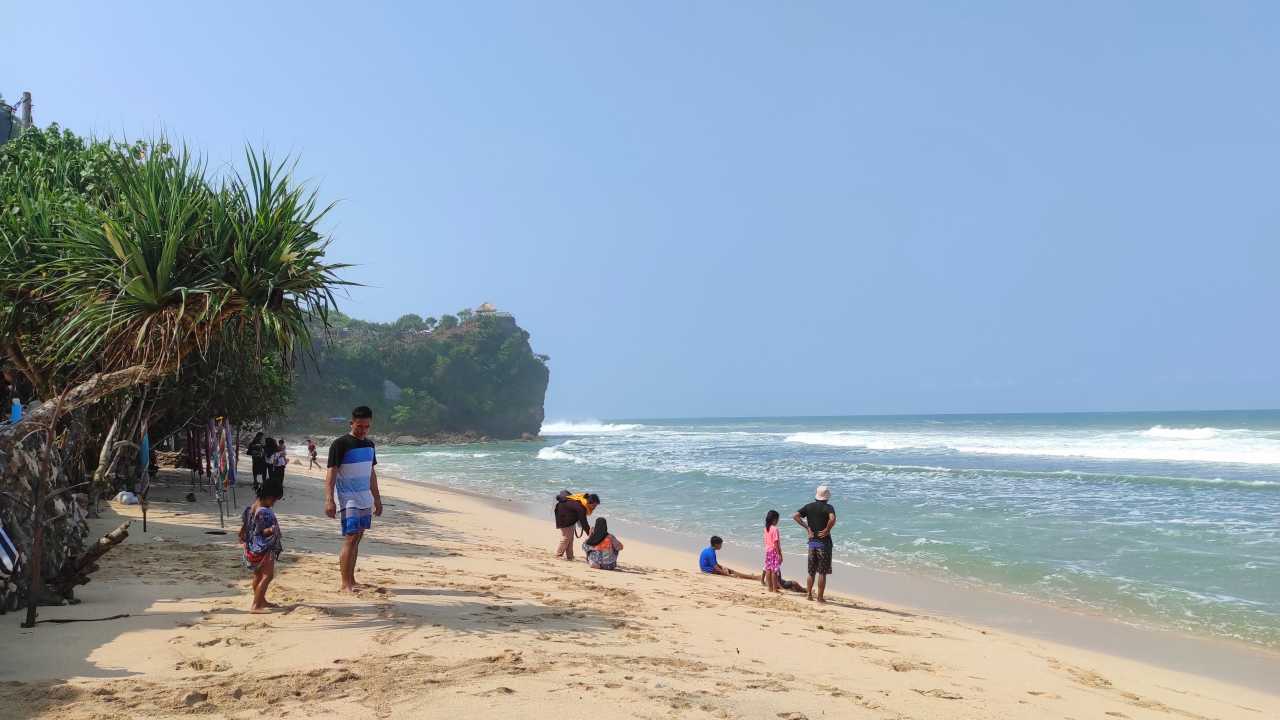 Pok Tunggal Beach Entrance Fee
The ticket fee for international tourists to explore the entire beach in the Gunung Kidul area is Rp15.000. However, visitors will have to pay the parking fee and donations when entering the beach.
Pok Tunggal Beach Entrance Fee
Ticket
Rp15.000
Nearby: Indrayanti Beach, Seafood Feast & Top Things To Do.
Pok Tunggal Beach Opening Hours
The beach is open every day and there is no specific closing hour. There are modest beachfront accommodations. And to accommodate visitors' needs, there are 24 hours small restaurants in the area.
Pok Tunggal Beach Opening Hours
Every day
Open 24 hours
Nearby: Guide To Explore Timang Beach & Gondola Ride.
Pok Tunggal Beach Challenging Access
The beach is getting more popular since its opening to the public. But there are not too many people visiting the beach. People need to deal with challenging access to get here. A narrow road won't allow a bus to pass through here. On top of that, there is not enough street light on the road. Tourists will have to deal with pitch-black roads after getting out from the beach.
And, 2 km approaching the beach, a bumpy, gravel road will welcome whoever is intending to enter. The narrow road requires climbing up and down and is meandering and steep. It pumps some adrenaline when passing through. Slipping is more likely for those careless drivers.
At the beach, the best thing people can do is simply enjoy nature. Because the internet is barely accessible due to its bad signal. So, be ready to be alone and peaceful.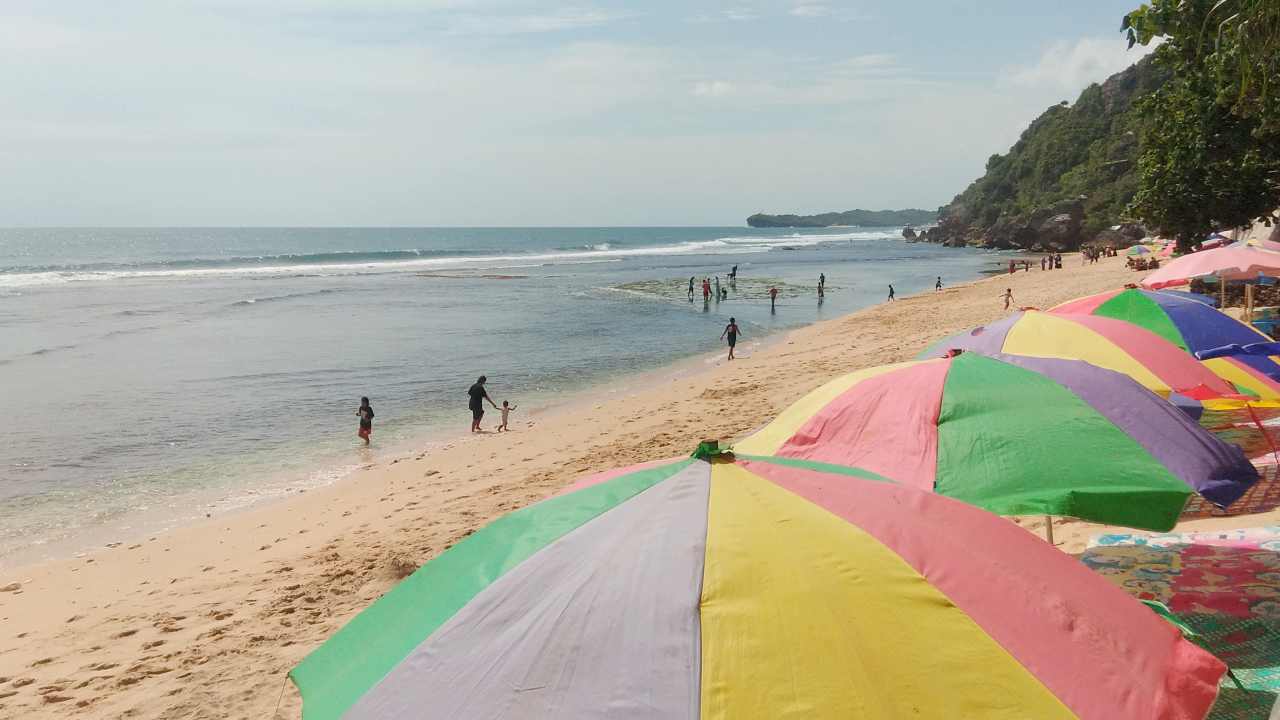 Duras Tree & Underground River
Duras is a Javan endemic flora. There is one grows here. It is why the beach's name is Pok Tunggal which stands for "The only one Duras Tree". Duras is an endangered species that can barely grow in coastal areas. And, people here consider the tree as a blessing and symbol of prosperity.
It becomes the signature of this place. And, the leaning tree, with blue water and white sand, is a must-have photo backdrop when visiting here. And, with only a small note of Rp3,000, there are people ready to give a hand taking the photographs.
Another attraction is the underground river. Back then, the Gunungkidul people went south in search of water. And found a river flowing underground in this area. Over time, more people came and stayed here for the water source. The locals have been maintaining the Duras tree since then. They also manage the beach to welcome visitors vacationing here.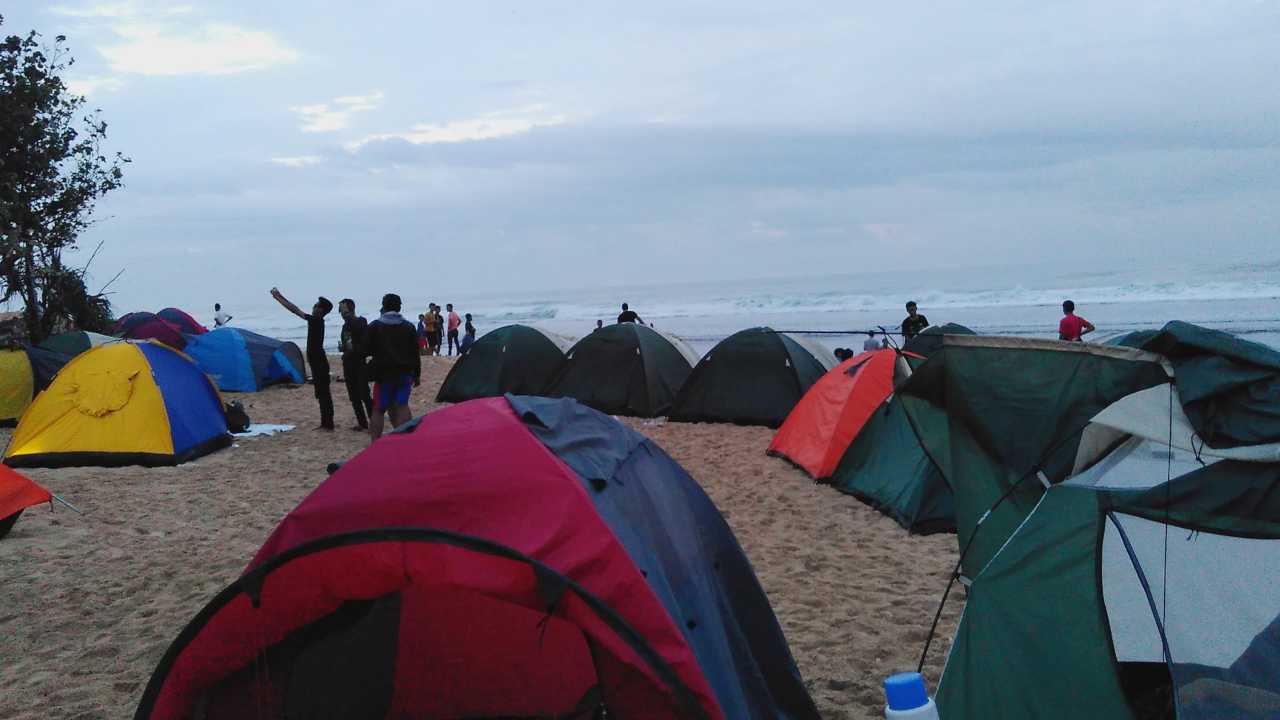 Sunbathing and Camping on the White Sand
Being in a tropical area, south of the equator line, the sun is scorching during the day. To reduce the risk of sunburn, locals provide colorful lines of umbrellas. Tourists may rent the umbrella complete with the mat at Rp20,000 to lie down under the shade.
The umbrellas do not only protect tourists from the heat. The colors contrast against the white sand. Many people love to take photos with this contrasting color background. Pok Tunggal has perfect sunrise and sunset. To capture the moments in photographs, camping is recommended.
And, locals provide camping grounds for tourists who want to stay over the night. They also rent out the tent for Rp60,000. While inns and homestays are available with prices starting from Rp 200,000 per night.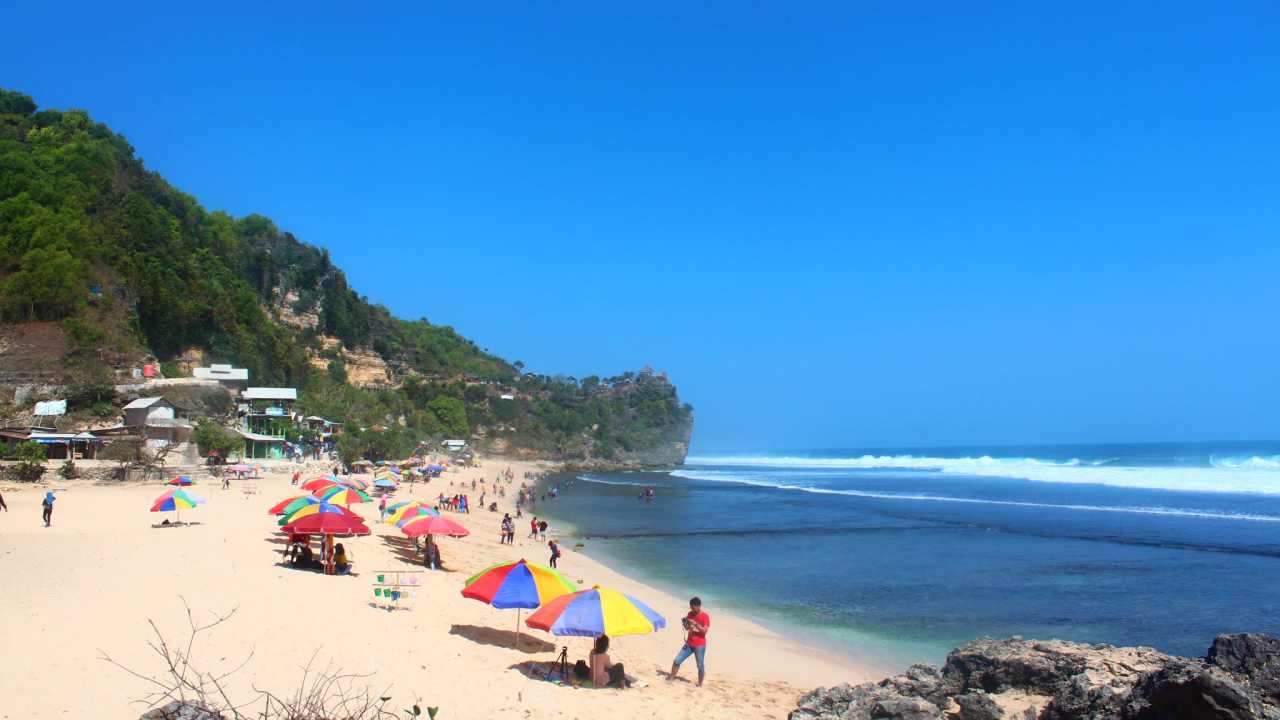 The Karst Rock
There are 2 hills tucking Pok Tunggal Beach, Bukit Tirta, and Bukit Panjung. The rocks stand 50m high, perpendicular. A stunning view is presented from up the hill, especially from Bukit Panjung. But the way to go there is not an easy one. It will start with some meters of a footpath. Then, visitors need to go up on meter-wide rock steps.
The steps will be muddy and slippery when it's raining. The next track is no less challenging, a bamboo bridge that looks old and fragile. There is a railing to hold on to, but the floor is slippery and squeaky to step on. Moreover, some rocks protrude here and there, which may hurt when hitting.
Approaching the gate, visitors should pass through some meters of flat footpaths with some stairs. However, what waits for upfront is the stunning view of the north side and the rock that hides the beach. The rock looks green with trees and ferns that are home to a pack of monkeys.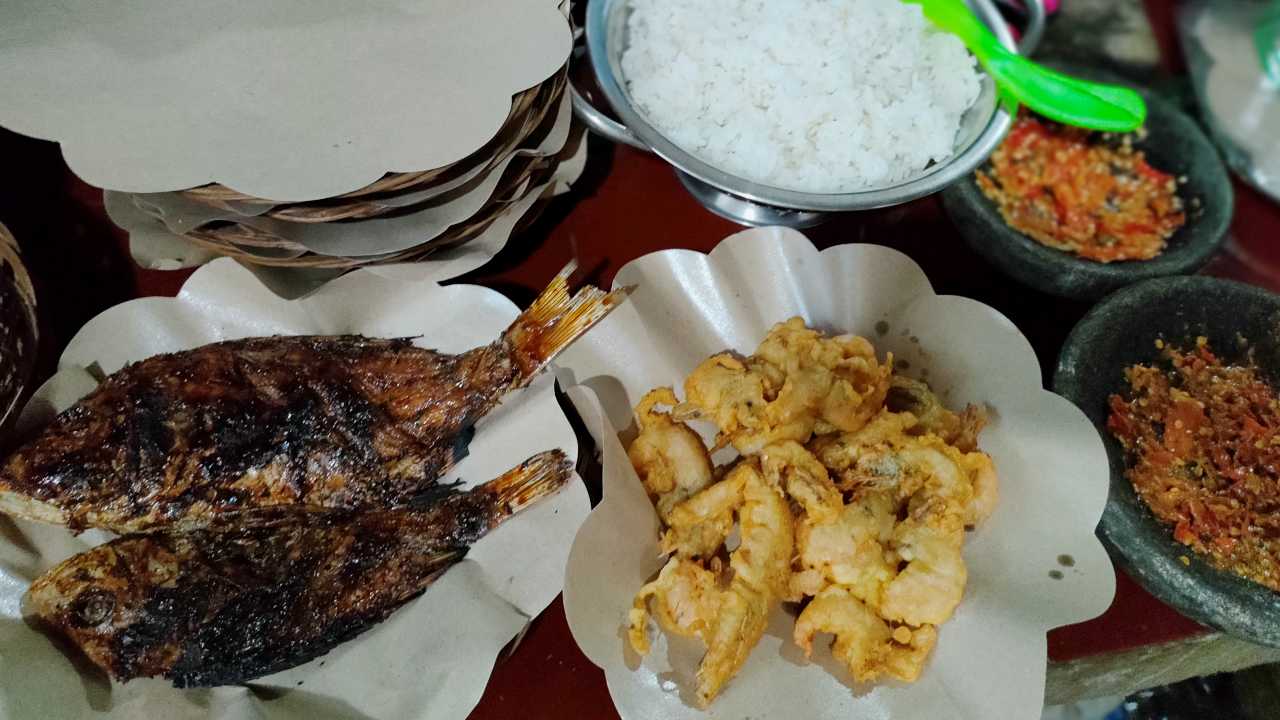 Calm Waves
Pok Tunggal situates on the Southern Coast which is remarkable for its tempestuous waves. However, Pok Tunggal has calm waves and a sloping beach. Therefore, visitors are safe to play with sand and enjoy the water. But, beware of urchins and jellyfish.
Nobody can decline swimming in calm waves and pristine water. The preserved environment also guarantees a healthy marine ecosystem. Diving and snorkeling would be fun to do here. However, no rental provides the gear. So, bring the equipment, and put on a lot of sun protection.
Nearby: Ngandong Beach Guide, Surfing & Watersport.
Facilities
Pok Tunggal Beach has complete facilities. The parking lot is big enough to accommodate both cars and motorcycles. The parking fee is Rp10,000 for cars and Rp2,000 for bikes. Many stalls sell affordable foods and drinks. The food range from seafood to Gunungkidul signature dishes.
There are gazebos that cost only Rp20,000 to rent. A praying room is also available. The souvenir stall sells beach shirts and items. And most lodgings and homestays in the area offer beachfront views.
See: Tourists SIM card, Price & Provider Options.
How To Get To Pok Tunggal Beach
Pok Tunggal is an 80 km or 2-hour drive to the south of Yogyakarta, take the Imogiri-Panggang-Saptosari-Tepus. From Tepus, take the route to Baron Beach. At the junction prior to Baron Beach, take the left turn to Indrayanti and then take the asphalt road to the left. Visitors will see the retribution gate of Pok Tunggal Beach on this road.
Unfortunately, for now, the DAMRI bus that departs from downtown's last destination is Baron beach. And from Baron beach, Pok Tunggal is still 15 km away. That leaves tourists with private vehicle options like renting cars or scooters. The cost of renting a car with a driver will start from Rp500.000 for 4 passengers.
While for a scooter, the price for a day's rent will start from Rp65.000. The rent includes 2 helmets for 2 passengers.
See: Yogyakarta International Airport Guide & Public Transport.
Address & Location
Pok Tunggal beach is located in Tepus village, Gunung Kidul, Yogyakarta 55881.