Ngandong Beach
Entrance Fee: Rp10.000
Opening Hours: Open 24 Hours
Telp. Number: -
Address: Jalan Pantai Selatan Jawa, , Sidoharjo, , Tepus, , Gunung Kidul, , Daerah Istimewa Yogyakarta , Indonesia , 55881.
Ngandong beach is still often overlooked as Yogyakarta's traveling destination. It is one of Gunung Kidul's most exotic beaches alongside more popular ones such as Sundak and Baron beach. Geographically, it directly faces the Indian Ocean. Hence, a beautiful sunset scene is to be expected in the dusks.
The area is also a rich resource for fisheries. People may witness a lot of fishing boats pulling over to the beach during the night. Compared to the beaches nearby, Ngandong beach is kept very traditional. However, that's what makes even more attractive destination.
The small numbers of locals are the independent wheel of Ngandong's tourism. The fact is also supported by the government of Yogyakarta. They said that the development of Ngandong's tourism is best handled by the locals themselves.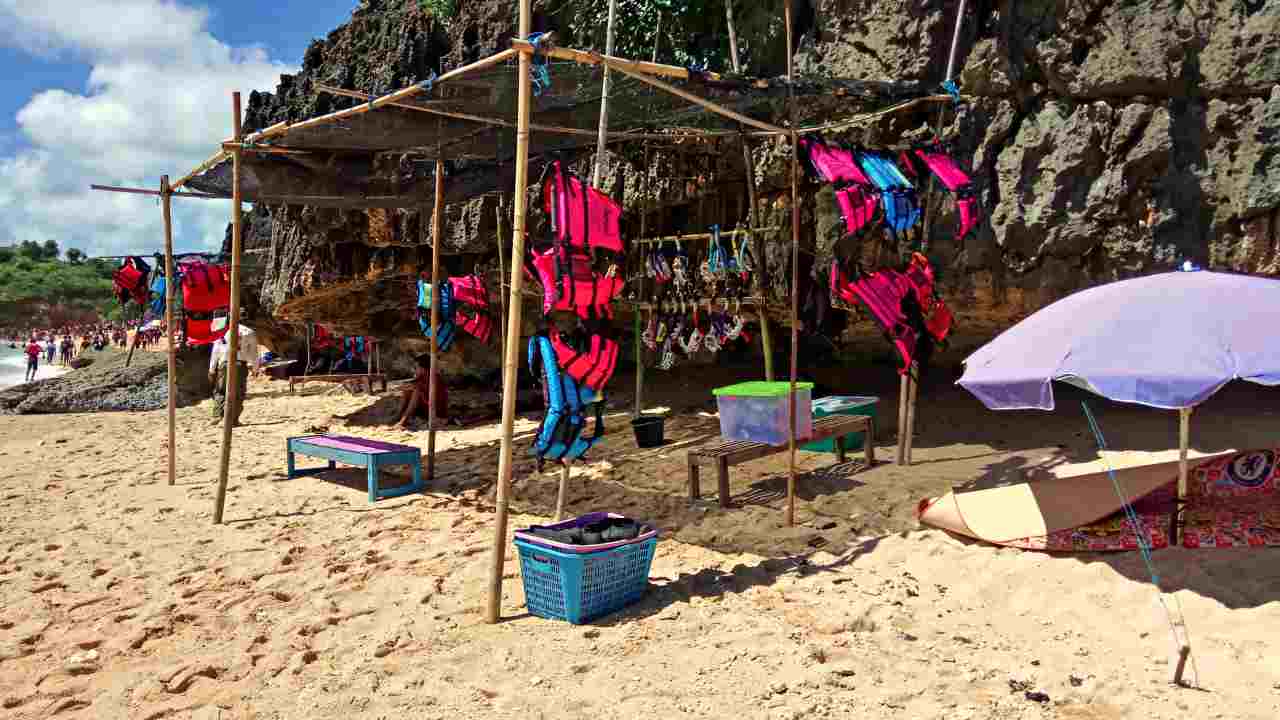 Ngandong beach is located precisely in a modest Sidoharjo village. There is neither a beach club, hotels nor fancy restaurants to be found nearby. Rather, travelers will feel the traditional sensation of simply chilling and enjoying the picturesque surrounding.
The way the locals take care of their source includes maintaining nature's virginity and cleanliness. Might serve as a huge advantage point as a travel destination.
Ngandong Beach Entrance Fee
To get into the beach area, visitors will only need to pay Rp10,000 once per person. The retribution fee includes access to the nearby beach areas around Ngandong such as Baron, Kukup, Sundak, and others.
Ngandong Beach Entrance Fee
Children & Adult
Rp10,000
Parking
Rp2,000
Nearby: Baron Beach, Watersport Activities & Lighthouse
Ngandong Beach Opening Hours
The beach is open 24 hours. Some stalls selling snacks and water are open until midnight. But sometimes is open 24 hours only at the weekend. Ngandong Beach is more crowded during Lebaran and year-end holidays.
Ngandong Beach Opening Hours
Every day
Open 24 Hours
Nearby: Indrayanti Beach, Sunset Spot & Seafood Feast
Ngandong Beach Water Sport Activities
Ngandong Beach offers not only spectacular views but also choices of exciting activities to experience. Visitors can try canoeing which costs Rp50.000 per boat for an hour. There are more than 15 canoes available for rent. Enjoy paddling the small boat to the sea with at least a friend or family.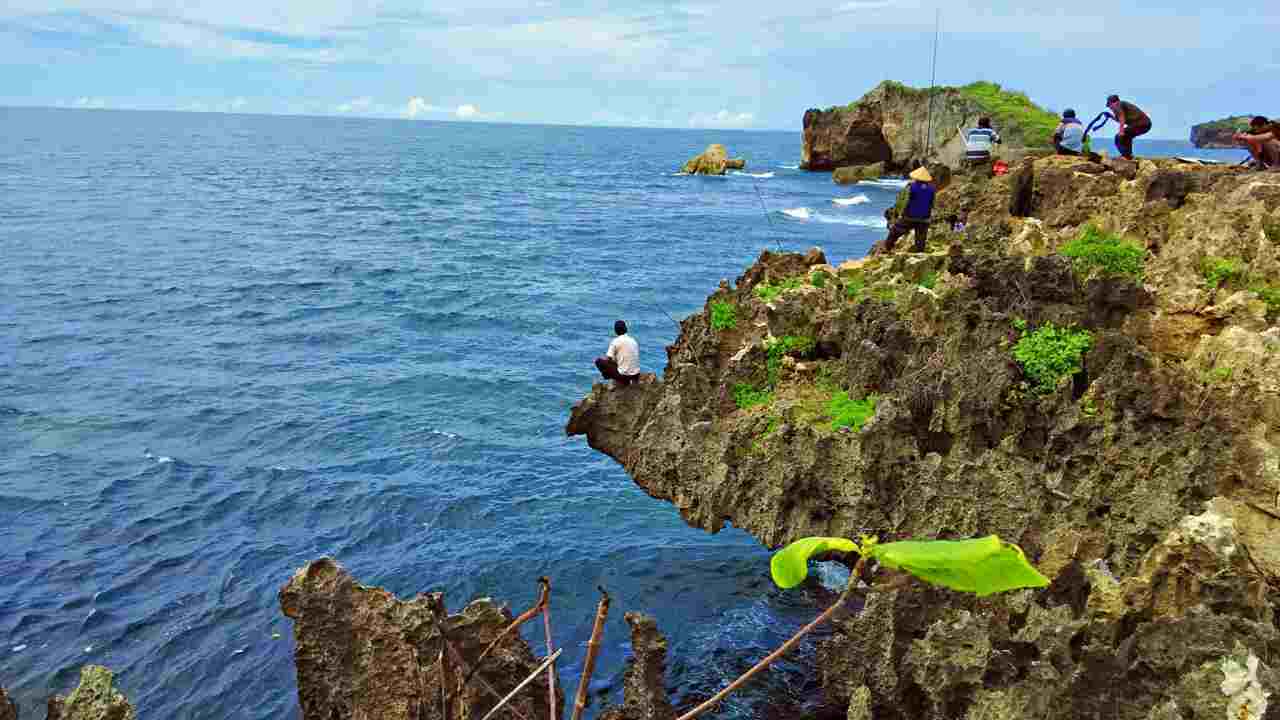 It might be a visitor's first time playing with a canoe. Worry not, there will be guides who will accompany and instruct the beginners. Visitors can snorkel too, which is usually only available on popular beach sites. Explore the beauty of coral reefs and sea creatures.
For only Rp35.000, tourists will be able to rent a set of snorkeling gear. That includes a snorkel and mask, life jacket, and diving shoes. Snorkeling activities here on the beach are best to do in the morning, as the wave is still gentle. An early snorkel will get an advantage in crystal clear water and get the best spot. As there are not many people yet.
Surfing
Another activity to try is surfing. Ngandong Beach is the perfect environment for beginners to learn surfing. The waves here are not as scary as on other beaches nearby. Some local surfers are willing to teach beginner visitors to surf. All of these activities are independently arranged and managed by locals.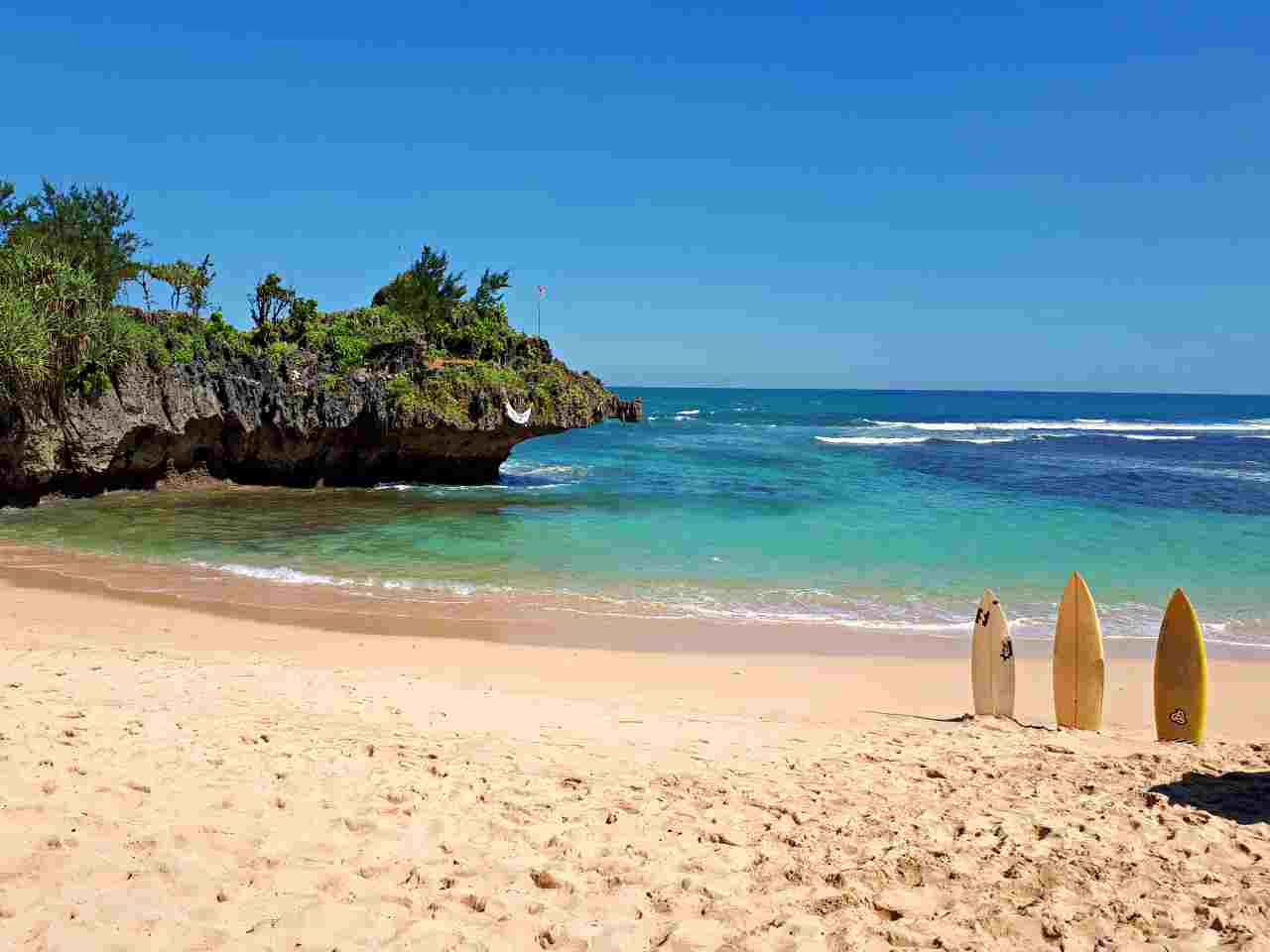 Other than water sports activities on the beach. There are also sites for trekking and mini off-road. Visitors can also participate with local fishermen to sort seaweeds. An auction house for fish is located near the beach. Last but not least, there is also a fishing site for visitors on the left side of the beach. Not far from Sundak Beach.
Dinner Below The Sunset
Around the beach, visitors can find some small restaurants (warung) serving Gunung Kidul's seafood cuisines. The fish is freshly collected from the sea by the local fishermen. From crabs to tunas, the menu price ranges from Rp110.000 to Rp150.000 per kilogram.
Don't forget to try their jellyfish menu! The most famous dish is the ones cooked in spicy and sour sauce. As Ngandong Beach is not as crowded. Travelers can enjoy a magnificent sunset in serenity while enjoying a delicious dinner.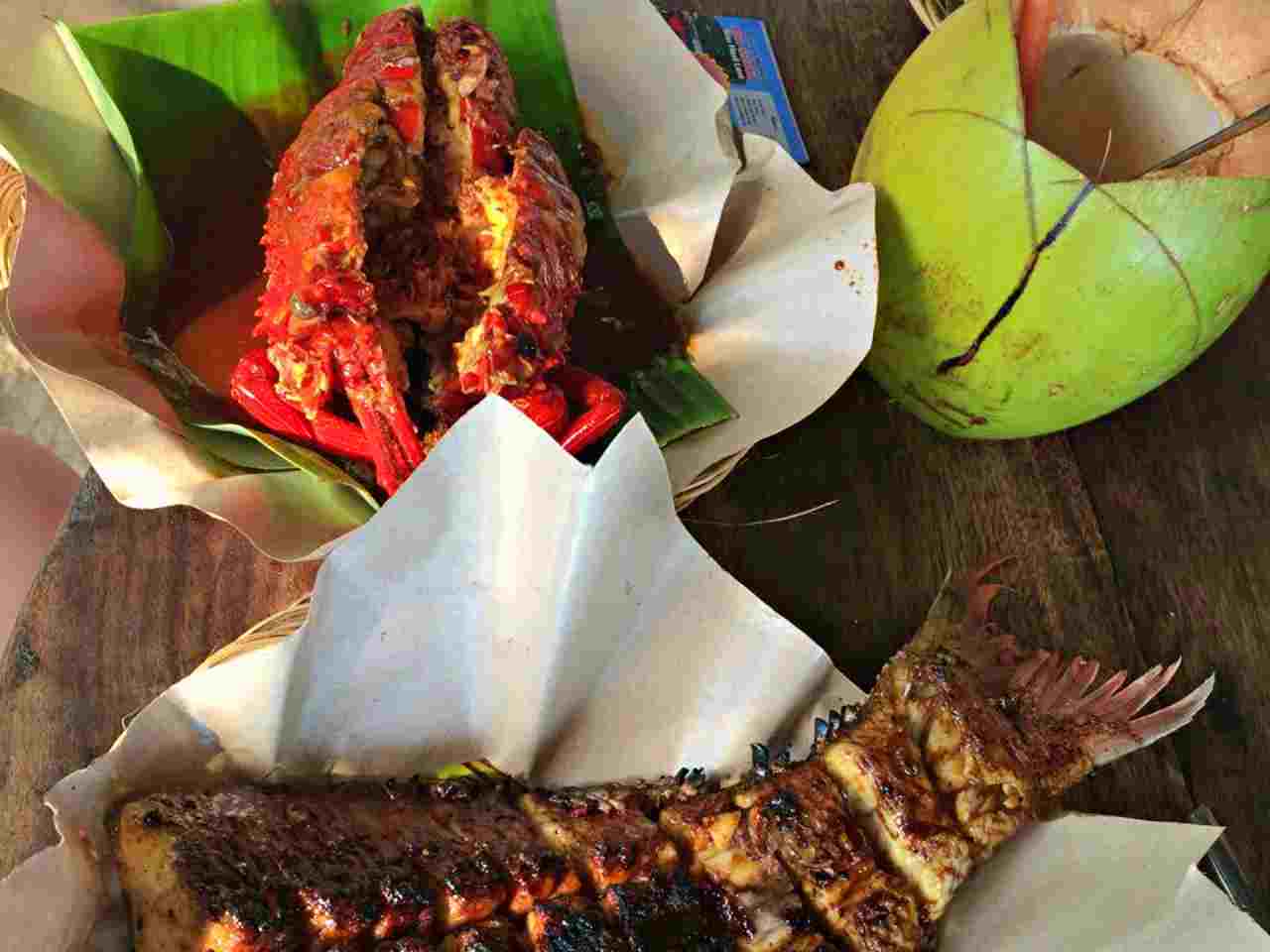 Simply Enjoy The Nature
The beauty of Ngandong's nature's virginity will simply amaze every visitor. Ngandong Beach is not just the sea and sand. Walk around the trees, climb the ledge, and have huge coral rocks rounding the shorelines. Enjoy the unpolluted sky during the day and night. And prepare a special moment for the sunset.
Such beautiful nature also serves as good photography objects and photo spots. The water is as clear as it can be, people can see through 50 cm into the sea. Under the sea, explorers may also witness a unique natural phenomenon.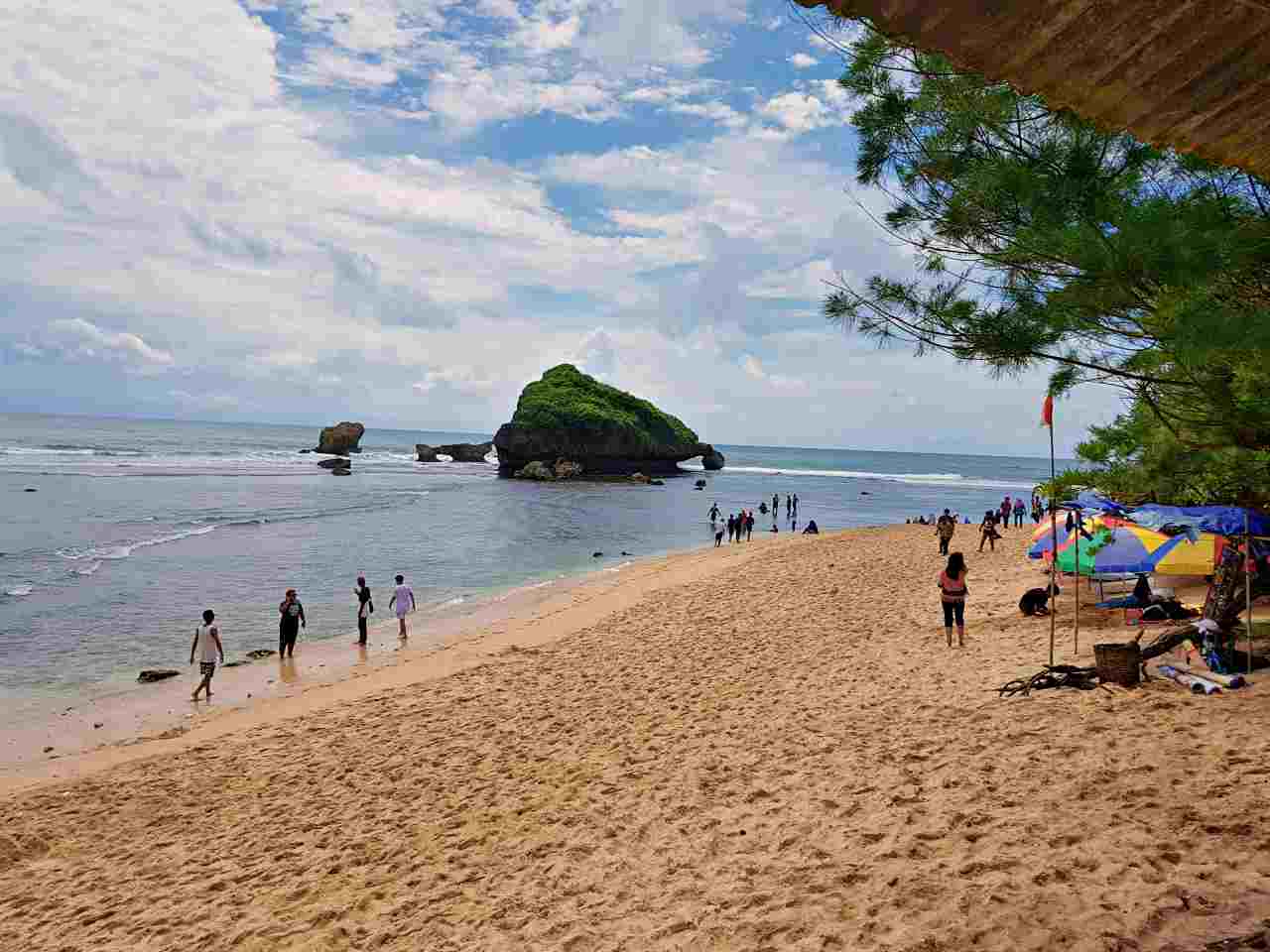 Plain water bursts at the bottom of the sea while surrounded by seawater. To see this unique event, rent the wooden boat, the local's fishermen will be happy to sail and show it off. This scene is extremely beautiful during the afternoon as the sun shines brightly.
See: Guide To Shop At Beringharjo Market & Street Food.
Facilities
The nearest homestay is a two-minute walk from the beach. It provides basic facilities such as beds, toilets, and electrical sockets. The homestays are fairly clean which is nice for a good night's rest. Guests should prepare about Rp150.000 to Rp200.000 for a one-night stay.
Some travelers might prefer lodging with a higher level of service and facilities. There are plenty of bungalows and hotel options a little further from Ngandong Beach. The distance is just a 5 minutes ride away from the beach. The price per night ranges from Rp150.000 to Rp700.000.
See: Indonesian SIM Card, Coverage & Price
How To Get To Ngandong Beach
Ngandong beach location is about 60 kilometers from Yogyakarta's Adisucipto Airport. It might not be as accessible as other popular beaches in Yogyakarta. The best option for travelers is to rent a scooter or a car to get there. The trip from the center of the city of Yogyakarta to Ngandong Beach takes about two hours and a half using a car.
There is no bus because the road is quite narrow. The road going there is a bit rocky, but the long trip will be worth it. Parking vehicles will cost Rp2.000 for two-wheelers and Rp 5.000 for four-wheelers.
See: Yogyakarta International Airport Guide & Public Transportation To Downtown.
Address & Location
Ngandong beach location is in Jl. Pantai Sel. Jawa, Sidoharjo, Tepus, Gunung Kidul Regency, Yogyakarta 55881.