Sundak Beach Entrance Fee: Rp15.000 Opening Hours: 24 Hours Telp. Number: - Address: Jl. Pantai Sel Jawa, Sidoharjo, Tepus, Gunung Kidul, Yogyakarta , Indonesia , 55881.
On Gunungkidul's coastline, chasing waves slap onto the shore. Towering cliffs stand to enclose the beach quietly. Serving as a fort, the cliffs protect the beach from outside threatening touch to its nature. It is Sundak Beach, one of the mythically beautiful beaches in Sidoharjo Village, Tepus, Gunungkidul.
The quintessential coast of the Indian Ocean features rough currents of crystal-clear water. Nonetheless, more people are coming for the fancy of the beach charms. Many consider the beach a paradise. The white sand dazzles reflecting the sunlight during the day. It feels soft on the skin and soles.
12-m karst rocks decorate the north. A cavity on one of the karst rocks keeps the story of the beach's name origin. It was said that a dog fought and ate an urchin near the spring in that cave. Sundak stands for asu (dog) and landak (urchin) in Javanese. It was when the villagers found the spring; and called the beach Sundak.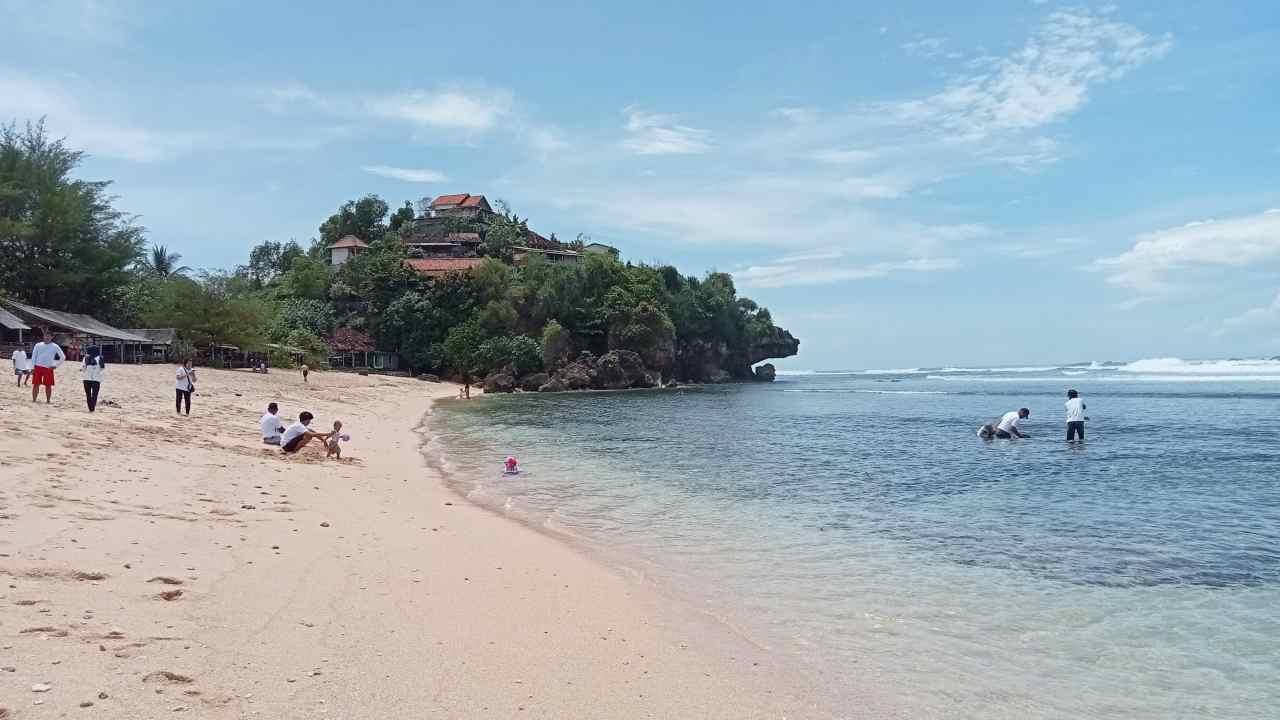 Sundak Beach Entrance Fee
The entrance ticket for international tourists is Rp15.000. And it grants access to all beaches in the Gunung Kidul area. Such as Indrayanti beach, Pok Tunggal and Ngandong beach. There is also a donation box at the entrance, where the money will be used to keep the beach clean.
Sundak Beach Entrance Ticket
Ticket
Rp15.000
Nearby: Guide To Explore Indrayanti Beach & Seafood Feast.
Sundak Beach Opening Hours
The beach offers magnificent sunset and opens 24/7. Tourists may come at any time. Just choose the activities to do and pick the time to visit. However, it is best to visit the beach in the dry season but not during school holidays since the beach will be a bit crowded.
Sundak Beach Opening Hours
Every day
Open 24 Hours
Nearby: Ngandong Beach & Top Attractions.
Sundak Cave & Water Spring
The rocks are gallantly beautiful objects of photography. In addition, the sea is also abundant with marine products. People fish at the rocks that jut to the sea. There is also a cave on one of the rocks.
The cave is 2-m high, making it comfortable enough to explore. There is a spring in the cave that intrigues people to explore. If the water in most coastal areas tastes brackish, the spring sheds fresh water. In fact, villagers depend on the spring to meet their freshwater needs.
Rock Exploration, Snorkeling
At the east, karst rock separates the beach from the adjacent Indrayanti beach. Climbing the rock suits those who like a little adrenaline-pumping. It needs a lot of sweating to do it. However, the magnificent view from the rock top is rewarding.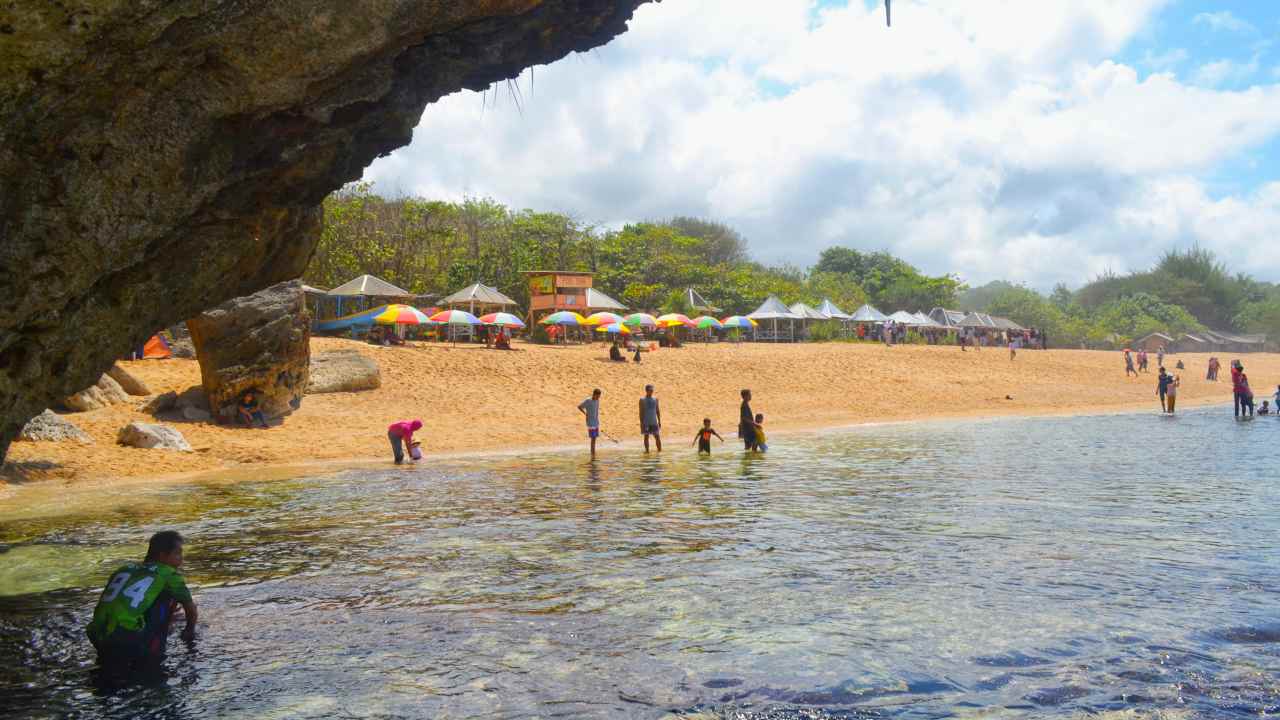 It is calming view of the beach's colors gradient of blue, aquamarine, light brown, and white. But roaring rough currents are forbidden for novice swimmers. On the other hand, the advanced ones may be able to conquer the waves. If those don't suit, the shoreline is luscious with verdant trees.
Parents can keep children company while they are playing. Or else, just snooze in gazebos or sunbathe under the umbrellas at Rp20.000 – Rp30.000. In low tide, the water ebbs revealing most of the coral reefs. The reefs spread 40 meters from the shore not quite an effort to snorkel. The snorkel gears are available at Rp 30.000 to Rp50.000 rent and are negotiable.
Seafood Feast
To cater to tourists' needs, food stalls and warungs line along the beach. Most of the menus are seafood and local delicacies. Grilled/fried fishes start at Rp25.000 with rice. Crispy/grilled shrimps are Rp35.000 ($2.5) with rice and sauce. Drinks start from Rp5.000 and coconut costs Rp15.000 ($1).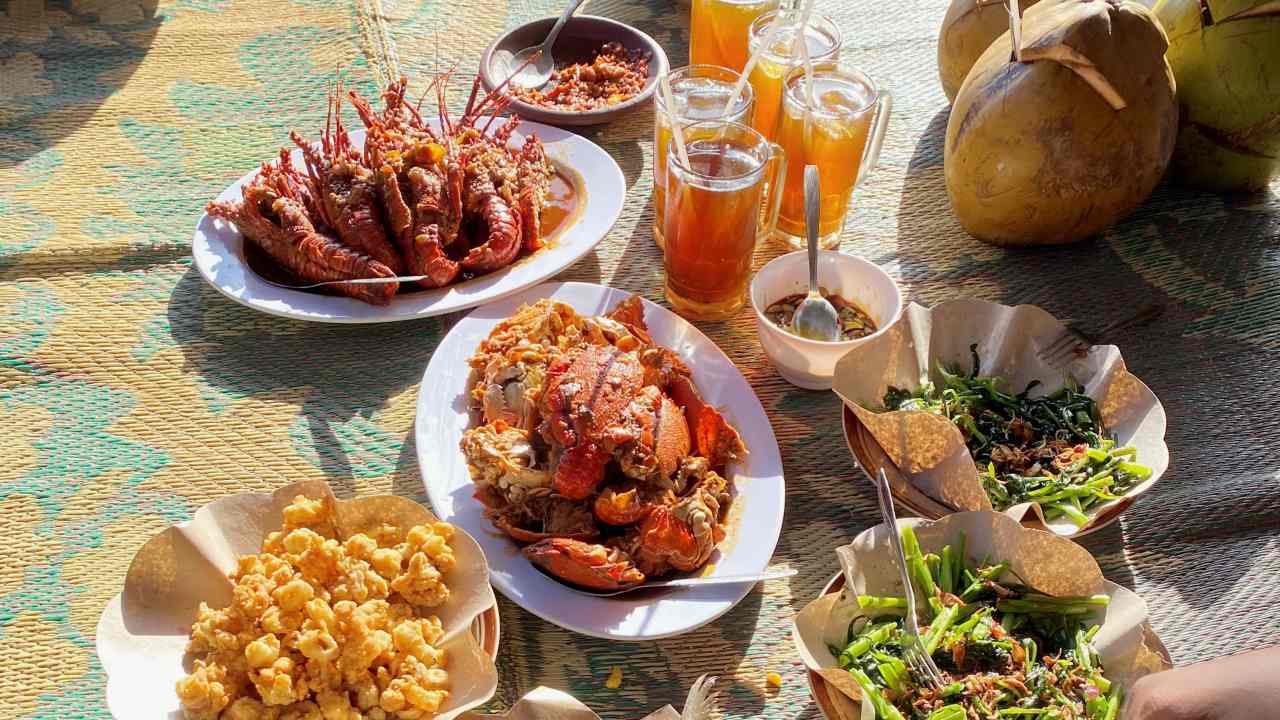 Combo menus are available for a group of 6 people. The price ranges from Rp150.000 to Rp180.000. The prices earn customers 1kg of optional kinds of seafood, 1 bowl of rice, 1 plate of sauteed watercress, and hot/iced tea.
Side dishes that are available are fritters, meatballs, chicken noodles, morsels of seafood, sausages, and vegetables on sticks. The side dishes start from under Rp5.000. And, if tourists want to bring home something from here, souvenir stalls are available at similarly low prices.
Camping
There is a camping ground the locals prepared. Stalls rent out the tent at only Rp80.000 or around $5. There are also lodgings and homestays for tourists who want to sleep comfortably.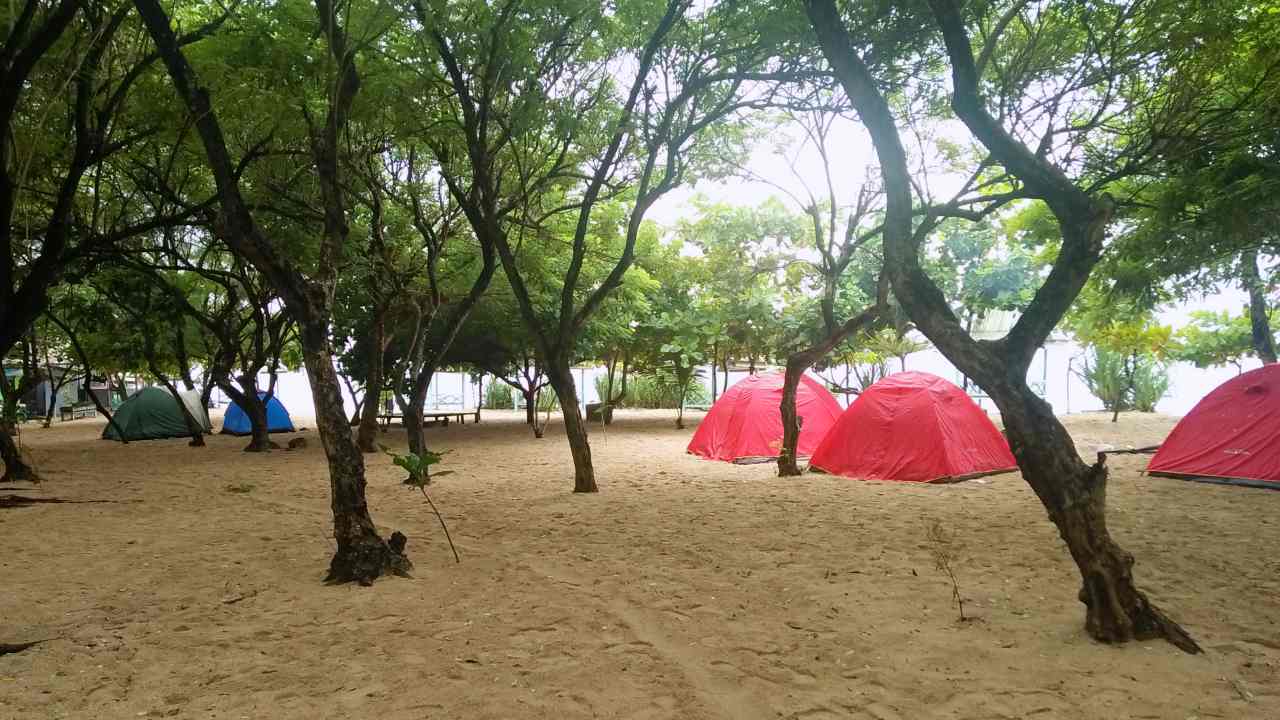 A room at one of the lodging costs Rp250.000 to Rp300.000 excluding breakfast. Guests will not only get a bed for 2, a bathroom, and a TV. The sea views of Ngandong and Sadranan beaches are clearly visible at this hilltop lodging.
See: Guide To Explore Timang Beach & Extreme Gondola Ride.
Facilities
There are sufficient facilities at Sundak Beach. A mosque stands in the parking lot for Muslims to perform prayers. Public toilets and washrooms are also available for Rp2.000 to Rp3.000 for one-time use. Parking costs Rp2.000 for a scooter and Rp3.000 for a car. And it's another Rp10.000 to Rp20.000 for overnight parking.
Besides accommodation, warungs, food vendors, and souvenir stalls. There are camping grounds and lodging for overnight tourists. There are also gazebos, umbrellas, tents, and snorkeling gear rentals. However, there is no ATM or money changer in this area.
See: Tourists SIM Card Price, Providers & Internet Package Guide.
How To Get To Sundak Beach
Sundak Beach is 70 km away, or a 2-hour drive to the south of Yogyakarta. From downtown, go to Mayor Suryotomo Road, and go straight to Brigjen Katamso road. Then take the turn to go to Kolonel Sugiono Street. Keep going to reach a junction, then take Sisingamangaraja Street to West Imogiri Street.
Then, go to Pantai Selatan Jawa Street and follow the road and see the street sign to Sundak Beach. However, it's a winding road with many sharp turns to get to the beach. Since it will be troublesome for a common driver, tourists will have to make sure to hire experienced drivers.
Renting a car with a driver will start from Rp500.000 for 4 passengers. A scooter costs Rp.65.000 for a day's rent, including 2 helmets for 2 passengers. Or, tourists may take a bus at Giwangan bus station. Stop at Wonosari market. The bus starts serving from 6 AM to 6 PM.
The fare from Jogja to Wonosari ranges between Rp25.000 to Rp. 35.000. There is a Damri bus, but the last stop is Baron beach, and the fare is 20k. However, Sundak Beach is still 9 km away. So it's best to rent a scooter or car.
See: Yogyakarta International Airport Guide & Transportation.
Address & Location
Sundak Beach is located in Jl. Pantai Sel Jawa, Sidoharjo, Tepus, Gunung Kidul, Yogyakarta 55881.