Sari Temple Entrance Fee: Rp10.000 Opening Hours: 08:00 - 15:00 WIB Telp. Number: - Address: Jl. Candi Sari , Bendan, Tirtomartani, , Kalasan, , Sleman , Daerah Istimewa Yogyakarta, Indonesia , 55571.
The harmony of the Javanese civilization in Yogyakarta is not merely reflected by its people. The region also owns a long list of religious tourist attraction. That is proved with the existence of temples that are found in almost every corner. A temple that must be put on the list is Sari Temple.
Was built around the 8th to 9th century, Sari Temple remains to be an archetypal Javanese-Buddhist heritage. The site becomes a hidden gem yet a pride for Yogyakarta. Also, since the temple is located in a residential area, the unique building strikes out magnificently.
After known to be lost for centuries, Sari Temple was found broken in the early 1920s. Since then, the government did a long restoration. One of the biggest losses of the temple is the stone fence around the temple. And the gateway which was guarded with two Dwarapala statues holding a bludgeon.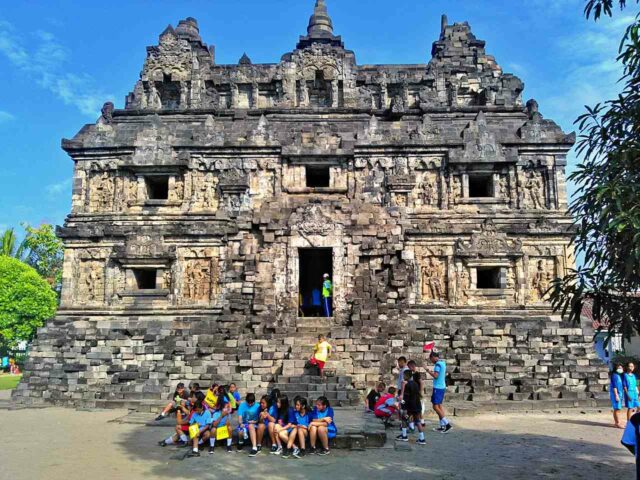 Between Sari Temple and Kalasan Temple
Other than Kalasan, Sari Temple was also built as a present. Both constructions start in the same period – by the order of Rakai Panangkaran, the king of Mataram. While Kalasan is home to worship the Goddess Tara. Sari temple once was a dorm for the Buddhist priests. Where the monk can rest, pray, and study.
In light of history, both temples achieve their purpose to maintain religious diversity. Back then, the king of Mataram is a Hindu. As a Hindu, people know him as a religious person. Devote his life to Hinduism. And as a king, he was well-known as a wise figure.
At that time, 2 majority religion is Hindu and Buddhists. On the south side of Java people practice Buddhist. And on the other side of the region, people worship Shiva. Then the marriage between Rakai Panangkaran with Pramodawardhani. A princess from the Syailendra dynasty, who practice Buddhism changes it all.
There was no more conflict as the two most powerful empires united. People who've been practicing Hindu and Buddhism live side by side. Prambanan the most majestic Hindu temple was built. With of course a Buddhist monastery inside the huge Prambanan complex.
Then Kalasan and Sari temple, another two Buddhist temples during his life as a king. People were all living in harmony even with diversity. This story finally becomes a stake and a reminder of tolerance and respect in divergence.
Multiple Chambers
Sari temple once was a 3 story floor.  The upper floor once is room to keep religious manuscripts for studying. However, the items are now nowhere to be found. What left is empty niches frames with carvings that once used to keep sculptures. The same situation ends up on the lower floor.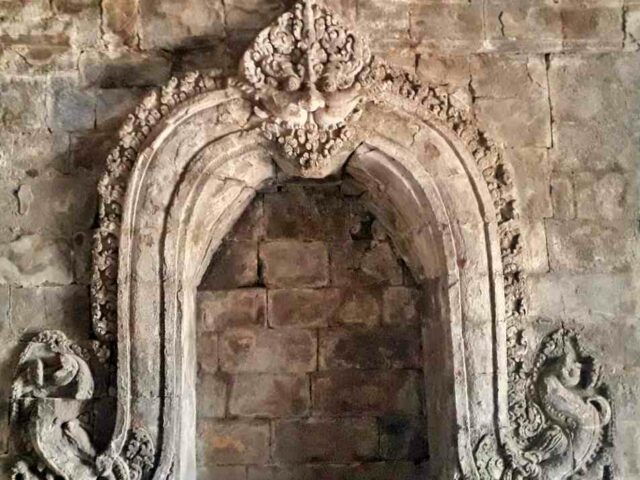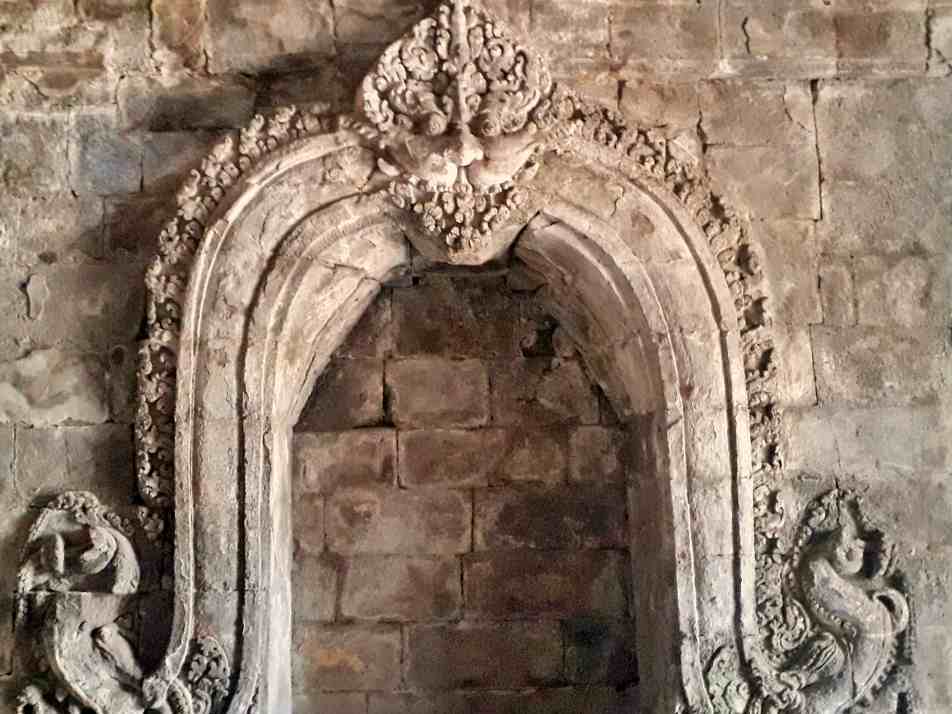 On both floors, three chambers settled empty. Each of the chambers has two or more floors. What connecting the ground and second floor was a wooden stair. And now is missing in some parts. So, the guests are only able to visit the lower floor.
Architecture
The most outstanding part of the temple is nine stupas designed similarly as in Borobudur's. Lies on the top, the stupas become a unique, identical icon that belongs to Sari temple. They are arranged in three straight lines, decorates the whole top. Making the temple stands precisely eight-teen meters tall.
This eight-teen meters building is covered with Bajralepa. The 'diamond plaster' made with a white egg, plant sap, and fine lime. It is the same plaster used in the same neighborhood temple Kalasan. It takes centuries to see some parts of the construction aging with some falling apart.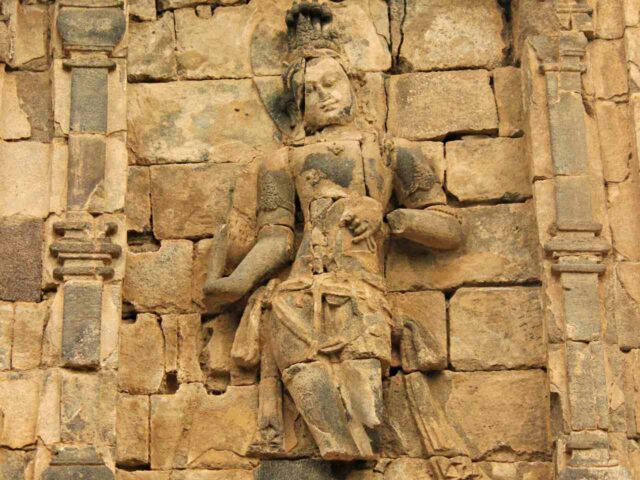 Bodhisattva Statue
Another Buddhist legacy stands stunningly here are 36 reliefs of Bodhisattva. Carved beautifully on every side of the temple. In Buddhism, Bodhisattva is more than just a name. It's an image of Buddha-to-be persons. A stage when a person finally finds enlightenment.
In addition to its philosophy, the Bodhisattva doctrine in Buddhism also leads to seeking Buddhahood. In Buddhism, an enlightened person can lead and guide another person to enlightenment. Just as the Buddhist principle to put others first before one's self. That is also the main reason why there are always Bodhisattva statues in temples.
Aside from the wall carvings, two Kalamakara sculptures decorate gorgeously in the windows. While Kalamakara in other temples pictured as dark, scary demons. Sari temple's Kalamakara is different. Here, the figure of Kalamakara didn't have strong jawbones.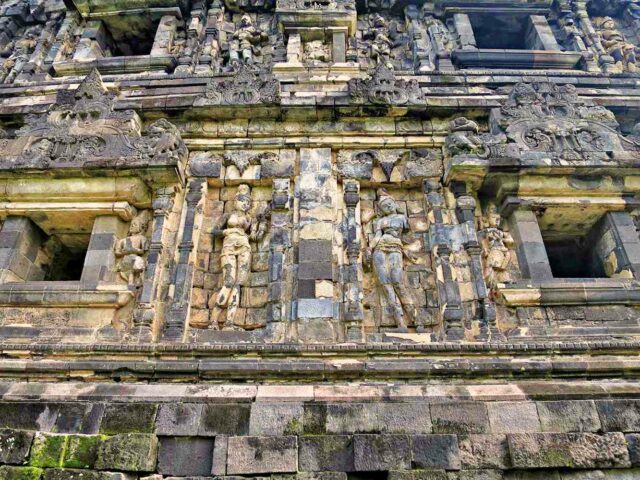 The Kalamakara sculpture also decorates inside the temple, at the niche frames. It sticks along with the carvings of tendrils. In Buddhism, tendrils are some part of the offerings. The plants have a hidden philosophy. Aside from its pretty shape in the carvings.
See: Indonesian SIM Card, Price & Coverage
Sari Temple Opening Hours
Unlike any other popular temple in Yogyakarta open until it's dark. Sari Temple operates at shorter operational hours. It opens from 08.00 a.m to 03.00 p.m every day.
Sari Temple Opening Hours
Every day
08:00 – 15:00
See: Prambanan Temple, Museum & Ramayana Ballet Show. 
Sari Temple Entrance Fee
Just like the neighborhood temple Kalasan. Candi Sari charges a small fee for the entrance ticket Rp10.000 per person. Without any additional fee for parking.
Sari Temple Entrance Fee
Children & Adult
Rp10.000
Nearby: Kalasan Temple, Attraction & Entrance Fee. 
Facilities
Since the temple sites on a small terrace, the facilities are limited. There is only an entrance ticket booth in the gate. Here the officer in charge will gladly answer questions and guide guests seeing around. On the other hand, the parking area is not spacious. The area only covers few private cars to park.
How To Get To Sari Temple
Sari temple is located 10 kilometers away from Yogyakarta downtown. And at least 850 meters away from Kalasan temple. Hence, to get here with public transportation, tourists can take a Trans Jogja 1A line and stop at Kalasan shelter. The bus ticket will cost Rp3.500 for a 1-way ride.
However, since the shelter is located a kilometer away from the temple. Visitors can walk for 16 minutes or take an online motorcycle ride for 2 minutes. The ride averagely cost Rp8.000 to Rp9.000.
Address & Location
Sari Temple located in Jl. Candi Sari, Tirtomartani, Kec. Kalasan, Kabupaten Sleman, Daerah Istimewa Yogyakarta 55571.