Bali Arts Festival
Entrance Fee: Free Entry
Performer: Parade, Theatrical Show, Competition
Start: 2023-06-18
End: 2023-07-16
Event Place: Werdhi Budaya Art Center
Telp. Number:
Address: Jl. Nusa Indah No. 1, Panjer , Denpasar Selatan , ID, 80236.
Tourists visiting Bali around June and July can consider themselves lucky. During those months, the provincial government of Bali holds a one-month-long cultural expo. Pesta Kesenian Bali, or Bali Arts Festival, is a grand event celebrating Balinese culture. It's a much-anticipated event held every year at Denpasar.
Bali Arts Festival has been a part of Bali's identity since its inauguration in 1979. Its main mission is to preserve Balinese cultural values as well as to promote them. Either for tourists as well as for young generations. There will be parades, musical shows, dance performances, and many more sub-activities.
For the art and culture event. The participants are representatives from every district and town in Bali. Thousands of artists take pride in contributing to this mega-event. Millions more, locals and tourists alike, join as an audience.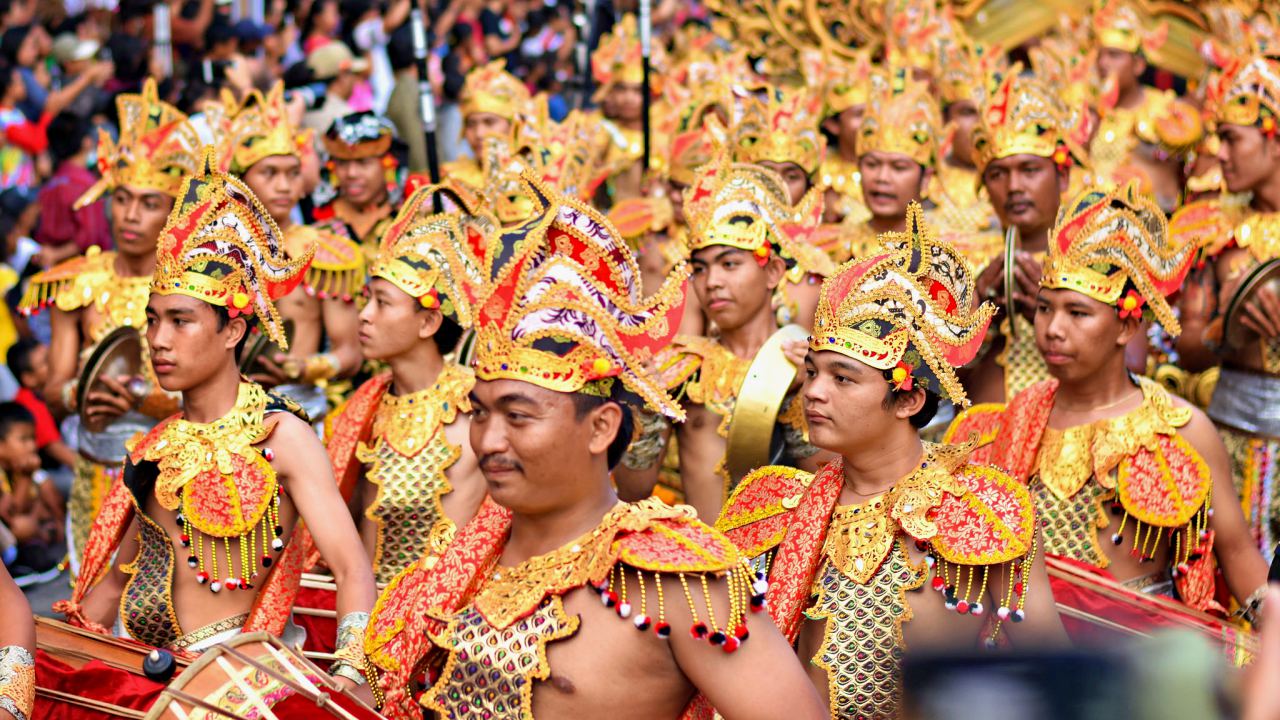 Aside from Balinese arts, visitors will get a glimpse of traditions from other provinces in Indonesia. During the 2018 event itself. There were also representatives from Japan, Thailand, and India who contributed to the art event.
The Breath of Life
This year's theme is Bayupramana. Bayu translates into "wind" or "air" while pramana is "strength" in a literal sense. Together, Banyupramana means the breath of life. The air believed as vital energy, significant to life, and controls everything. In Bali Arts Festival 2019. Expect all the performances to implement Bayupramana spirit for their art concept and choreography.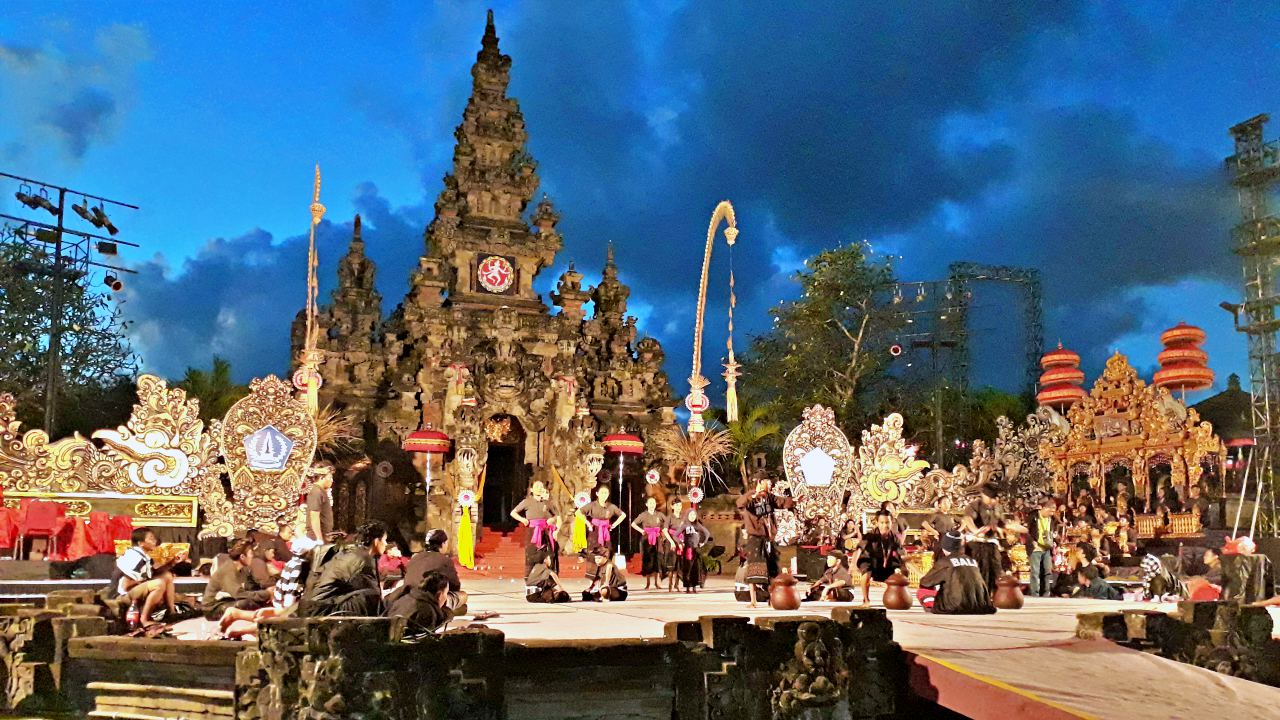 The Main Parade of Bali Arts Festival
The parade of Bali Arts Festival is the top and main event of this festival. Last year, it's Indonesian president Joko Widodo himself opened the event. Marking the start of the culture parade. One by one, representatives from all 10 cities of Bali marched in their colorful costumes.
Musicians played the traditional instrument 'gamelan' to accompany the procession. People flocked to the street and didn't want to miss the whole thing. This year, anticipate the same enthusiasm from both the participants and the audience. It's safe to say that there will be music parades. The traditional costumes show off, dance performances as they were last year.
In 2018, the parade concluded with a wonderful theatrical performance of Smaradahana. An old poem about love and devotion. This year, also expect nothing less when it comes to art performances.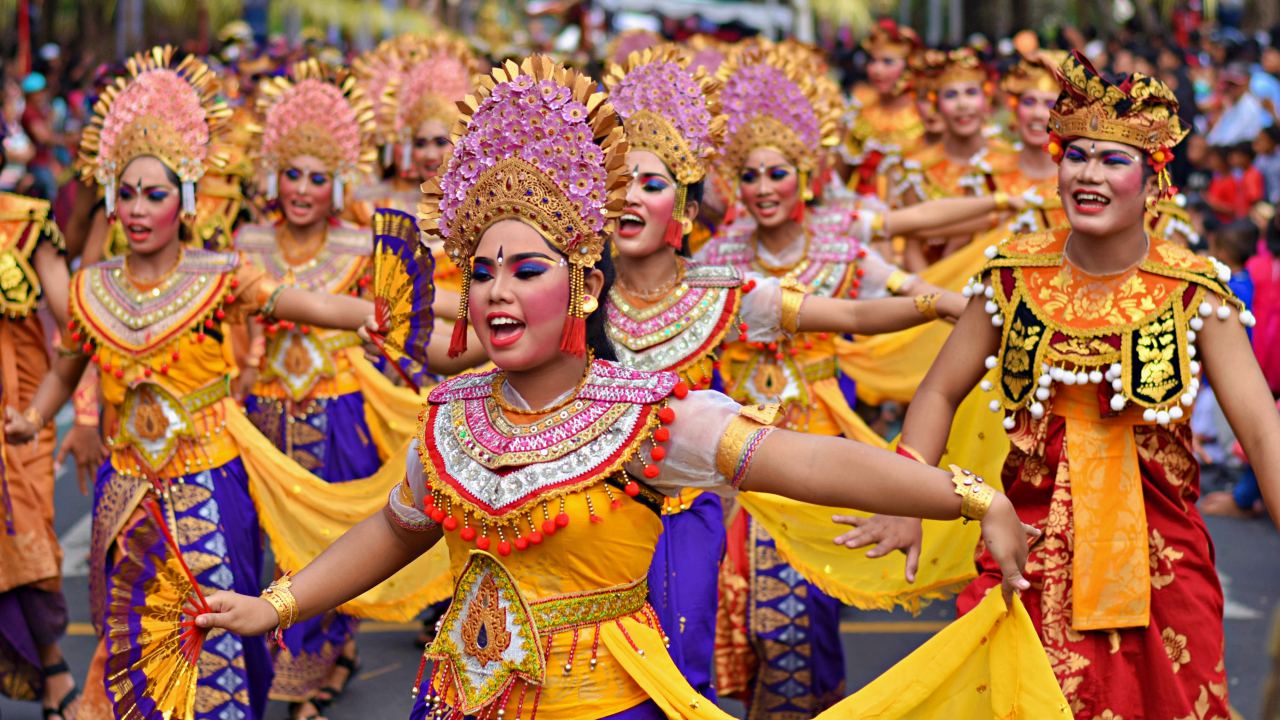 Bali Arts Festival Parades & Thematic Ones
It's hard to miss the opening parade since the event practically puts Balinese daily life on hold. But if visitors somehow miss the first-day parade, fear not. There will be more parades throughout the month of this event. Ngelawang parade, for example, exhibits a ritual on the Balinese holiday Galungan.
During Ngelawang, children parade the mythological creature "barong" around the village to repel bad luck. At the Arja parade, get to know about the Balinese folk opera called Arja. It's a complex performance, combining all sorts of performance arts in one stage.
Watch as talented performers dance, sing, recite poetry or even do pantomime acts. Arja's performance is also popular among people for its comedic touch – expect to get some laughs while watching it.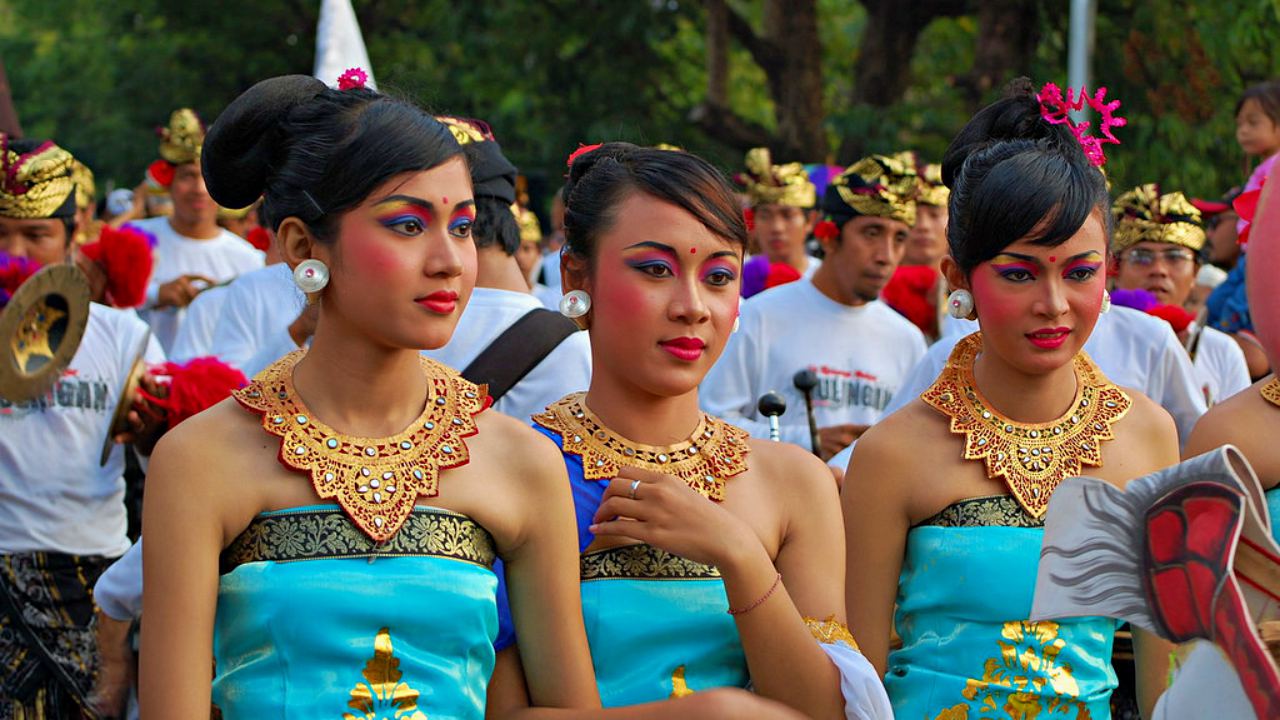 Puppet Show Wayang Kulit Babad
Puppet show Wayang Kulit Babad is a rare form of Balinese Wayang. So when this puppet show is scheduled to perform during Bali Arts Festival. Don't miss the opportunity to watch one.
The storyline of Wayang Babad is specifically taken from Babad Bali. The ancient book of Balinese culture. Pay attention as the "Dalang" or the puppeteer, narrates a story about justice, wisdom, and courage. All are inspired by the classic Babad stories.
Colossal Sendratari Balinese Theatrical Show
Sendratari is a type of traditional theatrical show. It's an act, usually accompanied by gamelan music, and incorporates some dances in it. Plots and storylines take inspiration from Balinese folklore such as "Manik Angkeran" (The Origin of Bali Strait).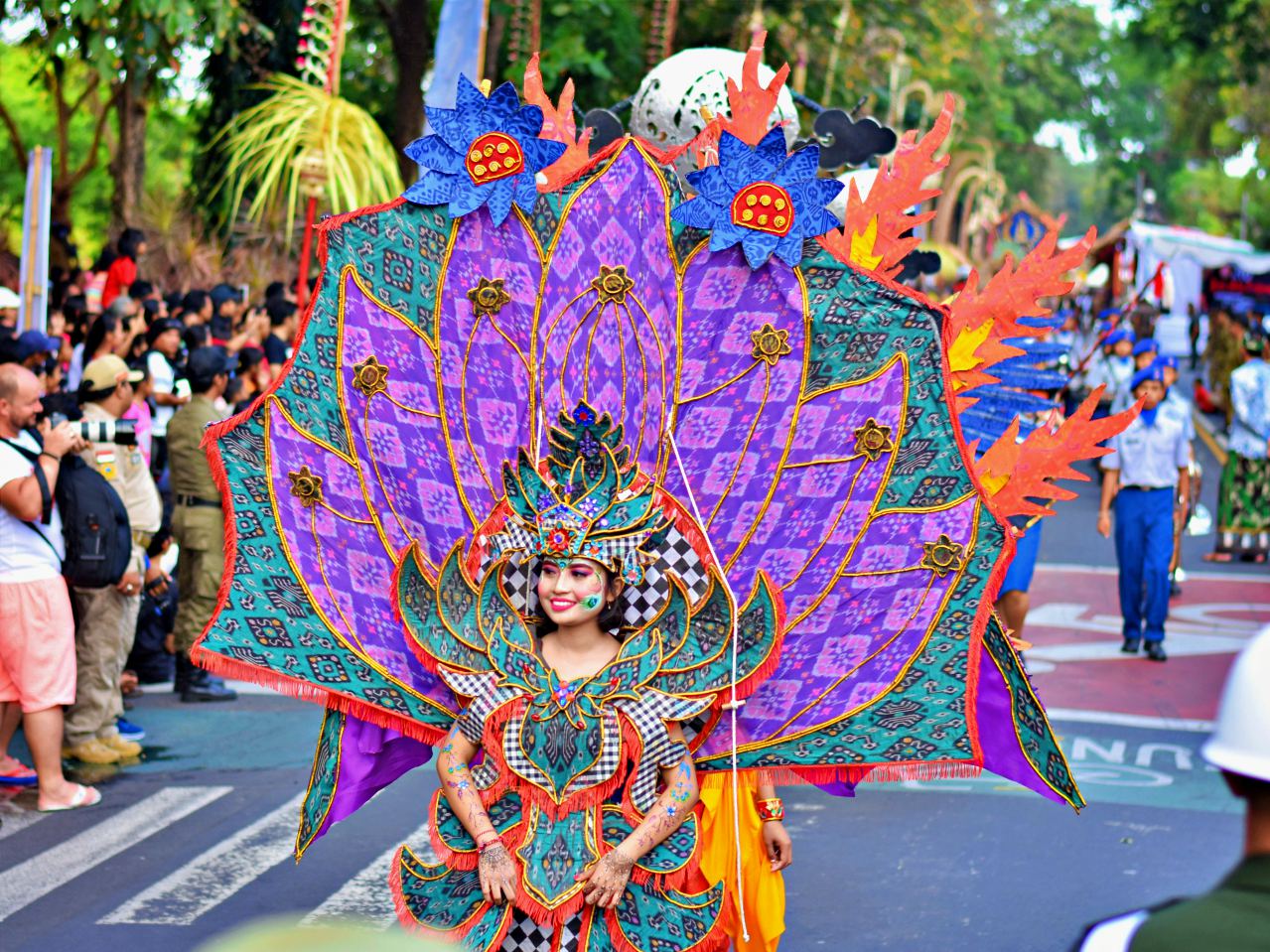 At the Bali Arts Festival, art studios and art schools from all corners of Bali. Will compete to deliver the most elaborate performance possible. Watch as hundreds of performers deliver one story alone, the scale of it will leave any visitor in awe.
Bali Arts Festival Competitions
Be more than just an audience. By signing in to one of the competitions at the Bali Arts Festival. There are painting competitions and craft competitions. Among the few, visitors who can participate.
If not sure about having the talent to draw or sculpt. It's still fun to just visit and watch how it's going with the competition. Discover raw talents. As young aspiring artists concentrate hard to produce the best artworks worthy to be a winner.
See: Sanur Night Market, Culinary Experience & Cheap Food.
Exhibitions
Exhibitions in the Bali Arts Festival showcase both traditional and contemporary arts. Come to see the exhibition of Batuan paintings. A type of painting originated from Batuan Village Bali. A workshop also takes place during the event. Introducing visitors firsthand how to paint Batuan style.
Grab the painting tools – it's provided by the organizer. And go through the six steps of the Batuan painting technique. Other exhibition events include a fashion show exhibit all about the Balinese. That includes traditional clothing, documentary movies screening, and body painting.
See: Gianyar Night Market, Bali Street Food Spot.
Arts & Culture From The Faraway Land
For the past few years, Bali Arts Festival has been expanding its pool of participants. No longer limited to Bali. Participants from other provinces and other countries also enliven the Bali Arts Festival. This means more variety and more things to see.
Provinces such as Nusa Tenggara will perform Bima regional arts. Special performance only at the Bali Arts Festival stage. Guests from aboard. For example, the performers from India manage to rock the arts festival stage. With their upbeat music and dances. Meanwhile, Thailand's Chiang Mai University students delivered a theatrical show inspired by the epics Mahabharata.
See: Bali Airport, Public Transportation & Airport Transfer Guide.
Bali Arts Festival Venue and Schedule
Bali Arts Festival 2023 is scheduled to be held on from 18 June to 18 July. The event mainly takes place at Werdhi Budaya Culture Centre, Denpasar. No ticket is necessary for attendance and participation. Events and activities at the Bali Arts Festival are free to everyone. The opening parade will be held in front of the Bajra Sandhi Monument usually starts from 14:00 to 16:30 PM.
Bali Arts Festival Venue & Schedule 2023
Time
18 June – 16 July 2023
Venue
Werdhi Budaya Culture Center
Price
Free Entry
Nearby: Bali Provincial State Museum, Collection & Entrance Fee.
How To Get To Bali Arts Festival Venue
Taman Werdhi Budaya is situated at the heart of Denpasar. To get there, follow this route from Kuta: Kuta – Raya Kuta Road – Imam Bonjol Street – Teuku Umar Street – Diponegoro Street – Hayam Wuruk Street. It only needs a 25-minutes drive. Visitors best use a rented motorcycle to get there. A car is not recommended as the road will be blocked to make way for the parade.
Using public transportation, visitors can hop into Trans Sarbagita Corridor 1 passing by Ngurah Rai Bypass. Stop near KFC Sanur and continue the rest of the journey by motorcycle taxi (it's still 4 km left). The bus fare is Rp3.500 per passenger. Meanwhile, the motorcycle taxi costs around Rp15.000.