Manta Point
Entrance Fee: Free Entry
Opening Hours: Open 24 Hours
Telp. Number: -
Address: Peguyangan , Batukandik, Nusa Penida, Klungkung , Bali , Indonesia , 80771.
Manta ray is the biggest that can measure up to 29 feet in width, and 2 tons in weight. In the ocean, the fish glides gracefully amidst the dark blue color of the water. Imagine how it would be to swim with this majestic creature. And there is no other place to have this outstanding experience except at Manta Point, Nusa Penida.
Manta Point situates in Tanjung Pandan, approaching the southwest tip of Nusa Penida Island. The spot got its name after the gigantic creature that frequents this area. Manta rays roam freely in this spot for its plankton-rich water. However, Manta ray is not the only species that can be found here. That is why Nusa Penida is popular as the world's top 10 and Indonesian top 3 dive sites.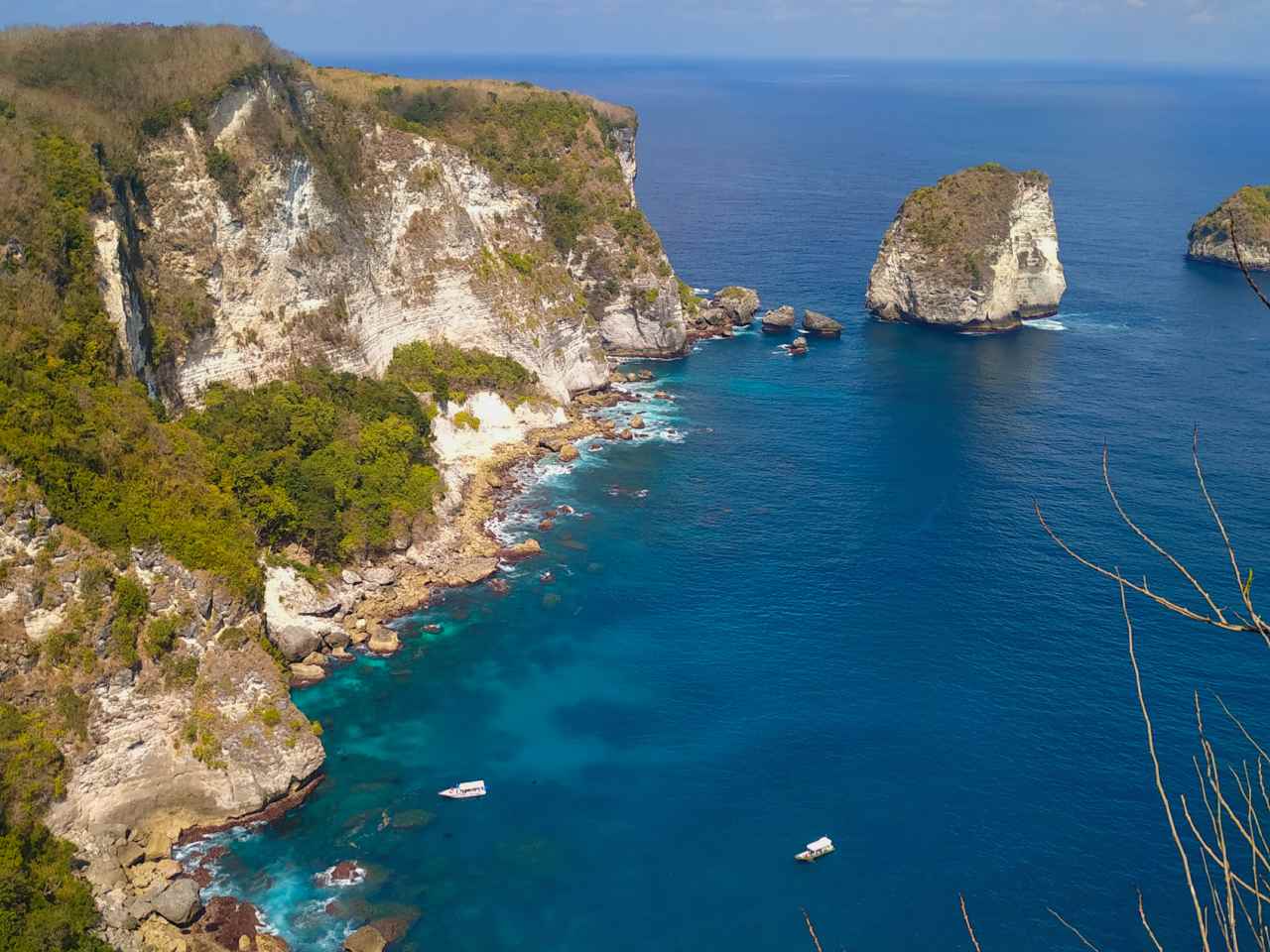 Manta Point Entrance Fee
Upon arrival at Nusa Penida island, all tourists are required to pay a retribution fee of Rp25,000. Booking a diving tour at Toyapakeh or Crystal Beach can start from Rp900,000. While for snorkeling trips, the cost starts from Rp300,000. Guests shall also fill out a form to assess physical and health conditions to grant them access to the dive.
See: Diamond Beach, Nusa Penida & Top Things To Do.
Manta Point Best Time To See Manta Rays
The trips to Manta Point are organized during the day. Manta rays are present all year long. However, to spot mola-mola or sunfish, it is best to dive during the dry season or from June to October. The boats will start flocking the spot at 9 AM, so it's best to come early to avoid crowds.
The Best Time To See Manta Rays in Manta Point
Month
June – October
See: Guide To Explore Nusa Penida Island & Top Destinations To Visit.
Access to Manta Point
Most of the beaches on Nusa Penida are bordered by steep cliffs. There are people who were misled by the map to the wrong side of Manta Point. Those people trekked uneasy paths on the land to Peguyangan waterfall. Arriving at the white temple, the people followed the sign and arrived at a cliff by the sea.
Those people indeed spotted mantas even if it wasn't the way they wanted. Nevertheless, those people cannot just jump off the steep cliff to the sea and dive with the mantas. And of course, the right way to dive into Manta Point is by riding a boat to get there. The ride will take about 45 minutes from Toyapakeh in Nusa Penida.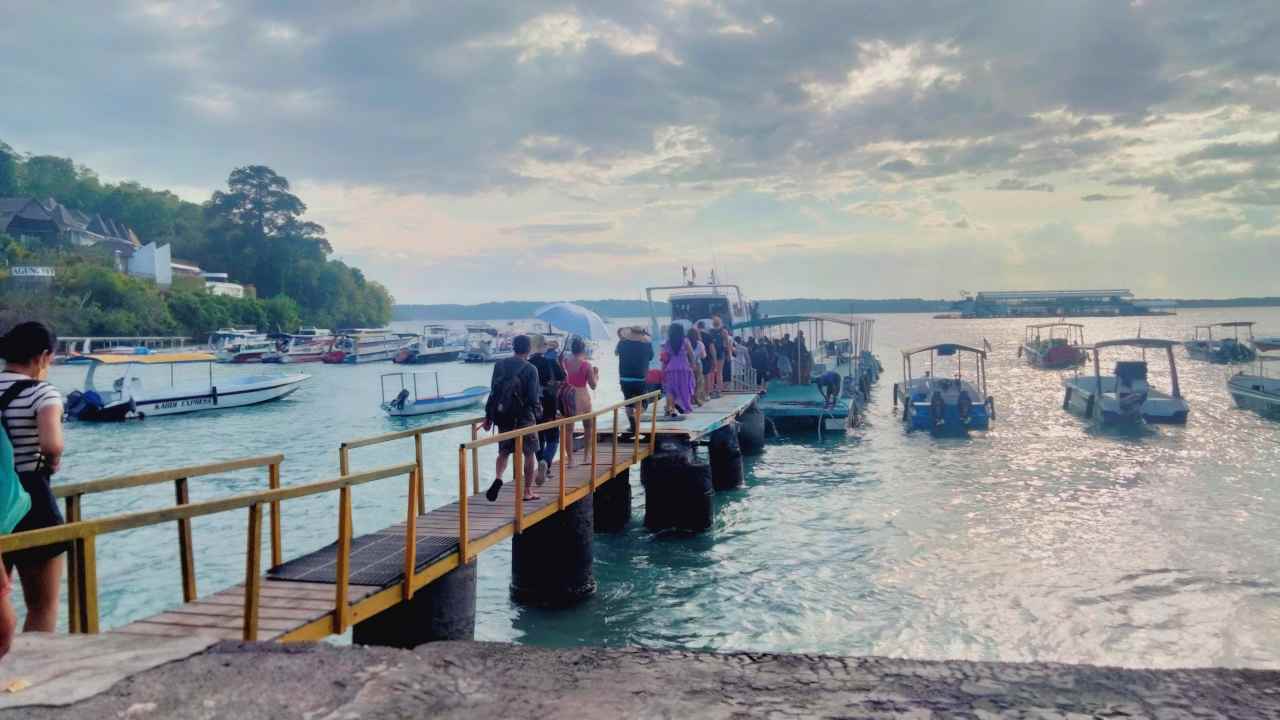 Boat Ride to Manta Point
Nusa Penida has many breathtaking spots to offer the boat ride will pass by. Spectacular Broken Beach, Angel's Billabong, and iconic Kelingking Beach with their mesmerizing rock formation carved by nature are among others.
Approaching the point, there are Tembeling and Peguyangan with natural pools and a waterfall that plunges directly to the sea. However, the sea could be rough sometimes and the wave could reach 2.5 meters high. Those who couldn't stand the trip should take seasickness tablets.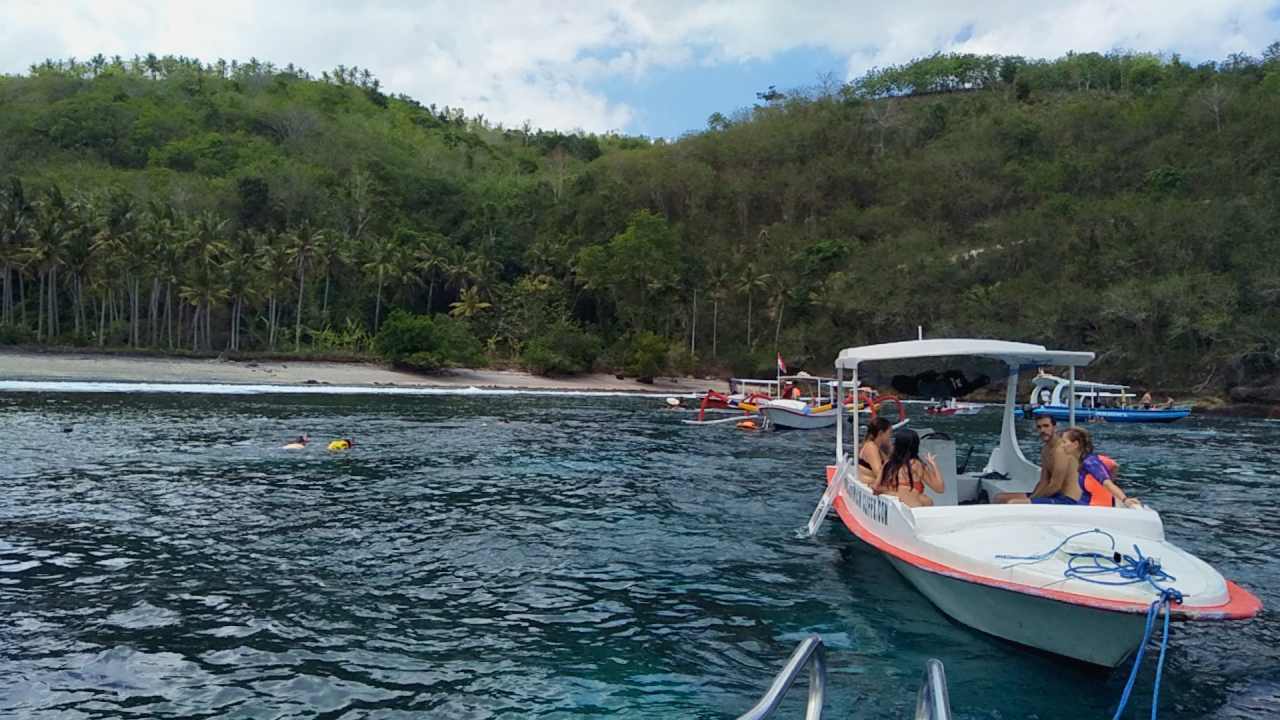 The Cleaning Station
Manta Point has a rich biodiversity that consists of vibrant coral reefs, a wide range of microorganisms, small reef creatures, and gigantic animals such as manta. That condition makes for a healthy ecosystem that supports marine life as it is now. The water is rich in plankton, an organism that is at the lower tier of the food chain.
At this spot, mantas rise to the shallower level, sucking the plankton. Reef fishes especially wrasses come and help mantas clean their bodies of parasitic microorganisms. Mantas won't go anywhere. The giants keep turning around while the wrasses get the cleaning done. And the dive starts here, the cleaning station.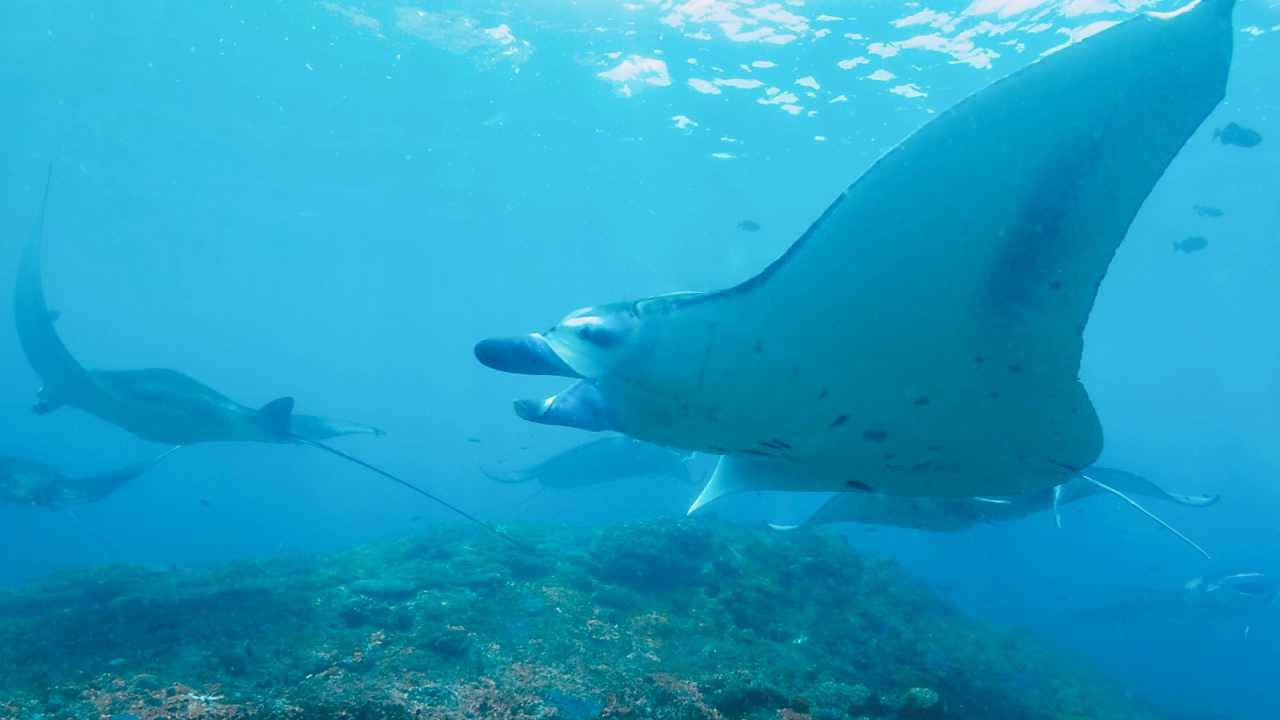 The Best Snorkeling & Diving Spot
Manta Point is dubbed as the World's Top 10 and Indonesia's Top 3 Dive Spot. So, it is the best spot in Nusa Penida. As in other tropical waters, the temperature can be as high as 27oC which is quite warm and comfortable. And sometimes it can go down to 20oC. So, get prepared.
There are plenty of planktons here and those are what Mantas frequent this point for. Visibility is around 10-20 meters. Guests can snorkel and mantas are still visible because mantas usually swim at about 0-10 meters depth. Many operators start to swarm Manta Point.
Snorkelers and boats start to crowd the surface. So, diving is still the best way to be alongside mantas, the deeper the better. There is also a bigger possibility of encountering more species.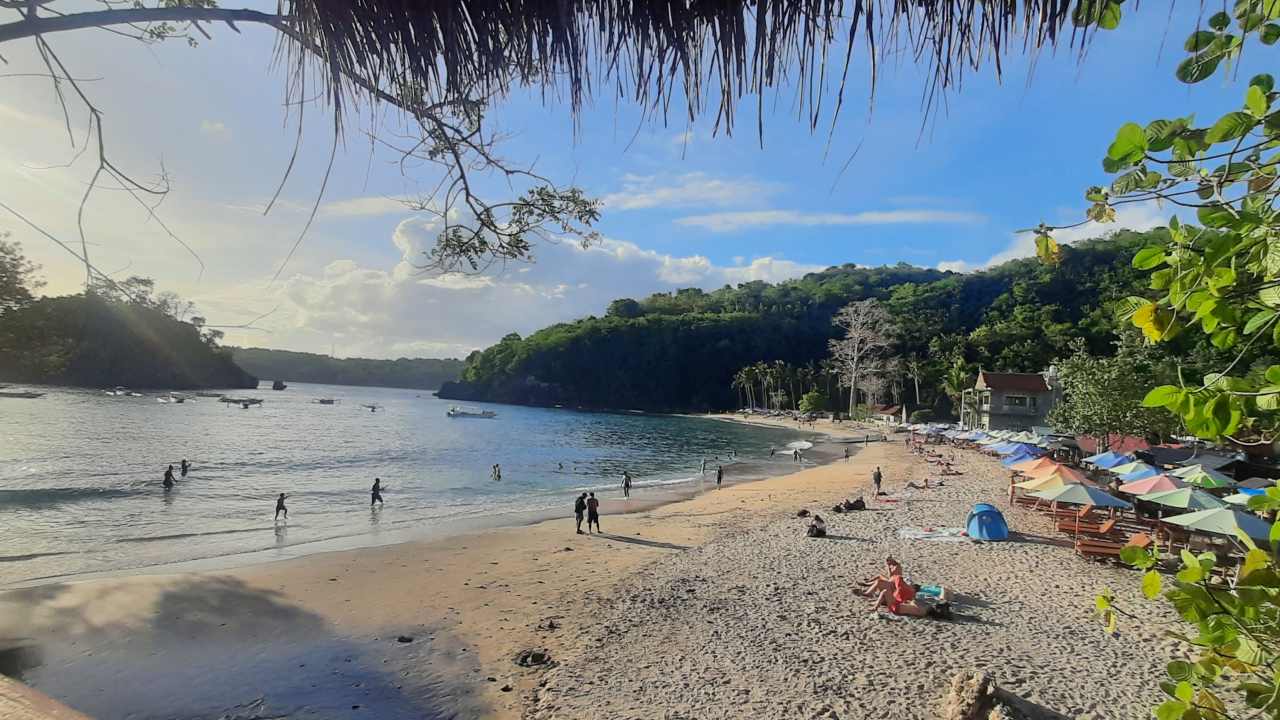 Other Species at Manta Point
Manta point is not only about Mantas but other species as well. The lively coral hosts reef shark, Thresher sharks, and bamboo sharks. Crown jellyfish, eagle rays, and octopuses also show up frequently, not to mention reef fishes like wrasses, Zanzibar shrimp, porcelain crab, and the rare nudibranch.
Although divers might not be able to tell the difference, the mantas are also of diverse families such as manta ray and manta globula. There are also devil mantas and Nebulus or black mantas. And, from June to October, there is a bigger chance to spot mola-mola or sunfish. The lumpy fish pass by the spot to migrate in the dry season.
See: Nusa Lembongan Island Top Destinations & Guide To Explore The Island.
Facilities
Facilities are complete in Nusa Penida island. But, for a hassle-free way, for a snorkeling or diving package that ranges from Rp900,000 to Rp1,500,000, the operator will arrange all tourist needs. Accommodation, diving and/or snorkeling equipment, boat ride, and meal are all organized by the operator.
But solo travelers should not be worried because homestays and villas or resorts are available to suit every budget. A homestay can cost only Rp100,000. Many cafes and restaurants offer traditional to Western foods and beverages to cater to tourists' needs.
There are also many operators that rent out equipment, and boats to get tourists to the point. The snorkeling and diving equipment rent costs around Rp250,000 to Rp350k. However, this place is lacking ATMs, and most of the vendors accept only cash. So, prepare enough cash.
See: Bali Transportation Guide & How To Get Around The Island.
How To Get To Manta Point Nusa Penida
The boats to Manta Point are available at Banjar Nyuh Port. So, from Bali, tourists may take the boats at Kusamba and Sanur ports to Banjar Nyuh. The boats start departing from 07:00 AM to 05:20 PM with ticket fares of Rp150k to Rp200k. Just show Kitas if there is any for a possible discounted fare of Rp125,000.
From Banjar Nyuh Port, tourists need to go to Toyapakeh where there are many tour operators that offer snorkeling or diving trips. Some offer a private boat trip and some offer a joint sharing trip with other fellow travelers. The boat trip will take tourists to Manta Point and other good spots around Nusa Penida island such as Gamat Bay. Another way, ask a fisherman for a boat ride that costs Rp200,000 to Rp300k per person.
See: Tourists SIM Card, Price & How To Top Up Data.
Address & Location
Manta Point is located in Batukandik, Nusa Penida district, Bali 80771.