Nusa Penida Island
Entrance Fee: Rp5.000 - Rp10.000
Opening Hours: Open 24 Hours
Telp. Number: -
Address: -, -, Nusa Penida, Klungkung, Bali, Indonesia, 80771.
Nusa Penida is Bali's neighbor island that offers an extensive list of stunning white-sand beaches and a bunch of water attractions. The distance between both islands is approximately 25 kilometers with the only access by ferry or speedboat.
Located in the Klungkung region, Nusa Penida is an offshore destination that is close to Nusa Lembongan and Nusa Ceningan. These three islands have best known for the summer gateway. The south line of Nusa Panida has a solid cliff formation where most secluded beaches hide.
The west part is the perfect place for witnessing sunset and aquatic activities. The north area is the lively part of the island. It's where the majority of ports, accommodations, and tourist facilities are established. Finally, the east side of Nusa Penida is the finest sunrise point with a more calming and serene situation.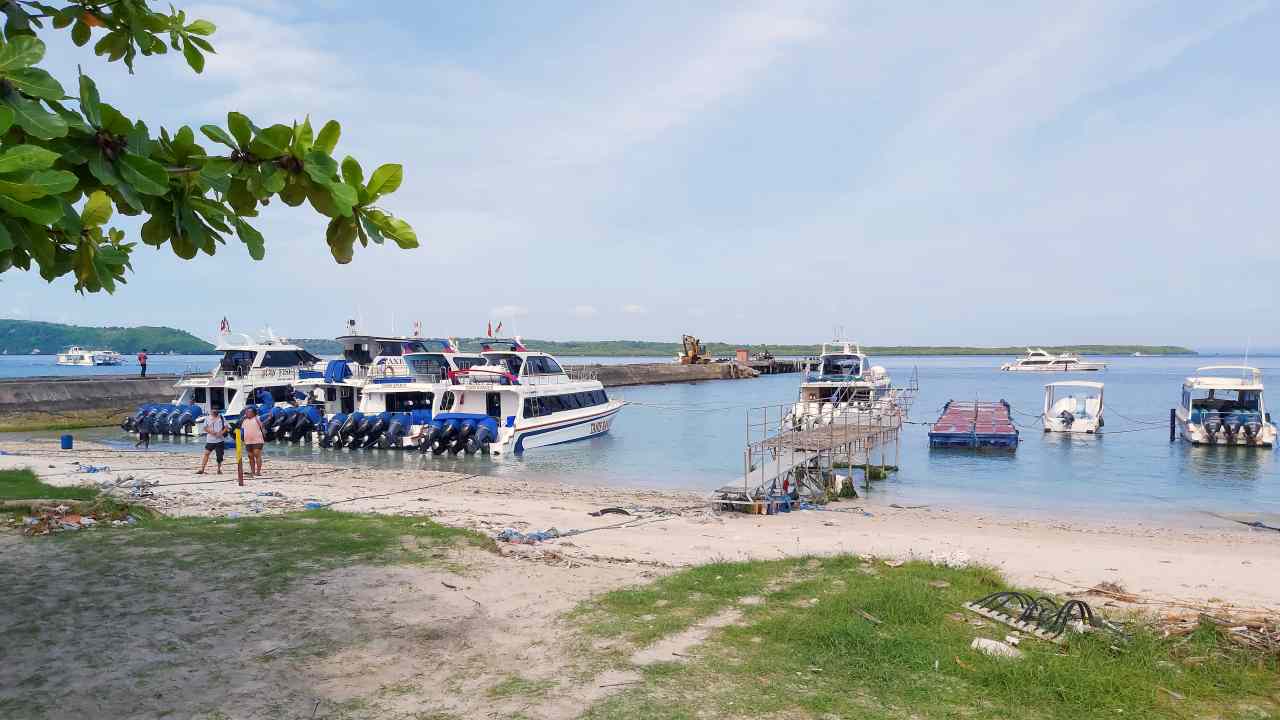 Nusa Penida Entrance Fee
Tourists exploring the island will have to pay a retribution fee to explore Nusa Penida. International tourists will be charged Rp25,000 for adults and Rp15,000 for children.
Nusa Penida Entrance Fee
Adult
Rp25,000
Children
Rp15,000
See: Guide To Explore Gate of Heaven, Lempuyang Temple.
Nusa Penida Island Opening Hours
Most of the water attractions are open in the daytime from sunrise to sunset. The boat transfer services generally operate from 7 AM to 4 PM from the main island. The best season to visit Nusa Penida is summer. The weather is perfect for beach hooping and great visibility either for diving or snorkeling.
See: Sanur Night Market Guide, Street Food & Price Range.
Nusa Penida Cliff Side Beaches
There is a dozen checklist on hidden gems beach in Nusa Penida. The west side of the island is the main location of beach destinations. Even so, the east part also offers scenic beach views with great rock installation.
All of them are worth exploring especially for travelers craving adventurous trips with an extra adrenaline rush. Generally speaking, the beach lies underneath of giant cliff side with a heavy trek path to reach the bottom line.
Atuh Beach
Situated in the east part of the island, Atuh beach has a rustic charm with an arch and rock formation that is the center of views. There is a rare crowd found on the shore which makes this beach a great place to have a tranquil moment.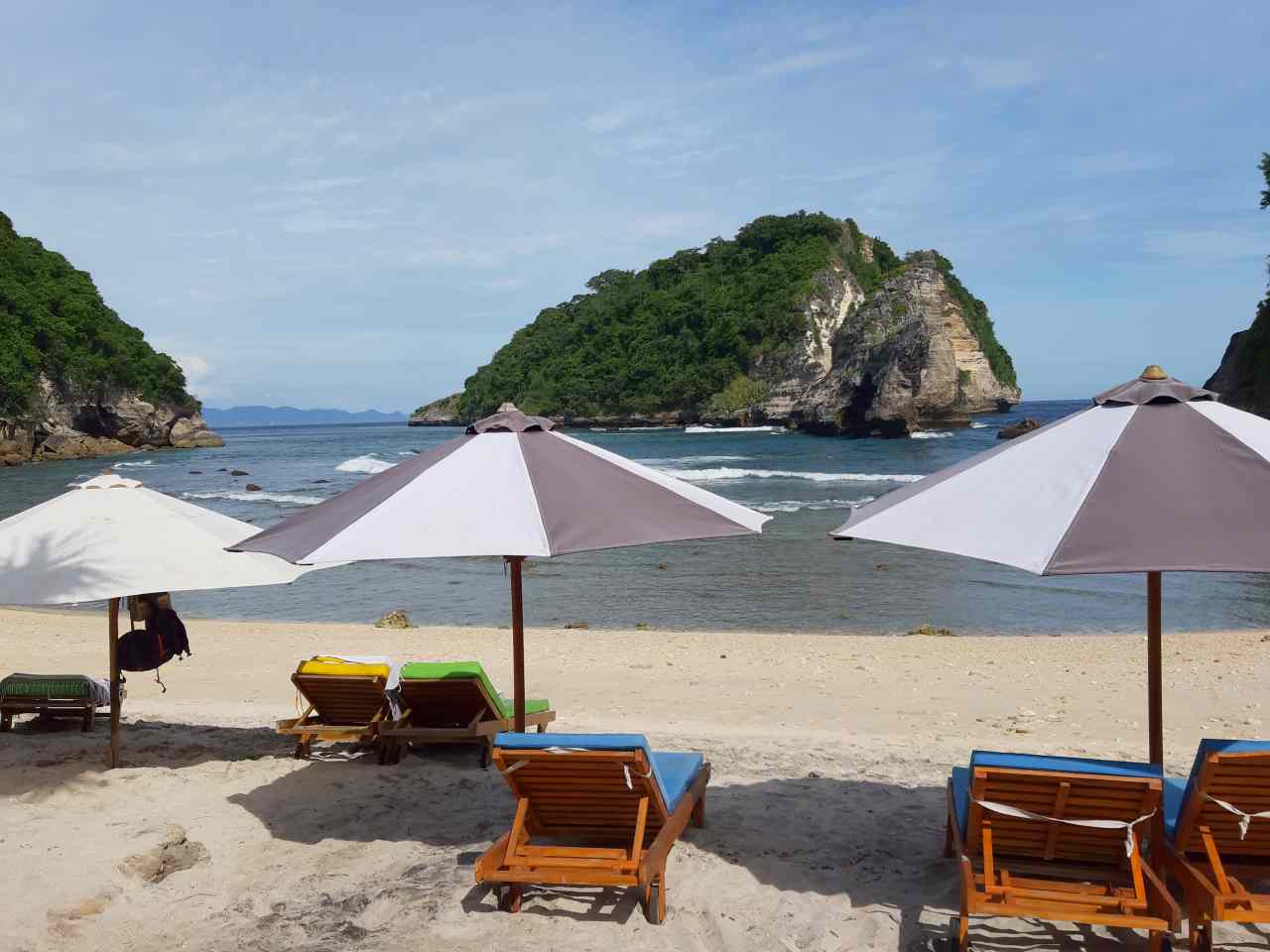 The steep trekking exercise is waiting before stepping into this white-sand beach. The beachfront drink stall is a must-go at a relatively cheap price. Grab one with some snacks for the best sunbathing companion. Parking tickets are included in the entrance fee which is Rp10.000 per person.
Diamond Beach
Both Atuh and Diamond beach are close to each other. Diamond beach in particular offers the attraction of picturesque stairs with the background of a panoramic cliff wall. Just around the corner is a great diamond-like rock standing near the seaside. Beneath the rugged limestone, there is a swing hanging between palm trees facing the south ocean.
Some activities like taking photos, lying down on the soft sand, and walks with barefoot are the best things to do down there.  For just under a dollar entrance fee, visitors are welcome to sight-seeing around. Or walk down the scenic stairs for an extravagant beach retreat.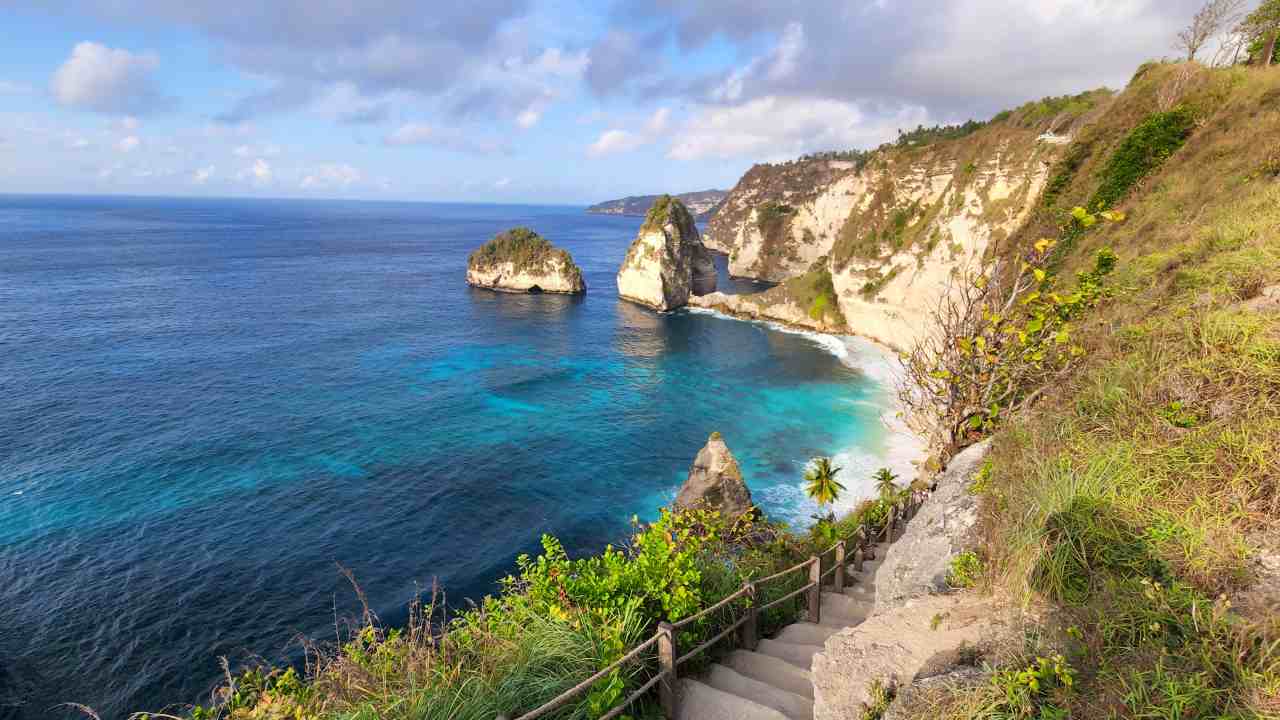 Broken Beach
The best highlight of the broken beach is a giant hole that contains ocean water with an archway that allows water to flow. It is admired by many as a natural bridge where people sit on the cliff edge to snap aesthetic pictures. For any travelers who wish to cross the bridge, please ensure the weather forecast before visiting for safety reasons.
With clear blue sea water, visitors might get lucky to see Manta Rays from a high viewpoint. The best time to visit is in the morning, before the day even hotter. And avoid the crowds flocking to this place.
Kelingking Beach
Kelingking beach is the star of Instagram feeds that gained popularity because the cliff shape is similar to Tyrannosaurus Rex casually known as T-Rex. The unique cliff structure, the green gaze of wild plants and the crystal blue ocean have made this beach the best photo spot in Nusa Penida.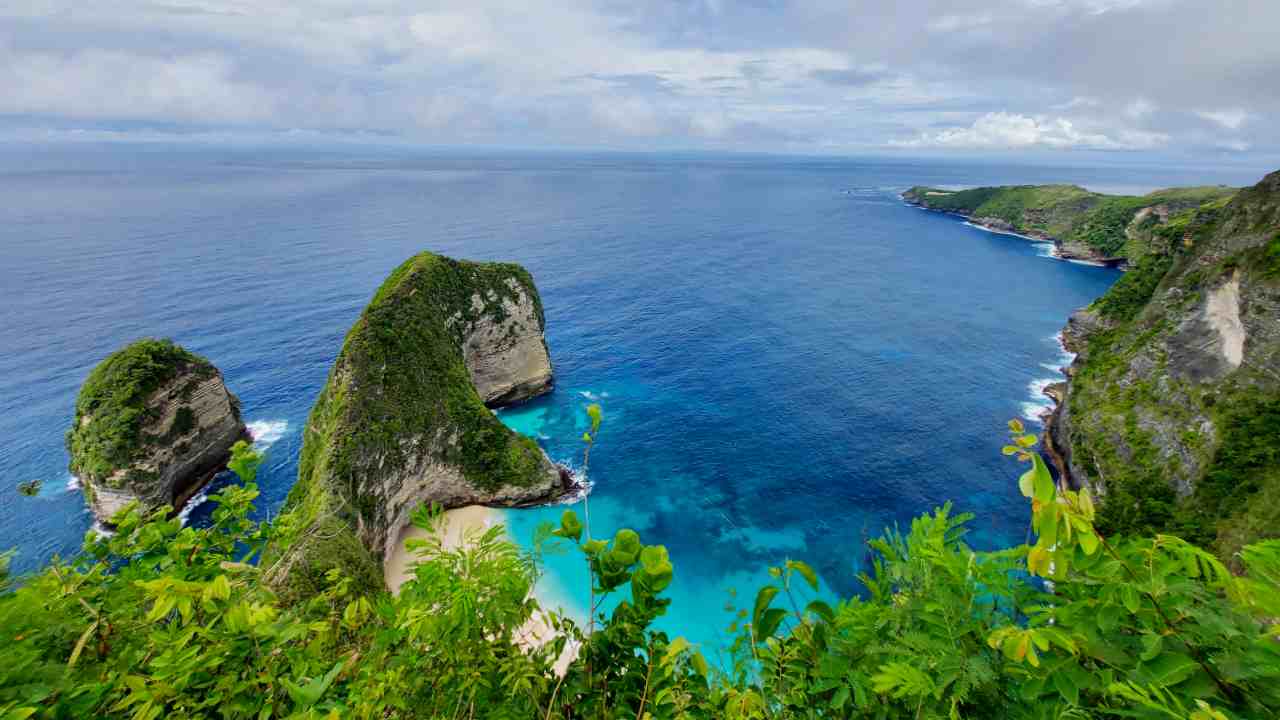 To grasp the seashore, travelers have to pass down the extremely narrow track with unreliable railing. Alternatively, there are man-made photo points like a replica of bird's nests, swings, and tip boat-like woods. Paluang temple is worth exploring as well, it has a car statue in the main areas of the temple.
Crystal Bay Beach
For an extraordinary diving and snorkeling experience, Crystal Bay Beach is the utmost option. It has the liveliest marine diversity including coral reef fishes and oceanic species. Facing the west sea of Nusa Penida, this beach is also a famous sunset point.
Many people come to this place for a final stop after visiting other beaches, before heading back to the main island. A diving tour in Crystal Bay will cost Rp350.000 per person while renting price for snorkeling gear is Rp100.000. Beware of sudden strong currents that could happen any time of the day.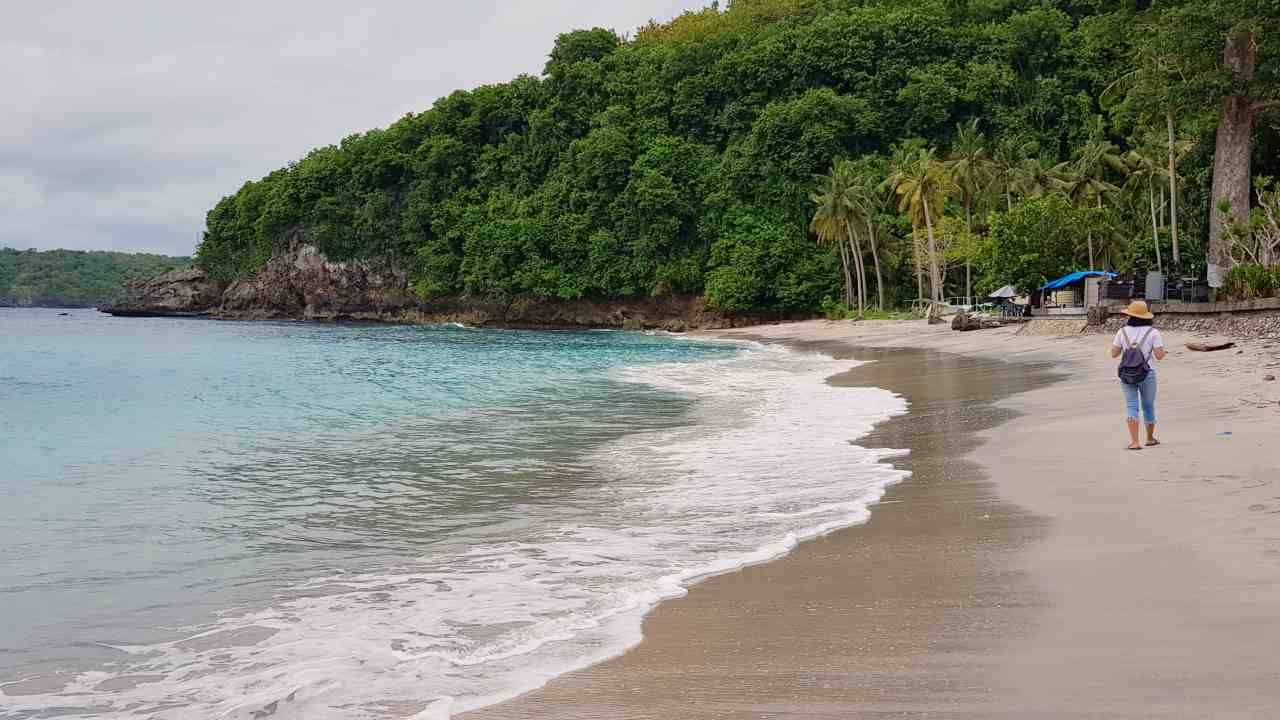 Nusa Penida Island Natural Pools
Another water attraction that should not be missed while taking a vacation to Nusa Penida is soaking in natural pools. The eroded coral walls is creating natural springs with pristine clear water. Some of those pools are located in isolated areas that demand physical energy to reach. But still, this is a rewarding place to explore with the plus of a rural tranquil environment.
Angel's Billabong
Just a few steps away from Broken Beach there is Angel's Billabong infinity pool with crystal clear water. The rugged rocks is framing the pools that face an amazing view of the southern coastline. The best time to visit is at low tide when the seawater is still calm.
Angel's Billabong is pretty scenic from above which is perfect for taking photos. And it only costs a parking ticket for Rp5.000 to access this place.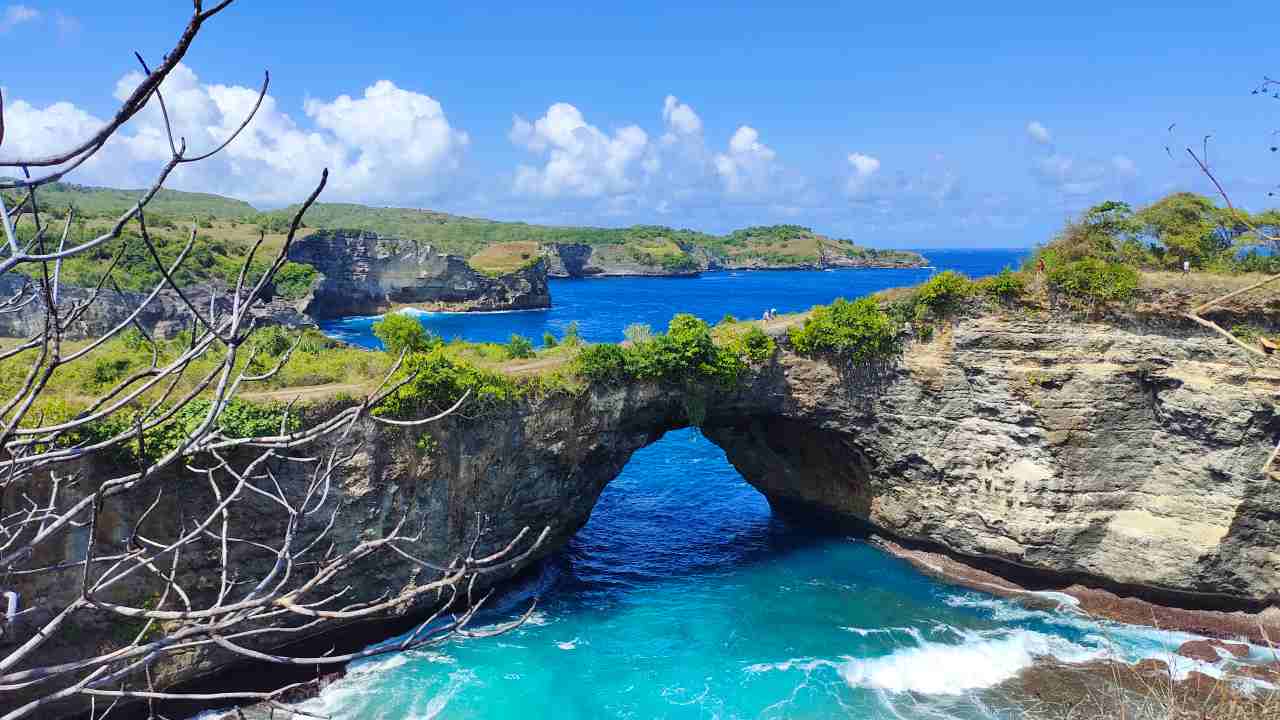 Tembeling Natural Pool
Tembeling natural pools are situated at the edge of a dense forest that is also close to the beach. It offers 2 stunning natural springs with clear turquoise water overlooking the southern ocean. Many people come to swim and take jumps from the reef rocks.
The locals also used the pools for Melukat Ritual as well. A short distance away from Tembeling natural pools, there is a secret cave with plenty of rock decorated naturally. There is no entrance ticket charged to visit this site. It just costs a parking fee of Rp5.000.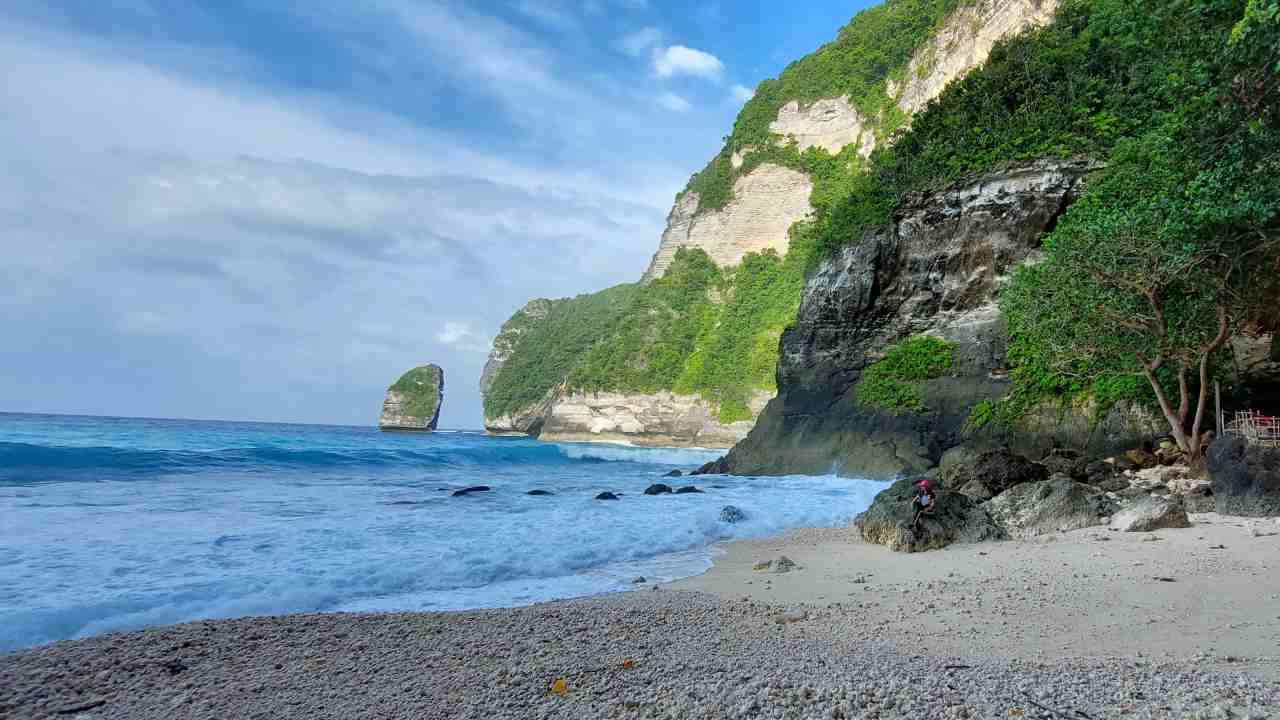 Nusa Penida Waterfalls
For those who are tired of crashing waves and salt water, then visiting the waterfall is a must. Nusa Penida also offers unspoiled enchanting waterfalls, namely the Seganing waterfall and Peguyangan waterfall. Both are laid down on the side of the cliff which meant to reach the destination visitors have to pass an arduous trek path. These waterfalls have natural pools to dip in and a temple for local worshipers.
Seganing Waterfall
The intriguing one is located in Bunga Mekar village called Seganing waterfall. The height of the pouring water is relatively narrow approximately 1.5 meters. But it's still pretty with some stepping water creating natural curtains.
There is a pool on the downside with crystalline water to dip in. The track to this waterfall is extremely challenging with a dry wood railing, thousands of stairs through massive cliff walls, and quite dangerous. To access this place, visitors have to pay Rp10.000 for entry and parking tickets.
Peguyangan waterfall
The second checklist is Peguyangan waterfall which is in the same area as Segara Kidul temple. It is the holy place of the south ocean goddess where the locals pray and do Melukat Rituals. That is why tourists have to wear a sarong, which can be rented for Rp15.000.
Peguyangan water stream almost looks like thin strings with the water pouring down directly to the ocean. There is no entrance fee, just a parking ticket of Rp5.000. Finally, visitors will have to climb down steep blue stairs before finally reaching the waterfall.
See: Where To Buy Tourist SIM Card, Price & Best Provider.
Diving & Snorkeling At Nusa Penida Island
Nusa Penida underwater is perhaps the major attraction to scuba divers. It has rich marine animals with clear visibility and relatively cold water. July to October is the golden season for divers to discover the rare pelagic Mola fish also known as sunfish.
Other oceanic fishes like manta rays, whale sharks, dolphins, and turtles are there as well. There are several diving spots in Nusa Penida where many scuba diving vendors offer service for around Rp350.000 ($22) per person.
Similarly, this island is a paradise for snorkelers. The great coral reefs are a natural habitat for over thousands of marine species. This particular water activity will charge tourists Rp250.000 per person for a group trip of 6 people. The trip will include a local tour guide and a boat ride. Some snorkeling hotspot is located in Crystal Bay, Manta Point, Gamat Bay, and Buddha Temple.
See: Bali Best Night Markets & Street Food Location.
Facilities
The island has enough facilities to support tourism activities. However, compared to the mainland it's not that much. It has many accommodation options, from humble homestays, and cottages to the best resorts and villas. There are plentiful cafes and restaurants that offer local dishes, western food to modern-comfort foods.
Several renting places like scooters, cars, diving, and snorkeling equipment. Most vendors only accept cash payments. So it's best to bring enough cash from the mainland. Despite having terribly broken roads in the past, nowadays the majority of main streets are paved. And unlike in the mainland, there are no Gojek and Grab in Nusa Penida.
See: Jimbaran Fish Market Guide, Seafood Feast & Price.
How To Get To Nusa Penida Island
There are 3 ports on the east side of Bali that will take travelers to Nusa Penida. First is Padang Bai harbor located in Manggis, Karangasem. The distance between the two islands is 22 km which takes time around one hour. Besides carrying passengers, the ferry takes scooters and cars too.
The ferry schedule starts from 10 AM to 2 PM, and a ticket costs Rp31.000 ($2) for an adult and Rp26.000 for children. For vehicles, it'll cost a scooter and a car Rp50.000 and Rp295.000 respectively. The second preferred port that is close to the tourist area is located in Sanur.
The ticket fee is varied depending on the type of speedboat but generally is Rp150.000 to Rp200.000 each way. However, passengers who book return trips will get a cheaper price. Upon arriving, there are a couple of transport services for strolling around Nusa Penida.
Renting a scooter costs Rp80.000 per day. And renting a car with a driver starts from Rp500.000 to Rp800.000 depending on the passenger's seat.
See: Bali Airport Guide, Airport Transfer & Public Transportation.
Address & Location
Nusa Penida island is the largest island compared to Nusa Ceningan and Lembongan and is located in Nusa Penida district, Klungkung, Bali 80771.