Nusa Lembongan Island
Entrance Fee: Rp15.000 - Rp25.000
Opening Hours: Open 24 Hours
Telp. Number: -
Address: Jungutbatu, Jungutbatu, Nusa Penida , Klungkung, Bali , Indonesia, 80771.
Nusa Lembongan is one of the three neighborhood islands of Bali. It's famous for offshore destinations that offer scenic beach views with upscale amenities. This island is surrounded by crystal clear water and a white sand sea shore which is perfect for beachgoers.
There is a stunning bridge that connects Nusa Lembongan and Nusa Ceningan that allows travelers to expand their exploration with no additional cost of boat transfer. Speaking of the natural landscape, Nusa Lembongan is relatively a small island with two villages.
The west side is the busiest part where many port and public facilities are established. From the north to the east side is a dense mangrove forest which is also a tourist spot. Along the shoreline, visitors will see many locals working on seaweed farming. In general, this island is a well-developed place to spend a tropical summer gate away.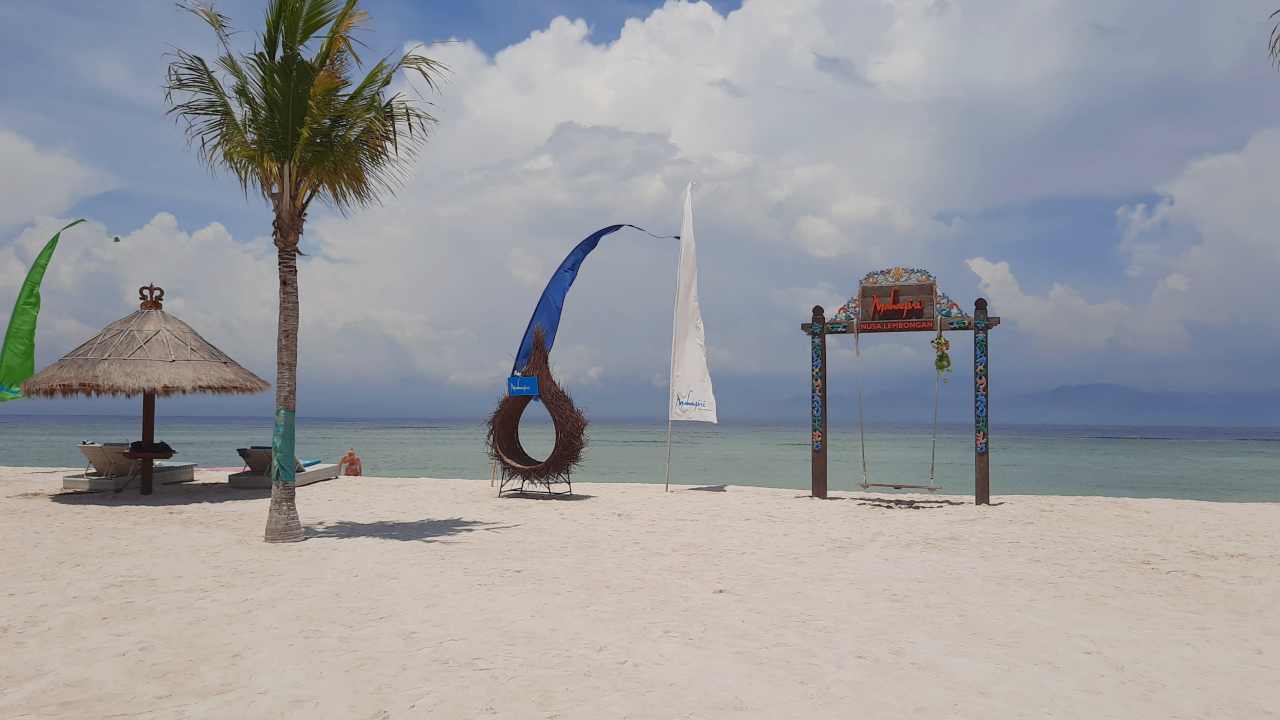 Nusa Lembongan Entrance Fee
There is an entrance ticket to visit Nusa Islands right now. The 1-day pass includes access to Nusa Penida, Nusa Lembongan, and Nusa Ceningan. For international tourists, the charge is Rp25.000 per adult per day. And for children, it's Rp15.000.
Nusa Lembongan Entrance Fee
Retribution Fee
Rp25.000 (adult) / Rp15.000 (children)
See: Nusa Penida Island, Attractions & Top Things To Do.
Nusa Lembongan Opening Hours
Nusa Lembongan is open 24 hours. Most of the activities on the island are happening during day time. And including cafes, beach clubs, restaurants, and other public facilities. Keep in mind, the boat schedule from the main island and back will operate from 8 AM to 5 PM. 
Nusa Lembongan Island Opening Hours
Every day except Nyepi
Open 24 Hours
Boat service
08:00 – 17:00
See: Sanur Beach & Top Things To Do.
Nusa Lembongan Beach Hopping
There are several lists of beaches to explore in Nusa Lembongan. It generally has crystal clear water with great views of the ocean. The best way to enjoy a beach retreat on this island is to lodge under leafy areas or take a dip at nearby beachside pools. The beach here is quite accessible by scooters with maintained paved roads.
Devil Tears
For travelers looking up for an extra adventure, then Devil Tears must be on the list. The popular feature of this spot is the strong waves crushing the rocky cliffs that create a misting rain afterward. It somehow reflects a rainbow that makes many people take photos at the edge of the cave.
The natural craft of cliff sides is worth exploring but is quite dangerous for a swim. Just around the corner, there is a natural infinity pool that faces the south ocean. There are many local stalls of refreshments that offer drinks and snacks. The entrance and parking tickets are free.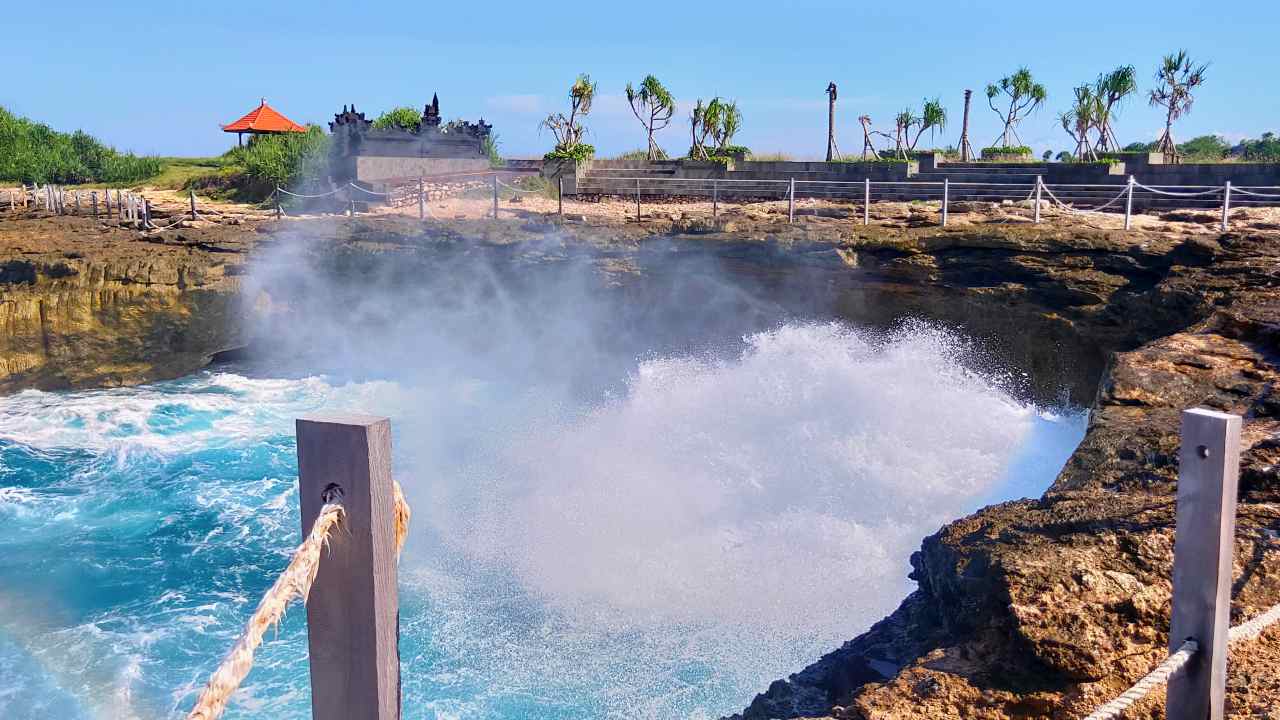 Dream Beach
A few miles away from the Devil Tears is the dream beach. It is surrounded by limestone cliffs with spacious logging areas to rest or sunbathe. An iconic swing on the west side offers a scenic view of the turquoise-blue water of the ocean. The rocky shore and the sudden strong current are not really good for a swim.
So far better to enjoy this beach by the poolside or beach club. Public visitors can access the infinity pool with Rp100.000 fees. There is also an additional charge for ordering a menu from the restaurant. For guests who wish to stay close to the beach, there are lots of accommodation options with well-maintained facilities here.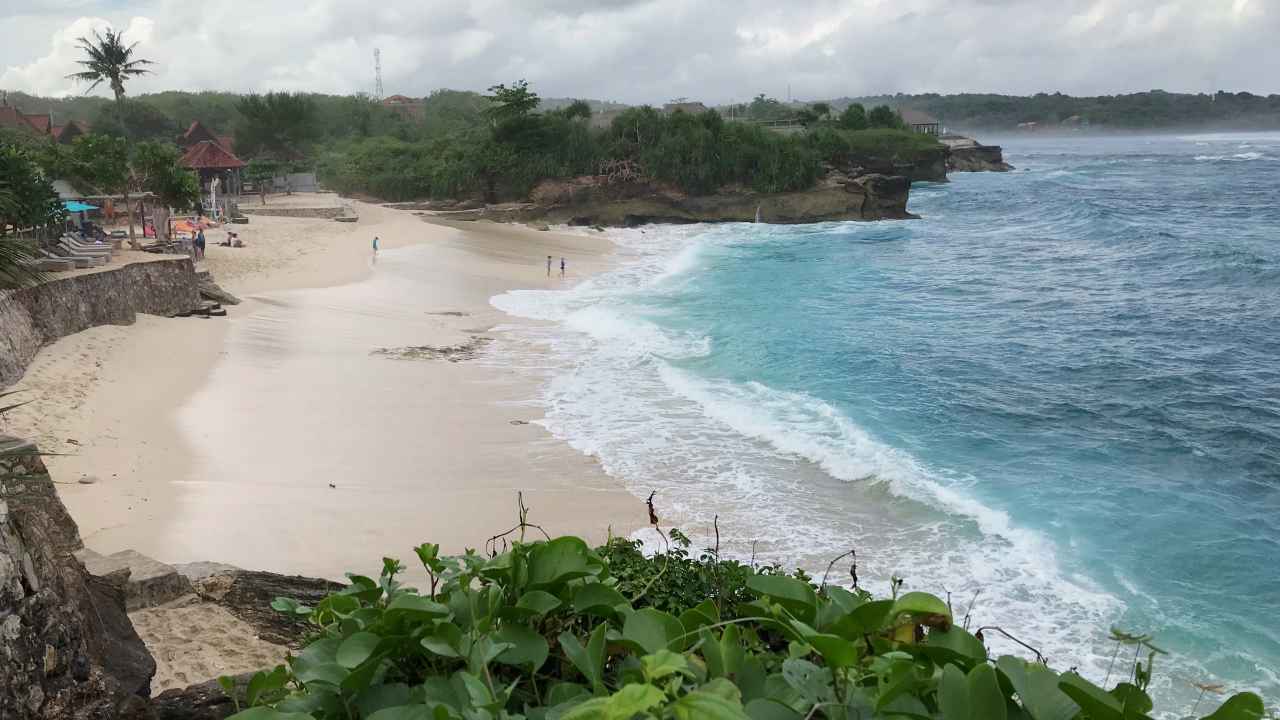 Jungutbatu Beach
Situated in the busy port area, Jungutbatu is a great place to unwind on the rough journey of a speedboat ride from the main island. It's a lively neighborhood with plenty of restaurants, bars, shops, villas, and resorts that overlook the Bali ocean.
Catching for sunset is a must activity to do, along with ordering some refreshments in a nearby café. This destination has a long stretch of white sand beach and the best silhouette views of Mount Agung. There are also concrete walkways for sightseeing around.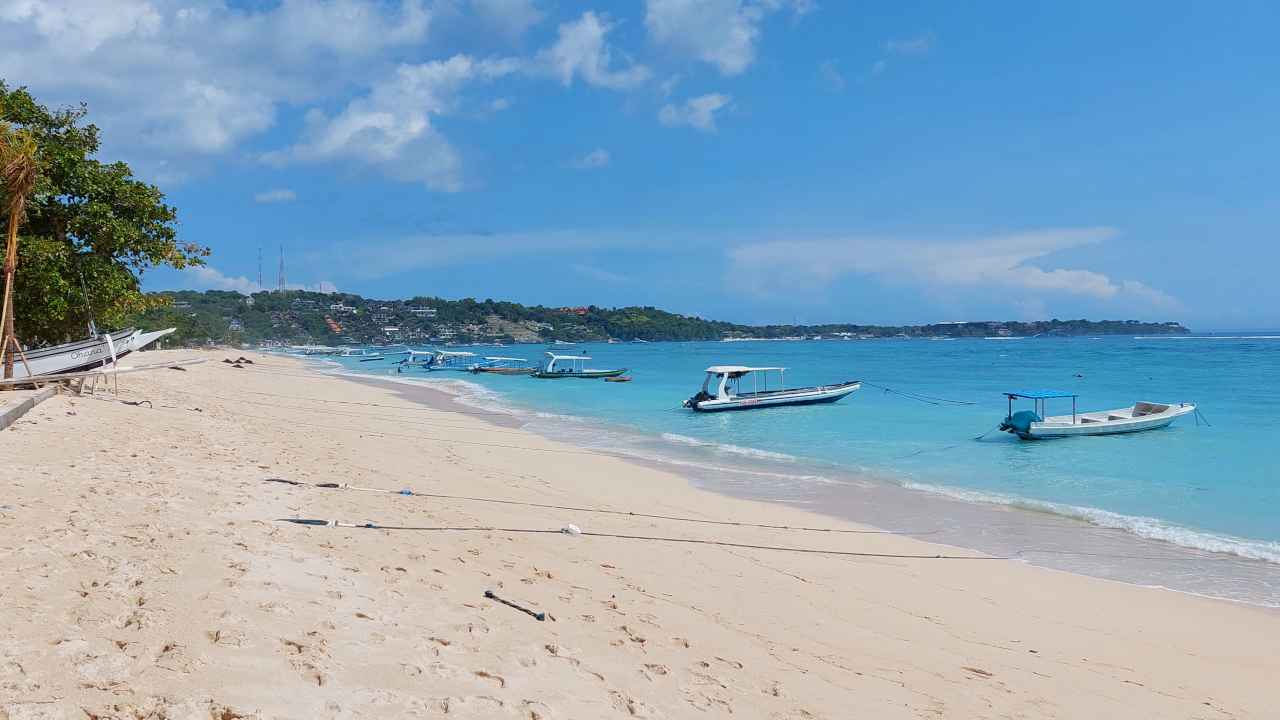 Mushroom Bay Beach
Mushroom Bay beach is another popular port site in Nusa Lembongan where many boats arrive and depart from Bali. It has pristine clear water with great visibility of vibrant coral reefs underneath.
There are heaps of seaside cafes, restaurants, and lodging areas which is a fine start to taking the first step into the island. Sunset in this place is worth catching as well. Other than port, guests are flocking to this place to enjoy the sea breeze at the seashore. The bay is a good snorkeling spot as well.    
Crossing Yellow Bridge
The yellow bridge is a famous landmark that connects Nusa Lembongan and Nusa Ceningan. With over 130 meters in length, this construction is strong enough not only for people crossing the other islands but also for motorbikes passing around.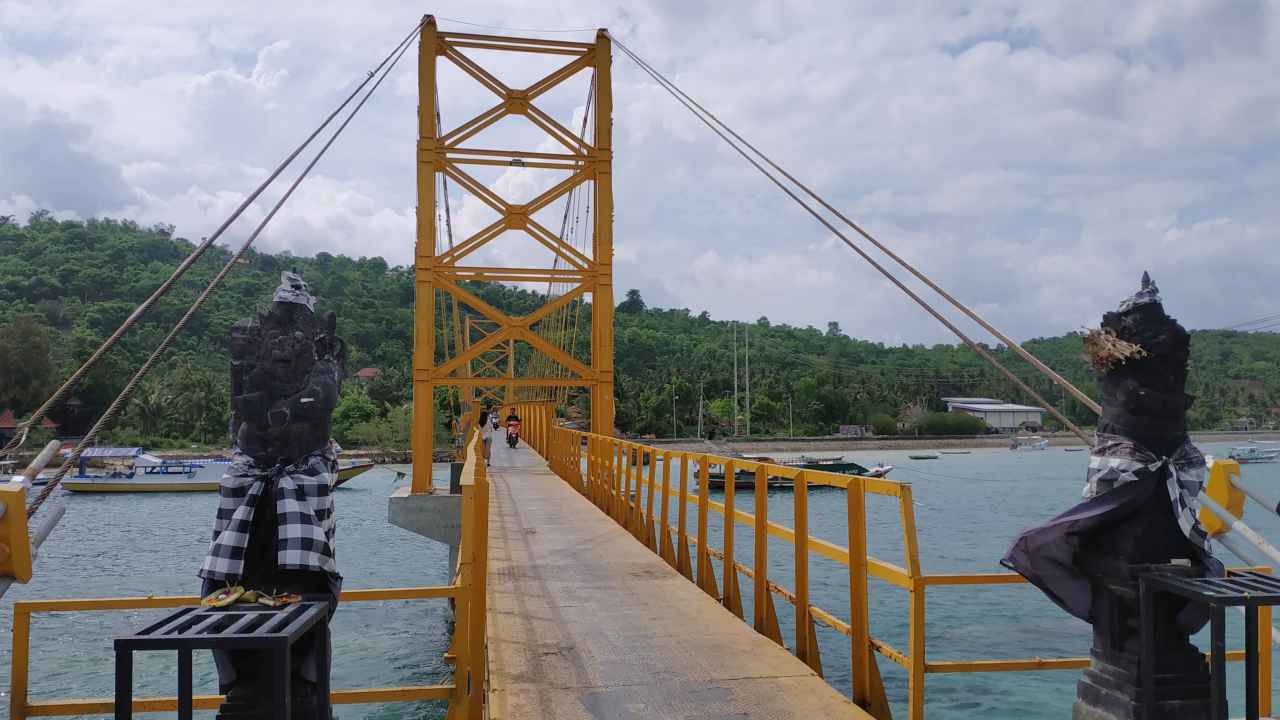 This iconic spot has picturesque surrounding, under the bridge is crystal clear waters with some boats anchoring at the seaside. That's why people love to take snaps and even arrange pre-wedding photo sessions here.
Explore Mangrove Forest
The unbearable hot weather of Nusa Lembongan is better soothed by winding around in the mangrove forest. It offers peaceful nuance of birds chirping and crabs hanging around under some sea plants. Visitors will have a chance to see seaweed farming which is cultivated by the locals.
Renting a canoe will cost Rp100.000 ($6) for two people for an hour. At high tides, it's better to rent a motor boat with a guide with an Rp150.000 price point. There is no entrance fee to explore the mangrove forest. There is a locker facility for visitors to keep their belonging.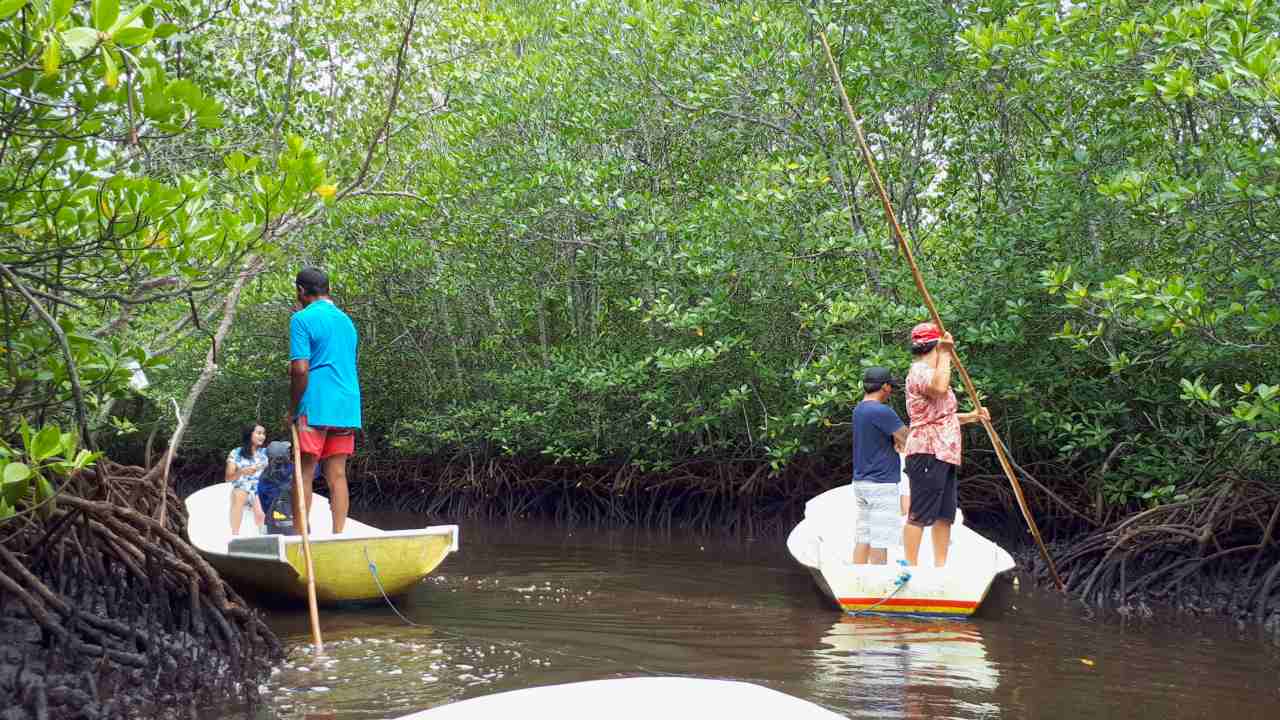 Gala Gala the Underground House
This unspoiled man-made maze house has an interesting history to discover. The architecture of Gala- Gala is inspired by the Pandawa escape attempt in the story of Mahabharata. It was built in 1961 by a local artist which is apparently also a Dalang (puppeteer of wayang art performance).
With over 500 square meters, this place has plenty of room to explore. It's an incredible masterpiece that has seven exits that allow sunlight to enter the place. The ticket price is Rp50.000 with no additional parking fee.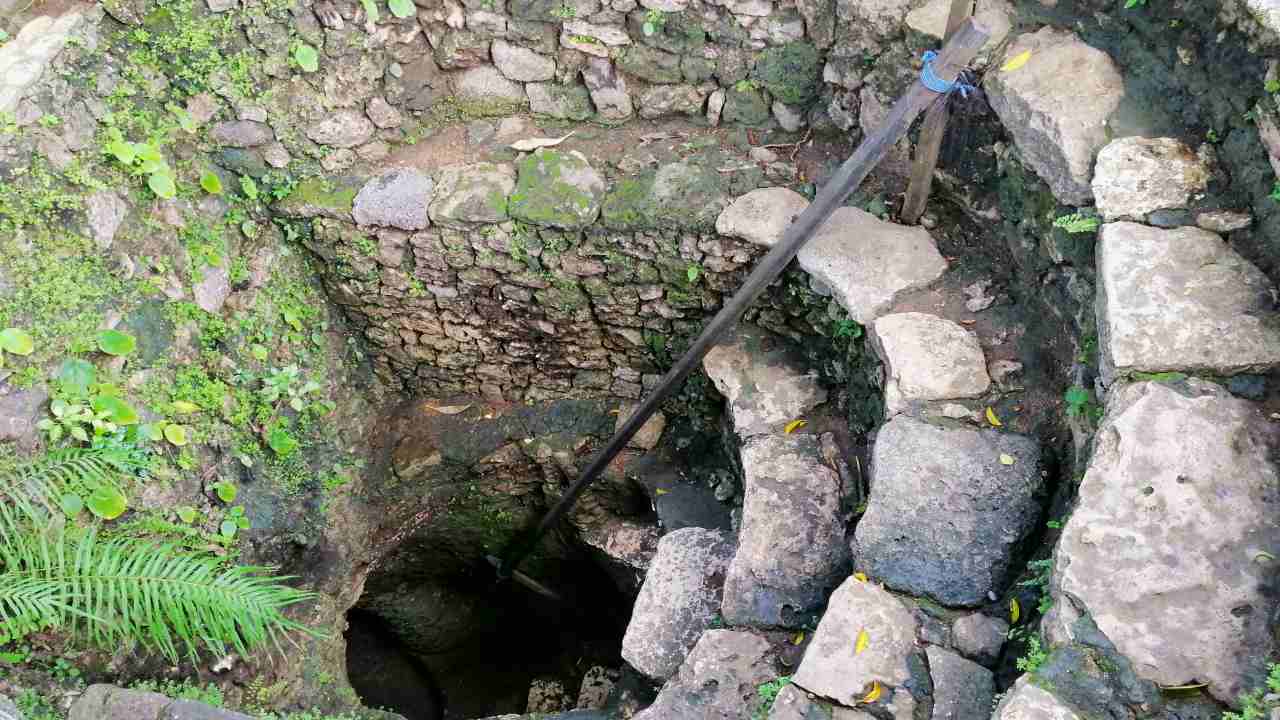 Nusa Lembongan Water Activities
Nusa Lembongan underwater has a wonderful habitat for marine animals. From lively vibrant coral reef fishes to oceanic creatures like dolphins, manta rays, turtles, and the rare mola-mola fish. Therefore experiences like diving and snorkeling should not be missed.
There are many local services that offer water activities. Some include tour guides, boat transfer, equipment, and meals as well as dive courses. The price for aquatic activities ranges from Rp300.000 to Rp500.000 per person.
See: Jimbaran Fish Market Guide & Seafood Feast Restaurants.
Facilities
The facilities in Nusa Lembongan are pleasingly well-established. Namely an extraordinary concept and architecture of villas, resorts, cafes, beach clubs, and other accommodations. It has similar vibes to Canggu or Seminyak. But a more serene and calm situation with a great sense of privacy.
Before visiting is better to bring enough cash because other online payment methods are unreliable. Speaking the general price on this island is just slightly more expensive than in Bali. There are only 2 ATMs on the island and sometimes the queue is unbearable. 
See: All About Tourists SIM Card, Price & Where To Buy.  
How To Get To Nusa Lembongan Island
The only way to visit Nusa Lembongan is by riding a speed boat from Sanur port. It is located on Hang Tuah street which is close to touristy areas like Kuta or Canggu. The boat ride will cost Rp150.000 each way and takes time around 30 minutes.
Upon arriving there are lots of places to renting scooters. The majority of the roads in Nusa Lembongan are narrow, so better to stroll around the island using motorbikes or scooters. The rent price will cost Rp70.000 per day.
See: Bali Airport Guide, Airport Transfer & Public Transportation.
Address & Location
Nusa Lembongan Island is located in Jungutbatu, Nusa Penida district, Klungkung, Bali 80771.