Sanur Beach
Entrance Fee: Free Entry
Opening Hours: Open 24 Hours
Telp. Number: -
Address: Jl. Matahari Terbit , Sanur Kaja, Denpasar Sel, , Denpasar, Bali, Indonesia , 80228.
Sanur Beach in Bali is heaven on earth for sunrise catchers. The coast has been well known for decades since the early Bali tourism days. The beach owns white sand along its 8-kilometer stretch. Big, rocky reefs and some beach huts scatter alongside the shore. And unlike Kuta and Seminyak beach, there's no incoming noise from vehicles across the street.
On a bright day, other than the sea landscape, visitors could catch a glimpse of the tall Mount Agung. Local fishing boats line up in some corners docking on the land. Waiting for the moment to sail away and catching sea creatures for daily needs. Say that are not many fancy things except for the 5-star hotels behind the beach walk.
The locals play the biggest part in taking care of the beach. From preserving coral reefs to maintaining the ecosystem around the area. And at the same time maintain a deep connection with the deity and nature. It's not a rare sight to spot the locals praying and bringing a small offering to this beach.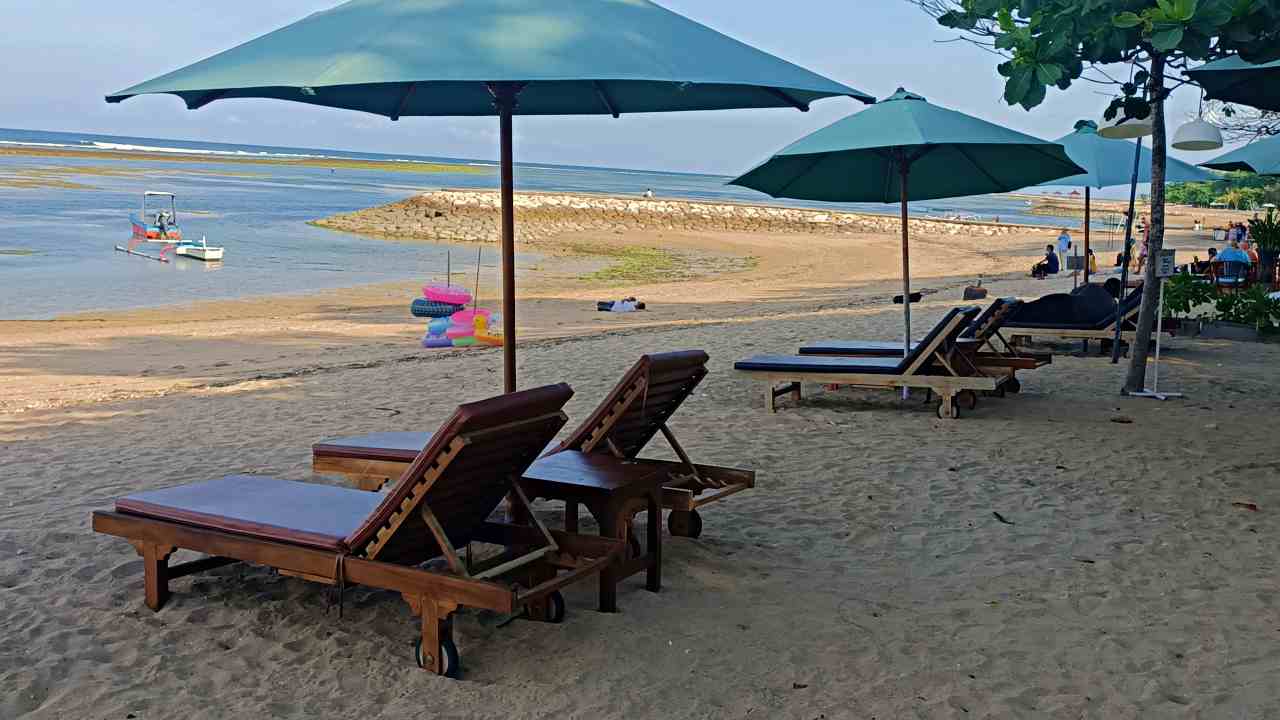 Sanur Beach Entrance Fee
The beach and its adjacent beach are pretty much free beaches. There is no charge for tourists at the entrance except for people coming with a vehicle. Prepare small notes of Rp2.000 to Rp5.000 for the parking fee.
Sanur Beach Entrance Fee
Ticket
Free Entry
Parking Fee
Rp2.000 (motorcycle) / Rp5.000 (car)
See: Sindhu Sanur Night Market Guide & Local Cuisine.
Sanur Beach Opening Hours
In general, some of the beaches in Bali do not have operational hours. However, almost few to no people visit beaches at night because there is no proper lighting. But for Sanur beach, tourists could spend a little bit more time after sunset. Since the area has plenty of restaurants and caters to dinner.
Sanur Beach Opening Hours
Every day except Nyepi day
Open 24 Hours
See: Kuta Beach Guide, Activities & Surfing Course.
Sunrise Hunt In Sanur Beach
For its spectacular dawn splendor, Sanur Beach is famous as Matahari Beach or Pantai Matahari Terbit. The gradual change from the murky blue to an orange, purplish hue creates a majestic horizon showcase. Its golden rays shine through the land, resonating energy in the audience who sees it.
To enjoy the sunrise, visitors can lounge around the sand area or find quiet docks. Either way, everyone can witness the same nature's beauty. Sunrise in Sanur Beach usually starts around 6:15 WITA or Central Indonesian Zone (GMT). Be mindful that sunrise's visibility depends on the weather, even in the dry season.
It can be worse in the rainy season when the weather can be unpredictable. Therefore, make sure to check the weather forecast to get the best version of Sanur sunrise.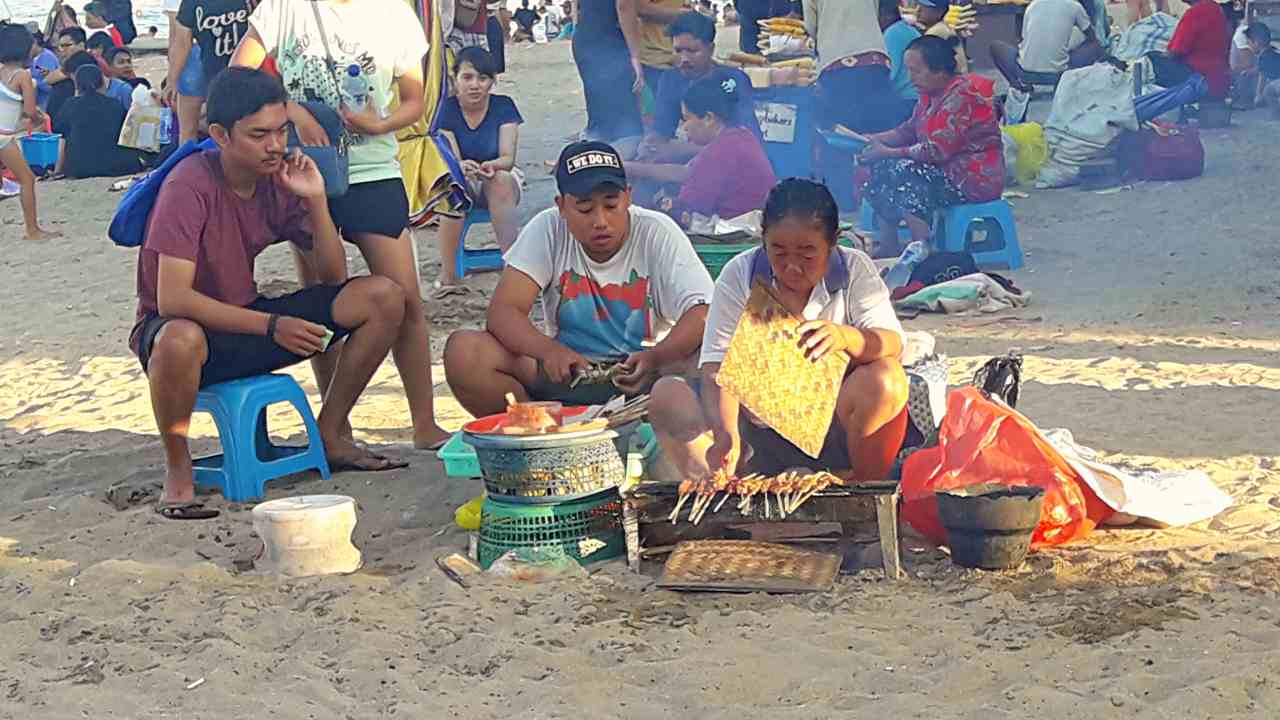 Watersport & Seawalker
Having low tides, Sanur Beach is suitable for beach bum who wants to swim comfortably. Children are safe enough as well to swim in the area. Simply play in the shallow swash or try canoeing instead. For only Rp25.000 pick the board and paddle it through the broad beach line.
The other options range from playing a jet ski, kitesurfing, and parasailing to sea walking experiences. Discover underwater life the easy way. It doesn't require any swimming experience. It's the perk of sea walking activities. It allows anyone to walk through the beautiful marine life with its coral reefs only within 15 feet of depth.
A walk underwater with a waterproof helmet package starts from Rp550.000. Not just for adults, children from 9 years old can witness the magnificent underwater life with colorful fish too. For a more adventurous experience try snorkeling and diving instead. There are plenty of operators on site offering competitive prices.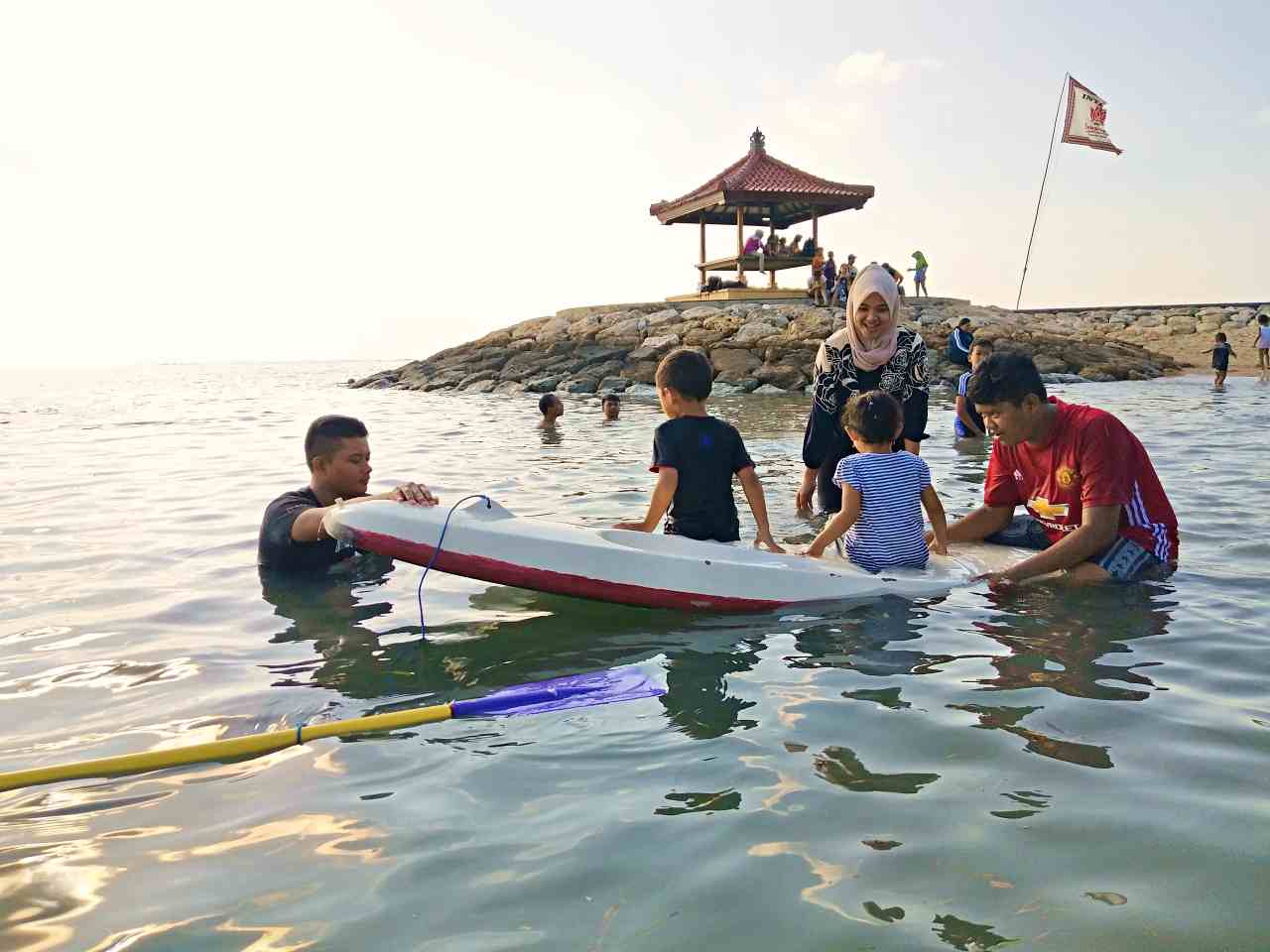 Yoga Or Cycling Along Sanur Beach Walk
Who doesn't love staying fit and keeping in shape through vacation time? In Sanur Beach, tourists could choose between yoga at the beach, cycling, or jogging. Don't worry bicycle rentals are scattered on the site. For Rp15.000/hour rent, pick between regular bicycles or electric ones.
Sanur Beach has a paved pathway along the sandy beach for jogging and cycling track. The jog or cycle path ranges about 5 kilometers long to the southern direction. It will lead cyclers through other beaches such as Sindhu Beach, Karang Beach, and Semawang Beach.
Planning on going to Sanur on Sunday, spot some free yoga sessions around the beach. Blend with the locals and other fellow travelers, pose, and relish the moment.
Food Cart & Local Street Food
Among beachfront restaurants and fancy hotels serving western cuisine. Locals' restaurants and food carts smear the beach entrance as well. Don't miss the chance to taste a portion of authentic local food Lumpia. Order one of the local's favorite snacks fried spring roll drenched in thick brown sauce. There are plenty of food carts selling this snack alongside the beach.
For a full breakfast or brunch meal, line up with the locals. And try nasi campur Bali. It's practically rice drenched in sorts of cooked veggies and meat with a hint of spicy sambal. From savory, sweet, and aromatic to spicy all in one plate. It's not exaggerating to call it the all-time local's choice.
The price for a full plate nasi campur cost around Rp20.000 to Rp40.000. Depends on the meat choice. As for snacks expect to pay not more than Rp10.000.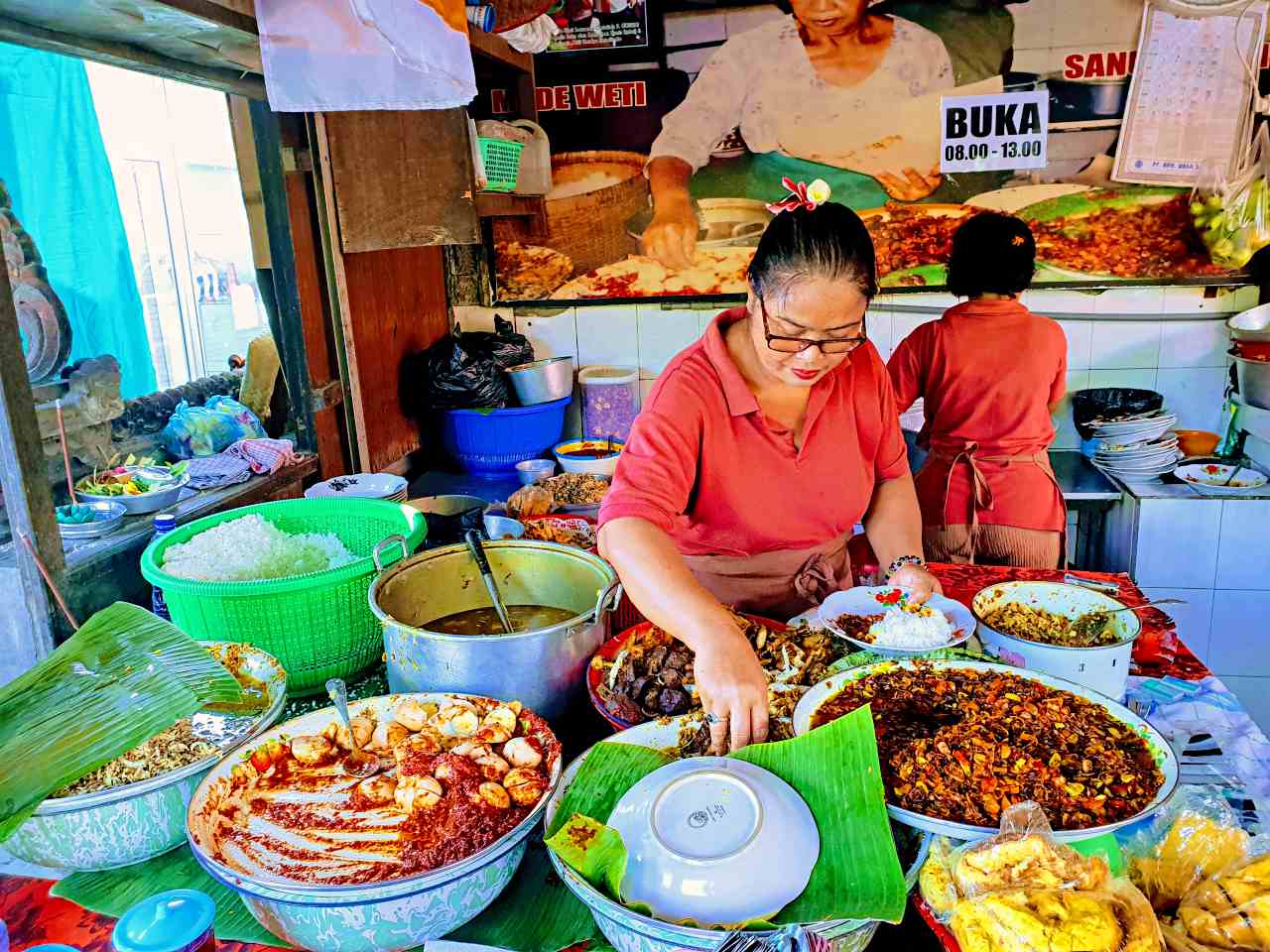 Facilities
Various facilities are available in Sanur Beach, one of Bali's classic tourist attractions. Visitors can even find rows of hotels and resorts along the beach easily. Aside from accommodations, beach restaurants are also easy to discover. Lining up in Sanur beach walk as well as art shop selling Balinese art crafts.
A modest stall selling beach dress and accessories are plenty too on the spot. But remember, the price isn't fixed. For tourists, it's a good chance to practice bargaining skills here.
See: SIM Card, Internet Package Price & Provider.
How To Get To Sanur Beach
Sanur Beach is not too far from other tourist areas like Kuta or Seminyak. In fact, it is easy to reach by car or motorbike since the distance is only around 12 Km. However, for travelers who prefer public transportation, Trans Sarbagita is available on service. The bus's operational hour starts from 6 AM to 7 PM every day.
The fare is only Rp3.500 for a one-way ticket. Travelers staying near the Kuta area can catch corridor 2 Trans Sarbagita from Jl. Raya Kuta. Then stops at Sindhu 2 or Matahari Terbit 2 shelters. Finally, walk for 10 minutes to get to the beach. Besides walking from the shelter, ride-hail apps such as Gojek and Grab could be a lifesaver for tourists. Seeing that Bali heat could be extremely unbearable.
See: Bali Airport Guide, Airport Transfer with Bus.
Address & Location
Sanur beach is situated in Sanur Kaja, Denpasar Sel, Bali 80237.